Aug/23/2022
Last Update: June 26, 2023
752
7 min read
Hands-Free Rodeo-Style Fucking! VixSkin Vixen Mustang Review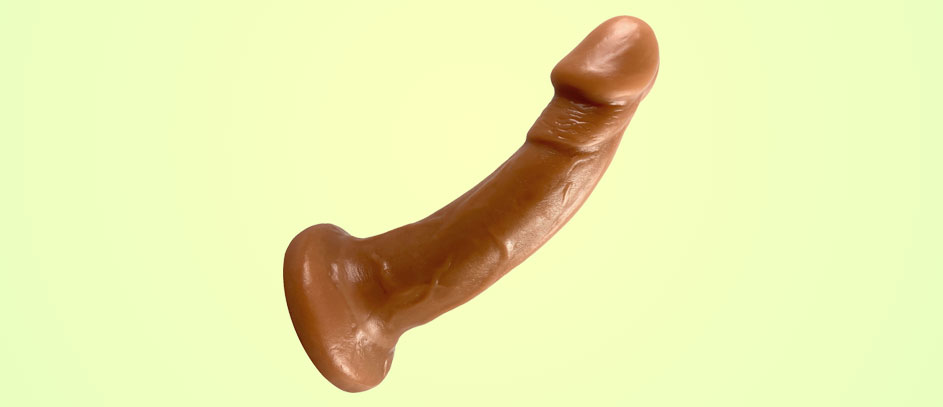 Whenever I get naughty, I want to ride on top of the world while fucking my brains out. And I apologize to all guys who are below average, but I can't do that while straddling a little pony. No, sweetie, I need a well-bred mustang. A steed with endless endurance to stretch out all my holes and make me see rainbows! So what do I do when my hung stallion Richard isn't around but I need to scratch all my itches and get fucked raw? Well, baby, if you're lonely and bored or if you can't find a huge cock to suck and fuck, you need to get yourself a realistic dildo. For this VixSkin Vixen Mustang review, I'm going to push a 6.5-inch suction cup dildo deep inside my pussy and ass and hopefully live to tell the tale!
So take a look at my Vixen Mustang VixSkin review to see if this gorgeous horsie has what it takes to satisfy your big dick urges!
Vixen Mustang: Tonight We Ride!
One thing that my dirty little holes have noticed while testing out dozens of realistic dildos is that many of them are way too big or too small. Remember, a dildo is still a fake dick. While it looks and feels realistic, it will still give you a different sensation during penetration. That's why it's a bit tricky to compare actual dick size to dildo size, especially if you're a beginner. Now, I'm partial to dildos that are 7 inches and over. It's all because of that damn Richard with his 8-inch Turbodick!!! Oh, and I'm also a kinky little slut who's into extreme stretching of the vaginal and anal variety. Nevertheless, the 6.5-inch length of the Vixen Mustang is definitely more than enough to please me and everyone else.
On Your Knees, Baby!
Basically, the Vixen Mustang is a newer version of their popular Woody dildo. It fits somewhere between the Tex and the Bandit. However, you'll get a suction cup. Then, you can pretty much stick this thing on any hard surface and ride it like a good little puppy.
Another thing I should mention from the get-go is that we're dealing with the Cadillac of dildos. Firstly, Vixen is one of the most popular dildo manufacturers of the past few decades. This company is famous for its realistic dildos. Essentially, their dildos are only meant to do one thing and that is to give you a huge, fat, and veiny cock to play with. The second reason why Vixen is so famous is due to its special VixSkin material. This material is actually premium silicone. However, it uses a dual-density texture that feels superior compared to other options on the market.
Granted, the Vixen Mustang doesn't cum cheap. It's over $125 depending on where you buy it, but most of the company's toys are priced that way. Still, you'll get a whole lot of quality cock in return!
First Look: Hung Like a Horse!
As I said, a 6.5-inch dildo isn't exactly what I'd usually go for. But hey: a big dick is a big dick, right?! What I did to get an additional visual stimulant is order this suction cup dildo in a lovely chocolate color. It's the only way I can get my fair share of a massive BBC! And I have a confession to make: while I love bigger dildos, this one truly impressed me with its size when I unboxed it. It actually looks bigger than it's written on paper. And I'm not sure, but I think my jaw dropped a little when I opened it.
Seriously, this dildo in the color I picked looks like a meaty piece of black magic that won't stop until it makes me its little bitch! First test? Well, I quickly washed it and started sucking on the head like it was my last supper! The best thing here is that the Mustang is completely odorless. It's not sticky or cheap at all.
A Curved Cock Is the Best Type of Cock
Let's pause for a bit and take a moment to reflect on the Mustang's curvature! This bad boy has a steeper curve compared to most dildos, but that's actually a good thing. A curved cock is great for a super intense G-spot massage. However, you can also use it for an unforgettable prostate milking.
But, the biggest thing that managed to knock my panties down is the glorious look of this big fat dick. When I started my VixSkin Vixen Mustang review, I instantly noticed how close this thing looks to the real deal. I mean, all the veins are right there popping out at you! I swear that the glans is just begging to stretch out my little asshole! It's as if this dildo has a mind of its own, and I'm definitely ready to use it to tickle my imagination!
Still, one thing you won't find here is a pair of balls. They are not attached to the suction cup. That could be a problem for you if you love the feeling of swollen balls bumping up against your clit. Also, you won't be able to grip onto the balls. That might make this dildo a bit trickier to use with your hands. Nevertheless, in my opinion, a suction base is more useful than a fake pair of testicles. I tested out several Vixen dildos, and I definitely missed the option of having a suction cup on most of them.
Features
Dual-density VixSkin material
Solid inner core
Soft outer layer
Non-slip suction cup base
Curved shaft
Raised head
Harness-compatible
6.5 insertable length
1.6-inch diameter
VixSkin: Worth Every Inch?
As I said, this lifelike dildo is made of premium silicone. It uses a dual-layer design. First, you'll get a solid inner core. To me, this is where all the mojo happens. It's firm yet quite flexible, and it actually feels like a real erection. Except, the Mustang can last for hours. It will never get tired! The second outside layer is soft and squishy. Again, you'll see all the veins and ridges, but you'll also be able to feel them inside you!
Basically, the material was one of my favorite things during my VixSkin Vixen Mustang review. It's soft, bendy, and yet it definitely means business. Also, since we're talking about silicone, it's non-porous and requires minimal care. You can use it vaginally and anally and all you need to do is wash it with warm water and soap. You can also boil it to fully sterilize it and remove any surface bacteria.
What About the Size?
Look, just because I love to stuff 8-inch or longer cocks up my butthole doesn't mean you have to. Surprisingly, some studies have said that 6 to 6.5 inches is the exact size that most women are attracted to. The size of the Mustang is just a few inches more than average. Yet, I think Vixen nailed it here. It's not too big or too small, and I think it will be enough to please most beginners and pros.
Again, the curvature is a big part of the whole sensation here. But, what also helps is the 1.6 diameter of the shaft. It's not extremely wide but it has just enough meat on it to deliver a lot of pressure. All of that combined gave me some unforgettable experiences in all my holes.
One thing to note here is that it could be a bit too big for anal if you're untrained. It didn't bother me at all, but I definitely don't want you to get scared away from horny backdoor romps if you try this toy and it causes you pain. Here, the shape of the tip is actually pretty helpful. It's a bit thinner on the top and it allows for easy insertion.
Suction Cup Fuck-Fest? Yee-Haw!
There's no easy way to say this but the suction cup allowed me to live out all my nasty fantasies. I took my Mustang in the ass while Richard exploded deep in my throat, and I also used it with another dildo to fill up my ass and pussy at the same time. Happy days, right? Well, the suction cup is part of the dildo and it doesn't feel too bulky or awkward. Aside from being able to stick to your floors, shower tiles, tables, and BDSM benches, it also creates a non-slip effect. Some suction cup dildos can hold their vacuum for long but they will often move around. During my VixSkin Vixen Mustang, the dildo stayed in place without popping off or slipping around and it definitely added to all the realism during my epic fuck marathon.
Pros
Personally, I loved the 6.5-inch size even if I prefer bigger cocks.
The dual-density design and VixSkin material make this dildo feel incredible.
The suction cup is high quality and it won't slip off during use!
Cons
It might be a bit too small if you like bigger dicks, but that's up to you.
No balls – Again, personal preference, people!
It's expensive (but it's damn worth it!!!)
VixSkin Vixen Mustang Review: Bottoms Up!
To sum up my VixSkin Vixen Mustang review, all I can say is that I've had a wild ride. Also, I will continue to do so since my brown Mustang has become one of my favorite hands-free suction cup dildos! So check it out today and go crazy!
⚠️ Disclaimer: Our articles contain affiliate links. If you like our content and wish to support our work, consider purchasing your new sex toys through our links. For each purchase through our links, we receive a small commission but at no extra cost to you.
| | |
| --- | --- |
| 👉 Name: | Vixen VixSkin Mustang |
| ⚙️ Features: | Realistic, Dual Density, Suction Cup, Flexible |
| 📁 Type: | Suction Dildo |
| 🛠️ Materials: | Silicone |
Hands-free suction cup: I fucked it balls deep until I was creaming all over!
5
It doesn't slip or pop out like most other suction cups.
4
Mamma, look at that curvature!!! The shape is perfect for G-spot and P-spot stimulation!
5
It looks and feels super realistic - exactly what you'd expect from Vixen!
5
Editor's Pick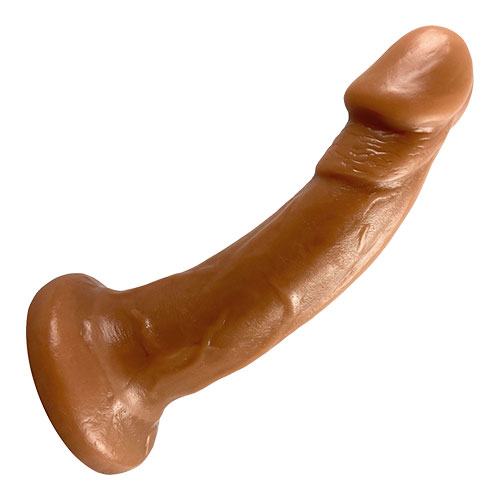 Vixen Mustang
⚙️ Special features:
Dual density shaft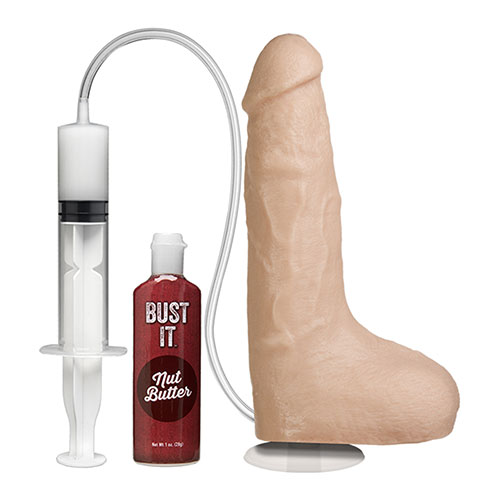 Doc Johnson Bust It
⚙️ Special features:
Vac-U-Lock suction-base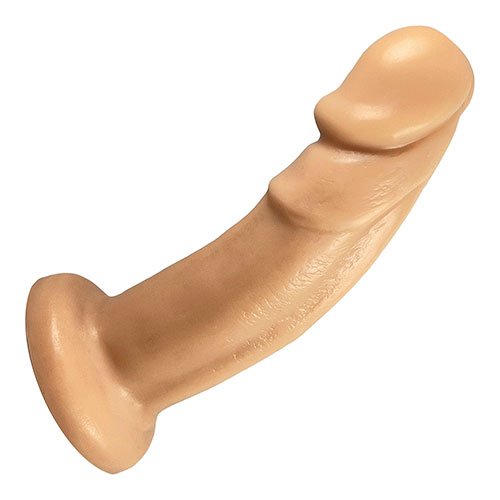 Vixen Maverick
⚙️ Special features:
Hands-free penetration