Aug/23/2022
Last Update: June 26, 2023
753
7 min read
Turn Your Dick Into A Huge Monster! Vixen Vixskin Colossus Review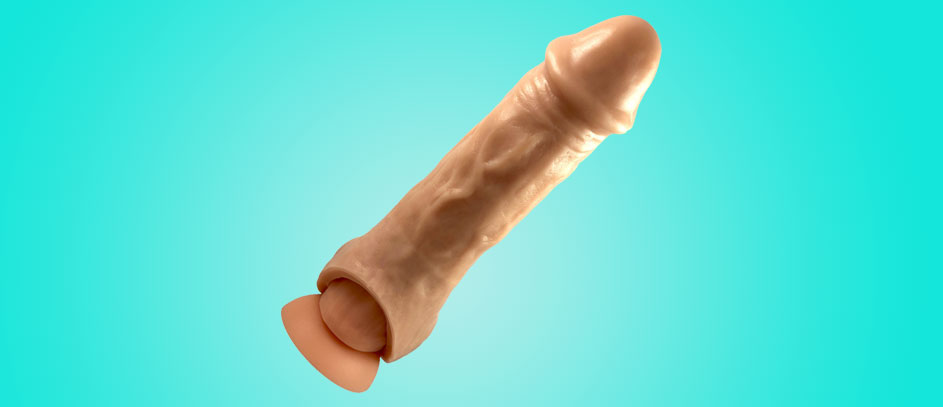 Good day to you all, my short-dicked bros! I'm Vlad the Not-Impaler and I definitely don't have a colossal cock. At around 4 inches, my dick is smaller than average and I've always been looking for ways to increase its size any way I can. I've tried penis pumps, traction devices, and all sorts of exotic creams, but I always come back to the tried-and-true cock sleeve. I've tested dozens of them and my girlfriend loves it when I strap one on and surprise her with an instant size boost! And we've had tons of fun during this Vixen VixSkin Colossus review. Well, that might be the understatement of the century. The VixSkin Colossus gave me an extra thick and super long pornstar boner and I was able to literally fuck my lover's brains out!!!
So take a look at my Vixen VixSkin Colossus review to see if this penis sleeve has what it takes to make you hung like a horse!
Honey, I Blew Up My Cock!
Sadly, I've come to terms with the fact that my 4-inch cock is just not enough to satisfy some ladies. I know the great dick-size debate always tells you that it's more about your skills than your length and girth. However, I'm pretty sure that every guy (even the hung ones) is looking for ways to make his junk bigger!
What I love about cock sleeves is that they provide a quick boost in size whenever you need it. Plus, you don't have to torture your monkey with weird stretching devices to make it longer. Sure, a sleeve is basically a dildo that you strap on over your little pecker, but that's actually a good thing. Most sleeves absorb body heat during use and they feel super tight when you add lots of lube. The added bonus is that they can make you much longer in bed and you don't have to wear a condom. So why is the Vixen VixSkin Colossus special?
Huge and Extra Thick
Firstly, the Colossus gives you a whopping circumference of 7 inches and an insertable length of 6 inches. The length is not massive, but combine it with the huge width and it will make you look like Johnny Sins! Also, when I started my Vixen VixSkin Colossus review, I was already familiar with this famous sex toy brand. It's one of the leaders in realistic dildos and toys that look like huge veiny womb raiders. My partner has several of them and she's a huge fan. While Vixen is known for the look of its lifelike dildos, it also uses a special VixSkin material. This is a special type of pure silicone with dual-density and my GF swears that it feels like a rock-hard wang that's ready to rumble. I had the same experience when I strapped the Colossus over my balls and got in the mood to party!
First Impressions: My New Super-Cock
For starters, one of the first things I noticed when I ordered my Colossus was the price. Seriously, having a big dick is not cheap! You'll need to pay around $170 for this bad boy. Still, most other Vixen products are in the same price range. But know this: Vixen's toys are nothing like your average cheap and smelly $10 dildo. No sir! What you'll get is a premium dildo that was finely crafted to make every throbbing vein count. Also, you'll get one of the most durable materials on the market and your new ultra-penis will literally last forever.
Now, you can choose between three different skin colors (vanilla, caramel, chocolate). I picked the vanilla or flesh pink color to make it match my body and I was basically shocked with how realistic this thing looks when I unboxed it. It's big, thick, and full of those masculine veins that chicks go crazy for!
To be honest, I forgot all about my Vixen VixSkin Colossus review: I immediately strapped this big sleeve on and made my GF bend over right there in our kitchen. From the moment I pushed my newly-enhanced member inside her pussy, I could tell it was well worth the price. The soft material conformed to the shape of my goober. Also, unlike some cheaper options on the market, it didn't feel like I was fucking a rubber hollow tube! Later, I got myself together and I had a detailed look at this thing. The Colossus definitely means business and its quality is nearly unmatched!
Features
Material: VixSkin silicone
Dual-density realistic texture
Flexible
Massive 7-inch circumference
6-inch insertable length
7-inch total length
1.5 inches internal diameter
Waterproof
Will It Fit You?
While all of those features are pretty much what you'd expect from a penis sleeve, the most important thing is to make it fit properly. What I enjoyed here was the internal diameter of 1.5 inches. The last time I checked, my cock was around 2 inches wide, which is bigger than the hole in the Colossus, but that's actually a good thing. The inside of the sleeve felt nice and tight when I penetrated it and it gently cupped my entire shaft. What's more, the strap that you use to secure the sleeve to your balls felt nice and tight without being too constricting. Still, the tightness of the ball strap gave me a massive erection and it made my jewels look huge.
What's more, the actual size of this thing made my GFs jaw drop. She instantly got those "fuck me" eyes and I swear there was some drool coming out of her mouth! Now, I was kind of scared about the 7-inch circumference. It's massive and it will thoroughly stretch your partner out, so make sure you're on the same page. My GF didn't feel any pain when I pounded her pussy with it, and as much as we tried, we were only able to get the tip inside her asshole. She got used to it after a few weeks, but please remember that your lover will need some training in order to take this bad boy vaginally or anally.
Also, the total length is 6 inches. If your lover needs more, you won't get it with this toy. However, my GF said the length was just enough to probe her deep and hard, especially when the extra wide girth was spreading out her entire vaginal canal and targeting her G-spot.
The Most Realistic Dildo Material Ever?
I have to say that the material of this penis sleeve was one of the most impressive features during my Vixen VixSkin Colossus review. The quality is pretty much outstanding and the whole thing looks like a piece of art. We've tried other VixSkin dildos before, and the results were always the same. They are super flexible while staying nice and firm during penetration. This is all due to the dual-density design that Vixen is famous for. Plus, the Colossus' premium silicone is 100% body safe and it is suited for all skin types.
Unlike other cheaper penis sleeves, it doesn't smell or feel sticky. Even better, it always looks like it's erect and ready to go. What I noticed with my cock inside was that the internal texture is silky smooth. When you enter it and penetrate your partner, the inside will follow the shape of your cock and it won't block out too many natural sensations during vaginal or anal sex. What I also loved is how the whole thing heats up internally during sex and makes it feel like I'm fucking a real pussy.
As I mentioned, the best thing about this is that you don't have to wear protection. The Colossus acts as a big condom and you can cum inside it all you want!
What You Should Look Out For
While the Colossus offers a lot for your money, I noticed one thing that could potentially disappoint you. The ball strap is quite thick, but there's still a chance that it could snap if you stretch it out too much. The entire silicone sleeve looks like it can last forever, but you'll have to be careful with the strap.
Pros
It will turn your small pecker into a massive pornstar cock!
The material felt amazing for me and my lover.
It's extra thick and it has the perfect length.
Cons
The ball strap could break if you're not careful.
The dual-density material or the wide girth could feel a bit too much to some people, but this depends on your and your partner's preferences.
Verdict: Vixen VixSkin Colossus Review
Basically, the Vixen VixSkin Colossus gave me exactly what I needed to transform my below-average schlong into a magnificent love gun! It's huge, wide, and it felt incredibly realistic when I fucked my partner balls deep! So if you've always wanted to make your cock look like a colossal monster, look no further!
⚠️ Disclaimer: Our articles contain affiliate links. If you like our content and wish to support our work, consider purchasing your new sex toys through our links. For each purchase through our links, we receive a small commission but at no extra cost to you.
| | |
| --- | --- |
| 👉 Name: | Vixen VixSkin Colossus |
| ⚙️ Features: | Realistic, Extra Wide, Extra Large, Wearable |
| 📁 Type: | Penis Sleeve |
| 🛠️ Materials: | Silicone |
Size: It turned my tiny penis into the ultimate ass and pussy destroyer!
5
The ball strap tightens around my testicles to make my erection throb harder and harder!
4
The inside of the penis sleeve feels super-tight and you can cum inside it all you want!
5
My girlfriend is addicted to my new huge cock now!
5
Editor's Pick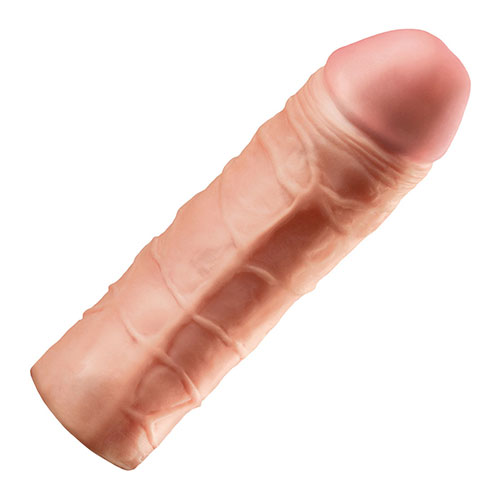 Fantasy X-Tensions
⚙️ Special features:
Realistic head and veiny shaft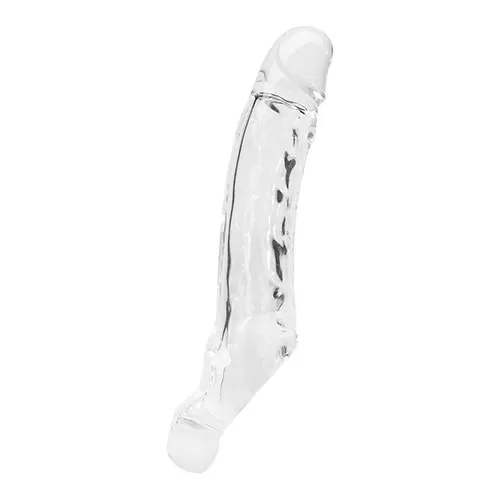 Lovehoney Mega Mighty Male Enhancement Kit
⚙️ Special features:
6 piece sex toy kit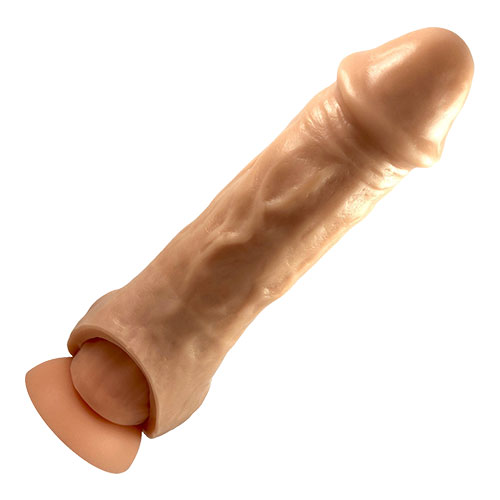 Vixen VixSkin Colossus
⚙️ Special features:
Extra-thick extender