Oct/24/2022
Last Update: June 26, 2023
907
8 min read
CalExotics Black Silicone Extension Review: Will It Turn My Small White Dick Into A BBC?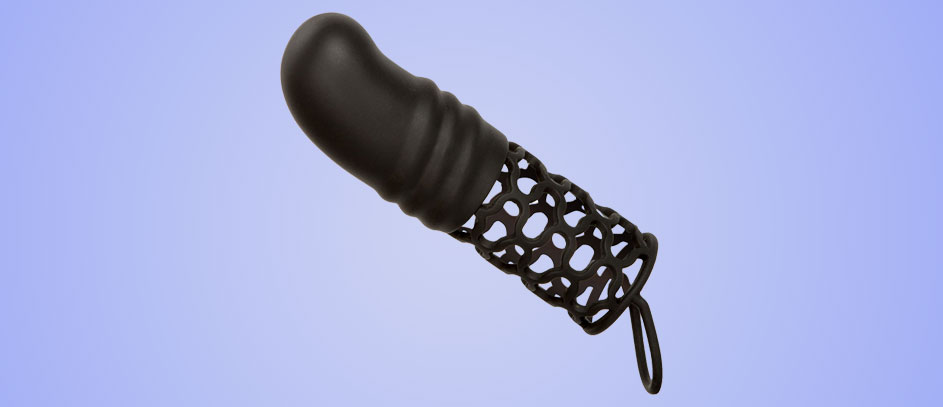 We all know how it goes: once you go black, you never go back. Sadly, my 4-inch carrot stick will rarely, if ever, get those "fuck me!" looks from the ladies when I drop my boxers. Sure, my pickle does its job pretty well, but every once in a while I get into a rut and start wondering: Wouldn't it be nice to have a big black cock? That's exactly the topic of today's Cal Exotics Black Silicone Extension review! Now, a lot of guys might be thinking about a size boost, especially if their GFs have a secret longing to get obliterated by massive BBCs. Obviously, I can't do a "reverse Michael Jackson" and turn my dick black, but I found a quick solution in penis sleeves and extensions.
Seriously, you just pop one of these suckers on, and voilà – your cock suddenly becomes a huge black beast. So if you're ready to give your prick a serious enhancement and impale some sweet tight holes, check out my CalExotics Black Silicone Extension review to see if this cock sleeve has what it takes to transform your pecker into a huge pussy and ass destroyer!
It's Time for Your Cock Makeover
As I said, a lot of guys (even those that are well endowed) are constantly thinking about ways to increase their dick size. Maybe our GFs put us up to it, maybe we're a bit insecure, and maybe we just want to change our bodies in a way that's not humanly possible… Whatever your reason, the easiest way to do that is to pop on a simple cock sleeve like the Cal Exotics Black Silicone Extension. What is this strange dildo-like contraption, you may ask? Well, allow your good buddy Vlad the Not-Impaler to explain.
Instant Size Boost
Basically, the CalExotics Black Silicone Extension is a cock sleeve. It looks like a dildo, but there's a hole inside for your cock. Simple, right? You can just put your erect weiner inside, and you'll instantly get a size boost. And not only that, but there are a few other reasons why I'm such a fan of these sex toys.
For one, they can slightly constrict your wang to prolong your erection. Plus, you don't need to use a condom with these types of toys. They seal off your penis and make it impossible for any jizz to spill into your woman's gorgeous, tight vagina. So not only do they make your cock look super huge, they also allow you to cum inside all you want without any nasty risks of pregnancy. Got it? Good.
Now, there are tons of these types of toys on the market. Some are made by top names such as CalExotics, and others are actually not so nice. The reason why I chose to stick with Cal Exotics is that I love this brand's cock rings, and its dildos are some of my GF's favorites.
There's really no need to introduce CalExotics since it's one of the best-selling sex toy companies out there. However, there are a few things about the CalExotics Black Silicone Extension that I noticed straight away, and they make this cock sleeve much different compared to others.
First Look: CalExotics Black Silicone Extension
When I first started my CalExotics Black Silicone Extension review, I was intrigued by the name of this sex toy, and I couldn't wait to use it in action. However, when it arrived, I couldn't help but check out its unique design. Basically, this thing doesn't have a realistic look or texture. Still, it gives you something unique altogether. Primarily, you'll get 2 extra inches on top of your current size. That's not a lot, but it can certainly help guys like me who sport 4-inch dicks or less.
What's more, this bad boy has a useful nutsack strap plus a special mesh sleeve. I've rarely seen that as a feature on a sex toy, to be honest. The mesh sleeve is vented. Its main purpose is to slightly squeeze the bottom of your shaft. That gives you an effect similar to a cock ring. The mesh is a couple of inches long, so it gently constricts a longer part of your shaft. That way, it makes you last longer and gives you more erection support.
I'll get into more of those features later, but for now, I want to say that the designers did a great job with this one. Probably the main feature of this toy is the smooth and sleek silicone material and all kinds of textures along the shaft. Honestly, the silicone material they used looks sturdy as heck and feels fantastic in my hand. Okay, it's not a real dick nor does it look like a realistic dildo. But…! My GF probably wouldn't be able to tell the difference if I turned off the lights and told her that she was gonna get fucked by a big black cock!
Features: CalExotics Black Silicone Extension
Stretch and comfortable cock sleeve
2-inch penis extender
100% pure silicone
Built-in ball strap for accurate placement and extra support
Mesh sleeve for boosting stamina
Total length: 5.75 inches
Width: 1.75 inches
Extension length: 2 inches
Size Matters, Bro
Your cock certainly won't grow overnight! Well, the awesome thing about this sex toy is that you don't need to get surgery or try any obscure Japanese dick pills. With the CalExotics Black Silicone Extension, you get a stress-free method of turning your willy into a BBC almost instantly.
However, I noticed some features I loved and some things I didn't like during this CalExotics Black Silicone Extension review. Namely, the dimensions of this toy work great for my member. The width is 1.75 inches, which allows me to easily slip my dick inside. Furthermore, the total length is 5.75 inches. When I do the math, it actually gives me a size boost of around 1.75-inch. That's not a lot, but trust me – I have a 4-inch dick. Anything will seem bigger and better!
In fact, the Black Silicone Extension gives me a size that's just slightly above average. That's pretty acceptable. It's also better than struggling with my 4-incher. Still, that's where we come to a problem with this toy. It might actually be too small for some guys who already have a 5- or 6-inch dick. That's why I'd recommend it only to dudes who are under 5 inches. I don't know how you would use it otherwise if you have a bigger dick. You could try, but you wouldn't be able to attach the ball strap, and I guess the whole thing would be pretty unstable.
Fit and Feel
If you are under 5 inches, I think this toy will feel perfect for you. I was able to quickly attach it to my cock and balls without any issue. Plus, with some lube, the inside feels pretty smooth. Sure, all cock sleeves feel like you are sticking your dick inside a plastic tube. However, just push your new enlarged cock inside a willing hole. Then, the sleeve will start to heat up. It will also conform to all the bumps and ridges inside the vagina or asshole you are plowing.
What I loved here is that the sleeve material is not too thick. It doesn't numb your sensations and actually makes you feel your partner's warm tight hole. Yet, the material is just thick enough to support your erection and keep you hard.
A small warning here, though. The ball strap is super thin. You will have to be careful not to break it when you put it on. There's actually an upside to this: it doesn't constrict your gonads too much. Other rings made with thicker materials can actually feel uncomfortable. Combined with the mesh squeezer, the ring feels awesome, and it makes my cock throb harder and harder.
Still, this toy isn't only made for you. It's actually expertly crafted so that your partner will enjoy it a lot. Basically, my GF said that the tip had a perfect angle. It was able to rub against her G-spot just right to give her those full-body orgasms and keep her cumming over and over. The added ribbed texture that you'll find just under the tip boosts the stimulation even further. My GF said that the texture was the most interesting part from the tip to the base.
Materials
As I said earlier in my CalExotics Black Silicone Extension review, the thickness and smoothness of the silicone material are a total win for me. What's great here is that CalExotics uses premium silicone that's 100% body-safe, non-porous, and phthalate free. That means you can use it in any hole and not worry about your new fake cock absorbing nasty bacteria. It also makes it mindlessly simple to clean your new cock. You can soak this thing in water or clean it under the tap, but you can also boil it to sterilize it completely.
However, while the silicone material makes it easy for me to clean this toy, the mesh at the bottom of the shaft can complicate things a bit. There are tons of small holes and vents in the mesh. They can accumulate dirt pretty quickly, and it's actually a bit annoying to clean them every single time.
Plus, the mesh starts around halfway down my dick. I didn't want to risk it and cum inside during sex because I was afraid that all the jizz would drip out through those holes! So yeah, while the mesh feels awesome against my cock, I would prefer to be able to use this thing without worrying about any cum spillage…
Pros
It will instantly give you a bigger dick
The angled tip plus the ribbed texture made my GF cum hard
It's great for guys with small dicks
Cons
I'm not sure how this cock extender would work if your dick is bigger than 5.75 inches
The mesh texture is hard to clean
You only get 2 extra inches. It's enough for me, but it may not be great for you
CalExotics Black Silicone Extension Review
To summarize my CalExotics Black Silicone Extension review, I have to say that this is a top-notch penis sleeve. Still, while it feels great for my 4-inch dick, I wouldn't recommend it if your cock is above average. But if you have a smaller pecker, you won't regret it!
⚠️ Disclaimer: Our articles contain affiliate links. If you like our content and wish to support our work, consider purchasing your new sex toys through our links. For each purchase through our links, we receive a small commission but at no extra cost to you.
| | |
| --- | --- |
| 👉 Name: | CalExotics Black Silicone Extension |
| ⚙️ Features: | Wearable, Textured, Scrotum Ring, Curved Tip |
| 📁 Type: | Penis Sleeve |
| 🛠️ Materials: | Silicone |
It didn't exactly bless me with a BBC, but it boosted my cock size by 2 inches and it made my GF cum. Still, if you need more than 2 inches, look elsewhere.
3
My GF says all the different textures and the curved tip felt great inside her.
3
The inside feels smooth and tight, but it didn't stop my cum from dripping out.
2
The material feels elegant and awesome, but the mesh sleeve is hard to clean.
3
Editor's Pick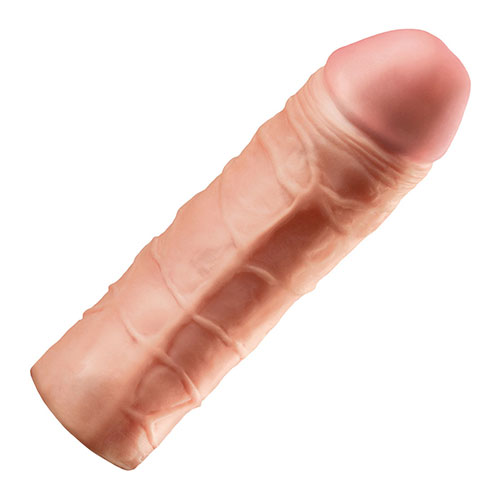 Fantasy X-Tensions
⚙️ Special features:
Realistic head and veiny shaft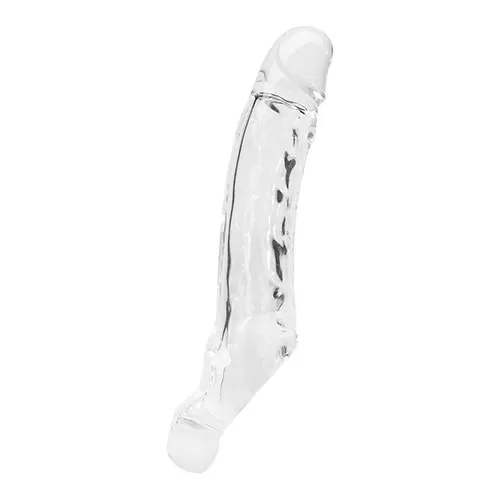 Lovehoney Mega Mighty Male Enhancement Kit
⚙️ Special features:
6 piece sex toy kit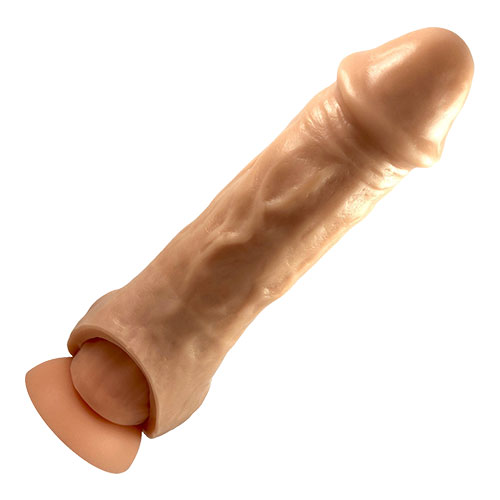 Vixen VixSkin Colossus
⚙️ Special features:
Extra-thick extender