Oct/24/2022
Last Update: June 26, 2023
1205
7 min read
Balldo Balls-to-Dildo Set: This Sex Toy Will Turn Your Ballsack Into A Second Dick!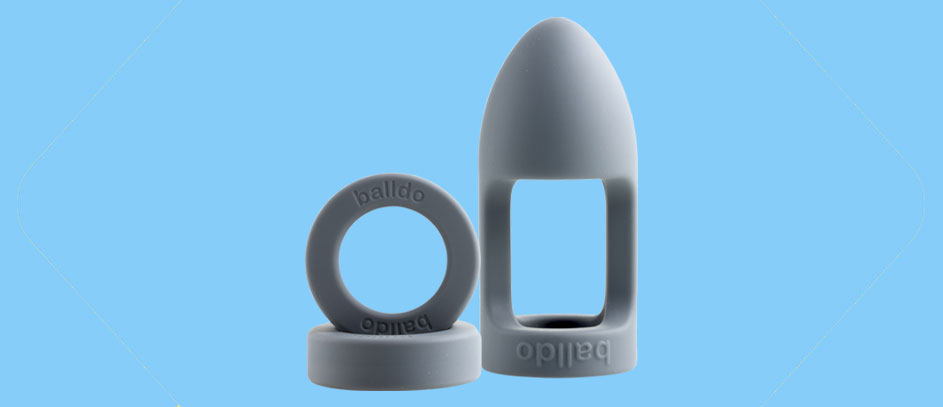 Have you ever looked at your nutsack and thought: gee, what would it feel like to stick my spunk bunkers deep inside my girlfriend's tight butthole? Well, my friend, it seems like you're in need of a Balldo. But Richard, what in the world is a Balldo, may you ask? Just bear with me in this Balldo balls-to-dildo set review and it will all cum together.
Now, it's a common fact that our testes need more love down there. If you think about it, they are criminally underused. Sure, I start seeing unicorns and rainbows whenever Scarlett slobbers all over my jingle bells and eats them up like a popsicle. But, the Balldo proves you can do much, much more with your gonads. Ever heard of a "ballgasm"? Check out this Balldo balls-to-dildo set review to see how I turned my snow globes into a rock-hard cock!
All You Need is Balls
If you think about it, the Balldo is one of the most revolutionary male sex toys of our time. It's the first-ever toy in the world that can actually transform your cojones into a penis. Talk about going balls deep, right?
Well, the Balldo actually has several purposes. It doesn't merely turn your nuts into a highly functional tool for penetration. Actually, it puts a second dick right there below your main weapon. It allows you to use two penises simultaneously! I hope I don't need to spell out the benefits of that for you and your partner here. What's more, it buys you a ton of time if you want to prolong your erection or stimulate yourself until the next one. Last but not least, it's a neat penetrative solution if you're having trouble keeping it up.
First Look: Look Ma, I Put My Balls Inside My GF's Pussy!
Regardless of your reasons for wanting to try the Balldo, the ingenious designer of this scrotal device claims that it will deliver strong "ballgasms". This is something that's yet to be explored in our bodies.
According to its creator, Jerry Davies, he designed it to stir up a "ballsex revolution". Sure, the design is odd and confusing at first, so let me clarify that for you.
Where's Balldo?
When I received this toy for my Balldo balls-to-dildo set review, I noticed that it comes in three parts. The first piece looks like a dildo-shaped silicone cage that stretches around your pebbles. The other two pieces are thick spacer rings. These rings demonstrate just how clever the Balldo's design really is. For example, if you have a saggier sack, you need to use the rings to make it stiffer for penetration. And that's pretty much it. The rest is pretty simple: shave and lube up your swingers, and then quickly pop them inside.
However, let me also mention that this thing took around three whole years to perfect. It actually required more than 100 prototypes. That goes to show these guys really care about your balls! Also, the Balldo was backed by a huge Indiegogo campaign which ended up collecting a whopping $150,000 to fund the project.
Balldo Features
Silicone balls-to-dildo kit
100% stretchy platinum silicone
Easy to clean
Tapered tip
Total length: 6 inches
Insertable length: 4.5 inches
Circumference: 6 inches
When Balls Deep Isn't Deep Enough…
Obviously, this bad boy is the only toy on the market that enables you to use your nuts like a second dick. That's why I can't really compare it to anything else in my Balldo balls-to-dildo set review. At the end of the day, the whole point is that you're ball fucking. Yes, ball fucking!
You know, you can get that sweet "nutz in da ass dick in da pussy" action and feel like you're actually doing that with two dicks. But does this thing actually work as intended? Well, I was the one who had the balls to try it and live to tell the tale.
Testing the Balldo in Action
Again, it's all actually much simpler than it looks and the whole process of putting it on is effortless. The best thing is that you don't need to be hard because after all, you're popping this thing onto your marbles.
To avoid getting my pubes all up inside Scarlett's pussy, I first shaved my sack and carefully proceeded to put on the Balldo. Now, this thing is actually pretty safe and it's not shark-tank uncomfortable. There are two openings on each side for your nuts. That way, your balls will stay ventilated once you put them inside. Not only does this keep them from being pulled and hurt, it also allows you to feel a lot of stimulation down there.
During my tests, I made Scarlett give me a ball-job aka suck my new dildo-dick like it's my actual penis. Here, the sensations of her tongue running through my skin were super tingly. It got my real cock throbbing within minutes. But what happens when you actually push the Balldo inside a wet hole?
Well, not gonna lie but it's totally weird. First, you need to choose an easy position like doggy style. Then, find an angle that suits you. After that, slowly push the tapered tip in along with your balls. I first tried it in hole #1 (aka Scarlett's delicious pink pussy) and the sensation was just too hard to describe in words. The hollow dildo-like tube actually gives you some constriction and pressure. This was more than enough to drive me wild. Also, the opening for my balls to stick out is just enough to get them warm and wet inside my GF's pussy. This felt incredible and it was one of the most unusual sensations ever.
The Nut Job
One of the tricky things about this toy is that you'll have to learn to maneuver it.
After all, none of us were born with two dicks. Even if you're used to double penetration dildos that you can attach to your cock, the Balldo is, shall I say, a totally different ball game.
For example, I had to watch out for my movements and get used to my new dildo for a little while until I felt that my slappers were fully safe. So be careful here. It's easy to mess up and put this toy on incorrectly. What's more, you need to be careful during penetration. I wasn't entirely sure of how much pressure I was using in Scarlett's pussy. Plus, I wasn't able to feel the exact spot where I was penetrating her. Nevertheless, I genuinely enjoyed the sensations I got from the spacer rings and the whole "ball sex" thing felt pretty good for me. Especially when I was pounding her asshole with my balls. That's something you don't see every day!
But, let's talk about the actual dildo now. The entire thing is 6 inches long with an insertable length of 4.5 inches. I'm pretty sure that would be too small for my GF under normal circumstances. Still, she said it felt pretty good but only once I learned to use the damn thing correctly. The issue is that the dildo is a bit hard to push inside. Also, if you're not careful, it could feel uncomfortable for your partner. In fact, Scarlett said it felt like aliens were probing her. But let's not take her word for it because she's a kinky little kitty and she actually likes that sometimes…
Her Vagina is Still Sore…
The biggest takeaway I can get from my Balldo balls-to-dildo set review is that it's all about trial and error. You will need to take your time and experiment. To be honest, the Balldo didn't do much for Scarlett. Actually, she couldn't get off and she needed to cum the "normal" way (with my 8-inch cock deep in her pussy, of course). But speaking of pleasure, this damn thing has given me some of the strangest orgasms ever.
Like, it made my balls explode in just a few seconds after I first put it on. Trust me, it feels like the Balldo is squeezing the orgasm directly out of your balls without needing to stimulate your dick. And that's something I've never felt before. The next couple of times I tried it, I lasted for a bit longer (like 15 to 30 seconds or so…). Even though that was embarrassing, this sucker gave me another huge "ballgasm" that made me run to my phone and look up the best way to get my jizz out of the couch upholstery. Just blot it out with detergent, in case you were wondering…
Pros
It's one of the most unusual toys I've ever tested
It really works – this thing gave me some deep ballgasms!
The silicone material feels smooth and is easy to clean
Cons
Not for everyone
It might not feel all that comfortable for your partner: you'll have to take it easy and figure it out along the way…
Balldo Balls-to-Dildo Set Review: Verdict
To end my Balldo balls-to-dildo set review, all I can say is you'll never know how this thing truly feels until you try it. I mean, it turns your nuts into a dick and gives you strong-as-balls orgasms that you've probably never felt before. So check it out today and you'll have a ball!
⚠️ Disclaimer: Our articles contain affiliate links. If you like our content and wish to support our work, consider purchasing your new sex toys through our links. For each purchase through our links, we receive a small commission but at no extra cost to you.
| | |
| --- | --- |
| 👉 Name: | Balldo Balls-to-Dildo Set |
| ⚙️ Features: | Adjustable Spacer Rings, Tapered Shaft, Vents |
| 📁 Type: | Ball Stretchers |
| 🛠️ Materials: | Silicone |
It's by far the strangest and most unusual sex toy for men on the market!
5
It really works: it gave me some unforgettable ballgasms in seconds!
5
While the whole thing is easy to put on, there's a huge (and expected) learning curve and you will need to be careful during sex with your partner.
3
I'm totally into the Balldo, but I'm not so sure if most guys will dig it…
3
Editor's Pick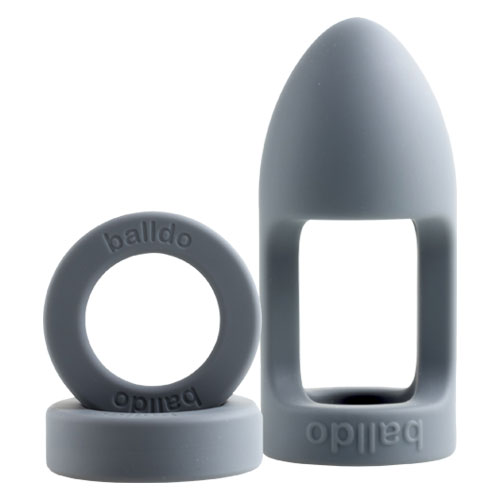 Balldo Balls-to-Dildo Set
⚙️ Special features:
Second shaft that never goes soft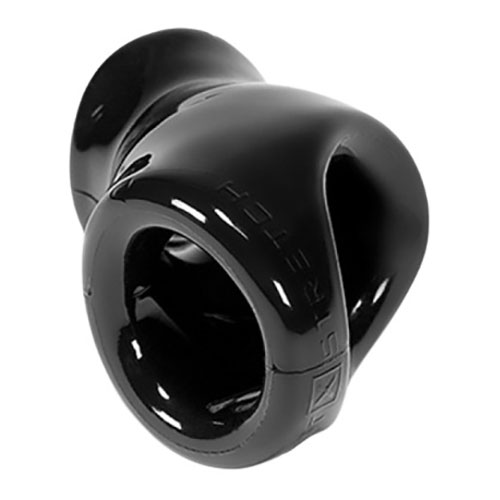 Oxballs Atomic Jock
⚙️ Special features:
Help boost erections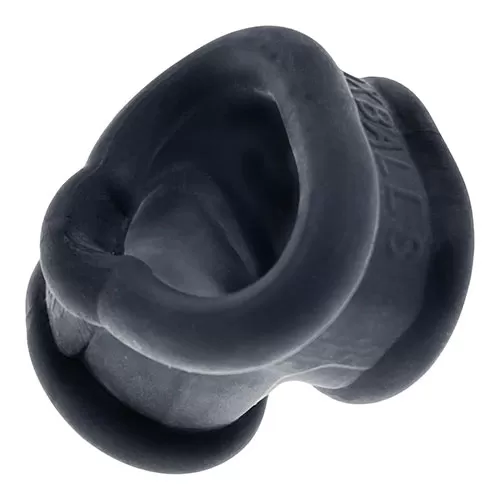 Oxballs Cocksling 2
⚙️ Special features:
Stretchy material fits any size