Jul/04/2022
Last Update: June 26, 2023
1035
24 min read
Best G-Spot Dildos In 2023 For A Fabulous Squirting Extravaganza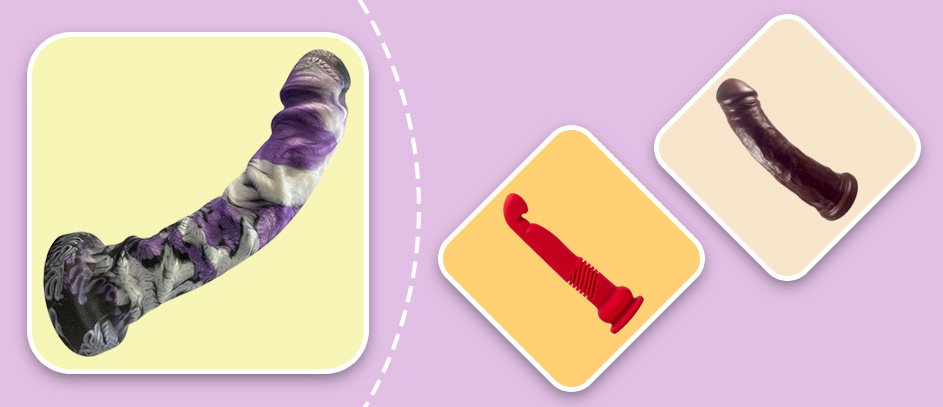 In 1981, some sexologists successfully attempted to debunk the mystery of the G-spot, and a married couple demonstrated the puzzling process of female ejaculation in a lab full of scientists with curious minds. However, the debates about the nature of squirting and the existence of the G-spot are still going strong. But fuck that! I'm not here to talk about the legitimacy of your pussy today! I want to tell you all about G-spot dildos and how you can use them to tickle and pound your sweet spot all the way to glorious "I can't even fucking remember my name, and I'm craving french fries" orgasms!
Top 10 G-Spot Dildos in 2023 – They'll Hit the Spot Every Time!
To save you from all the decision woes and option anxiety, I treated my minge to a selection of G-spot toys. I'll help you find the best of the best! So check out my list of the best curved dildos in 2023, from thick and big and curvy fake cocks to pound you like your favorite pornstar to cute-but-deadly non-phallic shapes and even glass G-spot massagers for extra-hard fun! Wanna prove to everyone that the G-spot isn't a myth? Let's go!
G-Spot Dildos: Enter the G-Zone
My favorite type of pleasure comes from the inside, regardless of if I'm shoving a thick, black dildo balls-deep or I'm down on all fours, and I'm taking the pounding of a lifetime from Richard's 8-inch monster.
When he chokes me and says, "You're gonna squirt all over daddy's dick, and then I'm going to make you swallow my cum before I pound you deep in your asshole again and again"? Holy fucking shit!
But seriously, whenever I pay even the slightest attention to Area 51, I can unleash the most powerful squirting orgasms that feel like I'm blasting a tsunami out of my hole. Like, my whole body starts to vibrate, and I can experience transcendental, soul-destroying orgasms.
However, talking about the best toys that can tease your popcorn machine can be quite complicated since this erogenous zone is different for everyone. Like any grown-ass woman, you're probably likely to enjoy vaginal penetration in tandem with clitoral stimulation much more than simply sticking things up there and pushing them in and out.
If you're struggling, don't fear – G-spot dildos to the rescue! I'm going to tell you exactly why you need one of these toys and how they can help you explore thunderous orgasms, whether you're a G-spot connoisseur or not.
The Perfect Dildo for Your G-spot
The words "G-spot" and "dildo" always sound like award-winning poetry to my ears.
Basically, G-spot dildos have a curved shaft and an angled head. They'll make it easier for you to find that hidden spot. Your mission? Use it to fill yourself up with cock until you drip, gush, and squirt across the room! Oh, sweetheart! If you're just starting to look into dildos and you've got a little itch in your G-spot, these bad boys will spread your magic muffin wide open until your bed is soaked with all sorts of creamy goodness and you have to buy new sheets. They'll literally pummel your secret spot with waves of epic, unforgettable erotic pleasure!
However, if you want to hit it just right and cum like you mean it, note that not every G-spot toy is equally as magical. There are thousands of choices out there. Some can be downright disappointing, others may not fit you, and some might not give you the exact G-spot pleasure that you're looking for.
Also, you're gonna need a towel as well as your trusty sex toy expert Scarlett here to assist you before you find the best G-spot dildo! Why a G-spot dildo, you may ask? Well, they are some of the most intense fake cocks and G-spot massagers out there. Plus, if you're a G-spot freak like me, these dildos are some of the best toys that get you extremely horny and ready to party like your pussy has been locked up in a cage for centuries, and you're just experiencing that dick for the very first time.
What's a G-Spot Dildo?
Now, curved dildos are quite similar to classic dildos. Generally, these types of dildos are extremely popular among all women who are able to have G-spot orgasms and know their bodies well enough to squirt like a machine gun every time.
If you've always wanted to be one of those girls, but you just couldn't get it right, it's definitely time to jump on a G-spot dildo. These toys will give you a long and wide shaft to play with, but what makes them different is their ergonomic design and G-spot-friendly shape. They are specifically crafted to give you smarter and more effective orgasms right there in that special area.
Usually, you'll recognize these naughty toys by their curved tips and an often bulbous head. The shape is supposed to rub directly against your sweet spot. Plus, with so many options out there, you'll be able to find the best kind of toy for you, whether you like it rough, plain vanilla, or somewhere in between.
That includes dildos that look like huge throbbing cocks (mmm-hmmm), as well as less intimidating toys with a more subtle, non-phallic design. Heck, with so much innovation out there today, you'll even find smart VR-enabled dildos that can sync to your favorite adult content or even connect to your partner's toy.
Besides giving you a wild ride, these dildos will help you figure out how to please your fufu for strong vaginal orgasms and change everything you thought you knew about cumming hard. And trust me, I'd feel troubled if I found a girl who didn't like a decent orgasm. They feel mighty awesome, plus they make your skin healthier, make you sleep better, and they can keep the wrinkles away!
G-Spot Dildos vs. G-Spot Vibrators
Honestly, I love my line of work, especially when young girls out there send me questions like "Hi, what's the best DP dildo?" or even "Scarlett, does my boyfriend really want me to stick an inflatable butt plug up his butthole and blow his ass out like a balloon?" What about the one that said, "Dear Ms. S, I caught my husband using his dad's pocket pussy. Should I be worried?!?"
While all of those are totally legit (well, maybe that last one is mildly disturbing), the question I encounter time and time again concerns the differences between G-spot vibes and dildos. Well, it's very simple: the former vibrates; the latter doesn't. And since we're strictly talking about G-spot toys, I want you to focus on the difference between G-spot dildos and G-spot vibrators.
Namely, curved dildos are insertable toys that work wonders for all women who love intense penetration. Conversely, G-spot vibrators can give you vibration plus penetration. If your vajayjay is sensitive to vibrations, or if your cum button needs firmer in-out or come-hither movements, you'll need a G-spot dildo.
Sometimes, deep vibrations feel ticklish. Some of the noise can be distracting while you're trying to cum. On the other hand, G-spot dildos pack more penetrative power. They're cheaper, quieter, as well as easier to use and clean. They'll deliver more direct pressure against your pleasure zone, especially if you need steady penetration and aren't all that into vibration.
G-Spot Greatness Explained
G-spot play has everything to do with your anatomy and the way you reach climax. Also, not everyone is guaranteed to have a legendary squirting orgasm when they first use a G-spot dildo. What's more, you can have G-spot orgasms without squirting. Alternatively, you can use your curved dildo for an additional kick while you're actually reaching a clitoral or blended orgasm.
Basically, the G-spot or the Gräfenberg spot isn't as stigmatized as it used to be. In the past, sexologists thought that it was a separate sexual organ. However, those opinions have changed. The spot is now considered an erogenous zone that's connected to your clit. It's a soft, spongy bulge made of sensitive tissue. The current opinion is that the area has some connection to the expulsion of urethral fluids. It swells up when you get extra horny. You probably know the rest…
But, if you haven't found it already, just slide one or two fingers inside. Then, press them against the upper wall of your love tunnel. You'll feel a coarse bump approximately 2 to 3 inches in. This will be the exact target for your G-spot dildo.
If you already know that, I still want to help you genuinely understand what type of stimulation and penetration you need for your pleasure cave. When you find that out, you'll know exactly what type of curved dildo you need to buy.
Types of G-Spot Dildos
There are many subtle nuances and differences in the designs of these toys. We can place these toys in several different categories according to their material, style, size, design, and features. The first step towards finding your dream dildo is to learn about all the fun types to treat your punani with:
Silicone G-Spot Dildos
Silicone is undoubtedly my favorite material for all dick-like penetrative toys. You'll find it on all kinds of high-end and budget sex toys. That includes bullet vibrators, butt plugs, prostate massagers, etc.
When it comes to silicone G-spot dildos, they are best intended for girls who like soft and smooth penetration. These types have long, smooth curves and soft heads. They'll deliver squishy pressure directly on your magic button and all around it!
Even better, silicone dildos are the safest toys to use in your honey pot. Since silicone is non-porous, it doesn't absorb bacteria. It will last indefinitely. Also, it won't pose any risks for your skin. Additionally, taking care of this material and cleaning it is a breeze.
What's more, what I also love about silicone G-spot toys is the way they feel after you insert them. While they seem soft on the surface, they'll still feel firm and hard once they're inside you. This is especially important if you want the closest thing to a real dick or you need a toy that delivers the perfect blend of flexibility and direct pressure.
Rubber G-Spot Dildos
Frankly, these toys are a bitch to handle because they are extremely porous. They're soft and bendy, and while they have all sorts of fun purposes, I'd advise you to stay away if you're looking for your first toy. Why?
Rubber G-Spot dildos contain phthalates or toxic chemicals that manufacturers use to soften the rubber. These chemicals can give off a pungent smell. Plus, they are highly unstable for your hole.
Personally, I would skip this option, but if you must, you can use it with a condom. Yet, I don't really see the need when you have lots of other, better options at your disposal.
Plastic G-Spot Dildos
While most girls might cringe at the mention of plastic in their vagina, let me tell you that ABS plastic is hypoallergenic, non-porous, and skin-safe. This means you can use a plastic dildo inside without worrying, and you can get a unique smooth-yet-hard texture from it.
The name of the game here is direct and tough pressure. This type of dildo will give you a totally unique experience that's very different from softer silicone dildos!
Glass G-Spot Dildos
Glass G-spot dildos are also some of the most popular choices for ladies who like it hard. But, they also look like magnificent pieces of art. Generally, glass dildos can be translucent or colored, but they're always shiny and expertly crafted. Meaning, they'll look extra hot as you're sliding them inside!
Of course, most people are quick to question the durability of glass toys. But, let me tell you that it's really, really hard to damage a curved glass dildo. These things are made out of quality borosilicate glass that will never crack unless you drop it hard. Glass is also body-safe and non-porous. This makes it an ideal contender for your new G-spot dick. But, what sort of sensation can it give you?
Well, curved glass dildos are known for their strength and stability. Obviously, they won't bend, which is exactly what so many fans like about them! They'll create an unusual feeling as your beaver tightens up around the smooth and hard material.
It's not something that everyone enjoys, but if your G-spot needs more intense stimulation, this type might be the ideal choice. And just like the next type I'm about to show you, you can cool down or heat up glass dildos for extra tingly temperature play.
Metal G-spot Dildos
Bend over and let me stick that metal anal hook up your butt, you little slave! But wait up – why are metal G-spot toys so popular?
These toys usually have stronger curves compared to the other types. If you have a filthy mind, they'll most likely remind you of anal hooks. Metal or steel curved dildos are common in BDSM circles, and their appearance definitely doesn't hide it. But, you don't have to be a fetishist to enjoy the special pressure created by this toy.
Like glass, you can cool your curved dildo down or heat it up for unique experiences as it changes its temperature deep inside you. Again, just like glass, metal G-spot milkers can give you a merciless, rough penetration to make you squirm. Usually, they have a metal ball or a teardrop-shaped head for hard and fast G-spot entertainment.
In my opinion, these toys are great for no-limits BDSM marathons and all kinds of dirty bondage acts, but they'll also help women who are not that sensitive in their danger zone. Also, one of the best features of these is that they can have two insertable ends of different sizes, so you can experiment even more.
Check Out These Popular Options:
Realistic G-spot dildo – I'll say it again: this is the closest thing to a real dick out there. Compared to realistic dildos with a straight shaft, these curved G-spot toys will feel a lot more natural inside you. You can use the ultra-realistic head to pummel your G-zone or make the curvy shaft cup your sweet spot for a deep massage.
Non-phallic G-spot dildo – You'll get beautiful curves, colors that pop, and smooth shafts that don't resemble a real wang.
Small G-spot dildo – If you're too sensitive down there, and you don't like big toys, smaller sizes might be just the ticket. They also make for a great travel companion!
Double-ended G-spot dildo – These types have two ends that you can experiment with on your own or use them together with a partner.
G-spot strap-on – If you want to wield a long and thick cock as your greatest weapon, get a strap-on dildo. Strap-on G-spot dildos are fantastic for couple play, especially if you want to bang your lesbian lover or dominate your BF's booty.
G-spot dildo vibrator ​​- This is a totally different toy compared to vibrating G-spot massagers. It's shaped like a full-size G-spot dildo, and it gives off vibrations that are slightly deeper and more rumbly compared to standard G-spot vibrators.
XL G-spot dildo ​​- Do you need an extra-large fake cock to make you tremble in excitement or uncertainty before it spreads your hole out to the max? Well, XL dildos are not the most beginner-friendly playthings out there, but if you know what you're doing and you're ready, they'll give you more cock than you'll ever dream of!
Fun Features to Explore:
Handle – A handle could make it easier to use your dildo for steady in-out motions. Also, some silicone dildos with vibrations will include button controls directly on the handle. Plus, a metal or glass G-spot dildo could include an insertable handle with beads or balls along the base.
Strap-on base – Some of these toys come with a special base that allows you to mount them onto a strap-on harness.
Suction cup – If you want to mount your dildo and ride it hands-free, a suction cup base is the best option. It makes your dildo stick to flat surfaces and enables you to use it in all sorts of positions. Look ma! No hands!!!
Finger harness – Some small and portable G-spot toys could come with a special harness that attaches them to your finger. That way, you can dig in with your finger and make the exact motions that you're looking for.
Vibration – Vibrating G-spot dildos will give you a wide range of vibrating modes, speeds, and strengths to explore.
Dual stimulation – Some of these toys (most commonly silicone dildos) could provide you with a built-in clitoral or anal stimulator. Double trouble, baby!
Textures – These dildos can also include a variety of different textures, from tiny and subtle swirls to big bumps or beads. These features are most common on glass dildos. I love them for smooth icicles-in-my-cunt sensations that push me straight to madness!
Still Not Enough? Take It to the Next Level!
If you're looking for the latest and greatest, some of the features below are the newest in the industry. They'll please anyone who wants to explore the latest sex tech:
App control – You can sync some dildos to your phone and experiment with all kinds of remote control options. Usually, only G-spot dildos/vibrators will give you these options. You can use an app to make custom pulsation patterns, monitor your orgasms, or even sync the vibrations to music.
Long-distance – App-controlled dildos can literally save your long-distance relationship! Even if you're miles away, your partner can use the app to control your curved dildo and your pleasure!
VR – Some dildos from brands such as Kiiroo or Lovense are VR compatible. They can connect to your favorite VR content. Others can link directly to your partner's sex toy for even more intense long-distance fun.
Things to Know Before You Buy Your G-Spot Dildo
Look, I know those porn girls make it seem easy when they stuff themselves full of the first dildo they grab. However, you'll have to put some thought into finding a safe and durable toy that will please you for years to cum.
Of course, basic curved dildos are not that expensive. You can always buy several if you want to train or experiment. But if you want to find just one toy that does it all for you, it's time to put on your thinking cap and look into:
Materials: Soft or Hard?
To recap: the safest materials are silicone, ABS plastic, glass, and metal. Again, when choosing the material, it's incredibly important to think about whether you like it hard or soft.
Softer silicone dildos will give you the most realistic sensations, while harder metal or glass toys will give you entirely unique sensations.
So the next time you're rubbing one out, stimulate your squirt button to see if you prefer hard or gentle pressure. This will give you some idea of which material to pick. Just remember that if you're sensitive, go soft. If you like it rough or you prefer solid pressure, find something harder.
What's more, the materials will also play a huge role in the look of your toy. If you like big black cocks, a tiny pink toy might look like a joke to you. And if you're scared of real penises, it's better to skip those realistic silicone dildos. What's more, if you need a unique design that looks great in your dungeon and pairs well with your gag-balls and anal-stretchers, metal or glass dildos will be the perfect discipline tools.
It's So Curvy…
My next tip for you is to inspect the curvature of the toy. Do you prefer a subtle curve that lets you stimulate your G-spot all over? Or do you want a more intense bend for ultra-precise G-spot stimulation? Here, the former will work miracles for fast penetration and an intense massage of your entire love tunnel. However, the latter might also feel juicy if you prefer to use your toy without too much movement. Stronger curves will work better if you want to leave your curved dildo inside and feel pressure just from one area while making short movements.
Moreover, if you pick the wrong curvature, you may not get the desired effect. For example, if the bend is just too shallow for you, it might not tickle you exactly the way you like it. And if it's too curvy, it could even feel a bit uncomfortable.
Just the Tip, Baby!
The head or tip of your G-spot toy is one of its most important parts. It will determine the way the dildo stimulates your pleasure zone, so it's vital to pick one according to your anatomy.
For example, I prefer bulbous or round heads that put direct pressure against my whole squirt button. Yet, I also love curved realistic dildos that stimulate the entirety of my vaginal canal while rubbing against my sweet spot.
So, think about whether you want a larger and larger head or one that matches the width of the shaft. You can also buy a toy without a head and get a solid, curved shaft to play with.
Are You a Size Queen, or Do You Prefer a Small Dildo?
Do you want it big and bold or small and portable? This decision will be incredibly subjective, and it will have everything to do with the placement of your G-spot.
Most women will feel the spongy area around 2 to 3 inches inside. So keep that in mind, even if you're craving an enormous 10-incher. But does that mean you have to be satisfied with a 2-inch pickle? Hell no! You can go as big as you want, or at least as large as you can take.
My rule here is to choose anything from 5 inches and up. If you don't want a large dildo, 4 to 5 inches will be just enough. The whole point here is to have a toy that can reach that spot correctly. If it's too small, you won't be able to hit that home run. But if it's a bit longer than the location of your G-spot, you'll always have an extra few inches outside you, and you can always push your fake dick in deeper if you need more of it!
What Features Are Best for You?
Would you be down for an ejaculating G-spot dildo that can fill you up with fake jizz and give you that massive creampie you've always fantasized about? This is one of my fave dildos, and trust me, I cum like a firehose when it covers me in fake semen.
But let's get real: you should choose the most exciting features based on what turns you on. That could include vibration, a suction cup or a strap-on base, an added clitoral stimulator, warming functions, etc. Just follow these tips:
Inspect the quality of the features and think about whether or not you really need them.
Vibrating, pulsating, or warming toys should be waterproof.
You'll need to pay extra for app control, long-distance, and VR features.
If you're getting a vibrating dildo, make sure it has the right amount of power you need.
What about the noise? If you need strong vibrations, some dildos might be too loud for your household. You may need to pick a quieter one that won't wake the neighbors.
If you get a vibrating toy, choose one with multiple patterns, speeds, and strengths to ensure you'll never get bored.
How Much Should You Spend?
Realistically, you will be able to get a quality, no-frills, silicone G-spot dildo for around $50. If you're looking for something under $50, it might be better to wait and save up.
Some of the cheaper options are not as good as they claim to be. What's more, if you can spend $50 to $100, you'll get into the high-quality territory. But, as always, the price will not always indicate the quality, so it's smarter to follow all my tips before you spend more than $100.
Don't Forget:
You can speed things up by checking out user reviews and even hot video demonstrations of the toy you're most interested in.
Avoid cheap toys made of rubber, latex, or PVC.
Try lots and lots of G-spot pleasure before you get a toy. That way, you'll know exactly what size and sensation you're looking for.
Go big only if you know you need the extra length and width.
The curve, head, and texture of a G-spot dildo are the most important features that you should pick according to your own anatomy.
Tips on Using, Cleaning, and Storing Your G-Spot Dildos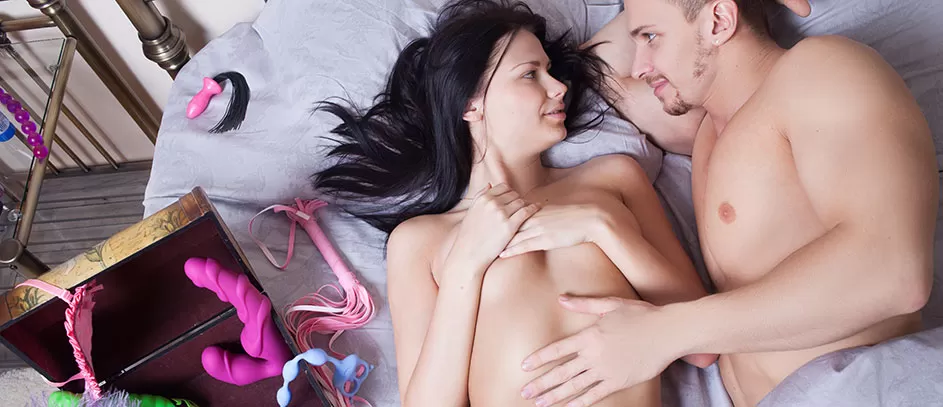 "Do you hate cooking for your boyfriend, tossing his salad, and talking about yet another one of his boring-ass baseball games? Oh, sweetie, just make him fuck you with a G-spot dildo, and you'll cum so hard that you'll let him do anything he wants to you!!!"
Whether you're getting a silicone, glass, or metal dildo, the rules will basically stay the same here. However, you'll need to be patient, and you'll have to keep an open mind.
Don't Ram It in There if You're Not Prepared
Obviously, plowing your dildo in there like it's a torpedo will not feel pleasant. With G-spot play, you should first masturbate and get yourself 100% wet and horny before insertion.
Trust me: if you want that big squirting orgasm or a full-body release, you're gonna have to work for it. The best way is to use your fingers, play with your partner, or even experiment with another toy externally. You can also get kinky and suck on your dildo or rub it over your entire body. This will all depend on you and your turn-ons.
However, while your goal is to get gushing wet, you're also going to want to lube your dildo up. Here, it's important to apply lubricant along the shaft and on the head. Also, only use a compatible lube with your toy. You can try a water-based lube with your silicone dildo. But, if you're buying glass or steel dildos, you can use silicone or even oil-based lubes.
Time to Play
Once you're all lubed up, you can insert your fake cock and direct it towards your joy box. When you find your G-spot, you can try all sorts of movements with your dildo. That includes your good ol' in and out penetration. Still, you can also push the dildo and hold it in there while making some minor movements. For example, some girls love a direct pounding over the top of their G-spot. Others like to massage it all over.
Should You Only Use It for a G-Spot Massage?
Sure, most G-spot toys can hit your sugar spot until you feel like royalty. However, you don't only need to use them in your cooch. As mentioned, you can rub it over your entire body for extra-tingly sensations. But, you can also rub the tip or the shaft along your clit.
A neat secret I haven't mentioned so far is that many girls love G-spot dildos for anal play. Oh yes, these extra-curvy dildos will spread your butthole wide open until you're squirting like an anal slut and begging for it harder and harder. If you're into it, these toys will feel irresistible because the curved shaft will target your sweet spot directly through your rectum for blended G-spot and anal orgasms!
A Clean Dildo Is a Happy Dildo
Now, you might think that cleaning all that squirt, spit, lube, cream, and jizz off your dildo is going to be a hassle, but if you know what you're doing, you'll make your toy spotless in just a few minutes.
My method is to soak my waterproof toys in warm water and clean them with mild soap. You can also put your dildo under the tap and use your hands or a soft cloth to get rid of any nasty residue.
The final step is to let your dildo dry before you put it away. If the original box is safe enough, you can leave it in there. However, I prefer to keep my dildos stored away in separate carrying pouches or even plastic boxes to keep them away from bacteria.
G-Spot Dildos Industry Secrets
In case you didn't know, humans have been using sex toys pretty much since the dawn of time. But who invented the G-spot dildo? What are some famous brands that are pushing these toys into the future?
30,000 Years of G-Spot Dildos
Did you know that it all began 30,000 years ago when our ancestors crafted dildos and other phallic-shaped tools out of stone? I'm guessing they weren't the safest and healthiest toys for those ancient pussies and assholes, but they probably worked as intended.
In fact, the oldest dildo that was ever discovered was 8 inches long, meaning that our ancestors also had strong appetites for large cocks. Many years later, all sorts of ancient dildos started popping up in Egyptian, Greek, Japanese, and European cultures.
Dildos were also found in the 1500s in England and Italy, and they were made of glass. Some of them even made appearances in Shakespeare's plays, but this was purely for comedic effect. Still, the entire history of dildos deserves an encyclopedia in itself, so it's better to focus on some more current events to tell you how these wonderful toys developed into the magical orgasm machines we know today.
The story says that Gosnell Duncan invented the first rubber dildo in 1965. He was a disabled gentleman who still wanted to have sex with his wife, and after learning about the potential of rubber, he designed a phallic-shaped dildo for his sweetheart. Soon after, he commercialized his idea and used the sexual revolution to steer the popularity of his new sex toy.
The G-spot dildo was invented in the final decades of the 20th century, along with many other sex toys, such as the Magic Wand and the vibrating bullet. What also helped is that people were just dying to gobble up the latest fake cocks and use them to transform their sex lives!
Leading Brands Today and the Future
The sex toy industry truly hit its peak with the dawn of the internet, but that was just the beginning. Today, hundreds of brands are competing to push the envelope of all the things you can push deep inside you.
Some of the most iconic names in the world of dildos are N-Joy, Je Joue, Adam and Eve, Doc Johnson, CalExotics, Fun Factory, We Vibe, Lelo, Hot Octopuss, Womanizer, Mantric, Satisfyer, Svakom, etc.
These companies are pumping out the latest and greatest curved dildos with smooth materials, on-point designs, awesome next-gen features like AI or VR compatibility, smart controls, teledildonics, etc. However, the best way to stay ahead of the curve is to get your G-spot dildo today, spread that sweet pussy wide, and pound yourself until you cream!
⚠️ Disclaimer: Our articles contain affiliate links. If you like our content and wish to support our work, consider purchasing your new sex toys through our links. For each purchase through our links, we receive a small commission but at no extra cost to you.
FAQ
Usually, a classic dildo will have a straight shaft. A G-spot dildo will have a mild or extreme curve. Some will also have a bulbous or round head. The main difference is that regular dildos are designed to stimulate your entire vaginal canal. However, a G-spot dildo has a unique shape that will directly target your G-spot for more intense full-body orgasms.
Yes and no. If you're a complete beginner and you've never used a toy, or you've never fingered your G-spot, this dildo could feel a little weird at first. In my opinion, the more experienced you are, the more you'll enjoy this toy. However, that shouldn't stop you from experimenting with one for the first time. It's a fantastic tool that helps you learn all about the G-spot and improves your orgasms!
Many people have the same concerns, but the truth is that no one will ever be able to find out if you buy your curved dildo online. If you order a dildo, it will arrive at your doorstep in an unlabeled box, and no one will know what's inside it, and you'll fully protect your privacy.
You will need to experiment a lot and even possibly try a few test runs before you're actually able to squirt. Also, remember that not all women can do this. So it's better to ask yourself: how can I have a strong G-spot orgasm? My tip here is to get insanely horny and know exactly what type of movement unlocks your G-spot. Be patient and try to stimulate yourself for at least 20 to 30 minutes and cum several times before your big G-spot orgasm. You can also check out detailed videos and guides on how to do this if you're still struggling.
Absolutely! It can boost your creativity and your mutual pleasure in the bedroom! There are all sorts of things you can use it for, from solo play, foreplay, teasing, and role-play, to erotic massages and kinky BDSM acts. If your partner is into it, definitely try to incorporate your G-spot dildo into one of your fantasies.
Yes, most curved dildos are waterproof. The only ones that might not be are the toys that use electronic components, such as vibration mechanisms. If you know that your toy is waterproof, you can use it in the shower, pool, or hot tub! That way, you'll get some extra wet and extra naughty sensations!