Oct/26/2022
Last Update: June 26, 2023
767
8 min read
This Cock Is Dark And Full Of Terrors! Uberrime Night King Review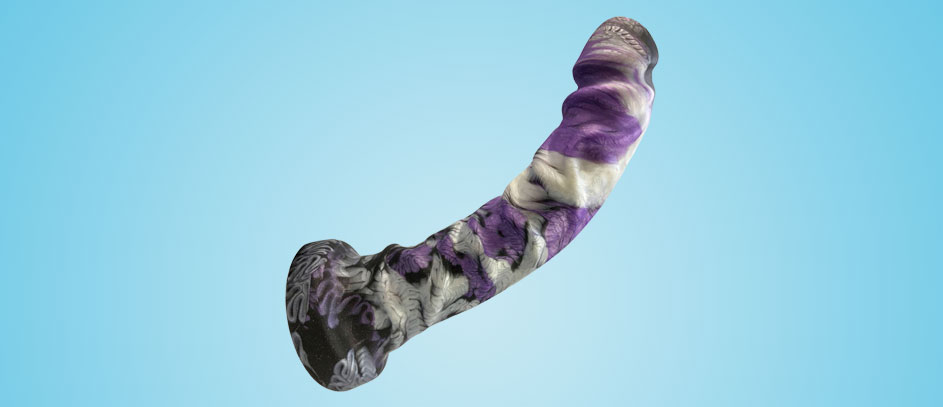 Winter is coming, bitch! Today I'm going to tell you all about the Umerrime Night King Dildo! If you're a fan of Game of Thrones or if you simply want to get fucked by a massive fantasy dildo, this Uberrime Night King review has got you covered.
As you know, the Night King is the ultimate bad guy in GoT. And now, you can fuck a lifelike replica of his cock! Why the hell not?! Seriously, this dildo was made to look just like his frozen dragon-slaying spear, and not the kind we've seen in the show. Also, the Night King is freaking terrifying. Like, the only thing scarier would be to get my holes double-teamed by the Mountain and the Hound while Cersei Lannister watches from a corner. Well, that one actually makes me kind of wet, but you get my poin…
Let's go back to the Night King. Again, he's a seriously creepy dude. Also, he's practically a walking corpse so we're pretty much looking at a big blue zombie cock. Think you have the guts to stick it deep in your pussy and ass? Well, let's see how this monster dildo performs in action when I slam it inside all my holes for this Uberrime Night King review! The long night has finally arrived!
Dildos Cut Deeper Than Swords
For starters, the Night King is a fantasy dildo inspired by the icy blue looks of the leader of the White Walkers. My Uberrime Night King review is actually the first time I've tried any dildo by this manufacturer and I was *really* eager to find out how it felt inside me. Uberrime always gets awesome reviews from happy customers whenever I'm browsing for my next plaything. It seems that they are one of the top designers of hand-sculpted fantasy toys that look like nothing else on the market.
Now, this isn't an official GoT dildo because let's face it, no fantasy TV show would ever have the balls to include sex toys in their merchandise roster. Still, it looks and feels like the big boss of those petrifying humanoid creatures from beyond the Wall.
Plus, I've never imagined or fantasized about what it would be like to fuck this dude. There are tons of other (much more handsome) choices from the show. Of course, we have the obvious candidates: Jamie Lannister, John Snow, etc… Heck, I'm pretty sure even Lady Brienne of Tarth has got a huge pecker hidden underneath her armor. Oh and let's not forget the young squire Podrick who turns out to be the biggest sex god of them all. But still, the Night King is a very, very special dildo and I saw that as soon as I unboxed it.
First Look: The Things I Do for Love…
Not gonna lie but I'm not so familiar with all the GoT fandom and I tested this bad boy simply because my boyfriend is a huge fan. One of the reasons why we chose it was for practical purposes. Namely, this fake cock gave me 8 inches of insertable length. From the pictures, it looked like it had the same exact size as Richard's turbo dick. However, he's also a huge GoT fan. He didn't hold back when he expressed his desire to see me fuck this big White Walker cock. Richard gave it to me just in time for Halloween and said "Scarlett, winter is coming and so will you!" It was cute, nerdy, and kinky all at the same time and I had to fulfill his fantasy, no matter how bizarre it was.
Now, did this thing make me want to wear it around and pretend I was the Night King? Did it make me want to raise a dragon from the dead and jizz into its corpse? Or was it big and intimidating enough to make me want to use its mighty shaft to impale my enemies? Well, regardless of if you're a GoT fan or if you're just looking for a super unique dildo, this thing definitely means business.
All Men Must Die, but I Need to Fuck a Big Fat Cock!
When I started my Uberrime Night King review, all I could think about is how fabulous this dildo looks. Okay, so I talked about zombie cocks earlier, but this dildo is actually pretty attractive. As in, there's no undead flesh, blood, or semen dripping off it. It's soft and shiny. Plus, it has some beautiful blue and white marbling that I've never seen on a sex toy before.
What's more, besides a total length of a whopping 9 inches, you'll also get a very special realistic texture. However, it also attempts to recreate the Night King's cock. And since that freakazoid was once human, you'll get a dildo that mixes fantasy and reality. For example, there are all kinds of bumps and weird swirly patterns that are out of this world. They will massage your G-spot and feel unlike any other dick you've ridden before!
Features
Platinum silicone
Marble color
Medium density
Extra large
Harness compatible
Handmade (in the USA!)
Total length: 9 inches
Insertable length: 8 inches
Max diameter: 1.91 inches
So How Does This White Walker Cock Feel?
One of the biggest things that impressed me during this Uberrime Night King review was the soft yet firm feel of the material. This dildo uses platinum silicone and it's hand-made by Uberrime. It also has medium density, which is just enough to squish and feel comfortable inside you. Yup, it's pretty much like a thick and spongy flesh-and-blood cock. Despite the extraterrestrial design, this thing feels dicklike and it gives me some totally convincing sensations when I pop it inside.
Basically, it all starts with a tapered head and an upward curve. I could tell just by looking at it that this dildo was designed for A and G spot pleasure. And I loved how the upward curve moves graciously towards those spots. There's no cervix-jabbing here, ladies!
Another favorite feature for me was the thicker coronal ridge. It's deep and wide and it made that satisfying popping feeling every time I pushed it inside my pussy and ass. It goes POP, PLOP, POP and stretches me out nice and wide to make me gape like the Night King's porn queen! On a side note: the silicone material here is nothing short of spectacular. It's 100% body safe. You can pretty much do anything with it without worrying about germs or bacteria. You can clean or fully sterilize this bad boy in just a few minutes. And that's always handy if you're lazy or in a rush.
It's So Freaking HUGE!!!
As I mentioned earlier in my Uberrime Night King review, this dildo looks like my boyfriend's dick and that's why it feels like home to me.
While you'll get a huge 8 inches of insertable length, the total length is 9 inches due to the thick and wide base. When I tested this big boy, I was surprised that it didn't have a suction cup because it stays in place firmly due to the large base. Alas, there are no balls. I would have loved to feel a pair of swollen White Walker balls bumping up against my clit while I rode this dildo, so I think that's certainly a missed opportunity. Think of all the ice-cold jizz they could store inside!
Nevertheless, the lack of balls makes this dildo a bit easier to handle, especially due to its large size. In my expert opinion, this dildo is a great choice for beginners, intermediates, and not to mention horny GoT fans. Even if you're a newbie, don't get overwhelmed by the Night King's size. You can get it halfway inside and still have a ton of cock on tap for thrusting leverage. Also, you can use a strap-on harness with this fella and it will certainly hit the spot if your recipient loves to get fucked deep. One thing to note here: the extra length of the Night King makes it kind of unstable in strap-on setups. Therefore, you'll have to get a harness that suits it perfectly.
There is Only One Thing I Say to Death: Not Today!!!
Those were literally my thoughts when I slammed this dildo deep inside my gushing pussy. There's just something about it that makes you want to turn all nerdy and pretend like you're part of the Game of Thrones story.
But even without the GoT aspect, this is a pretty damn good dildo. Besides its high-quality silicone material and its size, the density and the texture is spot on. The whole thing gives you a perfect balance between floppy and rock-hard thickness. That's just what all of us kinky ladies are looking for in a huge fake cock, right?
The density is seriously impressive. It's very similar to Vixen's VixSkin dual density-dildos which are my favorites. However, the Night King is a bit softer and it feels more like a real dick. And I didn't even begin to describe the texture to you. There are a lot of things going on here. You'll get a pronounced spine and all sorts of swirling ribbed textures. I love how it feels when it's rubbing against my pussy walls. It also makes my butthole clench up when I'm slamming it deep inside my anal insides. Plus, the base is nice and wide and you won't have any problems with anal play here.
Pros
Super huge
Curvy
The texture, color, and overall feel are fantastic
Uberrime Night King Review: The One True King?
To sum up my Uberrime Night King review, I can confirm that this dildo gives you a perfect blend of fantasy and reality. There's something human about it, but it's clearly otherworldly. It's a dark, mysterious, and immensely powerful penis that will definitely make you pay your debts. So if you love fantasy toys, textured toys, or if you simply love to fuck huge fat dildos, the Uberrime Night King is definitely the toy for you!
⚠️ Disclaimer: Our articles contain affiliate links. If you like our content and wish to support our work, consider purchasing your new sex toys through our links. For each purchase through our links, we receive a small commission but at no extra cost to you.
| | |
| --- | --- |
| 👉 Name: | Uberrime Night King |
| ⚙️ Features: | Fantasy Dildo, Platinum Silicone, Medium Density, Harness-compatible, Extra Large |
| 📁 Type: | G-Spot Dildos |
| 🛠️ Materials: | Silicone |
It's worth it for that popping sound alone! The head feels awesome when it stretches out my pussy and asshole!
5
The density and texture are unlike anything I've tested before.
4
The shape and texture are incredibly unique but a pair of balls would have been a huge improvement.
4
Would you fuck a White Walker? Not so sure, but this is definitely one of the weirdest and most unique fantasy dildos out there…
5
Editor's Pick
Velvet Teddy GS
⚙️ Special features:
Suction-cup base
⚡ Power source:
Rechargeable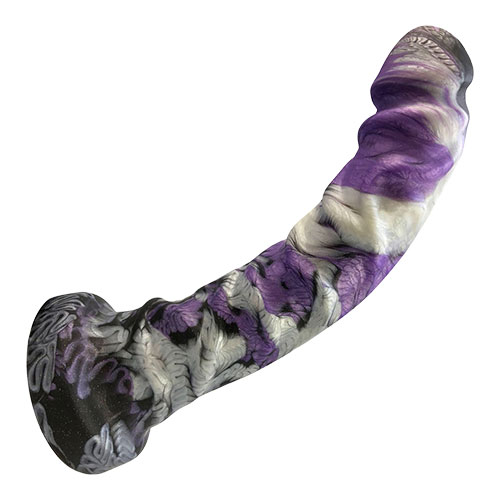 Uberrime Night King
⚙️ Special features:
Highly textured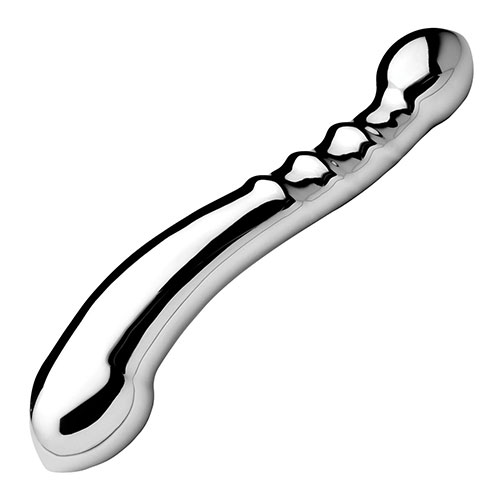 nJoy Double Ended 11" Dildo
🛠️ Material:
Stainless Steel
⚙️ Special features:
Completely non-porous