Oct/31/2022
Last Update: June 26, 2023
788
7 min read
Time To Get Royally Fucked! King Cock 14 Inch Dildo Review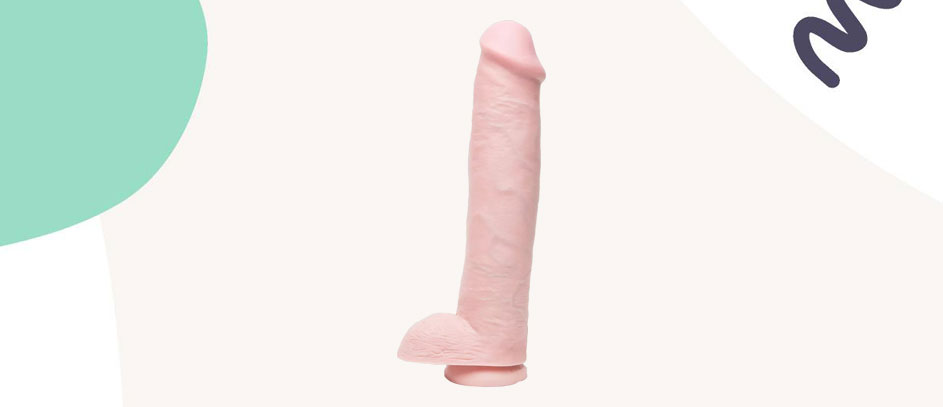 A few nights ago, I looked through my sex toy collection and thought: "Scarlett, you deserve to treat yourself to yet another extra-large realistic dildo!" Why the heck not?! A huge, thick dildo is one of my favorite toys and the reason for that is pretty obvious. Well, I love it when a massive cock that's bigger than my arm impales all my holes and stretches me out like a good girl! That's why I was so excited for this King Cock 14 Inch Dildo review. As you probably guessed, this bad boy gives you 14 inches of raw power. Also, it comes with a pair of big juicy balls and a suction cup! So if a huge dildo is on your bucket list or if you're just looking for a new and exciting toy, check out my King Cock 14 Inch Dildo review! Bottoms up, slave!
Take Me, Your Majesty!
Let me get this King Cock 14 Inch Dildo review underway and talk a little bit about Pipedream. This is the company behind King Cock and it's by far one of my favorites. Pipedream makes all sorts of realistic, non-phallic, and fantasy dildos. However, its most famous line of toys is undoubtedly King Cock. Basically, King Cock realistic dildos are proudly made in the USA and they come in all sorts of shapes and sizes, from average to extra massive.
The reason why I'm such a dildo-worshiping fangirl is because King Cock takes care of every little detail on a fake dick and makes it look and feel as realistic as possible. I've tried King Cock dildos in all sizes, from 7 to 10 inches and above and this new 14 inch model has been on my radar for quite some time. Again, this colossal piece of monster meat is a real treat for my eyes and my holes. It's full of big throbbing veins and the material feels very close to real skin. Now, I chose the tan model for this King Cock 14 Inch Dildo review. I wanted to go black but I've tested several BBC dildos in my earlier reviews this month and that's why I was more in the mood for a huge and thick BWC.
First Impressions
If you've ever owned an extra-large dildo, you probably remember the first time you opened the box and held it in your hands. Eureka! Not gonna lie but this thing is a total monster…
From the minute I held it in my arms, I felt like a total pervert and I had to clear my schedule for the remainder of the day. Seriously, this thing is just so massive that you need to be a special type of woman or man to find it attractive and fit it inside your holes. Yes, you have to be a cock-obsessed slut who can only be satisfied with super huge dicks! Well, it takes one to know one!
But seriously, this thing definitely looks like it means business. When I started my King Cock 14 Inch Dildo review, I already knew that I was going to get a high-quality hyper-realistic dong. Like most other King Cock dildos, you can feel every little vein or bump along the shaft. The head is also super delicious. The whole thing is about as thick as a soda can and it will definitely give you those extreme stretching sensations right there in your ass or pussy. Another thing to note is that the shaft is straight, which is exactly what you need in a super huge dildo. The trick is to avoid any curvature so that you can insert it deeply and smoothly.
What's more, I already mentioned that this dildo comes with some big balls attached to it. I was impressed with the veiny and tight sack, especially since it doubles as a suction cup. You can pop the suction cup base onto any surface and simply ride along. Even better, this base also makes the dildo harness-compatible.
Features
Total length: 16 inches
14-inch insertable shaft
10-inch girth
Ultra-realistic
Balls included!
Suction cup
Harness compatible
Proudly made in the USA
Available in Flesh Pink, Flesh Tan, Flesh Brown, Black
Ready to Rock?
Now that I've shown you the features of this epic dildo, I want to talk about its size. Obviously, you wouldn't buy this thing if you were an anal virgin or if you wanted to experiment with a bit of light and sensual masturbation. No, baby, this thing is all about stretching and gaping your holes to their max and making you feel like a superslut all drunk on cock! What I instantly noticed about my King Cock 14 Inch Dildo is that it's actually even bigger than I thought (yikes!).
In fact, 14 inches of the dildo are insertable, but the whole thing is 16 inches long. The extra two inches are reserved for the balls and suction cup. That's a nice touch because most manufacturers do it the other way around. They'll tell you the total length of the toy and not the real insertable length. Anyway, this thing is so big that only the bravest will be able to fuck it balls deep.
But, if you have the guts to take it all in, you'll be rewarded with some extremely intense depth play along with epic stretching sensations. Another thing I want to note is that this dildo is perfectly proportional. The head is nice and wide. It doesn't look too big or too small compared to the rest of the shaft. Then, the shaft looks disturbingly huge and the balls are a very special touch. It reminds me of some huge pornstar cocks that I've never had the chance to ride in real life. In a way, this thing allows me to fulfill all my fantasies and do some pretty whacked-out shit with my body. Well, it's not every day you get to say that your boyfriend just destroyed your asshole with a 14-inch mega-cock…
How Does it Feel?
Unfortunately, the biggest drawback of the King Cock 14 Inch Dildo is the material. This thing is made of PVC, which is not the safest option out there. It's certainly a decent choice for inexpensive dildos. Yet, bear in mind that the King Cock costs around $130.
Now, the PVC used by King Cock is latex-free, phthalate-free, and hypoallergenic. All of those qualities make this toy body safe. However, you'll need to remember that this material is highly porous. That means it will absorb bacteria. Also, you won't be able to sterilize it fully. To avoid turning this thing into a toxic cock, you will need to take some precautions. For example, you'll need to wash it thoroughly with soap and water after each use. Then, wait for it to dry and carefully store it. How the heck do you hide a 14-inch monster cock anyway? Well, I would recommend you use the original tube-like plastic package in order to preserve the dildo's shape.
So what can I conclude about the material on this fake cock? Well, you can use it and not worry too much about your safety but only if you're careful. There is an upside to this, though. The PVC makes this King Cock feel nice and firm but soft and smooth at the same time. It can stretch and bend just perfectly in all sorts of positions. Also, it won't flop around too much if you use it in a strap-on harness.
On a side note, I noticed a very strong perfume smell during my King Cock 14 Inch Dildo review. This was likely done to mask the smell of the PVC material and it will go away after you wash it for the first few times.
Using This Beast In Action
Lastly, I don't want to remind you that you're gonna need to use lube if you want to push this thing deep inside you. Well, unless you have a death wish, you will need to get this anaconda dick nice and wet.
Also, if you're not ready for it, it's probably better to get something smaller or train your holes before you use it. If you have some "It's too big I'm afraid" thoughts, it's probably better to avoid this toy.
For me, I loved it just because it made me feel a little scared and hella horny at the same time. The extra thick shaft and the realistic texture felt insane when my BF pushed this thing up my pussy and asshole. There's a lot to experiment with here, but again, you will need to know what you're doing to avoid hurting yourself.
Finally, the suction cup sticks to flat surfaces perfectly and it doesn't pop off easily. However, if you're planning to use this bad boy with a harness, make sure you tighten it well. Since it's so big, it can easily flop around or fall out if you don't secure it properly.
Pros
It's freaking huge!
The realistic texture is mind-blowing. You'll be able to feel every little vein and bump when you insert it.
The suction cup works perfectly
King Cock 14 Inch Dildo Review: My Verdict
Overall, all I can say is that you'd have to be crazy to fuck this monster cock. But, if that's just what you're looking for and if you wanna go nuts, you will easily forget about some of the downsides. So lube up and get those tight holes ready for a royal fuckfest!
⚠️ Disclaimer: Our articles contain affiliate links. If you like our content and wish to support our work, consider purchasing your new sex toys through our links. For each purchase through our links, we receive a small commission but at no extra cost to you.
| | |
| --- | --- |
| 👉 Name: | King Cock 14 Inch Dildo |
| ⚙️ Features: | Realistic, Suction Cup, Harness-Compatible, Extra Large |
| 📁 Type: | Huge Dildo |
| 🛠️ Materials: | PVC |
Can it get any bigger?! This size of this thing will satisfy any cum-hungry size queen!
5
The shape and feel are nearly perfect with tons of veins, a delicious cock head, and a firm yet squishy density.
4
The balls look delicious and the suction cup works without any flaws.
5
While the PVC material feels great, you will need to be extra careful with it. Also, it gives off a strong smell.
2
Editor's Pick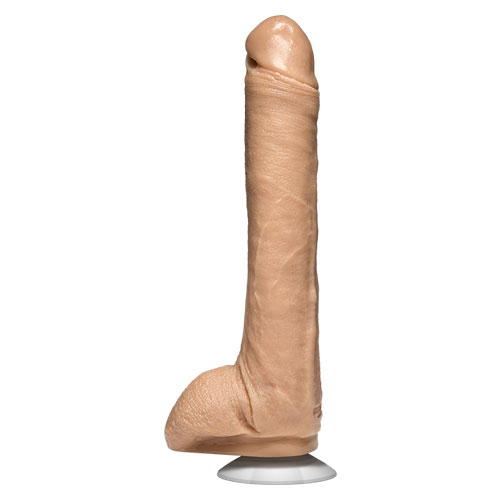 Doc Johnson Kevin Dean 12" Dildo
⚙️ Special features:
Vac-U-Lock suction base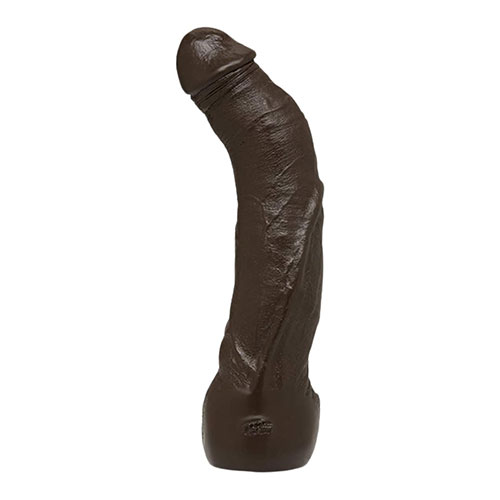 Doc Johnson Black Thunder 9"
⚙️ Special features:
Great for hands-free fun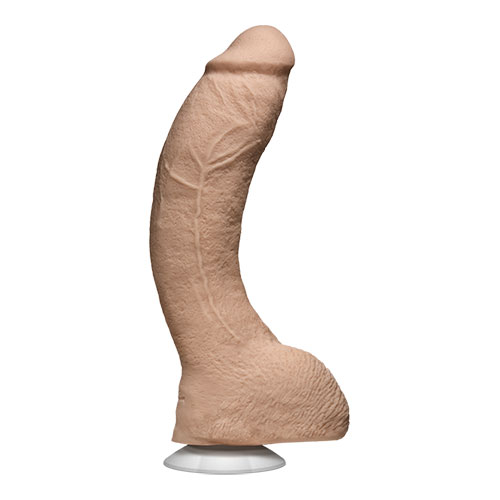 Doc Johnson Jeff Stryker 9"
⚙️ Special features:
Curved shaft with swollen head