Oct/31/2022
Last Update: June 26, 2023
898
8 min read
Pure 12 Inches Of Delicious Fake Cock! Doc Johnson Kevin Dean Review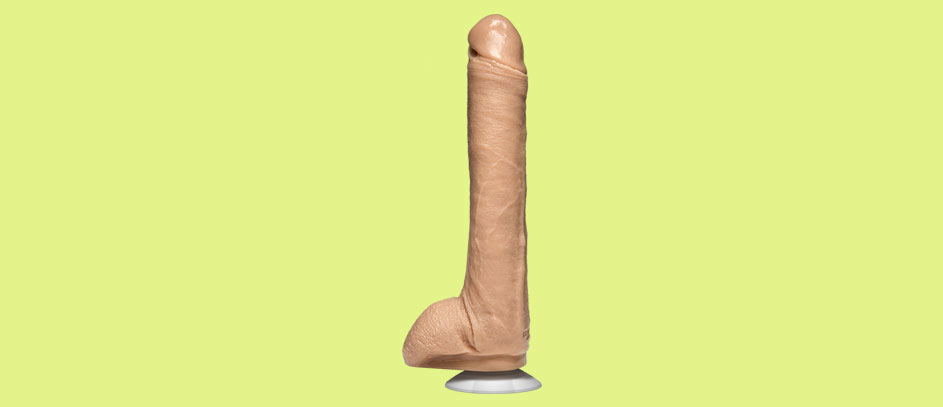 Do you ever sit back on a Saturday night and think to yourself: "Oh my, I'm in the mood to fuck a gay pornstar with a huge cock!" Well, sweetie, I've tested tons of realistic pornstar dildos and I have to tell you that most of them were pretty fun. Sure, you can grab any big dildo off the shelf and stuff your holes with it, but knowing that it's shaped after a famous pornstar makes it so much more special. So for this Doc Johnson Kevin Dean review, I'm not going to fuck just any random dildo. I'm going to ram my holes with a realistic replica of Kevin Dean's massive 12-inch cock and hopefully live to tell the tale!
Yes, But Who the Hell is Kevin Dean?
For starters, not a lot of people remember this guy. If you're not into gay porn, you probably don't even know about him. But still, Kevin Dean is a gay pornstar who fucked a bunch of dudes in the early 1990s and made a whole slew of movies to document it. I like to think of him as the gay Peter North. Hopefully, that says something about his legendary abilities to fuck a tight asshole or two.
But obviously, it doesn't matter if this guy is gay or not: he has a ridiculously huge cock and that's all this horny girl cares about. Plus, he looks like Leonardo DiCaprio, which is definitely a rarity in the porn business.
And whether you're into gay porn or not, you will certainly be able to tell a good cock when you see it. In Dean's case, his pocket rocket is a whopping 12 inches long. This thing looks super-human! I've always fantasized about taking it deep in my pussy and asshole.
Also, call it weird and freaky, but I love to fuck my boyfriend's butthole with huge dildos and dominate him while making him watch tons of hardcore gay porn. It gets us both off like crazy and makes me feel super powerful. Of course, you could have a totally different fantasy altogether. The only thing that matters is whether this fake cock is something that you'd be into and whether it's a good buy or not.
First Impressions
Before I continue with my Doc Johnson Kevin Dean review, I urge you to pause for a moment and check out some of this guy's videos. He's obviously a professional and he has one of the biggest cocks out there.
To me, the most special thing about it is a pronounced boomerang curve and an extra thick girth. So did Doc Johnson get all those little details right?
Well, I was definitely impressed during the unboxing. At first glance, this thing promises big-time pleasure. Compared to some photos, they got the size and color just right. The boomerang curve is there and so are all the tiny veins and bumps. Plus, the bulbous head is nice and smooth. However, that's not all there is to this pornstar dildo. You'll also get a lovely pair of balls to use as a handle. Plus, underneath those balls is a special Vac-U-Lock suction base. This is one of my favorite inventions from Doc Johnson.
It uses a suction plug that allows you to stick it to a flat surface and keep it there. Unlike most generic suction cup bases, this Vac-U-Lock will never pop off once you attach it. Other than that, this bad boy proves yet again that Doc Johnson is one of the leading companies in the world of realistic dildos.
Time to Open Up My Package
I pretty much knew that this thing is a work of art from the moment I opened it up. The veins actually look like real veins. Plus, the skin-like texture felt incredibly realistic. Another huge plus is that the material responds well to body heat. That way, when you get this monster inside you, it will heat up. If you close your eyes and use the Vac-U-Lock, it will be kind of hard to tell the difference from the real thing.
Now, another thing that's special about all that is that it will give you the genuine experience of being with a man with a huge penis. If you haven't had a ton of luck with endowed fellas, this dildo will definitely show you what it's like to get fucked by a massive cock. One thing to warn you about from the get-go is not to get too crazy if your pussy is virgin-tight. The same goes if you've never tried anal with big dildos before. What I noticed in my Doc Johnson Kevin Dean review is that the shaft is super stretchy. It will bend along with your movements. This can be a great thing if you have experience, but if you're a total newbie, it will be a bit uncomfortable.
Still, if you learn to treat this cock like you would a real man, he'll definitely return the favor. Another thing to note is that the Doc Johnson Kevin Dean dildo comes with a soft travel and storage pouch.
Features
Realistic 12-inch dildo with balls
Exact replica of Kevin Dean's penis
Vac-U-Lock suction base
Flexible
Insertable length: 10 inches
Circumference: 6.75 inches
Material: PVC
Harness-compatible
Can You Take This Cock All the Way In?
Again, this is not a beginner's toy. Judging by Kevin's videos, I think Doc Johnson got the shape, angle, and texture of his cock just right. The dude's unique boomerang curve is there too but it's not as steep as I've seen in some of Dean's movies and photos. Nevertheless, this bad boy is 12 inches long and 10 of those inches are insertable.
In my experience, this is certainly manageable if you are experienced and you know what you're doing. The great thing here is that the circumference is 6.75 inches. That means this cock is also extra wide. Looking at the dimensions, they are the perfect recipe for ultra-deep penetration and extremely wide stretching sensations. You can pop this fella in your pussy or asshole and it will leave you feeling completely filled up.
Now, I was able to get this guy inside me balls deep during my Doc Johnson Kevin Dean review. I'm used to even bigger dildos than this one as you've seen in my previous reviews. And while I was able to take it in without any issues, it was still thick and huge enough to make me shake all over. Personally, the thing that really makes this dildo seem extra comfortable despite its huge length is the flexible material.
What's It Made Of?
The Kevin Dean dildo is made out of PVC, which is not the most durable or safest choice. The downside is that this dildo is porous. Meaning, it absorbs bacteria. If you don't take good care of it, it can change shape or wear down pretty quickly. Still, PVC is still hypoallergenic and latex-free. That means it's just safe enough if you know how to maintain it. In the worst case, you could end up using this thing for 6 months to a year. Then, you'll need to replace it.
To me, the Kevin Dean dildo has quickly become my go-to cock and I wouldn't hesitate to replace it if I encounter some problems with the PVC. So far, there haven't been any issues. Like most PVC toys, you'll notice a strong smell when you open it up. However, this smell went away when I washed my toy two or three times. So yes, while PVC is not the best dildo material, it's a pretty good choice for this toy. I don't think it's a major red flag, especially if you take care of it properly. On a side note, the material makes this dildo feel extra special. It provides that unique soft yet firm sensation. It allows this fake cock to bend along with your body movements.
Let's Fuck This Vac-U-Lock Cock
I tried to fuck my ass with this gay pornstar's cock all night long and it was definitely an adventure to remember. But what I really enjoyed during my Doc Johnson Kevin Dean review was the Vac-U-Lock feature. As mentioned, it's one of my favorite suction cup technologies out there. And it's pretty simple: you need to use the Vac-U-Lock suction plug (yes, it looks like a small butt plug) to attach the dildo to a flat surface and form a vacuum.
Compared to a regular suction cup, this thing gives you a powerful vacuum effect. It makes it physically impossible for this thing to pop off while you're riding it. What's also neat is that the bendy texture of the dildo will allow you to use the suction cup in pretty much any position whether you're playing solo or with a partner. Speaking of partners, I attached this dildo to my strap-on harness and I made my little bitch boy scream in extreme pleasure. When I fucked Richard with this dildo, he said it was a bit too thick for his asshole but he enjoyed it nevertheless. One thing to note here is that the base is harness compatible, but it's a bit bulky and it can slide out of place if you don't secure it properly.
Pros
The material feels very realistic and the texture is just incredible
It's not only super huge, but it's also extra thick (perfect for anal stretching!)
The Vac-U-Lock suction cup is one of the best I've ever tried
Cons
It's made of PVC, which is not the safest material out there.
Not a lot of people know who Kevin Dean is
The balls can feel a bit bulky in a strap-on harness
Doc Johnson Kevin Dean Review Summary
To sum up my Doc Johnson Kevin Dean review, all I can say is that a guy cannot maintain a boner of this size for as long as I need it to. This thing has become one of my go-to cocks for hard and heavy fucking marathons and I really enjoyed the Vac-U-Lock feature. If you've always wanted to fuck a gay pornstar or if you're simply into huge cocks, this big boy will leave you gasping and thrusting for more until you explode!
⚠️ Disclaimer: Our articles contain affiliate links. If you like our content and wish to support our work, consider purchasing your new sex toys through our links. For each purchase through our links, we receive a small commission but at no extra cost to you.
| | |
| --- | --- |
| 👉 Name: | Doc Johnson Kevin Dean |
| ⚙️ Features: | Realistic, Vac-U-Lock, Extra Large |
| 📁 Type: | Huge Dildo |
| 🛠️ Materials: | PVC |
This thing is massive! It will obliterate all your holes until you become its bitch!
5
Super cool texture: the material and texture feel squishy, bendy, and quite firm. It's very close to a real cock!
4
The Vac-U-Lock suction cup has never failed me. It's the best way to attach your dildo to a flat surface! However, it makes the base feel bulky for strap-on play.
4
The material feels awesome, but it's PVC so you will need to be careful with it.
3
Editor's Pick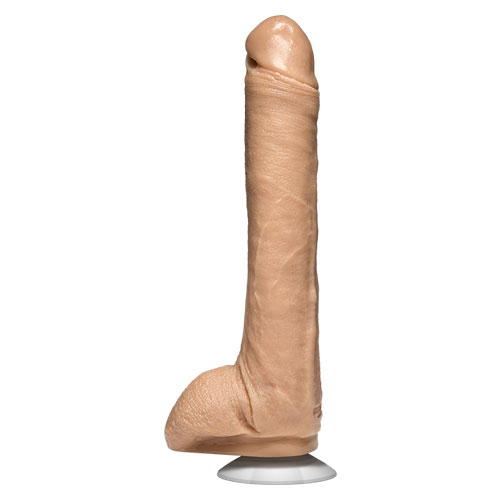 Doc Johnson Kevin Dean 12" Dildo
⚙️ Special features:
Vac-U-Lock suction base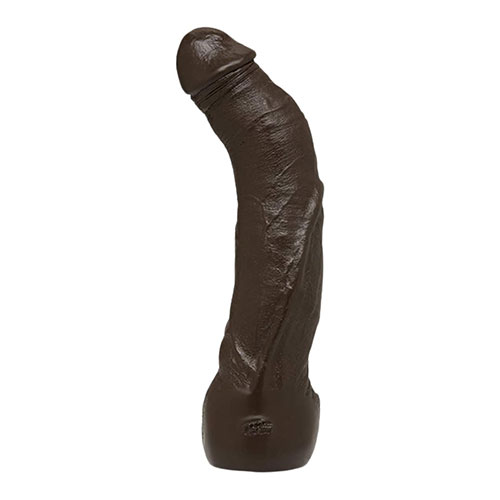 Doc Johnson Black Thunder 9"
⚙️ Special features:
Great for hands-free fun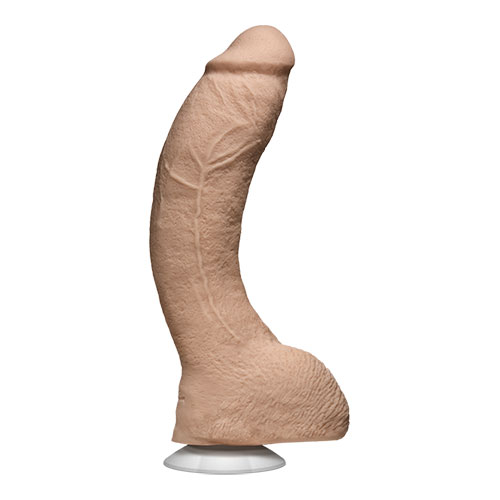 Doc Johnson Jeff Stryker 9"
⚙️ Special features:
Curved shaft with swollen head