Oct/31/2022
Last Update: June 26, 2023
1270
7 min read
Doc Johnson Vac-U-Lock Review: Dual Density Experienced Set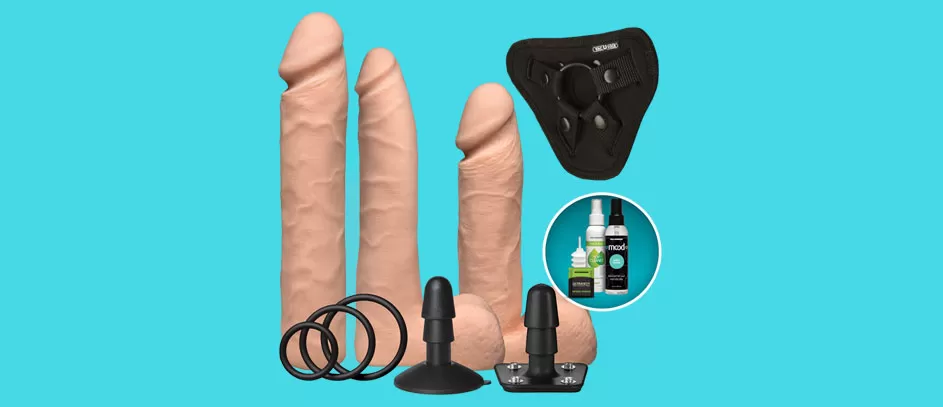 Whether you love to pound your boyfriend up the bum with a huge strap-on or you use these toys all the time to get kinky with your lesbian lover, finding a quality harness can be freaking exhausting. Your dildo could slide around and fall on the floor just when you're about to cum and that could pretty much ruin everything. My boyfriend and I constantly struggle to find the best strap-on for pegging and while there are tons of them on the market, we decided to do something different for this Doc Johnson Vac-U-Lock review.
Sure, you can invest in only one dildo and one harness, but why not get a whole kit with multiple dildos and a super sturdy Vac-U-Lock system? Well, the Doc Johnson Vac-U-Lock Strap-On Dildo Set is like the swiss army knife of strap-ons! Pretty much the only thing you need to do to get the hottest strap-on action is to wear the harness and quickly switch between several big dildos. When I first saw this thing, it made me feel like a kid in a candy store and I couldn't wait to test it out for my Doc Johnson Vac-U-Lock review. So let's strap in and see what this thing is all about!
Is This the Best Strap-On Kit Out There?
Recently, I had the pleasure to test out another Doc Johnson dildo with a Vac-U-Lock system and it answered all of my prayers. If you're a die-hard fan of strap-ons and yet you've never heard about this technology, allow me to blow your mind.
Vac-U-Lock is a special vacuum technology by Doc Johnson. It's a super strong system for strap-ons as well as suction cups. I literally can't believe I've lived without it all these years! What you'll get with this kit are two different suction plugs. One of them acts as a suction cup base. This also allows you to stick the included dildos on the floor or your fridge door and have yourself a merry little fuckfest. The other ​​Vac-U-Lock suction plug in this kit fits inside the strap-on harness. It allows you to quickly attach your dildo to the harness. Then, the vacuum will keep it tight and you'll never worry about it falling off.
Now, dildos are by far Doc Johnson's specialty. If you've read my earlier reviews, you know how much I love this brand. What you'll get in this strap-on dildo set are three different (and huge) fake schlongs that you can use for your ultimate satisfaction. Just open up the kit, choose your weapon of choice and get busy.
All The Cock You Could Possibly Ever Need
When you open up the package, you'll see three highly realistic dildos that range from 8 to 10 inches in length. That's certainly enough to provide me with all the dick I desire to either masturbate in peace or strap in and turn Richard into my little fuckpig! What impressed me the most during my Doc Johnson Vac-U-Lock review is the fact that this kit is full of useful goodies. It basically gives you everything you'll ever need for intense strap-on play as well as solo masturbation.
What's in the Box?
If you love to unbox your hair and makeup kits with tons of treats inside, just wait till you open up this exciting package. It's full of cocks! And yes, I felt like a little horny slut on Christmas morning when I opened it up. It pretty much gives you all you need for intense strap-on play. That includes 3 extra large Ultraskyn dildos, a soft harness, as well as O-rings and attachment plugs. The box also contains lube, refresher powder, and toy cleaner.
Features: Doc Johnson Dual Density Experienced Set
Strap-on kit for experienced players
3 Ultraskyn dildos:

10-inch Dong
9-inch Slim Cock with balls
8-inch Cock with balls

Soft and padded adjustable harness (up to 69 inches waist size)
3 O-rings
Vac-U-Lock attachment plug
Vac-U-Lock suction cup base
Water-based lube
Toy cleaner
Ultraskyn refresh powder
Total and insertable length: 10-inch, 9-inch, 8-inch
Width – 10-inch Dong (2 inches), 9-inch Slim Cock (2 inches), 8-inch Cock (2 inches)
Are You Experienced?
During my Doc Johnson Vac-U-Lock review, Richard and I put all three dildos to a balls-deep test. It was only a matter of sticking these realistic dongs far up our holes and switching them out to see which dildo felt the best.
Honestly, all of these dildos are made using Doc Johnson's Ultraskyn material and the quality is just astounding. The biggest fella in the set is the 10-inch Dong dildo. If that's too big for your butthole, just choose the 9-inch Slim Cock with balls or the 8-inch Cock with balls dildos.
By far, the best feature of all of these dildos is that they use dual density material. They are soft and squishy on the outside but with a firm core. That way, they feel super realistic. Plus, they work wonders for all kinds of stretchy positions. What's also neat is that all three dildos have realistic textures, but all of them are different.
For example, the 10-inch Dong has huge veins and a big bulbous head. Yummy! The 8-inch dildo has a similar texture and head, although it's smaller and has a big pair of balls attached to it. Then, the 9-inch Slim Cock dildo sits between those two. It gives you a thinner head along with a slightly tapered shaft. One thing to note here is that all of the dildos (even the thinner one) have the same width. While the 2-inch width is just perfect for me, they could have included different circumferences just to give you a bit more variety.
What's Ultraskyn Anway?
Like Vac-U-Lock, Ultraskyn is another one of Doc Johnson's inventions. It's a TPE-based blend that's compounded to feel like real skin. In short, the formula for these dildos is "top secret". But, we know that TPE is the main ingredient.
Now, TPE is one of those materials that feels fantastic, especially when it's used on dildos. However, it's not the safest option out there. While TPE is phthalate-free and hypoallergenic, it's highly porous. This means that it attracts and absorbs germs easily. That's why it's difficult to clean and store.
Frankly, I didn't have any problems with Doc Johnson's dildos so far, but you will need to know how to maintain them properly to stay safe. The upside is that you'll get a flexible and resilient dildo that looks and feels like a real dick. It's especially fun once you strap it onto the harness and suddenly there's a big erect cock sticking out of your crotch. Still, you will need to use them with non-lubricated condoms to keep them clean. If you don't use condoms, the material could start to degrade and show signs of wear within a few months.
Strapping Young Lad
As mentioned, a complete harness is included in this kit. I found that the material feels soft and comfy, especially since it's padded for extra support. Additionally, there are two ways in which you can use the harness. One is to attach the Vac-U-Lock suction cup to your dildo of choice and use the included O-rings. The second is to install the other Vac-U-Lock plug by screwing it into one of the three dildos. Either option will give you a stable fit, however, I found the second method to be super sturdy. I used the 9-inch Slim Cock dildo to give Richard some unforgettable pegging adventures. And not only did he love it when I fucked him in the ass with it, I also enjoyed how much power it gave me!
In my experience, the 9-inch Slim Cock and the 8-inch Cock with balls dildos are perfect for boys with trained holes. However, if your little slave is a total beginner, you will need to train them since the dildos are quite huge. Otherwise, you'll give them a serious case of Tyranno-sore-ass rex.
What if You Don't Want to Use the Strap-On?
At the start of my Doc Johnson Vac-U-Lock review, I said that this kit isn't only for strap-on fun. If you use the supplied Vac-U-Lock suction cup, you can stick one dildo on a flat surface and ride away. But wait, don't leave the other two dildos unattended!
You can ride the one with the suction cup deep in your pussy and the rest is up to you. I used the 10-inch Dong in my pussy, the 8-inch Cock with balls in my ass and the 9-inch Slim Cock with balls deep in my throat to simulate a full-on gang bang. It was certainly an experience to remember and I'll definitely try it again. Between three different dildos, a suction cup base, and a separate Vac-U-Lock harness base, this thing is definitely a keeper and it feels like it will become my favorite plaything for solo or mutual fun.
Pros
More cock than you'll ever get!
The Vac-U-Lock plugs are fantastic (plus they look like cute little butt plugs!)
The kit is super versatile for solo and coupled fun
Cons
All of the dildos have the same width
The dildo material is not the safest
Doc Johnson Vac-U-Lock Review: Summary
To sum up my Doc Johnson Vac-U-Lock review, all I can say is that this is a pretty versatile piece of kit that you can use for all kinds of kinky dildo play! There are only a few downsides, but they are not huge deal-breakers to me compared to all the exciting stuff you'll get inside the kit.
⚠️ Disclaimer: Our articles contain affiliate links. If you like our content and wish to support our work, consider purchasing your new sex toys through our links. For each purchase through our links, we receive a small commission but at no extra cost to you.
| | |
| --- | --- |
| 👉 Name: | Doc Johnson Vac-U-Lock Dual Density Experienced Set |
| ⚙️ Features: | Multiple Dildos, Harness Included, Suction Cup, Extra Large, Vac-U-Lock Technology |
| 📁 Type: | Strap-On Dildo |
| 🛠️ Materials: | TPE |
The three different realistic dildos gave me more cock than I will ever need!
5
The Vac-U-Lock suction cup plus the second Vac-U-Lock plug will give you tons of versatility for solo and coupled play!
5
The dildos look and feel awesome but only if you can live with TPE as the main material.
3
There are tons of other goodies in the box including lube, cleaning and renewal powder, as well as different O-rings.
5
Editor's Pick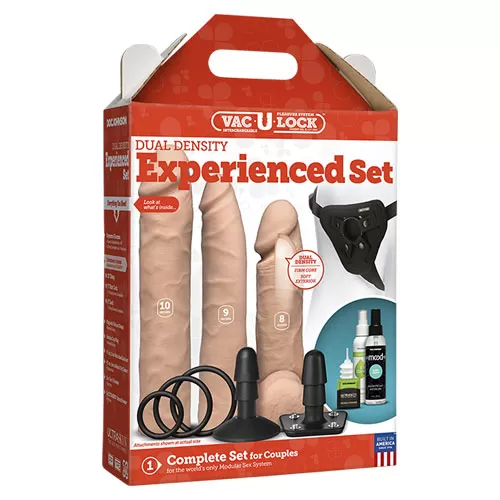 Doc Johnson Vac-U-Lock Realistic Feel Advanced Strap-On Dildo Set
⚙️ Special features:
Fully adjustable harness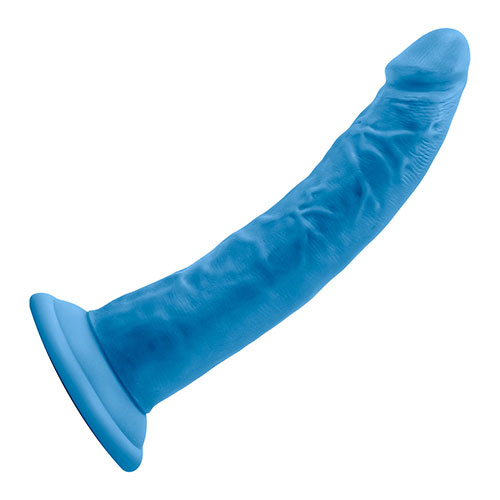 Blush Neo Elite 7.5"
⚙️ Special features:
Tapered head for easy insertion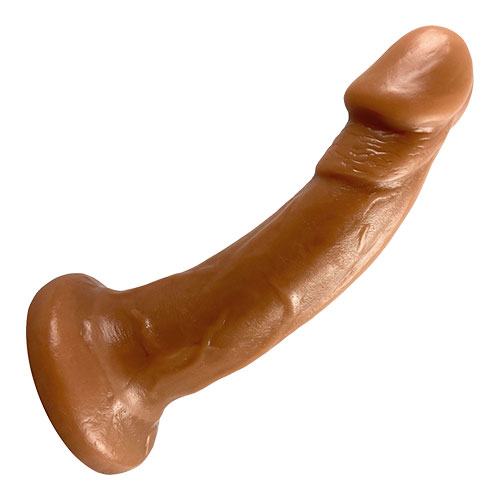 Vixen Mustang
⚙️ Special features:
Enhance authentic sensations