Jul/04/2022
Last Update: June 26, 2023
1010
24 min read
Best G-Spot Vibrators In 2023: Explore The Most Intense Sex Toys For Women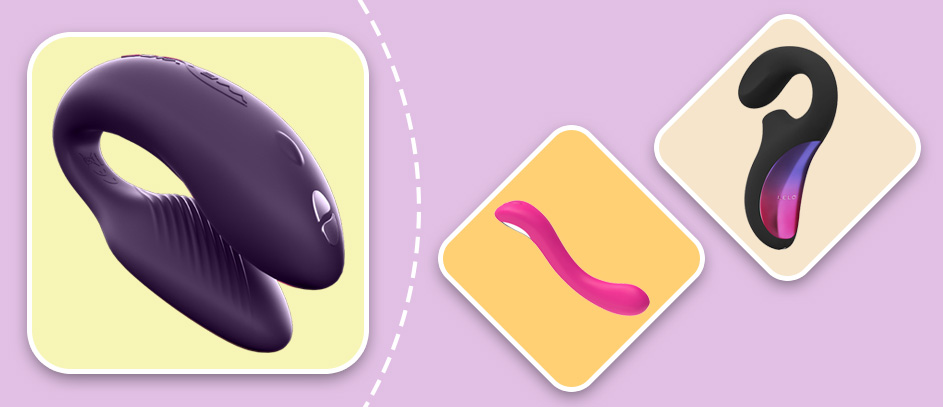 If you're single and horny or you wanna experiment with your partner and get an immensely powerful sex toy for an all-out orgasm rampage, the answer is always going to be a G-spot vibrator. Why? Honey, G-spot vibrators are some of the most intense sex toys for your pleasure pie!
But, whether you want to massage your muffin or pummel your sweet spot, you first need to know how to pick the best G-spot vibrator. That's where I cum in. And baby, I always do!
Top 10 G-Spot Vibrators in 2023: Tested!
A long time ago, I couldn't get much out of stimulating my G-spot. Now, I have to keep a stack of towels in the room at all times. Seriously, once you get the best G-spot vibrator, your entire orgasm game will change. But, if you want to skip all the soul-searching and move straight to cumming, you should check out my favorite G-spot massagers. I had to work (and cream) damn hard and I graded my favorites based on the overall rumbliness, G-spot impact, precision, power, noise, look & feel, etc. So spread 'em wide and check out the best G-spot vibrators of 2023!
G-Spot Vibrators: Hit Your Sweet Spot Just Right!
"I want to help you find a toy that will take you from "almost there…" to "HOLY FUCKING SHIT BATMAN!!!" until your pussy is squeaking, leaking, and you're squirting like a fountain. Trust me: you'll want to marry the hell out of your G-spot massager!"
Whether you're feeling down, anxious, or you simply need to scratch that huge itch until you cum like a goddess, G-spot toys are the best medicine. They'll turn those frowns upside down and make you feel like you just had the best-ever appointment with the dick doctor!
However, I don't want to bash on all the other sex gadgets (or, ahem, living, breathing penises) out there, but G-spot vibrators are some of the only toys that can quickly get you those legendary cumathons you'll only witness in porn. As in, they'll make your pussy jizz so hard, you'll give any guy's saucy balls a run for their money!
Seriously, G-spot rabbit vibrators can help you squirt for the first time, give you blended orgasms, encourage you to get your kink on, or even make you experience an orgasm for the first time if you're struggling. Not to mention the second, third, or even fourth servings! Still, after testing the heck out of countless G-spot massagers, I've learned a few naughty secrets that will speed up your search.
Cum Like a Queen (Or Slut!!!)
Whether G-spot play is a whole new concept for you or if you're already a connoisseur of the famed G-spot orgasm, the coolest thing about G-spot rabbit vibrators is that they'll take you to new levels of pleasure every time.
Really, G-spot massagers are my favorite toys for sexploration. That's just a modest understatement! My G-spot toys are actually weapons that drill me deep until I see rainbows and I'm unable to walk straight! They give me anything from a mild and soothing massage to a full-on milking of the prostata femina. Plus, they can get rough and violent and pound me so hard until my stomach gets all locked up and I'm literally sporting brand new abs.
Moral of the story? Basically, G-spot massagers will hit your magic button to make you experience deep, powerful (and sometimes a little weird) waves of pleasure. They'll leave you lying on the floor motionless like you've just performed an exorcism on your kitty. Plus, you'll want to tell all your Facebook friends about that incredible creation from the sex toy masterminds you just squeezed out of your pussy.
But let's not forget: you have to start slowly with these things. It's up to you to figure out how to use them depending on your anatomy and the way you cum. Not every woman will get equal pleasure from her G-spot vibrator at first. What's more, using one can take some patience, persistence, and a lot of naughty, naughty practice. Also, picking a G-spot vibrator or any ol' giant black dildo might seem like a simple task, but wait until you see just how many options are out there! Instead of grabbing one straight off the rack, you should focus on your body type, your turn-ons, experience level, and your lifestyle.
What's a G-Spot Vibrator Anyway?
Now, I can already hear you complaining: "C'mon, Scarlett, the G-spot isn't real… My Stephen can never find it, and I know all those porn floozies are just high as fuck and they're always faking it while pissing all over themselves."
Hmm, honey, congrats on the vivid imagination, but you couldn't be more wrong! We should get back to the basics for this one. G-spot massagers are mainly intended for the inside of your coochie. They are precision crafted to target your sweet spot just right. Yet, some clit and G-spot vibrators can stimulate your clitoris and penetrate you from the inside simultaneously.
If you don't believe me, just listen: I'm a woman, and I'm telling you that the G-spot is real. Just slide your fingers inside your punani and feel the upper wall of your minge with your fingertips until you sense a rough, spongy bump. Eureka!
The Gräfenberg Mystery
Unfortunately, what I said above doesn't guarantee you'll get that coveted squirting orgasm straight away. Few parts of the human anatomy have been as extensively debated as the female prostate.
Luckily for us, a lot of the stigma surrounding this sweet spot has faded. The current consensus is that this pleasure spot is actually an extension of the clitoral nerves rather than a separate sexual organ. This mysterious area is formally known as the Gräfenberg spot. Most women will be able to feel it about 2 to 3 inches inside their front vaginal wall. It's an urethral sponge and an erogenous area that has been linked to the expulsion of fluids. That's why it gets bigger the hornier you get.
Yet, there's also a reason why you might not be able to have a G-spot orgasm when your guy starts digging around there with his dick and pokes you like crazy until you lose all interest. It all depends on the individual. Every woman's Gräfenberg is different! To some girls, a G-spot massage may not feel all that pleasant, while other women simply need to stimulate it hard and fast to make themselves squirt like a pornstar every time.
Also, this type of stimulation might not always end in a G-spot orgasm, and pleasuring the secret spot might feel freakishly intense while giving you a good old-school clitoral climax. The bottom line? No two bodies are the same. However, that doesn't necessarily mean you won't have fun with a G-spot massager if you're not built for it.
Why You Need a G-Spot Vibrator Right Now
Speaking of finding Area 51, this sensitive spot requires stronger or longer-than-usual stimulation. And that's exactly where G-spot toys come in! Since there's so much variation in women's G-spots, these vibrators are designed to make penetration and deep stimulation a lot easier. Most G-spot massagers will give you:
A natural curve that pushes against the upper wall of your love tunnel.
An angled tip that helps you quickly find your sweet spot with precision.
Strong and direct vibrations to make you hit the bullseye every time!
Now, on to the fucking. Most G-spot toys have a unique shape with a bulbous, curved, or angled head. This design is different from most realistic dildos or classic vibrators. These toys are not as large compared to dildos, but they're still big enough to make you feel full of cock!
The standard G-spot vibrator shape is usually very similar to prostate massagers for men. It's usually shaped like the letter J, with a straight shaft that bends slightly near the massager's head. Plus, they have an integrated vibrating motor that delivers rumbly pulsations directly to your secret spot.
Types of G-Spot Vibrators
The most vital feature of all G-spot massagers is a curved, often bulbous head. But, here's where the real fun starts: you can check out several different vibrator types to find the one that looks and feels the hottest. Also, remember that some G-spot toys can stimulate you from both the outside and the inside. Plus, their functionality is mainly based on the materials they're made of and their features.
So check out the main types of G-spot vibes:
Silicone G-Spot Vibrators
Let's start with the safest and most popular choice out there: silicone G-spot massagers! I always recommend these types to beginners. They are gentle on your skin, waterproof, and provide smooth stimulation.
Generally, silicone is the king of all softer sex toy materials. It's a neat option if you're looking for a set-and-forget toy. This is definitely the type you should get if you're thinking about traditional G-spot massagers. Most of the options have a dildo-like shape but with a smaller size and a curved tip. However, you'll get to choose from a variety of sizes and thicknesses, different tip angles and shapes, remote control options, tons of vibration modes, intensity levels, etc.
Also, the reason why I'd always recommend a silicone G-spot vibrator to newbies is that its hardness and texture will feel the most pleasant if you want to experiment with your sweet spot for the first time. As I said, each vagina is special, and each needs a unique kind of stimulation for you to feel pleasure. Still, a silicone vibrator is one of the best all-rounders for beginners and intermediate players.
Rubber G-Spot Vibrators
Rubber is a common material in the sex toy world, and you'll mainly encounter it on cheaper models. However, rubber G-spot toys are not for everyone. They are not the safest toys out there, and they can cause allergic reactions. Sure, you can get by if you use them with condoms. But, keep in mind that most of these G-spot rabbit vibrators contain added phthalates. These chemicals could make your G-spot vibrator unsafe to use on bare skin.
Still, some girls like the stretchy and rubbery feel of these types of vibrators. Personally, I wouldn't recommend them to beginners. Yet, if you need a cheaper option, and you want something very soft, you can use them with a condom. Otherwise, I'd skip this option to avoid wreaking havoc on your vajayjay (and not in a good way).
ABS Plastic G-spot Vibrators
Not all G-spot vibrators are soft and bendy. Sometimes, you just need to rock your Gräfenberg with something that's extra hard, and ABS G-spot vibrators could be just the thing. This type is made of ABS plastic, another highly popular material in the sex toy world.
Typically, ABS plastic is body-safe and skin-friendly. Its main feature is a hard, smooth texture that lacks flexibility. This gives you an unyielding sex toy that won't bend. It's especially handy for anyone who enjoys direct and hard pressure from start to finish. You might not enjoy this type if you have a sensitive G-spot, but some women who require direct pressure could truly dig it.
Metal G-Spot Vibrators
All you really need sometimes is a warm wet pussy and a cold hard G-spot vibrator made of metal!
Just like ABS plastic, metal G-spot vibrators are unable to bend or adapt to your love tunnel, which gives them a highly distinctive sensation. Think tons of pressure, precision, and a lack of movement. Many women love them due to their shiny aesthetics and their unusual pressure during penetration.
Most importantly, the metal (most commonly stainless steel) can warm up inside you after insertion. Trust me: pushing a cold toy inside your wet hole and just lying there as it heats up to body temperature will give you some of the most unusual tingly sensations. Plus, these vibrators also have a unique visual element that works fantastic for all kinds of kinks and fetishes.
Other Fun Options
Aside from the most common categories designed to hit your G-spot, other variants will give you multi-purpose stimulation or even something completely unique:
G-Spot Rabbit Vibrator
A G-spot rabbit vibrator is one of the most intense sex toys out there. This thing truly needs no introduction: it's inspired by the iconic rabbit vibrator. If you don't know anything about these legendary toys, you can check out my previous article to get educated. But, unlike a rabbit vibrator with a straight shaft,a G-spot rabbit vibrator has that famous angled tip that is responsible for so many intense full-body orgasms.
Generally, this toy is much longer than your average G-spot massager. And just like standard rabbit vibrators, it has a built-in clitoral vibrator. A clit and G-spot vibrator often has an external stimulator shaped like a pair of bunny ears. It provides strong and fizzy pulses directly to your pearl. That way, you'll rock both of your sweet spots at the same time for mind-bending orgasms!
Granted, there are many G-spot rabbit vibrator variants out there. If you crave a vibrator that looks like a real veiny cock, you'll likely find it in this category. But, you can also get non-phallic G-spot rabbit vibrators. For example, G-spot and clit vibrators can give you external stimulators shaped like bunny ears, but they can also have large and round heads to cover more of your clitoral area.
G-Spot Thrusting Vibrator
Thrusting G-spot vibrators are some of the most intense sex machines you could ever get! They use powerful motors to give you telescopic vibration, rotation, and super-fast automatic pumping to replicate the feeling of a deep, hard pounding!
G-Spot Suction Vibrator
This might look like a regular G-spot rabbit vibrator, but it does a completely different thing altogether. Basically, this is the toy to get if you love to serve up your minge as desert and have it eaten out every night. Instead of a built-in clitoral vibrator, this G-spot and clitoral vibrator has a clit suction toy built into the shaft. That way, you can penetrate yourself and experience intense oral sex at the same time.
Vibrating Eggs, Wands, and 3-in-1 Massagers
We're only beginning to scratch the surface of these glorious G-spot milkers! There are many other models out there, such as wearable vibrating eggs. You can wear them inside you for extended sessions and control them via a remote for some extra kinky G-spot pleasure!
Alternatively, G-spot wand vibrators look exactly like those iconic magic wand vibrators, except you can insert the large, round head inside you. And if that's not enough, just try a 3-in-1 G-spot massager. This toy has a clitoral stimulator, G-spot vibrator, and an insertable anal toy (usually a dildo or a set of anal beads).
What Are the Most Orgasmic Features?
There's much more to your G-spot massager than meets the eye. You could look into a single feature or a set of options that you like the most:
Angle – The angle will determine the strength and precision of the toy. You can choose from a slightly bent angle that covers a larger area all the way up to an extreme curve.
Tips – The tip of your G-spot massager could be small and pointy, wide and round, hooked, or it could even resemble the head of a real cock.
Textures – Some toys, like G-spot rabbit vibrators, could give you unique textures to boost the sensations during penetration. That includes all kinds of swirls, ribs, and beads on the shaft.
Handle – Some G-spot toys have a handle at the bottom, and it's usually made of body-safe plastic. It's easy to overlook this option, but it makes it easier to hold your G-spot vibrator as you play with yourself, especially if you have smaller hands.
Controls – Whether they're placed on the base or the handle, your G-spot toy will include a few buttons that allow you to configure the speed and strength of the vibration.
Something More
Remote control – Sometimes, reaching down to find the controls could distract you, which is why I prefer vibrators with a remote control. This makes it easier for you to change the settings. Moreover, it spices things up during couple play.
App control – Some of the newest G-spot toys can be controlled from an app on your smart device. The app will give you an extended set of controls to play with. That includes a wider range of speeds and pulsation modes, custom vibration patterns, voice activation, music syncing, etc.
​​Long-distance and VR – If you truly want a next-generation toy, get a vibrator with some of these features. Long-distance app control is perfect for couples who live far away and still want to use sex toys together to stay intimate. Plus, some G-spot toys are VR-enabled, meaning you can sync them to your favorite 3D or 2D erotic content.
Waterproof – In my opinion, you should always look for a splash-proof or submersible G-spot toy. If your toy is water-resistant, water and other liquids will not damage the vibrating mechanism. Plus, you'll be able to use it in the shower, hot tub, or pool if you want to get extra wet!
How to Buy the Best G-Spot Vibrator for You
Whenever I'm on the prowl for a new sex toy, I think about the sensation I want to feel, all the games I want to play, and most importantly, how I want to cum.
First, you can think about a look that feels the sexiest to you. Another trick is to close your eyes. Now, visualize your biggest fantasy! Do you want a big hard beast to enter your body and pound your G-spot raw until you're gushing like Riley Reed? Or do you just want to take a nice hot bath and dedicate an intimate orgasm all to yourself? What about using your G-spot massager during foreplay while your partner goes down on? You can do it all with a G-spot rabbit vibrator, but the trick is to focus on your exact needs!
Don't Forget the Basics
Even if you want to plow your pussy raw with a G-spot massager and push a huge black dildo deep inside your ass, you should always be a good girl and never neglect the basics. Here's a quick list of things you should prioritize:
Know your body – Not all women will enjoy intense G-spot stimulation. Some could get off instantly but others could require more time, less pressure, or even additional stimulation on their clit.
Understand your skill set – If you've never had a G-spot orgasm before, it's better to get friendly with your sweet spot. Use your fingers first to see what you're capable of. If you're completely clueless, I'd advise you to focus on a simple G-spot massager made for beginners.
What's your budget? – G-spot vibrators are not as cheap compared to standard vibes or dildos, but luckily, they don't cost a fortune. Plus, there's something out there for everyone's price range! But don't fall into the trap of getting the most expensive model thinking it will be the best.
Bells and whistles – Look into the versatility and the features that you like the most. For example, don't spend extra on a toy that gives you app control or VR capabilities if you're never going to use them. Yet, if you're in a long-distance relationship, and you want to try those features to get off remotely, go for it!
The Devil Is in the Details
Always read the fine print and pay attention to:
Shape – Will the shape easily reach your pleasure spot? Do you need a larger tip to cover a wider area or something that's more pointy and precise?
Size – Where is your G-spot? Remember, you could miss it if you get a toy that's too small or too big. Also, your G-spot vibrator could feel uncomfortable if it doesn't have the right size or shape.
Material – Obviously, picking a body-safe and durable material should be your priority. But, do you want it soft or hard?
Flexibility – The hardness and the texture are perhaps the most important features of G-spot toys, and they will play a huge role in your pleasure.
Vibe functions – Believe me, you won't be satisfied if your massager comes with only two or three settings you can play with. You should aim for high versatility and get as many vibration strengths, modes, and speeds to play with. So aim for anywhere between 15 to 30 or more settings.
Power – The power options will make or break your toy. Look for a strong vibrating motor that's reasonably quiet and lasts for a long time. Also, stick to USB rechargeable vibrators that can hold a long charge, especially if you like it rough. To me, 1.5 to 2 hours (depending on the vibration setting) on a single charge is ideal.
How to Choose the Right Material
Hopefully, you now know that you should look for non-porous, body-safe materials that won't cause you any harm. The examples I've mentioned, such as body-safe silicone, ABS, and metal, are all non-porous, which means they don't absorb any nasty germs.
If you focus on those options, you won't have to worry about any health risks at all. But, you'll also have to consider the sensitivity of your sweet spot and the type of stimulation you're aiming for. So remember:
Silicone will give you smooth, soft stimulation that feels incredibly close to a real penis. This bendy material works wonders for transferring the vibrations directly on your secret spot and all over your body.
ABS and Metal are much harder and your vaginal muscles will respond to it differently. It also creates much stronger and more pronounced vibes compared to silicone. As I said, these materials will not bend, which may be a hit or miss for you. Some girls love the hard feeling of these toys as they glide in and out, but they might be too intense for other women who are more sensitive. Since they're not as bendy as silicone, they'll also limit you a bit in terms of the positions in which you can use them.
What About the Size?
Since they are designed for your pleasure spot, G-spot rabbit vibrators don't need to be massive in size. They need to enter you roughly around 2 to 3 inches deep, depending on the location of your G-spot.
Most commonly, these massagers have an insertable length of 5 inches. That length will be enough for most women's G-spots. Plus, they have a circumference of around 4 to 5 inches.
Still, if you want to dig in with something bigger, you'll be able to find wild G-spot vibrators that are over 7 inches long and 2 or more inches thick. Just make sure you actually need this, otherwise, it's overkill!
Do…
Research – inspect all the popular brands and make a list of your top choices (or use my own).
Play – If you haven't already, finger your secret spot the next time you masturbate to see what kind of sensations you prefer.
Check out user reviews to get a detailed look into the toy you're buying.
Don't…
Avoid poor-quality materials like jelly, latex, rubber – They are unsafe for your vagina unless you use them with condoms. Even if you do that, they'll still be a pain in the ass to clean and maintain.
Limited functionality – It might be clever to avoid vibrators with only a few speeds or functions. They might not give you what you seek, or they could just feel boring after a while.
Poor battery life – Even if your G-spot toy looks and feels great, it could disappoint you if it just doesn't have enough juice. Look for vibrators that can last up to 2 hours.
Tips on Using, Cleaning, and Storing Your G-Spot Vibrators
Now, to truly worship the altar of Gräfenberg, you'll need to focus on your body and take time to explore all the nuances of your hidden milking spot. But, if this erogenous zone is already used to stimulation, a vibrator should be able to give you your first squirting orgasm in around 20 minutes. For me, when I see that bulbous head and imagine all the fabulous vibration options, the first thing that comes to mind will probably be hard, loud orgasms and a lot of squirting. Still, there's so much more to G-spot vibrators and you can use them for multiple types of play. Here's what you can do with your G-spot vibrator:
Lube up and slide your angled massager inside and milk your G-spot for all it's worth.
You can use it for external stimulation of your clit, nipples, neck, thighs, or everywhere else it feels good.
If you get a G-spot rabbit vibrator or another similar G-spot clit vibrator, you can go all out while pleasuring your pink pearl while drilling yourself deep from the inside. Talk about the ultimate G-spot explosion!
Buttsex? You bet! – you can stimulate the nerves in your pleasure spot indirectly through your backdoor, and many, many women enjoy this. Just make sure not to swap holes with a single toy or you could even buy one that's reserved solely for your starfish.
Couple play – There are so many options here, from light foreplay to DP and edging and BDSM. What I love here is that G-spot vibes are much more compact compared to regular dildos. That is, the curved shape will "lock" them inside you and enable you to have fun in all kinds of positions.
Play the Nasty Tango
You should ease into it slowly, especially if your G-spot rabbit vibrator has a bulbous head that can stretch you out. And the first rule of G-spot play? Always use lube. You can apply it on the tip of your massager and inside your vag for ultra wet sensations. Just make sure you're using the right type. With a soft silicone toy, you should only use water-based lube. Otherwise, you'll damage the material. If you get a metal toy, you can use oil or silicone lubes, and ABS will work together with water or oil-based lubes.
To stimulate your spot correctly, you'll need to be super-duper horny. When it swells, the whole G-spot region becomes a mighty erogenous zone. You can put direct pressure on it with your massager to see where it feels the most pleasant.
Alternatively, you can use in and out motions or even push the toy upward toward your belly to explore those sensations. Honestly, this is all highly intuitive. You'll need to spend some time learning how to build arousal and apply pressure to edge yourself. Only then will you get to the stage where you'll be ready to have a huge, thunderous climax.
Remember, some women can cream solely from a G-spot massage, some can feel full-body squirting orgasms, while others prefer blended clit/vaginal orgasms. If you don't get the best results at first, don't give up and keep experimenting to find what works best for you!
Cleaning
Remember what I said about that stack of clean towels I always keep beside my bedside table? This is one way to keep yourself and your room clean if you're a squirter. However, you should also never forget to clean your G-spot vibrator once you're done.
If you get a silicone, ABS, or metal massager, you can clean it with mild soap and water. You can even soak your G-spot rabbit vibrator to clean it thoroughly, but only if it's waterproof. Then, you should carefully dry it with a towel or cloth and put it back in its box or use a soft carrying pouch.
G-Spot Vibrators Industry Overview
Due to all the current-day controversy about whether female ejaculation or the G-spot actually exist, we can easily forget the fact that people have been aware of them for a long, long time. So how were G-spot vibrators invented, and what does the future have in store for these amazing orgasm machines?
Origins of G-Spot Vibrators
If you thought female ejaculation was a phenomenon popularized by porn, you were way wrong, young lassie. Now, you'll be surprised to learn that G-spot and squirting have been mentioned in ancient texts that date back thousands of years!
In fact, ancient Roman and Greek scholars named the phenomenon liquor vitae, the Taoist tradition called it the Third Water, while in ancient India, it was deliciously referred to as the Nectar of the Gods. Squirting is even mentioned in the ancient Kama Sutra text!
Unfortunately, while G-spot pleasure has a long history, there are no records to tell us when G-spot toys were actually invented. Granted, the G-spot was "formally" discovered by Ernst Gräfenberg in the 1950s, and that's when it gained the attention of the public.
As vibrators gained massive popularity during the 1960s, and since the manufacturers continued to innovate on their design, we can only speculate that G-spot vibrators came about during those days. By the 2000s, the stigma surrounding squirting was popularized even further through extreme porn videos and a huge demand for sex toys.
G-Spot Vibrators of the Future
Today, we are truly spoiled for choice when it comes to all kinds of sex toys. Even better, the leaders in the industry are constantly striving to innovate on their products. Some brands worth mentioning are Fun Factory, Lovehoney, Womanizer, Tracey Cox, Ann Summers, Je Joue, Svakom, We-Vibe, Cal Exotics, Lelo, and more.
Some of the G-spot massagers made by these brands are truly revolutionary, and they include high-tech features like app control, smart monitoring, VR, and even AI. This is the general direction that the industry is heading towards for all kinds of toys, but I'm sure we'll see all sorts of new innovations in the world of G-spot toys. That could include things like smart sensors, a new kind of programming that helps all women see if they can squirt or not, as well as deliver more immersive hands-free experiences together with virtual content. But let's not speculate any longer: order a wild G-spot vibrator today and squirt away!
⚠️ Disclaimer: Our articles contain affiliate links. If you like our content and wish to support our work, consider purchasing your new sex toys through our links. For each purchase through our links, we receive a small commission but at no extra cost to you.
FAQ
Some women could have trouble finding their sweet spot. Its location is not the same for everyone and the area requires you to be fully aroused before it can swell up. Therefore, you should get extremely excited beforehand. Then, use your fingers to locate the spot first. It should be about 2 to 3 inches inside your vagina's upper wall. Feeling it out with your fingers will be easier at first, especially if you insert two fingers and try some "come hither" movements.
After that, you can insert your G-spot vibrator and slightly angle the curved head upwards until you feel the sponge-like bump. By this point, you'll be so aroused that you'll be able to use your intuition and your body's responses to feel the toy from the inside and start masturbating with it.
You probably need to spend more time getting turned on and experimenting. You don't have to expect a full-on squirting G-spot orgasm for the first time. Plus, you could think about your preferred way to orgasm and explore all the sensations that lead up to it. For example, play with your clit while using your G-spot massager or even experiment with a partner. A neat tip here is to simply spend more time getting turned on and masturbate for longer. It should take you around 20 to 30 minutes to get a full G-spot orgasm, so be patient.
Most G-spot massagers require you to hold them in one hand during use. You might be able to find a toy with a built-in suction cup for hands-free use, but this is a feature mainly seen on dildos. In fact, you might be better off if you stick to using your hands. This will allow you to use precise motions and angles to stimulate your spot correctly.
There are several differences. For one, G-spot toys have a different shape. They almost always have a curved tip. Plus, G-spot clit vibrators provide a different type of vibration compared to standard vibrators. The vibrations will come across as deep, rumbly, but still precise enough to hit your G-spot. Conversely, regular vibrators have a straight shaft that you can use for classic in-out penetration.
Not everyone will be able to do this. Also, remember that it's totally okay if you can't. Some women can do it, and they can derive great pleasure from it. Others can have equally strong G-spot orgasms without ejaculating at all. Plus, some women can squirt without orgasming.
Either way, there's no harm in trying it. The goal is to get extra horny, find the G-spot, and use your G-spot clit Vibrator to stimulate it for 20 to 30 minutes. You could experience various stages during which you might get the urge to pee. You should tease yourself and repeat the motions several times while increasing the speed and intensity. Then, edge yourself towards your orgasm and let go. This final step is crucial: you have to relax your pelvic floor muscles and push out when you feel the urge to pee or orgasm. Now, embrace the wetness!
Female ejaculation looks similar to watered-down milk. Numerous studies have found that the liquid contains the characteristics of prostate plasma instead of urine. The studies also proved that the liquid comes from the Skene's gland, which functions as the female prostate gland.
These toys use premium materials as well as well-thought-out designs that adapt to your anatomy. That's why they're a bit more expensive compared to regular vibrators or dildos. If you're on a budget, it's clever to skip the cheap options and spend around $50 to $60 on a basic model. If you have more money, anything from $70 to $100 and up will give you a premium G-spot masturbator.