Jun/21/2022
Last Update: June 26, 2023
1021
24 min read
Best Sex Swings In 2023 – Swing Your Way To Stronger, Kinkier Orgasms In Mid-Air!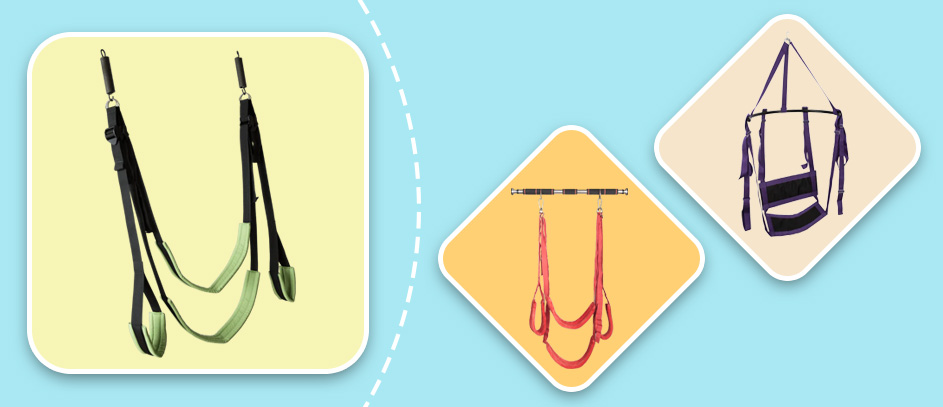 Some ladies dream of a shiny white knight who swings down on a chandelier and swoops them off their feet. What if you don't believe in fairytales? Well, you can strap into some kinky black sex swings, spread your legs wide open, and get your holes drilled balls deep with a huge throbbing cock in mid-air!!!
Still, Sia wasn't wrong when she sang about wanting to swing from a chandelier. Believe me, getting your tight holes fucked in zero gravity is certainly a lot of fun! However, rather than trying to dangle off those fragile crystal droplets, it's definitely safer to try something that's a little more sturdy and way sexier.
It's true: sex swings aren't only used as porn props. Anyone can try them to spice up their sex life. So let me show you how to pick the wildest and most orgasmic love swing for couples without straining your muscles or ruining your walls! Swing it on!
Top 10 Sex Swings in 2023
If you want to take your sex life to new heights (pun intended!) and get fucked like the girls in the movies, sex swings will give you an adrenaline rush like no other. But, fuck swings can look a bit scary and space-consuming to a lot of people at first. What's more, there are all sorts of different models and installation methods that could prevent you from getting into the swing of things. But don't stress!
I've tested a ton of pleasure swings with my partner to help you find the naughtiest piece of adult furniture for epic suspended sex. To start off your BDSM swing fuck fest, check out my top 10 pleasure swings in 2023!
Sex Swings: Fuck Your Brains Out in Zero Gravity!
Okay, so I was one of those people who used to believe that buying a love swing required you to break out your power tools and set aside a lot of space in your home for these bulky sex contraptions while getting tons of weird looks from your neighbors.
And I don't blame myself: swings can seem super intimidating! Yet, when I actually started to use them with Richard, I realized that the whole thing wasn't so complicated. Sure, some ceiling-mounted swings are bigger. You might need to drill holes (*wink wink*) to install them. However, many others out there will not require you to renovate your entire bedroom.
Plus, if you've never tried to swing home the bacon and are a little scared, I hear ya. Adult swings used to be a kind of urban myth. They were reserved only for those who were considered to be fetishists and perverts. Before sex toys and sex furniture became available to the masses, all sorts of bizarre (and unsafe!) DIY contraptions were common in hardcore porn. Not anymore, though! Everyone who's horny enough can quickly buy a portable sex swing these days and use it for some of the biggest, wildest orgasms of their life!
What Are Sex Swings Anyway?
If you've never seen a love swing, note that many of the choices out there right now take close to no time to install or stash away.
For example, some models can hang under a doorway or hover over a door. You should look into them if you want a super-easy and portable sex swing that won't change your home permanently. Plus, if you're looking for a new fetish plaything for your dungeon, a lot of portable sex swings come with all sorts of straps and restraints. So let your partner strap you into your new pounder pendulum and fuck you until you promise to be a good girl!
Moreover, some swings can even spin around a full 360 degrees to help you get super creative and experiment with all sorts of sex positions. You can also get a hammock-style swing made of shiny leather, complete with chains, ankle restraints, sexy metal studs, and so on. All of that will depend on your dirty desires.
Still, whether you prefer vanilla-style weightless sex or you want Daddy to fuck your worthless sloppy throat into submission, there's truly something for everyone out there!
Straps, Hooks, and Sexy Slaves
Basically, a love swing is a piece of sex furniture made for your adult playground. That could include your bedroom, home gym, or secret BDSM dungeon. But, there are many things about these swings that you may not even notice at first.
For one, they are the only sex accessories that give you an unusual feeling of weightlessness. What's more, there are several different types of swings. That includes those that you screw into your ceiling or those that slip over your door. And I can already hear you thinking: "But Scarlett, I'll fall on my ass as I strap into one!" Not at all!
Similar to standard swings, adult swings use incredibly sturdy materials and ergonomic designs. Typically, they comprise multiple straps. They are linked to one or several anchors at the top. These anchor points can hook up to a stand or ceiling or even hang over your door to create a rugged fit. Moreover, love swings can often include padded support for your butt, ankles, or legs. Others can use thicker nylon straps to allow you to get as hardcore as possible!
Parts of a Classic Sex Swing
Now, I want to turn your attention to the elephant in the room. Namely, buying a swing is completely different from choosing a dildo, butt plug, or any other sex toy. You'll have to do some homework on your own and learn how to spot every little detail to see if your swing is secure.
Usually, a classic ceiling-mounted swing will include the following parts:
Suspension mechanism at one or more anchor points
Spring or extension chain
Rotatable suspension bracket
A sex swing frame made of metal or various straps
Adjustable belts or straps for your back, legs, arms, etc.
Foot or leg rests
Soft headrest
Butt support (seat)
Understand the Benefits of Sex Swings
As mentioned, anyone can use a bondage sex swing to enhance their pleasure. These contraptions are well-loved among hetero, lesbian, and gay couples, as well as people of all other kinds of sexual orientations!
While most people think they're only reserved for BDSM, they offer many benefits that you've never even thought of:
Weightless sex – A swing suspends you in the air. It essentially allows you to enjoy weightless sex. Not only does this create an unusual type of pressure on your body, but it also makes all the humping so much easier. The swinging motions will actually remove pressure from your joints. That will minimize any stress that you could feel on your body.
More sweat, more adrenaline – While hanging suspended, you'll get to experiment with all sorts of naughty acts to give you an adrenaline rush like no other.
Fuck from all angles – You can try all sorts of new positions and target new angles that are simply impossible to reach if you're on the bed.
You'll look like a freaking pornstar! – Just get naked, strap in, spread your holes, and levitate right there in front of your partner to make his cock throb harder than ever!
Increased mobility – Swings can also solve some mobility issues, especially if there are large weight or height differences between you and your partner. Additionally, they can truly help if one of you has a permanent injury or disability.
Deeper Penetration, Easy-A, and Floating Oral Sex
Due to its design, a swing will expose your holes fully. That means you'll get to enjoy deeper penetration and experience sex to the fullest! Also, if you love to get your butt abused or if you finally want to lose your anal virginity, love swings will minimize some of the challenges of taking a big cock in your backdoor. They'll help you get into the perfect position! They'll allow your partner to control the action slowly.
Moreover, since bondage sex swings will expose your genitals to your partner like delicious peach pie, they will make oral sex flow much more smoothly. The receiving partner won't have to constantly spread their legs open. So just focus on your pleasure! Oh, and you can get creative here and toss your BF's salad or get your butthole worshiped all night long. Yummy!
Your Darkest Fetishes Will Come True
If you want to be used as a fuckdoll, or you want to dominate your man's ass with a huge strap-on to make him your little bitch, there's really no limits to what you can do with a swing! You can try all sorts of D/s acts along with roleplay, role reversal, femdom, rough sex, body worship, and so on!
Bonus Tip: Sex Swings Aren't Only for Couples!
Are you lonely? Well, an adult swing can be one of the kinkiest tools for solo masturbation. If you want to experiment with your holes and explore solo sex in all sorts of positions, your pleasure swing will help you try self-bondage while giving you full access to your privates. Then, you can explore your body and get epic orgasms with a bunch of other sex toys and accessories. My favorite combos with bondage swings are dildos, vibrators, gag balls, and even full-sized fuck machines! Talk about self-love!!!
Types of Sex Swings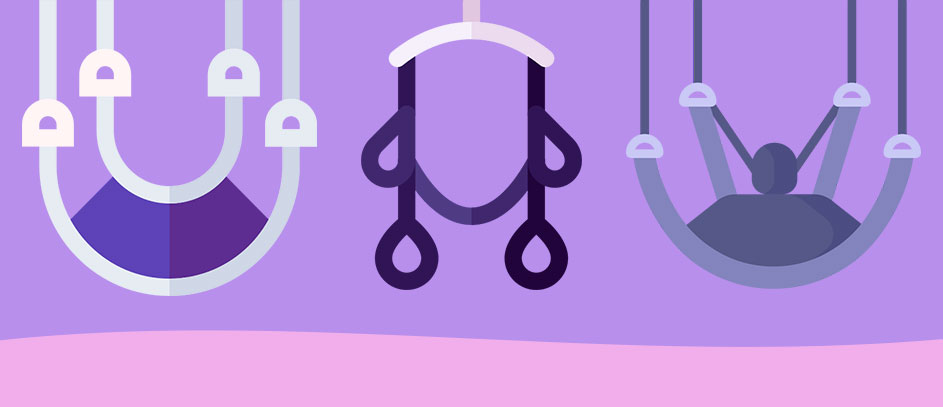 If you're still confused, let me point you in the right direction and reveal some of the most common swings out there:
Conventional Sex Swings
While we may refer to them as "conventional", there is truly nothing vanilla about these types. Classic swings consist of two main straps, stirrups, and a seat. Also, they include a headrest, handles, and various arm or leg straps.
These swings are some of the most expensive out there. Yet, they're also super sturdy, and they can accommodate two people at the same time. While they provide the widest range of positions and motions, they'll often require some kind of mounting point. You can install some swings to the ceiling with a hook, while others can be suspended from two vertical walls.
Plus, if you get one with a spring or extension chain, it will also be able to sway up and down in addition to swinging left and right.
Door Sex Swings
If you want to, ahem, open a new door in your life and explore swings without modifying your home, then this is the type for you. To mount them, you simply need to hang them over your door. Also, they are much cheaper compared to conventional swings.
Generally, these types have straps that hang from the top of your door. They'll include metal stoppers that hold the swing safely over the door. When you strap in, your back will sit parallel to your door. Then, the straps will spread your legs wide open. Because of that, door sex swings are some of the easiest types to install and use.
But, since your back will be against the door, the swing will restrict your scope of movement and position. You won't be able to use this type for back and forth motions. Also, you should only hang it up on a secure and stable door frame. Another downside of door sex swings is that they can handle a much lower weight. Nevertheless, they are still a fantastic choice for beginners, travelers, and people who need an easy solution without modifying their walls.
Sex Slings
Sex slings resemble a hammock. They will usually require four mounting points with carabiner clips that connect the straps. Instead of keeping you upright, sex slings will put your body in a reclining position and make it feel as if you're almost lying down.
These types provide a large seat that will support your whole body. Plus, they are available in the widest range of materials, from leather, fabric, to even wood. They'll give you the option to move back and forth or get tied up, but the range won't be as wide compared to a classic swing. While sex slings offer the strongest body support, they could be a bit limiting in terms of various creative positions.
Body Sex Swings
This is perhaps the most discreet type of swing that the dominant or giving partner can wear on their body and easily store away later. It uses several straps, adjustable belts, and a harness to attach to the wearer's body. However, to use it, your partner needs to be standing for the whole time. He needs to be strong enough to support your body weight.
These types come in many kinky variants. While they won't deliver the traditional swinging action, you can use them in many acrobatic positions. Some can suspend you from your partner's body so that you are hanging face down against his cock. Others will allow you to experiment with standing missionary, swinging cowgirl, hanging doggy, and various other positions.
Spinning Sex Swing
Some classic wings come with rotatable suspension brackets or swivel hooks. These hooks allow them to spin a full 360 degrees. That way, you can quickly swing into action and give your partner even greater access to your body.
Sex Swing Frames
If you don't want to permanently modify your home, you can pretty much choose any swing and use it on a free-standing sex swing frame. Sex swing stands are one of the easiest solutions that enable you to quickly install or remove your sex sling.
Plus, most of them are foldable, and you can easily stash them away. They act as a support for your swing. They hang it up in the air without requiring you to modify your ceiling. However, if you want to go this route, you'll need to install them over a sturdy floor. You'll also need to pick one that fits under your ceiling.
Low Swing Chairs and Position Enhancers
Afraid of heights? What if you're not ready for a sex sling yet, but you still want to explore some kinky swinging furniture?
Well, there's a wide variety of low swing chairs and position enhancers out there. For example, stand-mounted low swing sex chairs are one way to explore all sorts of new positions and mid-air acrobatics. They also look quite perverted and are an ideal option for your BDSM playroom. Alternatively, you can choose various position-enhancing sex furniture such as weightless sex chairs, bolsters, sofas, oral sex stools, queening chairs, etc.
Buyer's Guide: Swing Your Way to Better Sex!
Whenever I think of fuck swings, I wander off on various mental images that feature my favorite male porn studs doing all sorts of weird shit to me that should be outright illegal! In fact, I'm so obsessed with swings that I can barely hold myself together now. In the past few years, I've tested tons of love swings, including low-quality DIY models as well as the most expensive high-end models. And the first thing I'll tell you in this buyer's guide is that there are a fuck ton of swings out there, and none of them are exactly alike.
Heck, I don't even remember how many times I managed to fall out or injure myself only because I wanted to save some money. So to rescue you from all that trouble and help you get straight to the fucking, here are my best tips on choosing and buying the perfect love swing!
Things to Consider Before You Buy Your Swing
Weight and height – Think about your and your partner's body. Most swings are adjustable, and they can accommodate almost all body types. However, your weight and height could affect the type of swing you buy.
Skin allergies – If you have any skin allergies, make sure you get a safe material that won't cause a nasty reaction.
Budget – Not everyone has the money to afford a thousand-buck fuck swing. Some types, like stands or rotating swings, will be the most expensive. On the higher end, you could spend over $600. However, there are many budget swings that will cost you around $100.
Can you drill 'em holes? – Drilling and installing anchors in your home is not too hard. Yet, it might be inconvenient if you don't want to change the look of your ceiling. Still, drilling is the only way to install a classic swing. If you don't want to modify your home, but you still need traditional swinging action, you might need to get a sex swing stand.
What You Need to Look For
Weight Limit
When in doubt, always check the weight restriction! This is especially important if you have a plus-sized partner. Therefore, you'll need to inspect just how much the swing can hold.
Typically, classic models have a 200 to 400 lbs limit. However, that could be lower for door-mounted or body swings. Also, if you want to have a really sweaty gangbang with multiple partners, you'll also need to factor that in.
Size
While it's easy to pick your favorite dildo or vibrator size, sex swings are a little different.
For example, you'll need to check out the total length of the swing. Then, compare it to your height. That will let you know whether it's too big or too small for your body. Don't forget to look up the width measurements. Also, you should measure the height of your ceiling if you're planning on getting a classic swing or a frame.
Mounting Points
If you or your partner know your way around your power tools (not talkin' about your BF's big dick here…), you can drill your ceiling and hang your sex sling from there. Also, there are a ton of different mounting methods, such as hanging your swing from the roof. Some of them are easy, while others are complicated. Regardless of your method, you should check out some guides online and inspect your ceiling or roofing structure.
Support
For me, more padding equals more fun. The extra padding will make your whole experience much more comfortable, so look for straps, seats, and ankle supports that use soft and thicker materials.
What to Choose Depending on Your Body
Personally, if you can drill holes into your ceiling, a traditional swing will deliver the best results. After all, it will give you an unlimited range of movements. You'll be able to use it in all sorts of positions.
However, if you don't want to modify your home, sex swing frames are a great idea, but only if you find a quality stand that supports your weight. Still, if you don't find one but simply want to feel what it's like to fuck in a swing, a door sex swing will be ideal. Remember, door-mounted swings provide easy storage and you can install them in seconds.
And if you're only buying a body swing, make sure that your partner is strong enough to support you. If you are outright intimidated by all of those options but still crave some swinging sex adventures, pick a low-standing chair.
Don't Forget the Straps
If you're a filthy cock-worshiping pervert like me, you probably love your straps. Straps are essential in BDSM, and they will look awesome on your swing. But do you want them to look comfy and friendly or a little intimidating?
Here, you'll need to check out the amount of tension and suspension your sex sling will provide. For me, thicker padded straps are much more comfortable. They are better for balancing out my and my BFs weights. Also, think about which body parts you want to suspend. Do you only want to tie up your legs and spread them wide open? Or do you want to restrain your arms too? Bonus tip: if you have a bigger body or if you want to boost that special feeling of weightlessness further, look into thigh lashes. They'll provide additional support and will remove some pressure from your keister.
What Kind of Material Should You Choose?
Picking out a quality swing material is different compared to choosing between a silicone or TPE dildo. Remember, the first thing to do here will be to check whether you or your partner are allergic.
Obviously, you won't stuff a sex swing up your butthole as you would a dildo or vibrator, so you won't have to worry about nasty infections or rashes from poor-quality materials. Still, it's essential to find a comfortable material. So choose from:
Fabric materials: these are the softest and easiest materials to maintain. They'll feel great against your skin. Yet, they can absorb quite a lot of moisture. Still, some double knitted fabric can be quite sturdy and comfortable at the same time.
Leather or nylon materials: these materials look hot and kinky, although they can be a bitch to clean. You'll destroy them if you put them in the washing machine, so you'll have to wash them by hand.
Padding materials: for padding, you'll most likely encounter neoprene and other types of foam. There's nothing to worry about here. The padding will not make direct contact with your genitals. Still, I'd advise you to choose sturdy and thick padding to make everything swing much easier.
Generally, most of those materials are safe for external use, and they won't harm your skin. You'll also encounter other options like polyester or even wood. Remember, a swing is usually made of a combination of various materials. That's why you should inspect all of them to see whether they're safe for you.
Additionally, 99% of all those materials are somewhat porous, meaning they'll absorb bacteria over time. Again, while this would be a problem for insertable sex toys, it's not a big deal here. Nevertheless, you will need to wash your swing thoroughly to keep it germ-free.
3 Ways to Tell Whether Your Pleasure Swing Is Worth It
Comfort – No matter how kinky your swing looks, your comfort should always be your priority. If everything goes well, you'll end up using your swing for hours. Therefore, it shouldn't feel uncomfortable or bruise you in the wrong places. That's why you should carefully look into the measurements and pay extra attention to the strap placements, weight limits, mounting points, and padding.
Safety – There are many shady sellers out there who make swings that are outright unsafe. After all, safety should be just as important as your comfort. You could encounter swings with poor-quality materials, shoddy stitching, and so on. And trust me, nothing is worse than breaking your swing and falling on your lubed-up ass. So just remember to buy a swing with all the necessary features that make it safe. That includes robust stitching, quality mounting points, and durable hardware.
Versatility – You could end up disappointed if you buy the wrong type. After all, the point of this whole thing is to teach you how to get a fun and versatile tool that will transform your sex life. However, if you don't know your goals, you could end up with a boring and unusable swing. My rule? The greater the versatility, the better the fucking! So look into factors such as strap adjustability, butt support size, ankle restraints, extension chains, etc.
Tips on Using, Cleaning, and Storing Your Sex Swings
"If you're not careful with your sex swing, Humpty Dumpty could have a great fall…"
It's all about preparation and planning here! While sex should be spontaneous, using a swing requires a lot of care and patience. That's why you shouldn't hop into it the moment it arrives.
Swinging Safety Tips
Firstly, you'll need to study the manual carefully and make sure your mounting points are safe. This will vary based on the type of swing. A good way to check whether your swing is safe, easy, and fun to use is to read some reviews online.
Also, when your swing arrives, you'll have to inspect it thoroughly to see if all the parts are working correctly. If something seems off, return it. Also, don't remove any parts, springs, or straps from your springs when you install them. Regardless of the type, you'll also need to check the mounting points and the straps occasionally. Another crucial tip is to never adjust your swing while you're riding it. This could pull all your weight down and make you drop on your ass like a donkey.
Time to Fuck!
Once you've made sure that your swing is safe, you can mount it and use it to explore literally every position in the Kama Sutra! But don't forget to try a little foreplay first and enjoy some floating oral adventures!
Then, you can spread your legs wide open and have your partner drill you balls deep! Some of my favorite positions for swinging zero-G fun include standing missionary, swinging cowgirl, levitating doggy, queening, swinging 69, and the flying dutchman. Seriously, just google these, and you'll be tempted to try them ASAP. Goddamnit, I wanna get fucked like those porn girls so bad!!!
But hold up! Before you get the hang of it, you'll also need to stretch and warm your body up a bit. If you can't handle the pressure of various positions, you should practice first. You can also use a bigger pillow below you for extra support. Also, don't forget to use plenty of lube and experiment with various sex toys. The rest is up to you: just fly through the air, and you'll feel sky-high when his big cock pumps that thick creamy load deep in your pussy!
Always Clean Your Sex Swing!
Most swing materials are porous, and they could accumulate germs over time. One way to deal with this is to clean your swing after each use. If you ignore it and leave it covered in all sorts of body fluids, it will attract tons of bacteria and lead to infections. Luckily for all of us, cleaning a swing is not rocket science.
Basically, the method will depend on the material. For example, fabric materials are the easiest to wash. You can simply disassemble your swing and stick it in the washing machine. You can also wash them by hand. However, if you buy a nylon or leather swing, you won't be able to fully soak or machine wash them. Doing this will harm the materials and render your swing useless. In that case, you have to wipe your swing with a damp towel and anti-bacterial soap.
Easy peasy, right? Well, after washing, you'll also have to leave your swing to air dry fully. Once your swing is dry, you should find someplace secure to put it where it won't be exposed to moisture or dust. You can use a soft storage bag or even a larger vacuum bag to keep it safe from all the outside elements.
Sex Swings Industry Overview
Since ancient times, our ancestors were well aware of the value of passionate sex and intense lovemaking. In fact, ancient cultures have used sex toys as far back as 30,000 years ago! But how did we go from using ancient stone dildos and primitive sex slings to high-tech sex machines and super kinky 360-degree fuck swings?
History of Sex Swings
Most sexperts agree that love swings were invented more than 2,000 years ago at around the same time when the Kama Sutra was completed. On the surface, this is a book with various sex positions. However, there's so much more to it. It's a book about sexual curiosities, naughty imaginations, love, and intimacy.
Thankfully, ancient Indian sages and poets knew how important it was to have a healthy sexual imagination. However, since a lot of Kama Sutra positions were invented for the fittest yoga masters, our Indian sex masterminds started to design some contraptions that could help those who were not so flexible.
They made all sorts of systems with pulleys and ropes to help people have weightless, effortless, and, best of all, mind-blowing lovemaking! And that's when the early wing-like swing was invented. The theory was that by spicing up sex positions and fantasies, a couple could renew their sexual intimacy. Sadly, most of those ancient Indian devices were a failure. In fact, ancient drawings clearly show that people weren't very happy with them. They were uncomfortable, tough to use, and above all, dangerous.
Swinging Into the Future
Obviously, it took a long time until love swings were perfected into usable designs that we can all experiment with today. Oh yes, the wait was worth it! Nowadays, we can buy pretty much any adult swing that tickles our kitties. Even better, we can combine them with some of the most unusual next-gen wireless sex toys that can use VR or AI technologies to truly blow our minds. So what should you expect in the future?
Well, tons of manufacturers out there are already competing to revolutionize the market. That includes big names like Lovehoney, Fetish Fantasy, Bed of Roses, Calexotics, Purple Reins, Bedroom Kandi, Dominix, Bondage Boutique, and so on.
A lot of those brands are designing swings for all types of couples and with various new features or designs. That includes new and unique mounting systems, strap placements, extension springs, etc. Also, a lot of brands are creating special designs for their swings, so if you look around, you'll be able to find the perfect color and shape that you prefer.
Granted, swings are completely different from dildos and vibrators, so I'd say we're only a few years away from having a swing that can fuck us automatically. Who knows, maybe we'll even get some vibrating swings with smart monitoring, voice controls, warming features, and VR compatibility?! But, for now, you should take ownership of your own future and use a swing to break the boundaries of what's humanly possible! Or simply put, jump into your sex swing and pound your holes raw until you're squirting like a double stuffed pinata! Bottoms up, sweetie!
⚠️ Disclaimer: Our articles contain affiliate links. If you like our content and wish to support our work, consider purchasing your new sex toys through our links. For each purchase through our links, we receive a small commission but at no extra cost to you.
FAQ
That will depend on your body, your preferences, and your home space. Still, a classic ceiling-mounted swing is probably the best choice if you want to explore intense weightless sex.
If you're a beginner and you don't want to drill your walls, you could start with a door-mounted sex sling to see how it feels. These swings are also great because they won't take up a lot of space. You'll be able to attach or remove them quickly. Alternatively, you could opt for an extra sex swing stand. This will allow you to use the classic type without drilling your walls. Moreover, if you have physical issues or if both you and your partner are plus size, you can look into sturdier sex slings that will support both of you.
With a ceiling hook installation, you'll have to install hooks or tie-down anchors carefully. Also, before you drill, you'll need to choose the center joist of your ceiling to avoid damaging your walls. There are various single or double hook methods that you can try. Alternatively, if you're using a stand or door-mounted swing, make sure you study the instructions to see the correct mounting method.
Some types will require at least 5 or 6 feet of clearance in order to move freely. Classic swings are usually around 4 to 5 feet wide, and your ceiling will need to be around 3 feet high if you opt for a traditional design or a swing stand. With a door-mounted swing, you won't have to worry about the space too much. However, you'll have to make sure that your doors are tall and strong enough to support your swing.
All of 'em! Seriously, sex swings will allow you to experiment with oral, vaginal, and anal sex like never before! They'll provide a special feeling of weightless sex that will remove a lot of stress from your body. That will allow you to focus solely on your orgasms.
Also, sex swings will enable you to feel deeper penetration and play around with all sorts of positions that will rock your G-spot until you squirt! Plus, all of your other body parts will be exposed, and you can easily stimulate them for powerful clit, nipple, or anal orgasms. Plus, being tied up in a swing while your partner fucks you in mid-air will provide a special visual and mental element that will get you off in no time!
You can use most sex toys while you're strapped in. That includes dildos, vibrators, strap-ons, butt plugs, clit massagers, anal beads, vibro eggs, and so on. Plus, you can try all sorts of accessories such as nipple clamps, blindfolds, mouth gags, floggers, and so on. Heck, you can even use a full-size sex machine to utterly wreck your holes like a good little sub! However, I wouldn't advise you to use extra bondage harnesses while you're already strapped in. Also, double-ended toys like dildos or vibrators could be a bit tricky to use while you're seated.
If you're not careful and you don't install your swing properly, you could experience more sex swing fails than you can count.
After all, swings are quite complicated, and you'll have to make sure that they're correctly installed before you use them. If you fall out, you could drop down on your ass and nudge your tailbone. However, there's always a risk that you could suffer other more serious injuries. To stay extra safe, always study your swing's instruction manual and use my tips. If you're still scared, you can put a thick pillow under your swing. But, if you're careful and you strap yourself in safely, you'll rarely, if ever, fall out.