Jun/20/2022
Last Update: June 26, 2023
995
23 min read
Best Remote Control Vibrators In 2023 For Kinky Wireless Fun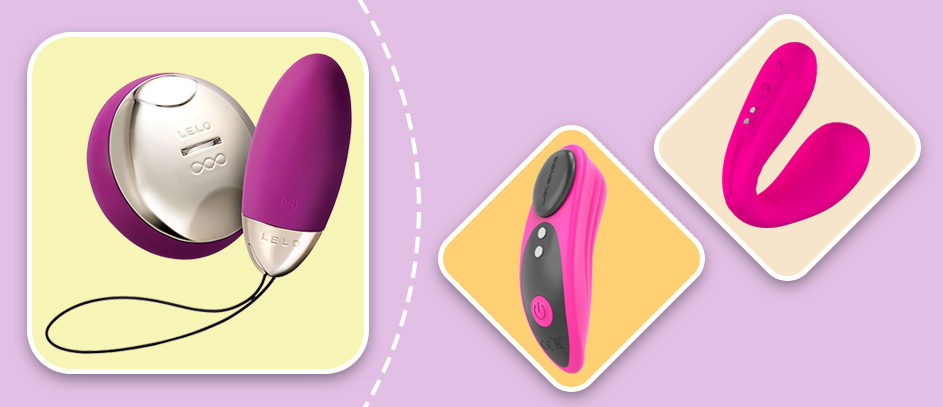 The first time I bought a remote control vibrator, I thought to myself, "Holy fucking smokes, Scarlett! You just got a freaking power drill, and you're gonna get all up on that dick and ride it until you're creaming like a pop-tart in a microwave!!!" And just when I thought I couldn't cum anymore, Richard pulled out our bondage straps! He forced his fat cock down my throat and used my remote control vibrator to blast my pussy and make me squirt over and over like I was his nasty little dungeon bitch! Moral of the story? Well, remote control vibrators are some of the most orgasmic and practical sex toys out there!
So let me show you the best wireless vibrators I've tested and teach you how to buy the hottest one that zaps you with pleasure until you can't feel your legs and you're cumming like a goddess!
Top 10 Remote Control Vibrators in 2023
While today's vibrators make some of the older rubber models resemble stale cucumbers with AA batteries, the choices can get quite overwhelming. To save you the trouble of looking too hard (and to help you cum damn hard!!!) I put tons of remote control vibrators to a deep, long, and extra hard test. That includes app-controlled vibrators, Bluetooth vibrators, long-distance vibes, toys with wireless remotes, and other kinky pulsators. Here are my top 10 remote control vibrators that will buzz the hell out of your pussy or ass-hands-free!
Remote Control Vibrators: Feel the Buzz!
My sexpert ass strongly believes that every grown-ass 21st-century lady should own a vibrator. Or you should at least have some idea of what these iconic gadgets can do! You don't really want me to explain that you need to push a button and let that little monster vibrate the heck out of your honey pot, right?!
Still, while remote control vibrators have been around since the 1990s, they pale in comparison to today's tech-focused models. As I said, there are so many different types of remote control vibrators! Some of them even offer next-gen features that you've never dreamed of!
"Shopping for a new remote vibrator will make you feel hornier than a pornstar at a gangbang going all eeny, meeny, miny, moe in front of a bunch of huge throbbing cocks and a can of whipped cream!"
That said, there are hundreds of different models out there. Ideally, you're going to want to find one that fits your naughty appetites (and your holes!) like a glove! Luckily for you, I let my tight orifices do all the hard work to help you choose your ultimate weapon.
What Are Remote Control Vibrators?
So what can your remote control vibrator give you that a standard one will not? Well, young lassie, you'll get an entirely new way of controlling your toy and your pleasure! Why fumble around with buttons like you're fucking a 1980s pinball machine when you can use remote controls? With the push of a button, you can turn your Bluetooth vibrator into the ultimate pussy blaster! Beam me up, Scotty, and make me squirt like a little slut!
But seriously, if you want to spice up your solo masturbation sesh or get kinky with your lover, these bad boys will provide you with a ton of innovative control options. From getting naughty during your alone time, making your partner cum on command, creaming with a vibrator in public, to using one for long-distance fun, remote-controlled vibrators can do it all!
Push the Button!
Here are some more ideas on what you can do with your remote-controlled orgasm machine:
Hands-free orgasms, baby! Just lay back and use the remote to make yourself cum without moving a muscle. Alternatively, tie your boyfriend up and milk his balls hands-free like you're the baddest mistress out there!
Why not stick it deep inside you and go to a restaurant to celebrate your anniversary with a bang? Just tuck it in discretely and let your lover manage the remote for extra kinky public orgasms!
If you're in a long-distance relationship and you want to keep the intimacy high with your partner, you can configure some remote control vibrators from miles away. Others can even link up to your lover's sex toy!
If you prefer girl-on-girl action, just get two vibrators and be done with it. Then, you can control both of your intense clit or vaginal orgasms simultaneously, hands-free, until you both turn on the sprinklers! Now, squirt all over each other's pussies!
Jam along to your favorite tunes – some app-enabled vibrators can sync to your favorite music. They'll follow the beat of the tracks with intense vibrations to keep the party pumping!
You can use your remote control vibrator just like any other classic vibrator out there. That means you'll get to experiment with new levels of external and internal stimulation to cum stronger and harder each time.
Types of Remote Control Vibrators
If my previous suggestions made you feel a little tingle in your crotch, remote control vibrators are definitely for you! Still, there are way too many creative ways of using them for me to mention in one article. The best thing to do is to let your freak flag fly! So get wild, sweetie!
One of my smartest tips is to look for a vibrator that matches your dirty deeds. That's why it's essential to look into all the different categories of remote control vibrators. Then, you'll find the one that your holes won't be able to part with!
Remote Vibrators
The most basic remote vibrators are essentially standard vibrators that come with a separate wired or wireless controller. The wired variants come with a remote that's attached to the toy via a cable. It's a rather old-fashioned design, and it's not something that I would buy today. Still, a lot of people dig small wired panty vibrators or butterfly vibes. They're super portable, and they look quite kinky. One of the benefits is that you'll never have to worry about losing your remote.
Nevertheless, remote vibrators with a wireless controller utilize a superior design. You'll get a classic vibrator made of soft silicone materials. Plus, you'll get an included external remote that also uses body-safe materials such as ABS plastic. There are many factors to consider here. That includes button options on the remote, the vibrator's functionality without the remote, and the wireless range. One drawback of this type is that you'll have to keep the batteries in your remote fresh! Trust me: you don't want them to run out of juice when you're edging yourself!
Bluetooth Vibrators
Bluetooth vibrators use short-range wireless technology. They enable you to control your toy from your smart device. Generally, they are ideal for the bedroom or for kinky public play, but they are somewhat limited by the Bluetooth range.
Nevertheless, the wireless range is more than double what you'd get with a standard remote vibrator. You can use them all over the bedroom, whether you're wearing lingerie, naughty cosplay suits, or you're fully naked, and you want your BF to give you an oily massage while making you cream hands-free.
Even better, Bluetooth vibrators will give you an extended range of controls since you'll be able to configure it all via an app. That way, you'll get a lot of options when it comes to selecting the vibration patterns, speeds, strengths, and more. You can even save your favorite presets or even make your own custom patterns.
Yet, one thing that bothered me with Bluetooth vibrators is that some of the more affordable variants out there could experience pairing or connectivity issues. Still, a Bluetooth vibrator is a fantastic option for all kinds of bedroom or public play, and it will provide you with extended control options!
App Controlled Vibrators
Have you been a good little girl? Well, good or bad, it's time for you to meet the big daddy of remote-controlled vibrators! App-controlled vibrators use Wi-Fi or other smart linking technologies to connect your toy to a proprietary app. Some examples of spectacular apps for remote-controlled play are made by Lelo, OhMiBod, or Lovense.
The biggest benefit of these types is that they are not limited by range. You can set them up with a phone or tablet even if you're miles away. That makes them the best choice for long-distance couples, but that's not their only function. You can even use them at the office and let your hubby please your kitty from a distance to brighten up any gloomy Monday!
Moreover, some of the apps can sync the vibrations to music or even erotic audiobooks. Others can link two smartphones to one toy and connect you and your lover via webcam or chat. Plus, some of the newest choices out there can even sync up to VR content and webcam shows or give you smart monitoring and biofeedback options to track your orgasm goals.
Granted, most of these toys fall under the premium or lux category. They're a bit more expensive compared to the other types I've outlined. That's why you should think about whether you truly need those features or not. Nevertheless, if you're looking for a cutting-edge vibrator and you want to be able to control your toy remotely or use all sorts of extra options from the app, the extra cost will certainly be worth it!
Choose Your Fighter!
Whether you want to get your passport picture taken while wearing vibrating underwear or you want to drill your asshole out with a huge realistic vibrator and squirt buckets all over the walls of your secret fetish room, you can find remote-controlled versions of almost any kind of vibrator out there for your pleasure. That includes:
Classic penetrative vibrators with phallic shapes
Classic vibrators with non-conventional shapes
Vibrating panties
G-spot massagers
Bullet vibrators
Rabbit vibrators and other multi-purpose toys
Clit suckers
Vibrating eggs
Anal vibrators and vibrating plugs
Strap-on vibrators
Fantasy vibrators
Cock rings with vibrators
Prostate massagers
Obviously, there are dozens of other remote-controlled vibrating toys to mention, and not all of the examples from the list above may suit you and your preferences. For instance, an ultra-portable and discrete vibrator controlled by apps might not do it for you at all if you're looking for a deep dicking of the butthole variety. In turn, you may not need a huge and realistic dick-shaped power drill if you're intimidated by real penises.
So what should you do next? Well, just think about what you want for yourself or for your lover and take it from there!
What Are Remote Control Vibrators Made Of?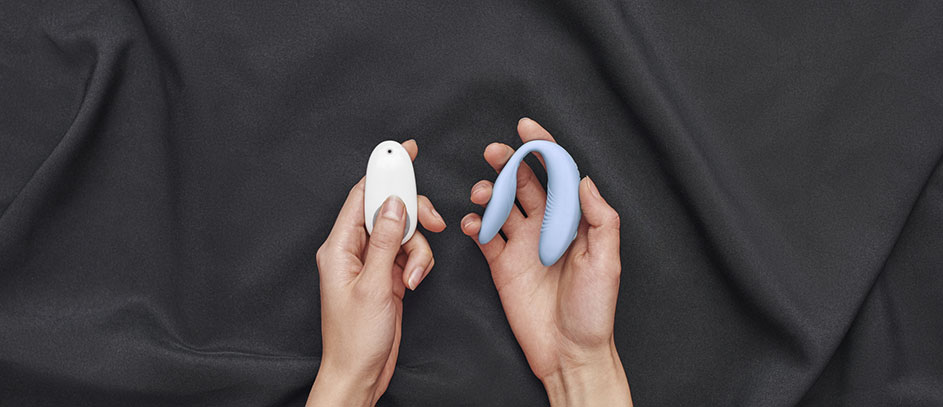 Since we're focusing on sex toys that glide in and out of you, you shouldn't forget about the materials. Most remote vibes are made using soft materials. However, some can also have harder textures.
While the material will play a huge role in how your toy feels, you'll have to know how to find the safest options for your skin. In most cases, you'll get to choose from:
Silicone
TPE or TPR
ABS plastic
Vinyl, jelly, or rubber
Now, to save your ass from a nasty rash, you'll need to choose quality non-porous and 100% body-safe materials. Those that are highly porous can absorb bacteria and break down over time. That includes rubber or jelly. Fortunately, the newest high-end remote control vibes will rarely use cheap materials like jelly. This will make your search easier, but you'll still need to focus on medical-grade materials like silicone or ABS plastic. Those materials are non-porous. They'll play incredibly well with your skin while keeping all the bacteria away. Additionally, they're the safest option since they are relatively low maintenance, and you can clean or sterilize them fully without much effort.
Extra Features for Deep Orgasms
There are many other features that your remote control vibrator could provide, and yet it's easy to overlook them. Some could be deal-breakers, while others might be outright essential. So make sure you inspect the following options before you spend your money:
Power – If you want unlimited power, you won't be able to get it from removable AA batteries. The best option here is a USB-rechargeable vibe that takes a few hours to charge before it's able to run for two or more hours without stopping.
Vibration motors and settings – The best remote vibrators will give you plenty of settings to explore. Ideally, you should get one that offers 15 to 20 or more patterns. Also, most remote vibes have one vibrating motor, but there are some, such as rabbit vibrators or vibrating eggs, that could include multiple motors and tips for multi-purpose fun.
Water-resistance – This is a must-have option if you want to get soaked and fuck your Bluetooth vibrator in the shower. It will also make all the difference during cleaning since you'll be able to soak it fully!
Suction cups – If you truly want to take your hands-free pleasure to the next level, get a remote vibe with a suction cup. It will enable you to stick your toy to flat surfaces and ride it hands-free while setting up all the action via the remote!
Strings, hooks, or O-loops – Some mini vibrators could include a few attachments to make it easier for you to wear your toy or slide it in and out easier.
Button controls – Most remote control vibrators will still include one or two buttons to allow you to switch the toy on or change the patterns manually. This is a great feature because it will allow you to use your toy without a remote if you're in a hurry.
Remote Vibrators Buyer's Guide
My sixth sense for sex is already tingling, and I can hear you thinking: "Scarlett, what makes the best vibrator? Which one will give me the strongest orgasms?" Unfortunately, I don't have a one-size-fits-all answer. Some girls could get off with just about any remote vibrator. Others might prefer to take their time and find a match made in heaven for their holes. Regardless, there are several ways to tell a great vibrator from a complete dud that eventually turns out to be more useful as a doorstop than an untamable cum machine:
How to Choose Your Dream Vibrator
If you're having doubts, find a toy that ticks all the right boxes:
Check whether the shape and type turn you on and whether they suit your body.
Think about your stimulation areas. A standard remote vibrator can stimulate those G-spots, clits, nipples, and tight sphincters all night long. However, some vibes, like remote panty vibrators, are specially designed to perform only one or two functions.
Find the safest material that feels good against your body and inside you.
Look into all the features to see whether they are truly necessary for you and whether or not they offer a high-quality experience.
Understand the differences between wireless, app-integrated, and Bluetooth vibrators and get the type you like the most.
Pick a size and girth that fills you up just right! Duh, it's that simple! You should feel your toy outside or inside you just the way you like it, regardless of whether you want a gentle buzzer for your lotus flower or a brutal beast to stuff up your dirty fuckholes.
Don't ignore the noise! If it's too loud, your special friend could end up making too much noise in public. If excessive noise bothers you, I'll show you how to identify a quiet vibe from a loud one later.
Is price a big factor for you? If yes, try to find the best toy in your price range. One tip to remember is that expensive vibrators are not always worth it if you're looking for something basic. However, if you need the latest and greatest app-enabled vibrators, you'll have to pay extra.
What to Look Out For
I can't tell you how many times I've tested a vibrator that didn't fit properly, made all kinds of weird fizzy noises, and looked or smelled like a ninja turtle. The best you can do to save your holes from the shredder is to consider my tips below:
Stimulation Types: Which Remote Vibrator Is Best for Your Needs?
Ultimately, you can buy a vibrator that delivers a specific type of stimulation or get an all-rounder that will please and tease your whole body. Here are some of my recommended choices based on the type of stimulation you're looking for:
For clit play, you can choose a standard remote vibe, a bullet vibe, magic wand massager, clit suction toy, etc.
If you want to push your new toy deep in your vagina, get a classic remote vibe with a long shaft. Alternatively, you might like a thrusting vibrator, G-spot massager, rabbit vibrator, fantasy toy, etc.
What if you crave deep anal training? While you can make standard vibrators work for the Sphincter Olympics, I wouldn't recommend them. Instead, focus on anal-specific remote vibrators or vibrating plugs. They all come with a flared base to prevent them from getting stuck in your rectum. Still, if you only want to tease your starfish from the outside and train it for a big cock, you can use any vibrator type.
For public play, the best options are app-enabled panty vibrators, mini vibrators, bullet vibes, love eggs, etc. Just remember to bring a spare pair of panties with you!
What if you want to make your BF cum remotely? Well, he's gonna be one lucky guy if you drain his balls with C-rings, choke his bishop with glans stimulators, or even milk his prostate with a powerful remote-operated P-spot massager!
What Are the Best Long-Distance Vibrators?
If you're a bit of a techie and you love to harness the power of new technologies in your sex life, you might not be satisfied with any traditional remote vibe. The best vibrators controlled by apps will give you flawless syncing functions. Plus, you'll get a limitless control range that you can use with long-distance partners or on long business trips. Just push your vibe in your minge, hop on a train! Then, wait for your BF to play with your toy from his phone to make you cum on command!
What's more, while I've already shown you my top picks for remote control vibrators, not all of the most famous sex toy manufacturers make wireless remote control vibrators. Some include OhMiBod, Vibease, Tracey Cox, Lovense, We-Vibe, etc. My smartest tip here is to focus on the most reputable manufacturers. Then, inspect the technologies they use in their app-enabled vibrators. There are vast differences between the shapes, features, functionalities, app types, and it's up to you to find the biggest bang for the buck (literally!).
How to Tell if a Remote Control or App Is All It's Cracked up to Be
Not all remotes or apps will work the way you thought they would. Here are some pointers to remember if you're buying a vibe that's controlled by an external remote or an app:
External remotes work better if they have long-lasting batteries or are rechargeable. Plus, most of the high-quality options out there will give you around four buttons to play with. That will be more than enough to help you switch your vibe on and configure the settings remotely.
If you get an external remote and a waterproof vibrator, there's a chance that the actual remote might not be waterproof.
Apps should provide a friendly interface, easy connectivity, and data protection. Also, they should give you a ton of options such as music syncing, cam integration, VR compatibility, or even the ability to connect to other toys from the same manufacturer.
Which Material Is Best for You?
Personally, the best materials for remote control vibrators are silicone and ABS. They will not pose a risk for your skin. Plus, they'll be incredibly easy to maintain, and since they're non-porous, they'll literally last forever! But, these materials are sort of like polar opposites when it comes to the sensations that they create. So remember:
Choose silicone if you want soft and smooth sensations during external play and stimulation. Silicone does an amazing job of transferring vibrations to your skin. Also, it feels quite realistic. It's hands down (and bottoms up!) the best option for newbies.
Pick ABS if you know you need something harder to get off. ABS is not flexible at all, and it feels entirely different during external or internal stimulation. During penetration, it will give you an unyielding shaft and heaps of pressure from the inside. Externally, its tougher texture will provide you with ultra-precise clitoral stimulation.
You'll also encounter TPR, TPE, or Cyberskin materials that use a combination of several polymers. These toys are a bit softer than silicone. While they feel fantastic, they are slightly porous. I've never had problems with them, but if you choose this option, note that you'll need to take extra care of your toy or even use special cleaning solutions.
Size Matters but Location Is the Key
If you don't know whether you need a small or huge vibrator, just remember that size matters, but it also matters where you want to put it!
External Play – If you're looking for a remote Vibro egg, bullet vibe, or another type of clit massager, remember that some of them can be as small as 1 inch. Usually, 1 to 3 inches is what I'd recommend for solo play, clit-only romps, and public play. While the length of the toy won't matter that much here, you'll need to look into the width of the shaft as well as the shape of the tip. If it's thinner and sharper, the vibrations will be more precise. But if your toy is wider or rounder, it will stimulate more of your labia.
Penetration – You can choose a size you're familiar with or even go bigger to challenge yourself. The easiest way to start is to think in terms of actual penis size. If you want an average size, get a 5- or 6-inch vibrator. This will be just enough, plus it will be ultra-portable. However, if you need to go bigger and get that big black 10-inch remote vibrator from your fantasies, just remember to know your limits and fuck that huge fake cock responsibly!
Portability and Noise
Trust me, walking around with a loud buzzer up your butt will definitely turn some heads. If you want to stay discreet and if you want no one to know the tiny cum zapper hidden in your panties, it's best to pick a silent vibe.
Generally, silent operation vibrators will give you the same high-intensity levels but at a much lower noise floor. One way to look up whether your vibe is too loud or not is to check the manufacturer's specs. Then, examine the noise level. A quiet vibe should give you around 40 to 50 dB of noise. In other words, it will stay whisper silent. If you're not too worried about the noise, a 50 to 60 dB rating falls within the levels of normal conversation, but your neighbors might still be able to hear it. Again, if you don't care and if you proudly want to drill your bat cave until you scream, the noise may not be a big deal-breaker. But if you're having doubts, go with a silent remote control vibe.
Things to Avoid
Cheap unbranded toys
A short wireless or Bluetooth range
Some waterproof vibrators may not be fully submersible, so check that out in the specs.
Tips on Using, Cleaning, and Storing Your Remote Control Vibrators
What's the big deal here? You just need to push the button and ram your toy deep in your vag, right? Well, not exactly. If you don't want to learn from your own mistakes, I'll tell you exactly how you should use and clean your remote vibe to maximize your pleasure.
How to Get Strong Orgasms With Your Remote Vibe:
Get wet: pretty self-explanatory, right?
Turn it on and let it run for a few minutes to see how it feels against you.
Don't use the highest speed first: this could feel a bit too much or surprise you if you're not ready.
Experiment with your body: try your vibrator against all your sensitive spots to get extra horny and ready for penetration.
Use the correct lube: if you go with silicone or ABS, use water-based lube.
Grab that instruction manual! Obviously, there are so many different remote vibes, and not all of them work the same. For example, if you buy a wearable panty vibe, you'll need to see how to strap your toy onto your clothes.
Connect your toy to your remote or app – You should also check the manual to learn how to connect your toy to the controller properly. For Bluetooth vibrators, you'll have to pair them using your phone's settings. And for app-enabled vibes, you'll need to install the app and follow the instructions from there.
When you get accustomed to the sensations, you can use the remote to play with all the different settings and edge yourself until you cream. Oh, the options! You can experiment with your partner, play with other sex toys like dildos, use your vibrator for hole-stretching DP while your partner penetrates you, and so much more.
Cleaning Your Toy
Look, I know that every lady out there will be exhausted after cumming several times with her remote control vibrator. But, you shouldn't just throw your toy to the side of the bed and forget about it until you wake up tomorrow. That kind of behavior is just calling out for a nasty spanking from big daddy! Instead, you should clean it as soon as possible to get rid of all sorts of nasty pussy juices or leftover lube.
But first, inspect the instructions to see if your toy is waterproof. If so, you can soak it in warm water, rub it clean, or even use a light soap if necessary. You should also wash the remote, but only if it's waterproof. And not to forget the elephant in the room: your phone! Your smart device could also collect some bacteria if you're constantly changing settings with your hand, so make sure to clean it with a soft, damp cloth. Finally, find a safe spot to stash your toy. Once your vibrator is dry, you can leave it in its original box or use a separate sealed container and keep it in a cool, dry place.
Remote Control Vibrators Industry: Wireless Innovations and Sci-Fi Orgasms
It's no secret that our ancestors were perverts and that, since ancient history, humans have invented all sorts of gadgets for sexual pleasure. That includes ancient stone dildos, Cleopatra's rumored bee vibrator, Ben Wa Balls, and much more. But since I've already explored how ancient humans got off in my previous articles, it's time to look ahead.
Basically, wireless toys, teledildonics, and cyberdildonics were all concepts that were invented in the 1970s, with the earliest remote-operated vibrators being made in the 1980s. By the 1990s, everyone was talking about the future and the use of all sorts of sci-fi gadgets for tech-backed orgasms. Yet, the results weren't as impressive as they are right now. Currently, VR, AI, and remote-powered sex robots are much closer than you think. In fact, the blend of new technologies and sex toys has become an entire industry on its own, collectively known as "sex tech", with a total value of over $30 billion. Damn, girl, that's a lotta vibrators!!!
More Options and a Lot More Orgasms!
For the very first time, we can buy widely available smart toys that employ incredibly complex mechanics and wireless functions that speak to the female anatomy. What's even more encouraging is that there are more female lead sex-tech companies than male ones. Plus, most sexperts agree that the rapid advancement of sex-tech is directly influenced by our more accepting and open stances towards sexuality. The newest remote control vibrators are simply begging to be displayed as beautiful design objects and with artsy body-friendly shapes and beautiful colors! But as we've seen, the future isn't only about unusual designs. It's about allowing us to have greater control over our pleasures and our pussies!
Some wireless vibrators by brands like Vibease, Lovense, We-Vibe, Lora Di Carlo, Fun Factory, and many more can already give us personalized settings and smart monitoring that adapts to our vaginal psychology and uses AI to make us cum harder. In the next few years, I expect we'll get some sort of voice recognition AI tech that will make masturbation even easier. Oh, Alexa… Harder… Fuck me harder Alexa!!! And what if we could somehow integrate sex toys or robots into our bodies? While the future of sex tech has cum a long way, one question remains: will you? Well, baby, it's time to buy your remote control vibrator today and drill your brains out!
⚠️ Disclaimer: Our articles contain affiliate links. If you like our content and wish to support our work, consider purchasing your new sex toys through our links. For each purchase through our links, we receive a small commission but at no extra cost to you.
FAQ
Your remote control vibrator could come with an app made by the manufacturer. When you pair your toy up with the app, you will be able to use your phone like a remote and control all the action from the app. Alternatively, you can even use a tablet or smartwatch.
That depends. If you want to use your Bluetooth vibrator at home, a range of around 15 feet will be enough. However, if you want to go out to play, you will need a longer range. What's more, if you're buying your vibe for long-distance play, you'll need to get an app-controlled vibrator that has limitless range.
Yes, but you'll need to be careful and use it discreetly. Public play is a great way to get your adrenaline pumping and bring more fun into your daily activities, but you'll have to know how to use your sex toy correctly. For example, if you're just going for a walk, run, or a night out at the club, you won't get into any trouble. But, if you want to get kinky at work, you might have to be a little more careful. Also, make sure there's always a bathroom around so you can easily clean your hands, change your panties, or turn your vibe off if it gets too much.
Honestly, there are no rules here. All kinds of couples of all genders, sexual orientations, and preferences can use wireless vibrators to bring more fun into their sex lives. These toys are simply perfect for anyone who wants to explore hands-free fun, intense foreplay, stronger and better sex, along with risky public play or even BDSM kinks or fetishes.
Oh, yeah! There are plenty of male-oriented wireless vibrators that are designed to provide intense stimulation to the cock and balls, perineum, anus, and prostate. A classic-shaped vibrator, bullet vibe, glans massager, or prostate milker could feel extremely pleasurable to men, and it could deliver high-intensity sensations that provide stronger and much more intense orgasms!
Well, that will all depend on the type of toy you're looking for. Generally, wireless controllers are easier to handle compared to a manually-operated vibrator. With a traditional vibrator, you always have to reach down and grab the buttons to set the action. However, with a wireless controller or app, you can control your pleasure right from your palms, and you can even explore hands-free orgasms. Also, some wireless or app-operated vibes provide a wider scope of vibration settings along with all sorts of fun options. If you're having doubts, I'd say it's always better to spend more on a wireless remote control vibrator!