Jun/24/2022
Last Update: June 26, 2023
1105
23 min read
Best Penis Sleeves in 2023 To Extend Your Cock And Improve Your Sex Life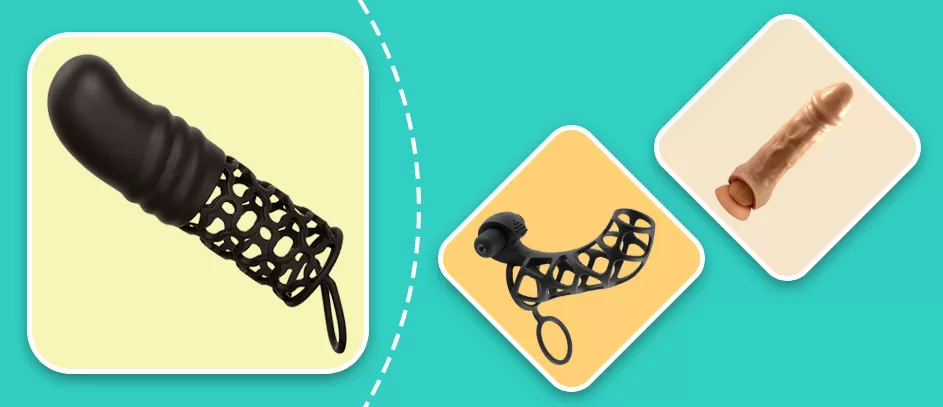 Looking to increase your penis size naturally and enhance your performance? Aw, hell no! This isn't one of those spammy ads that ruin your hard-earned wanking sesh and pop up just when you're about to bust at the sight of Lana Rhodes getting her holes filled up with massive creampies! Sometimes, the quickest solution is the best. Here, I want to talk to you about penis sleeves – a sex toy that's insanely popular with many horny fellas who require a temporary size boost. And it always works!!!
If you wanna know how a penis sleeve can spice up your sex life and turn your dick into a massive sex cannon, read on!
Top 10 Penis Sleeves in 2023
As Mr. Richard Turbo, it's my job to help you out and show you some of the best penis sheaths that I've had the pleasure of trying. I spent hours reading about them and testing them through and through on my own and with my bae. The result? Well, here are the top 10 penis sleeves that will make you look and feel bigger while boosting your stamina so that your girl can cum harder!
Penis Extender Sleeves Explained
Man, I love my job! Almost daily, I get to check out the newest and kinkiest sex toys with the girl I love, and it always ends with the most intense orgasms and huge smiles on our faces. I can also get off in ways I never could have imagined, and I get to see Scarlett's entire body shake from the sheer force of her orgasms as she screams for more and creams all over my balls! And just knowing that I'm the one who makes her feel like a sexy, cock-worshipping goddess? Wow! I can already hear the crowd cheering as I explode inside her gaping asshole: "Turbodick! Turbodick! Turbodick!!!"
"I had no idea that wearing a plastic cock extender would get Scarlett to squirt like the fountain of youth – she got so wet that we had to change our sheets and sleep on the sofa because the bed was soaked! It was the fastest, hardest, and so far, the deepest dicking of her life!"
Alright, now that you have some idea of what I put Scarlett's tight body through (oh, that poor girl!), let me explain how you can use a penis sleeve to do the same.
You'll Get an Instant Size Boost!
Basically, penis sleeves provide you with a simple and quick way to change your rooster's shape and size on-demand. They are some of the most underrated sex toys! The basic idea behind them is very simple. When you put one on, you can instantly get a thicker cock with a boost of around 2 inches.
Alternatively, you can use larger sizes to transform your wang into a pornstar mega-cock to fulfill your partner's fantasy (and your own!). Plus, they can make penetrative sex much easier for men who suffer from erectile dysfunction (ED).
How Do Penis Sheaths Work?
Well, penis extender sleeves are toys designed to magnify the size of your dong artificially. When you put a penis sleeve over your shaft, it will give you an increase in both girth and length.
Essentially, dick sleeves are wearable condom-like devices. When you put one on, it will look and feel like an extension of your cock. Really, it's like having a third leg! After that, the rest is pretty straightforward. Just use your newly expanded cock to pound your partner's holes as if she owed you rent!
Sincerely though, the best thing for me here is that these sex toys are available in literally hundreds of different variants. You can try one or a few to get started and choose the type of penis sleeve that you and your bae like the most.
For instance, they are made with various textures and in loads of different sizes or shapes. Some even add extra kinks, like vibrating features, ribs and beads, and bulging veins. And if your GF is really kinky, you can get a fantasy penis sleeve to turn your willy into a huge alien tentacle or a dragon dong.
These toys are also known as penis extensions, penis sheaths, and cock enhancers. And because of so much variation (and innovation) that you can get today, penis sheaths vary drastically. So before your GF talks you into buying the biggest and hardest penis sleeve that catches her eye first and makes her drool, consider the following:
Size
Type
Materials and textures
Features
So Many Different Types of Penis Sleeves!
Now, listen up. We can split dick sleeves up into two main categories:
Here's a short rundown of the main penis sleeve types:
Realistic Penis Sleeves
The most basic penis sleeves are usually made out of silicone. They're meant to look and feel like a real wang. While the soft silicone will provide a real feel and a skin-like sensation, its texture will resemble an erect boner. That means it will come complete with veins and firm glans.
Generally, you can find closed- and open-ended realistic penis sleeves, and you can buy one that matches your skin color. However, you can also find them in other colors (especially if your GF craves that BBC), and some even have non-phallic shapes or see-through materials.
Vibrating Penis Sleeves
If you've ever used a vibrating cock ring, you know that vibrations can push you and your girl to a whole new level. Vibrating penis sleeves usually come equipped with a built-in or removable bullet vibrator that you can put at the base, along the shaft, or inside the head of your penis sleeve. The pulsations will make the entire sheath vibrate, which will stimulate your cock and your partner's clit or G-spot as you thrust in and out.
Open-Ended Penis Sleeves
Open-ended dick sleeves can be useful for so many reasons. For one, they were initially designed to expand the girth of a penis, which is helpful for men who are already blessed with length.
Plus, since they'll leave your glans exposed, they'll feel more intense during penetration. They'll allow you to launch your baby missiles wherever you wish!
What's more, you can use them during foreplay or have your babe tease you by using a vibrator or licking your knob. Mmhmm, it's time for that sweet, sweet protein popsicle! Now, it's a bit trickier to do that with closed-ended sleeves. Also, since they are quite tight and they squeeze you all around, you can also use them for jerking off on your own and not just for couples' play.
Penis Head Sleeves
If you have a small glans, this type can make it look bigger. Penis head sleeves toys are much more compact and are incredibly simple to use. You can just pop them onto your soldier's head like a WWII helmet, and you'll see a sizable increase. Plus, they look quite kinky because they close off the head of your dong while leaving your shaft exposed. That's why many people use them for all kinds of fetish play and BDSM scenes.
Naughty, Naughty Features!
Obviously, I've only just started to reveal the secrets of penis sheaths to you. There are many other types of penis sleeves out there, and you'll also get to choose from a variety of wild and oh so naughty features:
Outer textures – As I said, you'll get to pick between various external textures. They can contain the usual characteristics of a penis, or they can have entirely unique patterns. Some include beads, spikes, ridges, rings, nodules, swirls, and so on.
Inner textures – A cock expander isn't only intended to please your bae: many include a delicate internal texture. They transfer body heat to your dong, squeeze it tight, and make the entire experience much more intense!
Vibration – You can find nearly any kind of sleeve that you prefer but with added vibration features. This is fantastic for masturbation, coupled sex, and any sort of fetish play. Some vibrating sleeves also come with a remote and various speeds/patterns. That way, you can let your partner control the vibrations for you and drive you both wild.
Colors – You can take your pick here based on your own and your girl's preferences. If she wants to get rammed by a big black stud, you can finally make her fantasy come true without actually having to go through a real threesome. But, if she's down for that, you can use the sleeve to train her for a monster dong. Alternatively, you can even choose colors that don't exist on real dicks (I hope not), like neon pink, purple, blue, transparent, etc.
Extra Options
There's more! I love the sex toy industry because the options (and orgasms) just keep on coming:
Fantasy sleeves – A lot of chicks are turned on by supernatural creatures like dragons, monsters, aliens, and so on. If your chick likes to roleplay and get dominated by an otherworldly cock, this is definitely the type for you.
Anal or clitoral stimulators – Some sheaths come with built-in clit or ass stimulators like vibrators or beads. They resemble rabbit vibrators – only you put them over your johnson and stimulate multiple erogenous zones at the same time to give your lady blended orgasms!
DP cock sleeves – My favorite type! This sleeve comes with an attached dildo that you can slide into your GF's other hole. Then, as you push in and out, you'll stretch out both her pussy and ass simultaneously to fulfill her DP fantasy!
Penis extender sleeves with big balls – If you want to grow some balls, this kind can make your cojones look bigger and bulkier.
Extra-large cock sleeves – XL sleeves are certainly not for newbies, but they can pleasure all size-queens who love to get their clams and sphincters stuffed with a jaw-dropping magnum dong of more than 10 inches!
Realistic ejaculating sheaths – These sleeves can produce fake cum explosions to let you cover your partner in gobs of faux throat yogurt.
VR sleeves – So far, I haven't come across any VR sleeves that allow you to reap the benefits of this new tech for masturbation or long-distance fun. VR compatibility is more common on cock strokers or blowjob machines, but if you want to dabble with that, you could probably use a cock sleeve together with a blowjob robot. Who knows?
Let's See What Your New Dick Is Made Of…
Unfortunately, while you do have many choices to look forward to, it's not always easy to find a quality toy that feels perfect. If you're hasty and don't follow Mr. Turbo's expert guidance, you could end up with a sleeve that feels like a rough and unpleasant boa constrictor wrapped around your schlong. That certainly won't feel good for you or your girl, and it could even pose some health risks.
Here, the most important qualities to look into are the materials, shapes, and textures of your toy. Typically, most sleeves are crafted from silicone, TPR, or a mix of both. If you encounter other sleeves made of jelly or latex, avoid them. Those materials are toxic germ-collectors, and they could irritate your skin.
Silicone, however, is a hypoallergenic and non-porous material. It's safe for all skin types and doesn't accumulate bacteria. TPR is also a decent option. However, it's porous, and you'll need to take extra precautions when using and cleaning it.
So Which Size Should You Choose?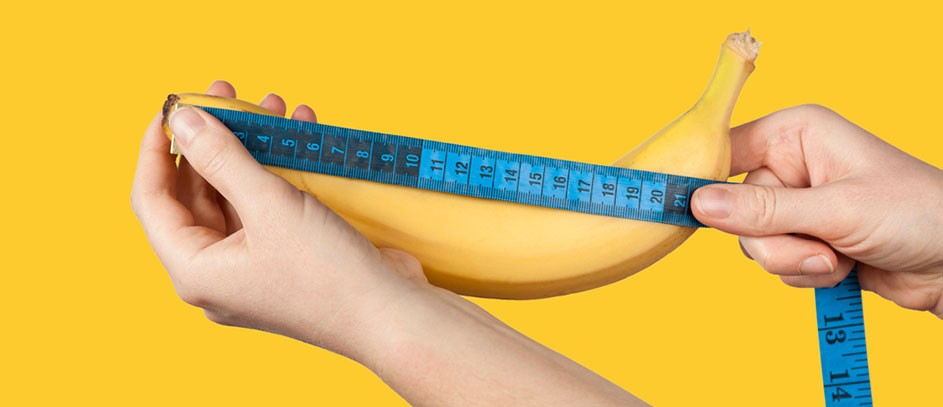 By now, you can probably tell that penis sleeve sizes are like an all-you-can-eat buffet. You can choose small sizes that boost your girth, bigger sleeves that give you an average or above-average prick, and humongous snakes that can please any cock-obsessed cougar or curious college girl.
But, as I said, the choice is entirely up to you and your partner! You can pick a size according to your previous experiences, fantasies, and capabilities. For your first sleeve, I'd suggest not to get the biggest dong you see and go in guns blazing. That could feel uncomfortable, especially if your partner is not used to it.
Sometimes, it's smart to begin with only one or two extra inches just to get used to the feel of maneuvering a larger schwanz.
Buyer's Guide: The Best Cock Extenders for You and Her
Still paying attention? Or did you have to go and blow your wad after all the naughty thoughts I just put into your head? Whatever the case, in this next section, I'll teach you how to find the penis extender sleeve of you and your girl's dreams!
Penis Sleeve Basics
At first glance, many people could compare these toys to strap-on dildos. They are sort of like that, except they are fully hollow and elastic. The hollow sleeves slide over your shaft, and, depending on the type, they attach to your torpedo in different ways:
Ball strap – These sleeves come with a ball strap that wraps around your testes to keep the sleeve in place. And no, it doesn't hurt: it makes your nuts feel just tight enough and makes them highly responsive to various types of stimulation.
Strapless – Strapless extenders slide over your shaft and use suction to secure them. The suction also provides an ultra-realistic feel during penetration.
Harness – These sleeves are quite uncommon, and they are secured to a harness, much like a strap-on. The caveat here is that these types are a lot more secure when attached.
But Why Should You Use a Penis Extender Sleeve?
Okay, so aside from wanting to have a bigger cock (which most dudes are guilty of), there are actually quite a few reasons why men use penis sheaths:
Aid Erectile Dysfunction
Penis sleeves were used to treat ED before the emergence of viagra and other medication. They are still immensely popular because they offer a natural solution to erection problems. Some are even designed to accommodate a flaccid penis so that even if you are fully unable to get hard, you can still have sex and orgasm. The toy is basically a win-win for couples who are dealing with ED.
Boost Stamina and Last Longer
Penis sleeves are actually one of the best toys for dudes who are a little too quick on the draw. If you're a Quick Jimmie, some sleeves can actually decrease your sensations when you put them on, much like an extra-thick condom. You'll still be able to feel the sensations of a tight vag or butthole during sex, but those sensations will be slightly dampened. That will enable you to last longer and ultimately train you to increase your stamina.
Don't Worry, Cum Inside!
Thicker penis extender sleeves can also function like condoms, and that's why many people prefer them. They're reusable, and you don't need to use a condom before you pop them over your junk. That way, there will be no stressing out about condom-related accidents, and you don't have to be concerned about cumming too quickly. Even if you spew that load out before your partner can orgasm, you can keep going and bang away until you make her happy!
Increase Sexual Confidence
The previous two reasons can obviously go a long way when it comes to juicing up your sexual confidence. While size shouldn't matter too much in sex, some guys who are not so well endowed could use a penis sleeve as a size and confidence boost. For example, if you have a micropenis, a cock sleeve is one of the only things that can help to please your partner (if she wants a bigger D) and feel astonishingly good about yourself later on. But, dick sheaths aren't only intended for those who are on the smaller side. Even well-endowed bros could use them to see what it would feel like if their fishing rod was even bigger.
Experiment
Finally, any person with a penis can use a cock sleeve to try all sorts of sexual experimentation and even dabble in some seriously kinky shit. You might need a penis extender sleeve if:
Your partner expresses a strong interest in this toy.
Your partner wants you to stretch her out or fill her up like never before.
You simply need something new and want to upgrade from a vibrator or dildo.
You want to keep going after you cum.
Your partner wants to play around with various BDSM taboos and unusual fetishes. That includes cock milking, ass stretching, ruined orgasms, femdom, roleplay, etc.
You and your partner simply need a visual turn-on element of seeing a really, really big dick that's ready to rock.
You want to use a penis sheath to jerk off on your own and get all sorts of sensations that are much more intense compared to the same ol' five-knuckle-shuffle.
And Does It Feel Real?
Well, penis sleeves are flexible and pliable, and they're meant to be an extension of your wang. They are intended to retain stiffness like a real boner and warm up to body temperature for a natural feel. However, they won't feel exactly like a fleshy hard cock because they're made from synthetic materials and because it's simply impossible to replicate the exact feeling of real human skin.
But what do I know? Scarlett says that the sleeves feel freakishly similar to my parrot – they are only wider and bigger. And when we use them, she gets off like a monkey on a cupcake! It also turns me on to see her take a big fat cock and enjoy it! In my opinion, wearing one could feel a little weird at first for you because it's meant to slow you down a bit and prolong your ejaculation. Nevertheless, those tradeoffs are actually meant to improve sex for both of you.
How to Measure Yourself for a Penis Sheath
Previously, I said that it's definitely not a good idea to buy the biggest sleeve you see and try to go all in. Instead, it's better to consider your partner's needs and limits when choosing one. So have a talk with her to find out what size would suit her most.
Then, take a tape measure and write down the dimensions of your fully-erect cock. You should measure your girth (at the fattest part of your willy) and your length. After that, simply compare them to the product's dimensions. Ideally, you should get a comfortable and snug fit for you and just the right length and thickness for her.
Which Material Do You Need?
One thing that could lessen the real feel sensations is a cheap sleeve that accepts all sizes. These penis extender sleeves are usually made out of cheap materials like jelly, which is something that you'll need to stay away from.
Personally, I can recommend any TPE or silicone penis sleeve, with my first choice being silicone. This material is a bit pricier, but it lasts for ages and is easy to clean and use. As I said, silicone is bendy, yet it will still feel like a real hard cock during penetration.
Alternatively, TPE is a bit more flexible, but it can wear off in a few months, and you'll need to pay extra attention when cleaning it. Between silicone and TPE, I would recommend silicone penis sleeves to beginners. But if you want the extra flexibility of TPE or even a blend of the two materials, just remember that you'll need to be a lot more careful when using these kinds of toys.
Pricing
And when it comes to pricing, you shouldn't expect a big balancing act between how much you can spend and what you'll get for your money. For your first sleeve, anything around $30 to $50 will get you a realistic penis sleeve that's body-safe and durable. You'll also be able to find a vibrating penis sleeve in the same price range, along with most of the other types I've mentioned.
What's more, if you're willing to spend past $80, you'll get a premium sleeve with unique perks and features. And if you're looking to combat ED, some FDA-approved models can even set you back a few hundred dollars.
Dos and Don'ts
To round off this section, I want to give you a list of dos and don'ts that you should focus on before buying your penis sleeve:
Dos
Talk to your partner and understand her needs and fantasies first.
Look into all the different types and features to buy the penis sleeve that looks and feels the best to you.
Watch some porn to see your new penis sheath in action and hopefully get ideas on how you can use it!
Buy your sleeve from a reputable brand or retailer.
You can also look over some reviews (a shameless plug for my own reviews here!) to see what others thought of your chosen toy.
Measure yourself correctly for a comfortable fit.
Don'ts
Stay away from cheap sleeves made of materials such as PVC, jelly, or latex. Trust me – I've had some horror stories with these porous toys.
Avoid one-size-fits-all toys because they could feel uncomfortable.
Don't be afraid to have fun on your own: you can get a penis sheath for solo masturbation and glorious wanking sessions! This toy can help you edge yourself, build up your stamina, and learn to last longer.
Stay away from no-name brands and shady websites to avoid scams.
Tips on Using, Cleaning, and Storing Your Penis Sleeves
So how exactly do you use your newly enhanced cock? Let's find out!
Losing Your Penis Sleeve Virginity
I suggest you start with as little lube as you can for the inside of the sleeve. It should be just enough to lubricate your cock and feel good for you during sex while also remaining stable. If you use too much lube, the sleeve could slide off during sex.
So put a drop of lube or two on your fingertip and then gently smear it on the inside. After that, you should lube up the outside of your sleeve. Here, you can use as much lube as you need! And what's next? Well, just take that fat cock, bend your girl over, and bang her so hard until she forgets her name!
What Lube Should You Get?
I've seen this happen so many times: people buy their first sex toy and end up hating it because it "doesn't work" or it "feels awkward". And I bet you that most of those people simply forgot that lube is an absolute necessity. Generally, since toys like dick sleeves do not have natural lubrication, it's extremely important to lube them up. This can eliminate friction and make penetration feel smooth and comfortable.
However, there's another small issue. The material of your toy needs to be compatible with the lube type. If I'm using sex toys, I generally go for water-based lube because it's safe to use with all materials. Also, it is pleasant for the skin, and it's least likely to cause irritation. If you're buying a silicone toy, you should avoid silicone or oil-based lubes because they could cause some serious damage to your brand new penis extender sleeve.
Cleaning Your Penis Sleeve
Now listen up: keeping your sleeves (and other toys) clean is solely your responsibility, and you have to learn how to take care of them in order to avoid any health hazards. I don't care how horny you are and how much you made your GF's vagina grool with your cock sleeve. Cleaning your toy before and after each use is absolutely essential.
Fortunately, it's not rocket science, and you'll only need to dedicate a few minutes to clean your toy. The method is pretty simple for standard open or closed-ended sleeves: simply rinse them thoroughly in warm soapy water!
If your sleeve has a closed end, you can run it under a tap to clean the interior thoroughly. Conversely, if you opt for an open-ended toy, you can turn it inside out to clean it. But, if you have any mechanical parts that aren't waterproof (like bullet vibrators), it's best to take them out of the toy and clean them separately.
When you're done, you can wipe the sleeve clean with a soft cloth or let it dry naturally. Again, this will make your toy safe to use, but it will also extend its lifespan.
Storage and Portability
If you want to be discreet and hide your toy away after using it, you'll have to wait until it's fully dry. The goal here is to put your dried sleeve in a safe container (e.g., its original box, a carrying pouch, or a plastic container). That will eliminate any chances of a mold buildup inside the box, and it will keep your toy away from dust.
Another tip here is to avoid stashing your penis sheath together with any other sex toys that you may possess. Even if you have a full arsenal, you should store your toys separately to keep them from touching.
And what about expanding your schlong while you're on the go? Well, why not?! You can generally take your penis sheath on vacation or a romantic getaway with your partner whenever you want. Just remember to put it in a sealed box to keep it safe from the elements. Also, it may be a better idea to travel with smaller penis sleeves instead of a 10+ incher to avoid some weird looks from airport security.
​​Penis Sleeves Industry Overview
And how did it all come to be? Did some mastermind in the ancient world figure out that sticking his cock in an eggplant would make it look bigger and harder? Well, not exactly, but I can tell you that one horny ventriloquist had a lot to do with the invention of cock sleeves.
History of Penis Extender Sleeves
Before artificial sex sleeves were a common sight on Amazon, people didn't take them seriously. In fact, the whole history of penis sleeves starts off in the mid-1960s with a ventriloquist named Ted Marche. This guy wanted to use his knowledge of molding ventriloquist dummies to turn dildos into a big business.
However, it wasn't until he met John Francis that the whole idea about making prosthetic penises took off. Francis was the one who came up with the idea of prosthetic penis attachments, aka cock sleeves, and Marche turned his idea into a reality by making strap-on, hollow polyvinyl sleeves.
Moreover, the whole point was to help men with ED have sex, which was done way before the emergence of viagra. And over the years, Marche turned dildo-making into a family business, and he experimented with various shapes, sizes, and colors. It's kind of scary to think that those early penis sleeves were actually inspired by Marche's ventriloquist dolls, right?
Of course, those early versions of penis sleeves probably couldn't hold a candle to today's modern, ultra-realistic designs. In the '80s and the '90s, there was a massive boom in the sex toy industry along with a huge demand for dick sleeves. That's when all the innovation started, and it seems like it's not slowing down!
The Most Famous Penis Sleeve Brands
Today, you can take your pick from famous brands like Lovehoney, CalExotics, Pipedream Fantasy, Doc Johnson, Hot Octopuss, Satisfyer, and many more. I'd definitely recommend a product from any one of these big names for newbies and intermediate sex toy users. Most of those brands will provide you with high quality at reasonable prices, plus unique design options and features. And what is the future of dick sleeves?
Fortunately, since they are based on such a simple design, we can expect tons of innovation in the coming times. I would like to see some VR or AI integration on upcoming products that would be especially helpful for ED patients. That could include things like smart monitoring of vitals and control, along with some orgasm training functionalities. Personally, I think that there's already so much variation in model types and features that it's hard to think of ways in which the designs can be perfected.
⚠️ Disclaimer: Our articles contain affiliate links. If you like our content and wish to support our work, consider purchasing your new sex toys through our links. For each purchase through our links, we receive a small commission but at no extra cost to you.
Frequently Asked Questions
If you have any other questions about making your junk look and feel bigger with a penis sleeve, I'll answer them below:
A penis extender sleeve is a simple toy that allows you to quickly expand your penis length and thickness. It's a hollow, attachable extender that you wear over your penis during foreplay, sex, and masturbation. While it's originally intended for men with ED, anyone can use them to get a substantial size boost.
In terms of helping ED patients, they're one of the most effective solutions. But, they are also a natural solution for anyone who wants to increase their penis size temporarily. This can improve sex for the wearer and their partner. For men, cock sleeves can give them an added confidence boost, and they can even help them last longer. And for women, cock sleeves can help them to get satisfied with a larger size and bring them stronger orgasms. In short, cock sleeves are some of the most effective sex toys that you can use to boost your size and improve your sex life.
Absolutely! Penis sleeves are fun for solo sex, especially if you buy one with an open end. This design will allow you to stroke the sleeve up and down your shaft and stimulate your glans with toys like vibrators. You can also use close-ended cock sleeves for masturbation, especially if you want to get visually turned on by owning a massive cock or if you want to use the toy for stamina training.
This is entirely up to you and your partner. First, you should measure your length and width and match them to the internal dimensions of your chosen penis sleeve. The sleeve you purchase should give you a snug fit. On the outside, you can choose whatever size you like or a size that your partner is comfortable with. Just remember to talk to your partner first about this before buying and make sure you're on the same page.
This refers to the attachment method, and you can choose from three different types. Generally, strap-on harnesses are the most stable, but they are also bulky, and they take away some of the realism. Ball strap sleeves are a great choice because you can secure them to your testicles in a painless way. Standard sleeves use suction to stay in place, which could feel pleasant. Ultimately, the choice is up to you and the way your penis will respond to the attachment method.
Of course, brother! You don't need to have a small penis to use this toy. Tons of well-endowed guys use them to great effect! If you're already big, just try to find a toy that you can actually fit into without a problem.
Heck yeah! That's the whole point! But… Note that all of this will depend on her needs, limitations, and fantasies. So don't bring home a 15-inch monster cock sleeve unless she's comfortable with it! It's perfectly safe to use any size of penis extender sleeve for vaginal, anal, or oral penetration, as long as you're careful and your wife or GF can take it without any complications.
Here, you shouldn't compare yourself to your sex toy. Dick sleeves give you an opportunity to experiment with your partner and try out some fantasies that both of you are into. It should give you equal pleasure, but it shouldn't outright replace your dick. If your girl tells you that she wants an even bigger cock sleeve, don't be offended. What she's really trying to tell you is that she wants to kick things up a notch and experiment with you a little further.