Jul/04/2022
Last Update: June 26, 2023
967
23 min read
The Best Suction Cup Dildos In 2023 For Intense Hands-Free Penetration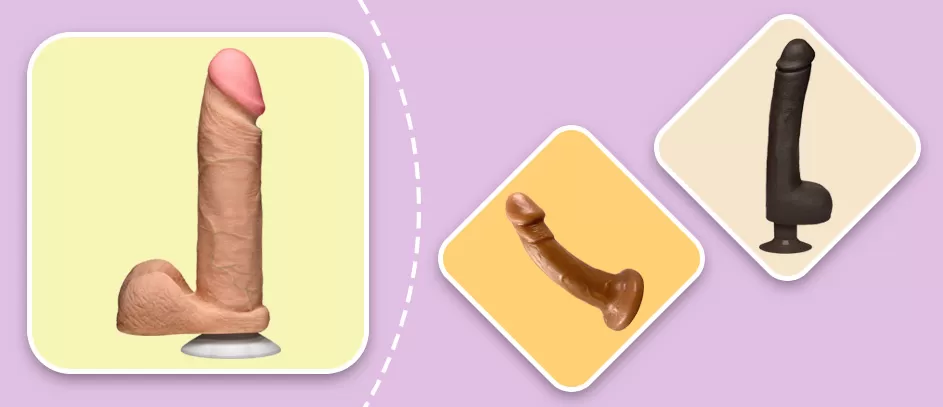 It's no secret that I'm a sucker for penetration. I simply love the sensation of being completely filled up – like a creamy Dunkin' Donut! You know that feeling when your BF pins you down and does or says naughty things to you while ramming his cock into you all the way down to the balls? That's usually my favorite way to end a rainy Monday. But you can't expect your guy to always be hard and ready. That's when I use my suction cup dildos!
Ready for an unforgettable vaginal, anal, and oral rodeo? Use my guide to learn all about the best suction cup dildos!
Top 10 Suction Cup Dildos in 2023
One of the best things about my job is that I get to test out all sorts of sex toys. I can use my knowledge to help other self-empowered women fulfill their fantasies and go to town on a big fat dick!
So if you have an unquenchable craving for a long and hard dicking extravaganza, suction cup dildos can truly perform miracles. If you're ready for that joyride right now, take a look at my top 10 suction cup dildos in 2023! Let's ride, slut!
Suction Dildos for Deep Hands-Free Fun
"You can ride a suction cup dildo (or several) like a cowgirl in heat and experience mind-blowingly realistic penetration all on your own. And aside from providing you with hands-free action, a suction cup dildo will never bust too early and ruin your fun. We've all been there!!! Never again!!!"
My favorite suction cup dildo is one that can stick itself to any flat surface without moving and provide me with the length and girth to make all of my internal desires come true.
Generally, my top choices are realistic dildos. I can suck and ride them senselessly, and I also love the fact that they give me a pair of balls to play with. I can grab onto them while rubbing a thick shaft and feel them as they slam against my clit!!!
Now, remember when I said that you can't always scratch that itch and get fucked by a real man? Well, if Richard and his Turbo Dick are too tired or away, your girl Scarlett here will take a warm relaxing bath, pull out her suction cup dildos and ride her fake cocks until she's sore! Yeehaw!
Sweetums, if all of those guilty pleasures sound way too familiar for you, you've definitely come to the right place. And believe me, you'll keep cumming! Now, a dildo that actually allows me to ride it in various positions without using my hands is one of my preferred ways to get off. Yup, suction dildos offer deep, hands-free penetration. You can stick them onto various spots around your house, hop into position, and pound your wet kitty until you reach those sweet, sweet multiple Os!
What's a Suction Cup Dildo?
Simply put, a suction cup dildo fully frees my hands. It allows me to try out all sorts of thrusting and rocking motions. Even better, I can feel just how much of it I need inside me to pound myself on my own terms. Oh, and I love it when my honey pot completely engulfs the dildo and gives me a deep hard massage that sends ripples of joy throughout my body. That's just the beginning, baby… You can push this thing inside your butthole or use it with your boyfriend for some of the wildest sex of your life!
For me, realism is a major selling point. I desperately need to play with something that feels and looks like a real hard dong. Obviously, if you have the same desires for huge wangs, then don't waste any more time and get yourself a realistic suction cup dildo. Yet, if you prefer something that's a bit more subtle, there are various other options. Those include non-phallic suction dildos, shower realistic suction cup dildos, or even vibrating suction cup dildos.
So let's recap: if you need to get fucked ASAP, suction cup dildos can truly perform miracles. However…! There are so many of these dildos out there! Not all of them will do their job correctly. Your kinky adventures could be ruined if the darn thing just won't stick to your bathroom wall. Trust me – I've tested out tons of disappointing dildos that just couldn't hold their weight or endure some athletic thrusting.
Still, I've managed to settle my ass (pun absolutely intended) on a few favorites that I showed you in the list above. They stay in place once you stick them on and just look or feel fabulous across the board!
Loud and Dirty
As ladies, we are blessed with the horniest superpower of them all: the ability to orgasm from multiple openings! So say it out loud: "I'm tight, I'm wet, and I'm proud!" However, not all sex toys are designed to please all your dirty needs.
For example, vibrators could massage your clit or G-spot until they make your whole body shake. But, if you need to feel a thick love rocket making its way in and out of your holes with strong thrusting motions, they might not do the job so well. The same goes for butt plugs, magic wands, beads, and so on.
Really, one of the only toys that give you sensations that are similar to real-life sex is the ever-so-popular dildo. Now, buy one with a suction cup, and you'll get a ready-to-ride attachable dick that your clam or tush can bounce on from all angles!
Suck It Up, Buttercup!
Most commonly, a suction cup dildo will have a fleshy and bendy texture. It will simulate the feeling of a real testosterone cannon. These toys are a secret weapon of many a lady who needs to be filled up in order to cum hard.
For those purposes, suction dildos are some of the greatest toys you can use on your own. Alternatively, they're perfect if you're feeling curious and want to simulate threesomes or other kinky acts with your partner.
But what makes a suction cup dildo different from the standard type? Well, regular dildos require the use of your hands. You need to put in a lot of elbow grease in order to get off. A suction cup dildo solves all those problems. You can stick it anywhere you want (touche!) without using complex straps or heavy machinery. The suction cup is perfect for flat surfaces. That includes bathroom tiles, headboards, floors, etc.
How Does a Suction Cup Work?
Alright, if you're completely clueless, let's get all dirty here and use the toilet plunger analogy. The suction cup on this handy household tool is made of a soft material. It utilizes negative air pressure and water to stick to your toilet bowl and form a partial vacuum. It's not a pretty comparison, but I included it just so I could tell you that a suction cup dildo uses the same approach. It helps you plunge and unclog your holes until you gush like the Fountains of Bellagio! How's that for a Royal Flush?!
Stick It On and Ride 'Em, Cowgirl!
Typically, this type of dildo contains an integrated suction cup at the bottom. The whole point of it is to allow you to pop your dildo onto a flat surface. Then, the suction cup will form a vacuum to hold it in place. In technical terms, the underside of the cup has a conical surface. It uses a flexible material that enables it to stick to non-porous surfaces.
Therefore, when you hold your dildo by the nads and gently push its base against a hard surface, the suction cup will expel the air inside it. After that, the lack of pressure will hold your fake dong in place. It's simple, effective, and it leaves you with a rock-hard cock to use in whatever way gets you off the most.
However, as I mentioned, not all stick-on dildos will do their job as intended. A quality model needs to stay in place without moving. Also, it has to handle all the thrusting you can give it. Additionally, even if you opt for the greatest-ever suction cup dildo, you'll still need to know about the suitable surfaces to stick it to. Plus, you'll have to know how to make the most out of your pleasure without breaking your back with deep-tissue aerobics. But hey, you're gonna be riding it all day anyway, so you should expect to get a high-impact physical workout! Hello, orgasms and goodbye calories!
Types of Suction Cup Dildos
Look, if you love dicks, the options will be simply overwhelming here. Frankly, I feel like a kid in a candy store every time I think about getting a new dildo! The first thing you should think about is finding the type of dildo that gets your juices flowing in just the right way. I'll break them down into the most popular categories below:
PVC Suction Cup Dildos
PVC or polyvinyl chloride is a material used for all sorts of sex toys. This type of dildo can be realistic or non-phallic. It usually has a smooth, flexible texture. My first suction cup dildo was made from this material. While it gave me a ride I'll never forget, I only found out later the material comes with some risks. While this dildo type looks and feels awesome, PVC is generally not a recommended material for anything you want to push into your panty hamster.
The reason for that is that PVC is extremely porous. The same goes for dildos made of jelly or latex. This means that the dildo can absorb bacteria and that you can't sterilize it fully. Also, it contains phthalates which are known to be toxic. Therefore, my recommendation is to avoid these types. Nevertheless, if you have to use it, you'll eliminate most of the risks with condoms.
TPE Suction Cup Dildos
This next type is also porous, and the same rules mentioned above apply. Still, unlike the previous category, TPE is body-safe and non-toxic. TPE suction dildos are a great option for anyone who wants soft and springy action. TPE is a squishy material that feels like a real dong. Also, these dildos are relatively affordable. Still, you'll have to pay attention while cleaning it to make it as safe as possible.
Silicone Suction Cup Dildos
For me, silicone is the ideal choice. I can fully sanitize it after I drip all over it or slather it up with my favorite lube (mmm hmmm!). These types of dildos are non-porous, so you can keep them safe and clean for a long time. What's more, they are body-friendly, and they feel fantastic when you touch them or give them a warm pussy hug.
Better yet, you can find them in all sorts of options, from realistic shapes to non-phallic and even fantasy variants. Although they're not as bendy as TPE types, they have a hard-yet-flexible texture. It feels like the real deal and delivers gentle to intense sensations. Also, these types come in single, dual, or triple densities, meaning that you can actually choose the toughness of your dildo.
Vibrating Suction Cup Dildos
Now, here's where things could get really interesting. A vibrating suction cup dildo often has a removable bullet vibrator on the inside or some kind of non-removable vibrating mechanism. It can come with a set of buttons or a remote control that enables you to push yourself over the edge using deep vibrations.
If you don't know what a vibrating suction dildo feels like, let me tell you that it offers a whole different ball game compared to standard vibrators. You'll get a kind of low rumbling that makes the whole dong throb and sends powerful pulses of energy throughout your whole body.
Thrusting Suction Cup Dildo
If vibration is not enough for you, there are some suction cup dildos that make thrusting or rotating movements. I like to refer to them as compact sex machines without all the extra bulk of floor-style machines. Usually, these telescopic toys come with a removable suction cup. They also have various thrusting modes, automatic heating functions, and a whole lot of power. And by power, I mean a bonafide fucking gun that can hammer your holes up to 220 times per minute! Smack my ass and pour me some bubble tea!
Extra Large Suction Cup Dildo
If you have a hidden desire for mega dildos, I'd strongly recommend using one with a suction cup. After all, it's not easy to hold a 12 or 14-inch monster cock in your hands.
Instead, just pop the suction cup on the floor, climb on top of it, let your huge monster ravage your holes, and make them gape for all they're worth! Granted, these types are only meant for experienced players who know what they're doing. If this is your first dildo rodeo, I wouldn't advise you to impale yourself on a monster dick right away.
Double Penetration Suction Cup Dildo
Another neat type is a DP dildo that integrates both a vaginal and anal sex dildo in the same package. This can make your fantasies come true and also make it easier for you to handle two dicks inside you without the need to actually hold them in your hands during penetration.
Cum-Tastic Features
While those were some of the most common types of suction cup sex toys, you'll also see a variety of different features that will make your sex life unreal!
Integrated suction cup – Usually, these dildos will have an integrated suction cup at the base. It's convenient because there are no moving parts or things that you have to remove to clean and store.
Removable suction cup – You can get a toy with a removable double-sided suction cup. In some cases, this can be a great option if you want to put it on a dildo that doesn't have a suction cup. Other removable suction cup types are made of hard plastic, and they offer features like 360° rotation for extra lazy hands-free fucking.
Vibration – Here, I prefer dildos with a built-in mechanism rather than a removable bullet vibe because the pulsations are much stronger. Regardless of the vibration configuration you choose, you'll get a wide choice of speeds, intensities, and modes to drill you deeply.
Texture – If you opt for a realistic dildo, you'll get an anatomically correct texture. Conversely, non-realistic dildos could have special patterns along the shaft. That includes beads, ribs, swirls, and so on.
Dildo mounts – You can get a special mount that's made specifically for suction cup dildos. This is perfect if you don't want to get your floors or walls all covered in squirt.
And Now – The Good Stuff!
Ejaculation – My favorite option! Dildos with fake squirting action are the most realistic choice for any lover of semen and huge cum explosions. You simply fill them up with fake cum and release the squirting mechanism when you want to get covered in a big load or get a low-fat creampie that won't get you pregnant.
Long-distance dildo – Most commonly, you'll be able to find automatic thrusting dildos with suction cups if you want to use them with a long-distance partner. They are app-controlled, and they allow your partner to use them on you even if you're miles away!
Buying Your First Suction Cup Dildo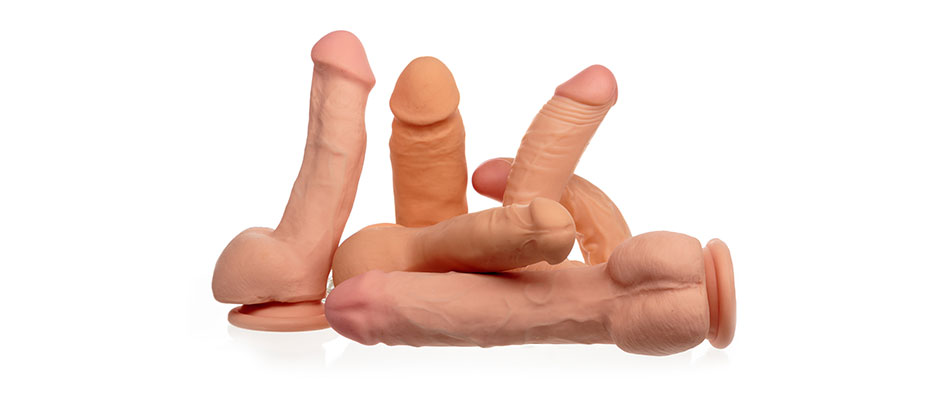 Okay, ladies, I totally understand if you're a bit confused by all of the options I've outlined above. Sure, you can get several suction cup dildos and mount them on your walls to act out a full-on gangbang. Yet, if you're only buying one dildo, you need to make your purchase count. So here's an easy-to-swallow (*wink wink*) guide to help you buy the best stick-on dildo for your needs!
Suction Cup Dildos: The Basics
Honestly, I'd advise you not to eat with your eyes first. I know that you've been losing sleep over that BBC suction cup dildo that you want to order, but I always say that you shouldn't grab the first fake dick that crosses your path. If you strip away the looks and all the bells and whistles, your suction cup dildo really needs to do one thing correctly. That is, it should stick to a surface firmly and stay there so that you can ride or suck it like a champ.
I already told you about the vacuum mechanism used to seal the suction cup on flat surfaces, but every dildo is different. That's why you should make sure that the thing actually works before you buy it. You can check out other girls' reviews or even read my own articles to get a first-hand account of the dildo you're interested in. Obviously, it won't be the end of the world if you get it wrong the first time! If it doesn't work, you can always use it as an exotic doorstop!
The following list will show you some things to focus on while buying your new stick-on dick:
Materials
Size
Price
Look and feel
Reliability and ease of use
Cleaning
Realistic vs. Non Realistic
All of the various types of stick-on dildos I've mentioned can come in various colors, sizes, and styles. For starters, you can make your choice based on whether you want a realistic or non-realistic dildo. This will depend on your turn-ons and preferences. If you're a shameless cock worshipper or if you just love the look of that big D, a realistic dildo could be your new favorite plaything. This type pays great attention to detail and gives you bulging veins, a thick shaft, squishy texture, and a big pair of balls. Plus, you ain't gonna be choking' on no pubes!
Conversely, non-realistic dildos could have a non-phallic shape that doesn't resemble a dick. This is a neat option if you're into penetration, but you aren't all that into the actual look of a cock.
Porous vs. Non-Porous Materials
As I said earlier, materials like PVC or TPE require extra care. While I advise you to avoid toxic variants like PVC, jelly, or latex, you can still use them with condoms. They'll work as intended but cleaning them will require more time. Also, you'll need to replace them frequently. That's why I'd prefer it if you invested in a high-quality silicone dildo.
Since this material is non-porous, it doesn't absorb germs. That way, it can last forever with only minimal cleaning efforts. Plus, you can boil it to fully sanitize it if you're constantly worried about bacteria or if your holes are too sensitive.
How Much Should Your New Fake Dick Cost?
This is a tricky question. There are so many variants and not to mention extra features that could ramp up the cost. But typically, you should expect to pay around $20 to $60 for a high-quality realistic (or non-realistic) dong.
The higher end of that price range is usually reserved for vibrating suction cup dildos or huge dongs. However, if the mechanism gets more complicated for, let's say, an app control thrusting dildo, the price could increase past $100 that will give you plenty of next-gen features for your money.
How Big Should You Go?
Another thing I always say to my dick-worshipping students and aspiring cream sluts is that size really matters. A toy that's too small or too big can truly mess up your experience if you don't know the size of your love tunnels. Again, your eyes and your appetite could fool you! Your ideal dildo size should be enough to fill you up in just the right way. That includes both the insertable length and the width.
The Best Dildo Size for You
To find your size, you could think about your previous partners or other sex toys and start from there. Remember, a 5-inch dildo can match the average dick size. That could be more than enough for most women. Moreover, most girls' vaginal canals bottom out at 6 inches. Thus, if you don't know your depth and you buy an XL dong, it could cause you some pain.
Still, if you're ready and you know that you can take more, you can try out all sorts of sizes from 6 inches and up. My faves fit within the 7–8-inch range because they remind me of Richard and his 8-inch Turbo Dick. But, since he makes sure that my holes are trained and ready to handle more, I can also have tons of fun with extra-large dildos that are 10 inches or longer.
Additionally, if you need width and not length to fill you up, you can focus on the diameter. Most dildos are 1–3 inches in diameter. Some can get even thicker, with over 7 inches or more.
But remember – this isn't about you trying to prove to yourself or your BF that you can handle a huge ass-blaster. You should listen to your body and realistically think about the size to find the toy that feels the best. You can always move up in size later on when you feel ready!
Portability
Some people like to get out of the house and stick their suction cups to all sorts of weird things in public. I'm more of a butt-plug-under-thong kinda gal, but I can definitely see the appeal. If you want to do this with your suction cup dildo or if you simply want a toy that you can carry on long business trips, I think a small suction cup dildo would be a better option. It won't take up too much space, but it can still be enough to satisfy you on the road.
Things to Look For
Check out the material of your suction dildo and make sure it's the one you want.
Inspecting the suction cup quality is not easy, but you can find out about it through user reviews.
If you want additional features, look into them to know exactly what you're getting. For instance, check out the powering options for vibrating suction cup dildos to see if they're rechargeable or if they require batteries.
And Things to Avoid
If you opt for a PVC dildo, don't use it without condoms. If possible, avoid porous materials and stick to silicone as the safest choice.
Avoid no-name dildos by unknown manufacturers – these could use poor quality materials that literally (and I'm not joking) melt in your ass.
If you want to share your toy with a partner, it's better to buy two separate dildos to avoid any health hazards.
Cheap toys will also have faulty suction mechanisms, so it's better to spend a bit more money to make sure your toy sticks properly.
Tips on Using, Cleaning, and Storing Your Suction Cup Dildos
Well, I don't really need to explain how you use a dildo, and you should probably already know that it's meant to go in and out of your holes. However, there are some important details that I need to cover to help you maximize the use of your suction cup dildo.
The Ultimate Ways to Mount Your Suction Dildo
As a rule, you will get amazing results if you use hard and stable surfaces that won't move or break. You can put a dent in your wall if it's too soft, or you can even break your tiles if they're not up to the task. What's more, make sure that your surface is non-porous.
Here are some ideas on the most suitable surfaces for your stick-on dildo:
Shower door
Bathroom wall
Hard floor
Bedroom door
Toilet seat (closed)
Chair
Desk
Mirror (this can look extremely sexy!)
Pillars
Windows (if you want to put on a show)
Ab benchHeadboard
Bathtub
On top of your washer (for extra rumbly sensations!)
Suction Cup Placement
Basically, these dildos can bend in various angles to suit most positions. However, we can break up the placement and the angle in two ways:
Vertical – This is ideal for hard floors, chairs, etc. The easiest way is to climb over the dildo and rock yourself up and down. It will also leave space for you to tease your clit while punishing your G-spot.
Horizontal – The trick is to get a 45-degree angle and then slide your fake dick inside from behind. You can do this while standing up or on all fours for wall-mounted entertainment. This has a very submissive feel to it, and such positions are great for using your toy with a partner. I go absolutely crazy when I get a spit roaster going like that, and I stuff my throat with Richard's fat dick while he makes me fuck myself from behind!
Phew, the options are truly endless here. However, the trick is to find the position and angle that works for you based on your preferences. For example, some vertical placements will work better for G-spot stimulation. In contrast, a horizontal attachment will work better for a deep anal pounding.
Either way, your suction cup dildo will also improve your thrusting game. It will free up your hands and allow you to learn to ride longer, faster, and stronger.
Now Make It Rain!
All you have to do next is attach your toy and start ridin'! First, ensure the surface is clean, hold your dildo by the shaft, and push it flat against the surface. Make sure that it's a nice and tight fit, and then back that ass up, girl!
When you're done, just squeeze the base and gently rock it sideways to release the vacuum and remove it. Alternatively, you can lift up the base with your fingers, apply some lube, and slide it left to right to pop it off.
Speaking of lube, you shouldn't skimp on it. Once you attach your suction dildo, you should slather it with lots of lube to make everything nice and slippery. You should also apply lube to your pussy or butthole to prime your holes for a deep massage. Just remember to use a compatible lubricant that won't harm your toy. For example, a water-based lubricant will work with your silicone dildo, but a silicone-based lube will not.
Clean and Store Your Suction Dildo
After you hit the high notes and cream or squirt all over the place, you'll need to clean your dildo to get rid of any possible germ or dust build-ups. The easiest way is to simply run it under the tap or shower and gently clean it with warm soapy water. This method works best for silicone toys, but other materials may require a dedicated cleaning solution.
Either way, make sure that your toy is dry before you use it again. A wet suction cup may not be able to cling onto a hard surface easily. Moreover, after you have dried your toy, you should store it in a safe place. Preferably, you could keep it in its original package or a carrying pouch.
Suction Cup Dildos Industry
To cum-clude this article, I want to show you an overview of the suction cup dildo industry and tell you a little bit about the future of these amazing sex toys.
In the Beginning…
Dildos have a long and fascinating history. In fact, they are pretty much the oldest sex toys on the planet. Of course, not even the most passionate antique collectors would bring most of the earliest ancient dildos near their holes. These were made more than 28,000 years ago – from stone! Aside from Ice Age dildos, we also see examples of similar things used in ancient Egypt, Greece, China, etc. Most of them were made of primitive materials such as wood, bone, tar, and limestone.
But, the first official dildo that was commercially made and used for carnal pleasures was made in 1965. The world of adult toys blew up after the sexual revolution in the 1960s, but the real innovations came with the dawn of the internet.
It's hard to tell who put it all together and came up with the brilliant invention of a suction cup dildo, though. Still, we can thank Mother Nature for giving us the inspiration and the motivation to push ourselves and our holes further than we ever thought!
The Future of Suction Cup Dildos
Nowadays, we have nearly unlimited access to all kinds of dildos. The most famous brands include Doc Johnson, Lovehoney, Kiiro, Lelo, We-Vibe, Adam and Eve, Fun Factory, and more. Fortunately, the past decade has given us many next-level inventions when it comes to dildos. Some brands like Lovense and CalExotics have innovated on remote-controlled dildos and other sex toys and have given millions of couples a chance to stay intimate from miles away.
Currently, virtual reality toys are all the rage, but I haven't been able to find a VR dildo just yet. The whole point is to sync your toy to VR porn and make it move along to the motions on the screen. There are many male toys that do this, but I would love to see some vibrating suction dildos that could fuck me just like my favorite pornstars (Mike Adriano).
But let's slow down a bit. Obviously, we'll see lots of changes for the years to come, but we don't know how long that could take. So get yourself a new suction cup dildo today and ride it as if your life depended on it! Giddy up!
⚠️ Disclaimer: Our articles contain affiliate links. If you like our content and wish to support our work, consider purchasing your new sex toys through our links. For each purchase through our links, we receive a small commission but at no extra cost to you.
FAQ
There's nothing to worry about if your suction dildo slides off by mistake. A quality dildo should stay in place all the time, but it can sometimes fall off if you're not using the correct surface. Even if it does pop off, it can't harm you in any way. But, if that happens, try to switch the surface or clean it and make sure that your suction cup is 100% dry before you use it again.
Absolutely! You can use it on your shower wall or in the bathtub. This can be an incredibly fun experience if you want to get really steamy. Plus, it can be highly orgasmic if you use your showerhead to stimulate your clit while pounding yourself with a shower realistic suction cup dildo.
If your dildo has a flat base, you can attach a double-sided suction cup to it. Still, there's no guarantee that the dildo will stay in place all the time, and it's better to have an integrated suction cup.
I wouldn't advise you to do this if you're not ready for it. If you buy a toy that's bigger than you can handle, you could have problems getting it in, and it could also cause you some discomfort. So, try not to save money on your sex toys and just buy a dildo with a size that you're already familiar with. Later on, you can move up in size if you want to feel more pressure and a stronger sense of fullness.
Sweetie, life's too short not to! You can use all sorts of sex toys, including suction dildos, with your partner. My favorite is to use this toy to simulate a threesome experience with two guys. That way, I don't have to worry about all the logistics of real-life threesomes and everyone's feelings. It allows me to try DP with my BF, suck him off while penetrating myself, try out all sorts of kinky bondage or role-playing scenes, and so on.
The general rule is to stop if something doesn't feel right. Then, make sure you're using enough lube and try again. Typically, a dildo shouldn't hurt your vagina, but it could cause some discomfort if it's too wide or big. Sometimes, you just need to wait it out and get used to it until it starts to feel good. Alternatively, you could feel pain if you're using it for anal play, but that will all depend on how stretched out you are and the position you're in. Either way, if your suction dildo feels weird at any point, remove it, take a break, and come back to it some other time.
If you want to get a silicone dildo and use it on your own, then no. However, if the toy uses porous materials, I'd recommend you use protection. Additionally, if you want to use it with a partner, then it's really important to wear condoms and switch them out every time you switch holes. This will prevent the spread of germs, and it will generally make you feel safer.