Jun/20/2022
Last Update: June 26, 2023
956
15 min read
Best Finger Vibrators In 2023 For The Ultimate Finger-Banging Adventures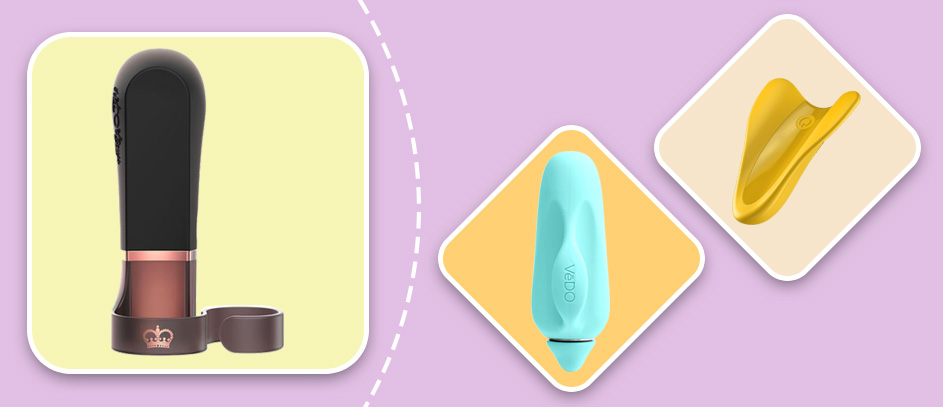 Even though I'm the biggest fan of huge butt plugs, realistic DP dildos, and other toys that make me feel like I'm having sex with massive cocks, I sometimes love to go back to basics and get handy with my fingers. There's nothing wrong with good ol' finger fucking, right? Well, if you want to let your fingers do the talking, finger vibrators are some of the smallest yet most powerful and versatile toys out there!
From your clam and bum to your bosom, these compact toys will please all your hot spots to make you cum like a champ! So let me show you all the different types of finger vibrators and teach you how to choose the best one for the sauciest finger-banging orgasms!
Top 10 Finger Vibrators in 2023
While testing dozens of these toys, your sex toy expert Scarlett here found out that they can make her cream harder, stronger, and faster than some bigger toys. Seriously, these vibrators can put all the fun right at my fingertips! I love to use them to touch, tantalize, or tickle my pie for ultra-strong orgasms and or even get rough with my BF.
What's more, these toys come in many types. That includes rabbit-style vibrators, finger sleeves, bullet vibes, and intense G-spot massagers. However, not all of them will touch you in all the right places. If you're looking for a mean but tiny orgasm machine, the list below will reveal the best finger vibrators I've tested so far!
Finger Vibrators: A Touch of Love
If you want to butter your muffin without working your fingers to the bone, the small but mighty finger vibrator will literally do it all for you! So let me tell you what these vibrators are all about and how you can use them for extra-intense adventures right there in your sweet pussy or tight butthole!
Finger Vibrators Explained
Do standard vibrators make you nervous? What if they remind you too much of real penises? You see, not every lady out there is a fan of big dicks and massive toys that look like real floppy wangs. Plus, even the biggest cock worshippers need to give their holes a little break sometimes. If you're horny as heck and you don't want to mess around with a large vibrator, or if you need a simple wearable toy that can jumpstart your orgasm during penetration, finger vibrators are the ultimate weapon!
Now, even though these bad boys are some of the newest offerings in the sex toy industry, they are becoming incredibly popular among women. Typically, these toys are tiny, versatile vibrators that are made using soft materials like silicone. You can attach them to your fingers via a stretchy ring or a special harness. You can get them in single or multi-speed variants that will put a new spin on your tried and true finger banging techniques.
If you prefer to let your fingers do the talking, these toys will actually outmatch what you can do with just your hand because they'll give you an added level of dexterity. Plus, you'll get powerful rumbles, tingles, and all other kinds of good vibrations. You simply need to attach this toy to your finger, choose the setting you like, and dig in! That said, some finger vibrators will also give you the latest sex-tech features such as app-syncing for extended control and long-distance play.
Why You Need a Finger Vibrator
If you're not sure whether this toy is the best choice for you, let me show you some of the reasons why all women should try them:
They're perfect for all fans of manual masturbation and intense finger fucking.
They'll improve your solo sessions and help you get more creative with the way you stimulate yourself.
Finger vibrators will outright transform penetrative sex for you and enable you to cum much harder.
They are by far the smallest sex toys out there. This means they're super portable and also incredibly discrete, so you can easily carry them with you on your vacation, use them in public (if you're brave!), and stash them in your home without a 14-inch dildo hogging up all your storage space.
Types of Finger Vibrators: Finger-Lickin' Good!
"With finger vibes, finger banging will feel much easier on your hands. You won't have to worry about getting your fingers dirty or ruining your fresh manicure!"
While finger vibrators are some of the easiest toys to use, they come in many different designs for external stimulation as well as penetration. As I said, a fingertip vibrator can give you single or multiple speeds, but you can also find several different types and shapes. And that's when the fun starts!
Since these things aren't shaped like cocks, they boast incredibly creative designs and adorable colors to help you find just what you need. However, that's where things could also get complicated. So allow me to round up the most common types of finger vibrators to make it easier for you:
Finger Clit Vibrators
Every girl out there deserves to pleasure her pink pearl just the way she likes it, right? Well, finger clit vibrators are some of the best clitoral stimulators out there. They deliver waves of highly precise and intense vibrations!
Obviously, they are different from standard vibrators because they're substantially smaller, but that doesn't take away any of their power. In fact, I'm one of the biggest fans of these toys because they can last for a long time. I can watch porn or play with my boyfriend all day with them while teasing my throbbing clit!
Finger Rabbit Vibrators
Finger rabbit vibrators are inspired by the classic rabbit vibrator, except they don't have an insertable shaft. Instead, they'll give you a bigger clitoral arm that's shaped like a pair of bunny ears.
Much like finger clit vibrators, a finger rabbit vibrator will deliver highly precise stimulation. Yet, it gives you two points (bunny ears) to pleasure your sensitive nerves. Also, these toys have a wider body compared to finger clit vibrators. They attach to the underside of your finger. That way, you can press the entire thing against your vajayjay to stimulate as many nerve endings as possible!
Finger Sleeve Vibrators
Intense finger fucking, here we cum! Finger sleeve vibrators are an entirely unique design. They'll usually give you a wearable textured sleeve that you can slip over one or two fingers. Also, they'll have a built-in or removable vibrator near the base or the spot where the sleeve joins your palm. That way, the vibrator itself won't sit on your fingertips. This will free up your fingers. It will allow you to use them for all sorts of intense finger banging. At the same time, the attached vibrator will deliver ultra-tingly sensations to your clit to make you cum harder and harder each time!
Trust me: a high-quality finger sleeve vibrator is one of the hottest toys you can get if you love to stick your fingers deep in your pussy or butthole while feeling intense vibrations at the same time! For me, the best thing about them is that the soft sleeve basically turns your fingers into a long and smooth finger dildo.
Finger G-Spot Vibrators
If you're the biggest fan of the "come hither" motion with your fingers and if you love to rock your G-spot for full-body orgasms, finger G-spot vibrators will become your new favorite toy!
Honestly, these are some of the best sex tools for me and my secret spot. They give me just the right shape for an intense G-spot milking! Instead of a straight shape for clit stimulation, you'll get a slightly curved insertable shaft. You can quickly attach it to your finger and push it inside. A finger G-spot vibrator will enable you to rock your fingers up and down and find the best motions to trigger your full-body orgasms.
Plus, these bad boys are so intense that they'll keep you squirting all night long! And if you've never squirted before, it's time to take your shot right now! These types will teach you how to squirt quickly and even humiliate your partner's face with massive cum blasts!
Finger Bullet Vibrators
Finger bullet vibrators have a special design that features a removable bullet vibrator. This is a fantastic option for all girls who've already used bullet vibes and love the way they feel against their punanis. Plus, this type is ideal for beginners. There are way too many designs to even mention here. However, just remember that bullet vibrators are some of the best all-rounders that you can use to stimulate your entire body.
Typically, finger bullet vibrators are made of ABS plastic or steel. You can insert them into the soft sleeve that you wear around your finger. This option provides a bit more flexibility. You can always take out the bullet and use it in another way if your fingers get tired.
Buying Your First Finger Vibrator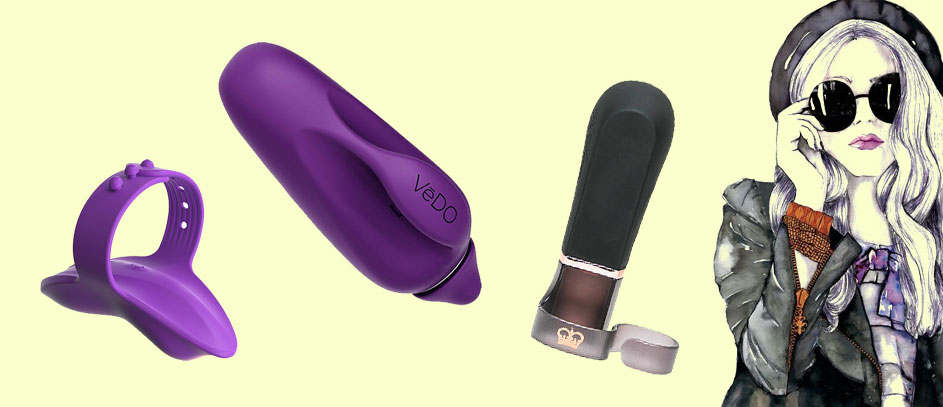 One of the reasons why you might prefer fingertip vibrators over conventional toys is that they are much easier to shop for. For example, you won't have to focus so much on measuring the size of the shaft or worrying whether your toy will cause you discomfort or not. Still, there are several factors you shouldn't overlook:
Standard Vibrator vs. Finger Vibrator: What's the Difference?
Basically, finger vibrators are an entirely different animal because they don't have a long insertable shaft. As you've seen above, some types are specifically designed for insertion, while others are intended for external play.
Another huge difference between these toys and classic vibrators is the size of the vibrating motor. Standard vibrators typically have stronger motors. They produce a wider spectrum of pulsations, while finger vibrators are more precise. Ideally, you could get both to experiment and see what you like the most. However, finger vibes have a huge following among girls who prefer discreet toys that don't make a lot of noise but still pack a powerful punch.
Built-in Motor vs. Attachable Bullet Vibe
This is perhaps the biggest design factor you should look into. As mentioned, some finger vibes have built-in motors, whereas others come with attachable bullet vibrators. Honestly, this choice will depend on the type of vibrator and your preferences. Built-in vibrators may work better for penetration. They'll secure a more comfortable fit and deliver increased precision. On the other hand, attachable bullet vibes are a bit stronger.
Don't Ignore the Material of Your Finger Vibe
Earlier, I said that most finger vibes are made out of soft materials like silicone. For some, the wearable parts can be made out of silicone, while the removable vibe could be made of ABS plastic or even metal. However, not all sex toys out there use safe materials. You'll need to know how to pick the material that works best for your skin. Trust me: nobody likes a nasty rash! So choose between:
Silicone
Silicone is the safest sex toy material out there. It's non-porous, and it's 100% body-safe. It matches all skin types, it's easy to clean, and will last a long time. Also, silicone will feel like a warm, velvety hug on your finger and your sensitive areas!
ABS plastic
Some insertable bullet vibes are made of ABS plastic. This is the best choice for a finger bullet vibrator. Like silicone, it's hypoallergenic and body-friendly. It has a hard texture, but that won't matter so much because you'll have to insert it into a soft wearable finger harness anyway. That is, the harness will give you a softer texture, and it will muffle some of the vibrations.
TPE
TPE is an alternative to silicone, and you'll see it used on many fingertip vibrators. This material is relatively safe to use, and it feels extra soft, but it's somewhat porous. That's not a deal-breaker, but since the material collects bacteria, you may need to swap your toy for a new one after several months.
Jelly
You'll also find finger vibes made with jelly or rubber. If I were you, I'd strictly avoid these options. Jelly is a highly porous and even toxic material that is full of dangerous chemicals called phthalates. It is commonly used on cheaper and unbranded toys, which I'd advise you to skip anyway.
Shapes and Textures
You'll be able to find many different vibrator shapes, including those that you wear like a thimble on your finger, some that add texture to your fingertips, and others that you wear like a bigger ring. Some will also have a steep curve. This type is ideal for G-spot play. Conversely, straight shapes are better for clit stimulation, nipple play, and all other acts that require precision.
Tip Shapes
If you're sensitive, it's better to choose a round and smooth tip. Alternatively, if you need something that's a bit more intense, choose a curved or textured tip. Also, textures on the tip, such as swirls, dots, and loops, will boost your sensations during play. But, for ultra-precise stimulation, you may need a sharper and more defined tip.
Controls
If you're flying solo, you might not have to pay extra for remote control. After all, that's the whole point of this toy. It sits right there at your fingertip. That makes it incredibly easy to control if you simply use the built-in buttons. However, if you want to experiment with app-control, music syncing, long-distance play, or even VR, an app-enabled remote-controlled vibrator will be the better choice.
Vibration Functions
In my experience, I would skip the single-speed toys just because they can get a little dull after a while. Your best bet will be a USB-rechargeable finger vibe with ten or more vibration patterns. That way, you'll get to experiment with the vibration speeds, modes, and strengths all you like.
Attachment Methods
It's absolutely essential to inspect if your finger vibe has the right attachment method for you and if it will be able to stay in place. The most common option is a stretchy ring that extends from the body of your toy. Another is a sleeve-like design that covers your entire finger. You can strap it over your palm or over your knuckles. Personally, the sleeve design gives you a better and more stable range of movements. However, you can always get a finger vibe with a wider and sturdier stretchy ring. This will enable it to sit comfortably on the top or bottom of your finger.
Sizes
While you won't have to think about the size too much, it's worth noting that not all finger vibes have the same lengths and widths. The best tip here is to measure the size of your finger. Also, check out the manufacturer's specs to find the dimensions of the shaft. The average size is usually around 3 inches, so it's best to start from there. If your finger is bigger, you can go up to 5 inches.
Do…
Pick the shape and size that matches your fingers.
Find the shape and tip that suits your sensitivity and your preferences.
Decide whether you want an insertable or external finger vibe.
Pick a waterproof vibe to make cleaning easier, and use your toy in the shower.
Don't…
I'd advise you to skip all kinds of jelly vibrators and go with silicone instead.
Don't ignore some of the tiniest nuances: things like poor button placement and a loose fit could ruin your experience.
​​Tips on Using, Cleaning, and Storing Your Finger Vibrators
Using my finger vibe felt a little strange at first. But after a few hot solo sessions, my vibrator became an extension of my finger, and I learned how to use it for all kinds of intense finger banging fun! So follow some of my super saucy tips to use your finger vibe for massive orgasms!
Lubricate – The best way to start is to apply some lube to your vibrator. That way, you'll get rid of friction, and you'll make the experience much more pleasant.
Play around with your body – Don't forget foreplay and use your vibrator to tease your nipples, thighs, and other sensitive areas. This will get you super wet and ready for more!
Take it easy – Not everyone enjoys strong vibrations at first. My best tip for newbies here is to start on the lowest settings and explore all your sensitive areas. Then, as you get hornier and hornier, turn up the speed and get wild!
Placement is absolutely essential! – This applies to both the vibrator's fit against your finger and the way you pleasure your body. Your vibe should fit your finger comfortably, and it shouldn't wobble or move.
Time to cum – When you're ready, just let it all go. Ride your clit or G-spot with your finger vibe until you explode! You deserve it, baby! Now, don't stop right there. You can always come back for seconds, thirds, and so on!
Clean and Store Your Toy Correctly
Don't forget to clean your toy during your post-orgasm haze. This is absolutely necessary because it will eliminate all kinds of germs and fluids that could harm your health.
Since finger vibes are so small, you'll be able to clean them in minutes and go back to bed. The easiest method is to use warm water and mild soap. You can rinse your toy out under the tap and clean off all your pussy juices and the lube. But, try to be thorough here and carefully clean any finger holes, nooks, crannies, or other attachment mechanisms.
Finally, you can put your toy away in its original package or use a soft carrying pouch. Simply leave it on your bedside table or wherever else you feel comfortable.
Finger Vibrators Industry Overview
Did you know that vibrators were invented nearly two centuries ago? These unique orgasm gadgets have had a lot of time to evolve, and as I said previously, finger vibrators are some of the newest inventions from the sex toy masterminds.
While we don't exactly know when the finger vibe was invented, it's possible that it was inspired by classic bullet vibes that were popular in the late 1970s. But if we focus on the here and now, we'll see that the revolution is just starting. Many legendary brands and inventors out there are competing to design more advanced finger vibes with smarter shapes, softer materials, and extended control options. That includes brands like Lovehoney, LELO, Adam & Eve, Satisfyer, Hot Octopuss, OhMiBod, Blush Novelties, Mini Marvels, and many others.
⚠️ Disclaimer: Our articles contain affiliate links. If you like our content and wish to support our work, consider purchasing your new sex toys through our links. For each purchase through our links, we receive a small commission but at no extra cost to you.
FAQ
Absolutely! Finger vibes are perfect for people who are just learning the nuances of their bodies. If you are just learning how to get off, these toys will help you to learn about your most sensitive areas and understand your orgasm stages. Plus, they are great tools to use during penetrative sex. They'll teach you to cum with a partner or simply make your orgasms much more intense!
That depends on how you view your virginity. Most people believe that it's okay to masturbate if you're a virgin. Therefore, using a finger vibe will not make you any less of a virgin! Even better, it will help you explore your vagina and ultimately prepare you for sex.
That will depend on the type of toy. You can use most finger vibes to stimulate the outside of your butthole without any issues. Many women enjoy it, and you should definitely try it. However, don't ever switch from stimulating your butt to using your toy. It could cause nasty infections.
Also, if you want to insert your finger vibe, you may be able to do so if the attachment method ensures that the vibe will never fall off. In that case, push it in your butthole all you want! However, don't do it if the toy feels slippery. It could end up getting lodged inside you.
You may be worried that the intense vibrations could somehow harm your vagina or your fingers. The truth is, unless you have a previous health condition, your vibrator will not harm you. It may cause a little numbness in your vag and finger, but that will only be temporary.
Oh, yes! This toy will work for all vagina owners, but it's especially great for those who don't want to be reminded of the male genitalia or those who want a toy that doesn't look sexual at all. Also, in practical terms, this is a fantastic choice for lesbian couples, and it will deliver all kinds of mutual pleasure.
Don't worry. If you secure it safely and use it correctly, the chances of your finger vibe slipping off are quite low. Still, even if this does happen, you shouldn't panic. You can gently pull your toy out of your vagina with your fingers, and there is no risk of it getting stuck.