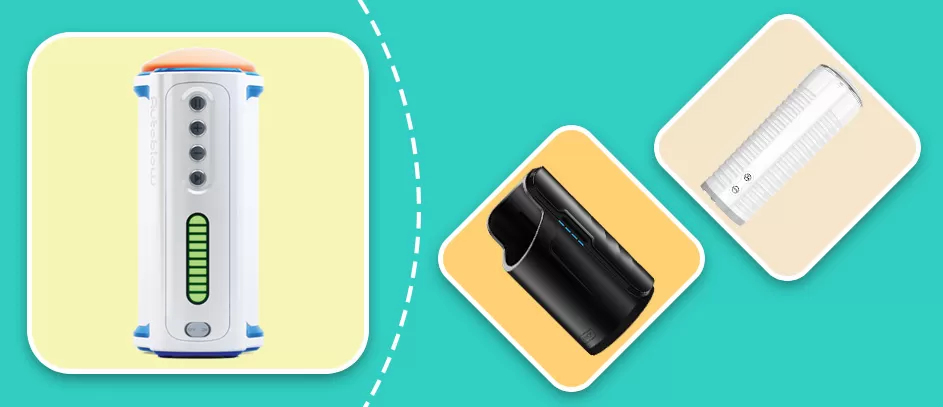 Even though we've moved on beyond being all hush-hush when we talk about male sex toys, some bros out there still don't know how much joy sex toys for men have to offer. What's more, many believe in the myth that sex toys are something that's inherently reserved for women…
Well, I'm here to bust that myth! Even better, I'll help you bust a big fat load while teaching you all about sex toys for men! The world of male sex toys is enormous and deliciously fun. There are all kinds of fake pussies and tight asshole masturbators, blowjob robots, sex dolls, cock rings, prostate massagers, and other jizz machines that are yours for the taking!
Top 10 Sex Toys for Men in 2023
Oh boy, singling out one sex toy for men that rules supreme and stands head and shoulders (or dick and balls) above all others is not easy. However, if you look below, you'll find 10 male sex toys that tickled Mr. Richard's pickle the best over the past few months. They are all winners in my book, but I tried to give you as many options to satisfy your horny cock just the way you like it!
The World of Sex Toys for Men is Your Oyster; Here's What It Offers
"The best part about jerking off with sex toys is that you don't need to take them out for dinner first!"
The world of shaming guys for using male sex toys to masturbate is dead. This is the official proclamation – welcome to the brave, new world of shameless jerking off! Cum one, cum all!
In fact, it's so fun, I thank nondescript deities and Lady Luck every day that this is my job! So let me introduce myself. I'm Richard Turbo but the ladies call me Turbodick! I review male sex toys with my GF Scarlett for a living which means I literally earn money by jizzing hard every day. High five!!! Also, I know pretty much everything there is to know about sex toys for men, and I'm willing to share that knowledge with your kinky and horny mind.
Now, the sex toy industry has always been huge. But over the last few decades, it expanded, became more inclusive, and even more sex-positive. Today, there's practically an endless supply of male sex toys you can stick your beaver basher into. And although the whole business with the coronavirus pandemic was hard for all of us, it still managed to bring some goodies with it. The male sex toy industry boomed (because we were all stuck at home, jerking off) and got even more popular than it was before!
The Creme de la Creme of Sex Toys for Men
In my experience, there are so many questions that you can ask yourself if you're looking for a quality male sex toy:
Do you need something to take the edge off and jerk off in peace? Get yourself a stroker, cum inside it all you want, and don't look back. And what if you miss having a hot, wet mouth wrapped around your dick? Wanna fuck some sloppy throats but you can't get any? Don't worry; that's what blowjob machines are for. I use them all the time to get hardcore deepthroat blowjobs worthy of an AVN award! What about long distance relationships? Would still like to fuck your partner's brains out even if she lives miles away? Teledildonics have got your back!
Look, when I say there's something for everyone, I really do mean that. Guys of all sexual preferences and orientations can find a toy (or a few dozen) that will bring them that all-time high.
But let me and my Turbodick show you what precisely the market has to offer, shall we?
Sex Toys for Men – the Sweetest Taboo
Blowjob Machines
When the world graced us with the invention of blow job machines, my heart sang. The world became a better place once it had automatic male sex toys. I'm not kidding. These machines can simulate a blow job so well that it almost feels like the real thing. And by "real thing," I mean a sloppy endless throat that you can face-fuck until your dick goes numb! No teeth!
Seriously, the soft and supple sleeves inside powerful, motorized plastic shells might not look like a hot girl (or guy) going down on you, but they sure can provide the suction that you need to bust a nut. Not to mention, they also vibrate, pulsate, stroke, and practically do whatever it takes for you to reach that peak embarrassingly fast.
However, not all blow job machines are made equal since some are a better fit for those packing monster cocks. Others are made for people with regular-sized penises. What's more, there's a lot of variety on the market regarding function and features. All you have to do is find that sweet spot when it comes to size and function and let the machine suck you off into oblivion. That's how you'll ultimately find the perfect BJ machine for you.
Male Masturbators
The most simple of all sex toys for men, male masturbators are still mighty toys. First of all, they are a significant step-up from using your trusty Righty (or Lefty) to jerk off. Sure, they are simple sex toys for men by design that usually don't offer a lot of features. However, they offer consistency and wild textures, which is more than enough to get our collective blood rising. Plus, they have advanced quite a bit over the years.
In essence, male masturbators are silicone or TPE sleeves with different textures on the inside that you slide over your penis to stroke yourself. All holes are offered, including tight pussies, even tighter assholes, and throats that will never say "no" to your big fat dick.
Of course, the sex toy industry wouldn't be what it is today if it wasn't the master of putting a spin on the most ordinary thing. So, instead of getting boring, run-of-the-mill sleeves, you can get sleeves with realistic entries that mimic those sweet, delicious pussies and asses we all dream about at night, fantasy sleeves, or even sleeves that vibrate or have a suction function. My favorites? Any ass or pussy masturbator that's shaped after the holes of my favorite porn stars! Oh, Riley Reed, even though I don't know you in person, I came inside your tight gaping asshole more times than you can count!
Realistic Vagina and Ass
Realistic sex toys for men swept us all off our feet not that long ago. Ever since the technology improved enough to make the production of realistic toys profitable, the market has been flooded with them.
Realistic vaginas and asses are sort of the halfway point between strokers and sex dolls. They look and feel like the real thing but aren't as big as a full-sized sex doll. Actually, they are the perfect size, given that you get all the vital bits (namely, the pussy and the ass).
These toys make it all so much more fun because they give you that extra layer of realism that BJ machines and masturbators simply can't. They are a bit bulky and more complicated when it comes to storage, so keep that in mind.
Pocket Pussies
In the travel-with-your-sex-toy-without-getting-weird-looks category, pocket pussies take the gold medal every time. They are small, compact, and, most importantly, discreet sex toys for men.
I fully understand that not everyone can dedicate several rooms in their house to their sex toy collection. Sometimes, you need something that no one will find (or even notice). Pocket pussies are an ideal solution because of their size!
The size, however, doesn't mean they lack features and benefits. Pocket pussies have come a long way since they first hit the male sex toys market back in the 80s and 90s. They used to be simple sleeves packed in a plastic shell (or a can, in some cases). Today, they offer internal textures that look like torture devices but feel like Heaven has descended on your dick.
Realistic Sex Dolls
When male sex toys can't fill the void of lacking a whole person to unload into, realistic sex dolls are there to bridge the gap. Sex dolls have been on the market for decades, but new technology allowed manufacturers to make them hyper-realistic. Some of these sex toys for men even talk back to you, move their head, and make eye contact.
Not to mention, their holes are designed perfectly, and they will treat your schlong like judge, jury, and executioner.
And although sex dolls are the most stigmatized of all male sex toys, that stigma is slowly easing up. People are slowly realizing that realistic sex toys for men, like sex dolls, can offer not only sexual gratification but also comfort and, in some cases, companionship to people. Not to mention, they are an excellent opportunity to try a kinky threesome with your partner without actually inviting another person into your bed.
Cock Rings
New kid on the block, cock rings are not. Scarlett says they make my dick harder than ever. I love to see the somewhat intimidated look on her face when I show her my ringed-up cock and make her suck it until she's gagging all over! Seriously, these tiny but effective sex toys for men have been saving men the embarrassment that comes with jizzing too early for decades.
A cock ring is basically a small silicone, leather, or metal ring that you put at the very base of your penis. It keeps your pocket rocket hard for much longer than it could do on its own. Not to mention, because it restricts the blood flow, it helps you last longer.
So, if you're looking for a toy that will help you wow your partner in bed with your sexual prowess, you better put a ring on it!
Penis Pumps
Some sex toys for men don't really do anything other than getting you to blow your load all over them (or yourself). Penis pumps, however, are devices that provide not only pleasure but also help.
Penis pumps, as the name suggests, pump your penis, so it gets hard (and stays that way). They are one of the leading solutions for men who have erectile problems because they provide instant results. What's more, they can help you train your dick to get and maintain stronger and longer erections.
Prostate Massagers
Ah, the prostate. That sweet, walnut-sized gland is embedded deep within us and it's capable of giving us orgasms that we remember and feel for days. So hear me out: if you have a prostate, you can use a special toy to milk it and cum like never before!
Of course, like anything else in life, the prostate and, by extension, a prostate orgasm aren't that easy to reach. That's why male sex toys like prostate massagers are there. They are ideally designed to hit your prostate head-on and to torture it. And the best way to milk your prostate for all it is worth is with vibrations or textured heads. What more can a guy ask for?
Chastity Cages
Let's get even weirder now… chastity cages are peculiar male sex toys that are a great addition to power play and cuckolding. They come in lots of shapes and sizes, and they can be plastic or metal.
These devices essentially make it impossible for you to get hard and use your dick for pleasure. Usually, they are a part of a power exchange scenario that includes a complete surrender on the wearer's side to their partner. That way, your partner holds not only the key to the chastity cage but also decides when you get to have some release. Well, that is, only if you were a good boy!
Penis Sleeves and Extenders
If you're a bit on the shorter side, or would just like to provide your partner with some texture that your body is simply not made to have, then penis sleeves and extenders might be the solution you're looking for.
These male sex toys go onto your ding dong like condoms. However, unlike condoms, they are a bit sturdier and more rigid. They can extend the length and girth of your pocket rocket and ensure that you blow your partner's mind with the first thrust!
Unlike penis sleeves, which only cover the shaft of your mighty dong, penis extenders cover both the penis and your family jewels and give you a few extra inches on the very end. They were initially intended for men with erectile issues. However, today, they come with ridges, spikes, other special textures, as well as various colors. Many people use them to try out something different. For examples, I always use them when Scarlett is in the mood to get fucked by a huge BBC and I love to see her cum when she takes my 12-inch cock sleeve in her gushing pussy.
Of course, those were just some of the available categories of sex toys for men. If you're looking for something else, don't worry – it's probably out there.
Breaking Down Sex Toys for Men – Everything You Need to Know
If you're on your first-ever "male sex toys" internet search, let me guide you through this magical, glorious, and insanely hot world of sex toys for men.
But, the road to getting that perfect toy you've been dreaming of isn't easy, dude. There's a lot of things you need to consider:
Size
Materials
Functionality
Portability
Pricing
Cleaning and storing
How to use it
How NOT to use it
The Beginner's Guide on Buying Sex Toys for Men
I've said this before, but it bears repeating – men aren't complicated when it comes to sexual gratification. However, if you're picking a toy for yourself, you want it to be the best possible option for your needs. You also probably want to stay on budget and actually be able to use the toy as you planned.
To make that happen, you have to play the Goldilocks of sex toys and find the one that's just right. Therefore, look out for all of the following factors:
The Basics
The first step to buying a sex toy for men is deciding which direction to go in. Obviously, there's no such thing as a "one size fits all" male sex toy. You really have to think about what you're looking for in your sex toy and what kind of freaky fun you want to have with it.
I mentioned before that it's best to start small and work your way up. However, if you're tired of always doing the same old thang, then go for something completely out of the ordinary. Get yourself a realistic sex doll or a BJ machine. Experience masturbation in the most versatile and pleasuring way possible!
The Materials
Even if you know that you want to get yourself a nice sex doll and abuse your new girlfriend all night long, you'll still have to focus on other crucial factors. So don't think with your dick!!! The most important one is the materials used in the making of your toy.
There's a wide variety of sex toy materials on the market, including:
Jelly
TPE
Silicone
Plastic
Glass
Metal
So what's the difference between these materials?
Well, for example, jelly vibrators won't last as long as the other options. Furthermore, they won't be of the same quality, nor are they as body-safe. On the other hand, they are much cheaper.
Generally, jelly isn't the optimal material for sex toys. It's porous, and no matter how much you clean it, you'll never be able to sterilize it. Jelly toys are perfectly fine if you're looking for a toy that you'll use for a while on your own and throw out. But, I wouldn't recommend sharing jelly toys with different partners. If you must, then bag it. No glove, no love – remember?
By far, silicone toys are the best, most body-safe, high-quality (and relatively affordable) option on the market. Silicone is soft enough to make the toys feel life-like but durable and resistant enough.
Of course, it can't really compare to metal and glass. These toys aren't everybody's jam, but there's a lot to be said about their durability. Short of physically breaking one, there isn't anything that you could do to destroy them completely. Au contraire, gentlemen! Glass or metal toys are perfect if you want to wreck your little boy-hole and fuck your ass harder than ever!
The Size
They say that the size of your sex toy is no one's business but your own. Well, I'm not sure if other people say it, but I do.
Size is a matter of personal preference. Some people are the epitome of size queens, while others don't really care about it as long as the toy has the best functions and features.
However, don't let your libido write checks that your cock can't cash. Sure, owning a huge toy might be fun, but consider if your body is capable of taking it. What's more, be realistic about your own size. If you're buying a 9-inch pocket pussy with a 5-inch dick, that means that there are 4 inches of the toy you won't ever get to enjoy. So be mindful.
Portability
If you're one of those people who like to travel with their toys and maintain their masturbatory schedule even while on vacation, then you have to choose carefully. Now, portability isn't as vital a factor as, say, the material, but it's still something you need to consider.
If you're planning a vacation and you want a new toy for you and your partner to play with, don't go for the 10-pound BJ machine that makes as much noise as a rave afterparty. Instead, pick something smaller and, more importantly, more discreet.
The Packaging
As long as what's in the package is the real deal (in other words, what I ordered and what I dreamed about for days while waiting for the delivery), I don't really care about the box.
That being said, I fully support people for slamming companies that put no thought into their packaging. If you pay good money for a toy, you want to open it and feel like you've just unwrapped a gift on Christmas morning. And you won't get that special feeling with crap packaging.
But there's more to packaging than simple appearance. When picking sex toys for men, it's best to opt for those that have lots of amenities included in the package. So, what you're looking for is a toy that comes with:
A user manual
A booklet on sex toys from the company
Some extra goodies such as complimentary lube or renew powder
The Pricing
Price is probably the determining factor for many horny fellas. The pricing range of sex toys for guys goes from ridiculously cheap to unbelievably expensive. For example, you can find dildos for $5, or you can dish out 10 or 15 grand for a top-of-the-line realistic sex doll. It's all about what you're looking for and how much money you're willing to spend.
If you have a particular type of sex toy in mind, you'll soon see that the prices for it differ significantly. The price depends on:
Quality
Brand name
Features
User experience
In other words, high-quality toys cost money. There's really no way around it. If you're looking for a toy that will last and that will fuck you as good on the 500th time as it did on the first, then you'll have to save up.
Furthermore, there are specific brand names in the male sex toy business that are the synonym for quality, excellence in design, and durability. Most big brands on the market have higher prices than the ones who still haven't made a name for themselves.
Does that mean that only super expensive branded products are good? Of course not! There are plenty of toys out there that are both affordable and of high quality. You just have to find them.
When determining whether a toy is worth your money or not, consider the following:
What it offers in terms of function and design
Which materials were used
What existing customers have to say about their experience
What to Look for When Buying Sex Toys for Guys
Now that we know which factors you need to consider when buying your first (or really any other) toy, let's see the dead giveaways of a quality male sex toy:
It has tons of great user reviews – This is a great sign that the toy you're looking at will give you what you need. Sure, not all men are the same. But, if 500 horny dudes tell you that the pocket pussy you're looking for made them jizz as soon as they dipped in, then the toy is probably really good.
The store is straightforward and transparent – When you're buying a toy, you might get confused by the lack of info. You're looking at the toy, and you know what it should do in theory, but you're missing a few essential pieces to the story. If that's the case, move along. Products like that aren't trustworthy and probably wouldn't do what the seller is promising they would.
The customer service is on point – The way the company deals with its clients (and especially the client's complaints) is a sure giveaway regarding overall quality. You also want to check on the warranty and the return policy. Great manufacturers that make high-quality toys will always offer one or both.
The No-Nos of Buying Sex Toys for Men
Of course, there's also the other side of the coin. Here's what NOT to do when picking and using sex toys for men. Never, ever:
Buy cheap toys – they'll break before you even have a chance to try them out properly. Sooner or later, you'll end up spending more money than you would have if you were smart enough to buy a pricey, high-quality toy from a trusted brand.
Share your toys with other people – if you have toys that you can't sterilize, don't share them with other people. Any porous material is a safety and health hazard and an infection waiting to happen. If you really must share your toys, always use a condom.
Leave your toys to get all crusty and moldy – I know that the after-orgasm bliss is a real thing, and I don't want to ruin it for you, but it's vital that you get your ass out of bed and clean the toys you used after each use. The sooner you do it, the easier the cleanup will be.
Use a broken toy – if your toy has a rip in it or one of the functions doesn't work anymore, don't keep using the toy. Small tears can easily turn into a toy ripped in half, and faulty motors are a safety hazard. Instead, just get a new toy.
Wash, Stash, and Dash
Cleaning and storing male sex toys is vital for their longevity. You don't want to waste money on buying a new sex toy every other month, right? Then you need to take good care of the ones that you have.
Depending on the type of toy, cleaning can either be super easy or a bit challenging. For example, strokers, anal toys, pocket pussies, and butt plugs are quite easy to clean. All you really have to do is take the toy, invert the sleeve (if it's a sleeve type), and wash it with some mild soap and water.
Of course, pay attention to the materials. As mentioned, not all of them are as easy to maintain as the rest. Silicone toys are the simplest because you can sterilize them fully. TPE toys, although soft and supple, take a long time to dry. Coincidentally, the drying part is the most vital in the cleaning process. If you take a damp TPE toy and place it in a storing container or a drawer, you'll end up ruining it (and probably seeing a bit of mold as well).
Granted, toys like automatic BJ machines and realistic sex dolls are a bit more difficult to clean. BJ robots might be challenging to take apart while the sex dolls are simply heavier than other sex toys, so they pose a challenge of their own.
Safe Storage and Other Responsible Moves
Although I fully understand if you choose to proudly put your toys on display, it's probably safer to keep them stored somewhere. Protecting the toys from dirt, sunlight, and dust is vital! If your fake vagina or butthole is constantly getting dust on it, you'll have to clean it more often, thus shortening its lifespan and ruining its life-like tightness.
Not to mention, dirty, dusty toys are just nasty!
So, pick a plastic container or a nice pouch that will house all your toys. Then, stash that container in your closet (or wherever you want). That will also keep them safe from sunlight which means they'll maintain their original shape, size, and color.
A Peek Into the History of Sex Toys for Men
If you think that sex toys for men are a product of the last two centuries, you couldn't be more wrong. Sex has always been the driving force behind innovation. That's why the first sex toy for men dates back to ancient civilizations!
It's true: your ancestors were just as dirty and kinky as you are. Oh, did you think we invented kink? Hell no; people have been choking each other and shoving stuff up their slaves' buttholes in order to achieve those ultimate, orgasmic highs for centuries.
Sure, sex is more about pleasure today than it ever was before. And probably, people are a lot less hairier than their ancient ancestors. But that doesn't mean our forefathers only squatted in the cucumber field to pop out their horny little asses.
Behold – The First Sex Toy for Men
Some 29,000 or so years BC, someone came to the bright idea to shove something up their ass. So, they carved some siltstone into a distinctly phallic shape and polished it in order to make it go in nice and smooth. And, thus, the first sex toy was born! Eu-fucking-reka!
Of course, we can't really know if that was the first one, given that it could be predated by many more we know nothing about. But, this is the first recorded male sex toy in history. It was found in a cave in Germany (go figure), proving once again that Europeans are kinky mofos.
Look At Where You Came From…
The production and consumption of sex toys continued in a similar manner since ancient history. Five hundred years BC, the still-popular Ben Wa balls were invented and widely used to increase men's pleasure during intercourse.
A bit later, the dildo-craze hit ancient Greece, and in 300 BC, everyone and their grandma had a stone, leather, or wood dildo. Look, the ancient Greeks knew how to have fun, no doubt about it.
Furthermore, if we speed this little walk down memory lane, we'll see that in the 1200s, the first double-ended dildo was proudly used in China, while the modern-day dildo was actually born in Italy in the 1400s.
During the 1400s and 1500s, the dildo toured across Europe and was particularly adored in England and France. That's not exactly a surprise, given that the French are particularly horny even today, aren't they? Not to mention, France was the birthplace of the term "sodomy" (thank you, Marquis De Sade, for giving a name to then-unknown BDSM practices)!
The following two centuries were equally wild. But in 1844, something amazing happened. Charles Goodyear figured out how to vulcanize rubber and revolutionized the car industry.
But why should we care? Well, because he also, inadvertently, revolutionized the sex toy industry. After his invention, vulcanized rubber became a staple material of male sex toys (and all others, really). The following decades saw the birth of masturbators, electromechanical vibrators, and porn!
It's funny to think that it's been so long since we humans figured out how to make and use sex toys. And, with centuries of experience, what did we create? Well, let's see, shall we?
…Look At You Now
Today, sex toys come in all shapes and sizes. The 1920s marked the end of poor selection when it comes to sex toys (there were around 20 different versions of dildos and vibrators available back then), as well as the birth of the famous KY jelly.
Today, we have plenty of categories and types of sex toys for men available. Not only that, but we can pick the size, materials, functions, features, and so much more when buying sex toys.
More importantly, the stigma that has been following sex toys for centuries is smaller than ever. Sure, there will always be some weird looks that we sex toy enthusiasts get. However, that's nothing compared to what those who came before us got in some more conservative times. For a while, people were hell-bent on turning sex into something nasty and forbidden. The sex-positive movement is changing that. Currently, we don't have to hide and exchange our experiences whispering in the corners! We can proudly talk about them on the internet. Just like I'm doing!
⚠️ Disclaimer: Our articles contain affiliate links. If you like our content and wish to support our work, consider purchasing your new sex toys through our links. For each purchase through our links, we receive a small commission but at no extra cost to you.
FAQ – Let's Reveal It All
Even though there's been a lot of talk lately about men's sexual liberation when it comes to sex toys, there seems to be a lot of confusion among Regular Joes. So, today, I'm breaking down the most commonly asked questions and giving you the answers that you've been craving.
Sex toys for men are usually pretty straightforward. To be honest, there's a hole where your dick goes in, and the entire thing is pretty self-explanatory. However, some toys are a bit trickier when it comes to maintenance. That usually depends on the material and the overall design of the toy. Either way, toys for men usually come with a manual that will explain in detail how you should clean and maintain them, so they last you a long time.
When you're buying sex toys, you want to get something that is body-safe, functional, and that will last. Unfortunately, to hit that deadly trifecta, you have to cough up some cash. Quality comes at a certain price.
Of course, there are plenty of affordable toys out there. Those will absolutely get you where you need to go. However, they might not offer as many functions or the same levels of safety as their pricier counterparts.
So, it's all about what you're willing to settle for (and what you're willing to pay good money for). Trust me, I know some toys are ridiculously expensive, but most of them are worth the money.
The myth that you can get addicted to sex toys so much that real-life sex doesn't do anything for you anymore is just that – a myth. Masturbating with sex toys will always feel different than having regular sex. Maybe it will hit your sweet spots in a different way, but you can't get addicted to it. So fap away, young buck!
Sex toys are a gift to humankind because they are so versatile. One toy can satisfy both you and your partner in a multitude of ways. However, you have to understand that not all toys are made to please everyone.
For example, shoving your partner's vaginal vibrator up your ass might sound like a good idea, but it really isn't. First of all, the toy is designed for a vagina, so there's a chance it won't hit your prostate. And if it doesn't, then what's the point of abusing your butthole?! More importantly, that toy isn't safe for anal play. It doesn't have a flared base, so the chances of your butt sucking it up and you ending up in the ER begging for release are high.
So, technically, yes, but I'd advise against it. It's always better to get a toy that will give you exactly what you need.
Just like in sex, men are easy to please when it comes to masturbation. All you really have to do is stroke that dick, and sooner or later, jizz will come out.
However, that doesn't mean all toys are equally easy to use. Some have unique designs, while others are complex and have many parts to them.
But don't let that discourage you. Every toy is easy to figure out (especially because they all come with instruction manuals). And if you can't figure out how to use a toy even with the manual open in front of you, hit me up. I'll be glad to help out.
Picking one sex toy that will please you is tough. That's why I have dozens of them. Sometimes I'm in the mood for a quick and dirty wank, so I pull out my strokers, and other times I feel like torturing my prostate is the only way to get some release.
So, having one toy that does it all is impossible. But if you're a complete novice, I suggest starting small and working your way up. Get a toy that sounds like it would hit all your sweet spots and see how it feels. Then, if you want, you can start building a collection. And, even if you stop after that first try, you'll still have something better than the five knuckle shuffle to play with.
If you feel like sex toys enriched your sex life, it's natural that you want to share that with your partner. However, that topic can be tricky. Sometimes people think that toys are their direct competition or that they aren't satisfying their partners in bed, which is why there's a need for sex toys.
I suggest that you make sure your partner doesn't feel that way. Open and honest communication is what keeps any relationship healthy and thriving. So, just tell them what you would like to happen and why and see what their reaction is. But, keep in mind that not everyone is up for playing with toys. If that's the case in your relationship, you'll have to respect your partner's right to choose.