Jul/04/2022
Last Update: June 26, 2023
947
14 min read
Best Realistic Vibrators In 2023: Time To Worship That Huge Cock!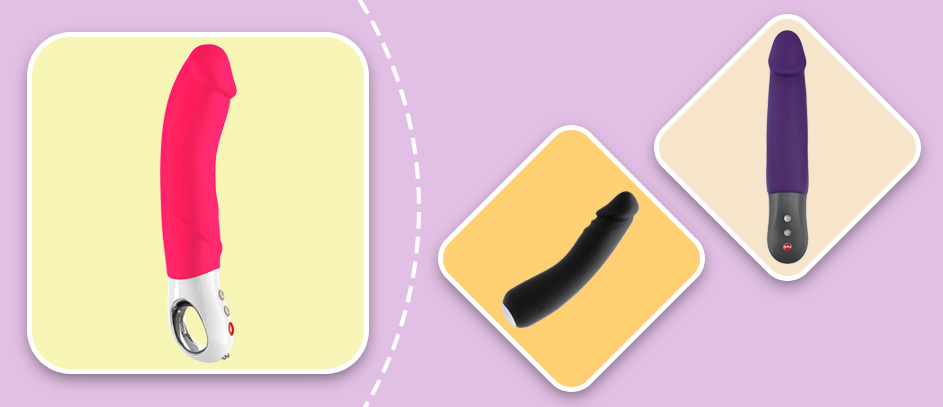 Do the words delicious fat cock wander through your mind all the time? That's my girl! Baby, we should proudly stick our asses together and shout out our obsessions from the rooftops! But what happens if you constantly crave a huge jizz cannon in your warm fuckholes, yet you don't have a real cock in your life? Honey, it's time for you to jump on some realistic vibrators!
Here, I'm gonna tell you all about realistic cock vibrators that throb just like the real thing and give you a huge beast all to yourself!!!
Top 10 Realistic Vibrators in 2023: Tested Balls Deep In All My Holes!
Before you fuck the first realistic vibrator you see, remember that not all of them are equal. Some can feel too squishy and others could use unsafe materials. Luckily, I did all the hard work for you! I tested more lifelike vibrators than you can shake a dick at! Below, you'll see a selection of my favorite realistic vibrators to use in my holes! These toys have the hottest designs and features, the most lifelike materials, and most importantly, they pack a ton of power to drill you – balls deep!
Realistic Vibrators: Soft and Lifelike Orgasm Machines!
"It happens way too often that you only see big wangs on unusual male specimens. You know, they have the tendency to chew too loud, laugh at stupid jokes, or cum way too early before your muffin even gets the chance to get creamy. Plus, real cocks can't vibrate…"
What if you're constantly thinking about waking up with a massive cock head in your mouth as it trains your sloppy throat like you're a good little puppy? Well, I'll be damned… Choke me, spank me freaking sideways, and say I'm a nasty slut because I'm always ready to use and abuse a thick piece of meat!
Now, most of us fine young ladies know that the only way to feast on a massive throbbing dick is to get out there and find a man who can please us just the way we like it. Sadly, that's easier said than done.
Of course, I don't want to bash on men and tell you to forget about them altogether. I'm just saying that a realistic vibrator is a perfect substitute for a huge meat stick! Still, even if you're blessed to have a hung stud in your life, you can still use your realistic vibrator to literally make yourself cum 24/7 but without all the relationship issues or stresses. What's more, you can always use these toys together with your partner to simulate threesomes and play around in all sorts of nasty ways.
And regardless of how you want to fuck your fake dick, your goal should be to find the hottest, safest, and most comfortable dildo. That's why you have me to guide you towards the best fake cock of your life! I'll also teach you how to use it for the strongest and kinkiest close encounters of the vaginal, anal, or oral kind! So let me show you all you need to know about huge realistic vibrating dicks!
Realistic Dildo Vibrators Explained
If you're hungry for a big bad boner right now, realistic vibrating dicks will give you an anatomically correct look. They'll give you all those protruding veins, a delicious thick shaft, and a big pair of balls. For real, these things will train your throat and drill your pussy deep. Oh, and they'll spread your wet asshole wider than the grand canyon! They'll help you to become an expert cock worshiper and make you squirt like a freaking porn queen!
Big dildos that replicate the look of a man's penis have been around for thousands of years. However, everything changed once someone figured out how to improve them with vibrating motors! If you've ever tried a dildo, a realistic penis vibrator is actually a very similar toy. Yet, it will give you extra vibration features that can tickle all your pleasure nerves until you cum like a queen!
Really, this toy will give you the best of both worlds. It will allow you to experiment with a lifelike dong and play around with tons of intense vibration options. But that's not all! Here's what you should expect from your realistic vibrator:
Ultra-Tingly Vibration Features
Your dildo will generate powerful vibrations via a single or dual internal motor. The strength of the vibrations will depend on the motor. Also, depending on your toy, you'll get to configure various options. That includes different speeds, strengths, and patterns.
Some vibrators will give you a few simple switches on the base. Others can sync up to your smartphone. That way, you can control them remotely. In most cases, you'll get around 8 to 10 or more vibrating modes or multi-speed patterns. Also, some advanced models will give you the option to sync your toy to VR content, use them for long-distance play with a partner who's miles away, and much more.
Powerful Movement or Thrusting
Some vibrators can move or thrust automatically. They can make small circles to milk your G-spot and make your entire body shake! And with thrusting functions, your realistic cock vibrator will give you a moving shaft. It will penetrate you back and forth automatically. Yeehaw!
Squishy and Mouth-Watering Lifelike Shaft
Realistic penis vibrators are made with super squishy and flexible materials. They are designed with the finest details in mind to give you an intense visual stimulant. That includes a lifelike length and girth. Plus, a pair of shiny balls will caress your clit when you're pushing your dildo deep down! Even better, you'll get to choose your favorite shape, from straight to extra curvy or ultra-thick. If you get them wet enough and use plenty of lube, you'll be hard-pressed to feel the difference!
Types of Realistic Vibrators
If you're a size queen, seeing all the different types of realistic vibrating dildos will certainly make you feel like a kinky freak at an all-you-can-eat cock convention!
Honestly, there are thousands of different vibrators out there. Picking one or several that you like the most should be a no-brainer. However, to help you find the best fake cock for you, I'll outline some of the most common categories. That includes huge vibrators, wireless vibrating dildos, and remote-controlled lifelike vibrators. You'll get to choose from:
Silicone Realistic Vibrators
I always say that a quality silicone dildo belongs in every girl's sex toy collection. It's by far the best type of vibrating dildo you can get. While it will deliver the most lifelike sensations, the material will be easy to maintain, and it will last for ages. Moreover, silicone realistic penis vibrators are skin-safe and non-porous. I'd highly recommend them for all sorts of vaginal, oral, and anal experiments. They'll give you a soft and smooth material that feels fantastic during penetration. Plus, silicone does an excellent job of transferring the vibrations right where you want them.
TPE Realistic Vibrators
The market is full of TPE vibrators, which are a slightly less expensive alternative to silicone. The main advantage of this material over silicone is that it's a bit softer and stretchier. While some girls love the super floppy sensations of TPE, they are not the first thing I'd usually recommend to beginners. This material is slightly porous and absorbs bacteria, meaning you'll need to use it with caution.
Still, nothing will go wrong if you learn how to clean it properly. TPE realistic penis vibrators are also a bit cheaper. Since they're softer than silicone, their vibrating features could feel a bit stronger.
PVC Realistic Vibrators
PVC has a similar texture and softness compared to TPE. You'll usually see it used on some of the cheapest models. It's extremely bendy. That makes it a great choice for unusual sex yoga. However, if you're looking for this type of dildo, you'll need to know what you're buying. Most PVC dildos are non-porous. They also contain dangerous chemicals known as phthalates. If you're a newbie and you're looking into this type, I'd advise you to skip it or only look for phthalate-free options.
Jelly Realistic Vibrators
Jelly is another controversial sex toy material. In most cases, you should stay away from it. It's impossible to clean fully because it's extremely porous. Also, these dildos have the tendency to melt or break down after some time. This can definitely be a mood-killer! Also, realistic jelly vibrators are full of phthalates which is another reason to avoid them. Nevertheless, jelly rubber is incredibly flexible and feels quite pleasant. However, the risks are not worth the reward, so I'd advise you to skip this type.
Key Features of Your Realistic Vibrating Cock
Besides the looks and vibration options, you can spice up your pleasure with all sorts of extra features:
Suction cup – This is one of the greatest inventions for solo or partnered play! A suction cup will allow you to stick your vibrator onto a flat surface. Then, it will keep your fake dong in place while you ride it hands-free!
Balls – Most vibrating cocks come with a pair of delicious big balls. You can suck or bite them to turn yourself on. They'll also feel smooth while they're bumping up against you. Plus, they are an absolutely essential feature if you want to push your toy in your butt because they'll prevent it from getting stuck.
Handle – Some vibrators for women come with a long handle. The handle is usually made of hypoallergenic ABS plastic. It's a fun choice if you want to direct your vibrator with your hand and control everything from there.
Color – Don't neglect the color because it will play a huge role in your orgasm! You can choose to get a big white dick or humongous black cock and everything in-between. How about some other colors like red or purple?
Remote control – As mentioned, these features allow you to control your realistic vibrator remotely. It's an awesome option for couple play, and it works wonders for all kinds of BDSM acts!
Strap-on – Some realistic cock vibrators come with a strap-on harness. Others are harness-compatible, but you will have to buy them separately. These are some of the best options for lesbian sex or kinky pegging.
Fake cum – You'll also find realistic penis vibrators that explode with fake cum. Pick this option if you love massive creampies or you want to cover your whole body in delicious milky jizz! Ready for your breakfast?!
Buying Your Realistic Vibrator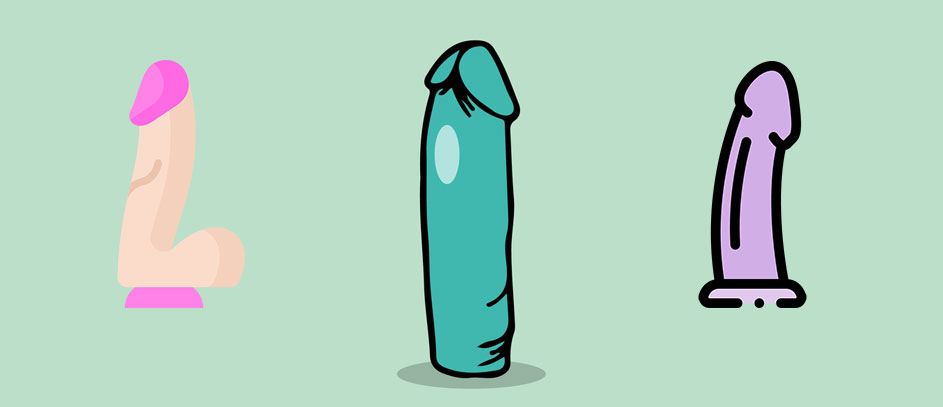 What happens when you get a dildo that doesn't suit you? Obviously, the world won't end. However, the wrong toy will not be enough to stimulate you correctly. It could even feel outright painful.
While your choice of vibrator is entirely subjective, there are several signs to look for when buying your toy. Trust me, doing your homework is far easier than spending your money on a useless dildo that just doesn't make your clam happy.
Things To Look For
Realistic cock vibrators are some of the most versatile toys for beginners and pros. My first tip here would be to choose the vibrator that ticks all the right boxes for you and focus on the following:
Size Matters
For me, bigger is always better, but that doesn't apply to all ladies. If you've never used a dildo or vibrator before, I'd advise you to go with a medium size of 5 to 6 inches. This will feel nice and comfortable, and you can always move up later on.
However, if you want the biggest and thickest, realistic penis vibrators are available in all sorts of sizes, from 7 to 10 or more inches. If you want to get a brutal BBC vibrator, just remember to know your limits.
Materials and Water Resistance
As I mentioned, silicone is by far the best choice. You'll get a premium feel, plus you won't have to worry about your toy collecting germs. What's more, if you want to use your toy in the shower or if you want to be able to fully submerge it in order to clean it, buy a waterproof silicone vibrator. It will make your life much easier, and it will keep the internal vibrating mechanism safe during all sorts of wet adventures.
Power and Noise
If you need something discrete, be sure to check out user reviews to see what others thought of your vibrator's noise factor. The noise doesn't necessarily increase with size. It will all depend on the vibrating motor and the strengths. If you're unsure, you can look up the noise rating provided by the manufacturer. Try to keep it around 40 dB for something extra quiet and portable.
Additionally, you should go for a USB rechargeable model from the get-go. A neat trick here is to look into the power capacity to see how long your dildo will run. Typically, you should be looking at 1 to 2 hours on a single charge.
Things to Avoid
Here's a quick list of things to stay away from:
If you don't want to worry about the condition of your vibrator and any of the possible health risks, avoid jelly or PVC materials.
It's always better to get your toy from reliable brands instead of choosing a no-name variant. That way, you'll get a quality product that hundreds of women have enjoyed, and you'll know exactly what's going inside you.
Always order your toy from legit websites and stores to avoid scammers.
Tips on Using, Cleaning, and Storing Your Realistic Vibrators
So what's the big deal here? You just need to slide it inside and cum hard, right?! Well, that approach may not work for all women. Check out some of my essential tips for having the time of your life with your new vibrator:
Always Get It Nice and Wet
You should always use lube on your vibrator, even if you're gushing wet. If you apply lube to the surface, it will make penetration much smoother and will eliminate all the friction. The key rule here is to avoid using the wrong lube. For instance, silicone lube will actually break down your silicone toys. The best type to use is a water-based lube because it works with all sex toy materials.
Rub It All Over Your Body, Suck It, and Push It Inside
There are so many ways to play with a big fake cock! Just thinking about them is making me a little wet right now! All I can say here is that you shouldn't be afraid to experiment. You can use your vibrator for external pleasure. For example, you can tease your nipples, clit, and other sensitive areas with it.
Moreover, if you love sucking dick and licking big balls, this kind of toy will give you the perfect platform to practice on or tease yourself until you're nice and creamy.
Then, when you're ready, you can slowly slide your realistic penis vibrator inside. Obviously, you can choose the hole you want. Alternatively, you can use another dildo or a real cock to experiment with DP. Whatever the case, don't forget to play around with all of the vibration settings and all sorts of movements!
Cleaning Methods
Even if you opt for a nice silicone dildo that doesn't absorb germs, you'll still need to clean it after each wild ride. The quickest and most effective way is to pull it out when you're done and head straight to the bathroom. Then, wash your vibrator under the tap or soak it until it's clean.
But be warned here: if your vibrator isn't waterproof, you'll have to be extra careful not to damage the internal mechanism. Also, don't use any cleaning chemicals. If your vibrator is covered in all sorts of juices, a dab of mild soap will clean them off thoroughly. After that, simply leave your toy out to air dry. Then, place it in its original packaging or a dedicated plastic container.
The Ins and Outs of the Realistic Vibrators Industry
Did you know that dildos and other sex toys were actually invented thousands of years ago? In fact, the first realistic sex toy that looked like a cock was made 30,000 years ago! But, realistic vibrators are a relatively modern invention. They first hit the market in the '80s and '90s. These bad boys were inspired by modern versions of the classic dildo, which was invented in the mid-1960s. But, it was during the '90s when the industry truly blew up.
During the 1990s, tons of manufacturers competed to create the best vibrator as well as to innovate and create new and unique vibrating features. And after several decades, the sex toy industry is not slowing down. Some of the most popular names you could look into currently are Stronic, Lelo, Lovehoney, We-Vibe, Adam and Eve, Doc Johnson, etc.
Those brands keep developing superb realistic vibrators with superb materials and tons of exciting features like VR compatibility or long-distance remote control.
In conclusion, whether you need the latest and greatest or the biggest and baddest, you won't go wrong with a real feel vibrator! It will keep you busy for hours on end, and it will literally change the way you cum! So if you want to worship a huge realistic vibrating dick right away and use it to spread out your pussy or butthole, get your realistic vibrator today!
⚠️ Disclaimer: Our articles contain affiliate links. If you like our content and wish to support our work, consider purchasing your new sex toys through our links. For each purchase through our links, we receive a small commission but at no extra cost to you.
Q&A
Many standard vibrators use non-conventional shapes that don't resemble a real penis. The main difference here is that realistic vibrating toys are replicas of penises. Another difference is that these toys use thicker materials that create a deep low-frequency rumbling effect when you turn on the pulsations. In comparison, standard vibrators, rabbit vibrators, and small clitoral stimulators give off high-frequency fizzes.
Absolutely. They can help you experiment and fulfill all sorts of sexual fantasies with your partner! For example, you can use them to simulate threesomes and experiment with DP, especially if you get one with a suction cup. But, they'll also work wonders during foreplay, and your partner could use them to tease you or explore any type of fetish that you're into.
Yes, but it will only be temporary. You might feel a bit sore after using your vibrating sex toy, but the feeling should pass in a few hours. Your toy will not cause any permanent numbness or affect your ability to orgasm with a regular penis.
Of course! Realistic vibrators are fantastic toys for men who are into anal play or prostate massage. They can deliver intense vibrations and target just the right spots for an all-out prostate milking. They work great in combination with cock rings, penis pumps, intense oral sex, etc.
Yes, these sex toys for women are some of the best G-spot vibrators out there. They can deliver just the right type of pressure against your G-spot to drive you wild. You can use them for experimenting with G-spot orgasms, blended orgasms, and intense squirting.
It's perfectly fine to take your vibrator on the road with you, but just remember that bigger toys will take up a lot of your luggage space. Still, if you want to travel with your huge realistic cock, go for it! Also, if you want to use your vibrator for long-distance sex, try to get one that's app-enabled. That way, your partner can control your pleasure from far away and get you off just the way you like it!