Jun/24/2022
Last Update: June 26, 2023
1094
22 min read
The Best Cock Rings In 2023 To Give You A Monster Erection + How To Use Them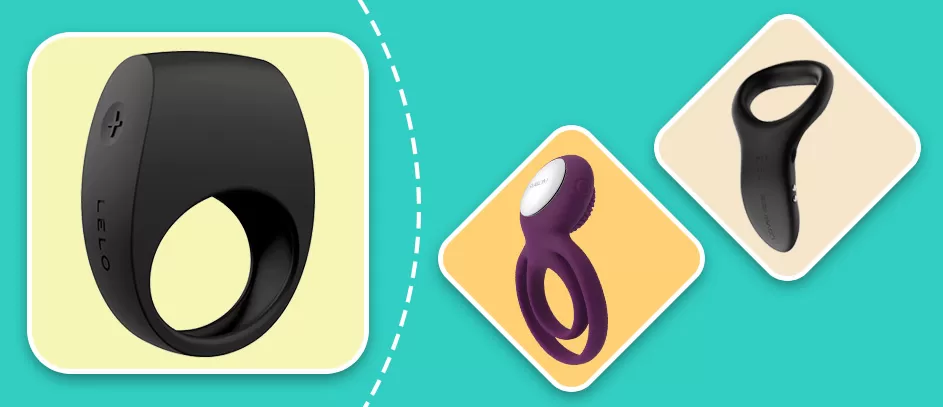 Some guys dream of putting a ring on their future wife's finger. Others prefer to slide on a tight cock ring to achieve a monster erection! It's true, a quality penis ring can rule them all, find them, bring them all, and in the darkness bind them! But how do you find the One Ring that fits your dick perfectly and turns you into the Dark Lord of Pussies, Asses, and Sloppy Throats? Well, my young hobbit, I'll show you how to tease and please your dong with some of the best cock rings to help you erupt like the fires of Mount Doom!!!
Top 10 Cock Rings to Make Your Partner's Jaw Drop in 2023
If you have a dick, you can put a ring on it. Then, you can make use of that extra hardness during pretty much any kinky activity. But wait! If you want to make your partner gasp for air when they see your enhanced erection, you'll have to find a quality cock ring that fits you the best. So let me share some of my favorite dick rings in 2023 to help you give it to her raw and wiggling!
Everything You Need to Know about Cock Rings
Nowadays, you can literally find hundreds of different cock rings. While this is certainly a lot of fun, it could make things tricky for first-time buyers.
So hold your horses… If you're just too horny and you pick up any random penis ring, you could end up with a piss-poor toy that doesn't fit you properly. Also, low-quality dick rings might not work as intended, and I've seen them break down after a single use. That will totally ruin your fun, and it could just be a major turn-off for your partner! Therefore, I advise you to play it safe first and hear me out as I demonstrate what cock rings are all about. But also, allow me to introduce myself. I'm Richard Turbo, and to be honest, I can't think of any other male sex toy that's so practical and delivers such intense results. I became a total cock ring addict after trying them a few years ago.
Ever since, I've experimented with pretty much any ring that I could wrap around my wang. Just ask my bae, Scarlett! She'll tell you that I certainly know a thing or two about these magical rings of pleasure. Well, only if she's not too busy squirting with my ringed cock up her asshole and she's losing her mind from my turbocharged Godzilla!!!
One Cock Ring to Rule Them All
Let's go back to our "Lord of the Rings" analogy. You know how it goes: Frodo finds the One Ring, puts it on to gain unlimited power and takes it to Mordor to stir up a massive explosion and set the world free. I don't know whether he was tapping Sam's ass during all that, but judging by his chubby gardener's willingness to call him his master and pretty much do all his bidding, I'm pretty sure that the ring played its part. You know… The whole "share the load" thing?
Anyway, I guess the same is true for actual cock rings. They'll turn any old hobbit into a bonafide Frodo Bangings! Plus, they work for everyone, regardless of if you want to bump uglies with Samwise The Brave or deflower a beautiful Elven maiden.
But What Are Cock Rings Anyway?
These rings are known by many names, including C-rings, shaft rings, penis rings, erection bands, and so on. They are one of the most basic sex toys and accessories, but you shouldn't let that turn you off. Their brilliance lies in their simplicity and the fact that they work as intended for pretty much any guy. But what do they do?
Simply put, erection rings are soft circular bands that, well, look like a ring for your dick. When they squeeze the base of your cock, they introduce tightness and tension. This blocks or traps the flow of blood that enters and exits your wang during an erection.
That way, the blood can't rush out of your erect penis. This allows you to extend your boner for a prolonged amount of time. It also makes your dick swell up and gives you stronger erections!
What Does a Cock Ring Do?
Well, prolonging and maintaining your erection isn't the only thing that a cock ring will do for you. It can also help you to:
So, it looks like meat's back on the menu, boys!
But seriously, the sky's the limit when it comes to cock rings. Aside from their original intention of helping out guys with ED, they genuinely have more sexual uses than you can think of.
For one, they can boost your sexual confidence and performance. I mean, who wouldn't want a bigger, harder, and veinier dick? In my experience, using a c-ring is like a quick hack to simply get more from your schnitzel and blow your partner's holes out. Just pop it on and watch your monster grow!
And the fun doesn't stop there. Since penis rings introduce tension and make your penis swell with more blood, they'll boost any type of sensation that you'll feel all over your hammer. All the while, they will constrict you a bit and make it harder for you to cum. This is exactly what you should hope for if you want to endure an extended sex marathon and wreck your slut's holes like Johnny Sins!
Cock Rings Basics
At first glance, there's not much to it – you simply need to lube up, put a penis ring on, and bang away. But, if you want to find a great ring that fits perfectly, lasts forever, and even has some special features, you'll need to stop playing with your balls right now and pay attention to my tips:
It's All About the Materials
Typically, these rings are made of either soft or rigid materials. While their design is important, the material will play a much bigger role. It will determine the way you use and enjoy your cock ring.
Moreover, the difference between the two types of materials should be fairly obvious. Namely, soft materials can stretch, while sturdy rings cannot. Plus, some could have an adjustment mechanism. And to see just what they're made of, the most quality materials you can choose are:
Silicone and TPE for soft and stretchy rings.
Surgical steel, glass, wood, leather, plastics, and similar for sturdy rings.
Here, it's crucial to pick body-safe materials. They will not cause allergies, bruising, or other skin complications. Plus, the material will also dictate how easy it is to clean, store, or transport your toy.
The Most Affordable Sex Toy?
Another reason why I'm so obsessed with cock rings is that they're relatively cheap compared to other sex toys. You can find them at various price levels, starting from quality rings in the $10-$20 range to $50 or more for some premium models. This pretty much enables you to experiment with a bunch of them.
However, if you're on a budget and you only want to start with a single ring to see how it feels, you can choose between several different types. They all do pretty much the same thing, i.e., block the blood flow to your junk. Typically, we can divide rings into three main categories:
Penis rings – they only wrap around the base of your monkey.
Penoscrotal types – also called penis and testicle rings, these types consist of a single or dual ring that fits around your dick and testicles at the same time.
Ball rings – testicle rings are usually intended for experienced players. They're only meant to wrap around your gonads and are sometimes called testicle cuffs or ball stretchers and crushers.
All of those types have different features that will change up your experience and deliver unique sensations. You can also choose between:
Vibrating Cock Rings
Everybody enjoys positive vibes, right? Well, try them out on a cock ring! These types are some of the most sought-after toys since they create powerful pulsations to please you and your partner!
Typically, they have a built-in or removable bullet vibrator. You can configure it to make the ring vibrate all around your dong and stimulate your babe's clit during penetration. The vibrator is usually powered by replaceable or rechargeable batteries. It will also give you a range of controls to play with. That includes things like vibration intensity, speed, and patterns.
Additionally, most vibrating erection rings are made of flexible and safe materials like silicone. However, you need to watch out because not all of them are waterproof. Still, these toys are some of my all-time favorites. You'll see what I mean by that if you pop on a vibrating erection ring, switch it on, and thrust your bone deep into your partner (or slave, hehe). Hello, mutual orgasms!
Anal Play Cock Rings
Ah, it's time to immerse yourself in sweet, sweet anal play! If you like getting your salad tossed or your asshole played with, an anal play cock ring could be just the thing for you.
This type of ring is attached to an anal toy, usually a butt plug, hook, or a prostate massager. The goal is to slide your ring on, push the attached toy deep into your booty, and keep it there for hands-free anal pleasure.
Even better, these types come in non-vibrating or vibrating variants, so you can take your pick based on what your bunghole enjoys the most. And remember, since this anal toy is attached to the ring, your pecker will gently tug on it when you're penetrating someone or giving yourself a premium hand job. Trust me – you'll remember this type of orgasm forever!
Double Penetration Cock Rings
Now, I get it. Some girls just love hard cocks and need to have all their holes filled to feel satisfied. And to that, I say: yes, yes, a thousand times, yes! If your girl is constantly begging you to try a threesome with another dude and you're not up for it, or if you simply want to train her for the real thing, just use a double penetration cock ring!
Like the previous type, this ring has another toy attached to it. Except, it's not for you: it's meant to go in her ass! Also, you can turn it the other way around and penetrate her pussy with the toy while impaling her intestines like a vampire hunter!
Most commonly, the attached toy will be a dildo, and you can choose any size or shape your partner is into. That will all depend on your girl and her preferences. Just make sure you get permission to stretch out her ass while using your ring of power because, otherwise, you shall not pass!
Rabbit Cock Rings
Rabbit rings are also intended for her pleasure. They are exactly the same as vibrating rings, except that they have a larger and stronger clitoral stimulation vibrator that's shaped like a pair of bunny ears. Plus, the bunny ears can curve upwards to stimulate your rooster. What a fine example of an innovative multi-purpose sex toy design for back-to-back orgasms!
Adjustable Cock Rings
To me, adjustable rings or lassos look sort of like a Bolo tie. You can quickly wrap them around you and adjust the size and tension to your liking with a soft loop. This is one of my most recommended cock ring types for all newbies who don't know which ring size to pick.
Special Features
When it comes to the actual build and extra features, it all starts with the material that feels the most pleasant to you. You can find all sorts of smooth surfaces or even textured rings that contain beads or other unique twists and twirls on their surface.
What's more, you can get a toy that incorporates multiple rings that wrap around the entire length of your pickle. But generally, most of the types I've described earlier come with their own set of features, and you should choose them based on your turn-ons. Also, there are other not-so-obvious features that you could also need:
Remote Control
Tons of vibrating rings are sold with several options to control them remotely. Some could include remote controllers (wired or wireless). Others can sync to your phone and give you an app to configure them. This can be a godsend for couples who want to experiment with hands-free stimulation, exciting foreplay rituals, BDSM, public play, and so on.
In most cases, you will get several buttons and options that allow you to speed up or slow down the vibration, as well as change the pattern or intensity.
VR, AI, and Long Distance
Finally, you shouldn't underestimate the power of new technologies. Some rings like the Lovense Diamo can be controlled via apps from different parts of the world. This can really help out long-distance couples to stay intimate while they're far away. You can use them during video chat to have fun with your partner even if they're not physically with you!
On the other hand, you'll encounter unique developments in the world of virtual reality and AI. For example, a company called British Condoms has developed a penis ring that tracks your performance during sex and records your metrics. That includes your thrusting speeds, sex frequency, skin temperature, and even the calories you burn during your bedroom adventures. You can even use an app to share your data with friends or strangers, which essentially lets you participate in the world's weirdest dick-measuring social network.
Still, while other toys on the market like sex dolls or blowjob machines use VR to connect you to porn or other virtual reality content, you won't find many penis rings that can do that, which is totally understandable given their purpose. But who's to say you can't strap on a c-ring and use a VR-compatible pussy or ass masturbator to bang your favorite pornstar in a simulated 3-D environment?!
Buyer's Guide: Find the Perfect Cock Ring for Your Dick!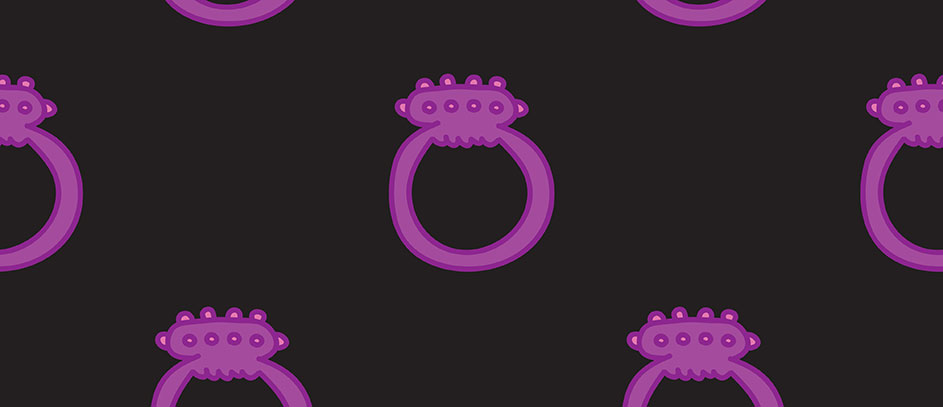 Look, I get it – the humongous choice of ring types, features, and materials can be overwhelming. If you have the dough, you could treat yourself to several rings and test them out. However, if you're buying only one, you should pay attention to several rules in order to make the most of your purchase. When I buy or review toys, I usually rate them based on:
Safety
Features
Effectiveness
Other users' experiences
My reasons for using the toy
Design and appearance
Key Rules for Finding Your Favorite Dick Ring
In addition to the above, I recommend you focus on the following rules to speed up your purchase:
Find the ring you like the best – It should turn you on and give you all the best features for you, your meat stick, and your partner.
Don't neglect your dick size – I'll cover this later, but for now, picking a dick ring according to your size is essential!
Your goals for solo or partnered use – Obviously, you're going to want to have sex while wearing your ring. But in what way? Do you want to use it for masturbation, penetrative sex, BDSM, public play, or something similar?
The brands – Find a quality product made by a well-respected sex toy brand.
Cleaning and durability – You should opt for materials that are easy to clean and will last a long time.
So Which Material Is the Safest?
If you don't know anything about safe ring materials, don't worry. There are only a few materials to avoid: jelly, PVC, and rubber. They are extremely susceptible to collecting germs and also contain toxic phthalates. Your skin can absorb them, and they'll just turn everything into a true shit show.
Instead, you should only choose hypoallergenic materials. They will not cause any problems for your skin. Some include silicone, TPE, or leather. Note that while silicone is non-porous and doesn't collect bacteria, materials like TPE and leather are the opposite. You can still use them if you must. However, just remember that you won't be able to sterilize them fully, and you'll have to replace them every couple of months.
Basically, if you don't want to think about anything I've just said, pick a silicone penis ring. It will stay safe for as long as you use it. Plus, it's incredibly easy to clean. And IMO, it's the best feeling material for cock rings.
Size Matters, Too
So how do you measure yourself for a cock ring? It's all about your dick's diameter here and not so much about your length. What you should look for is a penis ring that wraps around your donkey in just the right way, without choking the poor thing to death. Conversely, it shouldn't feel too loose either because that will defeat its purpose.
And to find the correct width of your dick, you'll need to take a tape measure or a piece of string. Then, wrap it around your flaccid peanut to find the circumference measurement. After that, use an online converter or do the math by hand to find the diameter. Most manufacturers will give you a measurement for the inside diameter, so just compare your size according to that. If you're getting a cock and ball ring, you should also measure your testes in the same way.
Here's a rough guideline of the most common ring holes:
Small: 3/8 to 1/2 inches or 9.525 to 12.70 millimeters
Medium: 1/2 to 3/4 inches or 12.70 to 19.05 millimeters
Large: 3/4 to 7/8 inches or 19.05 to 22.23 millimeters
What You Get For Your Money
As I said, you shouldn't expect to spend a fortune since these rings are available in several price ranges. This should give you an idea of how much money you'll need:
Up to $20 – There are some great basic options, but just make sure they come from reputable manufacturers.
$20 to $50 – This is the average price you should be looking at for various types of rings. One example is the Fifty Shades of Grey Love Ring, which you can read about in my recent review.
$50 to $100 and over – Spending this much will take you into premium territory. You expect to see high-quality materials along with tons of usable vibration options and other features.
Medical Uses
A quick health disclaimer before we move on: If you're looking for a penis ring to treat ED, be sure to consult your doctor first. That way, you'll rule out any underlying conditions that could prevent you from using this toy. That includes bleeding disorders, Peyronie's priapism, or difficulty urinating. If you get some medical advice and your doctor approves of it, then you can use your ring as an all-natural solution to your erection problems!
Portability
One way to spike up the hormones is to wear a cock ring or another sex toy in public. I do this all the time, and I love to experiment with my GF in public while she wears one of her butt plugs. It puts a nice twist on our daily chores. Also, it makes us hornier than rabbits since we're not able to masturbate with our sex toys when they're tucked under our clothes!
Now, the deal is that penis rings are highly portable, and you can basically hide any type in your shorts and go about your day. That also includes vibrating rings that your partner can control remotely to tease you until you start begging her for release!
Here's What You Should Avoid
Now that I've told you what to look for (and hopefully, you've remembered it instead of fantasizing about pumping up your junk with any c-ring), let's recap with some dos and don'ts:
Do…
Stay away from materials you're allergic to.
Look into the brand of your choice and check out what other users thought of their product.
If you have a partner, talk to them about your new ring and see if it has the features that would please them, too.
Take your measurements carefully and find the best fit according to your dimensions.
Don't…
Don't buy a cheap, no-name cock ring from China or wherever else. Always choose one that's made by a popular brand. This will guarantee your safety and maximize your pleasure.
Don't use hair ties, rubber bands, or any other DIY solutions unless you want to end up with bruises all over your dick.
Avoid buying a dick ring if you have an underlying medical condition – always talk to your cock doctor first.
Tips on Using, Cleaning, and Storing Your Cock Rings
"You'll become Big Daddy every time you use your cock ring. It will make your dick swell to the point of exploding! Every little vein pop will pop out to turn your dong into a massive pussy piercer! The best thing about it is seeing that "fuck me" look on Scarlett's face when I put it on and show her the monstrosity that's going to fill all her holes. Priceless!"
But wait up, I know what you're thinking: "So Mr. Turbo, do I just need to put my pee-pee into the hole in the middle?" Well, yes and no. You should be a bit more careful if you want to use your ring correctly.
How to Put It On Safely
My advice is to always start with lube. Before you slide your ring over your wang, cover the inner part with a few dabs of lube. Just remember to use a lubricant that's safe for your toy. For example, silicone penis rings need water-based lubes. Other types, like silicone-based or oil-based lube, could harm them.
The next step is to gently slide the ring over your flaccid or even semi-erect dick. Try not to push it over your erect boner because it could be too difficult. So just press it against the head of your limp cock and slide it down. If you're also using a ball ring, you should slather some lube all over your gonads and gently stretch the ring over your testicles, one by one.
After that, just jerk off to get hard or try some kinky foreplay with your partner. When your dick gets hard, the ring should feel tight yet pleasant without constricting you too much.
When to Take It Off
The general rule is that you shouldn't keep the ring on for more than 30 minutes. Also, you need to wait an hour between uses. This is important because extended use could cause some damage to the penile tissue.
However, it mainly applies to rings that have a tight fit. If the ring has a looser feel, and if it doesn't block your circulation too much, you can wear it for longer. Sometimes, you'll need to keep track of your circulation to see if you can keep going after 30 minutes. Obviously, if it becomes uncomfortable at any point, you should remove it.
Stay Clean
Even if you get a non-porous silicone ring, you'll have to clean it after each use. This is especially important if you use it with your partner for any type of penetrative sex. Moreover, it will keep your skin safe while also extending the toy's lifespan.
But don't despair: anyone can clean their cock ring quickly. All it takes is a bit of warm soapy water. You can put it under the tap and carefully use your fingers or a soft cloth to wash off any lube or bodily fluids. But remember that this toy is small and delicate. You shouldn't get too rough with it or stretch it out during cleaning.
Alternatively, if you use a cock ring made of another material like TPE, you should follow the manufacturer's instructions or even use a recommended toy cleaner to sanitize your toy.
Keep It Secret, Keep It Safe
Listen up. This is the last step for using your cock ring correctly. Basically, you'll need to wait until it dries before you can store it. I advise you not to keep it out in the open because it will collect dust and germs. Also, it's better if you keep it away from any other sex toys in your collection for sanitary purposes. And that's pretty much it: just use the original box or another container to store it safely until you use it next time!
Cock Rings Industry Overview
Now, in the beginning, cock rings were crafted in ancient China to boost the pleasure of sex and increase a man's vitality. However, their origin is perhaps the most bizarre in the entire history of sex toys, and while it has nothing to do with Frodo and Sam, it involves a lot of poor, innocent goats and some prostitutes! WTF?!
How It All Began
Somehow, somewhere, a horny Chinese guy realized that you can make your noodle harder and bigger by wrapping it in the eyelids of mountain goats. Yes, the eyelids of mountain goats – with the eyelashes attached! It sounds cruel and unsavory, but eye guess it wasn't such a bad idea after all. Obviously, you shouldn't try that in the 21st century.
Anyway, there are some more examples of Ming Dynasty rings from the 1300s. Luckily, the makers decided to give the goats a break and craft the rings out of ivory or jade. You'll also see early penis rings in Burma, Egypt, Africa, and South America.
However, the modern c-ring was invented back in the 19th century. It was initially created to decrease sexual urges and stop adolescent boys from masturbating. And I really don't get why. All of that anti-masturbation crap lasted until the 1950s, and doctors kept inventing strange leather and steel penis rings loaded with spikes to stop young boys from touching themselves. Or was there another reason? Goddamn, those filthy perverts!!! But wait, there's more!
Actually, we also have some prostitutes to thank for helping cock rings become mainstream. In the 1950s, hookers used thick rubber condoms over their clients. They were tight enough to block the circulation and cause a similar effect. Finally, in the 1960s, somebody found out how to make cock rings as we know them today and the sexual revolution began! I always knew there was more to that circular peace symbol than meets the eye! I just hope no goats were harmed at Woodstock!
What Are the Most Popular Brands Today?
Ever since the 1980s, sex toy manufacturers have offered their cock rings in countless variants and types. Today, we are truly spoiled for choice. I can tell you that you won't go wrong with a penis ring made by any top manufacturer. That includes Lovehoney, Tantus, We-Vibe, Lelo, Nexus, and several others. All of those companies make safe and reliable toys that will make your dick throb harder than a goat's knee. That was the last goat joke, I promise!
Cock Rings of the Future
But what should you expect in the next couple of years? Frankly, there's not much to innovate here in terms of the original design. A cock ring is a simple piece of equipment, and turning it into some miracle dick milker would change its original intention. Still, I've already shown you an example of a ring that can track your dick's vitals and your performance with VR tech. Those are the kind of innovations we should hope to see in the future.
Also, I wouldn't mind a smart ring that could stretch its size automatically according to the state of my cock. This could help out a lot of newbies and even experienced kinksters. Above all, if you're truly a tech nut and you want to experience new forms of cybersex, nothing is stopping you from investing in some next-level toys like the Autoblow AI. Then, just slide on a regular ring and get your dick sucked by a robot that mirrors the real-life movements of actual porn stars! Giddy up!
⚠️ Disclaimer: Our articles contain affiliate links. If you like our content and wish to support our work, consider purchasing your new sex toys through our links. For each purchase through our links, we receive a small commission but at no extra cost to you.
FAQ
Finally, let's cover some frequently asked questions about cock rings to make sure you're ready to use them.
By default, no. They will introduce strong pressure, but they shouldn't bring you any discomfort. They feel exactly as they should: as a constricting band around your penis. If, however, you feel any pain, it's advisable to remove your ring immediately.
Yes, cock rings are generally safe for all men who are healthy and are not troubled by circulation problems. If you have ED or any underlying health issue, it's safer to visit a doctor before using them. However, even if you are in good health, you should use them carefully.
Since cock-rings restrict the blood flow, they can cut off the circulation to your wiener if you use them for too long. As I said, the general limit is 30 minutes, but that will depend on your toy and your penis. If the toy is not tight or if you don't feel any numbness in your dick, you can extend your wear time carefully.
Absolutely! A cock ring will make your erection much harder than usual, and it will also make it look like you've gotten a lot bigger. Not only will this be satisfying for you and your erogenous zones, but it will also please your partner with much more intensity. Even better, you can buy vibrating penis rings to stimulate your partner during penetration. Other types like double penetration rings can also fulfill your partner's fantasies if they're into that. Either way, cock rings can lead to bigger and louder orgasms, and you can use them in various ways to improve your sex life!
This will also depend on your penis size and the intensity of your ejaculations. Some guys will feel like their semen is completely trapped when they cum with a cock ring. They might not be able to ejaculate until they take off the ring. Once removed, the orgasm could happen almost instantly, and cum could shoot out of your dick rapidly. But, other guys have stronger ejaculations, and they can cum while the cock is wrapped around their dick. In this case, the orgasm will be prolonged because the sperm needs to push its way past the dick ring. Frankly, the only way to know is to try it!
Yup, this is also a thing. If one ring doesn't get you hard enough, you can pair several of them along your shaft. For example, you can put one at the base, one in the middle, and one just below the head. This is often practiced by advanced users or people who have ED.
I strongly recommend you wear condoms during any sexual activity. You can and should wear one with a cock ring, but it's important to put it on correctly. Meaning, you should first put your cock ring on and then slide the condom over your shaft. It's unsafe to do it the other way around and wrap your ring over it because the condom could burst. Just make sure there's enough space between the ring and the condom to not cause any problems.