Jun/24/2022
Last Update: June 26, 2023
1187
23 min read
The Best Realistic Dildos In 2023: Better Than A Real Cock?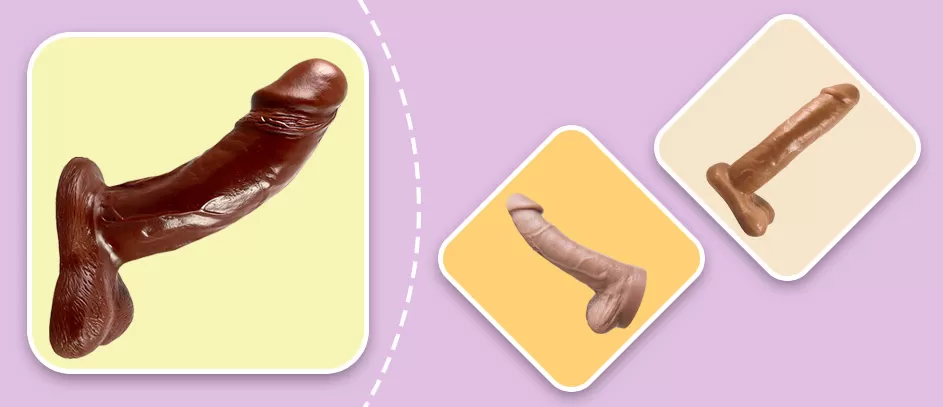 Sometimes, just a glimpse of a man's erect member is enough to make my little oyster gush. Really, a big hard cock is such a glorious (and intimidating) sight to behold! Just imagine that rock-hard shaft, throbbing pink helmet, and all those pulsating veins. And what about that shiny pair of swollen balls ready to explode? Slap me silly and call me a bad bitch! When was the last time you got some? If you're constantly craving a huge fat dick, big realistic dildos are one way to curb your appetite for a life-like dong.
I'm here to tell you all about realistic dildos and teach you how to pick the best one for you! Your pussy (and butthole) can thank me later!
Top 10 Realistic Dildos in 2023
"Scarlett, you don't need to tell me which dildo to buy. They're all the same!" Oh no, you didn't!!!
Honey, you need girls like me (sex toy addicts and pros in all things cock) to help you pick the best fake dick of your life! If you want to get dicked down right away with a big realistic dildo, check out my favorite dildos for 2023!
Realistic Dildos: Anatomically Correct Fun for All Your Holes!
Look, I'm not saying you're completely clueless about the type of love hose that makes your lady garden blossom. Frankly, the market is so massive that the choice of realistic dildos could be a bit overwhelming.
You might end up with a monstrous King Cock that doesn't fit your sensitive holes! Conversely, you could buy a tiny toothpick that's way too small and feels like you're fucking yourself with a pencil. Not to mention all those cheap or poorly made knock-offs that could wreak havoc on your vajayjay – and definitely not in a good way!
Obviously, I don't need to tell you how much I love realistic dildos (the huge kind, preferably). They became such a vital part of my sex life! I play with them all the time when I'm alone. Also, Richard and I use them when he wants to tie me down and screw my holes senseless. I've probably had more dildos inside me than real dicks, and I managed to settle my ass on a few favorites or the best of the best. Hopefully, my hard work has paid off and my list of top 10 realistic dildos has managed to inspire you in more ways than one. But, why are these sex toys so special and which ones should you choose for a night of hardcore debauchery?
From squirting realistic dildos that blast you with fake cum fireworks, double-headed dongs to fill up both your holes, realistic BBC dildos to make you gape like a queen, and so much more, I want to help you choose the perfect pussy or ass wrecker for you!
But What are Realistic Dildos Anyway?
What's so special about dildos that look like real cocks? Well, they look exactly like real cocks! No need to repeat myself… But they also feel like them, too!
I get it. If you were looking at sex machines, automatic thrusting toys, AI vibrators that cup your G-spot, and all sorts of next-gen toys all afternoon, then these realistic dildos may not look all that special. But if you worship the look of man meat and you need to get off by feeling a hard wang inside your vag, bum, or throat, realistic dildos are truly the next best thing. Or, depending on how you look at it, they might be even better.
If you're sick of those girly purple vibrators or other sex toys that look nothing like a proud erect dong or you're just dying for a thick and veiny piece of meat (but without that "special" male brain attached to it – seriously, what the heck is going on in there?!), a realistic dildo is always the answer! For one, these toys are not attached to a living and breathing male Homo Sapien! They won't make funny movements and awkward noises. Better yet, they won't ask you to make them a sandwich after hanky panky! And what about all those times when your "stud" blew it all way too early? Tragic!
Real Feel for a Wild Dicking
Don't get me wrong, I like men, and I worship the cock. Sometimes, I just need to get a giant monster inside me without any consequences or relationship woes. And for those purposes, a huge realistic dildo is one of the best toys. It's simple, classy, and it will always stay hard for you. Even better, it pairs well with any kink and even another sex toy or a real dick!
Basically, here's what your sweet, wet holes should expect:
A magnificent cock substitute that looks and feels like the real deal.
You can pretty much use a realistic dildo in any way you want, whenever and wherever.
Perfect for your clam and tush. Or your mouth, if you really need to feel it deep down your throat to trigger your big O!
An awesome alternative to help you stimulate DP threesomes or experiment with other kinks like pegging.
Finding the Most Realistic Dildo of Your Dreams
Nowadays, there's no shortage of both standard and weird sex toys. All of them allow you to experience any type of worldly or otherworldly climax. You'll come across butt plugs, nipple clamps, ball gags, pussy pumps, anal beads, and so on.
Most of those toys require you to learn a bit about them before you use them. However, the most realistic dildos are pretty self-explanatory. These insertable toys are intended to slide inside your Batcave, your chocolate starfish, and your mouth. I love all three options, but I'm not telling you to stick a big black monster dildo into your gentle sphincter if you don't want to. You're still missing out, tho!
Oh, and super realistic dildos will also give you an attached pair of balls to play with! I love it when those fake balls bump up against my clit and push me to cum hard! All in all, realistic dildos are pretty much the closest thing you can get compared to a real womb raider, but that's not all. Realistic dildos also encompass a wide range of types and variants.
Types of Realistic Dildos: Which One Do You Want to Grab First?
Now, look here, girls – aside from the standard meat and potatoes (pardon the pun) realistic dildo, you'll also encounter various other types with extra features.
In my case, I have several dildos that I can grab depending on my mood. I'll sometimes take out a few massive dongs to get dominated by Richard. Alternatively, if I want a quick dicking that gives me strong multis, I take out some realistic vibrating dildos. Plus, I treat all my realistic vibrating dildos equally, but that may not be the case for you. Fortunately, you and your punani can choose any type that you prefer. You don't have to buy a brutal alien dildo or a fake cum shooter if that's not your thing.
Just remember that some hyper-realistic dildos will suit certain acts like oral or anal play better. Others will perform great for solo vaginal fun. Therefore, you could start by choosing one that fulfills your deepest desires.
Realistic Vibrating Dildos
Remember when I said that most realistic dildos are quite simple? Well, if you love to feel roaring vibrations outside and inside your muff, realistic vibrating dildos will do that for you.
With realistic vibrating dildos, you'll get the same basic shape of a super realistic dildo. However, it will have a vibrating motor on the inside. That way, you'll get a meaty, fun stick plus motorized vibration to push you over the edge. The main difference between a realistic vibrating dildo and a standard ultra-realistic dildo is flexibility and weight.
Namely, when you put a vibration motor inside a flexible real-feel dildo, it will make it less bendy and a bit heavier. To me, I rarely ever notice the difference. But I'd feel guilty if I didn't point it out for you. It's not going to affect you unless you want to slap yourself with it in the face or stick it down your throat. The motor could really do some damage in that case.
Anyway, you'll get most of the typical vibration functions with realistic vibrating dildos. That includes controls to adjust the speed, pattern, and vibration strength. If you prefer, you could get this type of big dildo with a remote control to change the settings remotely. For example, you can start off slow to tease your pearl. Then, turn up the intensity as you push it deep inside! Welcome to Squirtville!
Realistic Strap-On Dildos
What if you really want to grow a huge anaconda and make your partner beg for it? Oh, darling, I can't tell you how much fun I've had with realistic strap-on dildos. Just ask Richard or some of my kinky girlfriends! Like, you just strap it on, and you're suddenly packing a massive beast that would make any dude out there envious!
The whole point of strap-on realistic dildos is fairly obvious. They're attached to a harness of sorts. That way, you can wear them over your crotch. Then, you can use the dildo just like a real penis. Typically, these types use various attachment methods. That includes jock-straps, g-strings, or a panty harness.
Granted, it will take a while to get accustomed to the feeling of having and using a big fake realistic strap-on dildo strapped around your waist. But the rewards will definitely be worth it! These toys can turn you into a dick-wielding Goddess. You'll get to choose when your slave(s) get to be rewarded or punished!
Realistic Squirting Dildos
Not every girl is a self-professed cum worshipper. But, if you really wanna have fun with semen without all the baby-making business, a realistic squirting dildo will be the most delicious treat.
These dildos look just like any other life-like dildo. Yet, they have a tube on the inside and usually a hand pump on the other end. Yes, it lets you shoot fake jizz from the tip! The artificial semen is usually some type of cum lube. It replicates the texture, color, and even the salty taste of semen! Om nom nom nom!
But does faux jizz feel accurate and taste the same? IMO, if you're a perfectionist, it's not 100% identical. It might even taste a bit better, especially if your real-life dick for reference is on a bad diet. Still, these dildos never got me pregnant when I wanted to live out my hardcore creampie fantasies. Plus, if you're a true semen demon and a real sucker for huge facials or even bukakke and impregnation fantasies, these toys will never run out of juice! Honestly, with these dildos, you can have your cake and eat it! And oh, how I gobbled it all down my throat.
Double-Ended Realistic Dildos
Are you a "double trouble" kind of woman? Some girls are up for DP any day of the week, and others are a bit more sensitive. Either way, you can use a double-ended realistic dildo to penetrate both holes at the same time. These dildos are usually super long, and besides using them on yourself, you can also use one with a partner simultaneously.
Do I even need to mention all the possibilities of a double-ended realistic dildo here? Let me see – there's pussy to pussy, pussy to ass, ass to ass, mouth to mouth, and so many other adventures!
Suction Cup Realistic Dildos
Ah, the suction cup. Trust me when I say that this is going to become one of your favorite features ever! If you've never used a toy with a suction cup, you're missing out, gurl! Suction cup realistic dildos basically changed the game for me. They give you maximum control and enable you to drill yourself from any angle you like!
A suction cup dildo can stick to surfaces such as tiles, doors, shower walls, bathtubs, or any other hard or flat area that you can think of. That includes chairs, headboards, and even mirrors or windows if you're feeling extra adventurous.
Usually, the suction cup attaches your realistic dildo to a surface and keeps it in place. These toys look like standard realistic dildos with balls. But, they can get a bit heavier due to the suction cup at the base. Still, you don't have to worry about the weight because you'll end up sticking it on a flat surface anyway.
From there, there's no need to hold the toy in your hands anymore. You can climb on top of it, pound yourself from the back, or experiment with any other positions that make you cream. This is my favorite type for balls-deep and life-like ramming! And the best part?
Using two suction dildos can help you live out some intense spit roast or DP positions. Also, you can use a suction dildo with a partner for a super-realistic threesome experience.
Other Types
Of course, that's just the tip of the iceberg, and there are many other variants of realistic penis toys. Some include:
Realistic fantasy dildos – Perfect for role-playing, cosplay, or other fetishes if you've always fantasized about getting pummeled by werewolves, vampires, aliens, tentacles, dragons, or even the Incredible Hulk.
Realistic monster dildos – The most massive type of realistic dildo you can get! It's bigger than your usual 10-inch large dildo, and the sizes usually go from 14 inches and up.
Realistic double penetration dongs – This type gives you two dildos that form one toy, usually with a suction cup. An excellent choice for any DP princess!
Thrusting penis dildos – These dildos have a built-in thrusting motor to simulate real-life up and down movements automatically. They could also twist, rotate, extend, and use all kinds of other movements to please your kitty like some sort of robot sex slave!
Balls, Veins, and Other Impressive Features
Now, I've already covered most of the features you can choose depending on the type of dildo that gets your juices pumping. However, you should expect to get several common features regardless of the type:
Flesh-like texture
Real-feel material
Super-realistic look
A wide choice of skin-like colors – you can also pick see-through realistic dildos or fantasy dildos in all kinds of unusual shades.
Anatomically correct proportions, foreskin, raised veins, frenulum, dick tip, big balls, and all the other visual elements of a real cock. Trust me. This isn't only a look thing. All of those curves, bumps, and lines will make it feel like there's a real dong inside you!
Aside from those common options, you'll also encounter smart dildos with AI or VR features. Granted, this is more common with smaller vibrators or G-spot massagers. However, some realistic options are out there. For example, they could use AI to make you orgasm hands-free or VR technologies to sync to your favorite porn and track the movements. Plus, AI and VR dildos are becoming a favorite for millions of long-distance couples who need to pleasure themselves remotely.
The Softest Materials for Your Honey Pots
I'm pretty sure that we are all material girls who need to buy and use a sex toy that looks and feels amazing. One part of the appeal for realistic dildos is their fleshy texture and lifelike color that makes it all worthwhile. If you love the feeling of a warm and hard cock in your hands, around your lips, and inside your velvet vaults, it only makes sense to look for a dildo that gives you a similar feeling.
However, not all realistic dildo materials are equal. Some can turn into an outright disaster. If you want to stay safe, the most common materials you'll find are silicone and TPE. These are pretty easy to wash and maintain. Plus, they will not wear out quickly.
The difference is that a realistic silicone dildo is non-porous and doesn't absorb germs. This makes it a bit less flexible compared to TPE, which is bendier but requires thorough maintenance. In contrast, TPE is porous and can collect bacteria; but it's still safe if you clean it properly. If you run into alternatives like rubber, jelly, or plastic, stay away from them because they can be toxic to your skin!
How to Buy Your Realistic Dildo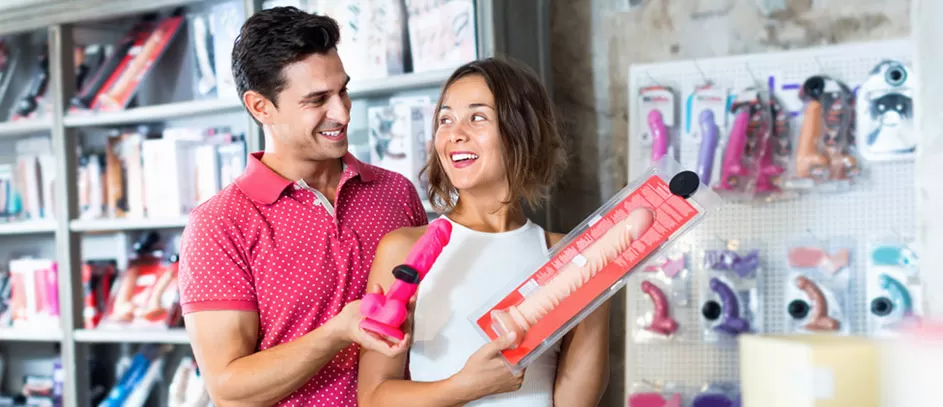 Eeny, meeny, miny, moe, how will your pussy pick your new dildo? Listen up, ladies! I know that we are all suckers for shopping sprees, but you could end up spending a fortune if you impulsively buy dozens of fake cocks without thinking. Yes, I would love to own a storage facility full of dildos! But I think you'll be better off if you do your research and buy one or two realistic dicks that really get you off compared to a full toy collection. So, check out my buyer's tips below!
The Basics of Fake Cocks
Obviously, it's tough to recreate the feeling of a real erect yogurt launcher. The same goes for other sex toys that replicate vaginas, asses, and so on. It's next to impossible to recreate real living tissue unless we can find some next-level tech to create clones of real cocks. Ah, that sounds freaky, but I'd be down for it.
Still, in my experience, hyper-realistic dildos can get incredibly close. You can flex them, squeeze them, and even bite them, just like the real deal! Most of the quality options out there have springy body-safe materials that can bend according to your movements and positions. Some can even be warmed up in hot water to increase the realism even further.
Either way, just bear in mind that you won't be getting a 100% real penis, but an incredibly close replica of it with some extra benefits that men simply won't understand. As in, STFU, Richard, and stop asking me to make you that sandwich after you blasted me full of spunk!!!
Your Best Dildo Buying Checklist
When it comes to buying new dildos, my pussy and I have an agreement. Actually, it's a short list of things that I always focus on before I spend my money. So be kind to your kitty and try to purchase your super realistic dildos according to these rules:
Round up all the realistic dildos that you like the most – you can even use my own list or check out my previous dildo reviews for some inspiration.
Does it make you wet? Think about which cocks you're attracted to the most. Then, try to find a dildo that looks the hottest.
But don't eat with your eyes only: the size and materials are equally important!
Focus on some additional features or specific types that you want to experiment with.
Check out the brand and the manufacturer to see if they're reliable.
Inspect the manufacturer's safety specs, cleaning tips, and so on.
Size and Materials – The Most Important Decision
Look, I know it can be tempting to go for the biggest cannon there is if you've been spoiled by a bad boi in college or if you're not satisfied with your partner's size. There's no shame in wanting more. However, it's really important not to overestimate your capabilities here. You may not be as deep as you thought!
How to Pick the Perfect Size
Basically, if you go with your eyes and get the biggest dong, your dildo might feel awkward or even uncomfortable. Here, you have to remember that the average vaginal depth is around 3 to 6 inches, which is also the range of the average dildo size. Studies have shown that most women buy dildos that are up to 6 inches long, and this will be enough to satisfy most of your needs. If you know that you can handle more and if you are trained to do so, then, by all means, go big!
Furthermore, you'll usually see the size measurements listed with the product, and besides the length, it's also crucial to focus on girth. The average dildo width here is between 1 and 2 inches. Ultimately, the goal is to settle on the width and length that you enjoy the most. For example, if you want it smaller and thicker, choose your measurement according to that.
Which Material Feels the Best?
To quickly recap what I said about materials earlier, I advise you to choose only between TPE and realistic silicone dildos. These are the safest options that you can use without thinking too much about your safety. Still, if you want a TPE dildo for extra stretchy realistic feelings, remember that you'll need to take extra care of it. If you don't want to worry too much about all that, pick a silicone penis toy.
How to Buy a Fake Dong Discreetly
Do you feel weird about entering a sex toy shop and grabbing a dildo off the rack? Most women do! Fortunately, you don't have to wear disguises to an adult store anymore, and you can just buy your toy online discreetly. This is pretty self-explanatory, but if you're unsure, just note that no one will know you've ordered a dildo online. It will arrive at your home in an unlabeled box to fully protect your privacy.
Dos and Don'ts
To round off this section, here's a short list of do's and don'ts to aid your dildo purchase:
Dil-Do…
Buy a product from a reliable and respected manufacturer.
Check out some user reviews or even my own articles to get a first-hand look into your chosen dildo.
If you're adventurous, you might be able to find some porn featuring your toy so that you can see it in action and even get some inspiration.
Focus on the look, size, and quality of the toy based on your physical capabilities and your wishes.
Think about your orgasm: if you need something for a strong G-spot climax, find a bigger or angled dildo. If you only want to use it in combination with a clitoral vibe, a smaller size will work great.
Dil-Don't…
Avoid shady no-name manufacturers and cheap toys because they frequently use jelly, PVC, rubber, and other toxic materials.
If you're unsure, don't grab the biggest dildo you see. A better alternative is to buy a few and then experiment with the sizes or train your way up.
By all means, don't feel guilty or ashamed of buying a dildo. It's the 21st century, and nothing can stop you from exploring your sexuality!
Tips on Using, Cleaning, and Storing Your Realistic Dildos
I think I've given you more than enough ideas on how to use your new ultra-realistic dildo by now. However, if you're a total dildo virgin, let's cover the basics.
Hopefully, you know that the dildo is meant to go in your fanny, butt, or mouth. To make everything go smoothly, my best tip is for you to get nice and horny first. So use your fingers, grind on some pillows, or do whatever it is that you normally do. Then, the crucial step: you must lube!
Even if you're gushing like a tsunami, the dildo will still need some artificial lubrication. This is because the toy is completely dry, and you'll need to get rid of any friction while inserting it. Plus, using lube will feel even better! But, note that not all lubes will work with your realistic dildo. Silicone and TPE toys are extremely sensitive to oil and silicone-based lubes, which means you should only use water-based lubricants here. If you get the wrong lube, you could damage your toy and render it useless.
After that, just slide the thing in and head on straight to D-Town! Not much else to say here except that you should use your soft dildo in the way that gets you off the most. So push it in or out, jump on it, slap your clit with it, pop a butt plug in your ass, and do whatever else it takes to push you over the edge!
Vaginal, Anal, and Oral Use Warning
Look, I've been through it all, and that's why I have to warn you not to swap holes if you're using your dildo. I know, I know, sometimes your lady muffin gets a bit numb, and you get so horny that you need to feel that dick in your butthole. If you want to experiment and switch holes, never do it with the same dildo. This can lead to bacterial infections, and it can also ruin your toy. I prefer to have a few anal-only or pussy-only dildos because that saves me the trouble of using condoms.
If, however, you only have one toy, you have to wash it between uses or slide a condom over it. Anyway, this is basic sex knowledge here, and I don't think you'll have a problem with it. Just focus on getting your asshole stretched out by a huge realistic dildo, and it will all be worth it!
Now Clean It Off!
No, not with your mouth, you dirty brat! Here's the deal: you must clean your dildo after you use it. The reasons are obvious, but you also have to clean it properly in order not to damage it. This will only take a few minutes, and you'll need to use warm soapy water. You can run your dildo under the tap and wipe it off with a microfiber cloth afterward.
Alternatively, if you have a realistic silicone dildo and you want to disinfect it fully, you can dip it in boiling water for a few minutes. After that, make sure your dildo is dry before you stash it away. And another quick disclaimer here: some realistic dildos with extra features, like those that vibrate or ejaculate, might require additional cleaning instructions, so study the manual carefully before you use them.
The Fascinating World of Realistic Dildos
"The history of dildos? It all began with some prehistoric lady (or dude) who had an undying thirst for 8-inch dongs! Also, a guy in a wheelchair had something to do with it."
Isn't it wonderful that all of us are encouraged to explore our sexualities and to have the means to get off in whatever way we like today? But how did it all start, and what is the future of realistic dildos?
Dildo Origins
It's generally tough to trace the history of many sex toys, but that's not the case with dildos and other phallic-shaped objects for penetration. In fact, we know that the first dildo was invented 30,000 years ago during the Upper Palaeolithic era in current-day Germany. It was, however, made of rocks, which is definitely something you don't want near your sweet poon. Still, the thing was nearly 8 inches long, so kudos to the person who invented it.
And that's not all, tons of early prehistoric dildos were discovered, and some of them were even double-headed! Those must have been some grade-A prehistoric cave orgies!
From there, we see all sorts of DIY dildos made of wood, stone, bone (hehe), ivory, and even tar or teeth. There are examples of early dildos in ancient Egypt, ancient Greece, Japan, and medieval Europe. Most of the early dildos were used for sexual purposes, while some cultures also used them for defloration rituals or worship ceremonies. In the modern era, we see examples of glass dildos in the late 1500s, and some of them were even mentioned in Shakespeare's plays in the 1600s.
However, the dildo as we know it today was invented in 1965 by Gosnell Duncan. It was made of silicone, and Duncan created it as a substitute for his paralyzed dick after he had a tragic accident that confined him to a wheelchair. It wasn't until the '70s, '80s, and '90s that realistic dildos became a huge hit among women and men. This was due to the wide availability of silicone or TPE materials and the great demand of people who wanted to stuff their holes with fake cocks.
What Does the Future Hold?
Right now, we don't only talk about sex toys and use them to blow our minds, but we also update the existing designs to create something fully unique. You only need to check out some of the most popular brands today to see the sheer level of innovation. Indeed, the prices are dropping while the quality is improving and the functionalities are getting more high-tech every day.
Some examples of industry leaders that you could follow are We-Vibe, Kiiro, Lovehoney, Lelo, Adam and Eve, Doc Johnson, Lelo, and so on. These brands are constantly innovating on the relatively simple design of dildos, vibrators, and all kinds of sex toys to bring them into the future.
Speaking of the future, the most high-tech dildos out there are built with futuristic tech, including AI and automation. They are changing our solo and coupled sex lives by introducing us to some sensations that just aren't possible through vanilla sex.
When it comes to next-gen sex toys for people with vaginas, I would love to see smart dildos that learn the nuances of your orgasm without you having to use them at all. Will this replace a man or a person with a penis altogether? I hope not, and I also hope they can coexist and fuck us together until we flood the floors and cover the walls with our squirt!!!
⚠️ Disclaimer: Our articles contain affiliate links. If you like our content and wish to support our work, consider purchasing your new sex toys through our links. For each purchase through our links, we receive a small commission but at no extra cost to you.
FAQ
This is a bit of a tricky question, and I guess that lots of ladies want some answers. For one, buying a dildo without consulting your partner could hurt their feelings. Men can be self-conscious regarding their size and performance, which means that they could have a problem with you buying a dildo. But don't lose hope. The way to solve this is to talk to your partner and tell him why the dildo would be a good idea for both of you.
Sweetie, it will all depend on your anatomy and your preferences. If you're someone who prefers clitoral orgasms, a dildo will give you deep and intense stimulation from inside, but you might still need to use your fingers or a clitoral vibrator to fully get off. If you prefer G-spot, anal or mixed orgasms, chances are that you'll need to use your hands or ride the dildo for some time until you cum. The best way to know is to listen to your body and to (hopefully) masturbate enough on your own so that you'll know what makes you tick.
Yes, by all means, yes! Don't be afraid to experiment here. You can use dildos with vibrators, butt plugs, nipple clamps, handcuffs, ball gags, and so much more. It will be fully safe if you take good care of your toys and clean them properly. One tip here is to avoid storing them together to avoid germs.
Well, this is up to you. If you don't want to wait for the right guy or if you want to do it all on your own with ultra-realistic dildos, it's generally okay. Anyway, most people agree that defloration refers to the act of a woman having penile intercourse for the first time. Even though you'll tear your hymen with your super realistic dildo, it still won't count, depending on how you look at it.
Even though tons of people use cucumbers, carrots, and all sorts of DIY solutions, that is generally unsafe for beginners and could pose some health hazards. I would not recommend you do that if you're a newbie. Besides, realistic dildos feel much, much better compared to fresh veggies, and if you leave your cucumber in the fridge, you'll also have a healthy post-orgasm snack!
It's your call. If you want to keep it away and protect your privacy, just store it in your night table or closet. Just make sure you have easy access to it in case of a dildo emergency!
Not at all. Lots of people are into brutal dildos, and part of the appeal is that you can't always find them in real life. If that's something you're into, you shouldn't feel ashamed. However, bear in mind that these types of huge realistic dildos are only meant for expert users. If you don't know what you're doing, they could harm your vagina or tear you a new asshole.