Jul/04/2022
Last Update: June 26, 2023
1023
23 min read
Best Huge Dildos For Girls In 2023 Who Want The Biggest, Thickest, And Craziest Cocks Ever!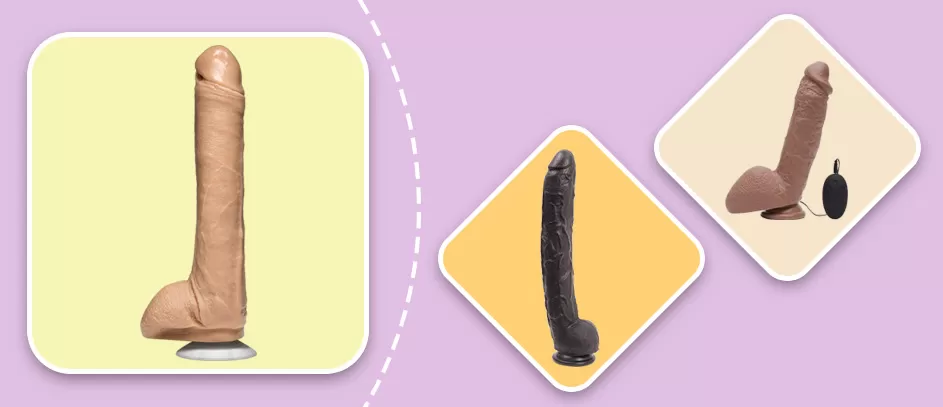 There's something about feeling completely stretched out that always puts a smile on my face. Oh, and it makes me squirt so freaking hard. And what if you're like me and you simply need to spread out your pussy or butthole wide until you feel every inch of a humongous hard cock? Baby, if you're reading this, you're most likely a slutty size queen with a strong appetite for extra-long and fat cocks. But what are the best huge dildos out there? Well, if you finally want to get your ass handed to you by Big Daddy, I'll show you the most amazing giant dildos to play with (and fuck raw!).
Top 10 Huge Dildos in 2023: Tested Balls Deep!
Whether you're a bonafide size queen looking for a challenge or you simply want to ram your rear end with a 16-inch monster, finding the top extra large dildos is not as easy as you think. You can't just shove any monster dildo up there! You need to watch out for several key factors. That includes the size, materials, features, price, etc. But if you need a huge dick inside you ASAP, check out some of my top 10 huge dildos:
Huge Dildos: Something Wicked This Way Cums!
"We can't all be princesses… But… We can be size queens who get down on all fours and take a bigger-than-life brutal dildo deep up their tight buttholes! Your huge monster dildo will make you cum like royalty until your gaping holes are sore from squirting all over the place!"
In most cases, everyday citizens use huge dildos as novelty items or joke gifts. Just check out the reviews on Amazon. You'll come across some rather odd ideas! You can use big dildos as coat hangers, bookends, cat scratch posts, door stops, etc. Heck, some people even draw smiley faces on these things and drive them around in their cars…
But what if you want to skip all that funny business and get really deep into it? Well, my huge dildos unleash my deepest and nastiest fetishes. It's like my body constantly craves them! I have absolutely nothing against smaller dicks and dildos, but big dildos can truly take things to a whole other level.
As Big As It Gets
So what's the deal with big dildos anyway, and why does it feel so bizarrely satisfying when I slam my 14-inch BBC dildo deep down my throbbing cunt? Well, if you want to be a big girl and buy your first huge dildo, I suggest you carefully follow my tips. I'll tell you about the kinkiest ways to use these massive monsters for extra wild orgasms. Plus, I'll show you some of the most common types of XXL dildos to get you started!
However, it's time for a little disclaimer. if you want to ask your sex toy expert Scarlett here to show you everything you need to know about huge dildos, you're probably already hooked on pushing massive things inside you. You might already know how to make your holes gape with giant dicks, fists, or various sex toys. Nevertheless, I have to warn you from the get-go. These extreme sex toys are obviously not meant for newbies! Some people may need to train for years until their holes are ready for an extra girthy dildo.
But, if you're already trained and want to push your limits further, all I can say is that super long dildos are awesome tools for extra kinky adventures and truly massive orgasms. Trust me: you can use one or several massive dildos on your own to get fucked like never before!
What's a Big Dildo?
If you've ever seen XXL dildos before, and you couldn't imagine them being used for sex, you'll definitely need some training, sweetie. Sure, a dildo that's two feet long, extra wide, and super floppy might seem like it's only good for slapping people around. However, tons of kinksters love to use them for their original purpose: balls-out penetration and bigger-than-life orgasms!
Obviously, big dildos are extremely large sex toys. They provide the most intense penetrative pleasure out there. They can appeal to size queens who love massive cocks but can't actually find one in real life. Big dildos are also loved by people who consider them a fetish in their own right. Either way, the ginormous length and girth of these extreme sex toys can provide unparalleled sensations.
Type of Huge Dildos
You'll find several main types of big dildos out there. However, the differences between them will not be as pronounced compared to, let's say, the features of different vibrators. Basically, a large dildo is a scaled-up version of a regular dildo. While those toys are known for being some of the most simple yet effective fake cocks out there, extreme dildos will take things a step further.
Typically, the most basic type you'll see out there are super big realistic dildos. These XXL dildos look and feel like a real cock. Yet, I guarantee they'll outmatch almost every big dick that you've ever had inside you!
My key tip here is to consider the type first. Then, find something that genuinely drives you wild. For example, you can opt for something realistic, like a BBC extreme dildo. You can also choose a fantasy variant like a Bad Dragon dildo. For a taste of what's to cum, check out the most common types of brutal dildos:
Large Silicone Dildos
Large silicone dildos might become some of your favorite toys for your homemade gaping adventures and brutal gangbang fantasies! These colossal beasts are made of silicone. This is by far the best and safest sex toy material out there. These dildos are body-safe, hypoallergenic, and non-porous. That makes them ideal for extra deep adventures of the flesh.
If you want to pound your guts out, silicone is a highly bendy material. It provides a smooth texture and just the right amount of pressure. What I like most about silicone dildos is that you can use them without worrying about germs or allergies.
Also, an average 10-inch silicone dildo will weigh around 1.5 lbs, which is not too much given its impressive size. I always say that, when in doubt, you should go with silicone. You'll be able to choose from all sorts of life-like or fantasy colors and shapes. Plus, you'll get features such as throbbing veins, a pronounced head, and a big pair of cojones!
Large PVC Dildos
Another type you'll commonly encounter are PVC dildos. These thermoplastic dildos are usually the cheapest. You might be tempted to save some cash on them. However, while they look relatively safe to use, they are highly porous.
They also contain unsafe plasticizers called phthalates. These chemicals make the materials even more flexible compared to silicone. One way to use them safely is to disinfect them every time. However, since these extreme dildos are so porous, there's no guarantee that they won't absorb some germs during play.
My tip here would be to avoid PVC dildos completely. The same applies to big dildos made of jelly or rubber. If you love the texture and soft feel of PVC, jelly, or rubber, look for phthalate-free alternatives.
Large Glass Dildos
I've covered glass dildos extensively in a previous article, but let me tell you that extra large glass dildos are a whole new ball game. While these dildos look like something you'll want to proudly display on your mantelpiece, they pack a hell of a punch.
Huge glass dicks are some of the greatest toys for hardcore penetration and wide stretching. This is all thanks to their hard yet crystal clear texture. They can have a phallic, non-phallic, or fantasy shape.
Basically, you'll get an unyielding weapon. It will flex your holes to the max without bending! This is an entirely unique sensation. However, you'll have to be careful at all times because large glass dildos can get quite heavy.
What's more, these toys are made of highly resistant borosilicate glass. While they will never crack inside you, you could damage them by dropping them. Since they're heavier and bulkier, they could also limit you a bit in terms of positions and speeds. That's why you will need to handle them with extra care. Still, how does it feel to shove a 12-inch glass dildo deep inside my wet pussy? It's one of the greatest sensations in the world to me, and the rewards are definitely worth the extra effort!
Large Metal Dildos
Believe me, there's nothing like getting tied up on all fours and having your partner slam your butthole with a massive metal dildo. If you want to squirt like a slut, I've got you covered. Seriously, these types of brutal dildos are the ultimate tools for BDSM and kinky fetish play!
Much like glass dildos, large metal dildos will also give you a straight or curved shaft that will never bend. They are mainly known for their cold surface that heats up inside you. At the same time, they'll create unusual sensations as your holes tighten up around the shaft.
What's more, there are various options for metal or steel dildos out there. That includes dildos with handles, textured shafts, or even hook-like objects with a ball-end for ultra-intense asshole or G-spot play. These huge metal dicks look beautiful to me, but one drawback is that they can be heavy and rigid. Yet, they'll give you an ultra-smooth surface and a kinky look that will go well with all your filthy fetishes.
Consider These Super Long Fake Cocks:
Realistic huge dildos – If you're looking for the real deal (but bigger and better), realistic dildos are the way to go! Only extreme dildos will be able to fulfill your fantasies for engorged monster cocks.
Squirting huge dildos – These huge dongs can shoot out fake cum: a perfect treat for all semen lovers! Since they're much bigger than regular squirting dildos, they will pump out more jizz. That makes them ideal bukkake, hentai, or any other fantasy involving sweet loads.
Huge strap-on dildos – Have you always fantasized about strapping on a monster cock and fucking your partner until their eyeballs pop out of their head? Strap-on dildos are perfect for that, but just remember to be extremely careful when using one with another person.
Huge anal dildos – There are many different types of massive anal dildos out there. Some can be extra wide for extreme gaping, while others can even be shaped like beads. These toys are the ideal treat (or punishment) for all hardcore anal fans!
Fantasy dildos – This type includes dicks shaped like monsters, horses, dragons, tentacles, egg-laying aliens, and many other non-human appendages. They're the ideal choice for all lovers of cosplay, hentai, roleplay, anime, etc.
Inflatable dildos – If you love depth play and the intense feeling of fullness, you can inflate these types during penetration to push your limits even further.
With Great Power Cums Great Responsibility
If you're an overachiever and take your dildo for all it's worth, you should get familiar with some of the safety concerns. This applies to any type of dildo out there.
Just like any other toy, the trick is to train yourself until you can take it without any issues. However, with such a massive size, you have to pay extreme attention to your body. You need to know exactly how much you can take! Seriously, using these toys will feel like you're trying to push a big couch through a small door, and you'll need to know your limits.
Fortunately, monster dildos will be safe for your body if you use them correctly and you know what you're doing with your honey pots. One tip is to never play through the pain and always know how much pressure you're feeling.
Of course, some people love to feel a little pain that comes with a big stretch. To proceed, you should focus on your own anatomy and think about the sizes you've had in the past to see how big you'll need to go.
Depth and Girth Play
If you're not really sure how a massive dildo could bring you pleasure without hurting you, it's time to learn some of the basics, missy! The whole allure of big dildos is to give you a unique filling sensation during penetration. This can feel incredibly pleasurable but also quite challenging or even mildly painful at the same time. Some people worship XXL dildos due to those sensations, and others might like them because they look enormous, intimidating, and a little scary.
Nevertheless, the whole point of an increased length and width is to give you unique depth and girth play sensations. You might enjoy a brutal dildo solely for its width and the way it spreads your anal or vaginal muscles. Alternatively, you might love it for the girth plus the length for deep penetration.
Here's what you should expect:
High-pressure girth and depth play
You don't have to drill your ass fast and rough with these dildos if you don't want to. Some people love using these dildos for slow penetration where even the slightest movements can push them over the edge.
The visual appeal will play a huge part in your pleasure. You can worship your dildo, get intimidated by it, stroke or lick it to get horny, or have your partner use it on you for some hardcore kinks.
The differences between vaginal and anal play will feel much more pronounced compared to using average-sized dildos. Some girls love using these toys only for anal play, while others prefer them in their vaginas.
Contrary to popular belief, they will not make your holes lose their elasticity. They'll actually make your muscles even tighter!
Buyer's Guide: Go Big or Go Home!
There's no question that keeping an extra big dildo around would make it a great conversation piece. But that would just be a waste of a damn good dildo! If you want to play little red riding hood and the big bad wolf, my advice would be to focus on the look, size, and features of your new dildo.
Since you'll need to find a monster dildo that pleases you just the way you like it, you should check out all options before you make the big decision. If you are already trained, you could grab that 14-inch BBC anal monster straight away; if not, you should start with a smaller size and move your way up.
What You Need to Look For
You don't need to get an ultra-realistic fake cock if you're not into it. There are many girly pink dildos, non-phallic shapes, and fantasy monster cocks to give you exactly what you seek. The key is to focus on you and your wishes. Here's a checklist of things to cover while buying your extra-long dildo:
Research all the dildos that you're interested in and carefully compare their specs.
While your dong should look hot to you, you will also need to inspect its size and width measurements, as well as the materials it's made of.
The materials aren't only important for your safety. All of them create different types of pleasure!
Do you need a vaginal or anal dildo? Some may not be suited for backdoor play, so you'll have to know what you want from the start.
Do you want additional features such as vibration or unique textures? You should inspect the quality of those features to see if they're worth the higher price.
Look into the manufacturer and brand to see if their toys are reliable and if people genuinely enjoy their creations.
The Bigger They Are, The Harder You'll Cum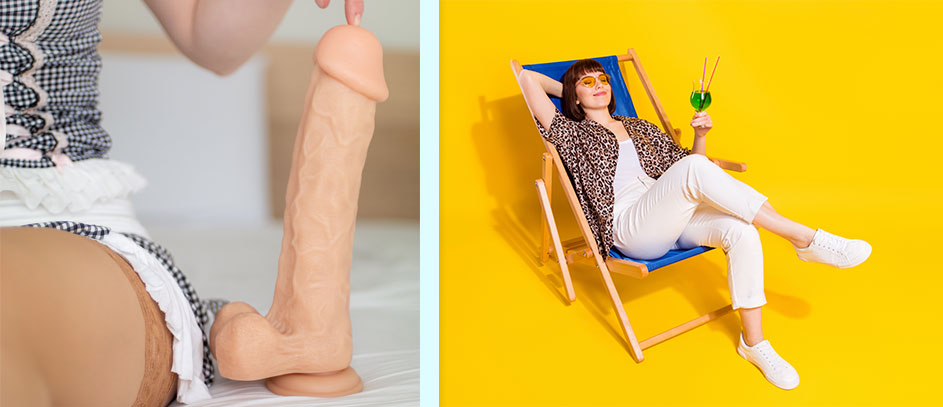 Look, I know that you're probably not going to be impressed with a micro dildo or a pencil dick if you've made it this far. If you're the kind of girl who likes to destroy her holes with big monstrosities that can put all other, average-sized cocks to shame, you should go as big as you can! The bigger is better rule definitely applies here, but there are some details you shouldn't dismiss:
How Long Do You Want It?
The most important tip concerning the length is to know the depth of your vagina. If you're on the smaller side, and your vaginal canal maxes out at around 3 inches until you hit your cervix, you're probably going to have some trouble with an extra-long dildo.
Yet, that will all depend on your anatomy. If you have the average vaginal depth (3 to 7 inches), you can still use a long dildo. In that case, you might focus more on the girth than the depth. Moreover, if you intend to use your big dildo anally, you will not be limited by the length since most of our rectums are super deep.
So choose the following lengths based on how huge you want to go:
8 to 10 inches: These dildo sizes are ideal if you want something that feels realistic while not being too huge. An 8 to 10-inch dildo is great for G-spot fun along with smooth, easy penetration and it's the perfect option for beginners!
10 to 12 inches: If you want to take it up a notch, a massive 10 to 12-inch dildo is a dream cum true for those who crave rough romance.
12 to 14 inches: Choose this size if you're the freaking cock hero and you want to dominate your ass with hardcore penetration, deep stretching, and extreme squirting!
14 inches and more: This might be kind of an overkill but who knows? If you need a weapon and want to blast your holes out with a nuclear bomb, go for it, girl!!!
What if Your Eyes Are Bigger Than Your Holes?
If you can't handle any of the previous measurements, don't worry. Length is entirely subjective. If you have a smaller cooch, 6 to 7 inches could feel like a colossal monstrosity to you.
If you don't want to pick the largest dildo out there, but you still want to push your limits, a neat hack is to simply get a dildo that is 1 or 2 inches longer than what you're used to. That way, you'll still get a challenge without an uncomfortable length.
It's Not Only About the Length…
As mentioned, part of the allure of long dildos is their extra width. With added width, you'll feel more pressure. Basically, the dildo will target as many pleasure nerves as possible while creating that unusual filling sensation that a lot of people are crazy for.
If you're unsure, just remember that the average girth of a penis is around 1.5 inches. Most huge dildos start off with a 3-inch girth. Here's what you can choose from:
3 to 4 inches: These widths are ideal for everyday fun. They will outmatch most penises or wider toys like butt plugs.
5 to 6 inches: It's common to see these widths on most dildos that are over 10 inches long. They provide super intense pressure for vaginal and anal play.
7 inches and more: It might take you years to train for this kind of girth, and I'd only recommend this to the professionals.
Soft vs Hard: Which Materials Are Best for You?
All of the materials I've mentioned will provide different types of sensations based on their soft or hard texture:
Silicone – Some toymakers such as Mr. Hankey will indicate the firmness level of their silicone dildos. Most big silicone dildos are soft and squishy, but some can be a bit firmer, especially if they have a wider girth.
Glass and metal – These materials are rock solid and you will not be able to bend them. Unlike silicone, glass or metal materials will give you an unyielding shaft, and your holes will have to get used to it.
If you're unsure, it's always smartest to go with a softer silicone dildo. In my experience, since you're already dealing with a larger size, a softer material will be easier to use in various positions. Conversely, the fact that glass and metal dildos are firm is part of their appeal, and many people love to use them for intense girth play and rough flexing.
Features: The Biggest Bang for Your Buck
Most big dildos are simple toys, but there could be some differences in their design that you may not notice at first. Some of the most exciting features to look into include:
Textures – For girth play, your dildo could give you all sorts of unusual textures. You might enjoy a realistic texture complete with delicious protruding veins and curves. Also, glass or metal dildos could have unique bends, heads, and angles. Fantasy dildos could give you the most extreme textures and shapes like tentacles, beads, nubs, etc.
Pronounced head – You'll get a much bigger spread if the head is larger than the shaft. This is an insane feature if you want to train for fisting or you want to gape like a porn star.
Suction cups – In my opinion, suction cups will play the biggest role in your pleasure because they'll give you a hands-free experience. Since most huge dildos are long and heavy, penetration will flow more smoothly if you suction them onto something and climb on top.
Vibration – While it's more common to find non-vibrating huge dildos, you'll also be able to find some variants that provide intense pulsations. If you need to feel intense vibrations, it's important to look into the vibrating patterns, speeds, and strengths to see if your dildo will give you what you seek.
Remote control – If you get a vibrating dildo, you'll most likely get some kind of remote control for it. While standalone remotes are perfectly functional, you could even get an app-enabled dildo that you can control remotely for long-distance fun or even sync it to VR content. There aren't many of these around, but some of them could truly blow your mind if you are into next-gen sex toys.
What to Avoid
Obviously, a dildo that's simply too big for you might not even fit you and it could cause you discomfort. So don't ignore your capabilities and be reasonable! Remember, you might need to train for a long time if you have your eyes set on a 16-inch monster dong.
Avoid cheaper materials like PVC, jelly, or rubber. You can make them work if you opt for phthalate-free variants, but they will still absorb bacteria, and they might break down very quickly.
Tips on Using, Cleaning, and Storing Your Huge Dildos
When you're buying your big dildo, don't forget to stock up on plenty of lube. You can even get a jumbo container to make sure you'll never run out. Using a toy-friendly lube is the first and most essential tip. Remember: you'll need to take it slow. Then, allow your holes to gradually adapt to your massive dildo.
Huge Dildo Gymnastics
As size queens, we know that there are tons of different sensations at play when we jump on a massive fat dick, right? The same applies to a giant dildo, both depth- and girth-wise. Also, there's a great deal of mental excitement in it. That's one of the most pleasurable aspects of monster dildos for me.
Once you clean yourself and stretch in the shower (use a smaller toy to get things going), you'll be able to use a dildo that's harder and bigger than 99% of real dicks out there.
Physically, something unique happens when you insert a toy that's longer and thicker than you're capable of handling. Of course, your pleasure is entirely subjective, but there are several different techniques you can try to literally fuck your brains out:
Must-Try Orgasm Tips
Deep thrusts – When you get comfortable, you can use deep thrusts to fill up your entire anal or vaginal cavity for balls deep stimulation.
Shallow strokes – If you try shallow strokes with an extra chubby dildo, you will target more of your vaginal and clitoral nerves. Therefore, if you feel that your dildo is too big at first, try shallower strokes with only a few inches.
Rotation – Once your vagina gets used to the unusual size, even the tiniest movement will make a difference. You can boost the excitement by rotating the dildo inside you.
G-spot massage – You can use back and forth movements to find the most comfortable angle and massage your G-spot with a large surface area. Since your enormous dildo will fill your entire love tunnel, you won't have to struggle to find your G-spot. You'll quickly be on your way to an epic squirting orgasm!
Don't stop – Try to experiment with other toys like clit massagers or vibrators to boost your stimulation even further.
What About Anal Play?
If you want to try some serious butthole yoga with your huge dildo, you'll need a lot of experience first. Since you're playing with a larger size, you will likely have to flush out your backdoor first to keep it 100% clean.
What's more, it's absolutely essential that you get a dildo with a suction cup or some kind of base. These anal-friendly dildos will not get stuck in your rectum.
Another thing to note is that butt stuff with massive dildos can feel extremely bizarre. In fact, something strange happens once you insert the dildo past your rectum. When you get deep into your colon, you will not be able to feel any pain, and you'll only feel the pressure instead. Here, you have to stay aware of how much pressure there is so that you don't hurt yourself.
Cleaning and Storage
Whether you're using your extreme dildo to gape, squirt, or cream all over it, you'll need to keep it squeaky clean after each use. The cleaning process is similar to most other sex toys, but due to their immense size, you'll have to put in some extra effort and time.
Generally, the smartest way would be to place your long dildo in a larger washbowl. Then, clean it gently with water and mild soap. You can use this method to clean silicone, metal, or steel dildos. After cleaning your XXL dildo, you'll need to dry it before storing it. You can pat it down with a soft cloth or leave it to air dry fully. Then, store your dildo in its original box or use a clean plastic container.
Huge Dildos Industry and History Overview
The history of huge dildos is much longer than you'd expect! In fact, it all started in the ancient world. We know by now that some of the oldest remaining dildos are at least 30,000 years old! In fact, the oldest known dildo is 8 inches long, and it's made of stone. This basically tells us that our ancient ancestors were size queens or kings with an appetite for huge cocks, right?
Well, what's even more fascinating is that we can find examples of big dildos all throughout history. Most of those early examples were made of stone, wood, or steel. If you find that hard to believe, there is evidence that Ancient Chinese princes were buried with 12-inch dildos! Moreover, big dildos have popped up all over ancient Japan, Greece, and Egypt.
If we look at current times, dildos as we know them entered the scene in the mid 20th century with the invention of rubber and silicone materials. It was around the 1960s when most sex toys we know today were popularized, and it took a few decades until they turned mainstream.
However, one of the toys that truly contributed to the popularization of huge dildos were Bad Dragon fantasy toys invented in late 2008. Early adopters like HotKinkyJo used them in their fetish videos to get immensely popular and usher in a whole new era of huge dildo porn.
The Future of Huge Dildos
Currently, the sky is literally the limit when it comes to huge dildos. You'll be able to find all sorts of real-feel or fantasy dildos of nearly any length or girth imaginable. Plus, since the visual appeal is so important with these toys, you can simply check out any of the world-famous brands to see all of the different choices that are out there. Some of the most popular makers of huge dildos right now are Tantus, Vixen, Mr. Hankey, Pipedream, Fetish Fantasy, Juicy Jewels, NJoy, and so on.
If you're looking for a classic huge dildo, there's a chance that one of those brands will give you what you seek. But, if you need something next-level, some of the newest brands like Fun Factory are selling huge dildos with plenty of unique vibration options. And will dildos get even bigger in the future? Or will we have huge AI robot cocks to pound our insides until we're screaming in pain and pleasure at the same time?
Right now, it's time to get yourself a huge dildo and experience the adrenaline, the naughtiness, and an addictive combo of pain and pleasure while you spread your holes out to the max!
⚠️ Disclaimer: Our articles contain affiliate links. If you like our content and wish to support our work, consider purchasing your new sex toys through our links. For each purchase through our links, we receive a small commission but at no extra cost to you.
FAQ
Yes and no. This will all depend on your anatomy and the size of your dildo. Most size queens love big dildos. They'll give you a little bit of pain and a lot of pleasure. It's up to you to decide if you like to feel pain during extreme penetration or you prefer to use a huge dildo for a nice and comfortable stretch.
If you are not a fan of the pain, you should find a smaller dildo or spend more time training. Still, even if you love to feel pain and pressure at the same time, you shouldn't overdo it. Always stay aware of what's happening inside you. That way, you will not get injured.
It's perfectly safe if you're experienced. Remember, huge dildos are not meant for beginners. You could injure yourself if you are not trained. However, there are only a few risks to watch out for. You need to take things slowly and with as much lube as possible to avoid any risks of internal tears. Also, you have to keep your dildo clean at all times to avoid pushing germs deep inside you. If you are still unsure, it might even be advisable to visit a doctor or research the risks of extreme stretching and gaping to avoid any issues.
Many people believe that huge dildos will stretch them out and make them less tight, but this is simply untrue. Your anus or vagina is not an elastic that stretches out after use and never returns to its shape. They are muscles that respond to penetration like it's a type of exercise. In fact, your muscles could get stronger if you use your dildo frequently. That's because you'll work them out to the max. One thing to note here is that you should prepare yourself well and stretch out before using your dildo.
Absolutely! If your partner is into it, you can let them use the dildo on you, or you can use it on them. If your partner has a prostate, using a huge dildo will target most of their internal nerves. This will make their orgasms much quicker and more intense. Also, big dildos are incredible BDSM tools. You can use one or several for all kinds of fetishes with your partner. Just remember to get their consent beforehand and go slowly at first.
If you feel anything unusual or if penetration becomes too painful, the best thing to do would be to stop and try again some other time. If you're careful, not much will go wrong because you'll essentially only stretch your internal muscles.
Yet, you might injure yourself if you push your big dildo way too far against your cervix, or if it penetrates past your rectum and enters your intestines. Again, if you are having doubts, you should visit a doctor before you use your dildo.
This is up to you, your preferences, and your body. A huge dildo will cover many pleasure nerves in both holes. Yet, some people might prefer huge dildos for anal sex because there is no chance of bottoming out. That means you can use the entire dildo size during penetration while stretching out your anus and rectum fully.
Some girls can fit their dildos fully into their vaginas, but this may not be possible for everyone. Nevertheless, a longer and girthier dildo will bring heaps of pressure to your G-spot while stretching out your entire vagina. Some women could prefer this feeling compared to using a large dildo for anal play.
Of course! If you are trained and your holes have the space for two big dildos, you can use them for double penetration. However, you'll need to be extra careful here because this is one of the most intense things you could do to your body.