Jun/24/2022
Last Update: June 26, 2023
1592
24 min read
Best Dildos For Women In 2023: Real, Veiny, Squirting, Extra Long, And Much More!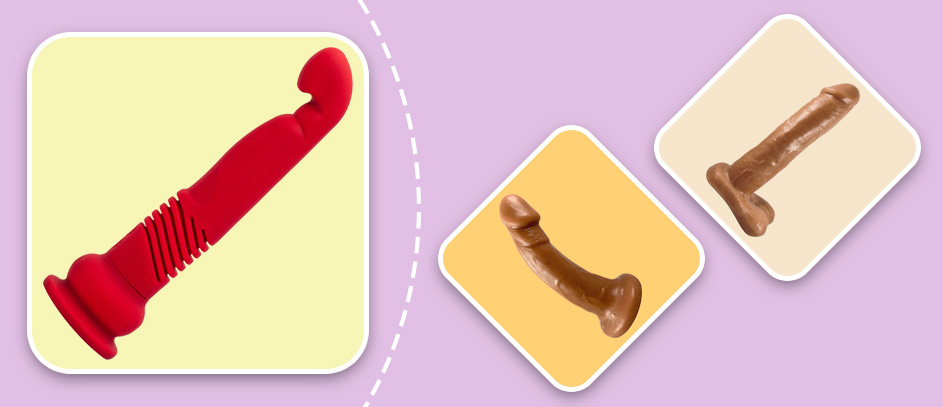 Some girls get their pleasure from mani-pedis but the not-so-secret slut inside me goes batshit crazy whenever I get new dildos. I've been spoiled for huge dongs more times than you can count! Ya know… Those massive baseball bats, huge jackhammers, and colossal hunks of man meat that blast out warm jizz like it's your Last Supper? I'm literally drooling from the mouth and I'm getting a little twitchy now… I've done it all and I want to show you how to find the best huge dildo that helps you explore your dirty deeds just right!
Top 10 Dildos in 2023 – Scarlett's Secret Weapons
If my Richard didn't already have a massive cum-cannon, I'd be pumping my dildos up my pussy and butthole 24/7! Wanna be like your horny friend Scarlett here? Well, you'll need to find the best dildo that gives you butterflies or makes your kitty work day & night shifts at the orgasm factory! So to help you slurp up the best fake dick right now, check out my favorite dildos. I tested them in all my holes and they made me feel like a brand new woman!
Exploring the Dildoverse
"Whether you're slappin' your oyster by yourself or you're on your knees begging Daddy to give you the dicking of a lifetime, a huge black dildo is always welcum."
For all you horny honeys who felt a little intimidated by what I just said: you don't need to be a cock-worshipping jizz addict or a BBC anal slut to enjoy a high-quality dildo. What I'm trying to say is that there's a dildo for each of us out there… These bad boys are some of the simplest and most effective toys available. A high-quality dildo can change up your entire game regardless of if you're using it solo or getting wild with your partner.
Really, a good dildo is like a little black dress that you can use time and time again. It goes well with everything and it will keep you entertained for hours!
But… I get what you might be thinking: "Scarlett, what's so special about a dildo? It's bendy, it doesn't vibrate… It's just like any other penis out there except it's fake!" Well, sweetie, that's exactly the point!
The World Needs a Dildo
For starters, a quality dildo gives you a big johnson to play with whenever you crave it. It's also a fantastic substitute for men in general. You know, those hairy, always-hungry mammals who always spill their baby sauce way too early. For real, a dildo will keep the party rollin' for hours. It will never fall asleep on you just when you're getting close!
That said, classic dildos give you a meat and potatoes fake cock to use for vaginal and anal adventures. But, you can also use them to stimulate other parts of your body or even suck on them if you love to, erm, exercise your vocal cords.
What's more, there are many other dildo categories. That's where all the fun begins! Starting from adorable non-phallic dildos to vibrating dildos that send deep shockwaves throughout your entire body. And what about a cuming dildo that shoots out fake jizz for a savory treat, or even huge dildos that make you gape like you're auditioning for Rocco Siffredi?
To Dildo or Not to Dildo?
If you're completely clueless, here's what your huge dildo will give you:
A premium substitute for a long, hard dick (with balls attached!).
Maximum versatility.
They're perfect for solo masturbation and couple play.
They pair extremely well with other sex toys for multi-purpose stimulation.
Dildos are loved by both your clam and your tush.
Great for threesomes with another male schlong or even DP fantasies with toys.
They can help you to learn how to orgasm from penetration (if you haven't already).
Dildos will strengthen your clit orgasms and even help you to reach elusive blended orgasms. And don't even get me started on squirting!
Some vibrating, rotating, and thrusting dildos with suction cups can boost the fun even further by giving you an all-out orgasm machine.
Cuming dildos will feed you with cum anytime you've got the hunger pangs.
But What's the Best Dildo?
Today, you can pretty much find a dildo that satisfies any of your naughty kinks. However, I don't really believe there's such a thing as Dickscalibur or the Chosen One that can satisfy all women. If there is one, I'd empty out my entire bank account just to get a glimpse at it.
Baby, the best way to get your dream toy is to look for one based on your needs. So take your pleasure into your own hands and grab the best fake cock for you!
If you want a toy for intimate masturbation sessions, a cute non-phallic dildo with an average size will do the trick. Not big enough? Well, you could go ahead and ram that enormous BBC dildo up your dirtbox if that ruffles your truffle!
Dildo vs Vibrator vs Real Cock Deathmatch
What makes huge dildos different compared to real cocks and vibrators? Well, dildos are some of the most popular sex toys for penetration. The quality options are precision made out of premium materials to provide a lifelike feel. Traditional dildos are molded to create a dick-like shape, complete with anatomically correct lengths, girths, and various visual elements.
In most cases, dildos have a realistic look and feel. Yet, you can also find some that do not resemble the male genitalia. So ask yourself: are you a dick girl or are big boners just not that exciting to you?
Appetite for D-struction
When it comes to the whole dildo vs vibrator vs dick debate, I can honestly say that dildos are the closest things that can get you to the sensation of real-life deep penetration. Vibrators are their own category and they are designed to stimulate you externally and internally and they vibrate in a different way.
What's more, the biggest difference between a dildo and a real cock is, of course, the fact that there's no male body attached to it. But that can also have its benefits! Sure, what you're missing here is companionship, emotional support, cuddling, and all those other fluffy moments. Still, none of that could matter if you're looking for a toy to help you get fucked like Madonna who just got touched by the D for the very first time!
Types of Dildos: Choose Your Weapon
After testing more huge dildos than you can imagine, I can assure you that the type of dildo you buy will play a major role in your pleasure.
For example, hyper-realistic fake dildos will satisfy your inner cock addict. They will also make it fun for your partner if both of you want to experiment with threesome fantasies. Yet, if you need an additional kick to hypnotize your holes, a vibrating dildo will buzz your brains out. And if your tush feels a little empty, just use an anal dildo to spread your starfish wide open. So let me show you the best types of dildos:
Realistic Dildos
When in doubt, I always go with a lifelike huge dildo. Basically, realistic dildos are precision crafted out of silicone or TPE to resemble real dongs. Except, these dildos never go limp. You can ride them 'till the sun comes up! What's more, most of them have those distinctive veins that make lots of women's jaws drop.
Plus, all the throbbing veins, curves, balls, and a gorgeous cock head will provide an intense texture. The variety is nearly endless! You'll find all sorts of colors, from the whitest shade of pale to the darkest kind of black. They vary in sizes and thicknesses, including compact and portable mini dildos to huge brutal dildos.
Trust me, the fun never ends with a realistic dildo! You can pretty much use it for whatever turns you on. I want to get really kinky, Richard will tie me up, slather me in baby oil, and make me beg for a huge black dildo inside my butthole. Then, he'll shove his throbbing 8-incher inside my pussy to DP me. And that's not all…
In Richard's own words: "Oh, man, I totally lose my shit when Scarlett licks and sucks on her realistic black dildo or especially when she uses it to train her throat like a good little girl." C'mon, dude, at least offer to buy me dinner first! But… I totally agree with you!
Vibrating Dildos
If you're craving powerful pulsations outside and inside your cherry pie, vibrating dildos will certainly provide them for you, but in a different way compared to traditional vibrators.
Basically, vibrating dildos look just like standard realistic dildos but they have built-in vibrating motors. This gives them extra weight. It also makes them less flexible. Nevertheless, the difference is not so noticeable to me and it gives the vibrations a unique quality.
Since the size and materials are a bit thicker compared to standard vibrators, the vibrations come across as deep rumbles rather than high-frequency fizzes. Other vibrating dildos use insertable bullet vibes. I'm not the biggest fan of these because they are small and the dildo material could muffle the vibrations a bit. Still, they're a neat option if you want a lighter vibrating dildo with decent amounts of power on tap. Additionally, most vibrating dildos will allow you to change the speeds, strengths, and patterns on the fly.
Suction Dildos
A suction dildo will include some type of suction cup at the base. The cup forms a vacuum when you push your dildo against a flat surface. Then, your massive dildo will stick up in the air proudly as you grind against it hands-free.
What makes suction cup dildos special is that you don't need to push them in and out with your hands. You can stick them to hard floors, tiles, walls, bathtubs, shower walls, doors, and various other areas. Then, you can back your ass up on them from the side or climb on top of them to ride 'em like a rodeo. Yee-haw!
Moreover, there are several different suction mechanisms. Some are built-in right under the balls of your toy and others have rotating suction cups.
And if you're into threesomes, this type will work wonders if you want to get pounded from the back while sucking your partner off or vice-versa. There's nothing like getting a good spitroast going on a lazy Sunday afternoon!
Glass Dildos
Now, glass dildos are truly special cookies. They can have realistic or non-phallic designs, but most of them look like works of art. Glass dildos are a bit more expensive because it takes time and effort to craft them out of hand-blown glass. Still, they feel completely different compared to softer silicone dildos.
Typically, glass dildos are very hard and tough. They give you a lot of pressure during penetration. Trust me, you'll never forget the first time your pussy starts to tighten up around your glass dildo!
What's more, glass dildos heat up when you push them inside to produce unique temperature play sensations. You can also cool them down and press them against all your body parts to feel special tingly sensations. And best of all? They make for a damn fine decorative showpiece in your living room!
Double Sided Dildos
Double ended dildos? Yes, yes, a thousand times yes! These huge double-sided dongs are some of the most extreme and kinkiest toys. They're usually around 14 inches long and they have two insertable ends on either side. They're super long to enable you to push one end in your pussy and another in your butt. Damn girl, there's a workout you'll never forget! However, you can also slide one end in your partner and the other inside you for some extra-intimate sensations.
Generally, a double sided dildo is similar to a classic realistic dildo and it uses the usual flexy materials. It's a great tool for all sorts of kinky DP fantasies and other BDSM exploits.
Thrusting Dildos
Thrusting dildos are the most intense toys that will get you as close as possible to using a full-sized sex machine. Even better, they're not as big as a treadmill and they're much quieter! You can buy other thrusting toys like vibrators or G-spot massagers, but adding thrusting functions to a big, thick dildo machine just makes it so much more magical.
Usually, this type has a handle at the base for the controls. You can use it to configure all sorts of automated fucking action. Most of these toys pump in and out of you. Others can rotate, twist, and twirl. They'll thrust along the entire shaft but some have an extending head or a base where all the in/out action comes from. Thrusting dildos also extend in length to fill you up entirely.
Plus, some of them can also include telescopic suction cups for 360-degree action while others can give you vibrating functions along with intense thrusting. And if you've always fantasized about sex machines, thrusting dildos with external motors are some of the most affordable solutions. Wanna feel like a bad puppy getting disciplined the hard way? Look no further than a big black dildo with thrusting options!
G-Spot Dildos
Essentially, G-spot dildos have a curved shape intended to precisely target your sweet spot. You can caress or ram into it, depending on what you're into. Then, you'll get your chance to summon that legendary G-spot orgasm!
These dildos are different from regular G-spot massagers because they look like cocks, which is yet another bonus. Trust me, nothing gets me squirting harder than a big curved cock pummeling my G-spot! There are two choices to make here: non-vibrating or vibrating G-spot dildos. That will depend on the sensitivity of your G-spot. Moreover, you'll get to choose between a short or long dildo depending on the location of your squirt button.
Other Types of Dildos
If you truly want to feel like a kid in a candy shop, there are many other options out there:
Non-phallic long dildos – These types are ideal for girls who don't like the look of dicks. They give you that classic dildo shape, but without alluding to the male anatomy.
Strap-on dildos – Strap-on dildos are some of the best lesbian toys. You strap them onto your crotch or hips via a special harness. Think of all the options here! You can dive deep into your sweetie's pussy or butt fuck her until she's sore. Also, you can use them on your male partner to explore pegging.
Anal dildos – While you can use standard dildos for anal pleasures, there are lots of specialized butt toys to stimulate your booty just the way you like it. That includes beaded, cone-shaped, inflatable dildos, etc.
Double penetration dildos – These are similar to double-ended dildos, except they're not stretchy. They have two ends that point straight to both your holes to allow you to double your fun.
Cuming dildos – Cuming dildos shoot out fake cum to give you massive facials or deep creampies. If you love to feast on white, sticky, and delicious semen and you just can't seem to satisfy your appetite, a cuming dildo will give you some of the biggest loads of your life! I love to use a cuming dildo in all my holes when Richard is too drained to feed me!
Fantasy and brutal dildos – This type covers all massive dildos, XXL black dildos, as well as tentacle or dragon dildos, and various other fantasy options. They're usually over 14 inches long. But beware, huge black dildos are definitely not intended for beginners.
Mini dildos – This option is great for anyone who isn't so turned on by kinky dildos and just needs a vanilla toy to get the job done. The smaller size is a great fit for anyone who's just starting out!
Buying the Dildo of Your Dreams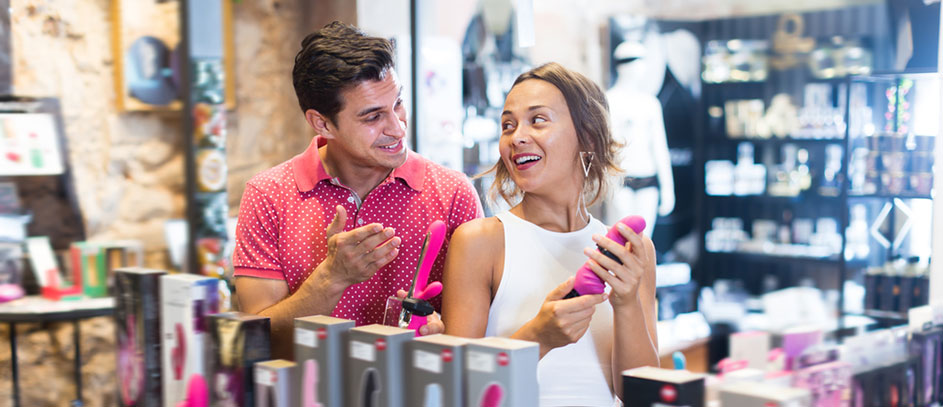 So how do you choose the best weapon of ass destruction? If you're on a limited budget and you want to get it right the first time, I'll help you ride out the storm!
How to Tell if Your Large Dildo Is Worth It
First, follow my method for choosing the best dildo:
Make a list of all the dildos that tickle your peach. If you're in a time crunch, choose a toy from my list or read some of my earlier reviews to get inspired.
Does it turn you on and make you want to slobber all over it? Do you need a cuming dildo to cover you in semen?
While it's good to think about the best dildos that turn you on, consider the materials and the size.
What kind of features do you want on your huge dildo? Do you want it to vibrate, thrust, or do you just crave a classic fake dong for all sorts of carnal experiments?
What do you want to use it for? Depending on your needs, you could pick an all-rounder for all holes and all kinds of stimulation or something specific like a G-spot dildo.
Material Pleasures: What Are Safe Dildos Made Of?
Some of the types that I've described earlier made you feel a little tingle in your panties, right? Well, think twice before you rub one off. I'd like to stop you from grabbing the first fake cock that gets you moist. Instead, focus on the safest materials to use inside and outside your Bermuda Triangle.
Exploring the Safest Options
Typically, most dildos are made of silicone or TPE. They are safe to use and are pretty durable, but silicone always wins in my book for all types of toys for cuming dildos, giant dildos, or a dragon dildo. Body-safe silicone is non-porous and it doesn't harbor bacteria. It also has a smooth, velvety texture that feels quite close to the real deal. Plus, you can use silicone for close encounters of the vaginal, anal, and oral kind.
Alternatively, you'll also encounter plenty of TPE dildos. This material is very similar to silicone, although it's a bit stretchier. Some girls prefer it to silicone because it feels even more life-like. IMO, I struggle to tell the difference most of the time. Still, while it's also body-safe, TPE is slightly porous. You'll need to be careful with it while cleaning it and you should replace your toy after several months.
Furthermore, if you want to get a glass dildo, most of the skin safety concerns will go out the door. Glass is non-porous, you can fully sterilize it, and it will literally last forever. But, remember that it creates a completely different feeling during penetration. Some girls love it while it can feel a bit too "medical" for others.
What to Avoid
If you're a beginner, I'd strongly recommend getting a silicone dildo. It saves you the hassle of worrying about your toy and it feels amazing. But, you'll also come across some materials that shouldn't stay as far away from your lady bits as possible. That includes jelly, PVC, and rubber. All of those materials are not body-safe. They're packed with phthalates aka harmful chemicals that could cause toxic reactions.
Extra Features on Your Fake Dong
By default, dildos don't include a whole lot of additional features. Most of the variety you'll encounter will revolve around sizes, shapes, and colors. However, we're living in a new era of sex toys and literally, anything is possible. Here are some of the most exciting features you could get:
Remote Control
Personally, I love remote-controlled cocks, especially when they have a suction cup. This option is most common with thrusting or vibrating dildos. You can use the remote to activate your pleasure without touching the controls on your toy. Plus, your partner could use them instead of you if you want to let him control your orgasm.
Balls! (The Good Kind)
Most, but not all dildos come with balls or an attached base. This feature is entirely up to you and whether you like to feel something push against your clit during penetration. You'll feel this the most with vibrating dildos where the vibration comes seeping out of those glistening testes. If you don't want the added bulk of a ballsack, skip this feature. But, if shiny oily balls turn you on, go for it! The squishy feel feels playful and kinky to me. Plus, there's no dude on the other side complaining that I'm squeezing them too hard when my cuming dildo blasts me in the face!
VR and Long-Distance
App-controlled dildos are the newest options out there, and you can use them for all sorts of virtual fun. If you can pair a vibrating or thrusting dildo to an app on your phone, you can connect with a long-distance partner. Then, your partner could control the dildo instead of you while you're chatting via video. Alternatively, some dildos are VR-enabled. This means they can sync to virtual reality content for an immersive masturbation experience.
More Options to Consider
I've pretty much described most of the special features so far, but there are some additional options you should look into regardless of the type of dildo you need:
Waterproof – If you want a shower dildo, it needs to be waterproof. Shower dildos are water-resistant which means their mechanism won't get damaged if you expose it to water.
Power and noise – For vibrating dildos, I'd recommend you choose USB-rechargeable toys. But, bear in mind that most vibrating dildos are quite loud. Textures – You could encounter porn star dildos that are molded from the real-life cock of your favorite male performer. Alternatively, if you want a different texture, you can get a dildo with ribs, swirls, beads, and dots.
Colors – Finally, the colors could play a big role in your decision. For example, your toy could finally fulfill your BBC cuming dildo fantasy. But, you don't have to choose skin colors at all if you're not into that. You can pick blue, pink, red, purple, and all kinds of other colors.
Size: Big Things Cum to Those Who Wait
I'll be honest here: using a dildo that's too big could make you uncomfortable. Look, I'm not saying you don't know what dick size suits you the best, I'm just reminding you what you need to focus on.
If this is your first dildo, use an average size and take it from there. If you already know what dick size you prefer and if you've had tons of experience with hung dudes, bottoms up!
What's the Best Dildo Size?
Basically, most dildos that are around 5 inches long will be enough to satisfy you. That's because the average vaginal depth is roughly between 3 and 6 inches. This will all depend on how tight you are and how much you can take.
In my experience, beginners should start with an insertable length of 5 to 6 inches. If you're confident that you can handle more, aim for something between 6 and 8 inches. The next level up is from 8 to 10 inches. This can feel enormous, even if it doesn't seem so. Finally, 10 inches or more is the size of most brutal dildos or cuming dildos. Again, use them only if you're experienced and you know what you're doing. If you're reading this but you're only into monster cocks, I'd say 10 to 12 inches is the maximum I could take before feeling completely torn apart.
What's more, you shouldn't neglect the girth. That includes anything from 1 inch to dildos that are thicker than a soda can. This is also up to you, but try to take it easy at first and aim for 1 to 2 inches.
Price
Depending on your budget, you could get an affordable toy or a premium option. I'd always advise you to skip the budget options and spend a little more. The most important thing here is to buy your huge dildo from a reputable brand. That way, you'll know exactly what you're getting.
If you're having doubts, I'd say anything from $40 to $60 will get you a quality realistic dildo. And if you want to spend more and get all kinds of unusual features, you should expect to pay around $60 to $100 and over depending on the brand.
Tips on Using, Cleaning, and Storing Your Dildos
What can I tell you about pushing your huge dildo inside your hole that you don't already know? Well, honey, I sure as hell hope that you don't want to use this thing as a makeshift microphone or a funny toilet paper stand. It's meant to go in your or your partner's pussy, ass, or mouth!
Therefore, it's important that you start off slow and smooth. There's no use in ramming this thing right up there without getting warmed up first. Just make sure you're horny and ready. You could use your fingers to warm up or even insert a smaller toy.
Lube it Up
Before you're ready for it, you should also make your huge dildo nice and wet. This is so important for large dildos, but so many girls get it wrong. Even if your muffin is soaked, you should apply some lube all over the cuming dildo, giant dildo, or whichever type you use. It will ease the friction that can occur when you first push the toy in. Plus, it will make everything feel so much better!
Here, it's important to only use the correct lube type. My recommendation is water-based lube because it goes well with all materials. For example, if you use silicone-based lube, it could harm your silicone dildo.
Cum like a Queen (Or a Wh*re!)
Once you slide your lubed-up dildo inside, everything that I've been talking about will become clear to you. Trust me babe, you'll have so much fun with it!
So experiment with your sweet spots, penetrate yourself while diddling your pink pearl, and rub any other areas that bring you joy. You could try some edging and teasing techniques, blended vaginal and anal play, deep and slow penetration, fast rocking motions, etc. You can use all sorts of techniques to give you clitoral orgasms, G-spot orgasms, blended orgasms, and anal orgasms. And the best part? You don't have to stop cumming! So sit back and watch as those multis pile up until you pass out!
Cleaning and Storage
While you'll be exhausted from all your orgasms and you'll have juices running out of god knows which hole, you should never throw your brutal dildo on the floor and fall asleep.
The best way to keep the thing safe is to clean it right afterward. What I recommend you do is rinse your dildo out under the tap. This method will work with all of the materials I've previously described. Plus, you could also use some mild soap to keep your huge dildo spotless. What you should avoid are cleaning chemicals and strong soaps. And when you're all done, make sure your dildo is dry before you store it. You could leave it to air dry and place it in a plastic box or a carrying pouch.
Dildos Industry Overview
To end my guide on the hottest dildos, I also want to turn your attention to the dildo industry and the unusual history of these magical orgasm gadgets. Did you know our ancestors actually used them 30,000 years ago when they felt lonely in their stone caves?
The History of Dildos
Surprisingly, this whole thing started at least 30,000 years ago: the earliest known dildos were used in the Upper Palaeolithic era. They were made of polished rocks! Also, women in ancient Egypt wore stone phallic objects around their waists to please the old Gods. In ancient Greece, Rome, and Japan, early dildos were used for sexual purposes, while other cultures used them for kinky defloration rituals. The lines get blurred a bit here but we know for a fact that glass dildos were invented in the late 1500.
Additionally, the modern-day dildo for women mainly originated from the 1850s. They gained popularity in the 1930s. These dildos were primitive objects made of rubber. We had to wait until the 1960s to get a bonafide silicone dildo.
During the sexual revolution, a tragically paralyzed gentleman named Gosnell Duncan invented the first realistic dildo to allow him to have sex with his wife. The idea was a success and that brings us up to the major expansion in sex toys during the later half of the 20th century. Dildos for women were huge (in more ways than one) back in the '70s and '80s, but everything changed with the dawn of the internet in the 1990s. Thanks to anonymous online shopping, people swarmed the web to order themselves a quality dildo!
What's Next in the World of Dildos?
Let's not forget about the massive surge of innovations that occurred in the past two decades. Honestly, this is the best time to be alive as far as sex toys are concerned. The industry leaders keep updating them and pushing the boundaries of originality and functionality.
Right now, the top brands you should keep an eye out for are Kiiroo, Lovehoney, Lelo, Fun Factory, Doc Johnson, We-Vibe, Adam and Eve, and many more. These names are giving us downright revolutionary dildos that will take us into the future. That's why we should hope to see unexpected twists that no one saw coming.
One particular area to pay attention to is the world of VR and AI. With so much female-centered porn out there, I'd love to see dildos that can track the movements of my favorite male performers and bang me like Manuel Ferrara or Mike Adriano. High tech dildo robots might sound impossible at the moment, but just have a look at various smart vibrators or even toys for men like blowjob machines. You'll get some idea of what to expect in the future of dildos! I'm hoping for high levels of automation, realistic smart features, smart monitoring, and tons of other next-gen options. But it might take a while to see all that, do what I do: find the best huge dildo for you today and jump on it until you explode like a volcano!
⚠️ Disclaimer: Our articles contain affiliate links. If you like our content and wish to support our work, consider purchasing your new sex toys through our links. For each purchase through our links, we receive a small commission but at no extra cost to you.
FAQ
Dildos can help a lot if you're already having difficulty orgasming. They can provide you with pleasant penetrative sensations to teach you to have full-on vaginal orgasms if you've never had them before. The easiest way to get off with a dildo is to get turned on, push it inside, and try all sorts of thrusting motions while pleasuring your clit at the same time.
Of course! Actually, I would encourage you to experiment. For example, you could use a dildo for penetration or a vibrator for clitoral fun. This could make you orgasm even faster and with more intensity. You can also use other toys like butt plugs or kinky things like handcuffs to spice things up. The best way to figure out what you need is to focus on your turn-ons and pick the most orgasmic toys for you.
While huge dildos could appeal to a lot of women, they're not for everyone. For one, they are really, really big. If you've only had an average penis or toy size inside so far, I wouldn't recommend you to try them. Believe me, these things are around 10 inches long on the smaller side! Even scarier, some have a length of a whopping 14 or more inches. Super-big dildos are unsafe to use if you're untrained because they could cause internal tears. So only use them if you have tried this before and you know that your anatomy can handle it.
You bet! You can get classic dildos, huge dildos, or even mini dildos with a non-phallic shape if you don't like big black dildos. They will have a smooth texture that will not remind you of a real penis. This is the toy to get if you are not into male penises or if you just need something that has a unique look of its own.
Absolutely! In fact, it's much healthier compared to having real-life threesomes. It nearly eliminates the risks of infections and it also saves you the emotional pressure that people can sometimes have during threesomes. It's by far the easiest way to experiment with DP. But, to stay safe, just make sure you don't use your anal sex dildo for your vagina because that can cause an infection.
If you buy your new dildo online, you won't have to worry about any privacy or discretion issues. Buying sex toys online is almost fully anonymous, and no one except you, the retailer, and your bank will know. In some cases, the purchase won't show up as a sex toy on your bank statement at all. Plus, when it arrives at your door, it will be packed in a nondescript box and no one will know what's inside.
My best suggestions for lesbi dildos would be a strap-on dildo, a double-headed dildo, or a realistic vibrating dildo. They are the most practical and hottest toys for lesbian sex.
No, not at all! An ejaculating dildo can't get you pregnant. In fact, cuming dildos use fake semen that's usually made out of a special lubricant. The fake lube looks like white, glistening jizz, but it's completely body-safe and some types are even edible. And that's the whole point of a cuming dildo. You can use ejaculating dildos for all sorts of insemination fantasies, bukake adventures, and other cum fetishes. Cheers!