Sep/06/2022
Last Update: June 26, 2023
756
6 min read
Ace In the Hole! Vixen VixSkin Gambler Review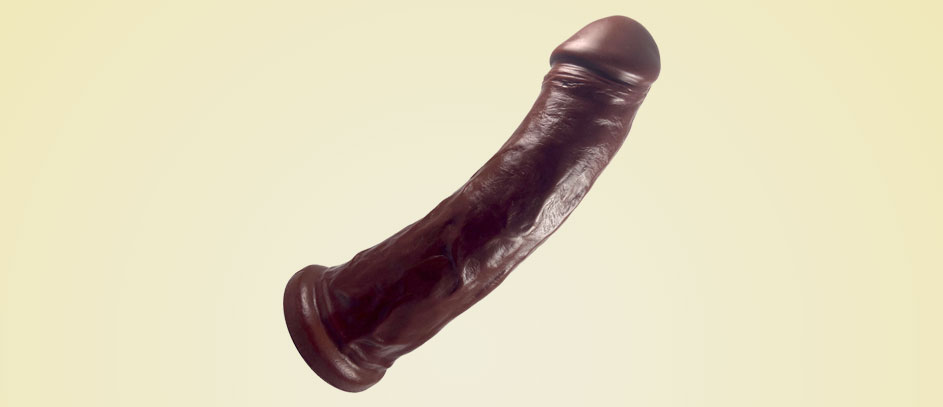 You know what they say: life is all about risks and the greatest of 'em all is not taking one. Sometimes, you just have to take a chance to grow, and other times, it's all about nourishing your courage through pain. So what's the simplest way to get over your fears? Well, get on your knees and take a massive realistic dildo deep in your holes, bitch!!! For this VixSkin Gambler review, your naughty she-devil Scarlett took a shot at one of the biggest realistic dildos out there by Vixen Creations. And what happened when I pushed this 10.5-inch monster dong deep inside all my holes? Did I hit the jackpot when I used the Gambler to peg Richard's little sissy hole and make him beg for more?
Well, if you think you have what it takes to double down on this extra large dildo, take a look at my VixSkin Gambler Review!
Vixen Vixskin Gambler: Put Your Money Where Your Mouth Is!
There are definitely some moments in life when the chips are down and all you want to do is ravage your holes all the way to a massive orgasm or two. Now, one way to do that is to find yourself a handsome, educated, and best of all, well-hung stud who knows how to fuck you just the way you like it. Sadly, we all know that's not always possible! There are also times when you might want to skip that part and wear a big, thick strap-on cock to teach your boyfriend or girlfriend a lesson or two. That's exactly the reason why I'm obsessed with realistic dildos!
Basically, my nasty love affair with lifelike dildos has lasted for years. My holes have truly seen it all! In all my silly games, I've tested and reviewed a handful of Vixen VixSkin dildos. That includes the Mustang, Johnny, Colossus, and the mighty Outlaw. And baby, Vixen definitely knows how to make a damn good realistic dildo!
If you have no idea what I'm talking about, Vixen Creations is one of the most iconic dildo brands out there. The company designs all kinds of realistic dildos in various sizes, colors, and shapes. What's more, besides a fat size and width, Vixen is most known for the unique material of its dildos. All of Vixen's dildos, including the Gambler, use VixSkin. This is a type of 100% platinum silicone with a dual-layered design. It will totally sweeten the pot!
First Look: I Just Couldn't Keep My Poker Face…
Wow, that's massive! And my pussy and asshole totally agree! Seriously, I knew it was big, but when this huge dildo first arrived for my review and I compared it with my other toys, I literally felt my jaw drop. Although I already knew the physical measurements, getting a look at this thing up close was pretty much an eye-opening experience. For want of a better term, it looks like my freaking forearm! And I was ready to take it all in!
Now, remember, we're dealing with a VERY large toy. So before we continue, please don't stuff this thing up your or someone else's rectum if you're a beginner! But, if you're a pro and you know what you're doing, by all means, go ahead!
10.5 Inches of Rock Hard Cock!
By now, you can probably guess that I was most impressed with the size of this dildo when I started my review. Like all other Vixen toys, the Gambler comes in a big plastic tube with a big black lid. The tube is see-through and it actually works great for storage. It will keep your dildo upright and will not bend it in any way.
What's more, the Gambler is Vixen's biggest dildo. If you frequently get naughty with Mr Hankey's or Bad Dragon dildos, you'll definitely be ready for the Gambler. Even better, besides its 10.5 inches of insertable length, the Gambler is about as thick as a soda can. It will definitely work wonders for you if your pussy or ass like to be stretched or gaped!
Features
Dual-layer VixSkin material
Soft outer layer
Solid core
Harness-compatible base
Curved shaft
Thick head
Insertable length: 10.5 inches
Diameter: 2.875 inches
Total length: 11 inches
Materials: Full House!
One of the most important things I need to point out in my VixSkin Gambler review is that the size and width of this dildo are definitely not intended for subtle play. While the shape has a slight curve to it, the massive girth is definitely not ideal for any kind of soft G-spot play or slow and sensual anal. No, ma'am! This bad boy is designed for extreme stretching and hardcore insertions. Of course, your experience with it will all depend on your training and your skills.
Still, when you get past your amazement over the size, you'll notice why VixSkin is such a quality dildo material. It's smooth, plushy, and it feels quite squishy in my hand.
Moreover, it makes this thing look like a real cock. There are all kinds of veins along the shaft. They'll make you feel like the biggest knob gobbler out there! Plus, the head is a bit shorter than what you'd expect for this size, but I'm guessing they made it that way to help you insert this monster inside without stretching too hard. What's important here is that the VixSkin material is also non-porous and 100% body-friendly. No matter how much lube you use and no matter which hole you put it inside, it will never absorb bacteria. Plus, if the going gets really rough, you can always boil it to fully sterilize it.
Two-Pair: Dual Layer Awesomeness!
Another thing that truly helped me get that Royal Flush during my VixSkin Gambler review is the dual-density design. To me, it's one of the best features of this dildo. It truly makes it feel like I'm riding a real wang. The way it works is that you have a solid inner core and a soft outer layer. That way, the Gambler doesn't flop or move around too much like most other dildos in the market. The inner core also helps it retain its temperature once it heats up.
All About the Base
Even though the Gambler feels awesome and has a massive length that can satisfy any size queen, it's not exactly perfect. One of my only gripes with this toy is that the base is too damn slender. It makes the dildo feel a bit unbalanced when you hold it in your hand, and unlike other Vixen dildos, I'm missing a huge pair of balls to grab onto.
Also, this isn't a suction cup base, but it's harness-compatible. That means you can use it with your strap-on harness for some intense pegging action. And while the base is a bit too small for me when I use the dildo manually, it actually feels fantastic when I strap in and get Richard to kneel on all fours. The base stays in my harness firmly and the weight of the dildo doesn't pose a huge problem when you push it inside a willing hole.
Still, Richard found this dildo to be a bit too big for his asshole. Well, who can blame him? Not everyone is an anal whore, but I'll make sure he improves his skills with a bit of training. Anyhow, if you have smaller hands, the base will be a bit awkward to hold. But, if you want to use this dildo only for hot strap-on action, you won't run into any problems and your new monster coming out of your crotch will feel nice and balanced.
Pros
It's one of the best huge dildos out there!
The VixSkin material and the dual-layer construction feel fantastic during insertion
I loved using it as a strap-on!
Cons
The base could be a little too thin or too small for you
VixSkin Gambler Review: Verdict
To sum up my VixSkin Gambler Review, I'll say that this fake cock will look a bit ridiculous if you've never tried a huge dildo. However, if you're already a fan, I'm pretty sure you won't be able to part with the Gambler!
⚠️ Disclaimer: Our articles contain affiliate links. If you like our content and wish to support our work, consider purchasing your new sex toys through our links. For each purchase through our links, we receive a small commission but at no extra cost to you.
| | |
| --- | --- |
| 👉 Name: | Vixen VixSkin Gambler |
| ⚙️ Features: | Strap-On Compatible, Realistic, Large, Dual Density |
| 📁 Type: | Realistic Dildo |
| 🛠️ Materials: | Silicone |
It's MASSIVE and it stretches me out just the way I like it!
5
The base is just perfect for strap-on play.
4
The VixSkin material feels fantastic and is easy to clean.
5
The dual-density construction makes it feel much better than most of my other extra large dildos.
5
Editor's Pick
Velvet Teddy GS
⚙️ Special features:
Suction-cup base
⚡ Power source:
Rechargeable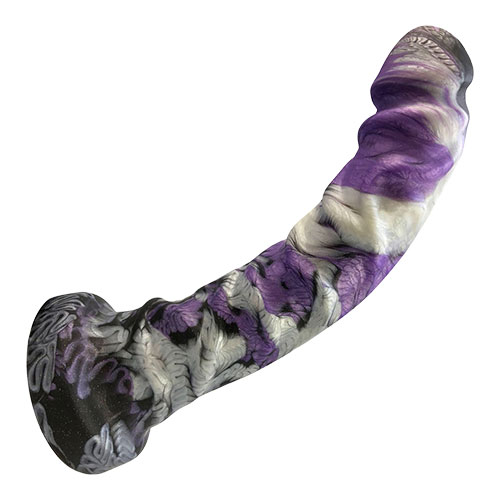 Uberrime Night King
⚙️ Special features:
Highly textured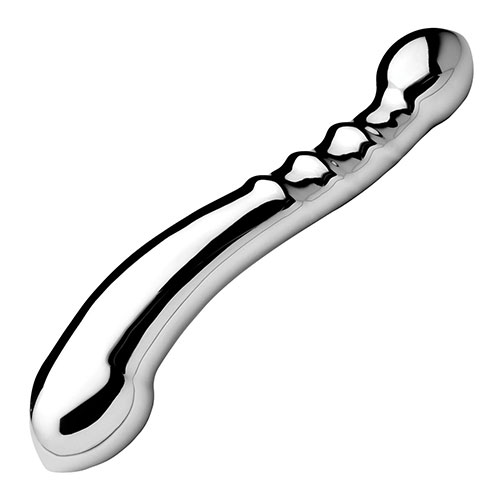 nJoy Double Ended 11" Dildo
🛠️ Material:
Stainless Steel
⚙️ Special features:
Completely non-porous