Jun/21/2022
Last Update: June 26, 2023
924
23 min read
Best Kegel Balls In 2023 To Make Your Pussy Tighter Than A Nun's Ass!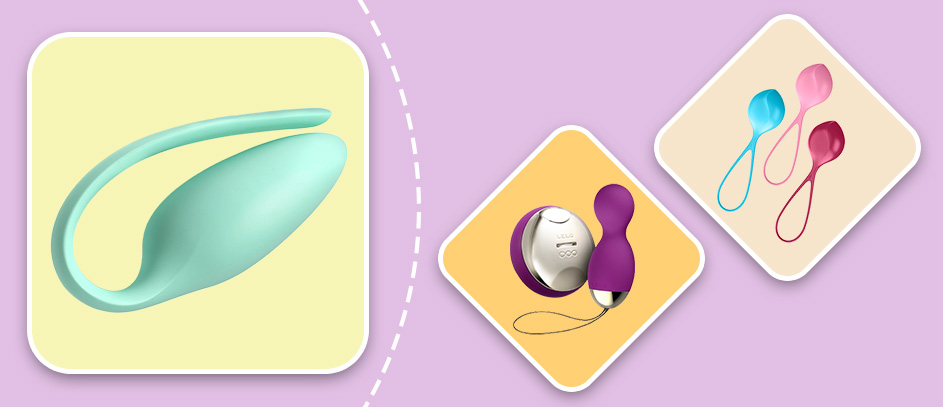 Whenever my BF wants it tighter, I always bend over and let him ravage my ass. BUT…! What if you're not an anal kind of girl? Or what if you just need to train your little kitty and make it tighter instead of having to resort to anal? If you want to make your pussy stronger as a whole (pun absolutely intended!) Kegel balls will become your main squeeze!
Trust me – these wonder balls will jiggle delightfully in your minge while giving you a deep, wide stretch. Nervous about your hot date next week? Just clamp down on some Kegel balls! You'll get a virgin-tight clam that will drive your lover wild with an extra-strong gorilla grip! So let me show you how to find the best Kegel balls and train your love hole until you get jacked down there!
Top 10 Kegel Balls in 2023
There are so many buzzwords when it comes to sex toys: bullets, rabbits, eggs, clit stimulators, etc. While most of those toys will get you off like a wet dream, Kegel toys offer miraculous benefits and have tons of unique uses that you simply won't get with a regular ol' dildo.
However, it takes some careful decision-making to find the best vaginal balls. They need to suit your body, preferences, and physical abilities. That's why I've tested dozens of Kegel balls to help you find your best-kept secret! So check out my top 10 favorite Kegel balls below!
Kegel Balls: Better Sex and a Healthier Vagina
"Kegels: they're kind of like bagels, but the hole gets tighter and tighter…"
For starters, if you're looking to pump up and get some intense training, a big throbbing cock is always welcum! Alas, not every girl out there is blessed with a super tight or extra-strong vajayjay. For some ladies, sex can become laborious over time. Also, it can simply stop being fun after a while. You could, for example, end up doing some things incorrectly. You may even have a health condition that could prevent you from enjoying intense penetrative sex. The solution? Kegel balls! What are they, and how do they help you keep your V strong and tight?
Well, Kegel toys are special sex devices that you can use to improve both your health and your sexual pleasure. They are said to be one of the oldest sex toys in history! Also known as Ben Wa balls, Kegel exercisers, jiggle balls, or love balls, Kegel toys offer an easier alternative to conventional pelvic floor exercises. Those exercises are widely known as Kegels. The traditional way of doing them allows you to tackle various symptoms and train your PC muscles. They involve repeated exercises of clenching and releasing your muscles. That way, you can pump up your pelvic floor and improve not just your sex life but also the overall health of your cherry pie.
Why Should You Use Kegel Exercise Devices?
As a woman, I'm guessing that you've probably already heard about why Kegels are so useful, right? Maybe you've even looked up some Kegel balls online, and you freaked out just a little? Well, honey, you're not alone. I was once confused by all the vast choices of vaginal balls out there. Even the concept of stuffing myself full of tiny metal balls was a bit strange to me until I got hooked on using all kinds of kinky sex toys. After making my holes gape with the most massive BBC dildos, I realized that the secret to keeping my coochie extra tight was to regularly train it with a Kegel exercise device. And why are Kegel weights so much easier compared to traditional Kegel exercises?
Basically, these pussy trainers are small and compact. They can stay inside you all day long! The biggest difference between using these pleasure balls and breaking a sweat with traditional Kegels is that they are designed to make your muscles clench automatically. When you slide your Kegel balls inside, your vaginal muscles will grip them tightly. Then, the balls will give you a certain degree of resistance. The whole point is to make your vag contract with more intensity. It's sort of like working out your biceps with a dumbbell. But this time, your pussy will hulk out and do all the heavy lifting!!!
You Want Me to Put That Ball Where?!
If you're still confused, hang tight (*hehe*). By definition, Kegel toys are compact weighted balls. They can boost the overall health of your vag, improve your sex life, and give you, shall I say, strong-as-balls orgasms!
That's right, even though these toys may look simple, they have a ton of uses in and out of the bedroom. What's more, there are many different types of Kegel exercise weights out there. With the traditional design, you'll get one or two insertable balls. They will be hollow and will contain a metal sphere on the inside. If you use multiple balls, they'll be connected to others via a string, while a single ball will provide a plastic retrieval cord.
Moreover, the small inner ball will collide with the surface of the bigger Kegel ball. It will roll around while you move to create unusual and unique vibrations. Then, these types of vibrations will stimulate your PC muscles. They'll make them contract automatically!
If worn correctly, the balls will never slip out when you're walking, running, or even swimming! Can you already see the fun in all that? Well, these jiggle balls can become your naughtiest secret. You can literally wear them all day to work out and tease your sugar cave until you explode!
Benefits of Kegel Balls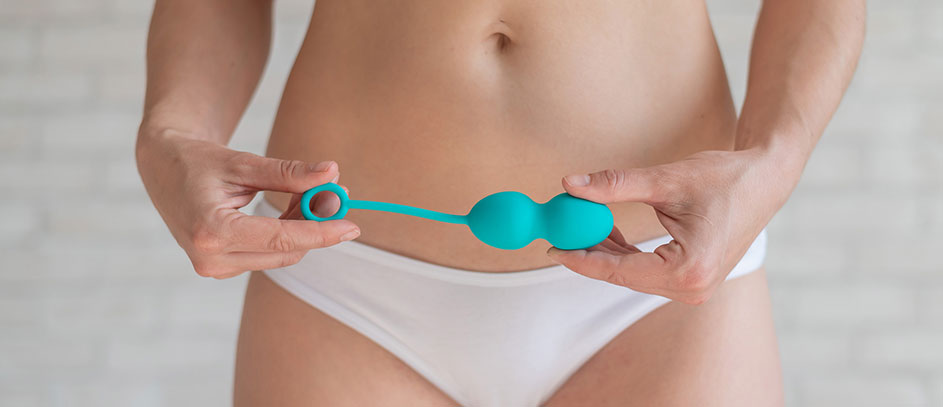 One of the coolest things about Kegel balls is that they come with many advantages. Sure, it can be all about getting a good workout and pumping up until your clam gets tighter than a nun's butthole. Still, Kegel toys offer more benefits than you may imagine:
Stronger pelvic muscles – Kegel exercise devices will help you strengthen the muscles that support your bladder, uterus, rectum, and small intestine. This will provide enhanced support for your pelvic region and prevent a variety of physical issues.
Tighter vagina – By strengthening the PC muscles with clench and release movements, you'll tone your vagina naturally. Will your partner be able to resist your sweet virgin-like pussy?
Increased natural lubrication – Since a Kegel exercise weight boosts the blood flow, it will restore and boost your natural lubrication. You'll get wetter than a watermelon!
Prevention of urinary incontinence – Exercising with these balls is one of the most natural ways to control and prevent bladder leakage.
Improved vaginal health – By boosting the blood flow to your naughty bits, Kegel toys will increase the overall health of your vagina.
Pelvis strengthening after childbirth – You can also use love balls to tone and strengthen your muscles after childbirth.
Overall fitness – If your work consists of excessive periods of sitting, these balls are an effortless way to keep you fit without moving too much. When you strengthen your PC muscles, you'll also keep your lower back and hips in great shape!
Public play – There are various remote-controlled pussy balls you can use to have strong orgasms on the go or to brighten up those boring office meetings!
Keep that booty tight – Since your rectum is a part of your pelvic muscles, using these balls will inadvertently strengthen your butthole. So get ready for some super tight and pain-free anal adventures!
Improved orgasms – Vaginal balls can finally bring you those huge G-spot orgasms that only a handful of women have been able to master! By strengthening your muscles, they'll make your contractions feel much more intense. Then, you'll get to cum hard and squirt all over the place!
Types of Kegel Balls
If you buy any quality dildo or vibrator, the chances are that you'll get it up there nice and deep without any issues. However, picking a quality set of balls is not as easy as it sounds. You'll need to choose your training balls based on your preferences, health condition, and abilities.
On top of that, vaginal exercise tools vary based on size, weight, material, shape, and type. Some of the newest models even utilize smart motion technology. Others stimulate your pussy hole automatically by inducing rhythmic contractions. Therefore, the easiest way to start your search is to find out which type of pleasure ball would be the best for you.
​​Silicone Kegel Balls
Silicone balls are by far the best choice for beginners. These types of jiggle balls are made of soft medical-grade silicone that suits everyone's skin type. Plus, since silicone is a non-porous material, it does not absorb germs. That means it will literally last forever if you clean and maintain it properly. Additionally, silicone balls also offer the softest texture. It will deliver a comfortable fit, especially if you're planning on wearing these balls for long periods of time.
What's also important here is that silicone has a light and gentle weight that is just ideal for newbies. Nevertheless, silicone Kegel exercise balls are also a fantastic choice for seasoned pros who are looking for a toy that's easy to handle and clean but provides a ton of fun.
Glass Kegel Balls
Glass pleasure balls are some of the most unique and most beautiful sex toys out there! They are crafted out of solid borosilicate glass that's 100% body-safe and germ-free. The biggest difference between this type and the previous is, of course, the texture.
Since glass is tough and sleek, it will provide a smooth yet somewhat heavier feeling inside you. Yet, these balls can get quite slippery. I'd recommend them more to Kegel experts who already have a bodybuilder's vagina. What's more, glass pleasure balls will take things to a whole new level. They'll provide unique temperature play sensations as they heat up inside you.
ABS Kegel Balls
ABS plastic is another super safe material for sex toys. It's easy to use and clean, and in terms of feeling, it falls somewhere in between glass and silicone. You'll get a hard, durable texture and a sleek shape. Plus, this material will fill you with a special type of pressure.
Also, these types of vaginal balls are incredibly comfortable, and they are superb alternatives for beginners allergic to silicone. Still, this type has a hard and unyielding texture. That's why it could feel a bit too much if you're just starting your training. Nevertheless, ABS is one of the most effective materials for a deep massage.
Metal Kegel Balls
If you prefer your toys to look all shiny and polished, metal vaginal balls will make you drip! These Kegel trainers are typically made out of surgical-grade stainless steel. That means they're 100% body-friendly. With smooth curves and hefty weight, they'll give you an advanced toning challenge!
Even better, if you like it rough, they'll look super kinky when you use them for your dirty BDSM fetishes! Just make your BF dominate you, and you'll feel every little inch of your metal ball as you beg him to let you cream! Good girl!
However, polished metal balls are among the toughest Kegel weights to keep inside your body. They will give you a rigorous workout. If you're a complete beginner, some of them could feel too big and bulky for advanced muscle training. Additionally, you'll need to put a lot more effort into working out your muscles with these balls.
Nevertheless, if you love the shiny look and cold temperature of the metal, you can always train more until your hole is strong enough to handle it! No pain, no gain!
What About Some Naughty Alternatives?
Sweetie, we've only begun to scratch the surface of Kegel weights! If you're looking for something different or you prefer a type that gives you some extra features, check out the following options:
Vibrating Kegel Balls
This type is all about strong and endless squirting orgasms! Vibrating Kegel toys and eggs contain built-in vibrating motors that offer various pulsation speeds and patterns. While they're quite small, they'll deliver deep throbbing sensations that you'll feel all over your body!
The biggest difference between vibrating vaginal exercisers and other types is that they are designed solely for sexual use. They're not originally intended for standard Kegel exercises. So if you only want to use your vaginal balls for intense stimulation, these bad boys will give you strong vibrating sensations to literally reinvent your orgasms!
Smart Kegel Trainers
A biofeedback or smart Kegel exercise tool can be synced with your phone. Then, you'll be able to control your toy via an app. The app will also monitor your performance and analyze your clench and release phases. That will let you know whether you're doing your Kegels correctly. It will also keep track of your improvement. These types offer various next-gen features, including long-distance remote control, app customization, heart rate monitoring, voice assistance, etc.
Electric Kegel Stimulators
These are the most extreme types of Kegel exercise tools! I'd only recommend them to fans of electro-stimulation. They generate mild currents to induce your contractions by force. Some of them can even induce your contractions from the outside without any penetration. While these types are not used as a proven medical treatment, electric Kegel trainers are mainly designed to help women who are struggling with strong bladder incontinence.
Anal Kegel Exercise Balls
What if you're looking for something that tastefully jiggles deep in your ass? Well, the general rule is that you should never use standard Kegel toys in your pooper. Why? Hur, durr, it's because they can get stuck deep inside your guts!
Still, if you truly want to work out your rectum and make your sphincter stronger, you can choose anal-friendly Kegel toys. These toys will always have a stopper or base at the bottom. This feature prevents them from fully entering your anus. A bonus tip here: men can also use these anal Kegel exercisers to get strong prostate orgasms or to even treat ED!
Buyer's Guide: Not All Balls Are Equal!
Whether you want to surprise your hubby with a super-strong squeezebox for your anniversary, or you simply want to masturbate in peace, you'll need to think carefully before you pick your new workout tool. So focus on several different tips while buying your Kegel toys:
What to Look Out For:
The shape – The design and shape of your Kegel ball have to fit your vagina comfortably. It needs to be well suited for your exercise position.
Your health condition – If you have an existing health condition, you should get the approval of your gynecologist first.
FDA Approval – Some, but not all, Kegel devices have been approved by the FDA. An FDA approval means that these toys have been medically tested. But, you can find quality Kegel ball weights without FDA approval if you carefully follow my advice.
Materials – Obviously, you should choose the safest material for your skin. If you are allergic to some of the materials I've outlined earlier, you should skip them and look into the alternatives. You'll need to decide between soft or hard materials. Also, you'll need to know which materials are unsafe.
Do you want to fuck or work out? Why not both?! – As mentioned, some Kegel toys are better intended for Kegel exercises. Others are designed to make you cum hard. You'll need to think about whether you want to seriously train your minge or look for a toy that will only deliver naughty fun from the start. Still, there are many models that solve both of those kinky problems at the same time.
Which Material Should You Avoid?
One of the biggest mistakes you could make here is to get a cheap, unbranded toy that uses suspicious materials. Some of those materials include jelly, PVC, and synthetic latex. There are all sorts of things that could go wrong with Kegel exercisers made of those materials. For example, they could give you a nasty infection or outright melt inside you. That's why you should skip those options. Instead, look for materials that are skin-safe, non-porous, and phthalate-free. You should stick to the most reliable options such as silicone, glass, ABS plastic, and metal. Unless you have a specific allergy to some of those materials, they will suit your skin without posing a health risk.
Soft vs. Hard Materials and Your Experience Level
As I said earlier, buying vaginal balls is a highly personal choice. If you don't get the correct fit and feel, the balls could feel overwhelming, or they could be too small to make an impact. That will all depend on your skillset and the feeling that the balls will create while they're inside you.
If you're a beginner and you've never attempted Kegels, I'd advise you to choose a silicone ball first. It's one of the safest and softest materials out there. Plus, it will allow you to experiment and go at your own pace. If you choose a tougher material such as glass or metal, you'll be able to feel it with much more intensity as you move around. However, that will also require a lot more effort from your muscles. The smartest thing you could do here is to get a few different Kegel trainers to see which materials suit you the most and work out your muscles gradually.
Single or Multiple Balls?
To find the best Kegel trainer design for you, remember the following:
Single Kegel balls will give you the lightest weight. They're the most effective for a small internal size or for ladies who are already experienced with Kegels. Yet, larger single-ball designs are some of the best options for beginners.
Dual Kegel weights have a heavier weight. They are better suited for a medium to large internal size. Some could feel perfect for beginners with a looser vagina. But, if you're already tight, they are a superb option for intense stimulation, especially if you opt for a vibrating type.
Size: Don't You Just Love Big Balls?
When it comes to size, stick to my motto: the tighter the pussy, the smaller the ball!
You'll encounter a very wide size range here. That includes balls that are smaller than a marble. On the larger side, they could have a 2-inch or wider diameter. This is a fairly wide stretch, but that's actually a good thing. If you're new to Kegels, you'll obviously need to choose a different size compared to someone who's been doing them for years.
If you're a beginner, it's best to choose a larger ball. It will require less effort to stay inside. Also, you won't have to contract your muscles so much. What's more, if you only want to use your Kegel balls during penetration or masturbation, most women claim that bigger Kegel balls are better. That's because they stimulate a wider vaginal area with more pressure. However, if you've already attempted some manual Kegel exercises or if you're already tight down there, smaller Kegel balls will make you contract your muscles harder to keep them in place.
Still Not Sure? Try The Finger Test!
If you don't know your internal size, it's time to do some digging! The best way to find out your Kegel ball size is to stick two fingers inside you. If they fit inside snugly, you'll know that you have a medium to small internal size. Ideally, you should choose a diameter between 0.5 to 1 inch. But, if there's still some space left over or if your fingers wobble around, then your vagina is within the medium to large size range. In that case, go for a diameter of 1.5 or 2 inches.
Weight
Generally, small single balls will be the lightest. They are perfect for narrow vaginas. Dual Kegel devices can be heavier. They are perfect for ladies who are looking to take their Kegels to the next level.
If you're a total newbie, I'd advise you to start with a non-weighted silicone or ABS single ball. Most Kegel exercisers will weigh anywhere from 0.1 to 0.5 pounds. If you have a weak pelvic floor, you should go for the lightest options (e.g., 1 to 2 oz). To work out your pelvic floor further, 4 to 8 oz will give you a fun challenge. One important thing to note here is that you can buy weighted and non-weighted silicone or ABS balls. The non-weighted options are the best for newbies, while pros can experiment with heavier glass or metal balls.
Retrieval Cord Tips
No matter how horny you are, you'll have to pull those balls out eventually, right? For beginners, strings and retrieval cords will make it easier for you to remove your balls. You can also use the string to jiggle the ball inside you for ultra tingly sensations.
However, while a retrieval cord will make your life much easier, it can also be a bit tricky to clean. Some kegel balls could come with actual strings which could collect bacteria. Instead, I'd advise you to choose a retrieval cord that's made of a non-porous body-safe material. For some silicone balls, the string will be molded out of the same material, while other metal or ABS balls will be attached via a rubber retrieval cord.
The Most Orgasmic Features
Whether you're looking to get off hard or you need extra options to make Kegels easier for you, definitely consider spending more money on a few special features. That includes vibration, weighted balls, smart monitoring, or remote control. With smart sensors and an app, you can track your performance. Besides a big fat cock, it's the only way you'll make sure you're working out your pussy correctly!
And as mentioned, if you want to combine the unusual sensations of your Kegel balls with vibrations, choose a toy that offers a variety of vibrating patterns and strengths. By far, remote or app-controlled Kegel devices will offer the most flexibility when it comes to configuring and using your Kegel ball weight hands-free. Also, you can control some app-enabled toys from miles away. This is a superb option if you're in a long-distance relationship and you want to stay intimate with your lover!
One Ball to Rule Them All?
Did you know that the world record for lifting weights inside a vagina is well over 30 pounds? Well, even though you may not break the world record, your honey pot can definitely lift more than the weight of an average Kegel device.
Therefore, you'll need to know that your first vaginal exercise ball will definitely not be your last. Again, that all depends on your strength and your training. Yet, there's a chance that you could quickly outgrow your Kegel weights. And that is actually a good thing since it will tell you that your kitty is making progress!
Typically, you'll see an improvement after a few weeks or a month. When that happens, you should increase the difficulty by downsizing or getting a heavier set.
Dos and Don'ts
Do:
Follow my rules regarding the shape, size, and weight. However, don't be afraid to experiment. You could get a few different Kegel trainers to truly make the most out of your workout.
Pick your vaginal exercisers according to your goals. If you only want to masturbate or use your ball during sex, choose a larger vibrating type. Yet, if you want to train hard and make your clam tighter than a duck's backside, choose a ball based on your internal size. Then, learn how to use it for the best results.
Don't:
If you have a health condition, don't be your own doctor and try to diagnose it with a Kegel ball. If you've experienced poor bladder control, sexual dysfunction, or urinary incontinence, it's best to consult your doctor.
Avoid stuffing yourself with a toy that uses unsafe materials like jelly or rubber.
Even if you're tempted, don't stick your vaginal ball in your ass! It could get lodged up there, and your doctor will have to fish it out of your butthole.
Tips on Using, Cleaning, and Storing Your Kegel Balls
Wanna get jacked in the box? Just follow some of my expert tips and get ready to pump some iron with your pussy!
Clench, Squeeze, and Tighten!
If it's your first time using a vaginal ball, you should avoid wearing it in public until you get used to it. That way, you'll avoid all sorts of awkward "oops!" moments if your Kegel ball falls out. Need another tip before you begin? Well, lube is your friend!
You should use a compatible lube on your Kegel trainers. It will ease any friction and make everything a lot more comfortable. However, an incompatible lube could destroy your Kegel tool, so choose only a water-based lubricant if you end up buying a set of silicone balls.
Now, when you lube up, lie down on your bed and gently push your ball inside. Unlike other sex toys, you don't have to get super horny at this point. If you're only using your Kegel ball to exercise, try to relax and assess how it feels against your body. Most people will notice the weight immediately, but you may also feel a strangely stimulating sensation.
Then, once you get used to your Kegel ball, you can start clenching. The easiest way to do this is to tighten your muscles as if you're trying to pick up a marble with your vagina or butthole. When you clench, you should hold the stretch for 5 to 10 seconds. Then, relax and repeat the exercise. You can repeat it five times for a full set.
Also, you can do multiple sets in one go. However, try to keep it light at first. Do only a few reps to get your vag used to the sensations. Also, you can play around with different positions, or you can jiggle the ball around and pull the string while buttering your muffin to make yourself squirt harder than ever!
How to Clean Your Vaginal Exercisers
Regardless if you're using your vaginal balls for short or long sessions, you'll always need to clean them afterward. The easiest way to do this is to wash your toy with mild soap and warm water. Most of the materials I've recommended, such as silicone, ABS, glass, and metal, will not absorb bacteria. That means you'll be able to clean them with water in just a few moments.
Still, your balls could contain all sorts of curves and textures. You'll need to pay extra attention while cleaning them or even use a soft cloth to get into all the crevices. After you wash your toy, you should leave it out to air dry before you put it away. The best way to seal your toy off from germs and dust is to use its original packaging, a carrying pouch, or a plastic box.
Kegel Balls Industry Overview
While the term "Kegels" was first coined in the 1940s by Professor Arnold Kegel, humans have been clenching their pussies and anuses for sexual purposes since ancient times. So, when were Kegel tools first invented? What should we expect in the future?
The Origins of Kegel Balls
Before the "official" invention of Kegels in 1948, many ancient cultures practiced pelvic floor exercises. In fact, similar exercises were mentioned in various ancient texts from India and China. Most likely, pelvic floor training was first practiced in ancient Hindu and Taoist religions.
Moreover, some sources say that Japanese men were the first to use Kegel balls. It's said that, back in 500 A.D., Japanese men used weighted metal balls in their sphincters to boost their pleasure during sex. Those early butt balls were filled with mercury. The substance caused unusual tingly sensations that were enough to push those Japanese men over the edge.
Somewhere along the line, Asian women started to push these into their tiny pussies, and they realized that the balls felt incredibly pleasurable deep inside. Lucky ladies! Yet, in modern times, people like Arnold Kegel actually focused on pelvic floor exercises in order to cure urinary incontinence and other health issues. Other doctors also experimented with pelvic floor exercise treatments in the 1940s, but Kegel was the first to invent a strange pump-like Kegel exercise device for automatic vaginal contractions.
What's more, vaginal exercisers have become incredibly popular in the past few years due to their appearances in the Fifty Shades of Grey movie franchise. While these toys blew up back in the 1990s along with the major sex industry boom, they're only just starting to capture the attention of the masses, and women are increasingly starting to use them every day.
Kegel Balls of the Future
At the moment, tons of brands are competing to revolutionize the world of Kegel exercisers. It seems that everyone and their grandmother is trying to invent the newest and most innovative smart Kegel balls with motion sensors, performance tracking, remote control, and strong vibrations. What's more, the designers are paying a lot more attention to the actual shapes of the balls. They are trying to make them much more ergonomic in order to fit everyone's body.
From spherical, egg-shaped to dome-like vaginal balls, it seems that the future is already here. Trust me – we're living in the age of advanced sex tech that can train our bodies and make us orgasm stronger than we ever have before!
Some of the most innovative designers of vaginal exercisers out there today include LELO, Intimina, Tracey Cox, Lovehoney, Paloqueth, Elvie, IntiFit, and Relentless Vibration. You can definitely expect those names to lead us into a new age of Kegel exercisers. I'm talking about enhanced smart controls, automatic exercising patterns, advanced vibration patterns, next-gen VR features, and much more! Really, some of the newest vaginal exercisers will feel like you're working out with your very own personal pussy trainer! So get your Kegel balls today and work that pussy out until you (s)cream!
⚠️ Disclaimer: Our articles contain affiliate links. If you like our content and wish to support our work, consider purchasing your new sex toys through our links. For each purchase through our links, we receive a small commission but at no extra cost to you.
FAQ
Yes, Kegel exercisers are some of the safest sex toys out there. The only risks that you could encounter are those caused by poor hygiene or improper use. For example, if you don't clean your toys properly, you could get an infection. Also, if you insert your balls incorrectly, they could feel uncomfortable.
The general rule is that you should never wear your Kegel weights for more than 4 to 6 hours. You may have to reapply the lube if you intend on using them for that long. If you wear your Kegel trainers for too long, you could overexert your PC muscles.
No, there's no way for your vaginal ball to get stuck inside you permanently. Sometimes, your Kegel ball could get stuck in your vaginal wall. But, you can easily take it out by pulling on the retrieval cord.
Alternatively, you could try to push it out of your vagina or use your fingers. One thing to remember here is that it's completely normal for your Kegel ball to stay inside. You shouldn't freak out if your ball appears to be stuck. It will fall out naturally, or you'll be able to remove it easily.
Typically, you'll insert your Kegel ball in a similar way to pushing in a tampon. The optimal depth should be around an inch. That's where you'll feel your contractions the most. You can push it in deeper, too. However, that will depend on your anatomy and your internal size.
One way to test that is to push your fingers inside and clench your vagina. Then, feel out the spot where your muscles are the tightest during your contractions. That way, you'll know how deep you should push your vaginal ball in.
Absolutely! However, this will depend on your skillset and how tight your kitty is from the start. If you want to exercise with your ball, it's better to keep your body still while you clench and release. You can still walk around with your ball inside, but just remember that it could fall out if your muscles are not strong enough.
You'll see the best results if you use your Kegel weights three times per week. For beginners, it's best to start with 5-minute workouts. Then, when you get used to that, you can try working out for 10 minutes per session. You will see some results in a few weeks, but the biggest improvements will come after two to three months. After that, you could try using a heavier or smaller ball to boost your contractions even further.