Jun/22/2022
Last Update: June 26, 2023
993
23 min read
Lube, Sweat And Tight Assholes: The Ultimate Guide To Anal Beads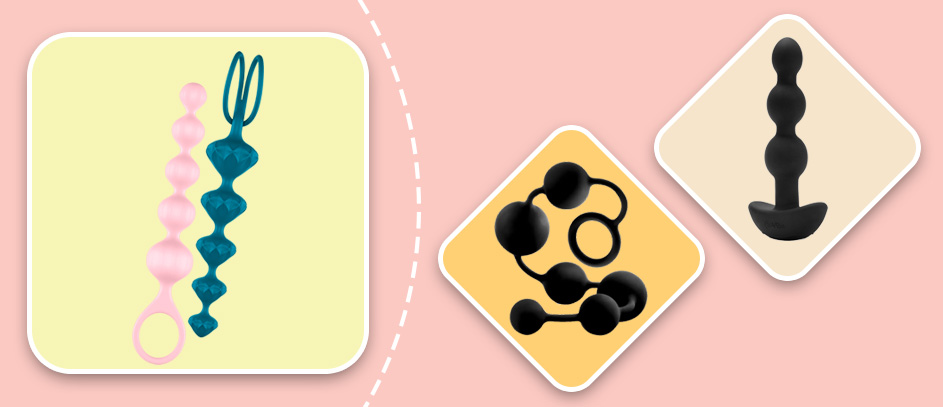 Life is all about love, romance, and happiness, right? Sure, only sometimes, it can also be about shoving some massive sex toys deep down where the sun doesn't shine! Talk about hitting rock bottom! And trust me, if you're the kind of gal who likes it raw, anal beads will stretch you out like a nasty little ass slave and make your tight sphincter explode with all kinds of wild and uncensored orgasms! All you need to do is pick your favorite ass beads, back that ass up, and get cracking! So let me introduce you to some of the most unique toys for ass play that will literally change your life forever and turn you into a bonafide anal queen!
Top 10 Anal Beads in 2023
Roses are red, violets are blue, I love anal beads, how about you? Well, if you're as anal as they come (double entendre, sugar!) you might have already had a few kinky adventures with some butt balls. If you're lucky, you may have even used them to squirt and gape like all those filthy ladies in the movies. Good girl! However, if you're a newbie to the world of ass play and you want to pop your anal cherry, you have no idea what you're missing! From small and stretchy, black and extra-large, to the newest butt balls with app control and gut-shaking vibrations, I'll show you the best anal beads that I've had the pleasure to test deep inside my rear-pussy! Bottoms up!
It All Starts with One Little Bead…
"Some people like to wear a necklace of hope with pearly beads. Others like to wreck their assholes with shiny and super smooth butt beads. Which one are you?"
We all know that ass beads slide in and out of tight assholes, but there's much more to it. A few years back, I found myself in the middle of a filthy threesome with my boyfriend and a huge black bull. Suddenly, I felt something smooth and round brush up against my wet butthole.
Earlier, I gave both of my lovers' permission to use my body however they pleased, so it wasn't unpleasant at all when my BF's gym instructor started to get freaky with hole #2. First, he was tonguing my bottom like it was his last meal. The next thing I know, I turned around and suddenly he was stretching out my cornhole with a huge set of butt beads! And I'll always remember that day when my two hung dudes pushed those intense beads inside my slutty ass-cunt.
You see, I realized that I was missing way more than I thought. I basically had no idea that ass beads could do such perverted yet highly pleasurable things to my body! Moral of the story? Darling, it's never too late to become an anal whore!
Anyway, while I was used to a good old finger, butt plug, or dildo up my keister every once in a while, I honestly didn't know just how many beads were out there today. There's a whole market of orgasmic ass balls just waiting for your anus' attention! Once I got that sorted out, I realized that I could recreate all those sensations from my threesome without having to call my BF's fitness instructor again!
Shopping for Anal Beads Is Not Easy
If you want to become a total baller and use or abuse your ass with the most orgasmic butt beads out there, you'll have to come prepared. It's true, you shouldn't shove any random anal bead up your poop chute! Also, while there are a ton of choices out there that you can use for all sorts of sphincter spelunking adventures, buying ass beads online will make you feel like a freaking kid in Disneyland.
Of course, the anus is a small and delicate opening. It should only deserve the best of the best! That's why you'll have to learn what butt balls are all about, how they're used, and how you can find the perfect ones for you.
So no, it's not a matter of "C'mon Scarlett, why won't you let me destroy my asshole with some giant anal beads already?!?!"
If you don't believe me, just get some inspiration from the pros. Take, for example, Aletta Ocean. This stunning brunette anal queen and AVN Award winner has seen it all. She probably has hot buttsex for breakfast every day of the week! Plus, on a cool morning, she likely gets all the fun by sucking on hard cocks and getting her bleached asshole pumped raw by a bunch of hung surfer dudes. And you can bet that she knows exactly which type of anal balls are right for her body and her award-winning rear-fuckhole.
So before you go out and buy yourself some ass beads, think: "What would Aletta Ocean do?" Now, how's that for a tramp stamp? Words to live by!
What Are Anal Beads Anyway?
While I've seen it all, what I love most about all kinds of butt beads is that they are naughty as heck and they can literally suit anyone. Since all of us have buttholes (duh!), everyone can use these beads regardless of their gender or sexual orientation.
Also, anal balls are highly skill-dependent. They are available for all kinds of tight or loose holes out there. Meaning, you can use huge anal beads to smash your starfish and make it gape like you're starring in the next Evil Angel flick. However, if you're an innocent little anal virgin (the best kind of virgin!!!), you can also use them to get an idea of what it feels like to stuff your untouched pooper.
Plus, you can train with your big anal beads and work your ass out to prepare you for much bigger things! And not to mention all the kinky shit that you can do with your male partner. You can force him to take the dirt road home and deliver all kinds of otherworldly pleasure deep in his asshole with a strong prostate milking! Has he been a bad boy? It's time to teach that little bitch some manners and stuff his boy-pussy full of huge anal beads!
Bead In, Bead Out
Regardless of how you want to use them, ass beads are special types of sex toys that are designed for penetrating your donut hole. What's special about them is that they are a totally different ball game compared to all other sex toys. They share some similarities to butt plugs, but they are not designed to plug your ass and stay there.
Instead, the goal is to move your beads in and out to stimulate your butthole with an unusual feeling of tightness, fullness, and insanely pleasurable sensations.
Now, most beads consist of several balls, spheres, or other smooth and round shapes. The balls are attached together on a string or a silicone retrieval cord. Usually, their overall size and width increase in ascending order. For example, the ball that's the closest to the base is the biggest. The one that's nearest to the tip is the smallest. That gives you an even taper and a gradual size increase that lets you experiment. You can push just one or two beads inside to stretch your butt during foreplay. Alternatively, you can take one for the team and go down all the way to the bottom until every single anal bead goes deeper and deeper into your turd tunnel. Talk about a gut job!
And I guess it's safe to say that one of the most unique things about these beads is their design along with their innovative functionality. For instance, the smooth round shape of each ball will stimulate thousands of nerve endings in your anal canal. Plus, it will deliver heaps of pressure to make you feel nice and filled up. Not to mention that it all looks visually exciting and kinky as fuck!
Why Should You Use Anal Beads?
One of my favorite things about anal balls is that your partner can pull them out of your ass when you're least expecting it. That always makes me squirt harder than a lawn sprinkler on Sunday morning!
However, before you let your boyfriend defile you, you should get familiar with all the fun uses for butt beads. Trust me, it's kind of like buying a new iPad and learning everything you can about its settings and features. Even if you've seen a ton of these butt toys before, here are just some of the most exciting benefits of anal beads:
Intense and safe anal stimulation – You can forget all about stuffing your butt full of sharpies, beer cans, and other household objects. These toys offer an incredibly safe and fun way for you to experiment with all kinds of rear-end adventures.
Extra-wide range of sensations – From gentle penetration, intense in-out motions, extreme stretching to brutal gaping, large anal beads can do it all!
Long-term wear – You can literally wear your ass beads all night long, which is simply excellent if you want Daddy to lock you up in your dungeon.
Bonus Tips:
Improved orgasms – Do I even need to explain this? These beads can get you to some super-soaked anal orgasms!!! But, they can also make you cum hard by directly stimulating your G-spot or clitoral nerves through your rectum.
Unforgettable male stimulation – As I mentioned, you can use ass beads to massage your male lover's P-spot and milk him dry! You can also try them to train his boy-hole before you fuck him balls deep with a massive ejaculating strap-on. How's that for a taste of his own medicine?!
They're super compatible with other sex toys – What if you want to ride a huge fat cock with your pussy while you fill your ass up with one or two silky-smooth butt beads? Mmmm, baby! These balls will massage your A-spot and make you feel every single wave of pleasure while you're getting fucked on all fours! You can also combine them with various other sex toys like vibrators or dildos to make you gush over and over!
Types of Anal Beads
If you believe that ass beads are just a series of ball-shaped objects attached to a string, you're probably correct. But, that's just the tip of the anal iceberg. They are available in all sorts of models and types. We can categorize them based on their size, shape, material, features, etc. Just think of it like you're going to try out for the Butthole Olympics and you need to find your newest weapon to outfuck your competition! And the best way to begin is to check out all the different types of beads to find the one that gets your juices flowing.
Smooth vs Corded Beads
One way to make sense of all the beads out there is to categorize them according to two main styles. That includes smooth or corded beads.
Basically, smooth beads are often referred to as the beginner's type because they are connected to a strip or retrieval cord. They look like smooth ribs rather than actual beads or balls. Conversely, corded beads use the traditional design of fastening several spheres or balls on a single cord. They are similar to Ben Wa balls that fit inside your punani. Except, they're designed solely for hot pleasures of the anal variety.
While there's a big difference between those two main types in terms of the look and feel, you can also use them in different ways. For example, smooth balls on a string are better for in-out penetration. Yet, corded beads are designed for a more intense ass stretching. These types are also fabulous for long-term wear. Since they're wider, they'll stay inside you until you pull them out.
Of course, your choice between those two main styles will also depend on your experience level and your ass-fucking goals. With that in mind, let's check out some other exciting types of beads:
Silicone Anal Beads
If you're a beginner and you're looking for super-smooth action that makes anal feel comfortable and fun, silicone beads will be the perfect choice. For one, they're soft and durable. Plus, they are incredibly easy to use. These types are by far the safest anal toys for beginners. That's mostly due to the non-porous qualities of silicone.
Namely, this material is 100% body-friendly and it is non-porous. That means it will never absorb bacteria. That's exactly what you should look for in an anal toy! Trust me, you don't want your beads to absorb every little anal bacteria that they encounter. Instead, silicone beads deflect germs. That makes them not only super hygienic but also makes cleaning a breeze. Also, what really gets me going with silicone beads is that they feel very lifelike and rubbery. No complaints from my little bum either! These types are super fun to grip onto with your ass or pull in and out until you scream for more!
ABS Anal Beads
While ABS is not the most common material for dildos or vibrators, it truly works wonders when it's used on beads. ABS plastic is non-porous and just like silicone, it's fully body-safe.
However, these types of butt beads have an extra-hard texture that won't bend. And if you thought that shoving some plastic balls in your butt was absolutely insane, think again. These butt beads take up the middle ground between softer silicone toys and the harder stuff made of metal or glass. They can fill you up gently or rock your world with intense pressure depending on how much you can handle.
Glass Anal Beads
Now, if you truly want to make your butt shine, it's time to put some glass in your ass, honey! My favorite thing about glass anal beads is that they look like a piece of finely-crafted art. They're like sculptures, except, you get to fuck them with your ass and get dirty until you cum like a slut!
But honestly, these are some of the most intense anal toys out there. While they are super strong, they have the smoothest surface compared to all the other types. That makes them glide in and out smoothly. Another cool feature of these types is that they feel cold at first. They can warm up to body temperature when you push them in for tingly temperature play sensations.
PVC Anal Beads
PVC ass balls are some of the cheapest types you can find out there. They are the most flexible and by far the most jiggly types available for your booty. However, they are highly porous. Also, most of them contain nasty chemicals known as phthalates. Those chemicals are toxic not only to your skin but to the delicate flesh inside your colon.
My advice would be to avoid all kinds of non-porous PVC anal toys. Still, if you really need to get some jiggle deep down in your crack, you might be able to find phthalate-free PVC beads. Note that they will still be porous and that they'll likely break down over time.
Anus of Fortune: Looking Beyond Traditional Ass Balls
If you truly want to slam-dunk your ass, check out some of the most intense types of anal balls:
Vibrating Anal Beads – If you want to buzz the hell out of your ass until you see rainbows, vibrating anal beads are the key to ultimate butt-fucking fun! Usually, they will have a vibrating motor at the base that transfers strong pulsations all the way to the tip. Some of these toys come with removable bullet vibes. Others have stronger built-in motors. They also come with a wide range of vibration speeds and patterns.
Remote Controlled Beads – If you want to control your anal pleasure from far away, definitely look into remote or app-controlled vibrating anal beads. They come with a remote or app that you can use to configure the vibrations. Some have a limited range whereas other app-enabled butt balls are even designed for long-distance play.
Beads with Cock Rings – Now, here's a fun one! These beads are attached to a cock ring at the base. Just stuff them up your male lover's asshole and constrict his cock at the same time to make him throb harder than ever!
Huge Anal Beads – Obviously, these types are not meant for those with weak glutes. Extra-wide or long anal beads are the ultimate tool for any extreme anal fetishist! They will make you stretch and gape like the Grand Canyon! I'm still working on them and pretty soon I'll be able to stretch my fuckhole so hard to out-gape Adriana Chechik!
Metal Beads – If you prefer some heavy metal balls, look no further! These bad boys look extra kinky, but they also feel super strong and heavy in your poop chute. They are some of the ultimate tools for freaky BDSM experiments and all kinds of dungeon games.
Buyer's Guide: Just Bead It!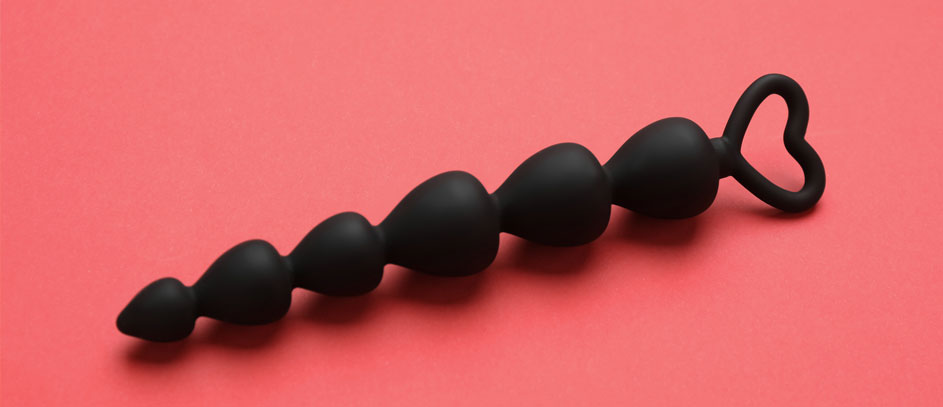 Choosing your new beads isn't always easy, but it shouldn't be a pain in the ass! However, you could end up being the butt of all jokes if you overlook some factors when buying your ass beads. Luckily, my hungry asshole did all the research for you to help you dodge some of the pitfalls and find yourself a shiny, safe, and ultra orgasmic set of ass beads!
Safety Cums First
Even if ass bead sex is first on your naughty to-do list, you definitely don't want to be a party pooper. The most important feature of all anal toys is, well, the bottom. The base of your beads is absolutely essential because it prevents the damn things from getting stuck way up your rectum! And trust me, you don't want to tell a nurse that you have some long anal beads stuck up your colon. That's why most beads have a loop, handle, or base at the end. It helps you to easily pull them out whenever you need to. Oh, and it also saves you from an awkward trip to the ER.
What to Look Out For
Which type do you prefer? – If you still don't know, you should probably see some beads in action and watch some hardcore anal porn! Also, you can choose some beads from my list or even read my previous reviews on other anal toys that I've enjoyed.
Don't be a bad girl just yet! You can ignore a lot of the really important stuff if you focus only on your fantasies. So don't forget to think about the shape, size, and materials of your new toy.
Do you need push-pull action or something that fills you up and gives you a nice wide stretch? That will determine whether you should go for smooth or corded beads.
Do your new beads make you want to fuck your butt until you can't walk straight?
What about your experience level? Well, if you have a virgin tush that's never been touched before, it's probably better to stay away from big anal beads.
Special features – If you want to get vibrating anal beads, it's always a good idea to look into the features. You should carefully inspect the speeds and patterns, power, wireless range, charging, etc.
My Balls Are Bigger Than Yours: A Size Guide
The average diameter of a single anal bead is approximately 45mm. If you're a beginner, anything from 25mm to 125mm will be enough to fill you up without any pain. Of course, this is all extremely subjective and what may work for some assholes may not work for others.
For example, experienced anal pros could prefer a diameter of 1-2 inches. Some of the truly naughty freaks out there might not accept anything that's smaller than 5 inches in diameter.
What's more, remember that some beads are tapered and that they gradually increase in size. That's why you should always inspect the total length and width of your beads. If you're still unsure, you can test the waters with a finger or two. If that feels comfortable, go for an average size. But, if your ass can handle more fingers or even a first, why not go with some large anal beads?
The Cleanest Materials for Your Tush
If you were paying attention, the #1 rule here is to avoid all kinds of porous materials in your tush. They can absorb nasty bacteria and that's never a good thing when it comes to toys that you shove up your ass. While I've already mentioned PVC as one of the materials you should avoid, other dangerous examples include rubber and jelly. Those materials are also highly porous and full of phthalates. So skip them and go for the safest options out there. That includes silicone, glass, ABS plastic, and metal.
Obviously, all of those materials are different from each other but you can make things easier on yourself by deciding whether or not you want a harder or softer texture. In my experience, silicone beads are the best for beginners. But, metal or glass anal beads are the best for an all-out rectal rampage!
Attachment Methods: Cord vs String
Corded beads resemble anal dildos with several balls stuck together on a long shaft. On the other hand, traditional beads don't have a shaft. They have a string that goes through each ball and that lets you pop them in one by one.
To me, stringed beads are kinky as heck and they are the best choice for push-pull action. But, if you want something that feels more like a ribbed dildo with beads, go for the corded type. In some ways, this type is easier to handle and use for in-out penetration. Still, if you want the OG ass bead experience, the string type will always win.
Fifth Base: Loop or Handle?
While the base is the most important safety feature of your toy, there are several different designs. You can get beads with a flared base, a loop, or even a handle. Yup, some beads come with a handle to allow you to wield your sex toy like a weapon and get medieval on your partner's sphincter! If you're not into that, you can go for a standard flared base or a loop. These two designs will keep your beads from getting stuck in your butt. Plus, they'll allow you to pull them out easily.
Vibration and Other Features
If you want to go berserk and drill your ass nice and deep with strong vibrations, you should always look into the speeds, strengths, and patterns that your toy will give you. To keep things interesting, get a toy that has a variety of vibration settings. That way, you'll never get bored and you'll get to experiment as much as you want!
However, you should also look into the vibrating motor. In my experience, some beads with built-in motors are much stronger and they deliver balanced vibrations. Other butt balls with removable bullet vibrators could be a pain in the ass to clean and use. Sometimes, the small bullet vibe could pop out and other times, it may not be strong enough to please you.
Additionally, if you want to buzz your bumhole from far away, you could pay extra for app control. This feature will allow you to sync your toy to your phone and use an app to configure all sorts of interesting settings. Some apps enable you to create custom patterns, but they could also offer voice activation, orgasm monitoring, music syncing, etc.
Use These Tips to Find the Best Anal Beads:
Always pick a body-safe material but also consider whether you'd prefer a hard or soft texture.
Choose anal beads that you can clean easily.
Always look for a ring at the base or a flared base to stop your toy from entering you fully.
If you're an anal newbie, start with small butt beads.
If you like it rough and you know what your ass is capable of, go for some extra-large or extreme anal balls.
Experiment with several different beads to find the best type for you.
Tips on Using, Cleaning, and Storing Your Anal Beads
Whether you like to rough up your butthole or use your ass beads for intimate and gentle anal experiences, the instructions will stay relatively the same. So check out some of my expert tips on using these ass-tastic toys:
Take It Nice and Slow…
Unless you really, really want to get your asshole wrecked, I'd advise you to go slowly at first. So try not to force your beads inside you while you're horny. Instead, use plenty of lube to start. My best tip is to apply the lube to the tip and around each bead. Also, it won't hurt if you want to slather your bum in lube or even push some of it in there before you start.
But remember: some lubes will not play nice with your toy. For example, you should avoid silicone or oil-based lubes on your silicone ass beads. They could harm the surface of the material. Instead, use only water-based lube on your silicone beads. If, however, you go for glass or metal beads, you can use any type of lubricant.
Time to Fuck That Butt!
When you're good to go, you can watch some porn, play with your partner, or do whatever it takes to get super horny! Then, pamper your ass a bit with your fingers and remember: it's all about baby steps! Try to gently slide the tip in and work your way up. If you get past the first or second bead with no pain, great! You can work your way up all the way to the bottom of the toy! If not, focus on getting one or two beads in and work them up and down until your ass gets used to it.
Bonus tip: don't be afraid to loosen up your butthole and experiment. That means you can try all sorts of in and out motions with your beads. But, you can also clench or relax your butthole around them to feel the stretch. Note that some people like to push them in and out with their hands. Others prefer to leave them inside while they masturbate with other sex toys and some dirty perverts out there love to use their assholes to push out their beads hands-free just when they are close to cumming. Oh, the options!
How to Clean Your Beads
From my experience, these toys are a bit harder to clean compared to your average dildo, but it's nothing that could take up too much of your time. You simply need to soak them in water. Then, use mild soap to make your toy squeaky clean. However, try to clean each ball carefully, and don't forget about the space between your beads. Another method is to fully sterilize your toys by dipping them in boiling water. You can do this with silicone, glass, or metal toys.
Also, you can even stick your beads in the dishwasher, but I'd advise you to not do this since you really shouldn't shit where you eat, right? Anyway, regardless of the method, you need to let your beads air dry after you clean them. Then, you can put them back in their original box or store them in a soft carrying pouch.
Anal Beads Industry Overview: Let's Dig Deep!
Did you know that over 45 percent of women are having anal sex frequently? That's a lot of fucked buttholes and intense anal orgasms! Anyway, my point here is that anal is no longer as big of a taboo as it used to be. Everyone can enjoy a glorious ass banging every once in a while! But how did it all start and who can we thank for inventing ass beads?
The Origins of Anal Toys
Unfortunately, very little is known about the origins of ass beads. It's highly likely that they were invented in ancient China or Thailand. Some of the earliest beads and butt plugs were made of jade or other polished rocks. They were used in Asian cultures to promote fertility and enhance male or female stimulation during sex. Of course, sex toys are much older than that. The earliest dildo ever discovered is believed to be 30,000 years old! And regarding anal sex, its earliest depictions in Peruvian pottery date back 2,000 years ago. Also, we all know the stories of those legendary anal orgies in ancient Greece or Rome!
Surprisingly, anal toys are a modern invention that was created by doctors sometime in the 1800s. These early toys were known as dilators or butt plugs that were designed to relieve constipation. Still, it didn't take long for people to figure out that stuffing those dilators up their butts felt incredibly pleasant. However, we had to wait for a whole century until butt beads were available to the public. The history is not well documented, but it's safe to say that anal balls were first sold as sex toys sometime in the 1970s or 1980s.
What's Next in the World of Ass Beads?
Right now, we are truly living in the glory days of anal sex and we can punch our donut holes with all sorts of fun ass beads until we explode. Some of the biggest brands that are currently revolutionizing the market include Lovehoney, Tantus, Tracey Cox, Icicles, Doc Johnson, We-Vibe, OhMiBod, LELO, and more. Those brands are constantly competing to take our anal play to the next level and design the sleekest and most ergonomic beads with various next-gen features.
If you want a taste of the latest and greatest, you can already find anal balls that come with VR integration, AI features, and long-distance controls. And I say it won't be long until we get to fuck our rear ends with big anal beads that thrust in and out on their own, inflate automatically, or even talk dirty to your ass-cunt! But why wait when you can get yourself a kinky set of anal beads today and go crazy on your ass? Have fun!
⚠️ Disclaimer: Our articles contain affiliate links. If you like our content and wish to support our work, consider purchasing your new sex toys through our links. For each purchase through our links, we receive a small commission but at no extra cost to you.
FAQ
That is up to you. You can leave them in and play with your pussy or have sex with your partner. Some people prefer this because it gives them the feeling of intense pressure. Others like to pull their beads out to gain some serious stimulation. These toys are also famous for the incredibly powerful sensation that happens when they pop out. For some people, the feeling of beads popping out of their hole can make them cum instantly while others could find it way too intense.
This also depends on what you like. If you are an anal pro, you might even love to push your butt beads out extremely fast. That way, you could feel a unique blend of pain, stretching, and intense pleasure. But, for most beginners, it's better to go slowly and pull them out one by one.
If it's your first time using butt beads and you feel some pain, don't worry. This is only temporary and it will go away once you get used to your toy. If it hurts too much, try using more lube, pushing your beads in very slowly, or stretching your butt with your fingers first to get accustomed to the sensations.
There are several big differences between these two toys. For one, anal beads are shaped like balls or spheres whereas a dildo has a classic phallic shape. Because of that, the two toys feel completely different when you slide them inside. Since anal beads are made up of multiple balls, pushing them in and out will feel totally different compared to using a dildo with a straight or slightly curved shaft.
Oh, yes! These are some of the best toys for anal newbies. They allow you to go at your own pace and stretch your ass gradually. If you buy small anal beads with a tapered shape, you can use them to slowly open up your ass. This could train you for a bigger anal toy or a huge fat cock. It could also get your ass used to the sensations of intense penetration and help you reach some intense anal orgasms.
Although you see a lot of porn with hot girls shoving their anal beads up their pussies, I wouldn't recommend it. This is actually very dangerous. It can lead to infections, especially if you push your beads out of your asshole and stick them deep in your pussy. Instead, it's better to buy a dildo or vibrator that you can use only in your pussy while you play with your ass beads. If you're looking for a toy that's similar to anal beads but is designed for vaginal pleasure, check out some of my earlier articles on my experiences with Kegel or Ben Wa balls.