Jul/04/2022
Last Update: June 26, 2023
1104
23 min read
Best Rabbit Vibrators In 2023 To Turn You Into The Orgasm Champion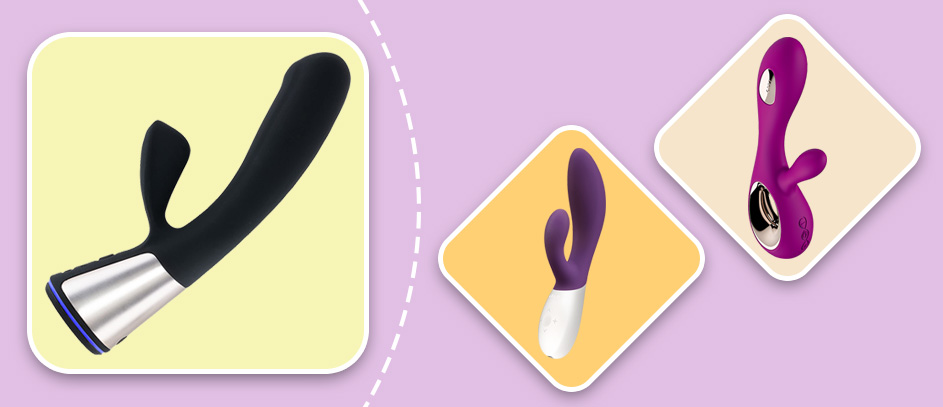 Hey, bunny doll, are you getting over a tough breakup? Have you got a serious case of the no orgasm blues? I have a simple pick-me-up for you. Just spread your legs wide open. Now, with both hands, shove a massive rabbit vibrator balls deep in your wet pussy! Really, whether you want to experiment on your own or spice things up with your partner, rabbit vibrators will change everything!
But with so many exciting choices out there, you might not know which exact rabbit vibrator to buy. So allow me, your horny sex toy addict Scarlett, to show you how to find the perfect rabbit vibrator!
Top 10 Rabbit Vibrators in 2023
Right now, it's wabbit season, and your pussy is the prey! If you've ever looked into rabbit vibes, you probably saw an overwhelming number of options. There are cute colors, sizes, and various kinky features. But let me be clear here: not all rabbit toys are worth it. Fortunately, you have me to show you some models that will bring you more luck than a rabbit's foot. If you need to pummel your clit and get a deep dicking ASAP, check out my top 10 rabbit vibrators!
Rabbit Vibrators: Welcum to the Orgasm Olympics
"Ehhh, what's up, cock? Well, it's pink, wide, and it's 9 inches long! Oh, and it also vibrates, flutters, and twirls to obliterate your muffin until you squirt like an enchanted fountain! You'll never think of Bugs Bunny the same way again!"
Whenever I grab a rabbit massager from my collection, it's usually because I have a massive craving for a vibrating cunt blaster. Oh, I know that it can wipe my memory clean while it services most of my pleasure spots. And that's the real secret of rabbit toys.
Trust me: these bad boys will simultaneously give you throbbing clit orgasms and deep internal rumbles. They'll love your G-spot until your lady cake blasts out fireworks like it's Independence Day! Honey, if you've never tried one of these intense (and darn cute!) orgasm machines, all I can say is: What the F are you waiting for?! These legendary dildo-and-vibrator combos will literally blow your brains out with explosive blended orgasms and keep you cumming until you pass out!
Basically, they can reward you with a balls-out fucking spectacle while also taking good care of your soaked clitoris. A rabbit vibrator will give you everything from light, fluffy and gentle, to extremely intense, hardcore stimulation. It will make you hop like a bunny in heat!
What Are Rabbit Vibrators?
What if you're thinking, "Scarlett, I really don't know if this thing is right for me… And why the heck does it have bunny ears?!" Well, all I can tell you is that a rabbit vibrator is like a secret key you can push inside to unlock the most intense sensations of your life. In fact, this toy is so special because it pampers your cherry pie and your pink pearl with internal and external stimulation at the same time.
If you don't know, rabbit vibrators caused a huge splash a few decades ago in one of the most famous episodes of Sex and the City. Not only did they become an icon in popular culture, but they changed the world of sex consumerism. Seriously, the episode made thousands of horny female shoppers rush into adult stores, and the rest is history. Pussy-squirt-soaked history, to be precise.
Over 20 years later, rabbit sex toys are even more popular today. They've basically become the go-to orgasm machine for millions of women! Even better, they've received some 21st-century updates.
Get Ready, You Little Fuckbunny!
Typically, most standard rabbit massagers look like modern-day dildos. But, they have a built-in external clitoral stimulator at the base. It's tiny and precise. It usually looks like a pair of bunny ears or fingers doing a "come hither" motion. The goal of this unique toy is to give you:
Deep internal pleasure through penetration with the long and wide dick-shaped shaft.
Intense external pleasure with the vibrating clitoral arm or the bunny ears.
Now, why rabbits? Well, we all know them to be fluffy critters. They hop around like crazy searching for carrots, right? But, we also know that they are sex-crazed beasts that spend each waking hour fucking. And that's kind of the whole point of a rabbit vibrator!
When I first tried one, I literally did nothing else but shove that thing up my minge for hours. Like, my bills were late. That's not because I didn't have money, but because I spent all my time with my rabbit vibrator inside me. Will it do the same for you? Absolutely, but just remember to stay hydrated.
Dirty, Dirty Bunny
Generally, rabbit vibrators are much more intense than traditional vibrators. The reason why I love to recommend them to most ladies is, mainly, the fact that they are highly versatile. You know, not every woman is the same. We all need different kinds of stimulation to lead us to a unique orgasm. As in, it's not all stroke, stroke, stroke that hard dick until the cum blasts out way too early. What I'm saying is that rabbit stimulators provide you with a perfect combo to make it really simple for you to get the type of climax you're looking for.
Moreover, these toys are ergonomically designed for female pleasure. So regardless of if you're a squirting pro or if you're struggling to find the ideal type of stimulation, these things will turn you into the orgasm champion.
Now, your rabbit ears vibrator will work pretty much in the same way as any other traditional vibrator. Except, you'll get the added power of the external clitoral arm. The overall design is so practical, effective, and budget-friendly that most manufacturers sell more of these toys compared to standard dildos or bullet vibrators.
Why You Need One Right Now
Look, I know that deep down, we're all a bunch of shameless perverts. We'd love to spend our days stuffing our clams and bums full of all kinds of sex toys while watching sweaty, rough, sloppy, and even mildly disturbing porn. But stop it, stop touching your crotch right now! Let's really focus here on some reasons why you might need a rabbit vibrator.
If you're unsure, you should grab one ASAP if:
You don't want to use several toys at once.
You wish to invest in an all-around vibrator that can pretty much do everything.
You're having orgasm troubles, and you want an easy way to set yourself free.
Intense blended orgasms or multis are your preferred way of getting off.
You want to try squirting for the first time.
You want to experiment on your own or with your partner and try out all sorts of intimate or kinky sex stuff.
If you answered yes to any of the above and you felt a little tingle in your pie, your new rabbit vibrator will definitely become your deadliest weapon. But which one should you actually get?
Types of Rabbit Vibrators

While rabbit vibrators are super simple, they come in dozens of different types. Some are huge, some smaller, some look like real dicks, and others don't even resemble a penis. You'll also find them in all sorts of colors from neon blue, pink, purple, red, etc.
By now, I've told you all about what a standard rabbit vibrator can do. However, if you want to get even more creative, there are several other unique types out there:
App-Controlled Rabbit Vibrators
App-controlled rabbit sex toys use common technologies like Bluetooth and Wi-Fi. They allow you or your partner to control your toy from a distance. You simply sync your phone, tablet, or smartwatch to the toy and use the app to configure it. This is handy because it eliminates the need for a separate remote controller or physical buttons on the toy. Also, it enables you to fully tweak the settings of your rabbit vibrator.
Do you want your partner to tie you up and render your body motionless while pleasuring or punishing you from a few feet away? Or do you want a toy that can connect you to your partner even if they're miles away from you?
An app control rabbit vibrator can do all that and more. It can give you tons of settings to play with. That includes presets, sound activation, personalized patterns, music-syncing, etc. Also, some of these things are VR-friendly. You can use them for virtual play and sync them to hyperrealistic VR content!
Rotating Rabbit Vibrators
If you need a toy that moves on its own, a rotating rabbit vibrator will provide you with automatic twisting motions to give you 360-degree pleasure. This type contains a shaft or head. It rotates automatically in addition to vibrating like crazy. That way, the powerful rotation stimulates you from the inside while hitting all sorts of magic pleasure nerves. These vibrators will give you jolts of orgasmic fun at various different speeds and angles!
Even better, you can get one that offers vibration and rotation on both the insertable head and the clitoral arm for insanely intense drilling.
G-Spot Rabbit Vibrators
These are some of my favorite sex toys of all time! They function like any standard rabbit toy, except the insertable part is ergonomically designed to directly target your G-spot. What's the difference? Well, you get on-point G-spot stimulation topped off with an intense clit massage to send you into an orgasmic trance and even make you squirt.
This type also produces a different type of vibration that's precisely intended to hit your G-spot with waves of deep buzzing pleasure. Basically, these things have become my-go to toys for squirting. They also put a big smile on Richard's face when he pins me down and uses them to make me gush like I'm his tiny little fuckdoll. I know it sounds corny, but if you're into G-spot orgasms, this type definitely deserves to be in your collection.
Thrusting Rabbit Vibrators
And what if you're the kind of girl who's really, and I mean really into fucking machines? Well, thrusting rabbit vibrators are like compact sex machines that slide in and out of you automatically. They can do this in several different ways. On some, only the head can move, while others can make the entire shaft go up and down. They can get pretty close to stimulating real sex and can even take it a step further on some of the higher speeds.
Other Types
Realistic rabbit vibrator – This type of vibrator looks like a big, hard cock with throbbing veins and a delicious thick head. If you're obsessed with dicks, this is definitely the best rabbit ears vibrator for you.
3-in-1 rabbit ears vibrator – If you're not satisfied with double pleasure and you want to take it a step further, 3-in-1 rabbit vibrators can truly make you cream like a premium pornstar getting her brains blown out of her skull! This type is a standard rabbit ears vibrator that gives you an insertable dick and clitoral stimulator, but it also gives you an ass massager, usually in the form of anal beads.
Rabbit-only stimulator – I know that not all girls are into getting their holes blown out. So if you don't need a penetrative toy, you can still get a clit stimulator in the form of bunny ears. This toy is basic and simple, tiny and portable, and it's well suited for all types of clitoral masturbation.
Features to Make You Tingle
Now, what are the kind of features you should look for in your rabbit vibrator? There are several things to consider, including:
Speeds – A quality rabbit ears vibrator should give you a wide range of speeds so that you can take it nice and slow on the lowest settings and ramp up the fun with the highest speeds.
Patterns – These toys will also give you several different vibration modes and patterns. Usually, three to four patterns will be enough for most women, but the majority of rabbit toys come with around ten unique vibration modes.
Textures – You can choose between a smooth or textured material with beads, ribs, or swirls. A smooth surface will glide in easily. Conversely, a textured one will give you extra tingly sensations.
Clit arm designs – While the most common design looks like a pair of bunny ears, the external stimulator could also resemble a thicker bullet vibrator. Also, there are some clitoral arms that produce suction to mimic oral sex. Others could look like butterfly or bird wings.
Remote control – Having a remote control might be an essential option, especially if you want to play around with your partner or you want to use a rotating or thrusting rabbit vibrator. A remote can allow you to change up your orgasms like you're switching channels on your TV!
Water-resistance – If you want to be able to use your toy in the shower to get extra steamy, waterproofing will be an important feature for you.
Long-distance and VR – If you wish to spice up your long-distance relationship or take your solo fun to the next level, keep an eye out for these two features. A rabbit ears vibrator with long-distance control will usually allow your partner to configure it remotely from an app. There are several apps available, and they'll give you options such as video chat, toy syncing, and more to bring you closer to your LDR partner. And if you want something totally different, VR-enabled rabbit ears vibrators can connect you to your favorite interactive VR content.
Heating – some vibrators can also heat up automatically to make masturbation feel incredibly realistic!
Materials
I'm glad to say that most rabbit vibrators are made of body-safe materials. You won't have to search too long to find a safe toy. Basically, if your vibrator is body-safe, it means it's non-porous, and it doesn't cause allergies. Also, it doesn't absorb germs, and it's very easy to handle, clean, and maintain.
You'll encounter silicone as the leading material for rabbit ears vibrators. This material is not only 100% body-safe, but it also feels amazing. It's silky smooth and feels similar to the real deal. You can also fully sterilize it, and if you handle it properly, it will last for a long time.
Moreover, you'll find vibrators made of TPE, which is a mix of plastics and rubbers. This material is more flexible compared to silicone, and it's also a decent choice. However, it's porous and attracts bacteria, but it's still non-toxic and skin-safe. If you must, go for this material only if you're ready to clean it properly and swap your toy out for a new one after several months.
Another material worth mentioning is ABS plastic. It's a safe material, and you'll sometimes see it included on the bunny ears. It is tough and inflexible, meaning that it will give you a different type of vibration and a unique type of sensation altogether. However, some materials to stay away from by all means are jelly, PVC, and latex. They are usually found on cheaper toys. You'll want to avoid them because they contain toxic phthalates that simply shouldn't go near your vajayjay!
Buyer's Guide for Your Ultimate Rabbit Vibrator
So how should you go about finding the best vibrating rabbit cock of your dreams? Well, it's all about choosing the toy that makes your minnie the happiest. But as you've probably realized by now, there are way too many choices out there. Hey, I'm not complaining, honey; I love being overloaded with hundreds of fake dick choices!
Still, you can pick your vibrator based on looks alone, but you shouldn't neglect the features, vibration options, as well as some factors that contribute to its usability and handling. After all, you're investing in a precision masturbatory machine that will become the grand architect of your orgasms!
For me, rabbit ears vibrators were some of the first toys that taught me how to have a decent clit orgasm. Heck, before I used them, I had a hard time reaching back-to-back orgasms, and squirting was something that I'd only seen in porn. Now, I can summon massive waves of orgasms from the far reaches of my soul, but so much of it depends on the toy I use. Since a rabbit ears vibrator will give you much more than basic penetration, you need to choose one based on:
Design and ergonomics
Features and vibration options
Your reasons for using it and your needs
Material
Size
Price
Quick Tips for Finding Your Favorite Rabbit Vibrator
Here are some of the most important things you should focus on when buying your new vibrator:
Intensity
These toys can vibrate at speeds ranging from 1,000 RPM to a whopping 15,000 RPM. This is an incredibly wide range, but not all toys will come with it. The smartest thing you could do is find a toy that feels great on the lowest vibration settings and challenges you to cum hard on the higher settings. It should also have around five to ten different modes you can play with. If you want to be able to create your own vibrating patterns and intensities or even sync them to music, you'll only be able to do that with an app-enabled vibrator.
Ergonomics and Flexibility
Since you'll need to hold this bad boy in your hand (or have your partner ram it inside you if you're kinky), you should focus on its overall design and shape. This will also affect the sensations you'll receive and the usability.
For example, some of these toys have flexible clit arms. Others have stationary arms. A small detail like that one could make all the difference, especially if your love button requires precise stimulation. My advice is to go for something flexible unless you absolutely know that you need extra precise stimulation with harder toys made of ABS plastic.
Another hugely important thing to consider is the shape of the shaft. If it's curved, it will directly hit your G-spot. Not all girls enjoy this, especially if the curve is too steep or they're just too tight. If you are more into the natural look, a straight shaft will be better for you. However, if you want to experiment with a G-spot rabbit vibrator, getting some curvature on that thing is definitely the name of the game.
Size
The size might matter even more than the shape of your new toy. You'll need to think about the size of the bunny ears, plus the length and thickness of the internal stimulator.
The general rule is that extra short rabbit stimulators will offer more precision. Those with longer, wider ears will give you a bigger surface area. This will stimulate more nerves across your vaginal area. Also, the size of the shaft might not matter all that much if you're more interested in clitoral orgasms.
But, I wouldn't neglect it, and I certainly wouldn't tell you to buy one with the longest, thickest shaft you see. What's tricky here is that the shaft needs to hit your sweet spot on the inside together with the clit stimulator on the outside. What makes things easier here is the fact that most rabbit ears vibrators are ergonomically designed at an angle to target your love nub correctly.
Handle and Controls
For most rabbit vibes, the shaft extends past the clitoral stimulator and forms a small handle. This can make all the difference because it determines your comfort level. Let's face it – you don't want to have your hand cramp up just as your toy is pushing you to the edge.
That's why you should look into the handle and see if it's positioned correctly and if it's easy to hold for an extended period. Also, you should try to inspect any buttons on the handle to see if they're easy to touch from all angles.
Powering Options
You'll mainly encounter USB-rechargeable options here. Most of these toys will take around two hours to charge. They'll give you around 80 to 120 minutes of playtime. This should be more than enough for even the biggest orgasm addicts.
Noise
One thing I haven't mentioned so far is the noise that can come from some of the stronger models. Some rabbit vibrators with extremely high vibration strengths could get loud. In this case, the noise level could be around 60 to 70db. This is louder than a normal conversation level. If you don't want your vibrator to hum louder than your TV set or vacuum cleaner, it might be better to look for a toy that outputs around 30 to 40db, which sounds about the same as normal phone vibrations.
Which Material Is Best for You?
If you're buying your first toy, your best bet will be a rabbit vibrator made of medical-grade silicone. You won't need to worry about any allergies in that case. Plus, you'll get a toy that feels great and requires little maintenance. Yet, if you need a toy with a harder material for the clit arm or the handle, choose a safe ABS material. What's more, if you're considering stretchy TPE as an option, just remember that you'll need to take extra care of it.
Price
If you're concerned about your budget, note that a higher price doesn't always reflect the quality. Still, I'd advise you to spend a little extra to get yourself a durable toy that can please you in more ways than one. Here's how much you should expect to pay:
$30 to $50 – Paying this much will get you a standard rabbit ears vibrator with button controls and quality materials.
$50 to $100 – This is the average price for a quality rabbit vibrator, and you'll find most of the features and types in this price range. That includes thrusting features, rotating options, remotes, extra quiet motors, waterproofing, etc.
$100 or more – You should expect to pay this much for a toy made by a premium brand. Some features you could get for this amount of money are adjustable fits, LED displays, custom app features, long-distance control, heating functions, dual motors, etc.
Lubes
Before you buy your new toy, you'll also need to choose a suitable lube. Not all lubricants can play well with the materials of your rabbit vibrator, especially if you choose a silicone toy. In that case, look for a smooth water-based lubricant only. This lube is great for TPE and ABS too, but you can also use silicone lube on ABS plastic. Either way, lube is also essential because it will make penetration and external stimulation feel much smoother. So try to make everything wet and sloppy, and you'll be gushing in minutes!
What to Look For
Buy a toy from a reliable and respected manufacturer.
Look into the product page or even the manual to inspect most of the details that I mentioned.
If you need a second opinion, look into user reviews online to see if others enjoyed the toy you're interested in.
What to Avoid
Stay away from inexpensive alternatives or any vibrators that use poor-quality materials. That includes jelly, latex, and PVC.
Try to avoid shady or suspicious websites and buy your toy from legit retailers.
Tips on Using, Cleaning, and Storing Your Rabbit Vibrators
I don't have a lot of secrets to share here, mainly because rabbit ears vibrators are designed to get you off quickly. The whole point is to stick them in and focus on cumming hard and fast.
You can also try to edge yourself with your vibrator or experiment with various different modes to prolong your orgasms or build up to a massive release. Still, if you're a total newb, here's what you'll need to do:
Apply lube over your clit and around your kitty. You can also put a small drop on the tip before insertion.
Use your hands to get horny, play around with your partner, watch some porn, or try whatever else makes you hot.
Slide your vibrator inside and carefully push the bunny ears against your clit.
Choose a vibration mode and ride your vibrator until you cream.
After one or several orgasms, you should take your toy out and clean it before storing it.
Cumming with Rabbit Vibrators: My Confessions
Honestly, these toys outmatch most other products that I've reviewed. They make me feel like I'm undergoing some serious orgasm training! I love using them on my own to completely transform the way I cum and to find the most powerful sensations for me. Even better, they can give me my first orgasm in under a minute, which is just perfect for a quickie. But, if I want to go on and seriously make my pussy explode, I'll usually grind my rabbit toy deep into the night.
Moreover, if you have a partner, you shouldn't miss the opportunity to experiment with this baby because it can introduce you to some of the naughtiest acts ever. This one time, Richard made me cum with a rabbit dong and immediately took it out of me only to turn it around and insert the bunny ears into my asshole while eating my soul out. I begged him for more and more, and I blasted his face with my squirt explosion! Not a bad way to end a weekend, right?
Anyway, that should give you some idea of what you can do with your rabbit vibe, but the whole point here is to get creative. You don't have to use your rabbit cock for intense kinks and wild orgasms, but just remember that life is too short for you not to experiment.
Don't Forget to Clean Your Rabbit Vibrator
The first thing you need to do is know if your toy is waterproof or not. If it's water-resistant, you can soak it in water and mild soap to fully clean it. This is my preferred option. It makes everything much easier and saves me some time. If your toy isn't waterproof, you might only be able to clean it with a soft, damp cloth.
In both cases, avoid chemical solutions unless your vibrator specifically requires you to use a dedicated sex toy cleaner. What you'll need to do next is wait for the rabbit vibrator to dry until you put it away. Also, don't store your vibrator together with other toys, and don't leave it exposed to dust or sunlight.
Rabbit Vibrators Industry Overview
The rabbit vibrator is probably one of the most iconic female sex toys of all time, along with the legendary Magic Wand vibrator that I've reviewed in my previous article. As I said, this toy was popularized by Sex and the City. If you've seen that classic "The Turtle and the Hare" episode from 1998, you probably remember how it happened.
Basically, Miranda told Charlotte all about the rabbit. Charlotte was skeptical, but she got the courage to buy one anyway and became completely obsessed with the thing to the point where she had to cancel her plans with her friends. It became an instant classic after that.
However, this toy was actually invented much earlier in the 1980s. The first rabbit ears vibrators were invented by the Japanese sex toy company Vibratex. They were imported into the U.S. Since they were Japanese-made, they had to use bright colors and take the shape of animals to comply with Japan's laws about "obscenity". That's why they used a pair of bunny ears, but other models also had beaver, turtle, and kangaroo clit stimulators.
Besides revolutionizing our orgasms, the rabbit vibrator also offered something completely new to the sex toy industry. It had bright pink or blue colors that were rarely seen in early sex toys from China which looked more like stale hotdogs.
And even though the rabbit vibrator was invented in the '80s, it took years until it earned a massive following after that Sex and the City episode. After the episode, tons of designers and companies started to make their own versions. Also, it didn't hurt that the timing coincided with the dawn of online shopping, which was another game-changer in the sex toy industry.
Rabbit Vibrators of the Future
Most of the innovations that we now have available actually came in the early 2000s. That's when some of the most famous brands perfected their versions of the rabbit vibrator. Some of the most famous brands that are still competing to make the best rabbit toys include CalExotics, Lelo, OhMiBod, Lovehoney, Lovense, Satisfyer, Happy Rabbit, We-Vibe, and so on.
As I said, some of the newest products feature high-tech options like app control, long-distance play, and VR. It seems that the entire industry is shifting in this direction, but there's still a lot of room for innovation. How would you feel if you had a smart vibrator that could learn the nuances of your orgasms to make you cum exactly the way you want to? What about some tech that guides your partner and tells them precisely what they need to do to get you off? Would you like to leave your orgasm in the hands of technology, or would you prefer to stay old-school and experiment in your own way?
Whatever the case, you should get your rabbit vibrator right away and hop hop hop on it until you explode!
⚠️ Disclaimer: Our articles contain affiliate links. If you like our content and wish to support our work, consider purchasing your new sex toys through our links. For each purchase through our links, we receive a small commission but at no extra cost to you.
FAQ
It's pretty simple: a rabbit vibrator will give you dual stimulation via the clitoral stimulator and the insertable shaft. A standard vibrator will only be able to do one thing, whether it's penetration or external stimulation. Rabbit ears vibrators will feel more intense compared to the standard options, and they will pleasure you on multiple levels.
This will depend on you, but it will basically happen much faster than any other sex toy. The rabbit ears and the shaft will provide you with immense pleasure that you'll feel all over, and this will usually be enough to make you orgasm in a minute or several minutes.
Rabbit toys usually contain a single built-in vibrating motor. This motor is located in the clitoral stimulator. However, many of these toys have dual motors, which make both the shaft and the bunny ears vibrate.
If you get the urge to stick this toy up your ass, go for it! You can use these things for anal sex, and that's where the bunny ears come in handy because they act as a stopper and prevent you from sliding it in too deep. I never insert it fully. I'll slide it in only halfway inside if I'm really horny, but I still prefer to use other anal toys that are purposefully designed to pleasure your tight butthole.
Well, they might be able to test it out. In theory, they can use the shaft for anal penetration and the bunny ears for perineum or testicle stimulation. If you want to try this with your boyfriend, try to use a condom on your toy to stay safe. Still, if your male partner is into anal play, there are many other dedicated prostate and perineum massagers that you could buy.
Absolutely! Not all girls will be able to do this, but you can try it to see if you are one of the lucky ones. Squirting orgasms are some of the most intense sensations out there and you can achieve them with a standard rabbit massager or a G-spot rabbit vibrator. You'll need to get hornier than hell and slam your G-spot and clit with waves of intense vibrations until you start to burst. Just remember to use a towel!