Jun/24/2022
Last Update: June 26, 2023
1116
23 min read
The Best Prostate Massagers In 2023 For Your Anal Pleasure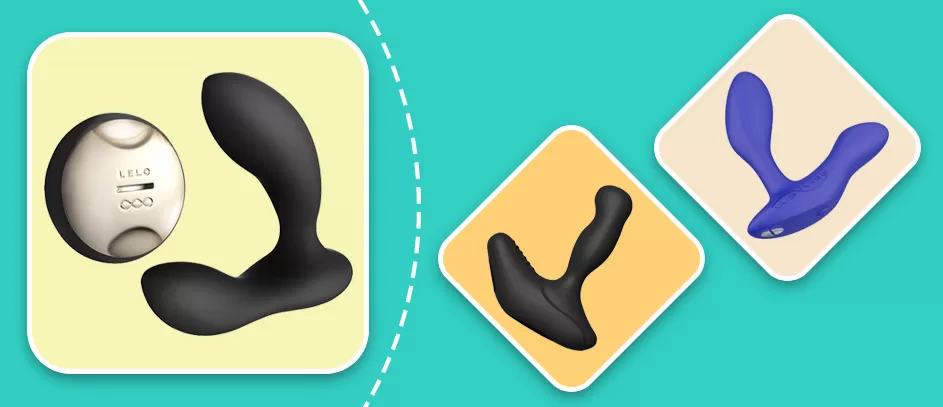 Good morning, gentlemen! Today we have a few special guests: prostate massagers, cock milkers, and all things ass! Yes, if you have a butthole, you can milk it! You can use prostate massagers to unlock your backdoor and get the most intense full-body orgasms ever! Plain and simple, right?
If you've always been curious about P-spot stimulation but were afraid to explore it, you should know that life is too short not to savor all the flavors of the ass rainbow. So how can you find a prostate massager that fits perfectly and rams your bum hard to make you go absolutely berserk? Let's find out!
Top 10 Prostate Massagers in 2023
To those uninitiated into the naughty rituals of prostate play, you've definitely wandered through life without really knowing that your cornhole could make your wildest dreams cum true! After years of testing various anal toys and wrecking my boyhole for some truly epic orgasms, I've collected a glorious arse-nal of prostate massagers. Here, I want to pass my hard-earned ass-perience onto you, young buck! So take a look at my top 10 prostate massagers in 2023 and choose your ultimate weapon of ass destruction! Bottoms up, boy!
All Things Must Ass: Prostate Massagers Explored
If you're in a time crunch and you need to get dat booty serviced ASAP, you can quickly grab a sizzling ass cannon from my list of recommended prostate massagers. I've tested them inside and out and I've rated them based on the experience they provide. Plus, I went really deep and checked out how easy they were to use as well as their design, quality, materials, features, and much more. But why does that even matter? Shouldn't you just be able to stuff any P-spot massager up your cornhole and get off?
Not so fast, buster! Each P-spot massager is different. Oh, and it can actually be pretty tricky to find a prostate toy that suits everyone's assholes and delivers an equally shagadelic adventure. That's why it's important to cool it and not stuff your rear-end with the first prostate toy you find.
Ready for an Epic Prostate Milking Fuck Fest?
Have you always been jealous of women and their ability to orgasm from multiple holes? Well, your body also has a hidden spot that will make all women (and their pussies) extremely jelly. That secret spot is, of course, the prostate.
The prostate is a soft, walnut-sized gland that you'll find not so deep inside your rectum. It has the potential to unleash a much more intense type of climax compared to good ol' penile orgasms. Take that, female G-spot! Just kidding, I know we all freaking love to give that G-spot a deep drilling. It's all about making a hot chick lose her mind like she's possessed by the Dick Demon!
But wait – the best thing about the prostate is that bros of all sexual orientations can try prostate toys on their own or with a partner. And while it's perfectly fine to please your keister with hands, fingers, cocks, or even your partner's wet and sloppy tongue (Mmmmm!), vibrating prostate massagers are specially designed to target that hard-to-reach P-spot. Trust me – it is life-changing!
But What's So Special About the Prostate?
For starters, you need to get familiar with this unique pleasure gland and learn how it functions. Of course, you can ram a dildo up your butt and bang away until you cream. Yet, that might not be enough to bring you to that elusive P-spot orgasm.
Honestly, most guys could struggle with their prostate and perineum massagers or other toys if they never take the time to find this sweet gland and study how it works. And that's understandable since every guy's prostate is different.
Basically, you'll find the prostate between the penis and the bladder. It sits right in front of your rectum and forms a key part of your sexual organs. Moreover, the gland produces a special fluid that's actually part of your jizz. Its purpose is to prevent your sensitive swimmers from getting dissolved in some acidic substances found in the vaginal tract. Also, prostate fluid is alkaline, and it gives off a white, thick, and creamy appearance. That's exactly why P-spot massagers are sometimes called prostate milking toys (or cock milking toys instead).
And What Are Prostate and Perineum Massagers Anyway?
If you were paying attention, you've learned that you can reach a P-spot orgasm with intense stimulation. However, I've also said that this spot is found some way inside your asshole. This is exactly why most guys could have trouble stimulating it on their own.
Sure, you can try to push your fingers inside and use all sorts of circular motions to pleasure your prostate. Yet, that may not always deliver enough intensity. And that's where prostate massagers come in – literally.
Typically, prostate massagers are adult toys designed specifically for the male rectum. They have a unique ergonomic and precise shape. It usually features an upward curve. That way, it targets the prostate directly. Some prostate massage toys can resemble butt plugs, while others feature an entirely unique hook-like design.
The whole point of these toys is to provide an easy way for all men to enjoy the sweet miracle of prostate play. Above all, prostate wands allow you to slowly build up to a P-spot climax or simply have a more intense penile climax through hands-free stimulation.
What's more, if you're looking for a prostate and perineum massager today, you will literally face an endless amount of models and unique features. That includes vibrating massagers, thrusting prostate toys, extra-large prostate toys for men, textured types, and so on. You'll also find a variety of shapes along with additional features like VR compatibility.
How Does It Feel?
"I still remember the first time Scarlett rammed a prostate massager in my ass for Halloween… She sucked me off while stretching out my butt deeper and deeper, and I was totally hypnotized. My cock throbbed harder than ever before! I'll bet you my GF will never forget how I blasted her face and her Harley Quinn costume with the biggest cum shower of her life!"
Generally, full or partial prostate orgasms are completely different compared to your standard penile climax. Most often, you'll get an extra deep sensation in your rectum. You can reach a prostate orgasm with or without penile stimulation while using a prostate massager, and that's due to the extremely precise angle and shape of this toy.
Either way, P-spot orgasms are the strongest orgasm that guys can get. But, they'll also give you the chance to get multiple male orgasms. Yup, multiple male orgasms! Oh, bless my sweet cock, they feel so good!
Essentially, male multiple orgasms are based on a combination of penile and prostate orgasms. Here, the build-up will take longer, but the outcome will be much more intense. You'll get the usual pressure all the way through your hard cock, plus a deep rumbling inside your ass! Not a bad way to wind down after a hard day's work, right?
Playing with Prostate Massagers
There are so many ways to pleasure yourself down south. This is mainly due to the fact that the P-spot and the anal cavity are full of thousands of interconnected pleasure nerves. Using a prostate massager is the most effective way to trigger all those nerves and make you erupt like Mount Vesuvius.
Yet, what's also fun about prostate and perineum massagers is that you don't need to use them solely for P-spot orgasms. The options for experimenting are truly endless here! You can use them for teasing during foreplay. Or, you can even keep them rammed up your keister while you're penetrating your partner! If you're a big fan of ass play, they'll stretch you out perfectly and enable you to explore the farthest reaches of the ass-verse. And that's just the beginning!
You can use these toys for all sorts of taboo adventures. That includes femdom, orgasm denial, roleplay, bondage, chastity play, along with many other BDSM kinks, plus a whole slew of cruel and sinister milking techniques. Even better, if you're solo, you could push your prostate massager deep inside, slide on a cock ring and go balls deep in a blowjob machine. No, no, not your GF, but an actual blowjob robot that I've reviewed in my previous article!
Types of Prostate Massagers for Your Bunghole
Let's break down the most common types of prostate massagers:
Vibrating Prostate Massagers
Prostate vibrators are usually made of silicone or hard plastic. Much like a vaginal vibrator or dildo, a prostate vibrator contains an internal motor. It's usually built into the toy, but there are some examples that include a removable bullet vibrator. Regardless, the best toys of this type always feature configurable vibration modes, speeds, and intensities. When you have a broad spectrum of vibration types, you get to experiment with all kinds of special sensations. Plus, this type is usually the most precise for direct prostate stimulation.
Thrusting Prostate Massagers
A thrusting prostate massager offers thrusting movements or even rotation patterns. Many of these toys have moving tips that create strong "come hither" motions while applying direct pressure on your P-spot. They are very similar to female G-spot massagers, and they can deliver incredibly strong sensations that replicate the feeling of real-life penetration.
App-Controlled Prostate Massagers
Ah, there has never been a better time for sex toys! With app-controlled ass massagers, you or your partner can configure your toy hands-free. That includes things like setting the vibration or thrusting levels. You can even control the toy from far away for long-distance fun. All you need to do is download a free app provided by the manufacturer, sync it to your prostate massager, and you'll be good to go!
Remote Control Prostate Massagers
If you don't want to get tons of lube all over your phone every time you use your toy, remote-controlled prostate stimulators are a fantastic alternative. These things come with a tiny remote control that lets you configure the settings. That way, you won't have to deal with an app, and the remote will control all your pleasure.
Just picture it: your GF could tie you up and ramp up the vibration level to punish your tight ass! Also, you could use the remote for your solo sex experiments to allow you to focus more on your orgasm! Either way, you won't have to move your hand down to your cornhole and fumble about to press any buttons on your toy.
Manual Prostate Stimulators
Even though I'm a sucker for good vibrations, some massagers do not include vibrating motors or any electronics. They could be useful for bros who only want to sense a deep feeling of fullness in their booties and stimulate their asses manually. Plus, these types are a bit easier to handle and clean since they do not contain any electronic components. But, the trade-off is that you won't get any hands-free action.
Materials That Won't Bust Your Ass
Here, it's worth it to remember that the materials will also determine your experience. Trust me – you won't have any fun at all if you buy a cheap toy that feels like it's going to melt inside you or grind your insides to bits! Some unsafe materials include jelly, PVC, or hard plastic, so you should avoid them like COVID-19.
Fortunately, most quality prostate massagers utilize medical-grade materials like silicone. Prostate massager toys made with this material are easy to clean and maintain. This is especially important because, after all, they're meant to go up inside your butt.
Plus, they feel soft and pleasant once inserted. The same can be said about TPE, which is a bit softer and bendier, although it harbors bacteria and isn't as simple to maintain. What's more, you can also find glass or steel massagers, but be aware that most of them will require manual operation.
The Best Features for Your Anal Pleasure
Next up, you could also choose your new prostate stimulator according to the feature you like the most:
Vibration
IMO, a vibrating prostate massager is perfect for most guys. You could get varying speeds, different vibration patterns for training, various strengths, and even music-syncing capabilities! Ahhh, push it!
Thrusting or Come-Hither Movements
These options are perfect for some deep ass drilling! Just use the controls to set the speed or intensity of the motions and let the massager do its thing!
Rotation
Rotating tips could come in handy if your prostate is larger or if you prefer stimulation from circular motions.
Texture
Aside from a smooth texture, you can also pick a prostate massage toy that features various swirls, balls or beads, ribs, and so on.
Perineum Massager
Perineum massagers stimulate the spot between your anus and your cock. With a perineum massager, you can send strong pulses through your body that eventually end up in the prostate. A quality perineum massager might even be able to make you cum all on its own! Here, the most popular choice is a double-ended prostate masturbator that includes a P-spot and perineum massager.
Built-In Cock Ring
Some massagers come with an attached cock ring to save you the trouble of using and cleaning two separate toys. Plus, since the ring is attached to the toy, it will gently pull on your throbbing dong every time you clench your bum for some added spice.
Remote Control
As I said, some prostate toys include separate remote controls, while others allow you to configure the settings via your smartphone. This is useful for couples play or any kind of hands-free action, whether it's in your bedroom or in a public place.
Colors
There's so much to choose from here, including black-to-skin or even neon-colored massagers. Since color can stimulate you visually, you could pick the one that you like the best or one that will look the sexiest while it's spreading out your sphincter.
AI and VR
Finally, we have some next-gen features that could also tickle your imagination. VR and AI prostate masturbators can make the most of new technologies to offer a highly realistic virtual experience. I'm talking about syncing your VR or AI massager to porn to finally get a massage from your favorite pornstar or even using the prostate toy with your LDR partner who lives far away.
A Guide to Buying Your Prostate Massager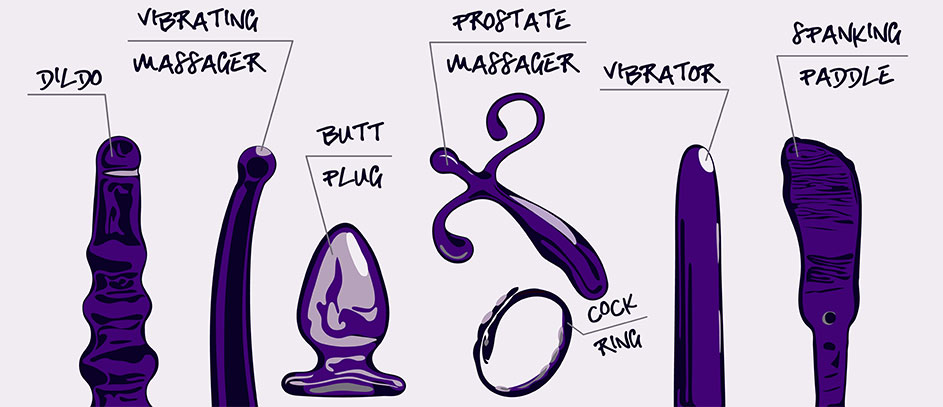 So far, I've told you all about why prostate play is so intense, and I've covered some of the main types and features of anal massagers. However, I still want to steer you in the right direction and show you what you should look into when buying your prostate stimulator, as well as point out some things that you should avoid.
So follow my buyer's guide below, and you'll learn how to find a prostate stimulator that pleases your rear-end just the way you like it!
Design and Functionalities
Again, anal massagers sort of resemble butt plugs. But they have an entirely unique shape which might confuse you at first. Really, they could look like some kind of hook or a joystick. But, the whole point is that most prostate toys have an upwards-facing curve.
Here, the shape is meant to conform to your anal canal. Also, the insertable end of the toy needs to have a slight angle in order to correctly reach your prostate. Plus, most massagers will have a stopper or a flared base at the end.
I found these to be the most useful for beginners. For one, they allow you to grip onto the prostate toy during insertions to gently push it in. Also, just like on a butt plug, the base functions as a stopper. That is, it prevents the massager from falling into your keister fully and saves you a highly embarrassing trip to the ER!
How Do You Find a Good Prostate Massager?
Again, it's tricky to buy a one-size-fits-all massager that will suit every guy's needs. If you're not careful or if you choose a poor-quality toy, you and your asshole could have a downright disappointing experience.
Instead, it's better to take some time to learn all about prostate stimulators and follow my tips. To start, here are some key things that a quality prostate massager should have:
It should offer a comfortable and precise design. The shape should hit the P-spot perfectly every time.
It also needs to be crafted out of body-safe and hypoallergenic materials.
A great prostate stimulator needs to be easy to handle and use. You should have no problem inserting it into your bunghole and finding the magic spot quickly.
The controls could make or break your experience. A quality prostate toy needs to have intuitive controls and settings for the vibration or any other features.
You need to choose a size that feels comfortable for you.
Choose Your Material
Obviously, you're going to want to go for the safest materials. After all, you'll be putting this thing up to your butt, and you'll need to avoid the materials that collect bacteria and break down quickly.
Therefore, your safest bet will be silicone since it's germ-free and easy to clean. It also feels amazing and delivers just the right amount of pressure. Another alternative is TPE, but I would only recommend this material to experienced players. TPE can absorb bacteria, so you'll have to go the extra mile and constantly think about cleaning it properly.
Still, it might be worth the effort since TPE toys are a bit softer than silicone. And if you only want a manual massager, you can also choose steel or glass, but these toys will rarely (if ever) include vibration or any additional features.
Pick Your Size and Shape
Ask yourself this: do you crave a humongous ass blaster or a small and gentle toy to slowly bring you to the edge? Well, if you're a newbie, you should probably choose the latter. However, this is entirely up to you and your capabilities.
For most guys, the prostate is located roughly 2 to 4 inches inside their ass. That kind of defeats the need for a gargantuan massager. For beginners, you could try a 1-inch diameter toy first. If you need help, just lube up one or two (or three!) fingers and see how much your sphincter can handle. That will show you whether you need a thicker or a longer toy.
In my opinion, you should go with a modest insertable curvature and length if this is your first ass rodeo. But, if you love to go big and need a huge toy to get off, a smaller massager might not do it for you.
Also, the location of the prostate is not the same for every guy, and that's why it's crucial to focus on the toy's shape. While most massagers have a standard hook-like shape, some could look like small eggs, bullets, or even a penis. Again, focus on your fantasies here and think about what would look and feel the best to you.
What to Avoid
Stay away from cheap and unbranded prostate stimulators made of unsafe materials. They could make you feel like there's a starved gremlin gnawing at your intestines!
Don't go into it with hungry eyes. Even if you love enormous cocks or dildos, your P-spot massagers might need to be smaller in order to target your prostate correctly.
While it's fine to look for a toy with lots of exciting features, too many options could make things more complicated. If you want lots of features, just make sure you genuinely like them and want to use them.
What to Look For
I recommend you buy a prostate toy for men made by a reliable and popular manufacturer. That way, you'll always know that you've invested your money into a quality product made by a reputable company.
My favorite part of research is playing with my ass to see which toy would fit the best! As mentioned, you can use your fingers or other toys like butt plugs to see what's comfortable for you. Then, buy a toy with the shape and size that matches your desires and preferences.
Which Lube For Your Ass?
Bro, you won't get anywhere if you try to stuff yourself with a prostate stimulator, but you forget to buy lube. A good lubricant is always required to make everything feel better and help you avoid some discomfort. Doing it dry will literally feel like someone's sticking a coconut up your ass, and not even Marquis de Sade would enjoy that!
If you don't already have a favorite anal lube, just remember to use only those types that are compatible with your toy. For example, if your prostate stimulator is made of silicone, you should use water-based lube because other types could damage it.
Public Use and Portability
Yes, you can use your prostate massager in public without anyone noticing! This is one of my favorite ways to get kinky with Scarlett, especially when she takes the remote and controls my pleasure. It makes grocery shopping and other boring daily rituals so much more fun! Just note that you will need to keep cool without screaming in pleasure in the middle of the children's playground.
Umm, anyway, the best toys for these purposes should be small and discrete. They should also have a shape that ensures your toy will stay inside no matter what.
Dos and Don'ts
Research! Look, I know it's tempting to buy the biggest, baddest prostate and perineum massager, but you might be disappointed when the toy arrives, and you actually try to use it. So try to learn everything you can about the prostate and perineum massager you're buying before you pull the trigger.
Don't use a prostate stimulator if you have epididymitis or any kind of prostate inflammation.
Don't buy a toy just because it's expensive. Sometimes, the price may not reflect the quality.
Check out user reviews online and even browse through my own reviews to learn all you can about your prostate toy.
Try to find a fine balance between form and function. I get it, the looks and features might be important, but the general design and the shape should be your priority when it comes to prostate stimulators.
Tips on Using, Cleaning, and Storing Your Prostate Massager
Luckily for us men, frequent ejaculation is often recommended by doctors as a way of keeping us healthy and happy. So don't hold back on your prostate massager. Try to have as much fun with it as you can! And how exactly will you reach that massive jizz explosion?
Clean That Booty Out First
I don't want to ruin your dinner but let's face it – anal play can get dirty. It's absolutely required that you clean yourself out first. What I advise you to do is to take a warm shower to relax and get clean. You can either wash your bunghole out in the shower or use an enema to fully empty your bowels.
Assume the Position
Next up, you need to get really horny. I'm talking about teasing yourself until your cock gets harder than titanium. So watch some porn, play around with your partner, and just get that booty ready for insertion.
And Slam That Ass!
Now we're cookin' with gas! Well, that's not exactly what we should be looking for when we're playing with our bottoms, but you get the point. Anyway, the next step is to lube up your toy and your sphincter and slowly insert the massager. For beginners, I recommend a very, very slow start. This could ease some ass discomfort and make everything more enjoyable.
How to Jizz with Your Prostate and Perineum Massager
Once that little bugger is in your ass, the goal is to press it against your P-spot (between 2 and 4 inches in) for 15 or more minutes. Some guys will be able to orgasm quickly, while others will need more time. In some cases, a prostate massage could even last for 2 to 3 hours.
Either way, my best tip is to stay patient and experiment to see what feels the best to you. One trick is to play around with the features of your prostate wand. For example, you can ramp up the vibration intensities to push you over the edge.
What's more, you should try some circular movements or come hither motions. Don't forget to jerk your cock at the same time, too! Alternatively, use a perineum stimulator to see if that works for you.
Then, when you get to the point of no return, let go of your cock but keep stimulating your prostate. You'll quickly see the biggest firework display of your life!
Here's How It Feels
If you use a massager to orgasm only from P-spot stimulation, your cock will explode with a glorious mix of semen and prostate fluid. And yes, you'll need a bunch of tissues or, in the best case, a wet female throat to clean it all up.
However, the whole thing will feel much different compared to a regular penile orgasm. Most guys describe it as a full-body climax that makes you tingle all over. It's different from the direct pleasure that you get when you cum solely from your penis, and it's one of the most insane experiences I've ever had!
Cleaning and Storage
The last step is to clean your prostate and perineum massager thoroughly. If you have a silicone toy, you should do this with warm soapy water, or you could even boil it to fully sterilize it. For TPE materials, you'll need to do the same process but more thoroughly, and your massager could even require the use of a special toy cleaner.
And after cleaning, you need to dry your toy before you store it. Simply use a soft cloth or leave it to air dry, and the toy will be ready for storage. Here, you can use a plastic container or the massager's original box. Plus, if you have a large toy collection, try not to make your toys touch each other directly to avoid germ transfer. Finally, make yourself a cup of tea after your orgasm and just wind down!
All About the Prostate Massager Industry
But we're not done yet! Did you know that we have one man's asshole to thank for all our pleasure? Let me reveal some fass-cinating facts about the prostate and perineum massager market and the unusual history of these spectacular male anal toys.
History of Prostate Stimulators
Both external and internal prostate massage techniques are actually ancient therapies that were practiced almost religiously in Asian countries. For hundreds of years, the prostate gland was considered an essential element of male physical health and fertility in Asian cultures.
In the West, it was in 1974 that it gained traction when a doctor named Marberger started to explore the prostate for the purposes of ejaculation. He called the method "prostatic pressure chamber trigger concept", which would make for a damn good high school band name nowadays!
Then, in the late 1980s, guys were constantly looking for prostate toys in sex stores at their doctors' requests. Luckily, a man called Forrest Andrews from the Aneros company was the first to make a dedicated prostate massager.
Even better, Andrews was the only designer and tester in the company, meaning that his bunghole is literally responsible for all of the new generations of ass massagers that came later. Also, his asshole changed the way millions of dudes worldwide enjoy anal orgasms! Will somebody please buy that man a drink?!
The Most Iconic Brands
Obviously, the world of prostate massagers has boomed in recent years. These magical contraptions have become some of the most popular male toys. It just seems that they keep getting better and better! And there are quite a few standout brands that simply do prostate stimulators better than anyone else.
Some of the best names to focus on include Lelo, Aneros (the OG prostate massager inventor), Rocks-Off, Lovense, nJoy, and Nexus. While there are many more brands, I guarantee you won't go wrong with a massager by any of the names I've mentioned.
Prostate Massagers of the Future
So what does the future hold for your ass? This is undoubtedly the golden age of prostate toys. I simply can't get enough of any new product that I stick up my bottom. Currently, I would love to see even more hands-free and VR options here, and I think the industry is aiming for that, too. The best invention that comes to mind would be some kind of smart control system that allows newbies to explore their prostate without too much trial and error.
But let's not get too scientific here: I know I just want to see smart robots that can fuck my ass and milk my prostate without any input from me! That would be something to cross off my bucket list!
Judging by recent reports from most companies, that is the direction that the entire industry is racing towards, and we can only hope to see huge innovations in the future. But for now, I can only advise you not to wait any longer, So grab that new prostate massager as soon as you can and bang that ass until your head starts spinning!
⚠️ Disclaimer: Our articles contain affiliate links. If you like our content and wish to support our work, consider purchasing your new sex toys through our links. For each purchase through our links, we receive a small commission but at no extra cost to you.
Frequently Asked Questions
While you can use dildos and vibrators for anal sex, prostate and perineum massagers are designed specifically for P-spot stimulation. They have a different shape compared to other sex toys, and most of them have special vibration controls that are designed to help you get a prostate orgasm. You can use your fingers or a dildo to stimulate your prostate, but prostate stimulators are much more intense, and they will make it much easier for you to reach this type of orgasm.
This will all depend on your experience level. If you are a complete anal virgin, all types of butt play could hurt a bit at first. Generally, touching your prostate with your fingers or stimulating it with a massager will not hurt, but you could feel some pain in your sphincter and anal canal if your ass is untrained.
To minimize the pain, you could first play around with your fingers or smaller butt plugs in order to stretch out your backdoor. Then, when you work your way up to bigger things and use enough lube, you'll be able to use a P-spot massager without any discomfort.
Absolutely not! But, this is a legitimate question since a lot of straight men tend to avoid ass massagers because of it. The truth is, prostate and perineum massagers can be used by any person with a sphincter and a penis. The prostate toy is not designed for a particular sexual orientation. If you're straight and you want to experiment with different sensations, just go for it!
Oh, hell yeah! But, that will depend on your partner. In my experience, my GF gets soaking wet when she milks my cock, and it really turns her on to dominate me and control my orgasm from inside my hole. A ton of women love to experiment and take control in the bedroom, and a prostate massager is one of the best toys that let them do that. But just remember, don't pull out your prostate massager in the middle of sex and force your girl to stick it deep up your bunghole. Like all other sexual activities, you should discuss it with your partner to see if they're comfortable with it first.
This question gets asked around a lot, and I'm sad to say that there's no universal answer for it. Some guys who are really experienced could get a prostate orgasm in 15 to 30 minutes. For others, it could take much longer, and your playtime could last anywhere from an hour and up to three hours. All of it will depend on your body, level of arousal, technique, and patience. So if you're looking to buy a prostate toy, just keep in mind that you'll need to set some time away for it and learn to use it in the best way that feels good for you.
Even if you're a trained anal warrior, you won't be able to avoid some mild pain or even a toy malfunction. If you feel anything that's too uncomfortable or unusual, the best tip would be to just stop and remove the toy. The same goes for any toy malfunctions or accidents. If you notice that something is off with the mechanism or if the prostate toy doesn't work like it used to, just get it replaced to stay safe.