Jul/04/2022
Last Update: June 26, 2023
963
23 min read
Best Egg Vibrators And Love Eggs In 2023 For Extra Creamy Fun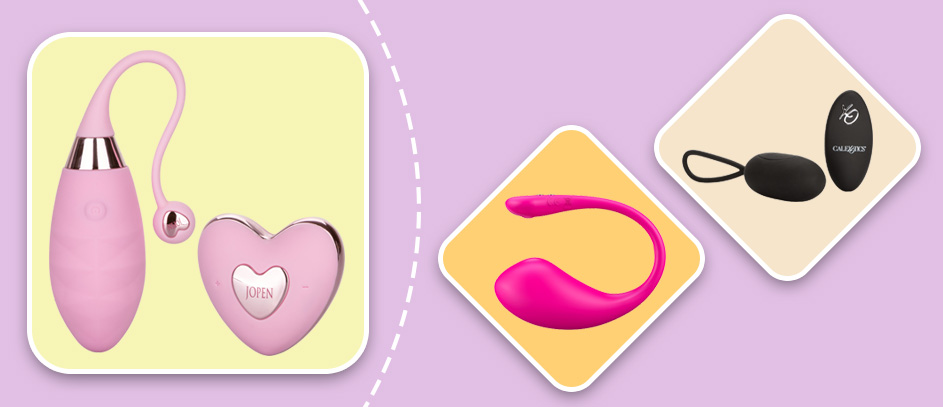 What came first, the chick or the egg vibrators? Baby, it's breakfast time! Except, you're having breakfast for dinner. Why not skip dinner when there's a whole platter of delicious creamy orgasms out there? Sunny-side up! Well, just break out of your shell and treat yourself to some of the most intense, mind-bending orgasms of your life with vibrating eggs!
So let me show you how to find the most orgasmic egg vibrator and teach you how to use it until you're down on all fours and your orgasms are literally blasting out of your honey tart. Just get into position and say, "Ohhhhmmmmmlet"!
Top 10 Egg Vibrators in 2023: Guaranteed!
After testing dozens of love eggs, I picked some favorites that always make me cream hard and leave my body in total scrambles. Still, you shouldn't count your chickens before they hatch… There's a massive variety of quality egg vibrators out there, but not all of them are up for the task. You might like your eggs free-range, organic, or cage-free, but using an actual vibrating egg in your coochie is an entirely different experience. That's why I want to show you the best egg vibrators of 2023!
Egg Vibrators: Feel The Ultra Tingly Vibrations!
Now, I already know what's going through your head: "Scarlett, what's the point of these little vibrating eggs? How in the world can they make me cum?" I hear ya!
Not every girl is willing to stuff her punani with an egg-like sex toy. But listen: egg vibrators are some of the most underrated yet most shagadelic sex toys for women out there! Their strong motors, curvy shapes, and incredible sex tech innovations make them some of the most powerful orgasm machines on the market.
Plus, lots of chicks (myself included) worship them. They're discreet, portable, easy to use, and they hit the target every time! Seriously, you only need to pop one of these bad boys inside, and it will get the job done faster than most other dildos or vibrators. But how do you know if an egg vibrator is all that it's cracked up to be?
Eggs-quisite Orgasms and Tons of Kinky Fun!
"These tiny love eggs are small, but they'll boldly go where no cock or dildo has ever been!"
It's confession time: my BF Richard is obsessed with watching smokin' hot cam girls stick anything they can get their hands on in their pussies, asses, and deep down their throats. And while I was always envious of what those ladies could accomplish, I couldn't help but pay attention to those weird little pink strings that were always popping out of their holes while they were cumming like crazy. Years ago, I found out all those girls were actually using vibrating eggs. And goddamnit, I got one inside my vajayjay faster than you can say, "feed me your cum, daddy!"
However, I had to do some digging to find the best eggs that worked for me. I tested them all over my body during solo play and kinky bedroom fun with Richard. Then, I came up with my top 10 list to help out other newbies and pros. I believe they'll suit most people who are looking for a small yet immensely powerful sex toy! So if you wanna get your freak on ASAP, picking one or two toys from my list will definitely get you there without thinking too hard. However, I'd also recommend that you learn some of the basics and check out my tips on how you can pick the best vibrating egg for you.
Egg Vibrators Explained
Even if you're a bonafide sex toy fanatic, you might have missed out on these wonderful mini vibrators. Love egg vibrators often get mistaken for bullet vibrators. Yet, they are entirely different beasts. Most people tend to skip them, thinking that only dildos, big dicks, and full-size vibrators can get them off. That's just so wrong!
Love eggs are inspired by Kegel balls, except they're designed to bring you enhanced sexual pleasure and vibrations in a small package. They're shaped like an egg, and they're usually linked to a wire or a handle. Plus, they are small and portable, and you can use them for all kinds of internal and external stimulation. From your clit, nipples, and butthole, to your partner's dong, you name it!
What to Expect
Basically, love eggs are much smaller than full-size dildos or vibrators, but don't let their tiny size fool you. Honestly, I'm the biggest cock worshiper out there, and I can tell you that they have heaps of vibrating power on tap. Here's what you'll get:
Discretion – If you want to fly under the radar, nobody will know about your naughty little secret. Vibrating eggs are some of the smallest and quietest toys out there!
Portability – You can easily take them on the road with you or even stick them in your panties if you're into risky public play.
Versatility – They can do pretty much anything! That includes clitoral stimulation, G-spot stimulation, anal play, nipple play, and even cock and ball stimulation.
Quiet operation – If you hate that buzzing and whirring sound of classic vibrators, egg vibrators will turn down the volume while providing you with equally orgasmic pleasure.
Hands-free fun – They'll help you get off without ever using your hands. Even better, they leave your hands free to play around with other body parts.
Types of Egg Vibrators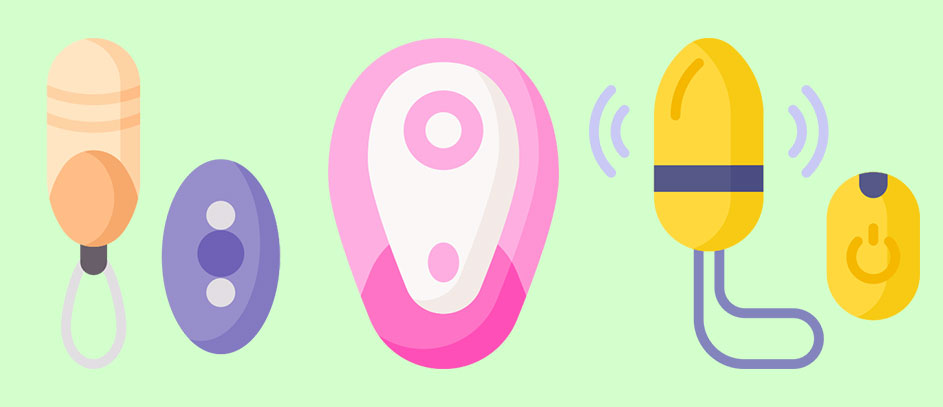 Just a few years ago, love eggs followed the same basic design, and there weren't many options out there. Currently, there are way too many choices, and the designs have undergone quite a revolution. One of the best ways to get started on your vibro egg hunt is to explore the main types to learn all about the different sensations they offer. You'll notice that most of the differences are in the designs, shapes, materials, and additional, extra kinky options they offer.
Remote Control Egg Vibrators
Almost all of the newest vibrating eggs come with a remote control. Remote control egg vibrators can be wired or wireless, but they'll give you maximum functionality through a set of intuitive remote controls.
The reason why these toys need a remote control is due to their small size. Plus, if you use them for penetration, you'll have to push them all the way in. That means you won't be able to play around with the settings while masturbating. While most vibrating eggs have some kind of power button on them, the only way to change the speeds or vibration modes once they're inside you will be with a remote.
Wireless Egg Vibrators
If you're looking for a set-and-forget vibrating egg, wireless egg vibrators with an included remote are some of the most popular choices. The remotes use an antenna to receive the signal and operate within a certain range. Typically, a high-quality wireless egg vibrator should give you several buttons to play with. You can use them to change the speed, strength, or vibration pattern.
Moreover, they are easy to manipulate, and they can even deliver a huge dose of BDSM during solo or coupled play.
For example, you can let your partner take control of how soft or hard your egg vibrator buzzes while it's stimulating you. Honestly, I can't remember how many times Richard tied me up and pushed a love egg deep inside me to make me gush on command! Mmm hmmm!
And like I said, even if you're on your own, the remote enables you to experiment with all kinds of hands-free fun. It leaves your hands open to stimulate yourself in different ways or use various other sex toys. What's more, you can take them out for dinner or walk around the house as you handle your daily chores. But I dare you to walk like your honey pot isn't trembling with joy!
Bluetooth Egg Vibrators
These types of love eggs can sync to your smart device via Bluetooth or Wi-Fi. They are perfect for anyone who doesn't want to use a wireless remote controller or worry about losing it. These eggs connect to an app on your phone. From there, you can use the app to gain full control over your pleasure.
Generally, app-controlled vibrating eggs will let you configure just about any parameter of your toy. That includes the vibration speed, strength, and pattern. Moreover, you'll get an extended library of patterns and various other options, plus an extended wireless range.
Long-Distance and VR Eggs
The newest Bluetooth egg vibrator can give you next-level features such as smart control, long-distance control, or VR compatibility. With smart control and monitoring options, the apps can keep track of your orgasms. What's more, if you're in a long-distance relationship, a Bluetooth egg vibrator will literally transform your love life.
The apps have video-chat or phone-sex options. They'll allow you to sync your egg to your partner's toy for mutual pleasure. Plus, they could even vibrate along with your partner's dirty talk (spread that tight cornhole, you filthy little duckling!!!). And with all that, your partner can literally make you cum from another continent!
If you're solo, some toys from Lovense, Lelo, and Vibease can even sync to your favorite erotic audiobooks to edge you to a huge climax relative to the story. That way, you can ride along with handsome cowboys as you feel the pressure pulse deep inside you!
Plus, some toys with VR capability can link your toy to 2D or 3D erotic content. Then, they'll buzz and thrum along to the rhythm of your favorite porn videos. All you need to do next is sit back and relax while your VR toy gets you to that massive G-spot orgasm!
Egg Vibrators With Handle
Now, a lot of love eggs have a pull string or loop attached to them, while others have a larger handle. In my opinion, the types with the handle are the safest and the most effective for beginners.
Typically, the handle extends from the base of the egg. It allows you to easily direct the toy if it gets extremely wet and slippery. The handle also helps you to remove the egg without any difficulty.
Frankly, I've had some trouble with old-school eggs that have a string attached to them. I'd advise you to be careful with them during insertion and removal. A love egg vibrator with a handle is a much smarter idea because it's sturdier and more reliable.
Wired Egg Vibrators
This type is the oldest, but you'll still encounter it in less-expensive options. It has a remote that's attached to the top or base of the toy with a cable or wire. In my experience, these types are messy and often uncomfortable. They have one advantage, though. Namely, you won't ever lose the remote. Still, these toys will give you a limited range, and you'll constantly need to worry about the condition of the attached cable.
Other Types
The types I outlined above are just one bite out of a huge lemon meringue pie. While most egg vibrators have the same shape and compact size, you'll find some with additional features that can pump up the excitement even further:
2-in-1 stimulator – This dual-purpose vibrator will give you a second stimulator to play with. It's usually joined to the egg and has a second vibrating motor to enable you to stimulate another spot separately. In most cases, that includes a precise clitoral or anal toy. Simply slide the egg inside and use the other end to stimulate your clit or butthole at the same time! Hello, creamy blended orgasms!
Anal egg vibrator – If you're the kind of girl who needs intense backdoor penetration to get off, anal-only vibro eggs will make you quack like a wild little goose! These types have a stopper or flared base that prevents the toy from getting stuck in your tail.
Suction egg vibrator – This dual-purpose stimulator is designed to replicate the sensations of intense oral sex. You'll get an insertable egg, plus an external suction toy that can suck on your juicy clit or rim your tight sphincter all night long! Yum!
Bullet egg vibrators – A bullet egg vibrator is shaped like a standard bullet vibrator, but you can insert it and use it, like a love egg.
Vibrating Kegel balls – Love eggs have a lot in common with Kegel balls, so the combination of the two was meant to happen. These vibrating toys have all the functions of vibrating eggs, except they're shaped like one or multiple Kegel balls you can use to train your PC muscles while orgasming like crazy.
What Are Love Egg Vibrators Made Of?
As I said earlier, most vibrating eggs have a similar size and shape regardless of their type. Some are wider or thinner than others, but a lot of the differences will depend on the material they are made of.
While the type, features, and methods of control are important, the material is a key ingredient. Here are some of the options you'll come across:
Silicone
ABS Plastic
Jelly
Rubber
Stainless Steel
The Safest Materials
I'd advise you to avoid cheap eggs made of jelly or rubber. They contain toxic chemicals that are unsafe for your skin. Seriously, these things will smell and look like rotten eggs, and they are simply unsuitable for your vagina. In most cases, you should be looking at silicone vibrating eggs.
Generally, silicone is one of the best materials for sex toys in general as it is 100% body-safe. Its non-porous and hypoallergenic qualities make it the best option for external and internal use.
Plus, silicone love eggs are incredibly easy to clean, and they will literally last forever. This type will give you a soft and smooth texture. It feels pleasant on the skin and provides you with real-feel pleasure. Moreover, the vibrations can travel through silicone with power and precision.
Alternatively, you can also pick a body-safe vibrating egg made of ABS plastic. This hard plastic material looks shiny and appealing. Plus, it feels quite different from silicone. It's not as soft as silicone which makes it deliver the pressure in a different way. The vibrations that travel through ABS plastic are also much stronger and more direct. The same can be said for stainless steel egg-shaped vibrators, which are also tough and body-friendly. Except, they will provide you with extra weight and more pressure.
Buyer's Guide: Find the Best Vibrating Egg
Sweetie, if you want to make yourself cum madder than a wet hen, you'll need to carefully choose your love egg. There are several straightforward and not-so-obvious rules here. So let's eggs-amine the most effective tips for buying your first egg vibrator!
Why Should You Use a Vibro Egg?
For starters, the best thing to do is to think about the naughty things that turn you on and the way you want to pleasure yourself. A vibrating egg might be the best toy out there if you:
Need something small and convenient to let you rub one off discreetly.
You're not a fan of bigger, more intimidating toys, or you just want to start off with something more compact.
You want to use your egg vibrator during foreplay or sex with your partner.
Vibrating eggs are some of the best wearable toys, and you can wear them outside for a long time if you're into kinky public play.
You're looking for a small vibrator that's way quieter than the full-size version but still offers the same sort of intensity.
You want a toy that can cover several bases at once, from stimulating your pink pearl to milking your G-spot from deep inside.
If you're horny as hell and you're begging for that sweet, sweet release, a vibrating egg will let you experiment and discover new ways of making yourself explode!
How Does it Feel?
When you pop it inside, your muscles will tighten up against its egg-like shape. This will give you a sensation that's vastly different from penetrating yourself with a toy that sports a straight and long shaft.
Instead, your muscles will "grip" the egg. The vibrations will wake up all sorts of nerve endings inside your love cave! Rather than using thrusting motions, the egg will stimulate you in an unusual, hands-free way, and it will put heaps of pressure against your G-spot. Of course, you can press the toy against your clit for big, thunderous orgasms. In this case, the vibrations will be so intense that you'll be creaming in minutes!
Another reason why a lot of women love vibrating eggs is that they can stay inside you all day. You can keep them in while you are walking around, and they won't fall out (naughty, naughty!). Plus, they're so quiet that no one will hear a buzz coming from under your dress. Even better, some of the newest options with smart controls will work wonders for coupled play, especially if you want to get kinky and let your partner take control.
Last but not least, vibrating eggs will give your PC muscles a strong workout in a similar way to a Kegel ball. Meaning, you'll also exercise your vaginal muscles while cumming hard. The egg will boost your wetness and tightness and maximize the sensations during penetrative sex while giving you a much stronger pussy grip!
Buyer's Checklist
To get all the benefits I've described above and more, follow my quick checklist:
Think about the design that turns you on the most. What color should it be, and would you prefer an egg with a handle or a string?
Does it have enough features for you? Are you satisfied with a standard vibrating egg, or would you prefer something more challenging, like a dual egg stimulator or an egg with a built-in clit sucker?
Is your egg vibrator made of safe materials, and what kind of material would you prefer?
Don't forget about the size and shape. Most often, the toys will have the same insertable length. Yet, they'll vary according to their width or thickness. Some girls prefer thicker eggs because they create a feeling of fullness. If you think that you're too tight, you might prefer a smaller egg that's not as thick.
Control options – Do you need a wired, wireless, or app-controlled egg? This will all depend on your needs.
Vibration – What type of vibration do you want to get out of your egg? Here, it's better to buy a toy that has many options so that you can find the best settings for you.
Pay Attention to These Features:
There are several features that set vibrating eggs apart from other sex toys, and here's what makes them a best-buy:
Ergonomic shape – Most of these vibrators use the standard egg shape, but some can have pointy or even tapered tips, while others can be shaped like beads or Ben Wa balls.
Multiple control configurations – I would advise you to go wireless and get an egg that comes with its own remote. Bluetooth vibrating eggs are also a great option, but just make sure that you need those features before you pay extra.
Vibration options – A quality vibro egg will give you various vibration strengths, speeds, and patterns to play with.
Smooth, reliable materials and sturdy construction – Not all vibrating eggs use quality materials, and even some can have flawed designs, with the major weaknesses being the quality of the string loops or the handles.
Size and Design
Most standard love eggs are small, and they'll give you around 1 to 3 inches of insertable length. The circumference could match the insertable length, but it could also be a bit wider.
Luckily, these toys are small enough so you won't have to think too much about the length and whether it's the right fit or not. If you need a bigger size, the maximum you'll find for most eggs is an insertable length of 4 inches and a circumference of 4 to 5 inches at the widest point.
Now, the size and design of these toys are not modeled after a phallus. Instead, its egg-like shape is made to conform to your body. Here, the smooth curves and wide girths will make up for what the toys lack in size.
Most eggs are smaller than the average penis size (around 5 inches), but don't let that fool you. An insertable length of 1 to 3 inches is just perfect for a vibro egg, and it will be enough for most beginners and intermediate players.
Which Material Should You Choose?
If you don't want to worry about the material and its durability, go for a vibrating egg made of medical-grade silicone. It's a breeze to clean. Plus, it creates all sorts of pleasant slippery or smooth sensations. If you insert it, you'll be able to feel a balance of tension and weight. It also does the best job at transferring the vibrations directly to your sweet spots.
However, if you prefer some of the tougher options out there, an ABS or metal egg could be an interesting choice. These materials can't flex and they're also heavier. This produces more pressure and makes you train your PC muscles harder.
Control Options
Again, it would be best to avoid the wired options. Instead, I'd choose a remote control egg vibrator. That way, you can use it hands-free, and you can also play around with your partner. When it comes to app-enabled toys, they'll allow you to discover the newest innovations in the sex toy world.
Still, you will need to pay more for these features, and you might not need them if you're only looking for a compact toy to get you off quickly. Honestly, this is up to you. Sometimes, I hate worrying about losing my remotes, while other times, I hate reaching for my phone when my hand is covered in lube and Richard's warm jizz. Ooops!
But, if you want to tinker with exciting smart controls, orgasm monitoring features, music syncing, or if you want to enjoy intimacy with a long-distance partner, get an app-enabled vibro egg.
Power and Settings
I would advise you to look for USB-rechargeable models that give you around 2 hours of battery life to play with. This is especially important if you love long masturbation marathons or if you want to wear your egg in public.
Plus, try to get a wide palette of strengths, speeds, and patterns. You should get sensual and soft buzzes as well as strong and rumbly vibrations. That way, you'll be able to explore a wide range of settings.
Noise
How loud is too loud? Well, most quality egg vibes out there are much quieter than full-size vibrators. But you could still come across some examples that sound like a loud whirring power drill. If that's the case, you won't be able to use it in public, and you might always worry about your neighbors listening in. To find out if your egg-shaped vibrator is quiet enough, you can check out the manufacturer's specs or user reviews. Anything under 40 dB will be whisper-quiet.
Price
Not all super-expensive vibrating eggs are worth it, so don't buy the priciest toy out there. Plus, you should skip pretty much all toys that seem too cheap.
Ideally, you could spend from $50 to $100 on a quality vibrating egg that will last a long time, use premium materials, and give you all the features you need. If you need next-gen features for long-distance or VR play, you could pay from $100 to $200.
Things to Look For
Do you need a string loop or handle? I prefer a thicker handle attached to the base of the toy. It makes everything much more fun, plus it's much safer. If you prefer a string loop design, it would be better to choose a loop made out of thicker silicone to ensure it won't break.
Check out user reviews to learn how others enjoyed the toy.
Stick to well-known manufacturers and the most respected brands.
Focus on your orgasm goals and find the best toy according to that.
Things to Avoid
Look out for hidden seams – This is the tell-tale sign of a low-quality vibrating egg. If you see a straight line running from top to bottom of the toy, avoid it. It can injure you internally. Only look for eggs that are molded out of a single piece of material and stay away from any unpolished surfaces.
Avoid lower battery life – Some eggs have very poor battery life. This can be downright disappointing if you want to pleasure yourself for a long time.
Big is not always better, but if you have to get a longer and wider egg, make sure you know what it's going to feel like.
Look for toys with quality remote controllers or well-made apps. You can use a wired egg, but only if you're experienced and careful. But you'll be better off if you avoid them altogether.
Tips on Using, Cleaning, and Storing Your Egg Vibrators
What's the best way to use your egg vibe to make yourself quack? Well, let's have a look at your pussy first. Well, not literally, but you get what I mean! A vagina has many sensitive points inside that respond to even the softest pressure. When you apply pressure to those spots, the fireworks will come out! A vibrating egg is incredibly effective here because its round and wide shape covers a lot of ground.
If you want to use your egg internally, I can best describe the feeling as a very tight fit without any movement. In most cases, eggs are bigger than the head of a real penis or vibrator. This is exactly what makes the target your entire clitoral network, including the G-spot. And while the pressure increases as you get close to climax and your wet kitty tightens around the egg, you can play around with hard or soft vibration to boil your brains out!
Whisk It Good!
To poach yourself deep until your pussy is soaking in that sweet, sweet custard sauce, remember the following rules:
You must lube! A quality lubricant will ease some of the friction during insertion or external stimulation. The egg will also feel much more comfortable once it's inside of you. It will be able to move along with your body movements. As always, you need to use the correct lube to keep your egg vibrator safe. I always recommend water-based lube. It will play well with all toy materials.
No base, no booty – If you're begging for an egg inside your butthole, don't do it. Make sure it has a long handle with a stopper in the end. If not, pretty please, don't shove it up your ass. If it doesn't have some sort of stopper, it might get stuck inside. Use only an anal-friendly egg for this.
Now that those issues are out of the way, let me show you how you can have fun with your egg vibe:
Foreplay – Try using the egg externally to stimulate all kinds of body parts, including your partner's genitals.
Penetrative sex – Feel the powerful vibrations thrum against your clit while you're getting penetrated by your partner for an explosive climax.
Oral adventures – Slide the egg inside and have your partner go down on you. You'll drive your man wild if you return the favor while the egg is still inside you! Cock-a-doodle-do!
Masturbation – The sky's the limit here. You can tease yourself, play around with your remote egg vibrator, watch porn, and use other sex toys to drive yourself absolutely wild! Over easy come, over easy go!!!
Keeping Your Love Eggs Clean
Nobody likes dirty eggs, and you should always make sure your egg vibrator is clean after you use it. Fortunately, most vibrating eggs are waterproof, which makes them easy to clean. It only takes a couple of minutes, so don't be lazy.
For most egg vibes, you'll be able to clean them with mild soap and warm water. You can fully soak them if they're 100% waterproof. If not, use a damp cloth to clean them or run your egg under the tap. Finally, when you want to hide your weapon away, put it in its original box or a plastic container to keep it away from dust and germs.
Egg Vibrators Industry Overview
Unfortunately, there aren't many records that could tell us which brilliant lady thought of the idea to use a vibrating egg in her minnie! While the history of vibrators is well-documented, the invention of the love egg remains a mystery. So did your ancestors try to stuff themselves full of real, live eggs in the ancient world? I'm so glad they didn't!
Origins of Egg Vibrators
Obviously, Kegel or Ben Wa balls were the inspiration for vibrating eggs. Their origins are ancient, and they first appeared way back in 500 A.D. Kegel balls are some of the oldest sex toys out there, and they were originally invented by a Japanese man who wanted to enhance women's pleasures during sex.
Originally, they were made of metal and were filled with mercury. Moreover, women also used Kegel balls in ancient China for a special type of vaginal weightlifting that was said to boost their wellbeing and their sexual vitality. What's more, vibrators were invented many centuries later, roughly around the 1800s. We can speculate that the invention of love eggs happened sometime in the late 20th century when the sex toy market exploded.
Best Love Egg Brands and the Future
Remember when I told you to only focus on reliable manufacturers and brands? Well, some of them include Ladylike, Svakom, Wildflower, We-Vibe, Lovehoney, Vibease, Lelo, Fantasy For Her, etc. These companies make some of the best-selling egg vibes out there, and they keep innovating on their materials, features, and designs. And I'm pretty sure they're taking love eggs into the future as we speak.
I hope to see more extended options for remote egg vibrators, smart controls, unusual shapes or designs, even quieter motors, and various other VR and AI features in the coming years, along with lots and lots of pleasure. So get your love egg today and get ready to hatch out some of the most legendary orgasms of your life!
⚠️ Disclaimer: Our articles contain affiliate links. If you like our content and wish to support our work, consider purchasing your new sex toys through our links. For each purchase through our links, we receive a small commission but at no extra cost to you.
FAQ
You can wear your egg vibe for several hours if you want to use it in public. However, try not to overdo it and don't leave it inside overnight. Plus, try to be careful if you're using the vibration functions for a long time. Generally, 30 minutes of mild to intense vibrations could make you go numb, which is why it's better to take small breaks instead.
No, there's no risk of your vibrator getting lodged inside your vagina. For one, your vibrator will constantly tremble and pulsate, which makes it impossible to lose track of it. Also, even if it feels like the egg is too deep inside you, it's most likely due to your muscles. If you feel that your vibrator is way too deep, you can relax your muscles and take the egg out by the handle or the pull string.
You could confuse these two toys, but they are actually quite different. Vibro eggs are wider than most bullet vibrators, and they are specifically designed for intense stimulation during penetration. Most bullet vibrators are meant for external clit stimulation, and they are often too thin to make an impact during penetration. They also vibrate differently. Vibro eggs provide softer rumbly sensations, while bullet vibes are fizzier and more precise.
Absolutely! Vibrating eggs made of quality materials are non-porous and body-safe. You won't have any problems as long as you use it correctly and apply hefty amounts of lube. There's been some stigma surrounding the safety of Ben Wa balls, but vibro eggs are made of different body-friendly materials that are safe to use in your vagina. They won't cause pelvic floor tension, irritation, or infection.
Egg vibrators are among the quietest vibrators out there. Since they're small and compact, they don't use large vibrating motors, and that substantially lowers the volume. They still pack heaps of power that can rival any noisy full-size dildo or vibrator, though. But, remember that not all egg vibrators are equal. Some will be quieter than others, and you'll usually be able to compare this if you set them on the highest vibration setting.
Of course! You can practice your Kegels with or without a sex toy inside, but doing it with a vibrating egg will truly give your vagina a thorough workout. So try to insert your egg vibrator and squeeze your PC muscles around it for 5-seconds at a time with 5 second breaks in between. There are many benefits to these exercises, including improved orgasms, heightened sensations during penetrative sex, and better arousal.