Jun/24/2022
Last Update: June 26, 2023
1024
24 min read
The Best Vibrating Dildos In 2023 And How To Use Them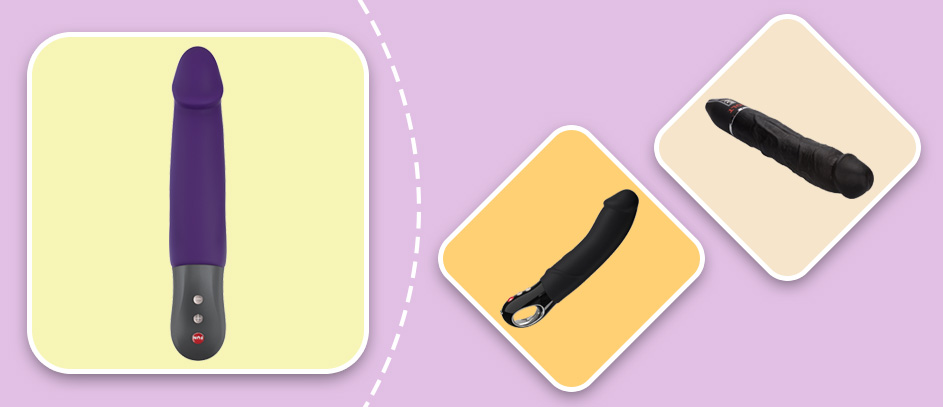 Ladies, did ya hear that? Last night, something was rumbling deep inside my minge. It fizzed my brains out as it thrummed even deeper into my whole body! What a clam clenching, mind-shattering, creamy mess! Oh, my poor neighbors must have thought someone was spearing a wild hog next door… I swear, my vibrating dildos will turn me into the world's filthiest porn star one day! But never mind my midnight aspirations! Sweetie, it's time to get your buzz on! Let's go balls deep (yes, yes, yes!) into the orgasmic world of vibrating dildos! It's gonna get pretty wet out here!
Top 10 Vibrating Dildos in 2023
Look, I should be the first to know that your average vibrator is good enough to push you over the edge. But what if you're thinking, "Scarlett, I don't want a tiny bullet vibe… I want to, need to, and have to cream all over a BIG FAT DICK!" Hey, a girl's gotta do what a girl's gotta do. So without further adieu, I'll show you the best vibrating dildos I've ever had the pleasure to test!
Something's Buzzing in My Holes…
While I hope most of us are suckers (*wink wink*) for big hard cocks, some sex toys can actually improve on the OG banana blueprint. What do you get when you pair a massive realistic dildo with a powerful vibrator in one throbbing package? What if I said that adding vibration to a fake cock can rock your kitty (or tush) even further?
Well, with vibrating dongs, you'll certainly get a veiny baseball bat to play with. Plus, you'll also get a powerful dose of vibration to shake your whole body from within! That's right! These toys are some of my favorite go-to dick replacements! They give me all the cock I need with the added benefit of extra deep internal G-spot stimulation.
However, there's such an overwhelming surge of sex toys you can buy today. This could stir up some confusion as to whether you should get a regular vibrator or a vibrating cock. You know, not all of these toys are made equal. If you decide to go for that huge pulsating dong and you don't know what you're looking for, you could run into some terrible fake dicks. They could underperform even the creepiest bald guy you hooked up with in college!
Trust me – I've tested my fair share of embarrassingly limp dildos that fell apart as soon as I switched them on. Others gave me a fabulous-looking trouser snake equivalent, but they lacked power in the vibration department and didn't really make an impact. Fortunately, I was able to treat my holes to some of the best dildos with vibration (I love my job!).
Vibrating Dildos: Screams, Tears, Goosebumps, and Cream
I'm not ashamed to say that fake vibrating cocks can make me quiver in a way no man has achieved before. Sorry, Richard, you're still my #1 guy, and as much as I worship your erect 8-incher, it sometimes struggles to compete with a big black vibrating dildo!
Basically, vibrating dongs have become some of my favorite sex therapists for solo adventures under the moonlight. You know, those lonely nights when I get to dim the lights, fire up some candles, and buzz my brains out with a vibrating monster cock! And not to mention all of Richard's kinky dungeon brawls during which he turns me into his little cum puppy and uses my vibrating toy to spread me out and drill my asshole! Fuck me sideways – I'm already soaked!
Anyway, I can get real with you after a change of panties now and tell you all about these toys. Firstly, if you introduce vibration to a dildo that's meant to go in your holes, you need to focus on several factors that could make or break your experience. Things like the texture, material, size, and vibration strength can decide if the toy has what it takes to make you orgasm like you're having a seizure.
Let's take a better look at all the things you need to know before you buy your vibrating dildo!
Rolling in the Deep
If you've read my previous reviews about realistic dildos or even if you've used one to invade your velvet love tunnels in the past, you may have some idea of what I'm talking about here. Typically, traditional dildos are designed to look like real dicks. They replicate the look and feel of a real hard wang, complete with all the anatomically correct parts.
"Vibrating dildos give you bulging veins, large and squishy balls, plus a long thick shaft. And let's not forget the cherry-piercer on top: a massive cock head to make you drop down on your knees and beg for your dinner! Mmmmm, give it to me, baby!"
With vibrating variants, you get the same look and features as a standard dildo but with an added vibing mechanism. This is usually a type of vibrating motor inserted along the shaft. The whole point is to enhance the already intense feeling of penetration with otherworldly vibrations.
Plus, since the mechanism requires more space, dildos that vibrate are usually longer and thicker compared to the traditional options. You can use one (or several!) as a versatile pleasure tool.
The Difference Between a Vibrator and a Vibrating Dildo?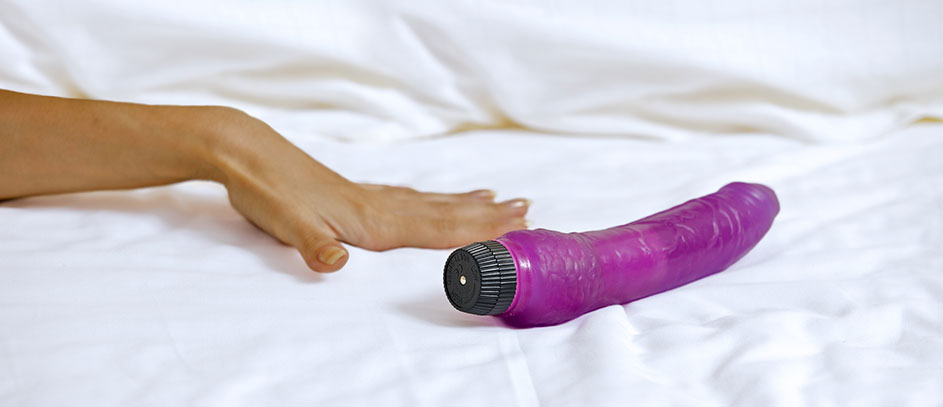 Now I get that some of you may be thinking, "Well, Rachel, isn't that pretty much the same thing as a regular vibrator?" First of all, the name's not Rachel – It's Scarlett. And I think I've had more toys in my horny pussy and ass than real cocks enough to know the difference between the two! But I get your point. I know that some girls get confused with these two types of toys. So allow me to clear this up for you like you'll be clearing your squirt juice off the floor by the time we're done!
Indeed, both vibrators and vibrating dildos vibrate (duh!). However, the difference is all about the look of the toys and the type of vibration that you'll get. The most obvious distinction is that these toys look like real cocks whereas regular vibrators usually have non-phallic designs. You know, they can have a thin and long bullet shape. Others can feature contoured tips for precise clitoral stimulation, and some can even pose as neck massagers. Stop trying to fool me, Nana; we all know your neck is fine!
In contrast, vibrating types look like the real deal, which is just perfect if you have to get off with something that looks more human. They come in a range of skin-like colors and textures that proudly emphasize the look of a male wang. Still, if you're into experimenting, you can also get vibrating wangs that look a bit different. That includes transparent options, pink, purple, or blue dildos, or even those shaped like the dicks of fantasy creatures like dragons or aliens. You will be probed!
And What's So Special About a Dildo That Vibrates?
There's another big difference that sets vibrating cocks apart from standard vibrators. And trust me, this one is extremely important! The purpose of most vibrators is to create fizzy pulses of energy that directly stimulate your clit. Conversely, the motors in a vibrating dildo are located deep within its flesh-like texture. This makes all the difference!
Basically, it changes the vibration from a fizzy, light feeling to a low rumbling that you'll feel deep within your core. Since the motor shakes up a vibrating dick from the bottom, you'll also get special buzzy movements when your tight clam grips onto it. This gives you a completely different sensation compared to regular ol' vibrators. It can drill your G-spot or A-spot with heaps of supercharged raw power, speed, and intensity.
However, that's also where every minuscule difference comes into play. Not all vibrating dildos will do this correctly. If the vibrating mechanism isn't designed properly, the pulses could come off as weak or unperceivable.
Checking Out the Types of Dildos That Vibrate
By now, you probably know that the options for receiving and giving pleasure skyrocket when you have huge vibrating dildos to keep you company. Whether you're using it solo or with someone, it will certainly fit any body type, position, or sexual kink. Still, as I said, you have to focus on several determining factors. Let's face it – it's not like you're buying any random carrot or cucumber from your local supermarket!
One of my first tips is to focus on the type of vibrating dong that you like the best. Truly, there are hundreds of these toys. You can narrow down the choice if you focus on the look, functionality, and features of your new big dong. So have a look at the different types below:
Silicone Vibrating Dildos
Silicone vibrating cocks are the most popular option by a mile. They use quality silicone materials to give you a real-feel texture and a genuine look. This material is widely available, and it's easy to work with to mold it into any dick shape. Plus, silicone is the safest material for sex toys, but that's something I want to cover later.
For now, a vibrating silicone dildo is usually your best bet if you want a toy that looks as close as possible to a real dong. Even better, these types of dildos are highly flexible and can warm up to your body temperature after insertion. So, if you get your punani all wet and heated, it will heat up your dildo to make it feel just like a warm hard cock! However, if you're not in the mood for a dick look alike, these types also come in non-phallic shapes.
Glass Vibrating Dildos
You can also choose a glass vibrating dildo if you don't want a traditional phallic look. This type uses sturdy and body-safe glass to give you a unique look and a hard texture. These dildos are tougher than the silicone variants, and you'll find them in various different shapes or colors.
For example, some have curved tips, others have rabbit vibrators attached to the base, and some feature additional textures like curves or beads.
Jelly Vibrating Dildos
Jelly dildos that vibrate are the softest and squishiest variant, although they are not the most convenient. This is a highly porous material, and even though it can look and feel great, you'll need to take extra care of it. These dildos contain phthalates which are proven to be a health hazard. That's why I do not recommend this material for most toys.
However, it's quite popular for vibrating toys, and you could run into dozens of products made from jelly. If you have no other option, you could get this type, but be sure to use it with condoms and clean it thoroughly afterward.
Other Options
There are many, many other types of vibrating toys which I'll list below:
TPE vibrating dildos – TPE is a stretchier, bendier alternative to silicone. You'll see it used in many phallic or non-phallic vibrating dongs.
Strap-on vibrating dildos – This is the perfect choice if you want to wear a big cock around your waist and use it to ram your partner's holes until they learn their lesson!
Rabbit vibrating dildos – Tons of these toys come in a rabbit configuration. You'll get a standard vibrating dildo plus an external clit stimulator that resembles a pair of bunny ears. Adorable!
Self thrusting vibrating dildos – If you really need a sex robot, self thrusting or telescopic dildos that vibrate are the best options for a deep drilling. They can thrust up and down automatically in several different modes and also give you rotating patterns.
Double penetration vibrating dildos – Don't leave your second hole unattended! Dual vibrating dongs give you two insertable toys that are attached to each other. The rest is pretty obvious: use this large vibrating dildo to stretch out both your holes at the same time!
Monster cock dildos – If you just need to go really, really big, I know that only a vibrating monster cock will fulfill your cravings. I'm talking about 13 or more inches of extra-large fun that you can use and abuse your holes with to make them gape like a cave!
Positive Vibes Only
You can also choose your vibrating dildo based on the features you like the most. Let's first cover the different vibration types and the way to control them:
Vibration Features
Built-in vibrator – Most vibrating cocks come with a built-in motor that produces the vibrations. As mentioned, this will usually make the toy longer and wider. This kind of mechanism is mainly used because it's intense enough to make the vibrations travel through the dildo material.
Removable bullet vibe – Dildos with removable bullet vibrators could be a bit lighter and more practical. However, they might not feel as intense as the previous type. The bullet vibrator is smaller and fits into the base of the toy. I prefer the built-in mechanisms, and I'd recommend you to go for those instead because the insertable bullet vibrators can sometimes feel weak or not fast enough.
Controllers or button configurations – You should also pay attention to the controls on your toy. Most quality vibrators will give you a remote control or a button configuration at the base of the toy. If you get a dildo with a remote control or a smartphone app, you'll be able to use it for hands-free play. Your partner could even use it on you for extra kinky fun.
Vibration speeds, modes, and intensities – Regardless of the control options, most toys will give you a set of parameters that you can adjust manually. Others include modes that automatically change the vibration pattern and strength.
Other Features
Colors – You can choose from many fleshy skin tones or other colors like purple, pink, blue, etc.
Suction cup base – I've said this in my earlier reviews, but here we go again: this is my favorite feature! A suction cup makes life so much easier because it enables you to stick the toy onto a flat surface and rock out. No need to use your hands here: just jump on that dick (or slowly slide it in from behind, mmm) and start moving! Talk about a full-body workout!
Ejaculation – And why not pair all that with a massive fake cum explosion? Ejaculating dildos can squirt out fake jizz at your disposal. This option is perfect for any semen lover or cum fetishist! Let's feast!
Teledildonics – Last but not least, teledildonics are becoming the big thing in the sex toy world right now. Many dildos out there use next-gen tech that allows you to sync your dildo with your partner's toy. For example, if you're in a long-distance relationship, you can use toys like the Nora dildo and the Max 2 male masturbator. from Lovense to have sex together regardless of where you live.
Materials
Apart from the types and features, the materials your toy is built from will greatly affect its quality. My preferred options are:
Those three are body-safe and 100% safe for oral, vaginal, or anal use. They are also easy to maintain, and they'll pretty much last forever. However, TPE is a bit trickier to handle because it's fully porous. While silicone and glass are non-porous and will never absorb bacteria, TPE requires extra care.
A Word on Sizes
And now for the most important question: how big should you expect to go?
I know that most of us wept at the sight of smaller dicks when we knew they weren't enough to fill us up just the way we like it. A vibrating dildo will save you from those embarrassing moments because you can pick the size that suits you the best and makes your mouth water. I'll talk more about finding your perfect size later, but for now, I need to say that this is entirely up to you.
So, if you're reading this article and you're feeling guilty about craving that monster BBC, don't be ashamed! That's the whole point of it all, right? You'll get to experiment with your body and finally turn those fantasies with big black vibrating dildos into a reality!
Buyer's Guide for Any Virgin or Superslut
Sweetums, the world obviously isn't going to end if you buy an overly massive dildo or accidentally choose one that doesn't fill you up just the way you like it. Still, it's gonna be disappointing when your new and shiny dildo finally arrives, and you can't use it because it's simply not what you had in mind. To save you the embarrassment, I'll show you what to look for when buying your new toy.
First, here are some questions you should ask yourself:
Think about which vibrating dildo looks like the best piece of eye candy to you.
How do you want to use it? Do you crave gentle penetration or balls-to-the-wall anal destruction?
Is the dildo made by a reliable manufacturer, and does it use quality materials?
Consider the intensity, settings, and power options
How loud is it? Will it roar like a power drill, or will you be able to use it discreetly?
Phallic vs. Non-phallic
If you were paying attention, I said that silicone, TPE, and glass are my preferred materials for large vibrating dildos. If you don't want to focus on the materials at all, just choose a silicone dildo and get it over with. These dildos feel great, they require very little maintenance, and they transfer vibrations correctly.
However, what if you don't want a dildo that looks like a dick? The whole point of these toys is that all genders and sexual orientations can use them, which means you don't have to settle for a realistic dildo. If you're not all that attracted to cocks, a glass dildo or even a pink or purple silicone dildo that vibrates could be a better option.
Settings and Power Options
Regardless of if you get a remote-controlled dildo or one that has a classic button configuration, you'll get multi-speed settings and various vibration modes. This could include up to 10 or more modes that ramp the speed up and down, gradually change the vibration strength, and so on. Heck, you can even sync some of them to your favorite music and use the beat to guide you to orgasmic bliss!
Either way, you should definitely look into the different types of vibration settings that your dildo will offer. For me, I prefer a wide range of vibration strengths and speeds. I absolutely hate it when my dildo is on the highest vibration setting, and it has nowhere else to push me while I'm still craving more. It's hard to know this until you try your toy out, but you can learn a lot about the different types of vibrations provided by your dildo if you check out the product page or inspect some user reviews.
What's more, it's incredibly important to check out the powering options. If possible, avoid toys with removable batteries. The batteries could stop working mid-way to your orgasm and leave with a blue vulva. Instead, find a rechargeable vibrator. The best dildos will give you a compromise between the battery usage time and total charging time.
Vaginal or Anal Dildo?
Will your preferred hole impact your buying decision? Well, yes and no. If you want to use one dildo for both holes, then go ahead! Just don't swap holes or, at least, use condoms! But, if you want one in the pink and one in the stink, there's no reason for me to stop you. A good vibrating dildo will work for all holes, regardless of if it's made to replicate a real dick or look like something else entirely.
But why limit yourself to just one toy and leave your other hole unattended? For example, if you've never had glass in your ass, now could be the time to invest in that cute vibrating glass dildo.
How Much You Should Spend
Since there are so many types, you will find quality toys in all sorts of price ranges. Still, remember that these toys contain mechanical parts. That means the quality will go up with the price. You can find many bang-for-your-buck options at around $50 to $60, but if you have the cash, try to spend over $75 for a premium toy. You'll get quality materials, a responsive and intuitive control system, and a strong vibrating motor that offers plenty of power.
How Big Should You Go?
If you're buying a standard vibrating toy, you should expect the size to start from 6 inches (already above average) and upwards. Still, you can get a small vibrating dildo if you know that you're not up for it. If you know your sizes, you probably understand that 6 inches are enough.
Either way, you should pick a toy that gets you all horny but just make sure that you can handle it. If you overestimate your capabilities, the dildo could cause you some discomfort or pain. If you're just too sensitive and you know that anything over 6 inches is too big, then you'll probably be more comfortable with small vibrating dildos. But luckily, you can always train for a larger dong!
Remember, these toys can get bigger and thicker due to the vibrating motor. This is exactly what creates those insanely powerful thrums in your body during deep penetration.
Indeed, if you want to feel the full force of a dildo that vibrates, it's almost necessary to choose a big 8-incher or something bigger! For large sizes, you could be looking at anything from 7 to 10 inches of insertable length. And if that's not enough, monster dildos can go all the way up to 14 inches or more! What you have to realize here is that these toys are not intended for beginners. If you want a large or extra-large size, you'll have to train for it properly in order to minimize any health hazard.
What About the Thickness?
Finally, the width (or girth, rather) should be equally as important. You'll find most vibrating dicks with a width of anywhere from 1 inch to 5 inches or more. This will all vary based on the stretching sensation that you prefer. If you want something thinner, try a 2- to 3-inch width. But if you want to feel the power of a big dildo stretching your holes out and making you gape like a good girl, 4 to 5 inches is a good starting point.
What to Look For
What does your dream cock look like? You can pick your vibrating dildo based on your past experiences and the dicks that you've liked the most.
Always look into the quality of the vibrating motor, the battery life, and the powering options.
Is your toy 100% waterproof? You have to know that before you clean your toy or use it in the shower.
Look for toys made by reliable companies. They will always use premium materials that guarantee your safety and pleasure.
What sort of extra features do you want? Do you need a suction cup or an ejaculating dildo that can blast you in the face with gallons of fake cum whenever you're in the mood? Mmmm, it's time for my creamy dessert!
What to Avoid
If you don't want to bother with cleaning your toy with specific methods or condoms, avoid jelly or other materials that contain phthalates.
Avoid any sort of budget dildo that promises too much. Remember, you get what you pay for. If you really want a reliable and strong vibration mechanism, you should stay away from $10 knock-offs or unbranded toys.
If you're buying a dildo for anal play, make sure it's got a pair of balls attached to it. Your rectum doesn't have a "point of no return", which means your dildo could get lodged in your butthole if it isn't attached to a flared base, fake testicles, or a suction cup.
How to Use, Clean, and Store Your Vibrating Dildos
Hey, I get that you don't need me to explain how you should push your dildo inside your pussy or butt. However, here are some tips to maximize your experience:
Getting It Nice and Wet
First up, you need to get really turned on and get your pussy ready to take it all in. Even if you're soaking wet, you'll need to apply some lube to your dildo. This will help with the friction during insertion. Yet, remember that you could mess things up if you use the wrong type of lube.
For example, TPE or silicone dildos should only be used with water-based lubricants. If you try silicone or oil-based lubes, they could damage the material. Conversely, glass is compatible with all lube types.
What If It's Really Big?
If you want to get an extra-large dildo for that satisfying feeling of fullness, you'll still need to go gentle. You can start with a smaller toy and then move up to that huge cockzilla. I recommend you get into the most comfortable position and try to take everything slowly. The fun starts when you get used to the widest part of the toy. After that, your muscles will relax, and you'll get to explore all sorts of motions or other sensations.
Cum Like You Mean It
Regardless of the size, you should use your dildo in a way that brings you pleasure. Fortunately, we are blessed with all sorts of erogenous zones, and you can experiment with all of them to see what feels best. Once you've found your preferred pleasure spots, switch on the vibration and drill your brains out! But remember to use a towel!
Clean That Cock
Lastly, the best way to keep your dildo safe is to clean it right after your big O. I know, I know – you'll be too wasted from a full-body orgasm to even care, but trust me that this will make things easier in the long run.
With silicone and glass toys, all you need to do is wash them with warm soapy water. Then, wipe them off with a soft lint-free cloth, and they'll be ready for storage. But, if your toy isn't 100% waterproof, you shouldn't wash it under the tap. Wiping it off with a damp cloth will generally be enough to clean it. Also, don't forget to clean your other toys like ball gags or butt plugs while you're at it. In any case, store your dildos separately, either in their original boxes, carrying pouches, or a dedicated plastic container.
The Buzzing Biz: Vibrating Dildos Industry Overview
If you still need to know more about fake vibrating dicks, check out their origins and their future:
The Long, Weird Story of Vibrating Dildos
While dildos have been around since prehistoric times (yup, our hairy ancestors made them from rocks, wood, and even bones), vibrators emerged with the invention of electricity. In fact, vibrators were first invented in the 1800s. They were used for various massage purposes and for pain relief. One theory states that, in the 19th century, doctors somehow thought that those early massage vibrators would be a great solution to treat a medical condition called female hysteria. The treatment? Slide a vibrator into a Victorian-era babe and massage her until she reaches "hysterical paroxysm" or, as we normally refer to it today: an orgasm!
However, that story is debated by many sex toy scholars. Another theory says that they were first used for sexual purposes in the 1900s. They were sold as household items meant to alleviate headaches, back pain, and wrinkles. Somehow, they ended up in early 1920s porn. Suddenly, people realized that adding vibrations to an already sensitive clit was enough to cause a great deal of trouble.
Anyway, we know that the first vibrators for sex were invented in the late 1960s. Back then, even some products like the famous Hitachi Magic Wand were repurposed for sexual uses. Nevertheless, the first major innovations started in the '80s and '90s with the invention of realistic dildos that vibrate. It took a long time until the design was perfected, with the first USB rechargeable dildos being made just back in 2013.
The Best Brands
If you want a quality toy from the most innovative brands, you can turn to several names that stand out. That includes Lovehoney, Fun Factory, Basics, Lelo, Harmony, Paloqueth, Denooss, California Exotics, Melo, Utimi, etc. These brands are always releasing new and interesting dildos to challenge you to explore your senses (and your holes!) even further.
Big Vibrating Dildos of the Future
What if we could use smart controls for a deep tissue massage or get a dildo that tracks our movements or arousal stages and brings us to orgasm just the way we like it? Oh yeah!
Well, I've already told you that some dildos offer remote control options for long-distance relationships. However, the industry is not slowing down. It seems that we'll see a lot of next-gen dildo developments in the coming years.
Personally, I'd love to see some type of expanding vibrating dildo that can adapt to the size of my holes and gradually stretch them out with AI or similar. But, we can only speculate as to what's going to happen in the future. For now, I can just tell you to buy your vibrating dildo as soon as possible. Now say it: "I solemnly swear I am up to no good" and push that huge dildo deep inside!
⚠️ Disclaimer: Our articles contain affiliate links. If you like our content and wish to support our work, consider purchasing your new sex toys through our links. For each purchase through our links, we receive a small commission but at no extra cost to you.
Frequently Asked Questions
Check out my answers to some of the most popular questions regarding dildos that vibrate:
You can't get addicted, and you also can't desensitize your vagina with a vibrator! These two common myths have been debunked by various doctors and sex toy experts. There's no clinical evidence that says your vibrator will turn into an addiction. Also, even the strongest vibrators will not be enough to desensitize your vagina to other sensations. However, if you want to play it safe, try not to overuse your vibrating dick.
Oh yeah. Go for it, girl! If your boyfriend is into it, you can use your dildo during foreplay and during the main attraction. For example, you can deepthroat it to turn him on, or he can use it on you to tease you before the real thing. However, if he's adventurous, you can also penetrate him and give him the strongest prostate orgasm of his life!
This is a tricky question. Ultimately, it will all depend on your partner. If you're not having any problems in the bedroom, I think you'll be fine. In fact, a vibrating dildo could even improve sex and your relationship.
However, if you're having problems or if your partner is not into experimenting with toys, it might hurt his feelings if you start to rely too much on the dildo. As always, you should talk it out with your partner before you pull out that 14-inch black vibrating dildo from under the bed.
This will depend on the battery life and your sensitivity. As a rule, vibrating dildos can make you go numb after a while. But, this sensation will be much less intense compared to if you were using a regular vibrator. Studies show that most women take just 5 minutes to cum with a vibrator, which should give you an idea of how much time you'll use it for. Of course, you can tease yourself and use it for all kinds of long masturbation marathons, but try to stop if you feel any overwhelming numbness.
Generally, it should be completely safe. If you're worried that a massive toy will stretch out your holes permanently, don't be scared. This is only your body's temporary reaction to a huge vibrating dildo. It's impossible to stretch your anus or vagina out to the point of gaping and leave them like that permanently. However, the dildo will stretch you out, but the effects will only last a day or two until your body regains its natural elasticity.
As I said earlier in the article, this depends on you and your body. Even though it sounds small, a 5- or 6-inch dildo will be enough (or even too big) for most women. If you want to go bigger, you will likely be able to take a dildo that's 7 to 10 inches long. However, if you want a huge monster dildo, just remember that this isn't recommended for beginners. If your dildo feels too big, take a step back and use a smaller toy to get used to a larger size.
It shouldn't matter if your dildo is too big or too small: if you feel any pain whatsoever, you should slow down or stop immediately. Make sure you are using enough lube and that you're horny enough and try again. If you still feel pain, you may need to replace your toy with a smaller one or get a medical check-up to see if everything's okay with your body.