Feb/07/2023
Last Update: June 26, 2023
515
6 min read
Strap In And Fuck Like A Pornstar! Doc Johnson Body Extensions – BE Ready Review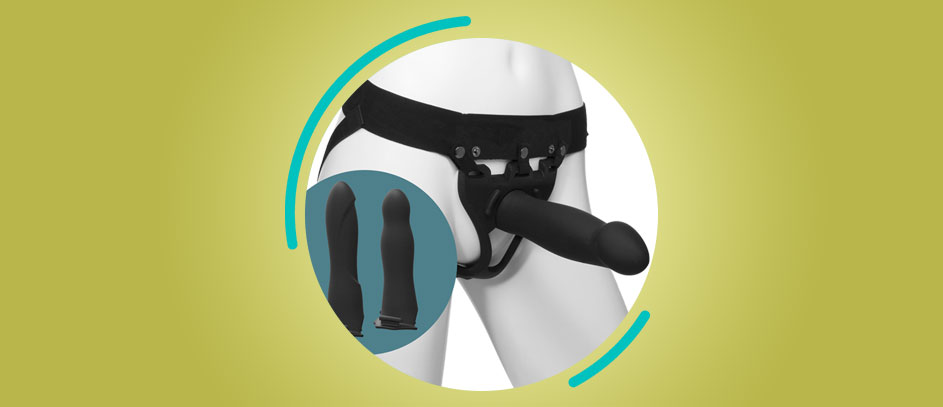 I've said it once and I'll most certainly say it again: living with a small cock is not easy! It also doesn't help that I'm horny as balls. However, I never get to enjoy those "Why, Vlad, what a big dick ya got there" looks from pretty females with big boobies and tight poon tangs. But I'm not gonna sit around moping and cursing the day I was born. And neither should you! In this Doc Johnson Body Extensions – BE Ready review, I'll test out one of the most exciting hollow strap-on kits out there. Hopefully, it will transform my tiny Johnson into a massive meat hammer. So let's see if this unique strap-on set has enough juice to finally satisfy my girlfriend's cravings for big fat schlongs! Yeehaw!
Be Ready, Boys and Girls!
If you're wondering what makes the Doc Johnson Body Extensions – BE Ready strap-on system so fabulous, I should mention that it's all about silicone hollow dongs. Let me say that again but with a slight twist. Silicone hollow BLACK dongs!!! And they're huge!
What we're looking at here is a hollow silicone strap-on kit. Basically, anyone can use it to attach a penis-like dildo to their waist. Yup, it's not just for guys with a small pickle. The harness is unisex and it works for everyone. If you're looking to get kinky, you can use it to peg your boyfriend's tight butthole to make him plead for mercy. Or why not turn your lesbian lover into your obedient little puppy? You can also indulge yourself in just about any other big boner fantasy that's been itching away at your crotch.
Now, I was genuinely excited to test out this naughty piece of kit. After all, it's made by a famous dildo manufacturer that rarely requires an introduction. If you've read some of our previous reviews, you'll know that everyone at Pleasure Me Now loves to stuff themselves full of Doc Johnson's dildos. That certainly says something about this legendary brand.
First Look: Big Fat Black Dongs!
By far, what impressed me the most during this Doc Johnson Body Extensions – BE Ready review is that it's practically foolproof. There are no buckles or straps to worry about. But don't grab those three big hollow dongs and try to gangbang yourself to death just yet.
As I said, you'll get a unisex harness that uses an interchangeable design. There are only three parts that snap into place. It only took four snaps to secure one of the dildos onto my erect goober and off I went. What's great here is that you don't need to worry about straps or complicated locking mechanisms. Another neat feature is that the dildos aren't permanently attached to the silicone base. You can swap out one for the other if you get bored. Also, you can use them independently just like any other standalone sex toy.
But let's move on to the main attraction. Inside the box, you'll get three glorious dildos of various sizes and textures. The sizes range from 7 to 8 inches. This is certainly enough to empower you with a big and mighty anaconda or spread your asshole wide open. And even though they're hollow, these dongs are just firm enough. They'll provide realistic penetration and deliver intense stimulation to the wearer. Plus, they have varying thicknesses. That will allow you to enter any hole smoothly while providing tons of special pressure for your partner.
Features
100% premium silicone
Fully adjustable elastic harness suitable for waist sizes 28″ to 48″
3 Hollow dildo attachments: bulbed dong, slim dong, large dong
Body-safe and phthalate-free
Easy snap and lock mechanism
Bulbed dong size: 7-inch length, 1.75-inch width
Slim dong size: 7.5-inch length, 1.75-inch width
Large dong size: 8-inch length, 2-inch width
Show Me What You're Made Of
One of the best features that made my nutsack throb hard during this Doc Johnson Body Extensions – BE Ready review was the smooth silicone dildo material. All three dildos and the attachable base use premium silicone. That means you won't have to deal with sensitive TPE or jelly materials. You can simply pop this bad boy onto your nether regions and bang away.
Obviously, you'll have to wash your dildos and the elastic harness after you're done. The big upside is that Doc Johnson's silicone is non-porous and it won't absorb bacteria. It will literally last forever regardless of which hole you stick it in! Another great feature is that the harness is super easy to disassemble and keep clean.
What's more, my GF and I are somewhat obsessed with the smooth feeling and the sleek look of these black dongs. The material felt soft and tight when I pushed my wang inside. However, the actual opening inside the dongs is around 1.5 inches wide. While I was able to push my erect pencil dick inside, you might struggle to get your partner's cock or a vibrator all the way in if it's thicker.
Still, with a man of my size, all three dildos felt nice and tight. Therefore, it's just a matter of seeing whether this thing fits on your monkey or not. On the upside, the smooth silicone material grips my 4-inch dick tightly. It follows the natural curvature of my girlfriend's soaked pussy and feels even better when I stick it inside her elastic asshole. The tighter feeling on the inside made me blow some epic loads and it genuinely felt like I was wielding a monster cock.
💡 Pro Tip: Use a generous amount of water-based lube inside the hollow dong to make it feel like your dick is penetrating a virgin-tight pussy!
Unleash the Beast
As I mentioned, all three dongs have a special shape along with some tingly curves. The first dildo in the set is the 7-inch bulbed dong. It starts off with a thinner tip. Then, it gets wider near the middle and expands more towards the base. I'd recommend this shape to most strap-on beginners. Next up is the slim dong. This dildo is the same width as the bulbed dildo. But, it gives you 7.5 inches of total length and it gets slightly slimmer along the shaft.
Finally, you can use the third largest dong to totally obliterate your holes. The biggest dildo is 8 inches long and 2 inches thick. The best part? The tip is shaped like a massive and delicious cock head! This is definitely the dildo you're looking for if you want to strap a big black cock around your waist and unleash a serious dicking upon your partner.
✍️ Vlad the Not-Impaler recommends: Regardless if you're the giver or receiver, try to start with the smallest dong in the strap-on set and move your way up. Nobody wants a sore anus!
Fit and Feel
While there are several buttons on the elastic harness, I didn't feel them press against my skin and cause any discomfort. What's more, since the harness only straps around your waist and thighs, your booty will be exposed. That way, you'll leave an open hole ready for additional stimulation! Also, there's a hole in the base so your balls won't get tangled up. In fact, you can make use of this space by adding a small vibrator or another toy for an even higher level of orgasmic stimulation!
Pros
Elegant and effective design
Super easy to assemble, reassemble, and clean
The silicone material feels extra smooth
The three dong sizes and shapes were perfect for me and my partner
Cons
The hollow inside might be too tight for you if you have a really thick penis
The buttons on the elastic harness feel a bit cheap
Doc Johnson Body Extensions – BE Ready Review: My Takeaway
All in all, this strap-on kit offers plenty of versatility for all sorts of nasty sex marathons. I had tons of kinky strap-on fun during my Doc Johnson Body Extensions – BE Ready review and my newly expanded cock size was finally enough to make my GF cum like a queen while fulfilling all her freaky BBC fantasies!
⚠️ Disclaimer: Our articles contain affiliate links. If you like our content and wish to support our work, consider purchasing your new sex toys through our links. For each purchase through our links, we receive a small commission but at no extra cost to you.
| | |
| --- | --- |
| 👉 Name: | Doc Johnson Body Extensions - BE Ready Hollow Silicone Strap-On System |
| ⚙️ Features: | Multiple Dildos, Interchangeable Design, Extra Large, Smooth Silicone |
| 📁 Type: | Hollow Strap-On |
| 🛠️ Materials: | Silicone |
Slide your cock inside one of the three dildos and you'll instantly get a bigger dick! The dongs feel comfortable to wear and they're super tight on the inside!
5
The interchangeable design is pretty much foolproof and it allows you to quickly set up your strap-on harness.
5
The dildo materials are super high quality and will last forever.
5
While this strap-on system is super-intuitive, the hollow dongs are not made for guys with thicker dicks.
3
Editor's Pick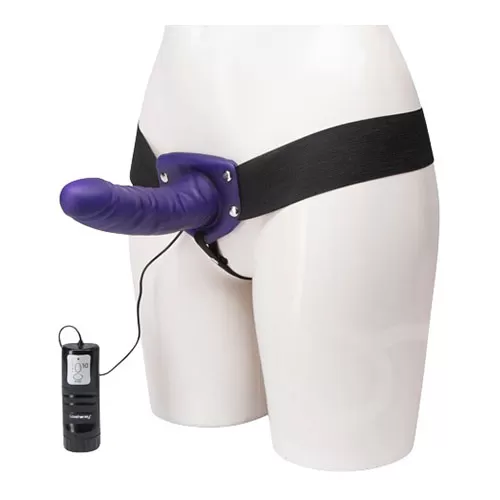 Lovehoney Perfect Partner
⚙️ Special features:
Realistic detailing and bulging veins
⚡ Power source:
2 x AA batteries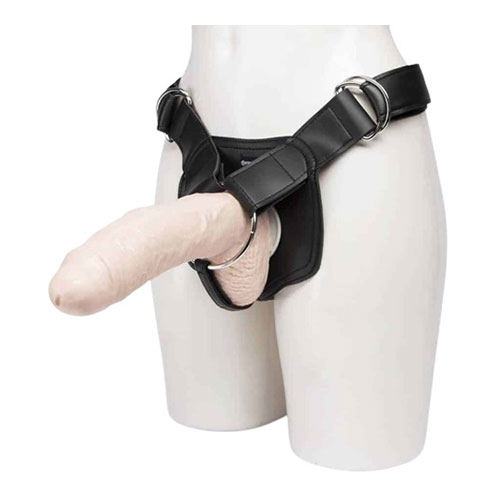 Fetish Fantasy Unisex Extreme Hollow Strap-On Dildo 8 Inch
🛠️ Material:
Soft Plastic
⚙️ Special features:
Submersible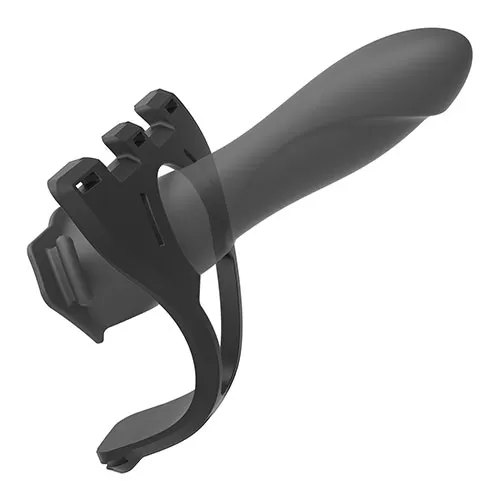 Doc Johnson Body Extensions Be Strong
⚙️ Special features:
Soft and smooth