Oct/31/2022
Last Update: June 26, 2023
791
7 min read
I Buried This Hooded Warrior Deep In My Pussy! Leroy Dual Density Uncut Review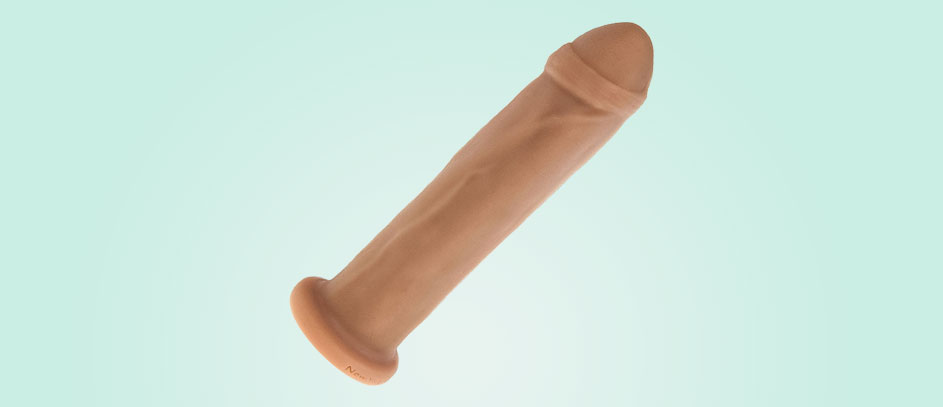 After reviewing dozens of dildos out there, I thought it was time for something a little bit different and a little bit more, shall I say, uncut. Now in all my years of worshiping the dick, one particular example I will never be able to get out of my head is my ex's unsnipped wang. It was the only uncut cock I've ever had inside me, and the experience was totally unique. So for this Leroy Dual Density Uncut review, I decided to try an uncircumcised dildo to see if I could relive my experiences. Oh, and not only is this thing uncut, but it comes in a lovely caramel color and gives you a whopping 9 inches of insertable length to plow your holes all night long! So let's ride!
Gimme a Bite of That Delicious Hungarian Sausage, Leroy!
Uncut. It's a word that not many women are fond of and yet I believe this to be a serious mistake. As I said, my ex Harry had a huge unsnipped dick. I honestly didn't see what the big deal was. Well, the only big deal was his super huge dong when he used it to drill my insides harder than thunder in a summer storm! Sure, there is some extra foreskin and it kind of looks weird, but the story around the block is that guys with intact cocks get much more pleasure. Whatever your opinion is, I have to say that the Leroy Dual Density Uncut by New York Toy Collective is one hell of a dildo.
Basically, it has only one goal in mind: to satisfy any size queen or king out there. Yup, this thing gives you a whopping 9 inches of cock to insert deeply into your holes. While it doesn't come with a pair of balls, it has a firm base which makes it anal-friendly. So yes, this thing can fit inside all my holes and it can stretch me out just perfectly, regardless of if I'm in the mood for classic vaginal or hardcore anal sex.
First Look
Before I get my Leroy Dual Density Uncut review underway, let's talk a little bit about New York Toy Collective. This brand is not the most famous out there, but it's definitely one of the most unique. All its toys are handmade in New York. Plus, they are made for sex-positive thinkers. The Leroy dildo is their biggest available dong. While I used the caramel version for this review, you can actually choose from 7 other colors. That includes Cashew, Hazelnut, Chocolate, Rose Gold, Teal, and Midnight Purple. To be honest, I saw every Leroy dildo in one photo and it kind of looked like an epic sausage fest that I would have liked to be a part of!
9 Inches of Uncut Magic
Let me back up and focus only on the caramel Leroy dildo that I received. Besides the size, the special thing about it is obviously the intact foreskin. To keep it nice and sexy, the foreskin doesn't cover the cock head all the way. It stops in the middle so that you can still see a nice and shiny glans. My favorite thing during my Leroy Dual Density Uncut review was the nice and wide shape of the head. It's very bulbous, which means it will satisfy anyone who loves to stretch their holes to the max. Also, the head assures me that it's an awesome companion for intense G-spot or prostate play.
Another thing I want to note is that this fella looks like it can truly do some damage. The size is huge, but it's still not in the range of 10+ inch monster cock dildos. Still, you will have a problem with it if your vagina is virgin-tight or if you've never had a huge cock up your butthole. That's why I wouldn't recommend this thing to beginners. But, if you're an expert in all things related to huge cocks, you will have a fabulous time with this one.
Dual Density Dickdown
What's more, I also noticed that Leroy comes with a posable core. That means you can bend or flex it to the angle you prefer. Then, it will remain that way even if you change positions. It's not the most common thing to see on dildos, but I can say from experience that it's actually a pretty awesome feature.
Oh, and if you didn't hear me the first time: this bad boy looks freaking amazing. Besides the wide chicken neck and just the right amount of foreskin, it also gives you several big veins along with many tiny ones. The biggest vein that protrudes from the bottom to the top looks super sexy and reassures me that this cock will always stay hard for me.
Features
Dual-density dildo
Uncut
Width: 2.14
Insertable length: 9 inches
Harness-compatible
Posable
Handmade
Material: silicone
My Holes Are All Yours, Mr. Leroy!
During my Leroy Dual Density Uncut review, I noticed that New York Toy Collective claims this toy is their most beautiful dildo. Luckily, they're not wrong. I swear, when I first received it, I couldn't stop bugging my BF about how great it looked. Part of that is due to the size and design. But, the other part is due to the dual-density silicone material. I could tell right away that this toy uses only premium silicone. The silicone makes my dildo feel super soft yet nice and hard in my hand and in my hungry orifices.
Also, this is just about the best type of material you can get on a sex toy. It's 100% body safe and non-porous. It can withstand nearly any obscene penetrative act and it will literally last forever. Plus, what I really dug about my Leroy is its dual-density thickness.
Essentially, the silicone is crafted from two layers. One is a softer outer layer and the other is a firm core. Or should I say hard core? Well, it's exactly what makes this bad boy look and feel so hyper-realistic. The dual density gives it a real cock-like sensation, especially when its temperature warms up to your body heat. For me, the material felt fantastic when I pushed this thing inside my minge and it worked even better in my butthole. Yes, the wide head and thick shaft make this an awesome toy for G-spot play. However, there's just something about this dildo that secured its place as one of my favorite anal toys. And if my butthole loves it, so will yours!
Size Matters a Whole Lot
Now onto the matter of size. Again, my Leroy Dual Density Uncut review showed me that this fella is definitely not intended for virgins who don't know what they're doing.
If you try this uncut cock without any preparation, chances are that it will hurt. That's because it's over 2 inches wide. It's more than enough for anyone and it will feel especially massive if you have an untrained asshole. Still, if you prefer a wider girth, Leroy will literally take you to heaven. The super-wide girth will stretch out all your pleasure nerves and make you feel filled up. And what happens when you combine that with the 9-inch insertable girth? Well, this little slut is definitely having problems walking these days.
For real, I found the dimensions to be perfect for those "tear me the fuck apart" sensations, especially if you like it hard, fast, and rough. I should also point out that the firm base is quite stable. It makes this dildo feel nice and balanced. Unfortunately, you won't be able to use it hands-free because there is no suction cup. Still, you can quickly pop the firm base onto a strap-on harness using O-rings. I was curious to try this but Richard's ass was just way too tight for it. I also tried to force him to give my new strap-on cock a deep blowjob but he said he was a bit freaked out by the unclipped horn. Nevertheless, he was impressed with the massive size of this thing and I hope we can work it into our pegging playtime very soon.
Pros
It's massive!
The uncut foreskin looks cool, but it's an acquired taste
It fits into my strap-on harness perfectly
Cons
It's expensive!
No suction cup
Personally, it would look better if it had a big pair of balls.
Leroy Dual Density Uncut Review: The Bottom Line
So what are some final thoughts on my Leroy Dual Density Uncut review? Is this handmade dildo worth its expensive price of nearly 190 bucks? Personally, yes. It uses the finest quality silicone material and it looks like it will last for ages to come. Also, it feels fucking amazing in my butthole and my pussy isn't complaining either! Way to go, Leroy!
⚠️ Disclaimer: Our articles contain affiliate links. If you like our content and wish to support our work, consider purchasing your new sex toys through our links. For each purchase through our links, we receive a small commission but at no extra cost to you.
| | |
| --- | --- |
| 👉 Name: | New York Toy Collective Leroy Dual Density Uncut |
| ⚙️ Features: | Foreskin, Realistic, Posable, Dual Density, Anal Friendly |
| 📁 Type: | Strap-On Dildo |
| 🛠️ Materials: | Silicone |
The head is uncircumcised and it looks very exotic!
5
The dual-density construction makes this thing feel like a real cock!
5
The silicone material is one of the best I've ever seen on a dildo so far.
5
While it looks and feels fantastic, it's much more expensive compared to other similar dildos.
3
Editor's Pick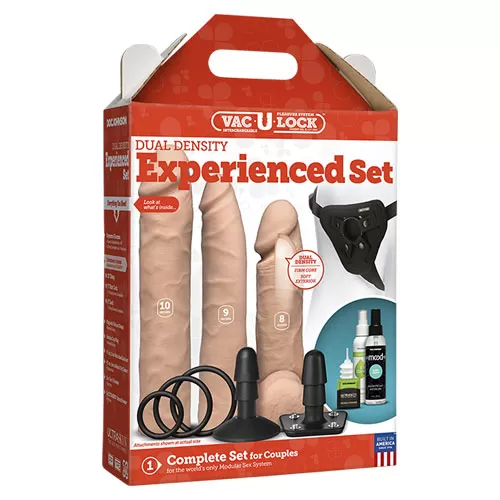 Doc Johnson Vac-U-Lock Realistic Feel Advanced Strap-On Dildo Set
⚙️ Special features:
Fully adjustable harness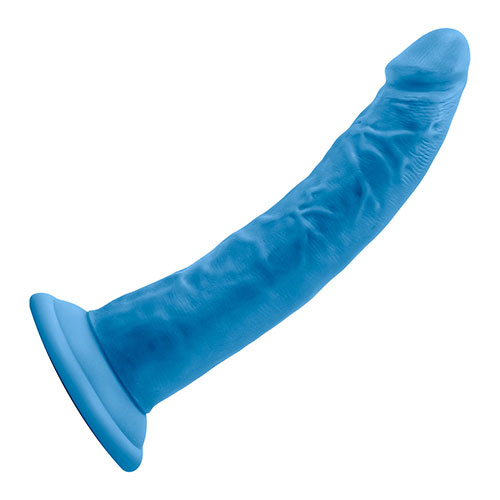 Blush Neo Elite 7.5"
⚙️ Special features:
Tapered head for easy insertion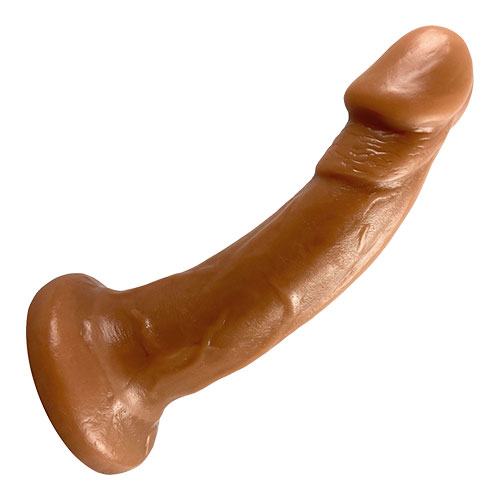 Vixen Mustang
⚙️ Special features:
Enhance authentic sensations