Sep/27/2022
Last Update: June 26, 2023
807
7 min read
One Toy, Dual Pleasure: Lelo Enigma Review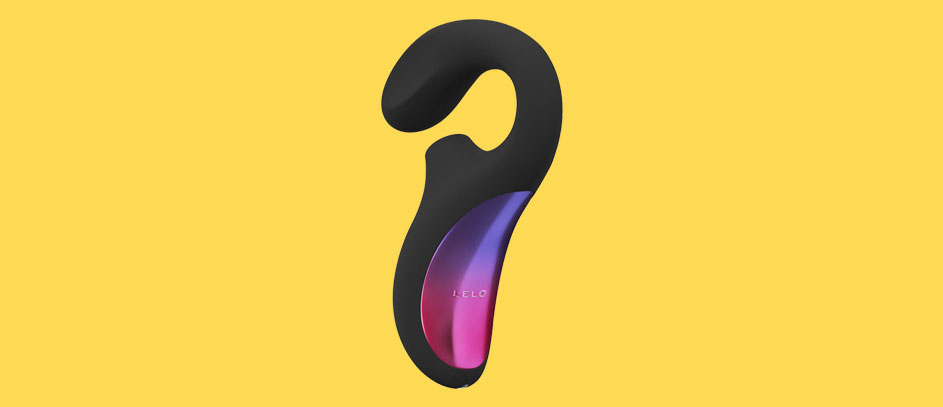 Some girls think that having a strong G-spot orgasm is like winning the lottery. I can't really blame them. Sometimes, it's tough to get off, especially if your boyfriend is sporting a raging hard-on but he has no idea how your buttons operate… Also, even though we have thousands of sex toys at our disposal, some of us just don't know how to relax and head straight for those epic full-body Os. If you still think that your orgasm is a puzzle, it's time to solve that shit with a toy that sucks your clit and massages your G-spot at the same time! And that's exactly how I used the LELO Enigma on my pussy to score some unforgettable orgasms! So check out my LELO Enigma review to learn more!
It's No Mystery!
If you've ever fantasized about dual stimulation, you probably know that it can only happen with some messy finger work, during a threesome, or with various sex toys. Apart from the occasional MMF ménage à trois, I've tried – many times – to pleasure my clit and my pussy simultaneously with two toys. Sure, the pleasure was multiplied, but things didn't always go according to plan. Well, let's just say that it's not easy to handle two dildos at the same time on your own and still keep your focus on your orgasm. Seriously, it's like you're out there juggling two disembodied cocks and hoping to meet your maker… And that's exactly what toys like the LELO Enigma hope to avoid.
Now, besides dual clit and G-spot stimulation, the Enigma is also special because it has a shape of its own. It shows you that you don't have to settle for a big dildo if you're looking for a sex toy. Basically, it's a futuristic-looking toy that won't remind you of a hairy penis or any other body part for that matter. In turn, this will allow you to focus more on your pleasure and turn any of your fantasies into reality. Oh, and did I mention that the Enigma uses sonic waves – yes, sonic waves – to suck on your clit until you see rainbows? Well, call me Sally and eat me up for breakfast, I'm ready!!!
LELO Enigma: First Impressions
What's the first thing that comes to mind when you hear the word enigma? Do you think of a tall handsome spy waiting to take you away on an adventure? Or are you having problems in the bedroom and you're sort of confused about how everything works down there in your honey holes?
Listen, baby, there's not a problem in the world that a quality sex toy can resolve! So allow me to say straight away that the LELO Enigma is one of the best toys that have ever been near my soaked cherry pie. So what does the LELO Enigma even do and why is it so great?
Well, the LELO Enigma is a premium dual-action massager. Again, it will tease and tantalize your clit and G-spot simultaneously to finally solve the mystery of your orgasms.
At first glance, you'll see that it has a U-shaped design. The ergonomic shape is just one of the things that makes this bad boy the Cadillac (or should I say Tesla?) of sex toys.
You Deserve to Cum Like a Queen
The Enigma is made by LELO, which, as you may know, is one of the most popular sex toy companies in the world. If not, LELO is a legendary Swedish brand that has pretty much managed to revolutionize the sex toy industry. The company designs premium smart toys like the Enigma that have changed the game when it comes to how we orgasm.
Now, let's take a closer look at Enigma. At around $200, it's definitely not a cheap toy. However, you'll get a lot in return, including premium materials and a stellar design. For real, the Enigma looks unlike any other sex toy. Its U-shaped body houses two pleasure mechanisms. The first is a clitoral suction arm that pulses out sensual sonic waves to give you the best head of your life. The other is a super-curvy G-spot massager that can stretch you out and target all of your internal pleasure spots. Combine the two together and you'll get peaks of epic bliss that will help you discover new things about your body.
That's exactly what I felt when I received this toy for my LELO Enigma review! Even though it costs a lot of money, I knew that the price was justified the moment I held that thing in my hands and stuffed it deep inside me.
What's in the Box?
One thing that I'd like to point out is that the Enigma comes with premium packaging that makes it feel like you're opening a brand new iPhone. It comes in a classy black box that I found perfect for storing the toy. Inside the box, you'll also get a very detailed instruction manual, a USB charging cable, and a soft satin storage pouch.
Check our Enigma 360 Video on Youtube
Features
Length: 5.5 inches
Diameter: 2 inches
Running time: up to 2 hours
100% Waterproof
Material: body-safe silicone and ABS
8 vibration functions
8 vibration intensities
SenSonic technology
Travel lock
Look and Feel
Oh, fuck yeah, baby! In all my years of testing toys, I've never had such a "Hoooooly shit" moment until I opened the Enigma. This has to be one of the coolest-looking toys out there. I mean, just look at this thing. It is full of smooth curves that are further accentuated by a purple ombre. The purple looks freaking amazing against the black silicone. Plus, the material feels sleek and smooth. This thing literally makes me want to walk out on the street and show everyone how awesome it looks! But it also makes me impatient to wank and milk my G-spot until I get a squirting seizure. What you need to know here is that you have to slide the G-spot stimulator all the way in before you can use the clit stimulator. Pretty simple, right?
Well, when I started my LELO Enigma review, I pushed it inside of me pretty quickly. I wasn't warmed up at all and I used some lube to get this bad boy into position. One thing I should mention is that the clitoral opening is round and small. The arm is just flexible enough to allow you to find the optimal position for your body.
However, I would have preferred a bit more flexibility in the arm. It sometimes tends to slide off depending on my pelvic floor movement and my position. Nevertheless, the base of the Enigma is actually a big, wide handle. You can use it to direct all the action and position the toy to your liking.
Materials
Another thing I truly enjoyed with my new orgasm machine is the way this toy is made. It features premium silicone all around with a body-safe ABS ombre. While there are many swirls and curves on the Enigma, the texture is smooth as silk and cleaning it is a breeze. Moreover, the Enigma is fully waterproof. That means you can clean off all your pussy juices and other glorious remnants of your orgasms in just a few minutes by soaking it in water.
Dual Stimulation Happy Time
What if you're thinking "But Scarlett, how does this toy actually work?" Well, you'll get a dead-simple 3-button interface. When you turn the vibrations on, both the clit sucker and the G-spot vibrator will start to pulsate.
Unfortunately, you can't turn the clit sucker on and off independently. Still, the damn thing makes my toes curl so hard that I'm going to ignore that fact! If you want to get the action rolling, you can choose between 8 different vibration modes.
Double Trouble, Baby!
During my LELO Enigma review, I had tons of fun with pretty much all of the settings. That includes anything from soft murmurs to super intense pulsations. Here, the G-spot massager delivers most of the vibrations while the clit arm gives you some unforgettable suction sensations. And that's one of my favorite things about the Enigma. The clit arm uses LELO's patented SenSonic technology. It generates ultrasonic waves rather than vibrations to provide one of the most unique types of stimulation I've ever felt. Seriously, it fits somewhere between the best head you'll ever get and the most intense clitoral vibrations and it all happens at the same time!
However, I have to say that this isn't the quietest toy out there. Since both of the stimulators work at the same time, you'll hear quite a lot of noise. In my opinion, it's not loud enough to be heard in another room, but it's definitely something you should pay attention to. What's more, it's a shame that LELO didn't include app control for this price. Sure, having 8 vibration modes and 8 intensities is just enough, but I would have liked to be able to expand the control options of this toy via an app or even have my BF use it on me wirelessly.
Pros
Simple operation
Unique anatomically comfortable design
The SenSonic suction and G-spot vibrations are a match made in heaven!
Cons
The suction arm can slide off depending on your position
No app control
It can get loud
LELO Enigma Review Summary
To finish off my LELO Enigma Review, I'd strongly suggest you check this dual stimulator out if you want to explore some of your most intense orgasms ever. This bad boy is literally designed to make you cum, and I pretty much used it until it made me squirt uncontrollably. So check out the Enigma today and get naughty!
⚠️ Disclaimer: Our articles contain affiliate links. If you like our content and wish to support our work, consider purchasing your new sex toys through our links. For each purchase through our links, we receive a small commission but at no extra cost to you.
| | |
| --- | --- |
| 👉 Name: | LELO Enigma |
| ⚙️ Features: | Clit and G-spot stimulation, Waterproof, Suction Technology |
| 📁 Type: | G-Spot Vibrator |
| 🛠️ Materials: | Silicone, ABS |
Premium design: It looks better than most other G-spot toys I've tried!
5
Epic orgasms: The suction and vibration combined gave me some of the most powerful orgasms ever!
5
Waterproof: It's fully waterproof to make cleaning a breeze. Oh, and you can also use it in the shower for super wet fun!
4
Controls: the buttons are fast and intuitive, although I'm missing really missing that app control option.
4
Editor's Pick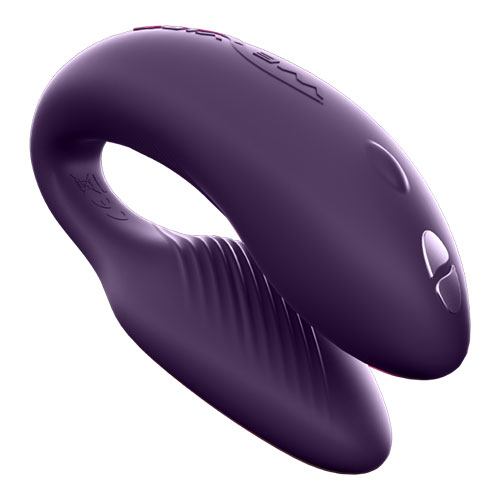 We-Vibe Chorus
⚙️ Special features:
Adjustable fit
⚡ Power source:
Rechargeable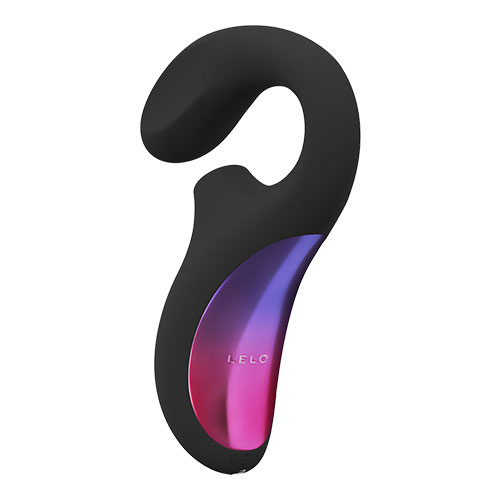 Lelo Enigma
⚙️ Special features:
Sensonic technology
⚡ Power source:
Rechargeable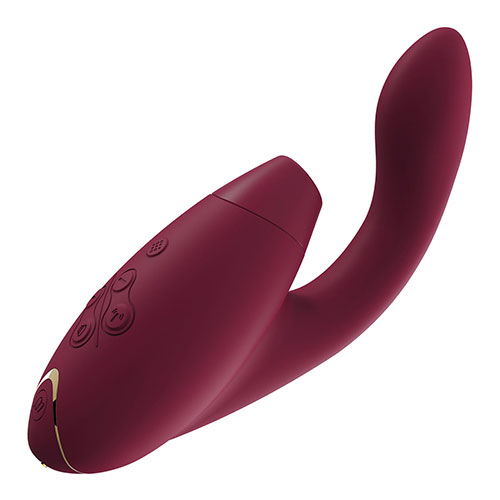 Womanizer Duo 2
⚙️ Special features:
Patented pleasure air technology
⚡ Power source:
Rechargeable