Aug/23/2022
Last Update: June 26, 2023
736
7 min read
Oxballs Tug Review: Will This Nut Stretcher Give Me The Balls Of An Ox?!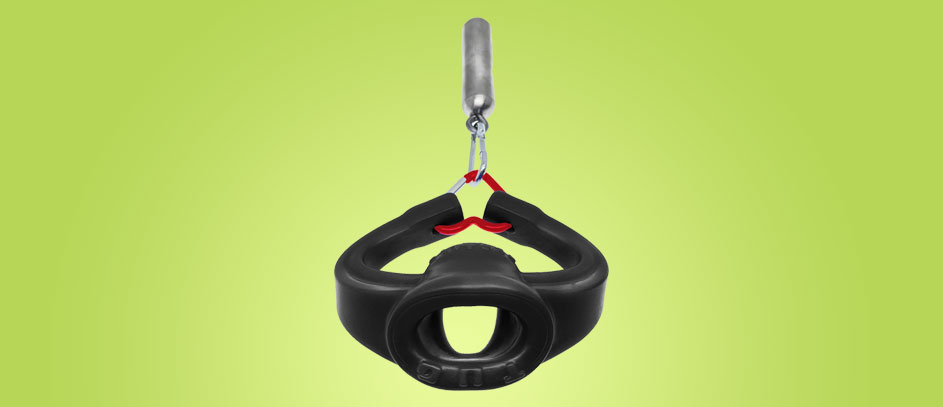 Do you have testicular fortitude? Have you always wanted to stretch and extend your balls to a massive size? The simplest answer is that you need to get yourself a ball stretcher, young buck! I've been testing the Oxballs Tug ball stretcher for that purpose in the past few weeks and all I can say right now is that it packs a lot more fun than you'd expect! You can use this bad boy to elongate your nuts but you can also try it during masturbation, foreplay, and sex to make your bangers swell up to the max until they're ready to be emptied. Also, if you're a kinky freak and you frequently partake in cock and ball torture rituals, this pull-down stretcher will make all your disturbing nightmares come true! So check out my Oxballs Tug review and let's have a ball!
It's Time for Some Testicular Yoga!
First of all, you're not nuts if you want to stretch your marbles out. Lots of guys (myself included) love the sensation of extending their nut sack. Even better, it can also make their partners go crazy in the bedroom or dungeon. And while I'm pretty satisfied with my dick size, I sometimes wish that my balls were a little bit longer and that they would dangle around like a glistening pendulum of pleasure. You can use ball stretchers to elongate your nutsack. But as I said, you can also use them for some kinky testicular acrobatics.
Handmade in L.A.
If you've never tried one, let me tell you that tons of these toys are out there. However, what first caught my attention with the Oxballs Tug is its unique design. When I first started my Oxballs Tug review, I saw that this silicone stretcher uses rubbery wings that are used for the pull-down system.
Also, according to Oxballs, this mechanism provides more comfort and accuracy compared to competitors. What that means is up to you, but the design is definitely an upgrade over those one-piece ball stretchers that don't always work as intended.
Now, to be honest, I've never heard of Oxballs before. First, I checked out the company's website which basically looks like it was made in the 1990s. Yet, what impressed me is that all of their toys are handcrafted in Los Angeles. These days, it's actually quite rare to find American-made sex toys. Plus, these guys look like they make some great stuff, from standard cock rings to extreme pig hole fuck-plugs, pup-tails, and extenders that turn your dick into a giant fist. Don't you just love L.A.?!?
First Impressions: My Balls Looked Huge!
The Tug nut stretcher is one of Oxballs premium devices for testicular play. It costs around 80$ depending on where you order it from and it definitely won't put a big dent in your bank account. What's more, I like that this toy is tiny, portable, and wearable. If you're brave, you could wear it in public during your evening strolls, but I'm not sure how it would work out if you're walking around. Nevertheless, the whole point of this thing is to take all that weight off your mind and put it straight into your bollocks!
At first glance, I was kind of confused with the look of this thing because it doesn't resemble standard ball stretchers. I needed to see a picture of how it actually looks when it's worn to make my fantasies a bit clearer. And yes, the design actually makes perfect sense once you put it on.
It's just a big ball ring with thick, square edges. You put it on over your nuts and you'll get a constriction effect together with some intense stretching. What's more, the two wings on the sides include a carabiner clip. That way, you can hook your own weights up to it. You can even buy the weights from Oxballs, but just remember that they're not included with the toy.
During my first test, it took me a while to figure out how to wear it, but once that was sorted, I enjoyed the big and wide shape of the nut extended ring. It was a perfect fit that wasn't too tight or too loose and it didn't cause me any pain. Plus, it made my cojones look massive!
Features
Silicone ball stretcher
Adds gentle pressure to the testicles and elongates your erection while delaying ejaculation
Pull-down system with two silicone wings
Includes carabiner hook for adding weights
Ring width: 2.3 inches
Ring length: 2 inches
Ring height: 1.3 inches
Size and Fit
In my Oxballs Tug review, I instantly noticed that the ring was a bit taller than usual. This is actually a good thing because it will let you get a nice wide stretch all on its own. You can add your own weights if you want. However, if you're a newbie, the 1.3-inch height of the ring will suit you perfectly. Still, I would advise you to measure the diameter of your golden boys to get an idea of what to expect.
Remember, the width should be a bit smaller compared to your actual size in order to give you the desired stretching effect. I would also advise you to shave your balls here. Unfortunately, I skipped that part because I was impatient and then I felt the thing tugging on some of my pubes. Nevertheless, after a few exciting tests (with shaved gonads!) I realized that the Tug creates an all-encompassing sensation that makes my whole body tingle. Personally, I enjoyed the overall fit and feel. The stretcher is just tight enough to engulf my jewels and add gentle constriction in order to enhance my orgasms!
What's It Made Of?
As mentioned, the Tug is made of pure silicone. When it comes to sex toys, this material is definitely your best bet because it lasts for ages and it's easy to clean. It's also body-safe and hypoallergenic.
Moreover, there are all kinds of different densities when it comes to silicone. For example, if a silicone cock ring or ball stretcher is too soft, it simply won't give you enough pressure. In my Oxballs Tug review, I noticed that the material had a neat texture to it and a reasonable amount of density. It wasn't too hard or soft. That's exactly what you should expect of a quality ball stretcher.
Again, I enjoyed the slightly thicker width coupled with the straight edges of the ring. While that contributes to a deep and even stretch, I also found that it works great with water-based lube. If those edges were round, I think I'd have a hard time trying to keep it in position while using lube. And trust me, you don't want one or two nuts to pop out of your ball extender and cause you a whole lot of pain! So kudos to Oxballs for combining quality materials with a clever ergonomic design for this one!
Put Some Weight on Those Balls!
If you ask me, the elongated arms on the sides do look a bit weird. Yes, they kind of resemble an Ox's head that's turned upside down and that's cool. But I don't know – I'll leave this feature up to you. All I can say is that the two arms are a smart design in case you want to add weights. I bought some 6, 8, and 10-ounce weights from Oxballs just to try them out. The feeling was pretty much what you'd expect if you were to suspend some steel bars from your ballsack.
Unfortunately, while my GF loved the little heart-shaped carabiner, I think that the curvy shape of the arms limits you to hanging only one weight from one point. You can't, for example, put 2 additional weights on the side of the stretcher like some other models.
Another thing I didn't enjoy here is that the wide shape of the pull-down arms complicates things during sex. I could only make it work in doggy-style. Even then, Scarlett said that she didn't like the way the whole thing felt when it bumped up against her clit. She said that the ring put some pleasant pressure on her sweet spot, but the arms on the side kept bumping up against her thighs in a weird way and they distracted her from her orgasm. There was another problem here. She went absolutely crazy when she saw my swollen balls, but she couldn't do much with them because the arms are directly placed to the sides. She couldn't grip, lick, or suck them whole… What a shame!!!
Pros
It feels awesome while I'm wearing it!
It gives you a nice full stretch.
Cons
The pull-down arm system is kind of awkward and it can complicate things during sex with a partner.
The included carabiner clip looks fragile.
Oxballs Tug Review: Verdict
Overall, I'd say this ball stretcher looks and feels awesome if it weren't for some problems that Scarlett and I experienced during sex. Still, while it may not be ideal for penetration, it's a match made in heaven for all sorts of masturbation marathons and kinky ball-milking foreplay.
⚠️ Disclaimer: Our articles contain affiliate links. If you like our content and wish to support our work, consider purchasing your new sex toys through our links. For each purchase through our links, we receive a small commission but at no extra cost to you.
| | |
| --- | --- |
| 👉 Name: | Oxballs Tug |
| ⚙️ Features: | Wearable, Handmade, Constriction |
| 📁 Type: | Ball Stretcher |
| 🛠️ Materials: | Silicone |
Excellent dimensions: The ring is thick and tight for an extremely pleasant stretch!
4
You can add your own weights: This is always a good thing if you like to put weights on your balls.
4
The heart-shaped carabiner clip looks cute but deadly.
3
The whole thing makes my balls swell up and gives me a mammoth erection!
5
Editor's Pick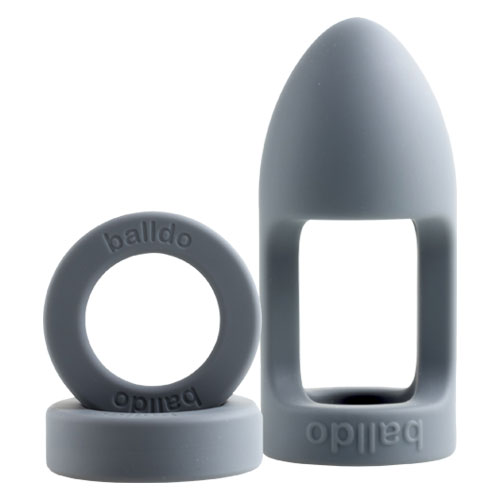 Balldo Balls-to-Dildo Set
⚙️ Special features:
Second shaft that never goes soft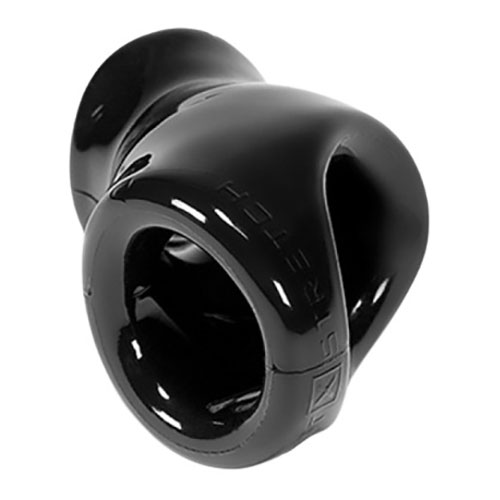 Oxballs Atomic Jock
⚙️ Special features:
Help boost erections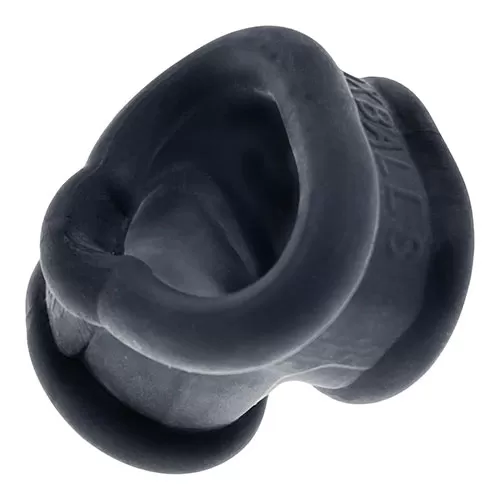 Oxballs Cocksling 2
⚙️ Special features:
Stretchy material fits any size