Oct/25/2022
Last Update: June 26, 2023
784
7 min read
I Pounded My Holes With Automatic Thrusting And Vibration! nsNovelties Renegade Deep Stroker Review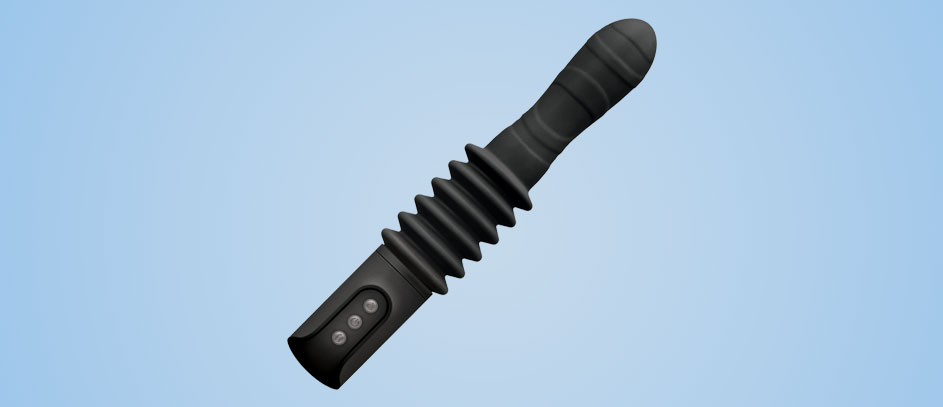 Does every girl need a multi-function thrusting and vibrating dildo? I'm not so sure, but my nsNovelties Renegade Deep Stroker review has proven to me once again that I'm addicted to a deep hard drilling! Also, I quickly realized why they called this thing a deep stroker. What I was most interested in is whether or not this bad boy has the power to fuck me like a full-size sex machine but with a much more compact size. It's true: sometimes, I have fantasies of getting obliterated by sex machines, but they always seem so bulky. One way to not make the neighbors think you're getting slaughtered out there is to try a self-thrusting toy like the Renegade Deep Stroker. So check out my nsNovelties Renegade Deep Stroker review to see if this thrusting and vibrating wand has enough power to make all your naughty cravings come true!
Rolling in the Deep
Don't you just love your favorite vibrator? What about your favorite dildo that hits the spot right every single time? Well, I know that sometimes, even if you're perfectly satisfied with your sex toys, you might be on the lookout for something more. For those times, Renegade Deep Stroker can massage your sweet spots in an entirely unique way.
To be honest, I've never heard of this toy before I started my nsNovelties Renegade Deep Stroker review. It's made by nsNovelties which is a brand I know and love for several reasons. For one, they make an amazing glow-in-the-dark anal dildo which I've had the pleasure to review recently. But, they're primarily known for making relatively affordable toys with innovative designs. I've also seen some of their realistic dildos, silicone butt plugs, and various other vibrators, but the Deep Stroker has sort of slipped under my radar.
Nevertheless, when I came across it, the feature set and the price caught my eye first. At just under $70, this thing attempts to give you a premium look and feel without breaking the bank. It reminds me of more expensive We-Vibe or LELO vibrators but at a fraction of the cost.
First Look
Now, the moment the Renegade Deep Stroker first slides in is pure bliss. And as I said earlier, it definitely lives up to its name. With 10 vibration modes and three thrusting speeds, it gives me enough power to ram my holes and spend a few hours in heaven.
Still, opening up the package didn't exactly give me that mouth watering experience that I always get when I receive a new realistic dildo. My boyfriend instantly pointed out that this thing looks like Darth Vader's dick (!!!). While it has a non-phallic and unusual shape, the force is still strong with it and the matte black finish actually looks extra kinky. I could instantly tell that this is one of those toys that you should use if you want Master to tie you up and dominate your butthole.
Yet, there are several other things about it that I should point out. Primarily, this toy offers vibrations and thrusting motions in one package. The neat thing here is that you can use the vibrations and the thrusting modes independently. What's more, starting with the shaft, you'll get an unusual texture with wide protruding ripples across the entire body. Inside, there's a thrusting motor underneath the black accordion-style section. Then, you'll get a handle and some button controls.
Overall, the design is kind of bulky, but then again, so are most thrusting vibrators. The big departure from a standard thrusting vibe here is that the head is a little wider. I guess that's why nsNovelties chose to market this thing as a thrusting wand, even though I prefer to think of it as a dildo.
Features: nsNovelties Renegade Deep Stroker
Self-thrusting vibrator and dildo
10 vibration modes
3 thrusting speeds
Rippled texture
USB Rechargeable
3 backlit button controls
Total length: 6.9 inches
Insertable length: 4.5 inches
Diameter: 1.4 inches
Stroke length: 2 inches
Materials
Sometimes, manufacturers can save a few bucks by using cheaper materials. But that's not the case with the Deep Stroker. This toy uses premium silicone as well as ABS plastic. Both of those materials are 100% body safe and non-porous.
As much as I loved the silky feeling of the textured shaft, you should know that it's very firm. It's not very stretchy. That can complicate things if you fall out of position while this thing is pounding you hard. Still, most similar toys use the same materials. I'm guessing it's something to do with the thrusting mechanism. Nevertheless, insertion still feels smooth as butter. To me, it feels like the harder shaft actually helps to keep the thrusting movements consistent. Also, it provides heaps of pressure and intense stimulation.
What's more, I also want to point out that the handle is quite comfortable for a toy in this price range. It's nice and wide and there's tons of space for me to grab onto it. Oh, and the controls score some bonus points here. You'll get three small LED-lit buttons that are always visible and feel great to the tough. Unfortunately, this toy isn't waterproof and that's probably due to its affordable price. This is quite a letdown since it made things really hard on me during cleaning. The accordion-like thrusting section is particularly difficult to keep clean from dust, lube, and other fluids.
Should It Be a Bit Bigger?
While the total length of this toy is around 6.9 inches, the insertable shaft is 4.5 inches long. That's certainly not too short, especially when you activate the thrusting mechanism. The automatic stroke length is 2 inches. That way, this thing will feel bigger when it's inside you even though it has an average size. Actually, when the thrusting mechanism extends to the max, you'll feel 6.5 inches of cock inside you. This is certainly more than enough for any deep G-spot or anal massage.
Still, I'm spoiled for bigger and fatter dicks and I could have preferred a 6 or 7-inch long shaft. But trust me, It's not a huge problem and the 4.5-inch shaft plus the 2-inch stroke range made me cum over and over.
Ultimately, this depends entirely on your preferences. If you like dicks that are bigger than 6 inches, this toy might leave you wanting more. Another thing worth noting is that the width is just enough and it won't stretch you out too much. The textured shaft has several wide ridges and I thoroughly enjoyed them. They will give you a ton of additional stimulation deep in your vajayjay and your booty. The only question is: which hole will you fuck?
Thrusting and Vibrations
Let me discuss one of the best features of this toy. The fact that you can use the vibration and thrusting modes separately or you can combine them means a lot. I've tested other thrusting vibes that didn't have this option. And during my nsNovelties Renegade Deep Stroker review, I thought this was incredibly versatile. I had tons of fun when I played around with all the different settings and especially when I combined the thrusting and vibration options.
Basically, the 10 different vibration modes do a great job of providing additional stimulation that can push me over the edge. However, they are also powerful enough to make me cum if I only massage my clit with the tip. As for the thrusting movements, they can get pretty fast. This is something that I enjoyed the most during my nsNovelties Renegade Deep Stroker review. If you're still wondering, yes, this thing can get you those rapid-fire-fucking sensations. It can feel incredibly close to a full-size sex machine.
But, while you'll get 10 vibration speeds, there are only 3 separate thrusting settings. This is kind of disappointing and I wish they could have included more options.
Pros
The thrusting and vibrating options are super versatile and you can get tons of different pleasure combinations.
This toy is inexpensive and you'll get a lot for your money.
The overall build and the materials feel superb.
Cons
Not waterproof
Hard to clean
The shaft is too short for me
nsNovelties Renegade Deep Stroker Review: Is It a Good Buy?
To sum up my nsNovelties Renegade Deep Stroker review, I should say that this toy has several flaws but I can certainly live with them. If you want to experiment with automatic thrusting and vibrations, the Deep Stroker will get the job done at a much lower price compared to some other options on the market. Even better, it feels super intense and it will fuck you hard and fast without giving up until you're fully satisfied!
⚠️ Disclaimer: Our articles contain affiliate links. If you like our content and wish to support our work, consider purchasing your new sex toys through our links. For each purchase through our links, we receive a small commission but at no extra cost to you.
| | |
| --- | --- |
| 👉 Name: | nsNovelties Renegade Deep Stroker |
| ⚙️ Features: | Thrusting, Vibrating, Body Safe |
| 📁 Type: | Thrusting Dildo |
| 🛠️ Materials: | Silicone, ABS |
It offers thrusting, vibrations, and premium materials at an affordable price.
5
The thrusting speeds can get pretty fast, but there are only 3 settings.
3
The vibrations feel super powerful and I enjoyed the 10 different vibrating patterns.
4
It could be a little bigger, but that will depend on your preferences.
3
Double Ended Dildos
Velvet Teddy GS
⚙️ Special features:
Suction-cup base
⚡ Power source:
Rechargeable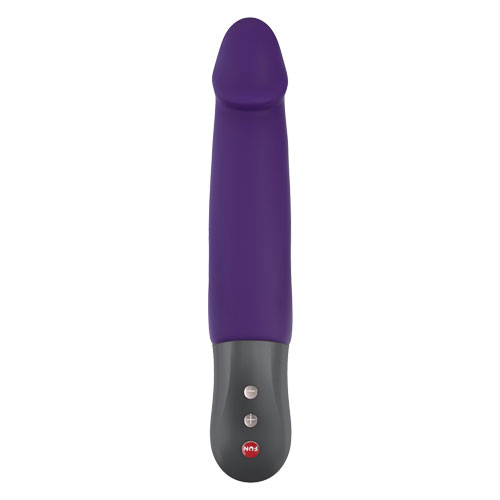 Fun Factory Stronic Real
⚙️ Special features:
Powerful back-and-forth thrusting action
⚡ Power source:
Rechargeable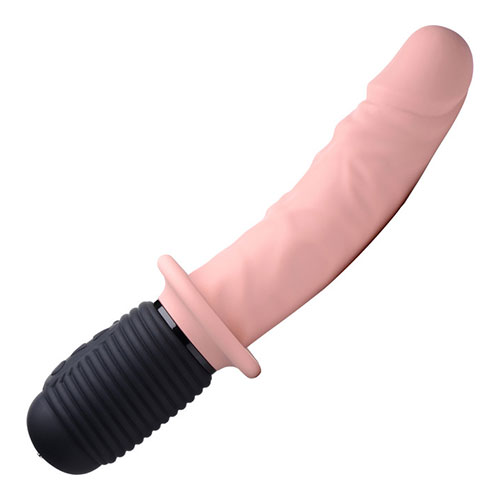 Master Series Power Pounder
⚙️ Special features:
Ribbed grippy handle
⚡ Power source:
Rechargeable