Oct/24/2022
Last Update: June 26, 2023
794
7 min read
Honey, There's A Glass Heart Sticking Out Of My Ass! Glas Sweetheart Review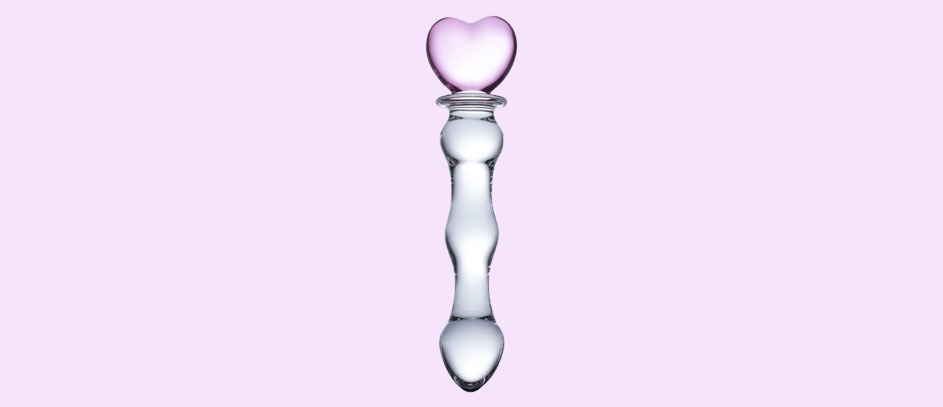 Nothing says "I love you" like a dildo in the shape of a heart, right? Just think about it: you're getting frisky with your partner and the next thing you know he's popping a big heart-shaped dildo deep inside your tight bumhole. That's exactly what the Sweetheart dildo from Glas is all about. It's a one-of-a-kind glass toy that will hit all your sweet spots and make you look super cute! Do you know of a better way to add a little color to your sex toy collection? I think not! Now, I was in the mood for some heart-throbbing sensations recently and I decided to test out this unique dildo for my Glas Sweetheart review.
And while this bad boy certainly looks beautiful, I wanted to find out whether it's also powerful enough to give me the butterflies. So let's get straight to the fucking in my Glas Sweetheart review!
Glas Sweetheart: Kinky and Cute
If you're a sweetheart who's up for something beautiful that gets your heart racing, the magnificent glassmakers at Glas will definitely make your wishes come true. What we're looking at today is a gorgeous 8-inch glass dildo that will sweep you off your feet with lovely curves and a pink heart-shaped base. Best of all: the tiny heart will peek out from your honey holes and make your most intimate areas look adorable. What a way to add some cuteness to your kinks, correct?
To get this Glas Sweetheart review underway, what you should know first is that glass dildos are not easy to make. They have been around for centuries and they are actually much older than your average rubber dildos. Some accounts claim that they were first used back in the 1600s. And here's the kicker: they were the weapon of choice of naughty Italian nuns who wanted to get their freak on when the Lord wasn't looking!
Right now, glass toys are still immensely popular and tons of companies are making them. However, Glas stands out as a brand that has been in business since the early 2000s. Its main niche includes hand-crafted glass toys with a special look. I browsed through their collection and spotted a ton of unique dildos, double-headed dongs, juicers, and anal plugs with unique shapes and eye-catching colors.
Plus, I noticed that all Glas toys are crafted by hand and that they are all relatively affordable. The same thing goes for the Sweetheart dildo. It's handmade using 100% borosilicate glass and it's designed for extra slick insertion.
First Look
Honestly, I wanted to push this dildo far up my pussy and ass from the moment when I first received it. I mean, what's not to like? The thing that gets me about all glass dildos and this one in particular is that they are much tougher than your standard silicone options. They are firm and unyielding, which provides a totally different feel during playtime. Now, the Sweetheart goes a step beyond that by giving you a lovely curved design. The shaft has three main pleasure enhancing bumps. They will stretch you out and provide tons of pressure for your pleasure nerves. Plus, the tip is actually a tapered bulb. It will give you silky stretching sensations and it will feel incredibly intense against your G-spot.
Moreover, at first glance, this dildo reminds me of a cross between a butt plug and some anal beads and I think you can definitely try it for all kinds of naughty activities. That includes G-spot, anal play, and prostate massage. To me, it looks like this thing can penetrate nice and deep. Yet, it also seems like a great match for shallow stretching or gentle massage motions. Just pop it in and off you go on your sweet-spot seeking adventure!
Of course, all of that depends on how you want to use it. However, from personal experience, the Sweetheart dildo looks like it can handle just about anything. The quality of the hand-blown glass is just to die for and there are no sharp edges or other manufacturing flaws. Plus, I'm pretty sure you could fool Grandma into thinking that your new weapon of ass destruction is actually some kind of unique decorative ornament!
Features: Glas Sweetheart
Hand-blown glass
100% Borosilicate glass
Fracture resistant and hypoallergenic
Tapered tip
Temperature responsive
Easy to clean
Suitable for all lube types
Total length: 8.25 inches
Insertable length: 6 inches
Width 1.4 inches at widest point
Material
By far, the thing I enjoyed the most during my Glas Sweetheart review was the smooth borosilicate glass material. It makes this dildo feel like a premium toy. That was a big surprise to me given that the Sweetheart costs under $50. What I want to point out is that borosilicate glass is the ultimate material for these types of sex toys and it is usually the only one you should look for if you need a glass dildo.
As mentioned, I didn't see any flaws in the actual glass used on the Sweetheart. Everything is smooth and crystal clear, which ensures me that this bad boy is super safe and that it will literally last forever. Now, the Sweetheart is fracture resistant. It's also 100% body safe and non-porous. This means it's one of the safest toys you can push inside your body. Another thing I love about this material is that you can clean it easily with soap and water. You can also fully sterilize it by boiling it.
What's more, it will always retain the same shape and if you're careful while handling it, it will remain smooth for many years to come. Even better, I enjoyed the weight of this toy. It's just perfect: not too light or too heavy. It's neatly balanced to provide just enough pressure inside you, especially if you want to use this thing as a butt plug and stuff your pussy with another dildo or a real cock. Speaking of butts and pussies, this dildo is compatible with all lube types. That way, you can take your pick and use your favorite lube without damaging the material.
Size and Shape
Frankly, I thought this dildo would be a little bigger when I started my Glas Sweetheart review. The whole thing is 8 inches long, which is exactly the same size as my boyfriend's cock. However, only 6 of those inches are insertable and the base is around 2 inches long. Sure, the photos make it look much bigger. But in reality, the actual size of the dildo will be enough for most people. It's slightly above average and it felt quite pleasant in both of my holes. And in fact, the special thing about this dildo isn't the size but its unique shape.
Like I said, it has a wavy texture with three bead-like bumps. I had the most fun when I slowly pushed it in and felt each subtle curve inside me. Of course, besides the heart-shaped base, my favorite feature of the Sweetheart is the bulb-shaped tip. It's extra wide and it feels freaking intense once you push it in. It can handle just about anything from slow stretching motions to rapid in-out fucking and gaping. The rest is up to you and your imagination!
However, even though the heart-shaped base looks awesome, it's actually the Achilles' heel of this toy. The base is very thin and it feels like you could easily break it. Of course, the base feels sturdy while it's in use and there's no way that it could break inside you. Still, you'll have to handle it carefully since it could easily break if you drop your dildo by accident. My best tip is to always use it on your bed or over something soft. That way, if it's covered in lube or other fluids, it won't pop out and fall on a hard surface.
Pros
Cute!
Inexpensive
Versatile
Cons
You'll need to be careful when handling the heart-shaped base
Final Thoughts for My Glas Sweetheart Review
To sum up my Glas Sweetheart review all I can say is that this dildo wasn't only made to look pretty. It has a fantastic texture with smooth curves that will drive you wild. My favorite thing about it was the bulb-like tip that made me cum over and over again. Plus, this dildo is super versatile and I had tons of fun with it deep in my pussy and asshole. Even better, it's extremely affordable and yet it feels like a top-of-the-line toy!
⚠️ Disclaimer: Our articles contain affiliate links. If you like our content and wish to support our work, consider purchasing your new sex toys through our links. For each purchase through our links, we receive a small commission but at no extra cost to you.
| | |
| --- | --- |
| 👉 Name: | Glas Sweetheart |
| ⚙️ Features: | Flared Base, Bulbous Tip, Handmade |
| 📁 Type: | Glass Dildo |
| 🛠️ Materials: | Glass |
Smooth curves and sleek texture: It feels amazing in my holes!
4
Works with any lube: This is a big one for me because water-based lube that dries out gets on my nerves sometimes.
5
Versatility: It made my G-spot sing and my asshole smile! However, it could be just a few inches bigger for my needs…
4
It's lightweight and sturdy, but the heart-shaped base feels fragile.
3
Editor's Pick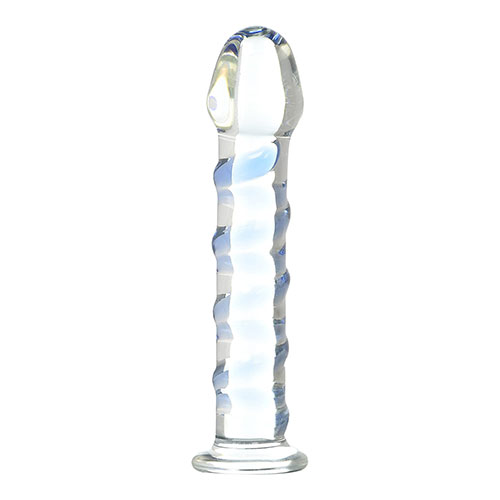 Pipedream Icicles No. 5
⚙️ Special features:
Angled specifically to stimulate the G-spot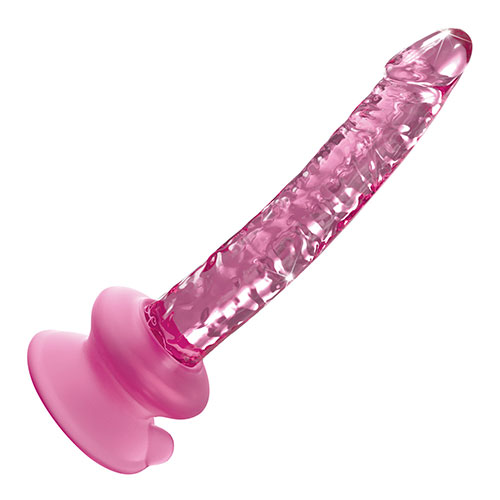 Pipedream Icicles No. 86
⚙️ Special features:
Powerful Suction base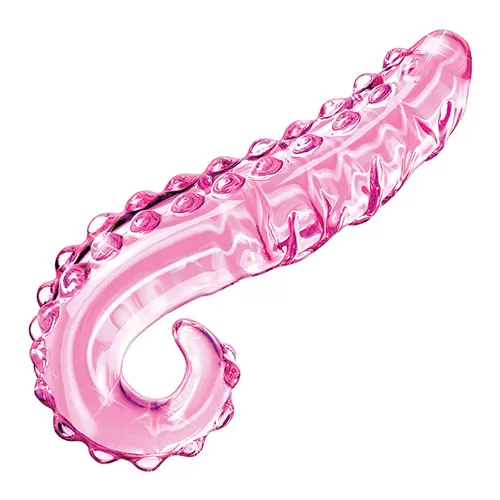 Pipedream Icicles No. 24
⚙️ Special features:
Nonporous and body safe