Oct/24/2022
Last Update: June 26, 2023
779
7 min read
Blush Novelties Dr. Murphy Review: Balls-Deep BBC Fuckfest!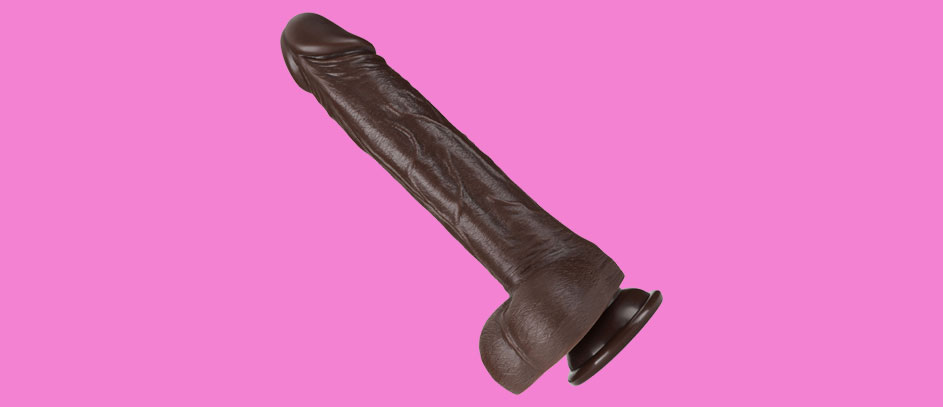 A few nights ago, I was feeling a little under the weather. The only thing that could save me was a big black dick! It was definitely time to get some pussy therapy and I think I picked just the right tool for the job. Later, I found out that I do indeed have a healthy and slutty asshole! It was all thanks to Dr. Murphy. So in this Blush Novelties Dr. Murphy review, I'll show you what it's like to fuck a massive black dildo that not only vibrates but also gives you heaps of thrusting and gyrating power with a grand total of 50 different settings. Oh, and it includes a remote and a suction cup to make all your BBC gangbang fantasies come true! All you need to do is spread those holes for Dr. Murphy and get ready for a balls-deep examination!
Call the Doctor
Doctor, doctor, I think I'm losing my mind! My head is spinning and twirling and the only way to shut me up is to stick a big black cock in my mouth. Oh, a girl can never have too many huge black dildos! When I started this Blush Novelties Dr. Murphy review, my boyfriend asked "Scarlett, do you *really* need another big black dildo?!" Well, Richard, that's none of your business but yes ⁠- especially if it's one that offers 50 different ways to satisfy my holes while looking like a delicious chocolate dessert.
Seriously, my jaw dropped to the floor and drool was coming out of my mouth when I first saw this Blush Novelties Dr. Murphy dildo. It's part of Blush Novelties' Dr. Skin line of highly realistic toys that offer all kinds of vibrating and thrusting sensations. I haven't had the opportunity to jump on one of these toys so far, and you can only imagine the look on my face when Dr. Murphy arrived at my doorstep.
Now, if you're also looking for a toy that makes you want to drop down on your knees and worship that BBC, it might be time to schedule an appointment with Dr. Murphy. Then, you'll get a whopping 8.75 inches of raw power. Plus, you'll get a ton of different ways to stimulate your holes and send your whole body in an orgasmic trance.
First Impressions
Most of the time, all you really need for a great adventure in the sack is a boyfriend or maybe your favorite vibrator. However, other times, you might be looking for a monster cock that could pretty much melt your brain with 50 modes of vibration and gyration along with mind-blowing realism. Well, for those times, Dr. Murphy is on call and he wants you to become his favorite patient.
At the beginning of my Blush Novelties Dr. Murphy review, I couldn't help but notice that this fella is definitely not your average rubber dick. It's packed with all sorts of features, it has a suction cup, and it sports some of the most realistic looks I've ever seen on a dildo. So let's start with that.
When Dr. Murphy arrived, I was genuinely blown away by how realistic it looks. It all begins with a delicious chocolate head. The smooth and tapered tip made me want to stick this thing deep inside me straight away. If you're a fan of realistic dildos, you should also know that the shaft is super wide and heavily veined. All those veins make Dr. Murphy look and feel like it's rock hard and ready to bust a huge load of jizz deep inside you.
But, there's more. At the base, you'll see a pair of yummy black balls and you'll also get a suction cup. Overall, all of those elements make for a pretty damn good dildo. I could tell that as soon as I picked it up and grabbed it by the balls. The material feels squishy and smooth on the outside but it still has a lot of firmness in its core.
Features
3-in-1 Realistic dildo
Vibrating, Thrusting, and Gyrating functions
5 speeds
10 patterns per speed
Smooth satin feel
Blush Novelties' Puria platinum-cured silicone material
Wireless remote control
Suction cup (harness compatible)
Total length: 8.75 inches
Insertable length: 6.5 inches
Width: 1.75 inches
Remote control range: 16 feet
A Big Throbbing Cock is the Best Medicine
Honestly, there is a lot to cover in terms of what this dildo offers so I'll try to keep it brief. In my experience, there aren't many of these 3-in-1 toys on the market. Actually, the ones I've tried were kind of disappointing. I guess it's hard to fit vibration, thrusting, and gyration all in one dildo and still make it all work. Still, what happens inside Dr. Murphy is actually quite revolutionary.
For one, there's a vibrating motor that makes the entire thing pulse and deliver deep throbbing sensations. Then, there's a thrusting motor at the bottom of the shaft. The specs didn't specify the thrusting length, but I estimated it to be around 1.5 inches. After that, there's a gyrating motor fitted inside the head. This makes the head twist and rotate as it drills deeper and deeper inside you.
Again, all of that would seem pretty complicated in reality if it weren't for some clever programming. When you use the remote, you can choose between 50 different patterns. What's interesting here is that you don't have to cycle through all 50 patterns to find your favorite. The modes are grouped depending on the speed you're using. That way, you'll get 10 different settings for each of the 5 speeds. Sure, there are a lot of options to consider, but I found most of them to be pretty unique and useful. Heck, I still didn't get through all the 50 different patterns, which reassures me that I'll never get bored of this big guy.
Delicious Black Treat
What I should also mention is that Dr. Murphy is made of Puria. This is just a trademarked name for Blush Novelties' proprietary silicone material. The silicone used on this dildo is platinum-cured and it has an ultra-silky feel. Moreover, the shaft feels soft and realistic and it sports a high-quality satin finish that plays well with water-based lube. The only thing that bothered me here is that the toy isn't waterproof. However, that isn't too much of a problem since it's made of non-porous silicone that doesn't absorb bacteria.
Remote Control and Suction Cup
As mentioned, Dr. Murphy also comes with a plastic remote that will give you all the hands-free action you need. The remote is big enough to fit in my hand. It's not too small for me to lose or break and it feels quite sturdy. Plus, it has a range of 16 feet which is more than enough for all kinds of hands-free solo or partnered romps, especially if you use the suction cup.
Additionally, the suction cup isn't too bulky and what's great about it is the height. It gives Dr. Murphy a lot of room to move along with your body when it's attached to a flat surface. This is a huge bonus for me because it allows you to try it in all kinds of positions without feeling uncomfortable. What's more, the suction cup is harness-compatible. You can easily pop this dildo inside your favorite strap-on harness and teach your lover a lesson or two.
Open Up and Say… Ahhhh!
So how big is this thing anyway? Well, the total length is just under 9 inches, which is mighty impressive. However, the balls and the suction cup take up quite a lot of room. You'll ultimately get 6.5 insertable inches. This is somewhat bigger than average, but it's not extremely massive.
Still, it will work wonders for all kinds of vaginal and anal experiments. What I really enjoyed when I pushed it inside is that the rotating and thrusting options make the dildo seem much bigger. The movements are smooth and realistic, and you can choose between smooth and subtle to fast and rough penetration. Now, I would have preferred a bigger dildo if it wasn't for the thrusting, rotating, and vibrating options. They make the entire thing move and throb in a really unique way that I haven't been able to get with another sex toy so far.
Pros
Tons of options
High-quality material
Remote control
Cons
The insertable length could have been bigger
It can get noisy
Not waterproof
Blush Novelties Dr. Murphy Review: Time to Blast That Ass!
To finish off my Blush Novelties Dr. Murphy review, all I can say is that this dildo has more than enough options to keep you entertained. Plus, Dr. Murphy looks incredibly realistic and it makes me wanna shove it deeper and deeper inside me for a balls-deep anal exam. Personally, it could have been a bit bigger and quieter, but I believe it will feel fantastic inside all your holes!
⚠️ Disclaimer: Our articles contain affiliate links. If you like our content and wish to support our work, consider purchasing your new sex toys through our links. For each purchase through our links, we receive a small commission but at no extra cost to you.
| | |
| --- | --- |
| 👉 Name: | Blush Novelties Dr. Murphy |
| ⚙️ Features: | Realistic, Vibrations, Thrusting, Rotation, Suction Cup |
| 📁 Type: | Thrusting Dildo |
| 🛠️ Materials: | Silicone |
This black dick looks and feels delicious: the material and the veiny texture on the shaft are simply perfect, and the balls look awesome, too.
5
It will thrust, vibrate, and rotate deep inside your holes and it will never get tired! There is so much to explore here!
5
The size is impressive, but I wish it could have been a little bigger and thicker.
4
Hands-free pleasure: The suction cup and remote control work great together and allow to you try all kinds of hands-free positions.
4
Double Ended Dildos
Velvet Teddy GS
⚙️ Special features:
Suction-cup base
⚡ Power source:
Rechargeable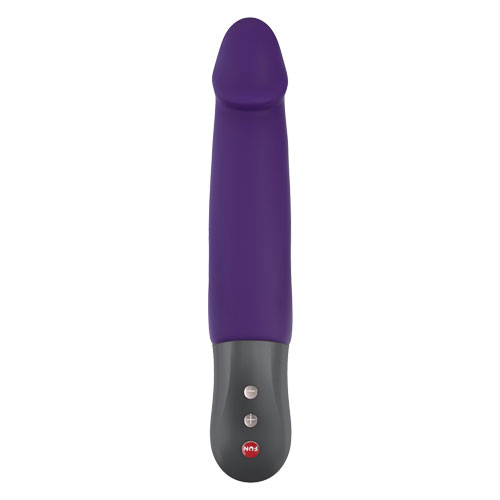 Fun Factory Stronic Real
⚙️ Special features:
Powerful back-and-forth thrusting action
⚡ Power source:
Rechargeable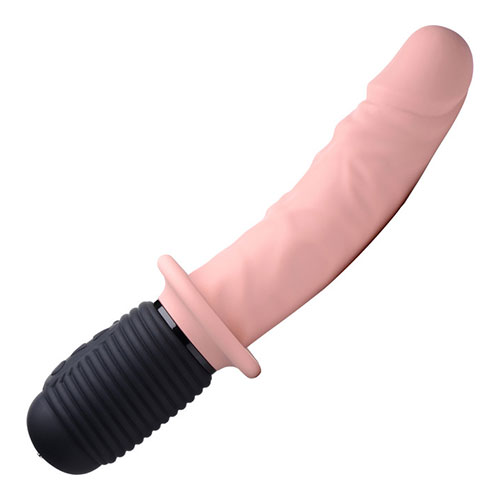 Master Series Power Pounder
⚙️ Special features:
Ribbed grippy handle
⚡ Power source:
Rechargeable