Oct/04/2022
Last Update: June 26, 2023
795
8 min read
This Pussy And Ass Is Yours For The Taking! Blush Novelties X5 Roxanna Review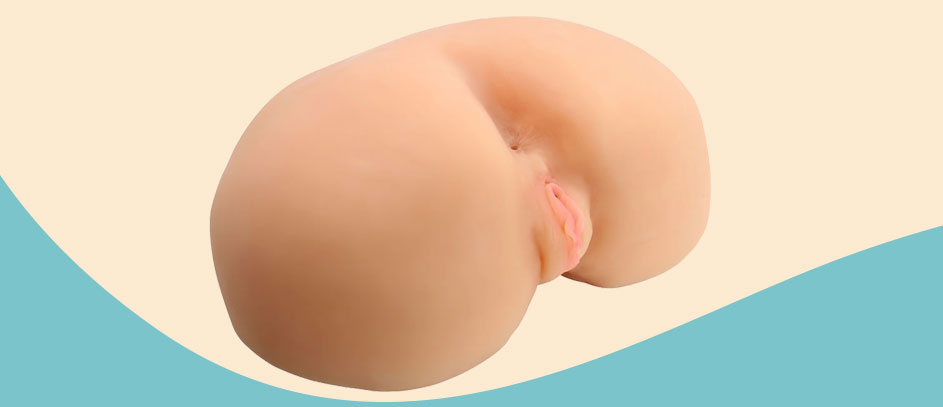 If you're here, you're probably a big fan of wet pussies and tight assholes. But you know what's even better than that? Wet pussies and tight assholes that allow you to take them as you please and fuck 'em fast until you explode! That's exactly what I have in mind for this Blush Novelties X5 Roxanna review: balls-deep fucking where the words "no" and "don't cum inside me" are just not an option! Yes, bro, the Blush Novelties X5 Roxanna is a life-size torso sex doll that will always bend over and do your bidding! Oh, and it also comes with an included bullet vibrator to make that ass jiggle all night long!
Seriously, this sweet piece of tail looks like it's molded from a hot young model, and it makes me want to plow that juicy pie all night long! So let's actually put it to the test in my Blush Novelties X5 Roxanna review and see just how much of my turbo dick this baby can take!
Bend Over, Beautiful!
For starters, let's begin with a little explainer. The Blush Novelties X5 Roxanna is a realistic pussy and ass sex doll that comes in a full size. Yup, unlike most smaller pussy/ass realistic toys, Roxanna will give you a life-size butt to play with. What I love about these types of toys is that they are incredibly close to the real deal. I mean, sure, she doesn't have a body or head. But come to think of it, that's actually a good thing if you don't want to pay thousands for a full-body doll. Instead, for a fraction of the cost, you'll still get the essentials plus a little more.
Honestly, I've tested some full-body dolls in the past and while they were actually pretty hot, I always had trouble finding enough storage space for them. Also, I didn't want my neighbors to believe that I was super weird. But enough about me. It's time to put your thinking cap on your dick and say to yourself: "Which hole would I like to fuck today?"
That's exactly why I think the Blush Novelties X5 Roxanna is so damn cool. It exists solely for our twisted pleasures and it allows us to explore any naughty fantasy. Sure, you can pop your dick inside balls deep and fill those tight holes with cum until there's no semen left to give. However, you can also squeeze that booty, spank it, lick those virgin-tight holes, and even use it with other toys!
First Impressions
Okay, so you know that I'm talking about a realistic ass and pussy, but what exactly are we looking at? Well, this partial-size sex doll is made by Blush Novelties. Frankly, I don't know much about this manufacturer. It seems that Blush Novelties focuses on silicone and TPE sex toy for men and women, and the company reminds me a bit of Doc Johnson or NS Novelties.
Still, the brand has been around since 2004, and I'm surprised I missed it due to my extensive knowledge of all sorts of sex toys. Anyway, you probably don't care about all that and you are just out here looking for some saucy holes to party with.
When I first ordered the X5 Roxanna, my biggest moment of joy was seeing that the openings can accommodate an insertable length of 12.5 inches. Basically, pretty much anyone can use this sex doll for a deep and sensual fucking all the way down to the balls. Well, unless you're a freak with a 13-inch dick. In that case, you are my hero, dude. But let's get back to the task at hand.
I've always had trouble with masturbators and realistic pussy/ass dolls simply because they were too short for my 8-inch dick. This is exactly the reason why I couldn't wait to start my Blush Novelties X5 Roxanna review. Seriously, with all of those other toys, it's like I'm entering a tight pussy but all the fun goes away when I suddenly realize that I can't go any deeper… Fortunately, Roxy's smooth love tunnels are nice and deep.
View Price On Edenfantasys.com
Unboxing
Moving on in my Blush Novelties X5 Roxanna review, I want to point out that this thing came to me in a pretty cool box. The box is black and it's just strong enough to support Roxanna's weight of over 15 pounds. It's always good to have a sturdy box with these types of toys.
After all, you just can't leave your fake pussy and ass lying around in your kitchen for everyone to see. You'll have to store it in some way to avoid suspicious looks. I think the original box is actually perfect for that. Inside, there's a plastic cast for the actual toy. This is also great because it will keep the material from warping or bending. Besides that, the box also contains the user manual, toy cleaner and lube packets as well as the included bullet vibrator.
Features
Life-size pussy and ass
Weight: 15 lbs
Two entry points with two textured (ribbed) tunnels
Material: TPE
Length: 13.4 inches
Diameter:14 inches
Insertable length: 12.5
Bullet vibrator with multi-speed vibrations
Jiggle, Jiggle All the Way
Now, let me talk a little bit about how this toy looks. According to Blush Novelties, Roxanna was made using a cast of a hot young model. When I first opened it, I could tell that the look and feel were unbelievably true-to-life. Suddenly, my dick was getting hard at the sight of a bent-over booty with smooth cheeks and I couldn't wait to get my tongue inside.
What turned me on the most from the get-go was the shape of the vagina and ass openings. First, the vulva is nice and meaty and those lips are just to die for. Also: just look at that beautiful pooper! Seriously, if I close my eyes and imagine my dream pussy and ass combo, this would probably be it.
Material and Feel
There are several things I have to say regarding the material used on this toy. While she feels bouncy, smooth, and ultra-realistic, Roxannna is made of TPE. This is not the safest or most durable material for sex toys. Usually, I would advise you to avoid it if you were buying a TPE vaginal or anal dildo. This is because TPE is porous and it will absorb bacteria after every use. I hate to say it, but it's pretty much your call here. The material used on this doll feels fantastic in my hands and around my cock, but you'll have to take extra care of it. For example, you'll need to clean it VERY thoroughly every time and make sure it's dry so that it doesn't accumulate bacteria or mold.
What's more, I noticed two problems here. For one, Roxanna's ass and pussy have a strange smell to them that you might not enjoy. The smell is left over from the manufacturing, and while I thought it would go away after a few days, it didn't. Second, even though Roxy's holes are nice and tight, you'll have to be very careful not to rip the openings. The insertion holes are sturdy once you get inside, but the actual openings seem kind of thin and flimsy.
Enter, Cum, Relax
Even though I tested this pussy and ass doll dozens of times for my Blush Novelties X5 Roxanna review, I didn't get bored and I always found something new that I could do to it. Obviously, you will need to nail her from behind. The weight is quite hefty at over 15 pounds, and that's why you will need to place this doll on the bed or some sort of chair that matches your height. As mentioned, you'll get a ton of room inside and the holes will accommodate basically any dick size.
What I enjoyed here was the differences between the feel of the anal and vaginal opening. Both have ribbed textures, but as you might have guessed, the ass is much tighter. What's great here is that you can simply pick your hole and bang away without needing to use condoms or worrying about getting someone pregnant.
View Price On Edenfantasys.com
Let's Switch on That Bullet Vibrator
Like I said, the X5 Roxanna comes with a black plastic bullet vibrator. It's battery operated and it has a small remote control that's connected via a wire. You can pop it inside several drain holes in the doll depending on where you actually want the vibrations. Also, you can simply push it inside the unoccupied hole and experiment with some DP fantasies.
In my experience, the bullet vibrator is fairly basic. It allows you to change speeds and it feels pretty cool because it makes the entire booty vibrate. But be warned: this thing will make you cum waaaaay too quickly!
Pros
It looks, feels, and weighs like a real female butt.
The pussy and ass openings are nice and tight.
The included bullet vibrator can take things to a whole other level.
Cons
It doesn't smell all that great (I guess the smell will wear out?).
The holes look like you could rip them easily.
Blush Novelties X5 Roxanna Review
To finish up my Blush Novelties X5 Roxanna review, let me say that you'll have to make some compromises if you want to fuck this doll. The material is sensitive and smelly, plus you will have to take extra care of it during cleaning. The smell will probably go away after some time and if you're careful, you probably won't rip the vaginal and ass openings with your cock.
Other than that, Roxanna's tight holes look and feel awesome and they will always be open for your pleasure. Overall, I would put this toy in the "maybe" pile because you'll have to live with some of its drawbacks.
⚠️ Disclaimer: Our articles contain affiliate links. If you like our content and wish to support our work, consider purchasing your new sex toys through our links. For each purchase through our links, we receive a small commission but at no extra cost to you.
| | |
| --- | --- |
| 👉 Name: | Blush Novelties X5 Roxanna |
| ⚙️ Features: | Life-Size Pussy and Ass, Ribbed, Bullet Vibrator |
| 📁 Type: | Realistic Pussy and Ass |
| 🛠️ Materials: | TPE |
Bend over, beyotch! This pussy and ass doll allowed me to do pretty much anything and cum inside all I want!
5
Super long insertable length: It will pretty much accommodate any size.
4
It looks and feels realistic, although it the TPE materials look like they will easily rip.
2
Editor's Pick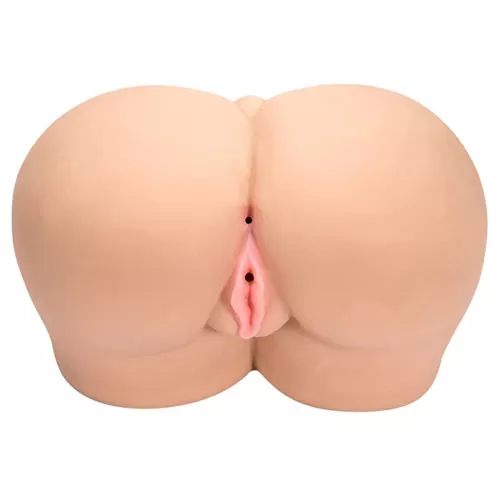 Thrust Pro Elite Alana
⚙️ Special features:
2 distinct ribbed canals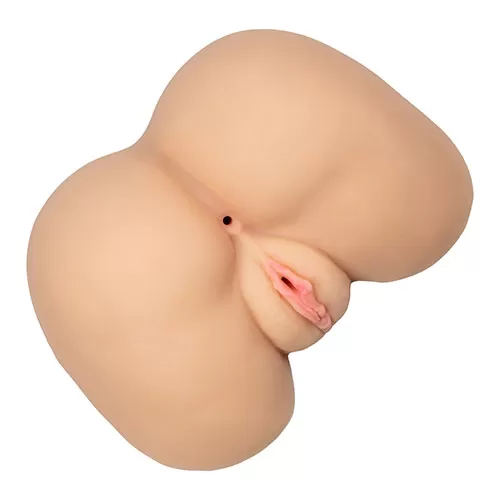 Calexotics Stroke It
⚙️ Special features:
Superior suction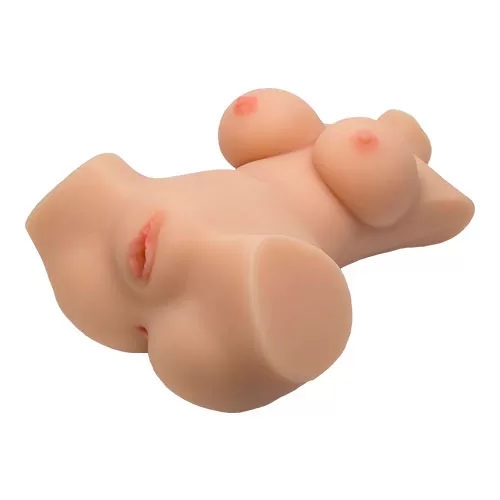 Thrust Pro Elite Alicia
⚙️ Special features:
Easier portability and manoeuvrability