❯
Sex Ed
May/13/2023
417
8 min read
Fifty Shades of Yay: The Naughty BDSM Guide for Newbies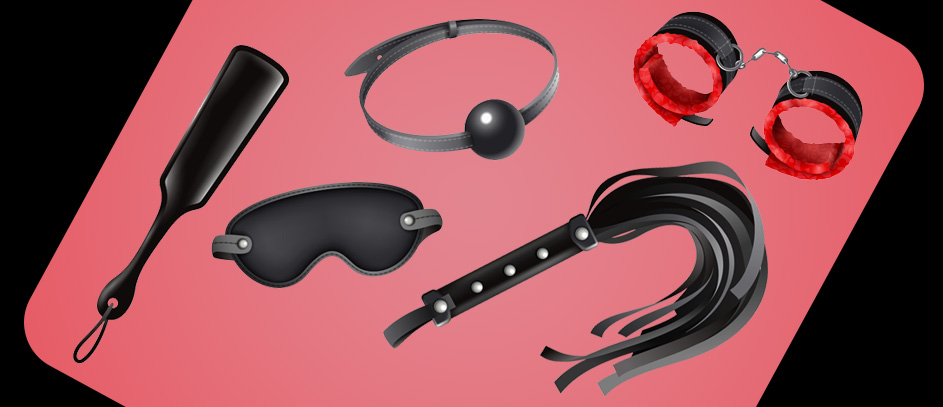 Well, hello there, you naughty little kinkster! Are you ready to dive headfirst into the world of BDSM? Lucky for you, your favorite Queen of the Sluts is here to give you the ultimate BDSM guide. So, strap on, baby, because I'm about to teach you all about BDSM for beginners!
Now, why am I, Lola Lovegood, the perfect guide for your BDSM journey, you ask? Oh, darling, I'm not just a simple girl who loves to fuck and get fucked; I'm also an insatiable connoisseur of all things kinky. With a crate full of the wildest sex toys and a heart ready to embrace every shade of naughtiness, I'm on a mission to turn my humble crate into a full-blown sex dungeon.
So, if you're starting BDSM and looking for a sassy, experienced guide to help you dip your toes (or other body parts) into this tantalizing world, look no further! I've got your back (and your front and everything in between). Let's embark on this wild, wicked, and oh-so-delicious adventure together!
BDSM Basics: Let's Talk About Kink, Baby
Alright, my kinky kittens, let's dive into the juicy details of this BDSM guide, shall we? If you're a true BDSM beginner, you might wonder what those four naughty little letters stand for. Well, BDSM is an acronym for Bondage and Discipline, Dominance and Submission, and Sadism and Masochism. Sounds like a wild party, doesn't it? Trust me, it is!
The Sacred Duo: Consent and Communication in BDSM
Now, as much as I love to push boundaries and have a sinfully good time, even I know that the key to any successful BDSM experience is consent and communication. I cannot emphasize this enough, darlings! Make sure everyone involved is on the same page, and never be afraid to use your safe words. After all, safety first, then the fun can commence!
Kinky Roles: Dom, Sub, or Switch – Which One Gets You Hot?
As for the roles in BDSM, let me break it down for you. You've got dominants (or "doms/dommes") who call the shots and take control in a scene. Then, there are the lovely submissives (or "subs") who surrender control and obediently follow their dom's desires. And, for those who like a little bit of everything, you have switches who can play both roles, depending on their mood and partner. It's like having a buffet of delicious kinks to sample!
Tied Up in Pleasure: Beginner's Bondage Bonanza
In this sizzling section of our BDSM guide, I'll introduce you to the basics of bondage and how you can tie up your partner (or yourself) for a night of unadulterated pleasure. Oh, I can feel your excitement already, you kinky thing!
Handcuffs, Ropes, and Scarves
For those BDSM beginners out there, I've got some hot tips about the tools of the trade. Handcuffs are a classic go-to for a reason – they're sexy, easy to use, and can be found in various materials, from metal to plush.
But why stop there? Ropes can offer endless possibilities, from simple wrist ties to intricate Shibari masterpieces that'll have your playmate feeling like a work of erotic art. And don't forget about those silky scarves! They can double as blindfolds, gags, or even restraints in a pinch, making them the multitaskers of the bondage world.
Knots and Safety Tips for Sexy Shenanigans
Now, before you go tying each other up like a couple of lustful pretzels, it's crucial to learn some basic knots and safety tips. This beginner's guide to BDSM wouldn't be complete without a little education! Make sure to choose knots that are secure yet easy to untie, like the bowline, square knot, or double half hitch. And always have a pair of safety scissors on hand for a quick escape if needed.
💡 PRO TIP: Safety is sexy, my darlings! So, be mindful of your partner's circulation and never tie too tightly - we want them to feel the sweet embrace of restraint, not lose a limb! Remember to check in regularly, communicate openly, and be prepared to untie at the first sign of discomfort or distress.
Spank Me, Baby: Impact Play for Naughty Newcomers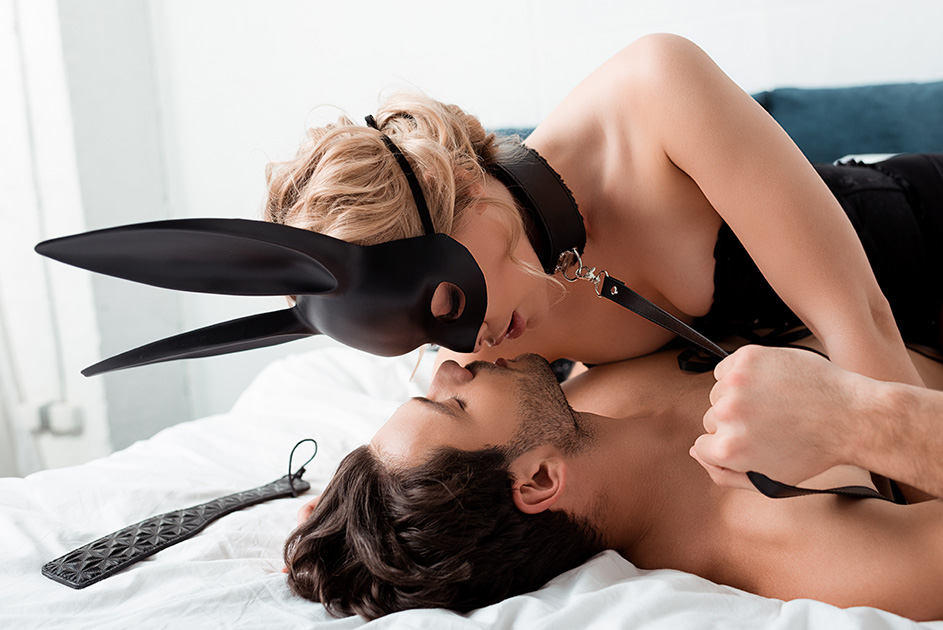 Oh, you mischievous little minxes, are you ready to dive into a world of titillating tushy taps and wicked whacks? You're in for a treat, my darlings, because I'm about to unleash my favorite tricks for impact play in this delectably naughty section of our BDSM guide.
Spanking, Flogging, and Paddling for Pleasure
When it comes to impact play, variety is the key to a quivering tush. For those barely dipping their cheeks into the realm of BDSM for beginners, spanking is a divine way to start. Nothing screams, "I've been a wicked girl/boy", quite like a well-aimed swat on the rump.
Flogging and paddling offer tantalizing sensation and intensity levels for those craving extra spice. Imagine the seductive dance of a flogger's tails or the exhilarating *crack* of a paddle against your partner's eager backside. Scrumptious!
Selecting Tools and Techniques for a Rump-Roaring Good Time
This beginner's guide to BDSM is all about discovering what makes you throb (or spank, or flog!). Gentle tools like velvety paddles or fur-lined floggers are perfect for tender beginners, while robust implements like wooden paddles or whips cater to seasoned kink connoisseurs. And let's not overlook the most versatile tools of all – your hands! A classic spanking can be simply orgasmic.
A World of Sensual Surprises: Sensation Play for the Bold
Well, well, my insatiable sensory adventurers! Are you prepared to dive mouth-first into the scrumptious world of delightful sensory surprises? In this sizzling section of our BDSM guide, I'll be spilling the beans on my favorite ways to tickle, tease, and tantalize my partner's senses.
Sensory Deprivation: The Blindfolded and Earplugged Experience
Starting BDSM with sensory deprivation is like sauntering into a dark room filled with forbidden fruits. With your sight and hearing held captive by blindfolds and earplugs, every stroke, nibble, and sultry breath sends quivers of desire down your spine. Trust me, my frisky kittens, this is an experience that belongs at the top of any BDSM for beginners' bucket list.
Hot and Cold: The Tantalizing Temperature Tease
Temperature play is a delectable way to add some sizzle to the beginner's guide to BDSM escapades. Whether it's a hot-as-hell drip of molten wax or a frosty ice cube sketching naughty trails on your flesh, the dance of hot and cold is nothing short of toe-curling. The contrast will have you aching for more, and honey, I'm all about leaving you hungry for my next move.
Tickling and Teasing: A Playground of Pleasure
Feather ticklers, velvety brushes, and your very own mischievous fingertips can conjure up a playground of rapturous delight in the realm of sensation play. The most delicate caress can launch waves of pleasure throughout your body, making you giggle, wriggle, and moan in sheer ecstasy.
No Pain, No Gain: S&M for the Curious and Kinky
Oh, my daring pain aficionados, do you wish to straddle the line between sweet agony and divine ecstasy? In this sinfully irresistible chapter of our BDSM guide, I'll unveil the tantalizing secrets of pain play that'll have you begging for more.
Pain vs. Pleasure: The BDSM Balancing Act
Embarking on your BDSM for beginner's journey is like walking a tightrope between pain and pleasure – one moment, you're gasping in exquisite torment, the next, you're floating in euphoric bliss. The secret sauce, my mischief-makers, lies in finding that perfect equilibrium to satisfy your naughtiest desires. So, whether you yearn for a gentle nibble or a fiery sting, remember that your BDSM escapades are all about discovering what sets your heart aflutter.
Nipple Clamps, Pinwheels, and Electric Thrills
In the mood for a pinch? Nipple clamps provide the ideal mix of torment and delight. Craving a prickly treat? Then a sinfully teasing pinwheel is your ticket to pleasure town. And for those intrepid souls who dare to push the envelope, the electrifying zaps of electrostimulation will leave you buzzing with sheer excitement.
✍️ Lola Lovegood recommends: Ah, my curious kittens, let me share a few extra-naughty treats for your delectable BDSM for beginners toy box. First, a versatile little bullet vibrator - perfect for teasing and tantalizing your most intimate spots. Next, how about a cheeky beginners butt plug to add a dash of delightful naughtiness to your playtime? And, for those seeking a little more control, why not try a remote-controlled vibrating love egg to keep your partner on their toes?
Strutting Your Kink: Beginners Guide to BDSM Fashion
In this fabulously naughty section of our BDSM guide, we'll indulge in the luxurious world of BDSM fashion. So, grab your leather, latex, and lace, and let's sashay into the seductive realm of fetish wear. After all, nothing screams confidence, like looking sinfully irresistible in your BDSM attire!
The Sultry Wardrobe of Fetish Wear
When it comes to BDSM for beginners, your wardrobe should be as scandalously enticing as your desire. Leather, with its sinfully supple texture, embraces your curves like a lover's caress, while the glistening sheen of latex beckons your partner to explore your forbidden fantasies. And who could resist the delicate allure of lace, teasing and tempting as it plays hide-and-seek with your oh-so-naughty bits? Prepare to set hearts (and loins) aflame, my dearest deviants!
Dressing the Part: Choosing Your Kinky Attire
BDSM for beginners is all about unleashing the inner temptress (or tempter) lurking beneath your everyday garb. Whether you're a dominant bombshell rocking a curve-hugging corset or a submissive enchantress adorned with tantalizing cuffs and collars, the perfect outfit can ignite the kinkiest of fires in your erotic escapades. So, slip into something sinfully delightful and watch as your partner's eyes devour you with hunger and anticipation.
Spank You Very Much: Bidding Adieu
My delectable kink enthusiasts, we've reached the climax of our oh-so-sinful BDSM guide. Now that you're brimming with naughty know-how, we can probe the dark recesses of desire and unearth the decadent secrets hidden within.
So, slip into your naughtiest heels, my fabulous darlings, and release your inner kink diva! It's time to plunge headfirst into a realm of boundless ecstasy, and I'm simply aching with anticipation to see you there. Until we meet again, my lovelies – stay wicked and wild!
FAQs
Absolutely, darling! A safe word is your sexy escape hatch – a magic word to signal when things get too spicy. Remember, safety first, and then the fun begins!
Communication is key, my lovely! Share your desires, discuss boundaries, and dive into BDSM for beginners together. Who knows, you might just discover a shared kink you never knew you had!
Oh, you bet your sweet derrière it can! S&M is all about dancing on the edge of ecstasy and agony. Trust me, once you've dipped your toes into this sensual pool, you'll never look back.