❯
Sex Ed
May/15/2023
Last Update: May 15, 2023
293
8 min read
Bling It On: The Sex Toy Jewelry That'll Make You Sparkle in More Ways Than One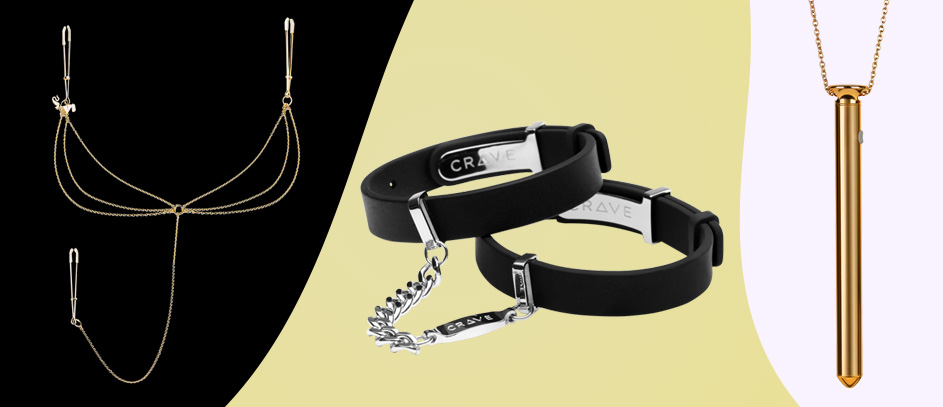 Hey, all you sultry sirens and dapper deviants! It's your favorite connoisseur of all things naughty and nice, Lola Lovegood, coming at you with another tantalizing topic: sex toy jewelry! That's right, my lovelies, I'm here to introduce you to a world where pleasure and fashion collide, creating wearable sexual jewelry that'll leave you breathless and blushing.
Now, I know what you're thinking – "Lola, can I really wear my naughty little secret out in public?". Well, darlings, that's the whole idea! These gorgeous, lust-worthy pieces are designed to add a spark of excitement to your everyday wardrobe, turning the ordinary into the extraordinary with a wink and a nudge.
So, buckle up (or should I say, unhook?) and get ready to explore the world of sex toys that double as jewelry with me. Your journey into sparkly sex toys is about to begin, and I promise it's going to be an experience you won't soon forget.
Unveiling the Mystery: What Is Sex Toy Jewelry?
Alright, my delectable darlings, let's get down to the nitty-gritty and answer the burning question on everyone's lips: What exactly is sex toy jewelry? Well, hold onto your panties (or boxers) because I'm about to blow your mind!
Wearable sexual jewelry, in all its shimmering glory, is a delightful fusion of fine-looking accessories and pleasure-inducing playthings. They cleverly disguise themselves as stunning pieces of jewelry, all while hiding a delightful secret that only you and your partner need to know. Basically, these gorgeous gems allow you to wear your sensual side on your sleeve (or around your neck or on your finger…) and keep the thrill of a naughty rendezvous within arm's reach.
"From dazzling necklaces that morph into whips to chic rings that double as vibrators, these sultry pieces are all about making a statement – and we're not just talking about your style, honey!"
Scintillating Sex Toy Jewelry Pieces You'll Crave to Flaunt
Oh, darlings, brace yourselves for the grand reveal – the crème de la crème of naughty jewelry that'll leave you gasping for air and begging for an encore! Sharpen those pencils, my pleasure-seeking fashionistas, because your collection of wearable sexual jewelry is about to sizzle like never before.
1. Buzz-Worthy Baubles: Vibrating Rings for Frisky Fun and Pleasure
Envision this: a ravishing ring that not only graces your finger but also sends shivers of delight coursing through your body. Oh, yes, my delectable darlings, vibrating rings are the sex toys that double as jewelry, perfect for adding a touch of "Oh là là" to your daily life. These chic, incognito rings masquerade as stylish accessories, but when passion strikes, they metamorphose into your personal orgasmic wonderland!
Must-haves in the market include the Vesper Vibrator Ring – a sleek, adjustable ring that'll have you buzzing with anticipation – and the Clio Radiant Wearable Vibrating Ring, which wraps intense sensations in a sumptuous, body-safe aluminum embrace.
2. Titillating Trinkets: Nipple Clamps for the Audacious Fashionista
Who says nipples can't be the life of the party, too? Nipple clamps are the last word in statement pieces for those who adore a pinch of excitement. These provocative adornments not only look drop-dead gorgeous, but they also dial up sensitivity, turning every stroke and caress into a heavenly experience.
For a truly tantalizing affair, consider the Lovehoney Tease Me Advanced Nipple Clamps with Heart Charms, boasting adjustable pressure and a sophisticated chain design. Or, flirt with the Fräulein Kink La Vie en Rose Nipple Tassels for a cheeky, burlesque-inspired vibe.
✍️ Lola Lovegood recommends: My dearest hedonists, I simply must share my intimate little secret: Unbound's sinfully seductive nipple and clit clamp has stolen my heart - and my inhibitions! Cast aside your undergarments and surrender to this luscious trio's flirtatious embrace. As you dance through the night, these enticing trinkets will deliver the most delicious tugs in all the right places. Trust me, darlings, once you retreat to your love nest, you'll be absolutely aching for an unforgettable crescendo of pleasure.
3. Hush-Hush Sparkle: Elegant Anal Toy Jewelry for a Clandestine Thrill
If you're hankering for a covert delight known only to you (and perhaps a fortunate partner), search no further than elegant wearable sexual jewelry made to adorn your tushy. These glittering indulgences provide a discreet and tempting escapade that's tailor-made for both curious newcomers and experienced aficionados of backdoor bliss.
The Rosebuds Stainless Steel Crystal Butt Plug is a captivating choice, with its shimmering Swarovski crystal stealing the show. And for those who fancy a more natural touch, the njoy Pure Plug showcases a silky stainless steel design that's as orgasmic as it is exquisite.
4. Lashing Out in Style: Intimate Necklaces That Morph Into Whips
Get ready to channel your inner dominatrix with intimate necklaces that transform into whips quicker than you can say "Fifty Shades". These multifaceted adult playthings offer a steamy surprise when you least expect it, injecting a heart-pounding twist into your accessory game.
The Unbound Cleo Whip Necklace is a stunning choice, with its gold-plated chain and concealed whip. Or, you might be smitten with the Bijoux Indiscrets Magnifique Whip Necklace, a breathtaking piece of wearable sexual jewelry that melds daring style with a beguiling secret.
5. Bound to Impress: Bracelets With a Kinky Twist
Picture this, my sensuous sirens: enchanting cuffs that not only clasp your wrists with grace but also hold the key to your most wicked fantasies. Oh, yes, my audacious beauties, cuffs that double as bracelets, are the ultimate liaison of fashion and flirtation, effortlessly shifting from haute couture to haute desire. These treasures can be donned as chic adornments, and when lust comes calling, they can metamorphose into your personal, tantalizing restraints.
Essential picks include the Le Wand Metal Chain Handcuffs – a bewitching pair of gold-plated bracelets that can be linked together for a sultry night of pleasure – and the Crave ID Cuffs, which marry opulence and coziness with their velvety, supple silicone and alluring gold hardware.
6. Seductive Charms: Necklaces With a Scandalous Secret
Behold the pièce de résistance for the hedonistic fashionista: necklaces harboring a sinful secret. These irresistible pendants may masquerade as ordinary neck adornments, but they're actually concealing a delightfully debaucherous surprise. Crafted to dazzle as they drape around your neck, these bewitching baubles can also double as ecstasy-inducing treasures when the moment heats up.
Extraordinary choices to explore are the Crave Vesper Vibrator Necklace – a streamlined, stainless steel pendant that transforms into a formidable vibrator when night falls – and the Sylvie Monthulé Nectar of Enjoyment Pendant, which boasts a covert clitoral stimulator that's sure to leave you trembling with anticipation.
Tips for Sashaying in Wicked Jewelry With Confidence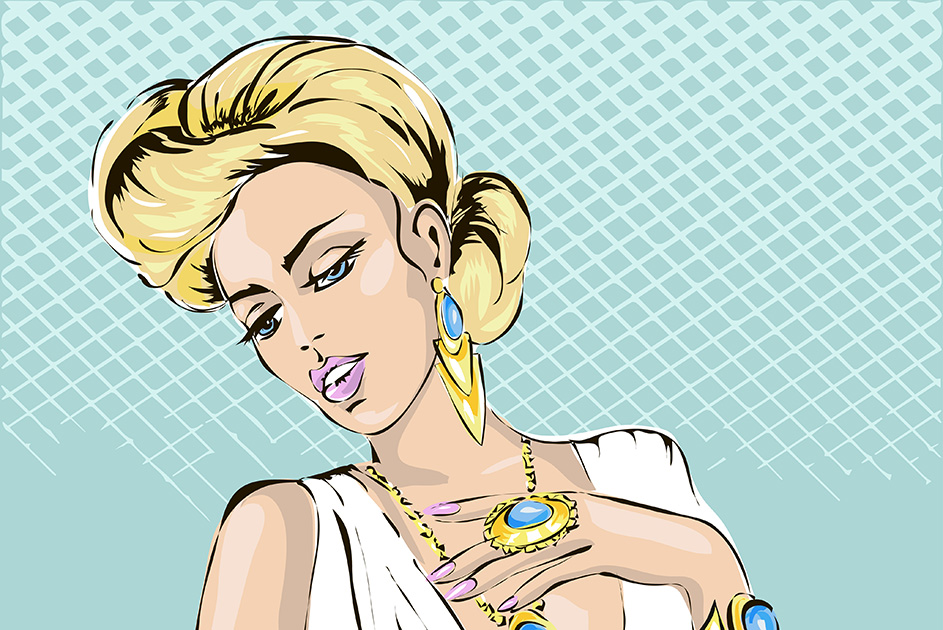 Darlings, we've delved into the titillating world of naughty jewelry, and now it's time to strut with pizzazz and poise. Fear not, for I, Lola Lovegood, am here to guide you in flaunting wearable sexual jewelry like the audacious, pleasure-seeking goddess you truly are.
Treasure Hunting: Choosing the Ideal Trinket for Your Style and Fantasies
First and foremost, my loves, the secret to confidently wearing sex toys that double as jewelry is finding the one piece that whispers sweet nothings to your inner temptress. Ponder your personal style, desires, and comfort zones to uncover that irresistible trinket that sends both your heart and your libido soaring. Remember, your chosen gem should not only magnetize stares but also make you feel like the empress of enchantment.
💡 PRO TIP: Comfort is crucial, sweethearts, so ensure your new jewelry nestles gently without pinching, chafing, or causing a smidgen of unease. After all, you yearn to be the puppet master of your own pleasure, yes? For customizable baubles, invest time in discovering the sublime setting - neither too tight nor too loose - that permits you to relish scrumptious sensations without any vexing interruptions.
Flaunt Your Frisky Finery: Integrating Sex Toy Jewelry Into Your Quotidian Wardrobe
Who claims you can't be a siren in sunlight and a vamp in the moonlight? With the right jewelry, you can seamlessly merge your sensual ornaments into your everyday attire. So, adorn your exquisite anal jewelry with an elegant pencil skirt for a day of commanding the boardroom, or slide on a vibrating ring for an electrifying night of painting the town red – the possibilities are infinite, and the reins of rapture rest in your hands (or, more accurately, on your exquisite form). So, forge ahead, my lovelies, and let your inner sex goddess radiate through your ensemble, one scintillating trinket at a time.
Parting Ways With a Bang: Until Our Next Debaucherous Rendezvous
Oh, my sultry sirens, our steamy sojourn through the realm of sex toy jewelry has been nothing short of sensational! We've delved into the world of wearable sexual jewelry that doubles as toe-curling instruments of ecstasy and shared divine wisdom on how to wear your naughty novelties with unbridled confidence. I can only hope this scintillating stroll has ignited a burning desire to embark on your own escapades in this land of licentious luxury.
As we bid adieu for now, I urge you to plunge into the world of sex toys that double as jewelry, seeking out those gem-encrusted delights that send your pulse racing and your passions soaring. And oh, my darlings, I'm practically quivering with anticipation to hear all about your wild romps and cherished trinkets. So, don't be coy, my lovelies – do regale me with your tantalizing tales and prized baubles in the comments section below.
Until next time, my bewitching beauties, never cease to bask in the glow of your sensuality, and may your wardrobe forever dazzle with the twinkle of pleasure's promise. (wink)
FAQs
Darling, that's the allure of these tantalizing trinkets! Designed to be discreet and fashionable, sex toy jewelry blends seamlessly with your daily wardrobe. That means you can savor the delicious secret of your pleasure piece while flaunting your fabulous style. Just try to keep the moans to a minimum, won't you?
Cleanliness is next to sexiness, my delectable diva! To keep your sex toy jewelry sparkling and safe, clean it with warm water and mild soap after each use. For those extra-special pieces, you might want to consult the manufacturer's instructions. Remember, a well-cared-for trinket is a pleasure that keeps on giving!
Absolutely, my sensitive-skinned seductress! Many sex toy jewelry pieces are made from body-safe materials like stainless steel, gold plating, or silicone. Just be sure to check the specifications before you buy, and if you're unsure, give it a test drive on a less sensitive area first.