❯
Sex Ed
Jan/17/2023
Last Update: March 6, 2023
2517
14 min read
How To Last Longer In Bed (For Men): 17 Expert Tips & Techniques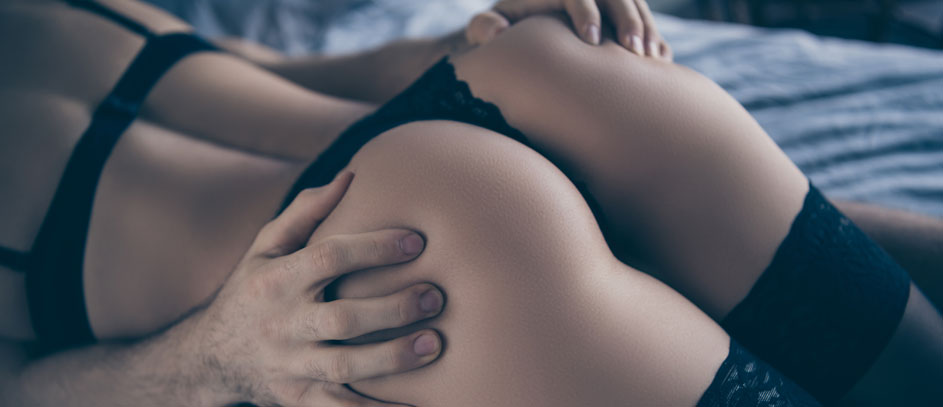 You wanna know how to last longer in bed? Well, you came at the right place (if not at the right time). After getting fucked by all kinds of men, sometimes at the same time, I'm no stranger to hearing muffled groaning, followed by an awkward "Sorry, this usually never happens" in the bedroom. Usually, just moments after the real fun only started. Of course, sometimes my body, sex appeal, and pussy are simply too good and guys get a little bit too eager when I strip down naked… I mean, I can't blame them.
But believe it or not – premature ejaculation is a common issue that many men face, and it can be frustrating (for both partners) and even somewhat embarrassing for some dudes.
However, there is no reason to feel embarrassed about it.Here's a thing Turbo Dick might not admit right away; During one of our first play sessions with Scarlette, he creamed immediately at first insertion. In other words – it happens to even the best of the best. And it's extremely normal!
If you're looking for ways to last longer in bed, you're not alone. Let mommy Lola guide you on the path to better your sexual stamina. In this blog post, we'll explore some tips and techniques that will help you extend the duration of your sexual adventures and improve your (and their) overall sexual satisfaction.
From pelvic floor exercises to the "stop-start" method, pills, creams, techniques, and the use of condoms, I'm going to tell you about a range of approaches that you can try to help you last longer in bed. I'll even tell you what to drink to last longer in bed. So, if you're ready to take control of your semen demon and improve your sexual experiences, read on. Let's explore the most effective ways to become a sexual stallion!
What The Cum Science Says
First and foremost, let's get the facts straight. According to research, premature ejaculation is the most common sexual dysfunction that men face. A lot of factors and even situations can mess with how your dick works. For example, did you know that if you have diabetes, your chances of experiencing PE are three to four times higher than dudes without diabetes?
Here are some other conditions that can affect your jizz game:
Hormonal imbalances
Substance abuse (alcohol, drugs, tobacco, etc.)
Thyroid issues
Erectile dysfunction
Prostate surgery
Depression, sexual trauma and/or anxiety
Prostate injuries
The International Society for Sexual Medicine estimates that premature ejaculation affects anywhere from 25% to 75% of men at some point in their lives. So, there's no need for you to freak out. It just… happens sometimes.
One study published in the Journal of Sexual Medicine found that men with premature ejaculation reported lower levels of sexual satisfaction and had higher levels of anxiety and depression compared to men without premature ejaculation. Research has also shown that premature ejaculation may be associated with certain physical and psychological factors. That includes stress, anxiety, and relationship issues. We all know that the mind and body share a powerful connection.
If you're taking medication, reread the medication guide since it might be the cause of your shortened fuck-fests. Some examples of drugs that tend to cause PE are:
Selective serotonin reuptake inhibitors (SSRIs): These drugs are commonly used to treat depression and anxiety. But, they can also cause sexual side effects, including jizzing a bit too soon.
Tricyclic antidepressants: These drugs, which are also used to treat depression, can cause premature cumming and other sexual side effects.
Opioid painkillers: These drugs can cause PE by disrupting the normal functioning of the hormonal and nervous systems.
Recreational drugs: The use of certain recreational drugs, such as cocaine and marijuana, can contribute to shortened sexual stamina.
This is just information to keep in mind. To conclude the "science" part, premature ejaculation is a normal part of human anatomy. It can be caused by a variety of factors. It's also a normal part of the learning process when it comes to sex.
Fret not, my little cum machines, it is something that can be improved upon with time and practice.
If you're experiencing premature ejaculation, you should know that you're not alone. More importantly, there are ways to manage this issue. The Queen of the sluts herself (me!) is here to hold your hand (or your junk) and help you nut in some pretty holes and mouths.
Lifestyle Changes, New Techniques, And Exercises
Exercise your pelvic floor muscles
How to last longer in bed naturally? This is how – strengthening the muscles in your pelvic floor can help you have more control over your ejaculation. These muscles support your bladder, uterus (in women), and bowel, and they also play a role in sexual function. To exercise your pelvic floor muscles, try "kegel" exercises. To do a kegel, simply contract the muscles you would use to stop the flow of urine. Hold the contraction for a few seconds, then release. You can do kegel exercises anywhere, at any time, and no one will know you're doing them. It's a simple, little, sexy exercise that can easily help you become the king of ejaculatory control!
Slow down and focus on your partner
One of the reasons people may feel like they're finishing too quickly is that they're not paying attention to what's going on in the heat of the moment. I get it, sometimes the mind just goes blank and you're only thinking about sticking it into a glistening, gorgeous pink slit. It's an animalistic drive! However, focusing on your partner and their pleasure can help you last longer.
So can slowing down and taking your time during sex. My advice would be to try taking breaks to kiss, touch, hug, or (dirty) talk to your partner. Switch up your movements and fucking techniques to keep things enticing and fiery. She'll think that you're being a dirty tease and she'll crave that dick more and more. In reality, the delay-refocus-delay-refocus technique will help you last longer and cum even harder. Plus, your fuck buddy or partner will think of you as the ultimate lover boy. So, it's basically killing two birds with one dick.
💡 PRO TIP: If you feel like you're about to enter Jizz town - stop what you're doing and pull your dick out. Take a breath, and reshift your focus on touching her body, kissing her, etc.
Use condoms
Condoms don't just prevent STDs, STIs, and unwanted pregnancies. They can also help you last longer in bed by reducing the sensitivity of your disco stick. Some condoms even contain numbing agents that can further reduce sensitivity. You can easily find them online and order them discreetly.
Try different positions
Different sexual positions can affect the intensity of your big O and how long it takes you to reach it. For example, positions that allow for deeper, juicier penetration may increase your chances of finishing more quickly. Experimenting with different positions can help you find ones that allow you to last longer. An added plus is the fact that your partner is going to REALLY enjoy this, too. Plus, you might find some extra enjoyable positions that will help you both fuck longer and make you cum even harder. Yet another double whammy!
Try relaxation techniques
Stress and anxiety can contribute to premature cumming, so finding ways to relax before and during sex can be helpful. Some relaxation techniques that may help include deep breathing, meditation, and progressive muscle relaxation. You can easily find these techniques on Youtube or by doing some light online research.
Practice the "squeeze" technique
The "squeeze" technique involves squeezing the peen just below the head when you feel like you're about to ejaculate. This can help delay ejaculation and allow you to last longer in bed. To practice the squeeze technique, have your sexy partner stimulate your penis until you're close to jizzing. When you feel like you're about to ejaculate, squeeze the base of your penis and hold it for a few seconds. This will interrupt the ejaculatory response and it can help you last longer. I know it sounds silly, but it does work. I've tried it with a few guys myself, and it's actually kind of sexy for the girl, too. In a way, it made me feel like I was a dominatrix in charge of their orgasm. Plus, the "squeeze" technique made it easier for the guys to shoot their load in my mouth.
Try the "stop-start" technique
The "stop-start" technique involves stimulating your dick until you're close to ejaculating, then stopping the stimulation until the urge to ejaculate subsides. You can then start the stimulation again and repeat the process. This technique can help you learn to recognize the sensations that precede cumming. It can also help you gain more control over your ejaculation. This technique is also commonly known as edging. You can also do this with your sexual partner, and if your partner is into control like I am – it can also be very hot.
Use distraction techniques
Distraction techniques involve shifting your focus away from the sensations of sexual arousal and toward something else, such as a particular thought or image. It's best to think about someone, an object, or a situation that definitely doesn't turn you on. But, don't think about total and complete turn-offs. It's a delicate dance of distracting yourself, but not murdering your stiffy.
For example, you can think about doing taxes, how coffee is made, Russian novels… But don't think about things that will actually make your dick go soft!
Story time. I was having an extremely kinky time with this guy but then all of a sudden the pounding stopped. I could see this guy's eyes filling up with tears. His dick didn't go soft – it went limp. When I finally got him to fess up about what happened, he admitted that he started thinking about his grandma as a distraction to delay his sperm shooting. However, she had passed away recently, and it got him feeling weird, followed by an overwhelming amount of sadness and grief. OK, this didn't really happen, but you get the point. What I'm trying to say is… Maybe don't think about your dead grandma that you were very close to. But, the distraction technique can definitely help you last longer in bed by reducing the intensity of how turned on you are.
Switch up your diet
There is no scientific evidence to suggest that certain foods can directly help delay ejaculation. However, eating a healthy and balanced diet can contribute to overall good physical and sexual health, which can indirectly affect ejaculatory control. For example, some research suggests that a diet high in fruits, vegetables, whole grains, and lean proteins may help improve sexual function in men. Personally, I always noticed that dudes that only eat crappy, processed food tend to last shorter in bed and tend to have weird-tasting spunk. Eat more fruit and believe me, your girl will become the ultimate cum slut. I'm speaking from expert experience if I may say so myself. So, switching up your diet can possibly aid you in lasting longer in bed plus making your sexual partner THIRSTY for your cum. Yet another win-win tip from Lola.
✍️ Lola Lovegood recommends: eating more pineapple, mango, papaya, kiwi, and oranges because it will make your cum taste sweet. Seeing a girl hungry for your spunk might also affect your confidence and better your performance in bed, too.
Use sex toys
There are a few ways that sex toys can assist with premature ejaculation. One option is to use them as a tool to practice controlling your orgasm during masturbation. You can use the toy to stimulate yourself until you are close to climaxing, then stop and wait until you feel more in control before continuing. It's essentially the edging technique, only made more fun, because it's not your hand doing the work – it's a toy. This can help you build up your stamina and learn to better manage your ejaculation. If you're curious about more masturbation techniques, check out some of Richard Turbo's tips. Another way that sex toys can be helpful is by providing pleasure for your partner if you are having difficulty maintaining an erection long enough for them to orgasm. You can use the toy in combination with other techniques to satisfy your sexual partner, while also slowly but surely gaining more ejaculatory control.
Do Yoga
Engaging in regular yoga practice can be beneficial for individuals who want to last longer in bed. According to a review of the potential effects of yoga on sexual dysfunction, yoga has been found to improve overall sexual health by regulating hormones, which can impact sexual performance. In addition, the review states that yoga's focus on mindfulness and bodily control can help those struggling with PE gain greater control and self-awareness in regard to their pleasure and ejaculatory functions. In a study, men who were taught to incorporate yoga and breath regulation into their daily routines for a month were able to prolong ejaculation more effectively compared to men who used the edging technique. Also, how hot would it be to get fucked or to fuck on a yoga mat? Just saying…
Communicate with your partner
Communication is key in any relationship, especially when it comes to sex. So no matter if you want to fuck your girlfriend, your wife, your fuck buddy, or a fun one-night stand – you should talk about it. It's way less awkward if you flat-out say "Hey, sometimes I just cum too fast, but I want to fuck you all night long, so let's make some magic happen". rather than just cumming after 30 seconds of penetration, without warning, communicating it, or anything. The girl you're going to fuck may even have suggestions or techniques that could help, or she might happily want to try things that will allow you to last longer.
"Trust me, you're not the first and probably not the last guy that she has or will encounter with this issue. Plus, she'll think it's super sexy that you're being so open and honest about it. Might get an extra sloppy blowjob just for your candidness."
Understand the causes of premature ejaculation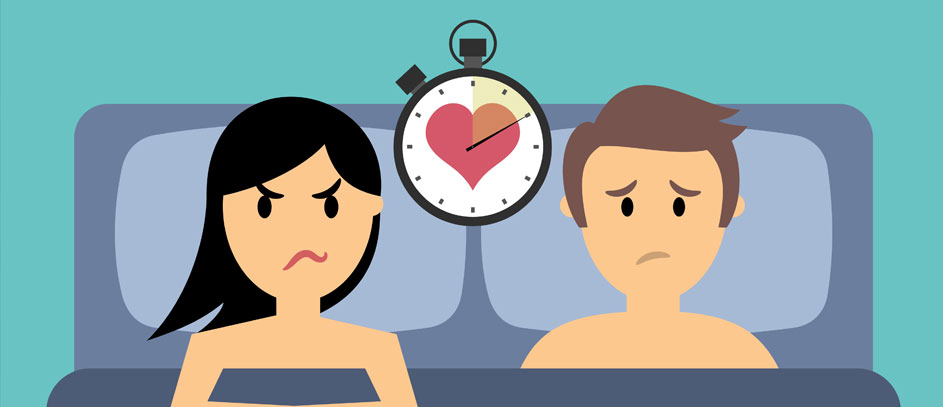 In all seriousness, it's important to understand the possible causes of premature ejaculation. Premature ejaculation can be caused by a variety of factors, including physical, psychological, and interpersonal issues. Physical causes may include hormonal imbalances, nerve damage, and certain medical conditions. Psychological causes may include anxiety, stress, lack of sleep, and depression. Interpersonal issues, such as a lack of communication or a lack of emotional connection with your partner, can also contribute to cumming faster than you'd like.
Pills And Potions (and More) That Will Transform Your Dick Game
Ask your doctor about numbing medications
Numbing medications, which are available with a prescription, can be helpful in treating premature ejaculation. These medications contain ingredients like lidocaine and prilocaine and are typically applied as creams or sprays to the penis. They work by decreasing sensitivity and can be most effective when applied 20 to 30 minutes before sex. It's important to wash the medication off before having sex, as it can affect your partner. If you're considering using a numbing medication, make sure to let your partner know and also check if they have any allergies or issues with its use. It's always a good idea to consult with a healthcare professional or a licensed therapist before starting any new treatment.
Ask your doctor about prescription medication
Although some selective serotonin reuptake inhibitors have side effects that make you cream a bit too soon, some SSRIs can help delay ejaculation. Examples include paroxetine, fluoxetine, and sertraline. Dapoxetine is a short-acting SSRI that has been specifically developed for the treatment of premature cumming. Tramadol is an opioid medication that has been found to be effective in delaying ejaculation in some men.
Take Viagra
We've all heard of Viagra and we all know that it's typically used to treat erectile dysfunction. However, research has also shown that it can be effective in treating premature ejaculation. In a 2007 study, Viagra was found to be more effective than the edging or squeeze technique in helping men with premature ejaculation last longer during sex. The study found that 87% of the subjects using Viagra wanted to continue using it as a treatment, while only 45% of those using the stop-squeeze technique wanted to continue with that method.
What to drink to last longer in bed
If you want her to choke while drinking your juice after fucking her all night, you need to load up on these drinks before fucking: aloe vera juice, pomegranate juice, milk, banana shakes, water, watermelon juice, and beet juice. Of course, don't drink it all at once. Unless she's into golden showers.
Talk to a healthcare provider
Ultimately, if premature ejaculation is a persistent problem, it may be helpful to speak with a healthcare provider or a sex therapist. They can provide guidance and suggest treatment options, such as medications or behavioral therapies.
Time To Get Your Dick On
To summarize why you should want to better your sexual stamina and last longer in bed:
You will feel more confident in your "dicking down" abilities, and more confident overall. Women looooove seeing that cocky smile.
It will enhance pleasure for both you and your sexual partner.
Greater sexual enjoyment in general. Longer sex usually means dirtier, kinkier, and simply – sex that is more fun.
Conclusion
As you can see, my kings of cum, there are various strategies and techniques that can be used to help you bang it out with more "endurance" and improve your sexual performance. Now, you know it all. From what to drink to last longer in bed to what to avoid if your goal is ditching the "minute" before the "man".
However, remember – no single approach works for everyone. It is important to figure out the technique or combination of techniques that work best for you and to continue practicing and developing these skills. If none of these techniques and tips work, seeking the guidance of a healthcare professional or sex therapist may also be helpful in finding the most effective approach for improving sexual stamina.
Overall, the key to lasting longer in bed is to find a solution that works for you, baby. Practice consistently, since practice makes perfect, and be open to trying new techniques and approaches as needed.
FAQ: How To Last Longer In Bed
Yes. It's completely normal. Most men will or had struggles with cumming a bit too early in their sex life.
While it may not be possible to completely prevent PE, there are strategies that can help improve sexual stamina and delay ejaculation.
You can eliminate premature ejaculation through all kinds of different techniques, implementing certain exercises or physical activity (yoga, kegel exercises), diet changes, or medication. However, it's still extremely normal for it to happen every once in a while. You can't completely eliminate it forever.
Medication and treatments can aid in making you last longer in bed. Viagra, SSRIs such as paroxetine, fluoxetine, sertraline, and dapoxetine, and some opioid medications like tramadol can be the answer to how you can last longer in bed. Some numbing creams can also help you prolong your sexual adventures.
It happens for a number of reasons. It can happen due to a combination of physical and psychological factors, certain medication or medical conditions, and even due to relationship or intimacy issues.