❯
Sex Ed
Feb/20/2023
Last Update: March 6, 2023
823
8 min read
Kinky, Creative, and Customizable: How to Give a Footjob Your Partner Will Never Forget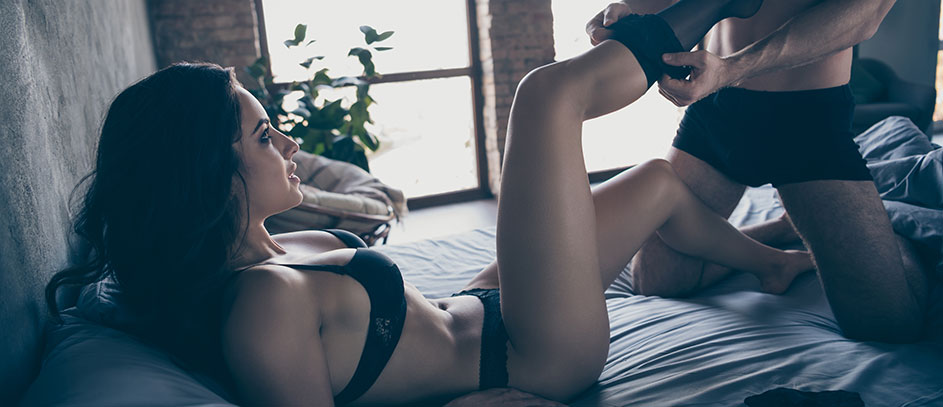 Hey there, foot fans! Ready to learn how to give a footjob that will make your partner's toes curl (literally)? As the Queen of the Sluts and the reigning champion of freaky foreplay, I've got some seriously spicy footjob techniques to share with you.
In this piece, I'll give you the lowdown on all things footjob-related, from prepping your feet to the best positions. So sit back, relax, and let me show you how to use those little piggies to make your partner moan with pleasure.
From Soaking to Stroking: How to Get Your Feet and Toes Ready for Action
Darling, if you want to give a footjob that your partner will never forget, you've got to start with some seriously pampered and prepped feet. Think of it like a canvas: you want a smooth, soft, and supple surface to work with. After all, who wants to feel rough, dry, or unkempt feet during the middle of a sexy session? So, here are my tips for getting your feet and toes in tip-top shape for the ultimate foot fetish fantasy.
Soak Those Tootsies
Nothing sets the mood for a sensual play like a relaxing soak. Therefore, fill a tub with warm water and add some Epsom salts, essential oils, or a bubble bath for an extra touch of luxury. Let your feet soak for at least 10-15 minutes until they feel soft and relaxed.
Exfoliate, Exfoliate, Exfoliate
To get rid of any rough or dry patches on your feet, use a foot scrub or pumice stone to gently slough away dead skin. Focus on your heels, the balls of your feet, and your toes. And don't forget to dry your feet properly – hygiene is your number one priority when it comes to some feet action.
Trim Those Toenails
Long toenails are a no-go for footjobs. That is because you can easily cut or scratch the sensitive skin on your partner's most delicate parts. So, make sure to trim them down to a reasonable length.
Moisturize Your Way Into His Pants
Soft, smooth, and moisturized feet are a must. After your soak and exfoliation, apply a rich foot cream or lotion to your feet and toes. Pay special attention to any rough or calloused areas. So go ahead, slather on that cream. Your tootsies will thank you!
Scentual Pleasures
If you want to add some extra sensuality to your footjob, try applying a scented lotion, massage oil, or powder to your feet. Lavender, peppermint, or jasmine are all good choices for an arousing aroma to make your partner's Sexcalibur stand to attention.
Manicure Your Feet
Your feet can benefit from a little TLC in the nail department. So, file your toenails into a smooth, rounded shape. Then, paint them with your favorite nail polish color (or your partner's favorite!).
Toe Rings to Anklets: Accessorize Your Feet for Maximum Footjob Appeal
Just like any other type of sex, footjobs can be enhanced with the right accessories and adornments. Whether you're into heels, stockings, anklets, or toe rings, adding a little extra bling to your feet can make all the difference in your footjob technique.
But in addition to aesthetic appeal, foot accessories can also serve a practical purpose during a footjob. Socks or hosiery can provide a smoother surface or add a layer of friction during foot play. On the other hand, foot jewelry or gems can draw attention to your feet and toes, making them a focal point of your partner's desire. And, of course, accessories can simply add an extra layer of kinkiness to an already kinky activity.
How to Give a Footjob Using Every Part of Your Feet
Ah, the footjob. It's the secret weapon of any skilled lover, a sensual and seductive way to pleasure your partner's most sensitive parts. But exactly how to give a footjob that will leave your partner begging for more? Fear not, my fellow foot enthusiasts, because I've got some footjob tips and tricks up my sleeve (or, should I say, up my stockings) that will help you master the skill.
The Art of Foot Tease: How to Drive Your Partner Wild Even Before the Act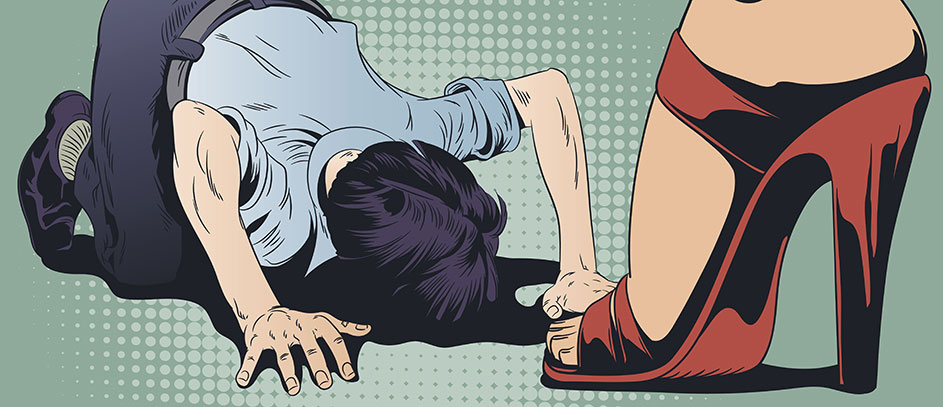 Before you start giving that footjob, you've got to get your partner hot and bothered with some teasing foreplay. So, use those feet to explore their body, and don't be afraid to use a little tickling or teasing to really get them going. Erogenous zones you can explore with your toes and soles include:
Mouth
Neck
Nipples
Back
Tip of the penis
Shaft
Balls
Perineum
Clitoris
Anus
Inner thighs
But why stop there? Add some kinky role-playing or dirty talk to the mix, like you're a foot goddess and your partner is your devoted foot slave, or maybe you're a naughty nurse giving your patient a special foot treatment. Then, experiment with different positions, like wrapping your feet around their shaft or using your toes to grip their balls. And don't forget to make eye contact and use your sexy voice to express your desire and pleasure because the footjob is just as much about the mental connection as it is about the physical one.
"Add some kinky role-playing or dirty talk to the mix, like you're a foot goddess and your partner is your devoted foot slave, or maybe you're a naughty nurse giving your patient a special foot treatment."
Put Your Best Foot Forward: Top Footjob Positions for Maximum Pleasure
Let me tell you – there's nothing like getting together with a few like-minded individuals to share our favorite footjob positions. And when I say "like-minded", I mean Scarlett , Richard, Vlad the Not Impaler and yours truly – the queen. We put our heads (and, sometimes, other body parts) together to come up with a list of the absolute best footjob positions out there – and let me tell you, these bad boys will work for any size and shape. So without further ado, let's get to the list of winners, shall we?
The Classic: This is the most basic and straightforward position for a footjob. Your partner lies on their back with their legs spread, and you are positioned between their legs and use your feet to stroke their shaft up and down.
The Foot Sandwich: This position involves sandwiching your partner's shaft between your feet. Your partner can either lie on their back or sit on the edge of the bed or a chair, and you can adjust the pressure and angle of your feet to find what works best.
The Sole Mate: In this position, your partner lies on their back with their knees drawn up, and you use your soles to rub and massage their shaft. This can be especially erotic if you're both facing each other and making eye contact while you play.
✍️ Lola Lovegood recommends: Don't be afraid to get creative and use your toes and feet in unexpected ways, like gently tapping or massaging your partner's perineum, to add an extra layer of sensation and pleasure to your footjob experience.
Heels, Arch, and Toes, Oh My! Different Footjob Techniques
Oh honey, where do I even begin? You can use many tantalizing techniques to drive your partner absolutely wild with footjob pleasure. I've tried them all – and let me tell you, they're all deliciously naughty in their own way. But if you want some of my personal favorites, here are a few that are sure to knock your partner's socks off (pun intended).
The Stroke: This is the most basic footjob technique, involving using your foot or feet to stroke your partner's shaft up and down. You can use your toes or the arch of your foot to vary the pressure and speed of your strokes. Or you can experiment with different rhythms and patterns to find what feels best for your lover.
The Twist: This technique involves twisting your foot or feet around your partner's shaft while stroking. You can either use both feet together or alternate between your left and right foot, twisting in opposite directions to create different sensations around your partner's shaft.
The Squeeze: This technique involves squeezing your foot or feet tightly around your partner's shaft, providing a sense of tightness and pressure. You can adjust the pressure and duration of your squeeze to find what feels best for your partner.
The Sole Job: This option involves using the sole of your foot to massage your partner's shaft. You can use a rolling motion or back-and-forth strokes to provide a different sensation than the traditional stroke technique.
The Heel Job: This technique involves using your heel to provide a different type of pressure and sensation. You can use a back-and-forth or circular motion to stimulate the base of your partner's shaft.
The Toe Job: For some added kinkiness, try using your toes instead of your whole foot to stroke your partner's shaft. This can take a bit of practice to get right, but it can be an extremely erotic and sensual way to play.
💡 PRO TIP: Experiment with different types of lube to enhance the sensation and glide of your footjob.
But Wait, What About the Ladies?
Ah, the age-old question: can you please a woman using your feet? The answer is a resounding yes – but it takes some skill and creativity to get it right. For example, try using your toes to massage her clitoris or use your feet to stroke her inner thighs and labia. You can also try probing her vagina or anus using your (perfectly clipped and clean) big toe.
Feet, Don't Fail Me Now: Mastering the Art of Footplay
Well, there you have it – my very own guide on how to give a footjob. Whether you're a foot fetishist or just looking to spice up your sex life, these tips and techniques are sure to help you take your footplay game to the next level. And with the right mindset and a little bit of practice, you can become a true footjob master. So get out there, put your best foot forward, and get ready to blow your partner's mind.
FAQs
You don't have to have a foot fetish to get a kick (or should I say, a stroke) out of a footjob! Anyone willing to experiment and explore new levels of pleasure can enjoy the toe-curling sensations of this naughty experience.
Well, darling, if you've got the flexibility and the desire, there's no reason you can't give yourself a toe-curling good time with a little bit of self-footplay!
Honey, as long as you keep everything clean and don't go all "Kill Bill" with your feet, footplay is a low-risk way to spice up your sex life.