❯
Sex Ed
Apr/19/2023
383
8 min read
Money Can't Buy Happiness? Honey, Wait Till You See These Luxurious Sex Toys!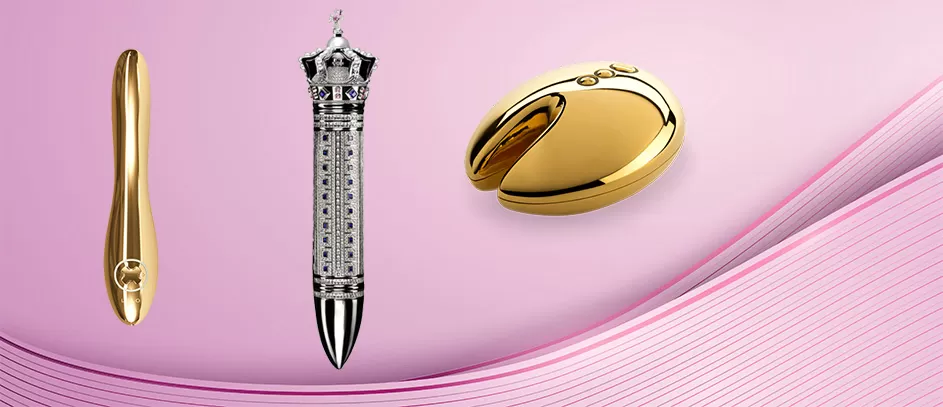 Hey there, my filthy-rich fucklovers! It's your insatiable Queen of the Sluts, Lola Lovegood, back again with another tantalizing tale of carnal delights. Now, we all know that money can't buy you love, but darling, it sure as hell can buy you some mind-blowing orgasms!
So, if you've got cash to splash and you're ready to invest in your pleasure, I'm here to give you the ultimate guide to the crème de la crème of expensive sex toys. We're talking top-of-the-line, deluxe, and oh-so-tempting toys that'll make you feel like royalty (and yes, that means more than just wearing a crown on your head).
So, let's dive into the fabulous realm of luxurious sex toys and embrace our inner opulence!
Diamonds Are a Slut's Best Friend: Climaxing in Style with Bejeweled Beauties
Darlings, it's time to indulge your glitzy side as we enter the world of gold, diamonds, and all that shimmers. If you've ever dreamed of getting down and dirty in a bedazzled paradise, this is where you'll find your shining stars. So, grab your sunglasses, my lovelies, because we're about to blind you with the glamorous glitz of the most fabulous toys to tickle your fancy.
"These luxury sex toys are more than just pretty playthings; they're the pièce de résistance of any pleasure chest."
1. The Pearl Royale: $1.3 million
Prepare to have your minds blown and your wallets emptied as I introduce you to the king of luxurious sex toys – the Pearl Royale. Believe it or not, this jaw-dropping, heart-stopping, and panty-melting masterpiece is the world's most expensive toy!
Forget about pearls around your neck, sweeties; with this stunner, you'll be wearing them in a much more intimate location. Handcrafted with 18-karat gold, 2,000 diamonds, and a pearl fit for a queen, the Pearl Royale is the ultimate symbol of extravagance, pleasure, and power.
2. Victor Phantasm Dildo: $59,000
If you're in the mood for some high-end seduction that'll have you saying "Yes!" in more ways than one, the Victor Phantasm dildo is your ticket to paradise.
Picture this: your lover surprises you with a new dildo, offering to tease and please you with it. You give in to the pleasure, and after experiencing the fanciest orgasm of your life, they pull the dildo apart, only to reveal an engagement ring! Now, that's what I call a proposal to remember!
Priced at a whopping $59,000, this white gold wonder is custom-made in Paris, and its true creator remains a mystery. It delivers not just toe-curling pleasure but also a sparkling diamond ring for that NSFW proposal of your dreams. As elusive as it is exclusive, the Victor Phantasm dildo is often sold out on luxury toy sites, proving there's quite the demand for unconventional proposals with a naughty twist.
3. Lelo Inez G Spot Vibrator: $15,000
My oh-so-indulgent beauties, are you ready to meet the diva of expensive sex toys? Say hello to the Lelo Inez, the ultimate luxurious, orgasm-inducing delight. This sexy beast is perfect for those who understand you can't put a price on a mind-blowing climax (or two, or three…).
Now, let me tell you, the Lelo Inez is not just a fancy-schmancy toy to show off on your nightstand; it's a masterful pleasure tool that'll have you purring like a pampered kitten. Its seductive curves and silky-smooth surface are designed to glide all over your body, tickling your most sinful spots with the naughtiest of intentions.
From Silicon Valley to Silicone Pleasures: The High-Tech Toys That'll Upgrade Your Orgasms
Alright, my tech-savvy temptresses and gadget-obsessed gents, it's time to turn up the heat and plug into a world where luxury meets technology. In this dazzling digital age, luxurious sex toys have evolved to cater to our insatiable desire for cutting-edge pleasure. So, buckle up and get ready to have your circuits blown as we venture into the realm of high-tech titillation with a posh twist.
1. Cowgirl Sex Machine: $1,500
Hold onto your hats, my frisky cowboys and cowgirls, because I've got one of the luxury sex toys that'll have you shouting "Yeehaw!" at the top of your lungs. Introducing the Cowgirl Sex Machine, a high-end pleasure contraption perfect for those who aren't afraid to saddle up and ride into the sunset of ecstasy. Priced at a cool $1,500, this wild stallion of a toy is certainly not for the faint of heart or wallet. But trust me, darlings, it's worth every last penny.
With a smartphone or corded remote control, you'll have the reins to your pleasure journey. You can also choose from a variety of tantalizing attachments like the textured silicone "rawhide" for some delightful grinding or the "wild west" attachment, complete with a dildo for that extra oomph of internal stimulation.
2. MysteryVibe Tenuto 2: $249
Gentlemen, it's time to dress up your manhood with a lavish accessory that'll have you and your partner singing praises to the pleasure gods. MysteryVibe Tenuto 2 Vibrating Penis Ring is a Rolls-Royce of cock rings and one of the most luxurious sex toys on the market. This exquisite little gem is designed to stretch and adapt around your penis and perineum, boosting blood flow, extending erections, and delivering a symphony of prolonged pleasure that'll have you hitting all the high notes.
💡 PRO TIP: This masterpiece is not just about spoiling the gents. With three front motors, the Tenuto is also on a mission to stimulate your partner's labia and clitoris, turning your love rod into a vibrating wonder wand. Boasting six strategically positioned motors, the Tenuto's tantalizing vibrations will travel through the penis, creating an orchestra of orgasms for both you and your lucky partner.
3. MysteryVibe Crescendo 2: $229
Get ready, my sultry sleuths, to uncover the secret world of pleasure with the enigmatic and oh-so-divine MysteryVibe Crescendo 2, one of the most expensive sex toys that'll take you on a wild ride of sensual discovery. This brilliantly engineered wonder is as versatile as your most devilish fantasies, bending and twisting to fulfill your every desire, creating a tailor-made experience for men, women, and couples alike.
The MysteryVibe Crescendo 2 is packed with seductive features like six motors to shake, rattle, and roll you into ecstasy, 16 whisper-quiet power settings, and 12 delectable vibration patterns. With a generous two-hour battery life, this bendy beauty is ready to get wet and wild. The price tag might make you gasp, but with all these tempting features and versatility, this gadget is a pleasure investment that'll keep you coming… and coming… and coming.
✍️ Lola Lovegood recommends: Mr. Crescendo also comes with a free app that doubles as a remote control, so you can command your vibes from up to 100 feet away - perfect for some frisky fun with a partner or even a little public play.
Glamour and Guilty Pleasures: Luxe Sexcessories for the Discerning Deviant
Ready to strut your sexy stuff down the pleasure catwalk, my kinky couturiers? Welcome to the world of designer delights, where fashion-forward freaks indulge in luxury sex toys. These stylish pieces blend sensuality with sophistication, turning your erotic escapades into a swanky, sultry affair that'll leave you feeling like a million bucks.
1. Tally Ho Chair: $14,598
Tally Ho Chair is the epitome of lavish indulgence among luxurious sex toys. This stunning piece of erotic artistry is designed by none other than Mark Brazier Jones, the visionary creator of sensual furniture. As part of his exclusive Flashman Collection, the Tally Ho Chair has graced the naughty corners of A-listers like Slash from Guns and Roses and the ever-so-prim Gwyneth Paltrow. And let's not forget its sultry cameo in the infamous Red Room from 50 Shades of Grey. (wink)
This sculptural chair is adorned in sumptuous tan leather, complete with leather reins, straps, and steel stirrups – all cradled within a gilt wrought iron frame that's as much a work of art as it is a sexcessory.
2. Kiki Handcuff Wristlets: $250
Indulge your naughty inner side with Kiki Handcuff Wristlets, the toy for those who crave a taste of the finer things in life. In fact, these 14K gold handcuffs are so incredibly posh and popular that they've sold out on almost all websites!
The gold-plated hardware, smooth suede lining, and easy-to-use clasp make them not only stylish but also practical for all your naughty shenanigans. And let's be honest, darlings, there's nothing sexier than a little bling during a steamy session! After all, who wouldn't want to swap those cliché fuzzy handcuffs for an elegant, glittering alternative when venturing into the world of bondage?
3. Classic Eternity Collar: $235
Darlings, here's a piece of jewelry that is so sexy it'll make your submissive side purr with delight. Say hello to the Original Eternity Collar, the embodiment of luxury sex toys for those who desire to wear their submission with pride and style. Made with high-quality titanium, this collar is as elegant as it is strong, making it the perfect symbol of devotion for any kinky vixen.
But wait, it gets better! The gold finish on these collars is so luscious it'll make you look like a million bucks. Whether you're a domme or a sub, these collars are sure to add a touch of elegance to your BDSM play.
Ready to Make Your Wallet Moan?
From the Pearl Royale to the Tally Ho chair, there's no denying these high-end pleasure tools will have your bank account begging for mercy but your body screaming for more!
Now, I know what you're thinking, "But Lola, these luxurious sex toys cost a fortune!". Well, darling, when it comes to your pleasure, it's not about the price tag but the quality of your orgasm. It's like the difference between sipping champagne out of a plastic cup versus a crystal flute – both will get the job done, but one is infinitely more satisfying.
So, why settle for mediocre toys when you can have the crème de la crème of pleasure products? As for me, you know I'll be upgrading my pleasure crate to a full-blown sex dungeon with these tantalizing options.
Until next time, my favorite lovelies, lots of love from Lola!
FAQs
Oh, honey, if you're asking me that, then you haven't experienced the sheer pleasure of indulging in high-end toys. Not only do luxurious sex toys provide next-level orgasms, but they also add a touch of class to your pleasure routine. So, yes, darling, luxury sex toys are definitely worth the investment.
When cleaning and maintaining your luxurious sex toys, you don't want to cut corners, honey. So, always follow the manufacturer's instructions when cleaning and storing your toys. Also, invest in some toy cleaner and a good storage bag, and your luxury sex toys will last you a lifetime.
Darling, the best way to figure out which luxurious sex toy is right for you is by experimenting with its cheaper counterparts! Try different styles, shapes, and textures until you find the one that ignites your passion, and then invest in a luxe model.