❯
Sex Ed
Apr/21/2023
368
8 min read
The Long and Hard History of the Dildo: A Thrust Down Memory Lane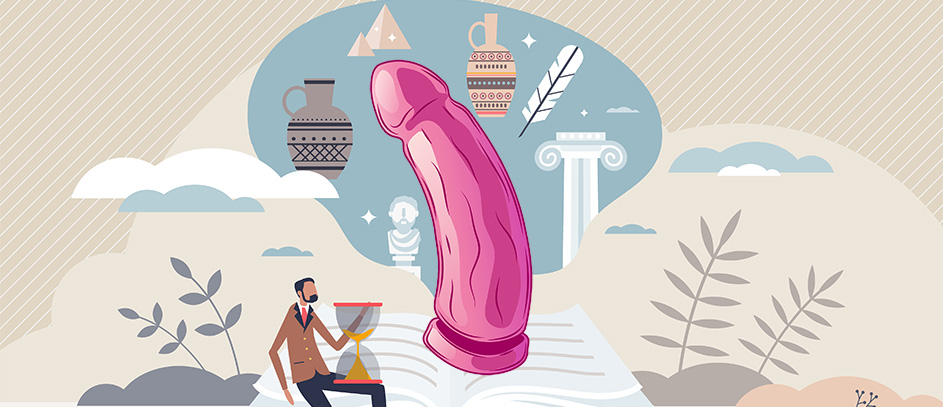 Hey there, my pleasure-seeking pals! It's your favorite sexpert, Lola Lovegood, back with another juicy tale to tantalize your naughty minds. Today, we're going on a wild ride through the history of the dildo, and trust me, it's going to be a stimulating journey.
You might be wondering why we should care about the evolution of the dildo, but let me tell you, it's not just for history buffs or those with a kink for antiques. This epic story is chock-full of steamy tales, bizarre twists, and, of course, some seriously inventive pleasure tools. Plus, who wouldn't want to know the origin story of our beloved bedroom buddies?
So, lube up because we're in for a phallic blast from the past. (wink)
Rock My World: Dildo's Stone Age Beginnings
Alright, my horny historians, it's time to rewind the clock and venture back to the dawn of pleasure. The history of the dildo starts way back in the Stone Age when our frisky ancestors got creative with what they had at hand. Talk about resourceful!
"From the rock-hard beginnings to the sleek and sexy silicone masterpieces of today, you're in for a treat as we uncover the ins and outs of these pleasure powerhouses."
Stiff Sticks and Bone-rs
Before we had silky-smooth silicone, our prehistoric pals had to make do with what Mother Nature provided. That's right; we're talking stone, wood, and bone dicks from 30,000 years ago, baby! Can you imagine the splinters? (shudders)
Thankfully, these early dildo enthusiasts knew how to sand and polish their pleasure tools to perfection. And while these primitive sex toys might not have been as soft or flexible as our modern-day marvels, they certainly got the job done. The history of dildos is nothing if not inventive, darling!
Healing Vibrations: The Many Uses of Prehistoric Pleasure Tools
Now, you might be thinking these ancient dildos were just for some good ol' fashioned self-love. But hold onto your loincloths, darlings, because these primordial playthings were packing a whole lot more between their, ahem, stones. For starters, these bad boys were seen as symbols of fertility and power, often making a grand entrance in rituals and ceremonies.
But the real climax of this historical tale is that these early dildos were believed to have some serious healing mojo. That's right, my time-traveling temptresses, our ancestors, were convinced that a lusty liaison with a stone, wood, or bone buddy could cure everything from a pounding headache to a case of the caveperson blues. Now that's a rock-solid remedy I could get behind!
A Trip Around the World: Getting Steamy in Ancient Civilizations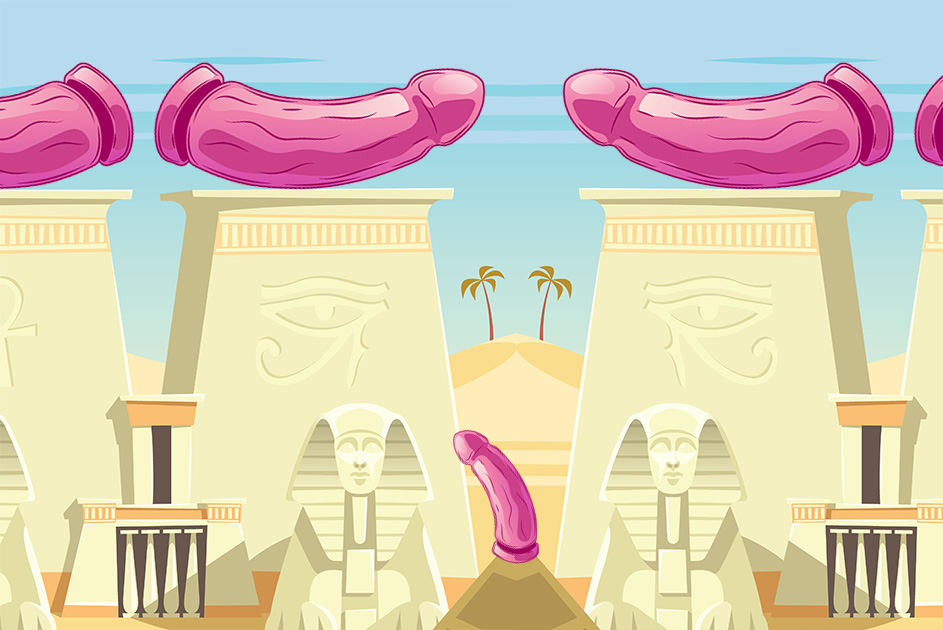 Let's leave the Stone Age behind and embark on a whirlwind tour through the steamy annals of dildo history, exploring the evolution of the dildo as it spread far and wide.
Greek Goodies: Olisbos and the Ooh-la-la of Dildo Delight
Fasten your togas, my babes, because our first stop on this lusty journey is ancient Greece, where the history of dildos takes a sophisticated yet oh-so-naughty turn. The Greeks, ever the innovators, introduced a little gem called the olisbokollix – a dildo-shaped breadstick used before 5 BC. These pleasure sticks were generously slathered with olive oil for some truly Mediterranean moans.
Our cheeky friends later dubbed their favorite bedroom playmate olisbos. They experimented with different materials like leather and wood to enjoy their fair share of phallic fun. And here's a spicy tidbit: the olisbos even made a cameo in some sizzling Greek plays.
Pharaohs and Phalluses: Egyptian Ecstasy
Next up, we're cruising down the Nile to the land of pyramids and sphinxes to check out the ancient Egyptians' sultry take on dildos. These sexy scholars worshipped the power of the phallus, considering it a symbol of life and fertility. And honey, they knew how to put those symbols to good use. We're talking gold-plated dildos and bejeweled pleasure sticks fit for a queen – or a pharaoh!
Eastern Eroticism: Asian Inspirations
Our final stop on this orgasmic odyssey is ancient Asia, where the art of eroticism took the evolution of the dildo to new, tantalizing heights. With a focus on craftsmanship and beauty, these ancient artisans sculpted breathtakingly intricate dildos from materials like jade, bronze, and even ivory. And let's not forget the titillating texts that celebrated the joys of dildo use – from the Indian Kama Sutra to the Japanese Shunga scrolls.
💡 PRO TIP: Embrace your inner history buff and get experimental with your pleasure! Try out a variety of dildos inspired by different eras to find your ultimate sexy sidekick. After all, who says learning about the history of the dildo can't be orgasmic?
Middle Ages: Dildos in Disguise
Take out your chastity belts, my beautiful deviants, because we're time-traveling to the Middle Ages, a period when the history of the dildo took a secretive twist. Oh, the drama!
Heavenly No-Nos: The Church's Not-So-Subtle Stance on Sex Toys
During these dark times, the Church wasn't exactly a fan of our beloved pleasure buddies. In fact, they considered dildos nothing short of scandalous, casting a rather judgmental eye on our frisky fun. But as we all know, forbidden fruit is often the sweetest, and the history of dildos proves that nothing could dampen human lust for a little solo satisfaction.
The Discreet Use of Dildos
Despite the Church's best efforts to dampen our desires, our medieval ancestors managed to keep the pleasure train rolling – albeit on the down-low. Cleverly crafted dildos from materials like glass, ivory, and even leather found their way into the boudoirs of sneaky ladies and gentlemen alike. After all, when the going gets tough, the tough get creative. (wink)
The Renaissance of the Rampant Rabbit
Fasten your bodices, my dearest pleasure-seekers, as we whisk ourselves away to the Renaissance and peak behind a velvet curtain of the history of the dildo to find a deliciously daring and transformative turn of events.
Enlightenment and the Dawn of a New Dildo Era
With the advent of the Renaissance came a wave of sexy enlightenment and, with it, a fresh perspective on our beloved fake cocks. With a focus on progress and some truly naughty innovation, our favorite playthings began to take on new shapes, sizes, and materials that would make even Da Vinci blush. The modern dildo was born, and the pleasure possibilities became endless.
The Industrial Revolution: Powering Up Pleasure
Oh, my lusty lovelies, now we journey to the era where our favorite buzzing buddies made their grand entrance. The history of the dildo is about to get electrifying!
The First Vibrators: A Scandalous Origin Story
Would you believe that the first vibrators had a rather, ahem, "therapeutic" purpose? That's right, darlings, these buzzing beauties were initially designed as a treatment for "hysteria" in women.
But it gets even more shocking, babes! The first vibrator was actually invented to save doctors' poor, tired hands – from, you know, massaging the hysteria out of women. Picture this: a massive, vibrating table that women would sit on, which made quite a buzz from France to the US. But, in the late 19th century, the ever-so-clever Dr. Joseph Granville made this pleasure machine portable. Lovingly nicknamed Granville's Hammer, this bad boy was marketed as a "home appliance" to relieve aches, soothe pains, and even enhance beauty.
The 20th Century: Dildos Ditch the Taboo and Hit the Mainstream
As the sexual revolution dawned, dildos kicked down the door and strutted into the spotlight. No longer a taboo topic, our beloved joy sticks became symbols of female empowerment and ecstasy for all. The history of dildos was forever changed, and our bedrooms have been buzzing positively ever since!
The Dildo's Hollywood Debut: Sex Toys in Tantalizing Tinseltown
In the 20th century, dildos took on a glamorous new role: Hollywood starlets! From sizzling movies to salacious TV shows, the once-taboo sex toy sashayed its way into popular culture. And let me tell you, darlings, there's nothing quite like seeing your favorite plaything steal the scene on the big screen. (wink)
The Future of Dildos: 3D Printing and Daring Dreams
Hold onto your knickers, my dearest friends, as we rocket into the future of dildos. With cutting-edge tech by our side, the history of dildos is about to take a jaw-dropping leap into uncharted territory!
Tailor-Made Temptations: The Rise of Customizable Sex Toys
Why settle for off-the-shelf when you can create your dream dildo? The future is all about customization, and 3D printing is leading the charge. Soon, we'll be able to design our perfect pleasure sticks tailored to satisfy our every whim and desire.
Tech-Infused Titillation: Smart Dildos and the Internet of Things
As technology continues to advance, our bedroom playmates are getting smarter and more connected. From remote-controlled thrills to data-driven orgasms, the future of dildos is all about giving us more control over our pleasure. Get ready to ride the wave of the next sultry sexual revolution, my darlings!
✍️ Lola Lovegood recommends: Want to dive deeper into the salacious history of the dildo? Check out this hot book for more steamy facts and figures. And hey, while you're at it, why not treat yourself to a new toy? After all, the best way to learn is by doing, darling.
The Timeless Allure of the Dildo
As we climax at the end of our wild ride through the history of the dildo, it's clear that our love affair with this orgasmic wonder is far from fizzling out. The dildo has come a long, hard way, and its impact on our lives is simply irresistible.
So, let's take the lessons we've learned and use them to craft a sexier, more satisfying world of tomorrow. Here's to the future of dildos – may they continue to bring unending joy and ecstasy to our lives! (wink)
FAQs
Oh, this is a juicy tidbit: In the swinging '60s, the US ventriloquist Ted Marche discovered that the rubber material he used for his dolls could serve a naughtier purpose. Yes, my darlings, in this kinky new venture, he made dildos that ranged from a teasing five to a mouth-watering nine inches length, kickstarting the toy market we know today.
Back in the groovy '60s and '70s, dildos were often made of materials that could be a bit, well, irritating or rubber that couldn't quite stand the heat of passion. But then, Gosnell Duncan, a guy on a mission to find a solution for his erection woes, reached out to General Electric, who happened to be dabbling in silicone at the time. They spent nine steamy months perfecting a formula safe for human insertion.
Japanese company Hitachi originally released it as a "back massager", but let's be real – the focus quickly shifted lower. (wink) The sex-positive movement of the late '60s embraced this buzzing beauty, giving it all the glory in the world. Thank you, Hitachi, for putting a spell on us all!