❯
Sex Ed
Apr/17/2023
530
8 min read
Kinks Unzipped: A Wicked Journey Through the World of Most Common Fetishes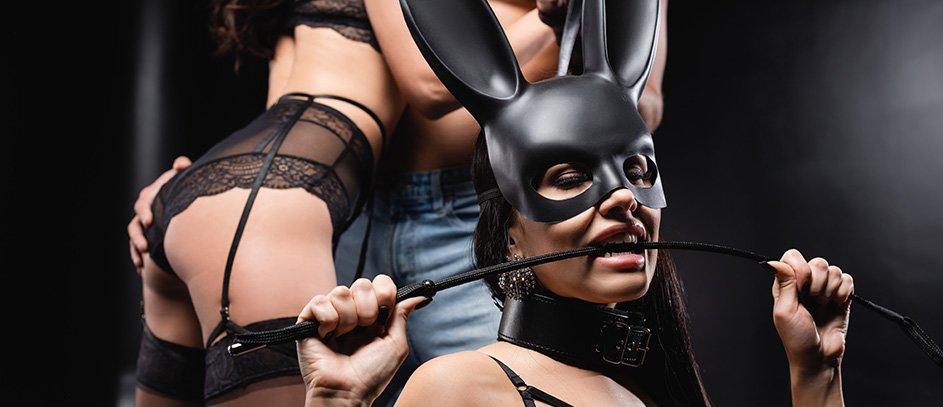 Hello, my devilishly delightful darlings! Your favorite Queen is back to stir up some scandalously sexy shenanigans. Today, we'll take a deep dive (and I mean deep) into the steamy, sultry, and downright salacious world of sexual kinks. Whether you're an innocent bystander, a curious cat, or a bonafide horn dog, prepare to have your mind blown and your desires ignited!
But let's get down to the real nitty-gritty – the kind that tickles your fancy and sends shivers down your spine. Navigating through the extensive list of fetishes is not only key to a truly satisfying sex life, but it's also a wickedly fun way to get up close and personal with your innermost cravings. Take it from me, my lusty lovelies; nothing compares to the thrill of unearthing a new kink that sets your pulse racing and your nether regions a-quivering.
So, fasten your seatbelts (or better yet, your handcuffs), my mischievous mates, as we embark on a racy romp through the wickedly enticing world of sexual fetishes. Together, we'll tease out the tantalizing secrets to unleashing your inner vixen and indulging in your naughtiest fantasies.
The ABCs of Kinks: Get Ready to Be Schooled
Alright, my mischievous pupils, it's time for a little lesson in lust! Kinks and fetishes might be in the same saucy family, but they're not identical twins. Sexual kinks are those delightful quirks and preferences that turn you on like a well-oiled vibrator. They add some extra spice to your playtime, making your romps in the sheets even more mind-blowing.
Fetishes, on the other hand, are like the cherry on top of your sundae of desire – they're specific objects, body parts, or scenarios that are essential to your sexual satisfaction.
"Picture it like this: if your kinks are the delicious appetizers, your fetishes are the main course that leaves you craving more."
The Golden Rules of Kinky Play: Safe, Sane, and Consensual
Now, my darlings, it's time to talk about the three sacred commandments of exploring the most common kinks: consent, communication, and safety. Remember, my loves, our aim is to tantalize, tease, and titillate, not to hurt or harm.
Consent – The Sexiest Word in the Kink Dictionary: Consent is an absolute must when diving into the depths of desire. It's the green light that lets you know you're on the right track, giving you the all-clear to get down and dirty with confidence.
Communication – Pillow Talk Your Way to Kinky Bliss: Keep those lines of communication open and honest, my lusty linguists! Discuss your boundaries, desires, and limits to ensure everyone involved feels safe, respected, and ready to rock each other's worlds.
Safety First Naughty – Doesn't Mean Negligent: Lastly, but most importantly, never forget the importance of playing safe. This means having a safe word, checking in with each other regularly, and knowing when to stop if things get too intense. After all, the best kind of kinky fun is the kind that leaves everyone panting for more, not nursing injuries or hurt feelings.
Let's Get Kinky: Most Common Kinks and How to Explore Them
1. BDSM: Unleashing Your Inner Dominatrix or Submissive Soul
Time to crack the whip, my fellow kinksters! BDSM, one of the most notorious and versatile sexual fetishes, offers a mouthwatering mix of Bondage, Discipline, Sadism and Masochism. Whether you're craving control or longing to let go, there's a wickedly delightful treat for every taste. Venture into the world of restraints, impact play, or devilishly daring power dynamics.
2. Roleplay: Letting Your Fantasies Run Wild
Attention, all dreamers and drama kings and queens – the stage is set for your debut! Roleplay, one of the most intoxicating sexual kinks, allows your fantasies to take flight. Transform into a mischievous nurse, a tempting teacher, or even a sexy secret agent. The possibilities are boundless, and the spotlight is yours to command. Slip into a costume, ignite the scene, and watch the sparks fly as your wildest dreams come to life!
3. Exhibitionism and Voyeurism: A Peek into the World of Risqué Revelry
Feeling audacious, my daring exhibitionists and voracious voyeurs? It's time to delve into the exhilarating world of being seen and observing others do naughty things. This tantalizing gem in the list of sexual kinks pushes boundaries and basks in the excitement of putting on a show or secretly spying on the action. Just remember to keep it legal and consensual, my darlings – we're seeking thrills, not chills!
4. Sensation Play: Tickle, Tease, and Torment to Your Heart's Desire
Eager to awaken your senses, my pleasure-hungry playmates? Sensation play caters to the tingles and shivers that send your body into a frenzy of anticipation. From the tender caress of a feather tickler to the electrifying buzz of a violet wand, a universe of delightful sensory experiences awaits your discovery.
It Takes Two (or More) to Tango: Sexual Kinks for Couples and Groups
1. Swingin' and Swappin': A Dance of Debauchery
Are you ready to ruffle some feathers, my luscious lovebirds? Swinging and swapping are among the most tempting sexual kinks that involve expanding your erotic horizons with other adventurous couples. Picture the steamy scenarios as you intertwine with new playmates and savor a smorgasbord of sensual delights.
💡 PRO TIP: Before actually going through with swinging and partner-swapping playdates, make sure to set the ground rules and communicate openly with your partner - this sultry dance is meant to enhance your bond, not trip you up.
2. Threesomes, Foursomes, and Moresomes: A Romp of Ravishing Revelry
Now, my insatiable social butterflies, let's delve into the wickedly enticing world of group sex – where the motto is "The more, the merrier!". Whether you're dipping your toes into the seductive realm of threesomes or diving headfirst into a full-blown orgy, these lascivious liaisons can be a heady addition to your list of fetishes. Just remember to keep it safe and consensual, and don't forget to relish every delicious lick, spank, and moan that comes your way. (wink)
3. Cuckolding: Tempting Taboo or Erotic Empowerment?
Calling all voyeuristic vixens and humiliated hunks! Cuckolding is a fetish that involves watching your partner get down and dirty with someone else while you enjoy the ride from the sidelines. Relish the erotic tension as it builds, creating an intoxicating blend of desire and jealousy.
Kinky Toys and Accessories: Lola's Favorite Love Chest Essentials
1. Restraints and Blindfolds: Limiting the Senses to Heighten Pleasure
When it comes to sexual fetishes, restraints and blindfolds are a sensual duo that heightens pleasure by limiting the senses. Entice your lover by binding their wrists and ankles with silky ties or cuffs, and turn up the heat with a provocative blindfold. The anticipation will have them quivering with desire and begging for your next move.
2. Impact Play Toys: Spanking, Flogging, and More
Time for a spanking session, my audacious adventurers! Impact play toys are essential for those who relish the most common kinks, like spanking, whipping, and flogging. A teasing swat from a paddle or a sensual stroke of a flogger can fan the flames of passion, guiding you and your partner to uncharted territories of pleasure.
✍️ Lola Lovegood recommends: When playing on the edge of pain, remember to establish a safeword and respect each other's boundaries - after all, we're here to tickle our senses, not leave bruises in our wake!
3. Sensation Toys: Ticklers, Nipple Clamps, and Wartenberg Wheels
Sensation toys, such as feather ticklers, nipple clamps, and Wartenberg wheels, are perfect for those yearning to explore sexual kinks that stimulate every nerve ending. Caress, pinch, and tantalize your lover's body, and witness them writhing in delight as you pamper them with these wickedly enticing instruments of seduction.
4. Electro-Stimulation: Amp Up Your Pleasure with a Shocking Twist
Sweetie, if you're looking to add some extra spark to your fetish play, look no further than electro-stimulation! These electrifying toys offer a thrilling way to experience pleasure, from subtle tingles to shockingly intense jolts. So why settle for the most common fetishes when you can add some electrifying zing to your sex life? Come on, let's get buzzing!
Taboo Territory: Delving into the Deliciously Dark Side of Kinks
1. Age Play and DDlg: Frolicking in the Fantasyland of Innocence and Power
Age play and DDlg (Daddy Dom/little girl) are intriguing sexual fetishes that celebrate the delightful dance of innocence and power dynamics. Whether you're a nurturing caregiver or a mischievous little one, there's something undeniably alluring about exploring the roles that define our childhoods.
2. Pet Play: Unleashing Your Inner Animal
Pet play is a paws-itively delightful entry in the list of fetishes, inviting you to unleash your inner animal and explore the primal side of your sexuality. Slip into a collar, don a tail, or even sport some adorable ears as you navigate the wild world of animal roleplay.
3. Humiliation and Degradation: Teetering on the Tightrope of Titillation
This provocative entry in the list of sexual kinks explores the fine line between pain and pleasure, using embarrassment and submission to fuel desire. It's all about power dynamics, from name-calling and verbal abuse to physical degradation like spitting. But these kinds of sexual fetishes really don't have to get extreme (unless you want them to). It can all boil down to a bit of disgraceful dirty talk, like being (respectfully) called a dirty slut.
The Never-Ending Journey of Sexual Self-Discovery
Well, my ravishing rascals, we've sashayed through a sexy buffet of sizzling sexual fetishes, spelunked the naughtiest nooks and crannies of kink lists, and frolicked with the most provocative pleasures known to the world of sexual kinks. But hold onto your garters, for this is merely the appetizer in your titillating tango with temptation!
As you gallivant through the boundless boudoir of desire, I entreat you to embrace your kinks and fantasies with unbridled zeal and ravenous relish. After all, indulging in your wildest dreams is nothing to blush about as long as you keep it safe, consensual, and sinfully scrumptious.
Alas, my delectable deviants, the time has come for me to bid adieu – but fret not, for your risqué raconteur, Lola Lovegood, will forever be at your beck and call with a sultry whisper, a cheeky prod, or a saucy wink to guide you along your boundless journey of sexual self-discovery.
So, until our paths cross again, keep it steamy and scandalous, my lovelies! (wink)
FAQs
Don't fret, my frisky friend! While it's natural to have different desires, it's crucial to communicate openly and honestly with your partner. Consider introducing them to a few tamer kinks or fetishes and work your way up to the wilder side.
Well, my sultry soulmate, there's always a little bit of risk involved when you're tiptoeing through the tempting terrain of sexual exploration. But fear not, for with a little bit of research, clear communication, and some safety precautions, you can ensure a safe and sexy experience.
Oh, honey, absolutely! It's like a buffet of pleasures – why stick to just one dish when you can have a little bit of everything? Just embrace your inner kinkster and explore all the delicious options available to you.