❯
Sex Ed
Mar/20/2023
599
8 min read
Kinky Chameleon: Unleash Your Wild Side With These 20 Sexy Roleplay Ideas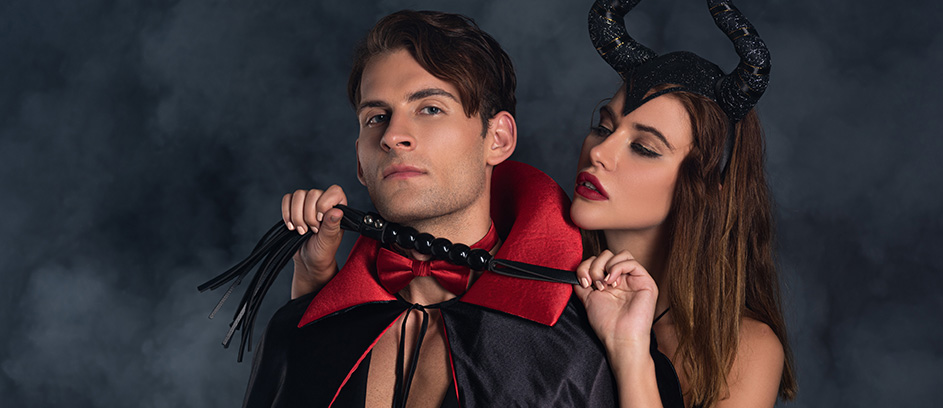 Welcome back, my naughty darlings! Are you ready to turn up the heat in your boudoir and embark on some seriously steamy adventures? Good! Because Lola's here, and today, I'm going to share my top 20 sexual roleplay ideas that'll make you scream (with delight, of course) and bring a whole new meaning to the term "playing pretend".
We're about to dive into a world of lustful fantasies and wickedly wild escapades that'll leave your bedposts shaking and neighbors wondering what the hell is going on next door. From kinky classics to some of my naughtiest personal favorites, these couples' roleplay ideas are guaranteed to make your bedroom feel like a pleasure palace where inhibitions are left at the door, and anything goes!
Let's Get Pretend-Freaky: Mastering the Art of Seductive Pretend-Play
So, you're eager to plunge into the world of sexual roleplay ideas, but you're wondering how the heck it all works? Fear not, my lustful lovelies, because your Queen L is here. I'm gonna guide you through the tantalizing twists and turns of sexy roleplay ideas. So, let's get down to the nitty-gritty, shall we?
Choosing Your Erotic Adventure
First and foremost, you need to pick kinky roleplay ideas that tickle your fancy and send shivers down your spine (and other places, too). From frisky firefighters to seductive secret agents, the possibilities are endless! So, just let your imagination run wild, and remember, the kinkier, the better!
Dress to Impress (and Undress)
Once you've chosen your favorite sexual roleplay ideas, it's time to dress the part. Embrace your inner sexy superhero or sultry schoolteacher by slipping into something that screams, "I'm ready to play"! Trust me, a little bit of costume magic goes a long way in turning up the heat.
💡 PRO TIP: Transform your bedroom into a playground of pleasure by adding a few saucy props and mood lighting. The ambiance is everything when it comes to getting into character and creating an inviting atmosphere.
Talking the Naughty Talk
Be bold, be daring, and don't be afraid to let your naughty thoughts flow freely. Basically, the more you immerse yourself in your character, the hotter and more thrilling your roleplay rendezvous will become.
✍️ Lola Lovegood recommends: Always remember to have a safe word - something that lets your partner know when it is time to hit the brakes and return to reality. After all, even the most adventurous of us need a little safety net, especially when we are diving headfirst into uncharted, sexy territory!
Why Sexy Roleplay Ideas, You Ask?
So, my curious friends, let me tell you why exploring hot roleplay ideas might just be the best thing you ever do for your sex life.
Variety: As the saying goes, "variety is the spice of life", and when it comes to your bedroom shenanigans, it's no different. So, by exploring kinky roleplay ideas, you're giving yourself and your partner a chance to step out of your comfort zones and try on different personas. And that can be incredibly liberating and downright sexy.
Tapping into our deepest, naughtiest fantasies: Talking about sexy roleplay ideas is your golden ticket to bringing your secret desires to life.
The thrill of the chase: Roleplay is like an irresistible game of cat and mouse, with you and your partner weaving in and out of various scenarios, teasing, and flirting until you both reach a fever pitch of passion. And who doesn't love a little game of "catch me if you can"?
Deepening your connection with your partner: By sharing your deepest desires and allowing yourselves to be vulnerable through sexual roleplay ideas, you're fostering a level of intimacy that's hard to achieve any other way.
"There's something so damn sexy about shedding your inhibitions and letting your freak flag fly. So why not take a walk on the wild side and see where it takes you? Who knows, you might just discover a new persona that sets your loins ablaze!"
Ready, Set, Roleplay! Lola's Ultimate List of 20 Sexual Roleplay Ideas
Alright, my pretty darlings, the moment you've been waiting for has finally arrived! It's time to dive into the heart of this steamy post and reveal my top 20 sexual roleplay ideas that are guaranteed to have you gasping, giggling, and moaning in ecstasy. So, get ready to take notes because these wickedly wild scenarios are about to transform your bedroom into a pleasure paradise where no fantasy is too naughty, and no desire is left unfulfilled!
1–10 Hot Roleplay Ideas (Suitable for Beginners)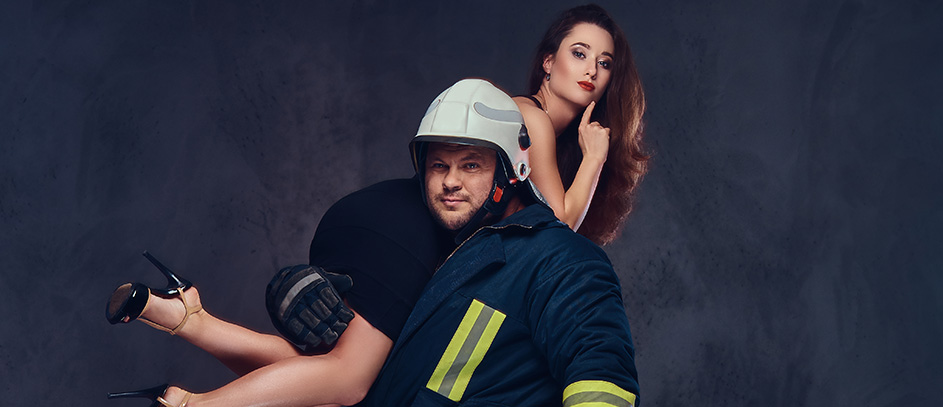 The Ravishing Nurse and Panting Patient: This is one of the classic sexual roleplay ideas. One partner slips into a slutty nurse outfit, administering some "intimate" care. At the same time, the other plays a panting patient eager for a full-body checkup.
Smokin' Hot Firefighter Rescuing a Damsel in Heat: Feel the temperature rise with this sizzling scene. A daring firefighter rescues a pleasure-seeking damsel trapped in a building of unbridled desire.
Strangers and a Night of Uninhibited Passion: This is one of the couples' roleplay ideas that always gets my juices flowing. For instance, you and your partner pretend to be complete strangers meeting at a bar. You flirt shamelessly and eventually sneak off for a steamy rendezvous in a secluded spot. Pssst, someone might be watching you go at it at a crowded bar!
The Dominating Boss and Submissive Secretary: Explore the titillating world of office power plays! One partner takes charge as the dominating boss, and the other becomes a submissive assistant, ready to fulfill their superior's every command.
The Sensuous Masseuse and Moaning Client: One partner plays the role of a skilled masseuse. However, a sensual massage quickly turns into a steamy, hands-on experience for their more-than-willing client.
The Cunning Cat Burglar and Bound-to-Please Homeowner: In this daring roleplay, one partner takes on the role of a seductive cat burglar breaking into the other's home. But they are caught and "punished" with some mutually pleasurable consequences.
The Enticing Photographer and Barely-Clothed Model: This artistic and erotic scenario involves a photographer capturing their model's most intimate and seductive poses, with the shoot gradually becoming more and more explicit.
The Flirty Hotel Maid and Their Very Satisfied Guest: One partner is a slutty hotel maid, providing their guest with some extra-special room service that goes above and beyond the standard turn-down service.
The Passionate Pirate and Lusting-for-Booty Captive: Set sail on a swashbuckling scene, with one partner as the pirate captain, seducing and ravishing their willingly captured and bootylicious prisoner.
The Stern Professor and a Naughty Student: In this enticing campus caper, one partner adopts the role of a no-nonsense college professor, resolved to bring their wayward pupil back in line.
11–20 Kinky Roleplay Ideas (The Following Couples' Roleplay Ideas Have Been Tried and Tested by Scarlet and Richard Themselves)
The Deviant Dungeon Master and Enthralled Submissive: The dungeon master guides their eager submissive through a pleasure-packed playground of delightful torment as well as mind-blowing sensations.
The Irresistible Vampire and Willing Blood Donor: Sink your teeth into this blood-pumping scene! One partner is a seductive vampire, luring their willing blood donor into a night of eternal pleasure with every delicious bite.
The Sensuous Siren and Spellbound Sailor: Dive into this oceanic odyssey, where one partner transforms into a bewitching siren, luring their helpless sailor to the depths of pleasure with their irresistible song and an otherworldly touch.
The Masterful Magician and Enraptured Audience Member: One partner becomes a magician, casting spellbinding tricks on their audience member, making them their personal plaything. But are they doing dirty stuff right in front of the audience? It's up to you to decide!
The Booty-full Bounty Hunter and Captivating Fugitive: In this thrilling chase, a deviously sexy bounty hunter tracks down their beautiful fugitive, promising to capture their heart (and body) in a night of indulgent pleasure they'll never forget.
The Fetish Factory Workers and Their Sinful Creations: Embrace your inner kink in one of my personal favorite sexual roleplay ideas! You and your partner take on the roles of fetish factory workers, creating and testing out wickedly delightful contraptions. In other words, it's time to bring out that crate of kinky toys you've been hiding around!
The Lusty Locksmith and Their Desperate-for-Release Client: One partner becomes a skilled locksmith, using their unique set of skills to unlock every inch of their client's body, teasing and pleasing them until they're begging for release.
The Titillating Porn Stars at Their Steamy Audition: You and your partner become the industry's hottest adult film stars, performing a scalding audition for a new, boundary-pushing project that's sure to leave both the director and the audience begging for more.
The Insatiable Virgin and Their Passionate Mentor: One partner plays the role of an innocent virgin, eager to learn the ways of passion from their experienced and enthusiastic mentor, who's more than happy to provide hands-on instruction in the art of pleasure.
The Alluring Alien and Captivated Earthling: For those who enjoy a touch of sci-fi in their naked time, this scenario involves an alien visitor exploring the human body and its pleasure centers while the earthling becomes utterly captivated by their extraterrestrial lover's unique abilities.
A Climactic Finish to Your Sexual Roleplay Ideas Journey
Well, my insatiable playmates, we've reached the end of our tantalizing tour through the world of sexy roleplay ideas. I hope these scenarios have ignited a blazing fire of desire in your hearts (and other, more interesting parts) and inspired you to unleash your inner deviant.
Remember, when it comes to roleplay, the only limits are your imagination. So, don't be afraid to get creative and put your own kinky spin on these scenarios. Or you can even dream up some original, pulse-pounding fantasies of your own!
Until our next adventure, my lascivious lovelies, stay naughty and let your freak flag fly high. May your bedroom shenanigans be filled with pleasure and passion, as well as a healthy dose of sexual roleplay ideas.
FAQs
Share your fantasies and desires with your partner in a playful manner. You can even try a little naughty negotiation – let them choose a scenario they'd love, and you pick one too. It's a win-win situation with double the pleasure!
Embrace the silliness, my dear! Remember, we're all here to have a wickedly good time. Laughter can be a great aphrodisiac – so let loose, have fun, and don't forget that the bedroom is a judgment-free zone.