❯
Sex Ed
Apr/15/2023
Last Update: April 19, 2023
417
8 min read
From Heartache to Heart-Magnet: How to Heal a Broken Heart & Unleash Your Irresistible Charm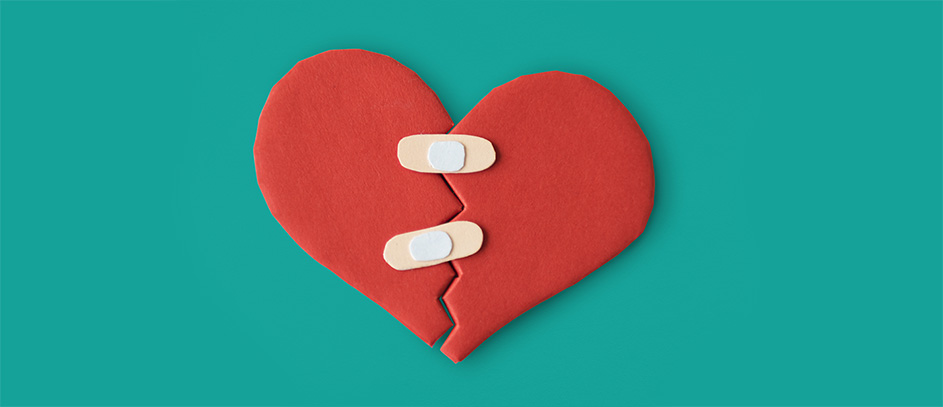 Hey there, you sexy beasts! It's your favorite kinky connoisseur, Lola Lovegood, and today, we're going to dive deep into a topic that's as painful as it is universal – heartbreak. I know, I know, it's not my usual raunchy romp, but trust me, even the Queen of Sluts knows a thing or two about how to heal a broken heart. And let me tell you, dealing with heartbreak doesn't have to be all tears and drowning your sorrow in daiquiris and scotch. Oh no, darlings, there are way more fun ways to mend that broken ticker!
Now, don't get me wrong, your girl Lola has had her fair share of heartaches. I remember one particular stud muffin who managed to slip through my fingers (and other body parts) like a greased-up dildo. But instead of wallowing in my misery, I turned my pain into pleasure, and that's exactly what I'm going to teach you. So buckle up, buttercups, because we're about to take a wild ride on the road to recovery! (wink)
1. Embracing the Heartbreak Hangover: Facing Love's Wild Aftermath
Oh, honey, let's face it – heartbreak is a cruel mistress, but she's a part of life's roller-coaster ride that we all must experience. Admit it, your heart's been bruised, and it hurts like a mother. But acknowledging the pain is the first step to healing. So, don't bottle it up or put on a brave face; let it all out, and give yourself permission to feel the sting.
"Honey, you can't start mending that precious ticker of yours until you're honest with yourself about the damage."
Now, listen up, sugarplum, because this part is essential. Let your emotions run wild! It's okay to feel sad, angry, or even a tad bit bitter. Embrace those emotions because, let's be real – you're only human, and you've just been through an emotional earthquake.
But remember, no one ever got over heartbreak by sobbing into their Häagen-Dazs forever. So, feel those feelings, but know when it's time to start moving forward.
2. Cutting Ties: No Contact Rule and Detaching from Your Ex
Sweetcheeks, the no-contact rule isn't just a trendy fad; it's your ticket to healing heaven. Ignoring your ex for a hot minute (or, you know, a few weeks) lets you focus on numero uno: you! It's like a post-breakup cleanse, flushing out lingering feelings and leaving you refreshed, rejuvenated, and ready to rule the dating scene once more. So, break free from those text chains and late-night calls, and treat yourself to some much-needed me-time.
✍️ Lola Lovegood recommends: We all know social media can be a double-edged sword, so it's time to wield it wisely. Unfollow, mute, or even block your ex if you must. No one needs a constant reminder of their lost love while scrolling through puppy videos and avocado toast recipes. Keep your online world a heartbreak-free zone, and save yourself from relapsing into a pit of misery and FOMO.
3. How to Get Over Heartbreak by Mastering the Art of Sensual Self-Care
When you're tending to a broken heart, sometimes the best medicine is treating yourself to some scorching self-pleasure sessions. So, dim the lights, set the mood, and let your hands work their magic. You might be surprised at just how much your body has been craving that intimate attention.
Discovering New Techniques for Self-Love
Now's the perfect opportunity to try out new erotic techniques on your self-love adventure. Been curious about edging? Give it a spin! Want to experiment with temperature play? Go for it!
The more you explore, the more you'll realize that the world of self-pleasure is an infinite playground of orgasmic potential. So go ahead, my foxy friends, and master the art of sensual self-care. Before you know it, you'll be transforming heartbreak into toe-curling, mind-blowing ecstasy!
4. Self-Care: Pampering Your Mind and Body Like a Pro
Wanna know how to deal with heartbreak? Spoil yourselves rotten and unleash the self-care superstar that's been hiding within. Dive into the delicious world of treating your mind, body, and soul like the royalty they are.
Flex Your Emotional Muscles: Channel Pain into Gains
Take that emotional ouchie and use it to fuel your workout. Channel your heartbreak into pushing yourself to new limits in the gym. Not only will you be sculpting that fine body, but you'll also be flexing your emotional resilience.
Pump Up the Confidence: Boosting Self-Esteem Through Fitness
There's nothing hotter than someone who's confident in their own skin, and working out is a surefire way to boost your self-esteem. As you witness the physical changes and feel the rush of endorphins, you'll realize that learning how to mend a broken heart has never been so exhilarating. So, embrace your newfound strength and confidence, and before long, you'll be ready to strut your stuff, leaving heartbreak in the dust and catching the eye of someone new – and who knows what kind of naughty adventures await?
💡 PRO TIP: Dive into the exciting world of hobbies and interests, my dears! Now's the perfect time to explore new passions, rekindle old flames, or take that pottery class you've always wanted to try. Not only will you keep your mind off your heartache, but you'll also become a more captivating, well-rounded catch for your future romances.
5. Flirty Fun: Rediscovering Your Seductive Charm
Darlings, let me tell you a little secret about how to deal with heartbreak: casual flirting works wonders! When you're feeling down, there's nothing quite like a little flirty fun to remind you just how fabulous you truly are.
Now, I know that learning how to get over heartbreak is no picnic, but polishing up those flirting skills can be a game-changer! Whether you're chatting up a sexy stranger at a bar, sliding into DMs online, or even giving a suggestive glance in the produce aisle, flirting is all about having a blast and flaunting your irresistible charm. So go ahead, toss in a cheeky wink, a teasing compliment, or even a naughty innuendo – the key is to enjoy yourself and let that confidence shine, baby!
Single & Ready to Mingle: Embracing Your Newfound Freedom
Sure, heartbreak can be a real bummer, but there's a silver lining: you're now single and oh-so-ready to mingle! This is your chance to bask in your newfound freedom and conquer the world with unapologetic confidence. So, get out there, meet new people, and practice your flirting skills until they're as sharp as a stiletto heel. Before you know it, you'll be turning heads and leaving a trail of smitten admirers in your wake.
6. How to Mend a Broken Heart by Rallying Your Personal Love Squad
Sweethearts, when you're figuring out how to get over heartbreak, there's one secret weapon you shouldn't overlook: love and support from your nearest and dearest! That's right; it's time to rally your troops and find strength in numbers.
Your friends are the best support system when you're learning how to get over a broken heart. So, immerse yourself in the company of those who truly have your back, and let them hoist your spirits high as you sail through the stormy seas of heartbreak. Trust me, sugar, a little laughter and shared memories are a secret sauce for mending a fractured heart!
7. Reflection: Love Lessons from Your Relationship Chronicles
Here's another secret on how to deal with heartbreak: sometimes, there are valuable gems of wisdom hidden within the rubble of heartache. So, with a dash of wit and a whole lot of introspection, delve into the thrilling mystery of your past relationship.
Was it a case of mismatched desires or perhaps a communication breakdown? Were you too stubborn, too shy, or perhaps a bit too eager to please? No one's perfect, sugar, so embrace your quirks and work on bettering yourself. After all, self-improvement is the sexiest accessory you can flaunt.
8. Upgrade Your Wardrobe and Grooming Game
Darling, they say that when you look good, you feel good, and there's no better way to heal than by giving yourself a fabulous makeover. Therefore, let's take a peek at how to mend a broken heart by upgrading your wardrobe and grooming game.
Revamp Your Style, Reinvent Yourself
Nothing can turn that frown upside down quite like a fresh new look. So, darling, if you want to learn how to get over heartbreak, it's time to unleash your inner style icon. Reinvent yourself with a jaw-dropping wardrobe that'll have admirers tripping over their own feet just to catch a glimpse. Whether you're rocking dapper suits or sizzling skirts, indulge in the fashion that makes you feel like the irresistible hottie you truly are.
The Confidence Facelift: Looking Good Never Felt So Naughty
When you're looking sinfully good on the outside, it's impossible not to feel fabulous on the inside. A fresh haircut, tantalizingly groomed facial hair, or a new perfume that's simply intoxicating can skyrocket your confidence and unleash your inner seducer or temptress. As you watch your reflection transform, you'll discover how to heal a broken heart and re-enter the world with a strut that's nothing short of pure, unadulterated magnetism!
Embracing Your New, Empowered Self
Darling, as you discover how to heal a broken heart, take a moment to appreciate your fabulous journey from a heartbroken mess to a sultry heartbreaker. Look back at how you've conquered heartbreak with a dash of self-love, a sprinkle of newfound confidence, and a generous helping of naughtiness. Remember, it's not just about how to get over heartbreak; it's about embracing your own tantalizing transformation!
Now that you've come this far on your quest to get over heartbreak, don't you dare stop! Keep exploring your desires, pushing your boundaries, and savoring life's many pleasures. The world is your sensual playground, and you're free to frolic, tease, and titillate to your heart's content. The best way to understand how to get over heartbreak, my dear, is to never stop living life to the fullest and relishing every scandalously delightful moment that comes your way.
FAQs
The healing process varies from person to person and depends on factors like the length and intensity of the relationship, emotional investment, and personal resilience. So, give yourself time and patience while exploring different healing strategies – and remember, sometimes, a little naughtiness can go a long way in mending a broken heart.
Healing takes time, darling, and it's crucial to be patient with yourself. If you're still struggling, consider seeking professional help from a therapist or counselor – sometimes, we all need a little extra support to address unresolved feelings and learn how to heal a broken heart.
Signs that you're ready to mingle again include feeling comfortable in your own skin, having a clear understanding of what you want, and being open to meeting new people without constantly comparing them to your ex – because, trust me, there's a whole world of deliciousness out there waiting for you!