❯
Sex Ed
Jul/17/2023
Last Update: July 17, 2023
350
8 min read
Vibrating Away the Menopause Blues: The Secret Power of Sex Toys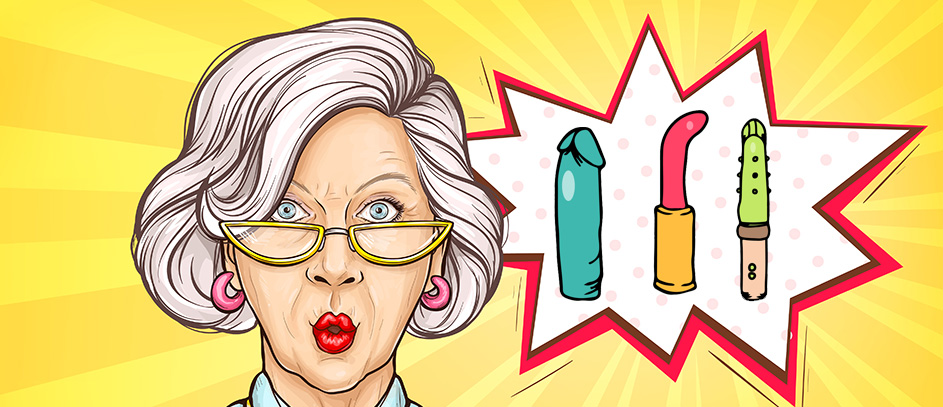 Hey there, hot mamas! Feeling like menopause has set your body on fire? Well, how about we replace those hot flashes with some even hotter fantasies?
I know that you've been wondering: "Can sex toys reduce menopause symptoms? Are these pleasure props not just bedroom buddies, but menopausal messiahs too?". Well, we are about to delve between the sheets and uncover the throbbing truth about the orgasmic relief these sexy saviors can offer.
So grab your fans, ladies! Things are about to get even steamier in here as we ride this wave of pleasure to menopausal relief.
Turn Up the Heat: Are Sex Toys The Menopausal Mavericks We Need?
Ladies, menopause is like that uninvited guest at your party who drinks all the wine and cranks up the heating. But what if I told you that our buzzing buddies could be our secret weapon against these hormonal hijinks? Let's shake up the sheets and see: can sex toys reduce menopause symptoms?
Menopause Symptoms: The Unsexy Gatecrasher in our Pleasure Party
Sex is not just an excuse to whip out the lacy lingerie, darlings. It's like a wonder drug, minus the prescription. It can lift our spirits, melt away stress, and gift us a peaceful night's sleep. And when menopause storms in, these sexy benefits become a godsend.
But before we continue our joyride into the land of sexual liberation, let's take a detour and look at some of the party poopers that menopause brings along. These are the uninvited guests that can seriously put a damper on our sexcapades.
Hot flashes? More like lust coolers! Then there's vaginal dryness – the very opposite of what we want when we're getting frisky. And don't get me started on mood swings – one minute, you're feeling like a seductress, and the next, you'd rather snuggle with a tub of ice cream than your partner.
Let's not forget about the frustrating decline in libido. Just when we've finally mastered the art of the bedroom, our desire decides to take an unscheduled vacation! These symptoms can take a toll on our sexual experiences and desire but fear not, darlings. Our sensual sidekicks, the sex toys, are here to turn the tables.
Can Sex Toys Reduce Menopause Symptoms?
These racy little rebels don't just rocket us to orgasmic peaks. They could be the undercover agents tackling the ickier side of menopause – think vaginal dryness and a hibernating libido. Teasing yourself with toys can trigger natural wetness and flex those pelvic muscles, easing any sexy-time soreness. Plus, the ecstasy of self-exploration can reignite your lusty libido, making you feel more like a sex goddess than a hot flash hostage.
Sex Toys to the Rescue: Your Allies Against Hot Flashes, Mood Swings, and More
Ladies, it's time to arm ourselves in the battle against menopause symptoms. Can sex toys reduce menopause symptoms? Yes! And who better to lead the charge than our trusty vibrators and dildos? These playful partners in pleasure not only guide us to orgasmic bliss but also serve as our sassy sidekicks in the fight against menopausal mischief.
"Menopause may be a roller coaster, darlings, but with the right toys in your pleasure chest, it can feel less like a wild ride and more like a delicious journey of self-discovery and mind-blowing orgasms!"
Vibrators: The Buzzing Busters of Menopausal Meltdown
Vibrators, my loves, are not just your partners for a night of naughty fun. They are also your buzzing bodyguards, ready to leap into action against the onslaught of menopause symptoms.
Wondering, "Can sex toys help with menopausal symptoms?". Well, our vibrators say a loud and proud "Yes!" These tantalizing toys not only amp up your pleasure but also ward off the dreaded dryness, thanks to their ability to boost blood flow and natural lubrication. In short, if you're doubting the benefits of using a vibrator in menopause, let me reassure you – they're an absolute blessing.
Dildos: The Silent Knights in Shining Silicone
While vibrators steal the limelight, dildos – the silent knights in shining silicone – hold their ground. Without the buzz, they still offer potent relief in your menopausal journey.
Their secret lies in consistency – regular rendezvous with these toys can keep your love cave's walls flexible and responsive. So even when menopause tries to rain on your parade with its dryness and elasticity loss, your trusty dildo is there to fight off the blues. Not to mention, they can help kick your libido back into high gear.
So, can sex toys help with menopausal symptoms? Dildos are standing proof of confirmation!
Kegel Balls: The Secret Agents in Your Pleasure Trove
Let's dive into the world of Kegel balls, the unassuming secret agents in your pleasure trove. These little wonders are all about strength – your pelvic strength, that is.
Regular use can amplify your pelvic power, taking your orgasms to new heights and potentially helping reduce lubrication issues. So, when the question pops up – can sex toys help with menopausal symptoms – remember the humble kegel balls. These tiny powerhouses might be inconspicuous, but their impact on your sexual health and pleasure is anything but small.
✍️ Lola Lovegood recommends: I want to take a moment to introduce you to some of my favorite co-conspirators in battling the menopause blues. First up, the Lelo Sila - it's a sonic clitoral massager that doesn't just tease but pleases your lady button like no other. Its deep sonic waves offer an intense, orgasmic release that can give that nasty low libido a run for its money. Then, let's not forget Elvie Pelvic Floor Trainer. This kegel exerciser is more than just a pelvic workout. It offers tactile feedback, enhancing your orgasms while keeping those vaginal walls strong and sexy.
Fitting in Pleasure: The Art of Balancing Menopause and Masturbation
Incorporating sex toys into your routine is a delightful voyage that starts with unabashed self-love. Especially when you're wrestling with menopause, recognizing your changing body's needs is a dance of desire that you must master. So, listen to your body's whispers (and sometimes screams) of pleasure.
Can sex toys reduce menopause symptoms? Sure! But honey, they can turn your bedroom into an exciting playground too.
Pleasure Pioneering: Venturing into the Galaxy of Goodies
Ready to take the plunge into the luscious lagoon of sex toys? Brace yourself, darling, for a world of pleasure awaits.
With an arsenal ranging from buzzy vibrators and delightful dildos to powerful kegel balls, there's a tantalizing toy for every naughty need and desire. Remember, though, this isn't a race. Relish the benefits of using a vibrator in menopause, but also let your body dance with other rhythm-makers.
Regular Romps: Consistency Is the Culprit of Pleasure
Adopting a pleasure habit is all about consistency, sweetheart. Carve out some precious time for self-exploration and playful pleasure. Before you know it, you'll discover that not only can sex toys help with menopausal symptoms, but they can also paint your sex life with vibrant colors of satisfaction.
Safety, Sugar: Cruising Safely in the Sea of Sensuality
While surfing the waves of pleasure, it's crucial to anchor yourself in safety. Always treat your toys to a good bath before and after your dates and pair them with a luxurious lube, especially if menopause is playing the dryness drama.
And remember, sweetheart, pleasure isn't a puzzle to be solved. There's no 'right' or 'wrong' way to navigate the sea of sensuality. As long as you're riding the waves of ecstasy without a pinch of discomfort, you're sailing just fine.
💡 PRO TIP: Alright, my pleasure-seeking friends, here's a hot Lola Pro Tip - don't underestimate the power of lubes during your self-love sessions. Menopause can bring along its annoying sidekick, vaginal dryness, but good-quality lube can make things glide like a dream. Go for water or silicone-based lubes, as they're generally safe with most toys and provide long-lasting slickness. Remember, more lube equals more pleasure, and in the words of yours truly, the more, the merrier!
Open Up, Honey: How to Talk to Your Partner About Including Sex Toys Into Your Bedroom Play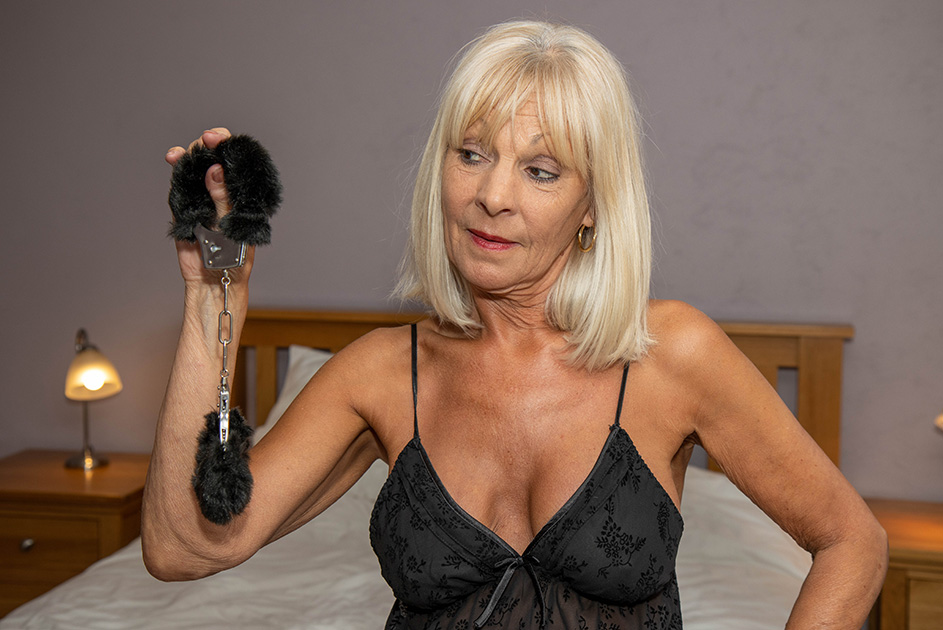 Ladies, menopause might be the rollercoaster ride we didn't ask for, but guess what? It's easier if you bring your partner on board. It's time to chat about your changing desires and how you think sex toys can put the 'hot' back into your hot flashes. Because, sweetheart, not only can sex toys reduce menopause symptoms, but they can also bring some serious zing back into the bedroom.
Unzip Your Feelings, Unleash the Toy
Don't let menopause turn you into a silent participant. Spell out your needs loud and clear, and if you believe sex toys can help with menopausal symptoms, don't be shy. Share the fun, and remember, two can play this game!
Embracing Your Inner Queen Slut: Triumphing Over Menopause
In the grand finale of our saucy little chat, I'd like you to remember, my sexy warriors, menopause is not the end. It's a new beginning, a chance to dive deeper into the seductive sea of your sensuality. The key is to toss fear overboard and embrace the thrilling thrills.
Can sex toys reduce menopause symptoms? Hell yeah! But they also unlock secret doors to pleasure islands you never knew existed. So, come on, don't be shy, explore!
From buzzilicious vibrators to powerhouse kegel balls, each toy is a potential superhero for us menopausal mavens. The benefits of using a vibrator in menopause, along with other sizzling toys, are as numerous as the stars. Physical relief, emotional solace, you name it!
And finally, remember, this sensual journey is all about you, sweetheart. The ultimate goal is discovering what makes you tingle with delight and embracing your inner Queen Slut. Because, darling, you're not just worth it – you're fabulous!
FAQs
Absolutely, my pleasure-seeking darlings! Sex toys can offer relief from some symptoms, like vaginal dryness and decreased libido. And not to mention, orgasms release feel-good chemicals like oxytocin and endorphins that can help manage stress and even reduce pain.
There's a whole smorgasbord of fun out there! For example, vibrators can stimulate blood flow and lubrication in the vaginal area, and Kegel exercisers can help with strengthening pelvic muscles, which can alleviate some of the physical symptoms of menopause.
Yes, darling, it's perfectly safe! Just remember to clean your toys properly before and after use, and don't forget the lube to help combat vaginal dryness that can come with menopause. Remember, your comfort and pleasure go hand in hand.
There's no hard and fast rule here, darlings. Your pleasure journey is unique to you. Some may find daily use beneficial, while others might prefer a few times a week. The most important thing is to listen to your body and do what feels best for you.