❯
Sex Ed
Jul/28/2023
Last Update: July 31, 2023
396
8 min read
Busting Wide Open: 5 Ladygasm Myths That Need a Good Spanking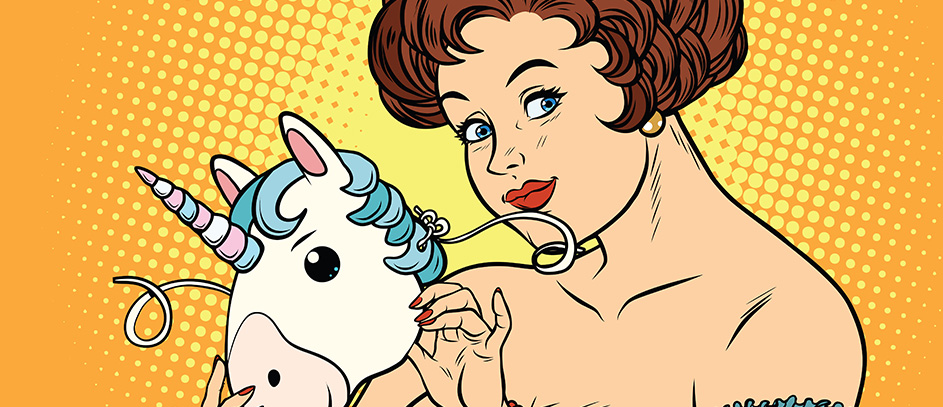 Ready for a thrill ride, my loveable deviants? Your queen of all things steamy, Lola, is here to whip some sense into those stubbornly sticky female orgasm myths. We're about to venture into the sultry depths of ecstasy to reveal the secrets of the mysterious Big O.
You may think you've got it all figured out, but oh, sweeties, the path to climax is so much more twisted than you can imagine. So, fasten your leather straps, slick up those toys, and brace yourselves for an eye-popping exploration as we unbutton the real talk on what's up with the mighty lady climax!
Myth 1: The Silent Pleasure – No Climax Doesn't Mean No Fun, Darling!
Time to dive headfirst into our naughty debunking of female orgasm myths. The first one on the chopping block? That old chestnut stating if a woman isn't echoing through the bedroom like a lusty banshee, she must not be having fun. Let's throw that one back to the stone age where it belongs, shall we?
Mythbusters After Dark: It's Not All About the Big Bang
Here's the tantalizing truth: the ladies can absolutely relish a good pounding even without the earth-shattering O-moment. Now, don't get me twisted, darlings, the Big O can be the perfect climax to our pleasure opera, but it's not the entire show. The anticipation, the carnal contact, the intoxicating taste, the wicked whispers – it's an erotic ballet that sets your body ablaze.
Between the Sheets: Unraveling the Pleasure Paradox
Believing a woman can't savor sex without an orgasm is like insisting you can't enjoy a roller coaster without cotton candy. Sure, it's a lip-smacking bonus, but the ride still thrills without it. Delving into the labyrinth of your lust, unearthing those secret, sin-filled spots that make you gasp – sex is an erotic odyssey that thrills, climax or no climax.
So, remember my saucy sirens: pleasure and orgasm are not always the same party guests. Sometimes they arrive hand in hand (or other body parts), but they can also show up solo. Don't let the myths about female orgasms make you feel less than the sex goddess you are. In the realm of raunch, pleasure wears the crown, orgasm or not.
"Darlings, remember, an orgasm isn't just a pleasurable peak; it's an art form, so let's paint our canvas with a bold, uninhibited stroke of exploration, debunking myths one climax at a time!"
Myth 2: The Inside Job – Orgasm During Intercourse
Fasten your garters, my lusty libertines, because we're about to dive into one of the slipperiest female orgasm myths. There's a widespread notion that each carnal canoodling should culminate in a spectacular climax brought about by a firm "swordplay". But darling, pleasure isn't always that straightforward!
Busting the Bedroom Bubble: Climax Isn't Always an Inside Job
Here's a zesty revelation: a significant number of women don't reach the Big O from penetration alone. Startled? You wouldn't be if you understood the labyrinth of ecstasy that lies within a woman's body. We require more than just a vigorous piston action, my lovelies.
The Joyride Junction: All Hail the Clitoral Majesty
Welcome to the clitoris, the radiant epicenter of female bliss. This potent pleasure dynamo houses more nerve endings than any other part of a woman's anatomy. It often steals the orgasmic spotlight, outshining even the most zealous of penetrative performances.
The conviction that a woman must always climax amidst a bout of "bury the bone"? That's among those myths about female orgasm that desperately need a reality shake-up. Not every woman can scale the summit through a direct expedition, and that's utterly okay. So gentlemen, savor the entire sensual canvas, not just the conspicuous territories!
✍️ Lola Lovegood recommends: Darlings, as your self-proclaimed queen of pleasure, I have a suggestion that will rock your world. Make friends with a little gadget known as the 'clit sucker'. Trust me, it's a euphoria-inducing marvel that doesn't get nearly enough spotlight. This delightful contraption works by stimulating the clitoris through gentle suction, providing a completely different sensation compared to regular vibrators.
Myth 3: A Rare Gem? Unearthing the Reality of Multiple Orgasms
Hold onto your panties, my dirty-minded darlings, because we're about to uncover the truth behind another one of the dazzling female orgasm myths. The entrancing enigma of multiple orgasms – are they a regular feature on the menu of pleasure, or just a spicy garnish? Let's discover!
Pleasure Peaks: Unraveling the Conundrum of Cascading Climaxes
Firstly, let me assure you: multiple orgasms aren't a mere figment of some lusty writer's imagination. But they aren't as prevalent as your go-to erotic fiction or X-rated movie might suggest. These delicious waves of ecstasy are very real but aren't a guaranteed dish at every sensual feast.
However, their elusive nature doesn't render them unattainable. With the right mix of patience, skill, and a partner eager to go the extra mile (or inch), you may indeed find this treasure chest of bliss. But darlings, don't set your sights solely on these multiple peaks. Remember, it's all about the sensual voyage, not just the final port.
Decoding the Myth: The Unvarnished Truth of Multiple Orgasms
So, when busting these myths about female orgasm, remember that the sexual waltz isn't a mad dash to the multi-climactic finish line. Some women prefer a sensual marathon, while others opt for a passionate sprint. Whichever way you swing, the pleasure is genuine and breathtaking. In the kingdom of kink, variety is the true queen.
Myth 4: Hitting the Spot – Is the G-spot Really the Treasure Trove?
Fasten your garters, my lovely rakes, as we delve into another of the captivating female orgasm myths. The mysterious G-spot – is it indeed the golden treasure in our sensual quest for ecstasy? Time to go on a thrilling excavation!
The G-spot Gab: A Verified Vixen's Delight or a Saucy Story?
Countless boudoir tales hail the G-spot as the elusive Eldorado of female rapture. But here's the steamy scoop: its existence isn't as rock-solid as some lustful explorers might profess. While some women sing praises of their G-spot-induced climaxes, others have yet to discover this rumored hotspot of hedonism.
In the face of these contrasting narratives, one fact remains undeniable – there's no universal key to unlocking female bliss. What unlocks the floodgates of ecstasy for one damsel might not even tickle another. Therefore, the quest for the G-spot shouldn't eclipse the total rapture of intimacy and uncharted exploration.
Myth Busted: Decoding the G-spot's Role in the Pleasure Playbook
When debunking myths about female orgasm, bear in mind: the atlas of sexual gratification is as varied and intricate as the goddesses who revel in it. The G-spot might be a noteworthy pit-stop, but it's far from being the sole point of interest. It's more about a lust-filled journey, where the path traveled can be equally, if not more, tantalizing as the final treasure trove.
Myth 5: The Size Equation: Does "Bigger" Imply "Better Orgasms"?
Fasten your seat belts, my sensuous sirens, as we unfurl another one of the tantalizing female orgasm myths. Does the "size matters" creed truly echo in the halls of orgasmic delight? Let's strip this steamy subject down!
The Pleasure Paradigm: The Truth Behind the Size and Orgasm Connection
It's time to puncture a rather swollen myth: size isn't the master key to the treasure chest of pleasure. The saucy suggestion that a mightier "manhood" ensures a more volcanic climax is a grand misrepresentation – just ask my boy Vlad here. Ecstasy isn't about the size, it's about the perfect fit, skilled maneuvers, and heartfelt connection.
Myth Shattered: The Role of Size in the Symphony of Orgasms
While some might be drawn to a more "generous" offering, this doesn't automatically translate to superior orgasms. Pleasure, my dear nymphos, is a complex dance. It's about locating the sweet spots, emotional resonance, and finding the right rhythm.
In debunking female orgasm myths, remember: it's not the length of the "pleasure pole" but the rhythm of the love dance that counts. The size of the "lust lance" doesn't necessarily govern the intensity of the Big O. So, my sexy sirens focus on the entire banquet of delight, not just the appetizer.
💡 PRO TIP: And here's a little gem of advice from Lola's chest of wisdom: don't overlook the power of anticipation. It's all about the tease, my delectable deviants! Indulging in prolonged, steamy foreplay can significantly amplify your climax. So, let the tension build, let the desire mount, and when you finally allow release, you'll experience an orgasm that's well worth the wait. In other words, it's not just about the destination but the sinfully delicious journey that gets you there. Play the long game, and you'll be rewarded with an eruption of pleasure like never before.
Bare Naked Truths: Orgasms Unleashed and Unapologetic
Well, well, well, my lovelies! We've dove headfirst into the steamy Jacuzzi of female orgasm myths, giving them a spicy whirl and twirl. And we learned that the O-M-G moment is as varied as the goddesses riding the wave.
So, keep adventuring, keep experimenting, and let the orgasms cascade like a fierce waterfall. Don't let any myth cage your ecstasy. Stay naughty, stay spicy, and forever pursue that orgasmic Olympus.
FAQs
Oh, darling, if only it were that simple! Women are beautifully complex creatures, and our experiences with orgasms are just as diverse. Some might hit the high notes with a little clitoral stimulation, while others might need more internal exploration. Variety is the spice of life, after all. Embrace the diversity of pleasure!
As mind-blowing as it might sound, yes! Some women can ride the orgasmic waves back to back. But remember, this doesn't apply to everyone, and that's perfectly okay. Your pleasure isn't a competition. It's about finding what makes you quiver with delight.
Fret not, darling. This happens to more women than you might think. Experimentation is key. Explore your own body, try different types of stimulation, use toys, and indulge in fantasies. Don't rush, take your time. And remember, it's okay to seek help. Sex therapists are there for a reason!
While age can bring about changes, it doesn't put a stop to your orgasmic journey. In fact, many women report more satisfying sex lives as they age! They're more confident, know their bodies better, and are not afraid to ask for what they want. So, age is just a number, my lovely nymphs. Pleasure is timeless!