❯
Sex Ed
Jul/31/2023
Last Update: July 31, 2023
217
8 min read
Whipping Up Your Own Batch: DIY Faux Jizz 101
Honeybuns, let's stir up a storm in your panties and briefs as I teach you how to make fake cum! Don your chef hat and prepare to whip, stir, and splatter as we conjure fake cum recipes that'll make your toys and lovers drool.
Why, you ask? Because life's too short for dry spells, and sometimes we need to jazz up our jizz! Whether you're playing 'master baker' or looking to unleash your inner squirter, fake cum is the cherry on top of your orgasmic sundae. So, get ready to dribble, drip, and dazzle with my devilishly delightful DIY goo!
Playing with Purpose: Why You'd Want Your Own Homemade Batch
Darlings, sometimes you need a drizzle of the creamy good stuff to add that extra 'oomph' to your pleasure platter. Here's why you might be needing to stir up some naughty nectar from our fake cum recipes.
1. A Squirting Dildo's Best Friend
Think about the sheer ecstasy of a squirting dildo, lovers. The mind-blowing sensation of a toy erupting in perfect sync with your climactic chorus. For that tantalizing tableau, you need to get your hands dirty in the kitchen of love and learn how to make fake cum.
2. Indulging Cum Fetishes
Some of us saucy sluts have a little craving for the messy splatter. Be it the silky texture, the erotic aesthetic, or the dirty idea itself. While I'm all for the real deal, sometimes your favorite fountain might be a bit… under the weather. That's where your secret sauce recipe steps in.
3. A Slippery Solution
Smooth rides on the highway to pleasure require a slick lube job. And what's slicker than a delicious dose of faux spunk? It's a two-for-one deal, my naughty nymphs – an all-natural slide and a visual stimulant that could send you soaring to new heights.
4. Prankster's Paradise
For those playful pranksters in the crowd, a homemade batch of imitation jizz can be a delightful tool of mischief. Fancy leaving a sticky surprise for a buddy? Whip out your homebrew and let the shenanigans begin!
5. Home Movie Magic
There's something incredibly arousing about being the star of your own skin flick. Add in a steamy money shot with your DIY spunk, and voila! You're giving professional porn stars a run for their money.
6. Safe, Saucy, and STD-Free
While we love a good creamy splash, we don't want the extras that can come with the real thing – namely, STDs and unplanned pregnancies. With your homemade hanky-panky potion, you can get as messy as you want without those worries.
So, let's roll up our sleeves and dive headfirst into our fake cum recipes. Because sometimes, it's just so deliciously fun to create your own sexy mess!
Mastering the Art of Imitation: Recipe for Most Realistic Fake Semen
Strap in, my kinky kittens, it's time to get our hands dirty and our mixers whipping. We're conjuring up a concoction that's the spitting image of your favorite creamy finish. So, how to make fake cum that's so convincing it could win an Oscar for Best Impersonation? Let's dive in.
For Your Naughty Pantry
To whip up your naughty nectar, gather some plain, unsweetened yogurt, a dash of water, a sprinkle of salt, and egg whites. I hear you, loves – "Yogurt, Lola?". But trust me, your journey to the culinary kink is just beginning.
Stirring Up the Love Potion
Start by dolloping two tablespoons of yogurt into a bowl. This is the backbone of your faux man juice.
Then, beat in an egg white. It adds that seductive, slightly sticky texture to our cocktail of love. Make sure to whip it good – just like your favorite sub.
A pinch of salt is next. We're playing for authenticity here, and honey, real cum isn't sugar and spice.
Finish off by diluting with water until you achieve your desired consistency. A bit thicker? A bit runnier? Tailor it to your taste.
You've just learned how to make fake semen that's as close to the real thing as you can get without a man in sight. But remember, loves, this potion is for external adventures only. We may love a good omelet, but let's not put all our eggs in one… er… basket.
✍️ Lola Lovegood recommends: Alright, my saucy seraphs, maybe all this DIY frolicking isn't your cup of tea, and that's okay. There are some superb ready-made spunk substitutes out there in the wild. Just remember to read the ingredients list and ensure they're body-safe, especially if you plan on swallowing or using it in your other orifices. After all, your body deserves nothing but the best, right?
Tasty Treats: Recipe for Edible Love Juice
All aboard, lovebugs, we're setting sail to the tasty shores of naughty nectar land. Fancy a lip-smacking load that makes your taste buds tingle? Stick with me, sugarplums. Let's learn how to make fake cum that's more delicious than your favorite dessert.
The Culinary Kink Kit
Your kinky shopping list is a short but sweet affair – condensed milk, a splash of water, and a cheeky sprinkle of salt. Brace yourselves, my delectable deviants, we're about to cook up a dessert that would make a pastry chef blush.
Whipping Up a Sexy Sundae
Get a couple of tablespoons of condensed milk cozy in your favorite mixing bowl. This is the sweet soul of your creamy cascade.
Time for water. Drizzle it in while giving your mixture a good stir. Aim for a consistency that can sensually slide but not gush like a waterfall.
The last addition is a dash of salt. The sweet needs a bit of savory to complete this orgy of flavors.
Et voila! You've concocted an artificial semen so scrumptious it should have its own spot on the dessert menu. This creamy creation is perfect for drizzling over your partner or even your pancakes the morning after. And maybe, just maybe, let your partner in on your little secret of how to make artificial semen. After all, the naughtiest treats are always the ones we share, right, darlings?
"Whether you're cooking up your own carnal concoctions or splurging on a bottle of ready-made love potion, remember, darlings, the secret ingredient to a steamy session is always safety, exploration, and a whole lot of kinky fun!"
Playing It Safe: Recipe for Vagina-Friendly Faux Cum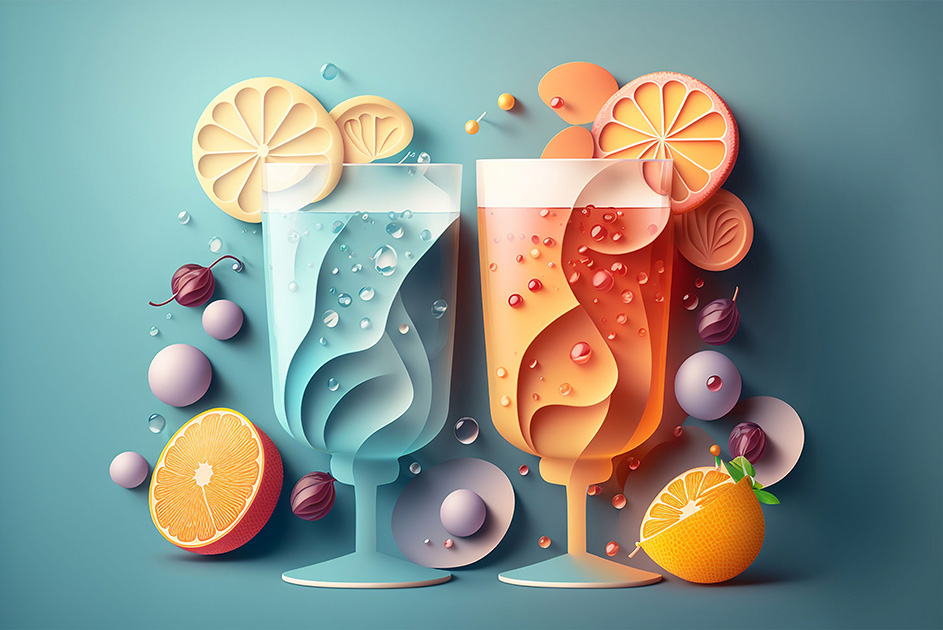 Hold on tight, my frisky friends, we're off to the land of sultry safety. Want to create a cocktail of cum that's a VIP guest in your velvet chamber? Well, it's your lucky day. I'm about to reveal how to make fake cum that your kitty will purr for.
The Safety Sexy Shopping Spree
Our grocery grab for this romp includes cornstarch, water, and a smidgen of plain yogurt. That's right, babes, we're crafting a love potion that's both titillating and tender to your treasure trove.
Concocting the Velvet Elixir
Start your sensual science experiment with a tablespoon of cornstarch. This is the secret weapon that will turn your mixture from drab to fab.
Next, start trickling in water while giving your mix a good stir. Aim for the consistency of a smooth, creamy latte.
Finally, drop in a dollop of plain yogurt. It gives your faux frosting that hint of authenticity but keeps the kitty safe.
Bingo! You've mastered one of the most coveted fake cum recipes, and now you have a concoction that's as friendly to your vagina as a purring kitten. So, whip up this creamy creation and prepare for a rendezvous with safe and sensuous pleasure. As you bask in the afterglow, you can smile, knowing you've just learned a rare art: how to make fake cum that's a friend to your fun zone.
💡 PRO TIP: Your freshly crafted faux fluid is not immortal - it won't keep forever in your bedside drawer. So, always whip up a fresh batch for your fun and games and discard the old. Think of it as an erotic cooking show, with a fresh treat each time. And remember, safety first, darlings. Always do a skin test before slathering your new playmate's body with your homemade love lube.
Keep It Kinky, Keep It Safe: Navigating Risks with Fake Semen
Alright, my lusty loungers, time to pull back the satin sheets and take a peek at the not-so-sexy side of our seductive shenanigans. In our blissful boudoir of bold adventures, safety isn't just a buzzword, it's a lifestyle. So, fasten those leather belts, we're about to expose the underbelly of how to make fake cum.
The Party Poopers
Yeast Infections: Our bodies are like high-end nightclubs, darlings, with an exclusive guest list. Uninvited guests like yeast infections can crash the party if we aren't careful. So, always test-drive your homemade love lotion on a patch of skin before the main event.
Allergic Reactions: Even the most harmless-looking substance can morph into a party pooper. Unless your kink includes redness, itching, and swelling, best to stay alert.
Bacterial Blockbusters: An idle batch of your naughty nectar can turn into a bacterial blockbuster if left unchecked. So, always bid adieu to the old and hello to the new for your frolicking fun.
Now, don't let these warnings dim your desire, my adventurous angels. It's simply about playing smart in our playground of pleasure. In the game of how to make fake semen, knowledge is your most erotic tool.
Final Spurt: Wrapping Up Our Naughty DIY Adventure
So, my naughty nymphs, we've arrived panting and flushed at the end of our adventure into the steamy science of how to make fake cum. I hope you've been tickled and tantalized by our tour. And never forget, the ultimate cocktail of fun is a blend of bold curiosity, risqué experiments, and a chaser of safety.
With your freshly minted mix of make-believe man milk, you're set to jazz up your jollies. So, until our paths cross on another sultry quest, stay kinky, stay safe, and keep those pleasure waves rolling, darlings.
FAQs
Oh, my curious kitten! You can certainly chill your homemade love potion in the fridge, but remember, it doesn't have an infinite shelf life. Always make a fresh batch for your fun and games. The mantra is – no aging when it comes to how to make fake semen.
Great question, my playful possum! Depending on your recipe, it could work as a lube. But remember, not every concoction is body-friendly. Always ensure you've crafted a vagina-friendly formula if you're planning on some internal artistry.
Oh, you bet, my cheeky cherub! If you're not up for the DIY route, there are numerous ready-made faux fluids available. Just read the label carefully and ensure it's body-safe before taking the plunge.