❯
Sex Ed
Oct/27/2023
Last Update: October 27, 2023
304
8 min read
Lower…Lower…Yes, Unpause! How Often Should Couples Watch Porn Together?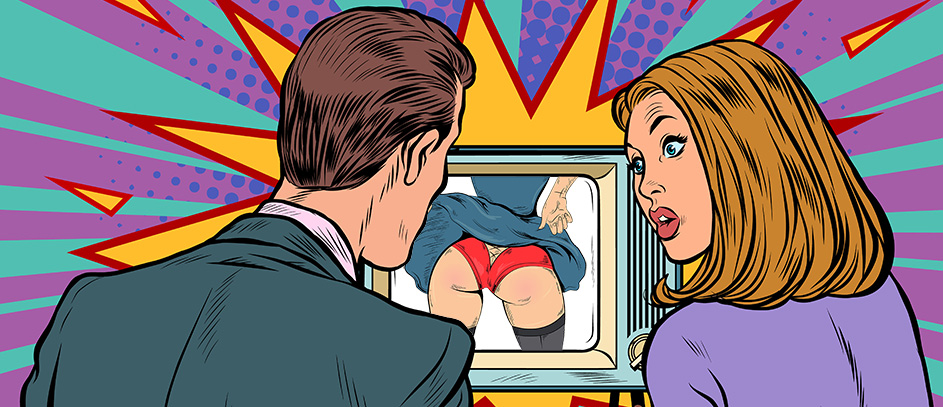 Oh! Oh, it-it's you! Phew, didn't see you there! Oh, I was just, erm… I was juuuuust… where's that mouse? Oh, there! I was just looking at my shopping list! Buying something for Vlad's, um, birthday? No, wait, Bar Mitzvah! Yeah, that's it!
…OK, darlings, you caught me. I was watching some adult videos. But can you blame me? There's so much sweet naughtiness out there that I had to look. Wink.
Now, there really should be no shame in watching porn. In fact, around 2.5 million of you little lovelies tune in to some dirtiness every 60 seconds. And while a lot of you watch it alone, there are more than a few darlings who share that experience with their partners.
But how often should they engage in this activity? Should they even engage at all?
Well, Lola is here to help you figure that out, babes. So, let's get cracking!
Sauce, Pls? What Does Science Say?
Now, you know that I prefer some straight facts (though some bi facts are nice as well. Wink). So, does Lola have some science to back up any claims that exist about couple's porn watching?
Well, according to this little ol' study here, watching porn together definitely has some benefits. For example, if only one partner views it, it's usually an indicator that something's wrong. They might not be cheating on you, hon, but your sex life definitely needs a bit of spice.
On the other hand, when two people watch sexy flicks together, they tend to become more comfortable with their overall sexuality. In other words, we open up to our partners more than we normally would. Plus, we uncover certain truths about ourselves that we might not have otherwise discovered.
Now, the study itself covers solo porn viewing, and so does this reputable psychologist. See, it's not as easy as "if you watch porn alone, you're in a bad relationship". In fact, if both partners watch it alone, separately, but with some regularity, chances are that their relationship will be just as happy and carefree as with people who've never seen porn after getting hitched long-term. Heck, Richard and Scarlett are the perfect example. They watch porn separately all the time, and they're still very much an item!
Now, porn is far from always being beneficial, and that goes double for couples. Wink. But we'll get to it when we get to it.
💡 PRO TIP: If you're a new couple with barely a year into your relationship, I recommend getting to know each other better first, then delving into porn. I'd say the moment you move in together is about the right time to start experimenting.
The TV Guide of Teases: How to Go About Watching Porn Together
OK, my lovelies. Lola has teased you enough. So, how should you enjoy some nasty vids together, you ask? You're in luck cuz I have a neat little list of tips you can peruse. No worries, I'll take it slowly, like I always do. Wink
Taking It Slowly, Like Lola Always Does
Well, how do you go about recommending porn to your partner? Here's what you DON'T do:
"Ey, babe. Wanna watch porn together?"
"Oh, oh, let's try this instead". (instantly play porn to them).
"Yes, an interesting story, but have you considered this?" (instantly play porn to them).
(Instantly play porn to them).
Let me be completely clear here, sweetlings. Never, under any circumstances, drop the P-bomb on your SO. It's not OK, nor is it PG or even PC. You have to keep it on the D-L and mind your Ps and Qs. Don't just F around. K?
What you must do instead is slowly set the mood. Get going with some lighter stuff, like famous movies with steamy, sultry scenes. Once the partner is good and ready, move on to the raunchier stuff.
Oh, Oh, It's Time, It's Time!
You've all been fans of Lola for a long time, sweet muffins. You know that I always put value on the best approach. So what's the best approach for recommending porn to a partner? It's definitely not when they are angry, tired, depressed, sad, or otherwise busy.
But interestingly enough, you should also not recommend it during foreplay or even mid-sex. If your partner is not into porn, that might kill the mood, or worse. So, the best time to suggest this activity is when you're both relaxed, alone, and have plenty of time to discuss the details.
Speaking of…
Pre-Flick Roundtable
It's never a good idea to rush into porn the second your partner says Yes. Let Lola give you sweetlings an analogy. For example, I ask you, "Do you want some milk?". You answer, "Sure, lay it on me!" And then I go on to give you a glass of powdered milk.
Now, did that anger you or disappoint you? That's how a partner would feel if you play the wrong kind of porn. Always discuss what you want to watch before you watch it. Furthermore, talk about why you or your partner feel the need to engage in this activity.
Reflection Time (Not the One on Your Screen)
Remember, you can't force your partner into anything, or even yourself. Enjoying porn should be like enjoying sex itself. When I do it with a partner, and something comes up that doesn't feel nice, I stop.
When the act itself is done, it's also a good idea to reflect on it together. Discuss it, iron out the details, and get ready for more in a healthy, mature way. Emphasis on the "mature". (Wink)
That's It, No More TV for You for a While, Young Man!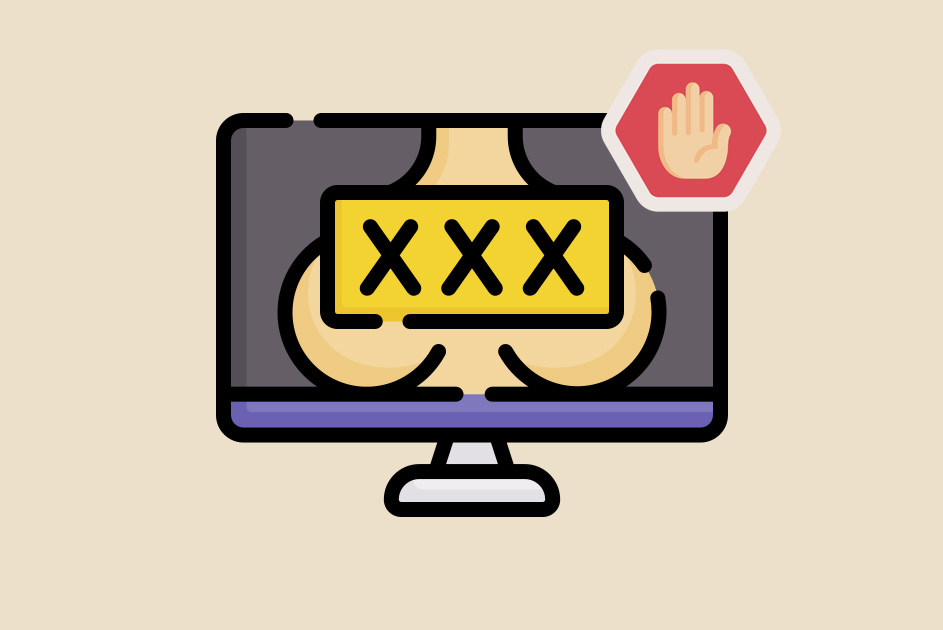 As is the case with everything, my sweetlings, boundaries must be set. We all have different dreams and fantasies that we would want to explore. And even if you know the partner for a long time, you can never know them enough.
So, before venturing into the porn field, make sure the following boundaries are set:
A specific time and place for porn viewing;
Deciding whether you'll tell people you watch porn together or keep it to yourselves;
Rules about individual porn watching;
Rules about masturbation during viewing;
Which categories are a surefire thing, and which ones are a no-go?
When It's Off, It's Off
Remember, darlings, you can always say No, as can your partner. There's no shame in it, and it's a healthy way to explore your boundaries. With enough patience and respect, certain Nos will become Yeses. (Wink)
✍️ Lola Lovegood recommends: Watch porn! No, really, do it.
Change the Channel, Please! The Negative Effects of Porn Viewing
Stimulation is not just physical. In fact, I'd argue that it's more spiritual and mental than physical. The things you can do with your mind alone are just… breathtaking.
Lola cares about your safety, noble ones. I know full well what it's like to engage in activities that hurt you over time. And yes, as fun as porn can be, too much of it can be harmful. So let's quickly explore that aspect, just so we can keep ourselves safe in the long run.
Expectations vs. Reality
Half of the fun with porn is getting to try something you'll probably never experience in real life. For some, it's an oversized member; for others, it's a bit of latex and a whip. And doing that once in a while is fine; I'll never argue otherwise.
But what happens when you try to switch to IRL fun after spending hundreds of hours on PornHub or XVideos? Well, you start to expect the impossible from your potential partners. Not every man is as gifted as Shane Diesel, nor is every woman as thick as Sofia Rose.
More importantly, real-life sensuality is rarely as theatrical as porn. Your partner may not be as durable or as limber as your favorite adult performer. More importantly, they may not enjoy the same acts as you do. Porn can distort that. Moderation is key, my lovelies.
I thought I Told You That We Won't Stop?!
Adult videos are similar to sweets, cigarettes, cannabis, or alcohol. They can be fun for a while, but if you get addicted, they genuinely ruin lives.
I'm not even trying to be coy here, my sweet readers. Never, under any circumstances, let porn get between you and your life. Remember, it's a tool, not a purpose of your being. The second you see yourself losing sleep or failing at work because of porn, cut back on it, or just quit cold turkey. Furthermore, if necessary, get the appropriate help.
Tuning Out
Have you ever eaten your favorite food so often that you got sick of it? The same rule goes for porn. When there's just so much of it, regular sex becomes stale and boring. You lose your drive for passion and physical pleasure. I mean, to quote the famed philosopher Deadpool, why do it in real life when you can watch it online?
Darlings, you must never lose your passion for physical pleasures. When porn becomes the only way you can feel arousal, that's a problem. Don't be afraid to turn it off and find that spark with an actual partner.
For Your Viewing Pleasure: Porn Watching Summarized
And there you have it, my precious dumplings. Viewing porn with your partner is definitely something you should try out, as long as you approach it in a mature, healthy way. Lola's way, that is. And while misusing porn can definitely be dangerous, when you use it the right way, you'll beef up your sex life in ways not even cameras can fully capture. Wink
FAQs
That's entirely up to you and your partner. As long as you discuss it first, it can be as long as you want it. And yes, that's what she said. Wink
Try erotic fiction, adult comics, or even a visit to a burlesque.
There's no need. You'll be perfectly fine if you just watch it together like you would any other movie.