❯
Sex Ed
Apr/08/2023
370
8 min read
Size Doesn't Matter, Fun Does: 15 Best Date Night Ideas for Couples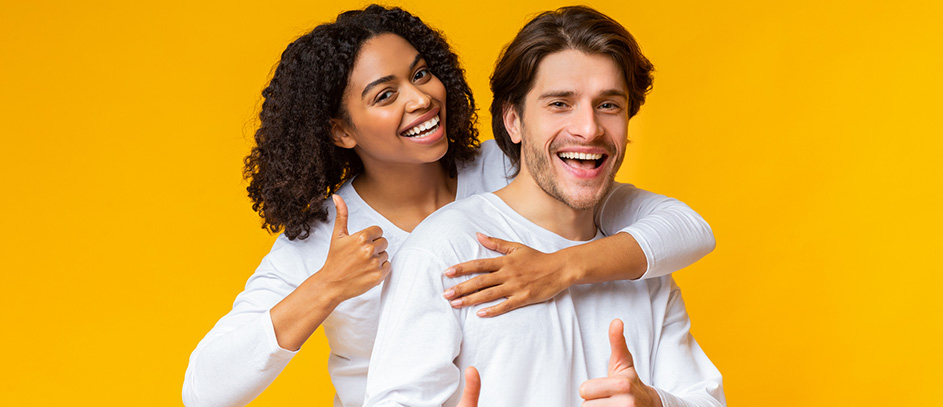 Hey there, wild hearts! It's your boy Vlad here to inject some fun-sized excitement into your love lives. For all of you that are in desperate need of date night ideas for couples, I've got you covered – or uncovered if you catch my drift!
Today, I've got a list of 15 romantic couple activities that'll make you feel like the king and queen, even if your crown jewels aren't exactly of the royal variety. So, buckle up, or should I say, unbuckle those belts, and let's dive into a world of fun, laughter, and maybe even a little bit of sensual teasing. After all, it's not the size of the boat but the motion of the ocean that really counts! 😏
Twosomes With Tons of Fun: 15 Cute Couple Date Ideas
We all know that keeping the romance alive can sometimes feel like a challenge, but fear not, I've consulted the most sizzling couple out there – my favorite, Scarlet and Richard – to gather the top date night ideas for couples. So, prepare to tease, please, and let the good times roll as we dive into these downright fun and romantic couple activities.
"I mean, who says you need a big schlong to have a big night out?"
1. DIY Paint & Sip Night
Are you interested in cute couple date night ideas that'll let you unleash your inner Picasso while sipping on some boozy goodness? DIY paint & sip night is a fantastic and flirty way to let your creative juices flow – and I mean that in more ways than one!
You can choose to follow an online tutorial together, recreate a famous masterpiece, or simply let your imaginations run wild. And don't be afraid to get a little frisky – a playful paint war or painting each other's bodies can add an extra touch of spice to your night of creative expression.
2. Cooking Class for Two
Let me introduce you to one of my favorite date night ideas for couples that'll make your love life even more delicious – a cooking class for two! Trust me, you'll be stirring, sizzling, and sautéing your way into each other's hearts – and maybe even your pants!
To get started, sign up for a couples' cooking class at a local culinary school or find an online tutorial to follow along at home. Whether you're whipping up an aphrodisiac-filled feast or a simple pasta dish, the goal is to enjoy the process and each other's company. And hey, size doesn't matter in the kitchen – unless we're talking about the size of your appetite!
3. Board Game Night
You'll quickly learn nobody cares about measurements when you're playing for fun – unless, of course, we're talking about the size of your, ahem, game collection!
To kick off your sexy game-a-thon, gather up your favorite board games. Or you can even pick up some adult-themed games designed specifically for couples. And for an extra hot twist, consider adding some playful punishments or rewards for the winner and loser – like a striptease or a sensual massage!
✍️ Vlad the Not-Impaler recommends: Feel free to make up your own 'house rules' that add a naughty element to the gameplay. For example, whenever someone lands on a certain space or draws a specific card, they must share an intimate secret, compliment their partner's 'assets' (big or small), or perform a little strip tease.
4. Themed Movie Marathon
Need date night ideas for couples that'll have you both snuggling up, giggling, and maybe even getting a little frisky between the scenes? It's time to dim the lights, grab the popcorn, and snuggle up for a themed movie marathon.
You can go for a steamy selection of romantic flicks, a thrilling lineup of action-packed blockbusters, or even a series of films featuring your favorite well-endowed actors. The key is to choose a theme that'll keep you both entertained, laughing and maybe even inspired to reenact some of the on-screen shenanigans.
💡 PRO TIP: You can even turn your movie marathon into a playful drinking game! Take a sip every time someone mentions size or makes a naughty joke. And don't forget the movie snacks - maybe the ones you can lick or eat off each other!
5. Sensual Massage Night
One of the cute couple date ideas that'll have you both caressing and getting a little handsy in all the right places is a massage night.
To set the mood for your sexy rubdown rendezvous, gather all the essentials: massage oil, scented candles, soft towels, and some seductive tunes. As you take turns massaging each other, let your hands explore and discover every curve, muscle, and sensitive spot. Throw in some cheeky jokes about how your "not-so-massive" hands can reach even the tightest of knots or how your "well-endowed" fingers can work wonders on your partner's body. Laughter, my friends, is the ultimate aphrodisiac!
6. Dance Lesson Date
Are you ready to shake your booties and wiggle your hips with date night ideas for couples that are bound to get your blood pumping – in more ways than one? It's time to hit the dance floor and sign up for a dance lesson! So, grab your partner's hand, twirl them around, and let the music take you away. Because when it comes to dancing, it's all about the connection, the rhythm, and the laughter that comes with trying out some sexy new moves together!
7. Stargazing Picnic
It's time to pack a blanket and some snacks and head out for a stargazing picnic. The world will melt away when you're cuddled up under the vast night sky, pondering the mysteries of the universe.
8. Comedy Show
Thinking about cute couple date ideas that'll have you both giggling, snorting, and maybe even making some cheeky jokes about the size of your, ahem, "funny bones"? Then grab your tickets and head out to a comedy show!
9. Indoor Camping
To kick off your indoor camping extravaganza, gather all the essentials: a comfy blanket or sleeping bag, some fluffy pillows, and everything you need for a delicious indoor s'mores session (who needs a fire when you have a microwave, right?). And hey, why not throw in some cheeky jokes about exploring uncharted "caverns" or finding the best spots to pitch your "little" campsite?
10. Karaoke Night
Belt out some tunes with a date night idea for couples that'll have you both singing, dancing, and maybe even hitting some high notes in the bedroom later on! Find a local karaoke spot or set up a home karaoke system with your favorite songs queued up and ready to go. Don't forget to include some steamy duets and maybe even some tunes with tongue-in-cheek lyrics that playfully reference the size of your "microphone" – all in good fun, of course!
11. Wine or Beer Tasting
Raise a glass for romantic couple activities that'll have you both sipping, swirling and maybe even getting a little buzzed in the name of love.
To embark on your wine or beer tasting experience, scout out a local winery, brewery, or tasting room, or simply curate a selection of intriguing bottles to enjoy in the comfort of your home. As you sip your way through an assortment of flavors, don't be afraid to share some playful banter about the "body" of your wine, the "head" of your beer, or the "finish" you're both hoping to achieve later on. Remember, the goal is to indulge in the sensual pleasures of taste, aroma, and laughter!
12. Trivia Night
For cute couple date ideas that'll have you both pondering, guessing and maybe even showing off the size of your, uh, "knowledge banks", you can choose trivia night!
Find a local pub or venue hosting a trivia event, or set up your own game night at home with some brain-teasing questions and a friendly competition between just the two of you or a group of friends. As you tackle each challenge, don't be afraid to sneak in some cheeky quips about the "length" of your historical knowledge or the "girth" of your scientific understanding.
13. DIY Photoshoot
All you photogenic lovebirds will love date night ideas for couples that include snapping, posing, and pouting. In other words, it's time to unleash your inner models and set up a sizzling DIY photoshoot right in your own home! Remember, the goal is to let your personalities shine, share some laughs, and create lasting memories through the magic of photography.
14. Escape Room
To show off the size of your "intelligence quotient", you can consider cute couple date ideas that include puzzling, deciphering, and excitement. I'm talking about escape rooms, of course! As you navigate your way through each clue and challenge, don't be afraid to sneak in some kisses, touches, and playful nibbles.
15. Roller Skating or Ice Skating
Strap on some wheels or blades for a date that'll have you both gliding, twirling, and maybe even revealing your, let's call them, "skating skills". Enjoy the freedom and excitement of skating, share some laughs, and build an even stronger bond through the shared thrill of adventure.
Go, Play Your Way to a Stronger Relationship!
My fellow romantics, it's time to put the fun back in dating and spice up your love life with these date night ideas for couples! I hope you found plenty of inspiration and laughter in our suggestions, just like Scarlet, Richard, and I had, and perhaps even picked up a few pointers on how to have a good time with your partner.
Whether you're into roller skating, wine tasting, or even a bit of sensual massage, just keep the love alive and keep the laughs coming! And remember, there's no need to stress about size – whether it's the size of your comfort zone or the size of your partner's… well, you know. 😉
FAQs
Hey there, penny-pinchers! For a fun and romantic night out that won't break the bank, you can try a picnic in the park, a movie night at home with some homemade popcorn, or even a game night with your favorite board games. And if you're feeling more adventurous, how about taking a hike, a bike ride, or exploring your local art galleries?
How about a surprise weekend getaway, a cooking class together, or even taking a dance lesson? You can also try something adventurous, like indoor rock climbing or bungee jumping. The key is to keep the romance alive by trying new things and stepping out of your comfort zone – who knows, you might discover a new passion together!